I've mentioned it before on here this season, holding the fort on the blog this season is tough going. Especially when games are coming thick & fast. Being on your tod means the pressure's on to come up with all sorts of interesting bollocks and angles to keep you lot bloody entertained. Mainly though, I just tend to re-hash the same old shit largely and rely on you lot not noticing along with the idiots I hang out with to bail me out with stupidity. Having a set of total ever-say-die bastards out on the pitch does help a bit too.
As displayed once again on Saturday at Stevenage, this lot just won't fucking lie down. Give 'em so much as a sniff and they'll be tying your laces together, nicking your lunch money and then pulling your kecks down to reveal your tatty Superman pants for the world to see before you can say "But you were in the Isthmian League a decade ago!". It certainly keeps things interesting, which again is properly handy when you've got a shit blog to pack out.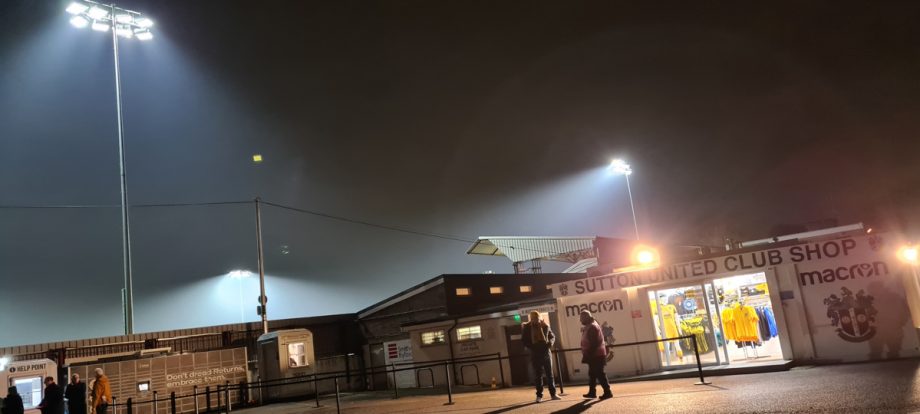 With Covid, these Tuesday home games are now a little less of a faff than they used to be. Previously, I'd be bailing from the office and training it back to West Sutton, usually with just enough time to get a pint in if I was lucky. These days, I'm stuck at home staring at my laptop instead of up in the City, so it certainly makes sacking off the daily grind that bit easier. Today is no different, 5.30? Yeah, I'm done. Quick change and a wrap up for the cold including an outing for the lucky Forres scarf, a peck on the cheek for Mrs Taz and it's out the door for the bus. The usual trundle to Sutton follows, then a quick stop in Finnegans chippy for some scoff and I'm set for the walk to down to paradise.
I hit the bar and find it pretty deserted for a midweek League game. I guess Chelsea must be on the fucking telly then? Whatever, suits me. Means I'll get a pint quicker! Wandering into the players bar, I order up a Tribute and quickly add another as John James appears and we catch up on the madness of Saturday over a beer. Soon after, 4Days and Lil' Chris rock up and join the party. Here talk turns to geeky PC stuff for a while as well as 4Days latest Football Manager adventures, this time with Napoli. It seems him winning the Coppa Italia and losing a Europa League semi despite taking over at Xmas with them 13th in the league wasn't enough to seriously impress the board, much to his disappointment. That's Serie A for you mate.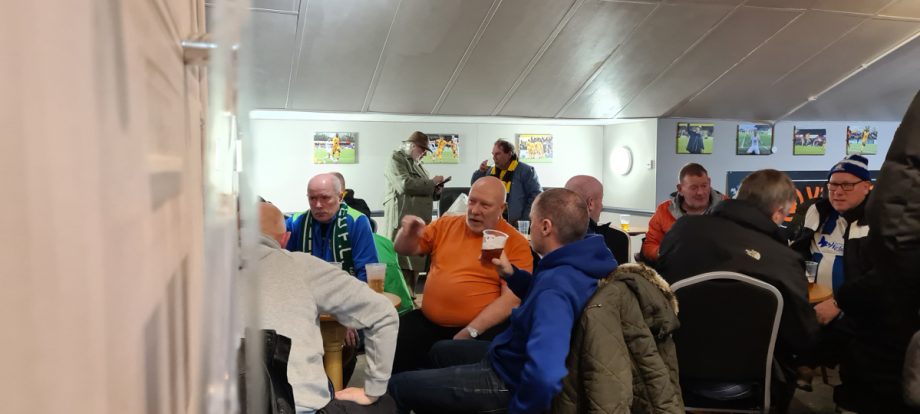 Loffers and Ipswich Lee are next to roll in and are soon providing details of what the stragglers got up to after we departed the Harvester on Saturday. It seems a return to Sutton and cocktails as well as god knows what else back in All Bar One until gone 1am was the result. Dirty stop outs! Even I was home at HQ just after 11!! Lee also reveals that he didn't realise the floodlights had partially failed during the game and that this was the reason for there being so much added time at the end. He's now also officially sworn off Espresso Martini's after the double up in the Draper's at the weekend, with them causing him such distress as to make him think twice about his morning coffee on the Monday morning. You're welcome mate, anytime. Should be drinking tea anyway. Loffers randomly spots that Claude Greengrass from Heartbeat is in the swim tonight. Definitely didn't taka a pic of that, oh no. We also find out that 4Days once did an interview for a job at the home office stark bollock naked. Obviously it was by phone, you weirdos. Then with the bare minimum for a Sutton game of 2 pints downed, it's time to head for and slip through the turnstiles to get in place for tonight's action.
Bouzanis, Kizzi, John, Goodliffe, Milsom, Smith, Eastmond, Randall, Boldewijn, Bugiel, Olaofe. SUBS: Nelson, Barden, Davis, Wilson, Wyatt, Bennett, Korboa
The teams appear to a somewhat unfamiliar tune over the PA. Something that Mr X of all people surprisingly identifies as a piece by Vivaldi. No idea where that came from. Clearly the lad's been tucking into way too much white wine at home over the pandemic. We're going to have to have a quiet word with him about this, otherwise he'll end up giving people the wrong impression about us lot with that sort of carry on. On the pitch, it's a poor start for the U's as a lad makes a decent block tackle about 25 yards out. He comes away with the ball and with space opening up he hits a low swerver that leaves Deano rooted and passes him on the way into the onion bag inside his near post. Deflection or did the Aussie lad just fuck it? Not sure. Either way, we're behind and need to pull up our fucking socks again. There's a slight delay before we're back underway as a couple of blue smoke bombs have been cracked and lobbed onto the turf from the away end. Fucking hell lads, talk about shoot your load early.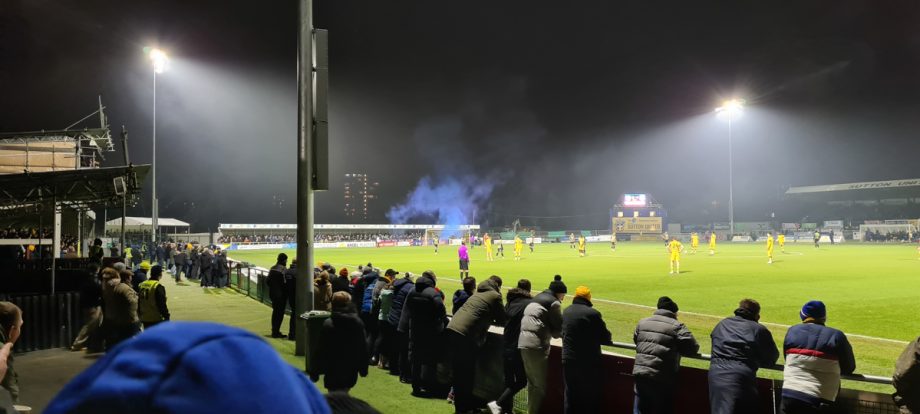 Going one down at least sparks the team into life and before 10 minutes are on the clock, we're level. Enzio drifts infield and slides a nice ball through that pits Omar and the 'keeper in a race for the ball. The big Sutton man just wins and hooks it on goal, the effort comes back off the post but Tanto's following up to level the scores. Right, can we see this lot off now please? We slowly take control of proceedings from here and Issac almost puts us in front soon after, his looping header well clawed away at the far post by the keeper. After this, we're on top, but the final ball again just lacks that little bit of thought or we're unable to get separation from markers when we have the ball around their box, then with the break looming we've got it all to do again. Simple ball down the channel, ball played across the box and both Kizzi and Ben fail to clear. Colchester force it back across and as the ball is played in again, it hits the outside of the near post and goes out of play for a goal kick. We know it's hit the post as we on the terrace can clearly hear that 'clank' of ball against aluminium. Unfortunately, the lino thinks otherwise and flags for handball against Louis who was covering that post. It's a proper garbage call and even more confusingly, the ref then agrees, awards the peno and that's it. Er, surely if Lou's handled it in that position he has to be off? Nope, apparently not. Of course, Freddie Sears makes no mistake from the spot and sends Deano the wrong way and us into the break 2-1 down.
The break is mostly us stood around grumbling about the shit pen and hoping that Matt & Jase can keep the lads at it. Also us mocking Magnum for his Chesterfield Maidenhead bet which is currently going down the shitter thanks to the Magpies leading 2-0. Thankfully, we remain bright after the break and Milsom fizzes one just wide from the corner of the box soon after the restart. We stay patient though and soon after Matt's changed out Omar for Ritchie around the hour mark, Enzio starts to get the measure of his man, eventually getting to the bye line on one run and standing one up into the middle. Bennett can't quite force his header in, but Tanto's there to follow up again and nod in from practically on the line. Desmond's in the house! Right, can we finish this lot now?? Bennett is now having a big say in proceedings and first sends Enzio away with a pass and he flashes a shot wide before the big fella gets to the bye line and drills a low cross into the 6 yard box that the keeper gets a hand to and them somehow manages to avoid putting into his own net and scramble it away with Wilson lurking.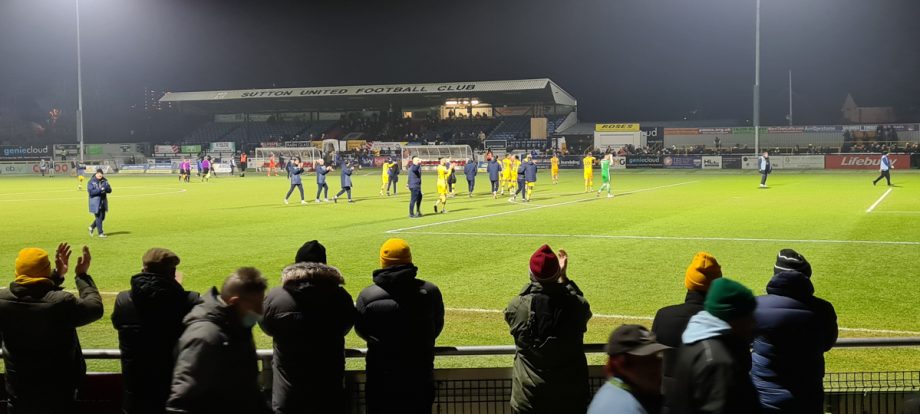 However, as the board goes up for 5 added we're all starting to think we'll be settling for a point. Oh hang on, we love a bit of added time don't we! A Colchester attack breaks down soon after and we take a throw in. It's flicked on, Donovan collects, lays it central to Ali and he immediately slips it wide for Randall. It looks an odd choice given Will's position and the fact he's got a man close by, but any questions about that are soon lost in limbs, scenes and other modern terms for going garrity at the football as he drifts inside and with no real challenge coming, drills a low skidder beyond the keeper and into the bottom far corner. "Vamos my son!" as Totts might say. The goal shatters the visitors, who to be fair have put in a decent shift tonight and are probably a touch unfortunate not to be getting something and they fail to really mount any sort of comeback in the remaining minute or so. However, as a wise man once said; "It's a competition, not a fucking tea dance" so bollocks to 'em. Three points Sutton. Chalk 'em up.
With another proper shift applauded, we head for the bar and with Quo's "Rocking all over the world" ringing out over the PA to send us on our way. Or at least I, 4Days and Chris. It seems everyone else has pissed off home! Clearly it's a school night for some and I don't mean Dukey! Fine, cheap round then. As we sup, 4Days reveals he's had another half time punt on us winning, which has obviously come in, but he's not that impressed with the odds he got. Talk about ungrateful! It also dawns that we've not lead in any of the 180 regulation minutes played in the last 72 hours yet have bagged 4 points from the two matches. Up the shithouse last ditch heartbreaker Sutton lads! A passing Amber Aleman even suggests we do a '10 Minute Season Ticket' where you can get into all home games like normal, but only for the last 10 mins. Could be a goer at this rate to be fair…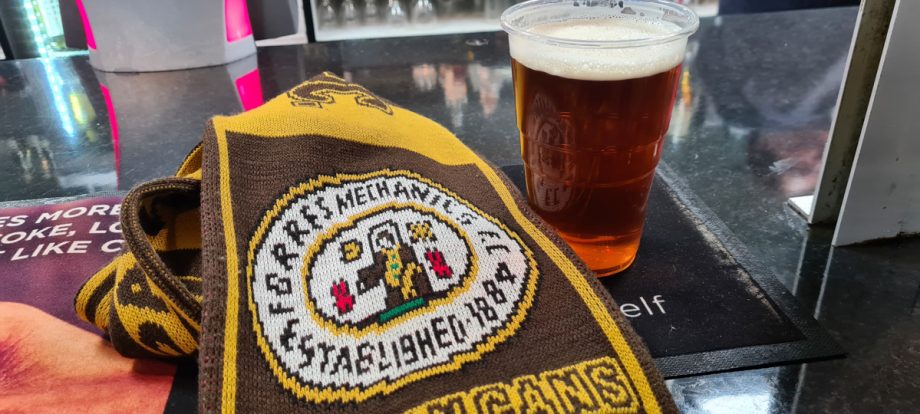 Beers supped, Mr X heads home for, and I quote, his "last wank as a 41 year old" and 4Days with Chris in tow head home in a sherbert leaving me to down the last of my pint of Pride in a now pretty deserted bar before finally heading for the train round to the Badlands and a trot back to HQ. As I wander through the car park, the GGL floodies finally blink out for the night and West Sutton's skyline goes dark, our little League 2 beacon of banter extinguished until the next no doubt life shortening episode plays out here at the weekend. Right, headphones in and home! Oh apparently we're third again? Bloody daft that is.
But then again, you didn't need me to tell you that did you?
Taz
NEWSFLASH! As I write, it seems Colchester have binned off their gaffer after last night's late kick in the chuff. You're welcome lads! We trust there'll be a nice card in the post? Flowers or some chocolates maybe?