Remember the good old days, when football cup competition sponsors were memorable. The Rumbelows Cup, the Milk Cup and the Surrey Demolition and Excavation Senior Cup. Absolute classics. Back when the sponsors were already genuine high street brands rather than some 'who?' outfit just spunking a few quid so you might recognise their obscure brand you'd never previously heard of. Yeah, sure, we get the old ones were lobbing a few quid at it as a marketing exercise too, we're not daft, but we usually already knew them, so that at least came with some pre-conditioned feeling of trust. Instead of an energy drink no one knows, drinks or can even pronounce the name of and some pizza firm that seems equally as popular with the UK public.
Speaking of which, I've only ever had a Papa Johns pizza the once. It was a while back shortly after they first came to the UK and a branch opened up about a mile away from us. They didn't deliver, which instantly set alarm bells ringing and so I had to actually get off my fat arse and go and collect it in person, like it was the 1980's or something and young lads on mopeds hadn't been invented. What certainly wasn't very 1980's was the price, which was the sort of money you'd expect to have Papa John himself dropping it off at your gaff. And it was a prick to park. And the resulting nosh tasted nor looked much better than the sort of oven ready in house made ones you'd get from any large Supermarket.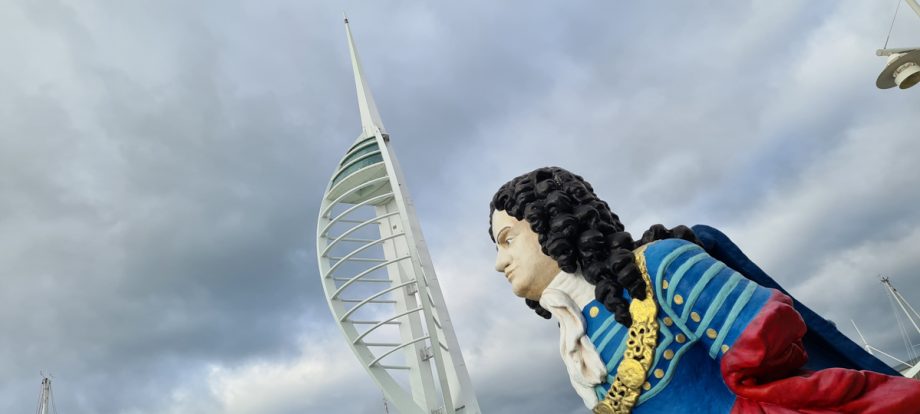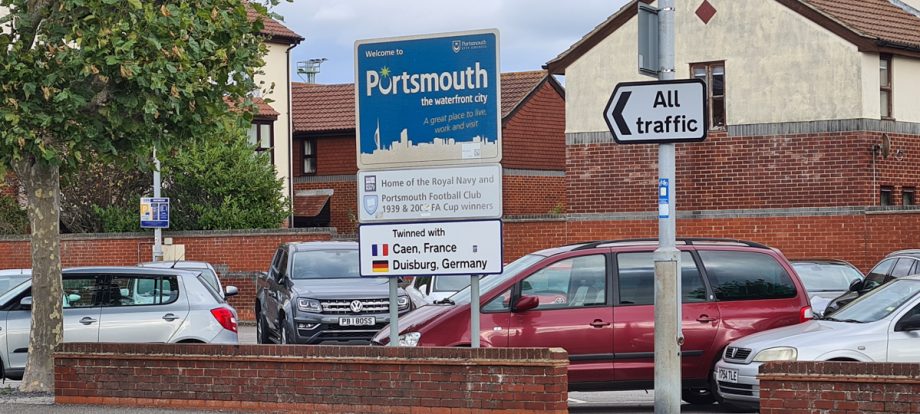 Whether this may or may not have something to do with the general apathy I have toward the Football League trophy that they now sponsor I couldn't possibly say. It's either that or the fact that the PL clubs are basically bribing us all to give their endless hordes of young players some rare game time in proper matches that aren't basically the 90 minute technical ballet session that is their U23 league and that does absolutely fuck all to prepare these lads for playing against actual hairy arsed geezers. Since this deal was done, most football going fans have turned their noses up at what was once a decent little comp for the lower half of the football league, leading to record low crowds for all involved and no little ridicule along the way. Well, until you get to the final that is and that stance is lost in a frenzy of good old cup fever and you end up selling 30 thousand tickets for a day out at Wembley.
Personally, I'm not on board with the Premier's kids being involved. If they want these lads getting games, loan them out. Or just don't sign so fucking many in the first place. And it's for this reason I swerved the 3-0 home win over the Palace kindergarten in the first game. It's bad enough watching games against sides like that in pre-season thanks. However, a trip away to somewhere like Portsmouth is a different matter. Ordinarily the sort of gaff we'd have a slim chance of seeing us play at in the FA Cup, at best, is now a bit more accessible since our ascension to the great 92 72. Plus it's a new ground tick for most of us, regardless of the fact it's in a comp taken as seriously as and watched by less people than the Surrey Senior.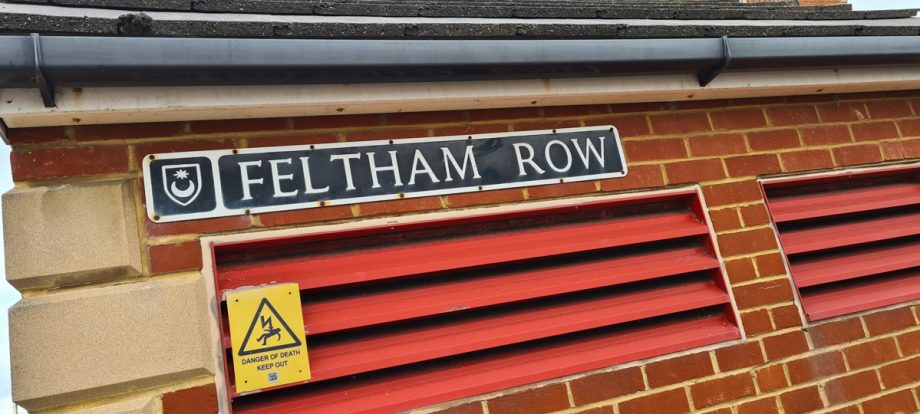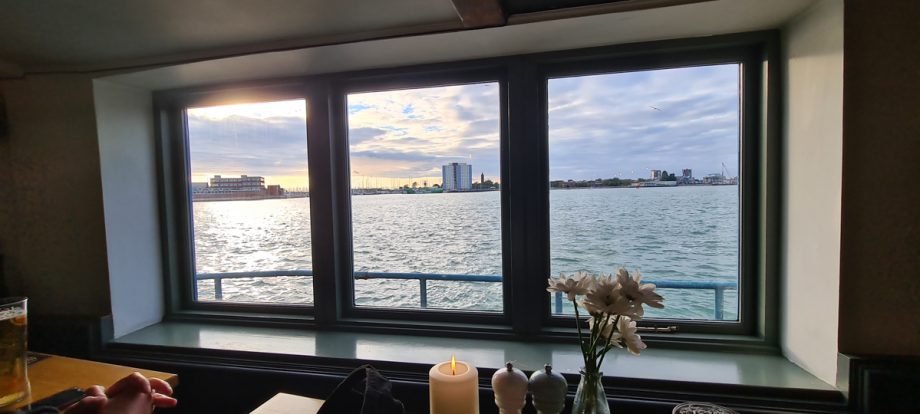 Naturally, we here at Gandermonium like to make such pointless occasions memorable in some way or another and decided that a few of us would burn up some of our piled up time off for a day down by the seaside and a few pints. So a plan was hatched and I find myself walking through the green & pleasant Beddington Park on a nice, sunny late morning bound for Hackbridge station. Thinking I had less time that I thought, I got the old quick march on and naturally, I got to the station 10 mins before departure and a lot sweatier than I'd have liked. My trainers were covered in grass clippings too. Nice one Taz, nice one. Greek's on the train and he too is suffering from the effects of "Bugger me, it's warmer out than I thought!". As we trundle north to Clapham, I fill the big fella in on my trip to the West End the previous evening to see the 'Only Fools & Horses' musical, an Xmas present from the dim & distant past pre-covidbollocks, as he's thinking of popping along himself with the missus. Bottom line is, if you like the tv series, you'll be more than entertained.
We hop off at Clapham Junction, tap out and then go in search of Mr X who should already be here sorting train tickets to Portsmouth. We head to platform 13 for a cuppa and are puzzled to find no train to Pompey. At that moment, Mr X calls and reveals we're actually on platform 9. Oh. We find the man of mystery on his own way there as he get to the bottom of the stairs. With the full party now assembled we're off to Woking on the first leg. A 10 minute wait here and some cinnamon buns for a hungry Greek and I and we're now on the trundle to the coast. It's fairly quiet other than Mr X loudly declaring Havant a shithole, only for the bloke sat immediately behind us to tut and get up to leave the train there. Awkward!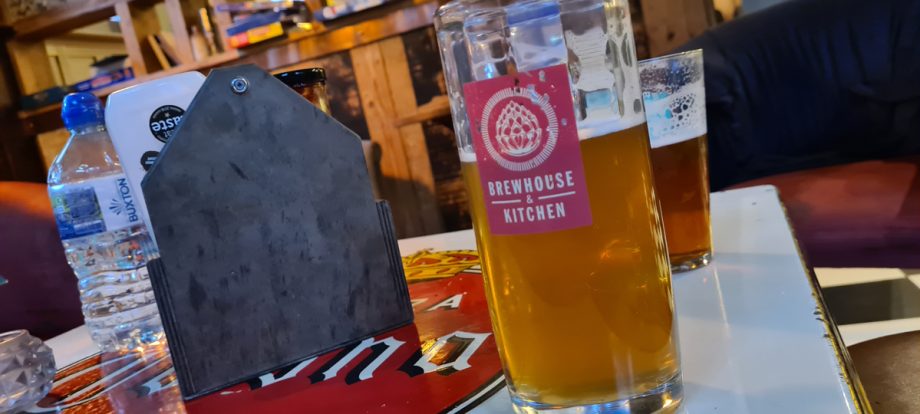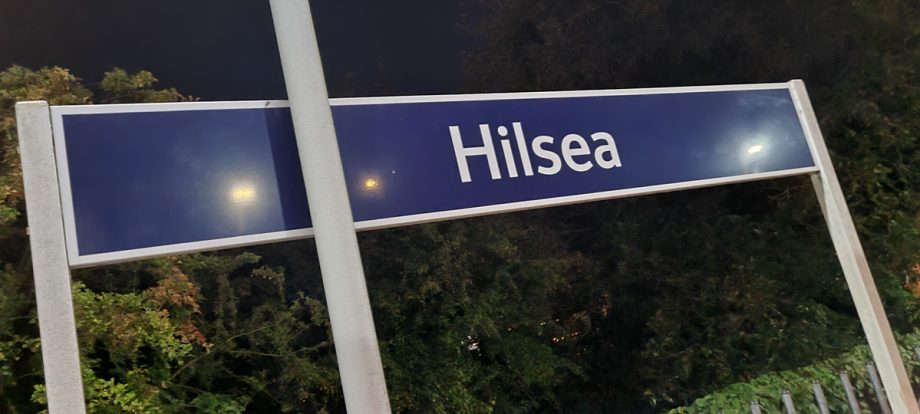 End of the line, we head for the Gunwharf keys and a pint. Along the way Mr X sheds some local knowledge on us from his time here as a student back in the day. "This part is known as the The Hard". "Yeah? Why's that?" asks a seemingly interested Greek. "Dunno" shrugs the Man of Mystery. Fuck me, Lonely Planet will be bombarding your inbox any day now mate with offers with an inside line like that. We eventually hit the Old Custom House and settle in for a couple of beers and fill the big fella in on the events of Saturday's mildly entertaining clash that he'd chosen to ditch. As we chat, a robin hops onto the back of an empty chair, his head flicking back and forth as if he's earwigging on the conversation. We notice our feathered guest and as I go to take a picture, he ups and buggers off to the other side of the beer garden. Bah. Whatever ya fucking shit budgie. Enjoy the Isthmian League ya prick. We have a couple here before heading off to the next boozer. Unfortunately, despite this being barely half a mile as the crow flies, this is a bit of a stroll as we obviously have to follow the harbour round with no option to take the more direct route without having a bit of a swim.
Of course, the walk has Greek moaning, even more so than normal in these circumstances as it allows him to double down on his earlier statement of "I hate the fucking sea" by now blaming it for making him walk all that way and delaying his next bevvy. Eventually though, we arrive at the Spice Island and cop a pint before parking up outside to watch the boats come and go and discuss what we'd do with a £184m Euromillions jackpot from tonight's draw. Here Greek then starts trying to cook up a daft idea about turning this into a fully fledged night out on the tiles, staying over and heading back up in the morning. I'm having none of it, but Mr X is wavering. The complete idiot. Before the idea can be fully formed, we head next door to the Still & West. Here we park up out of the wind indoors and watch the sun sink slowly over Gosport across the bay over a couple more pints and make friends with the cheeky young barman, who's clearly made up by the fact he's got some beery blokes in instead of the OAPs and tourists he's probably had all day. He's a goalkeeper it turns out too, having had a trial at Havant recently but he's working on his badges now.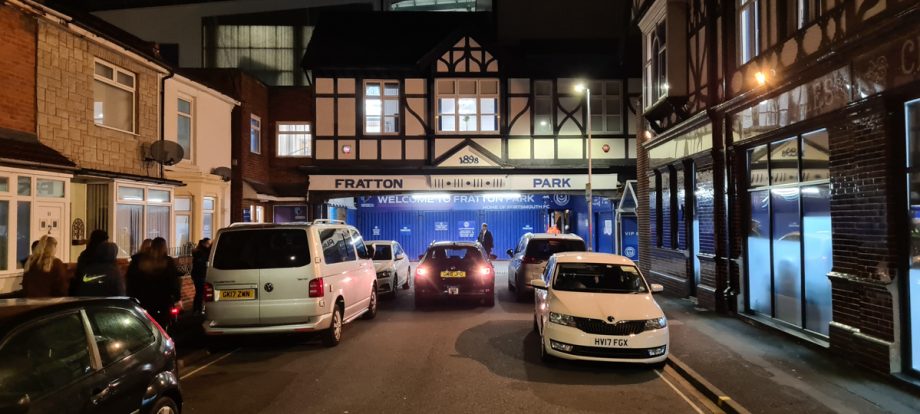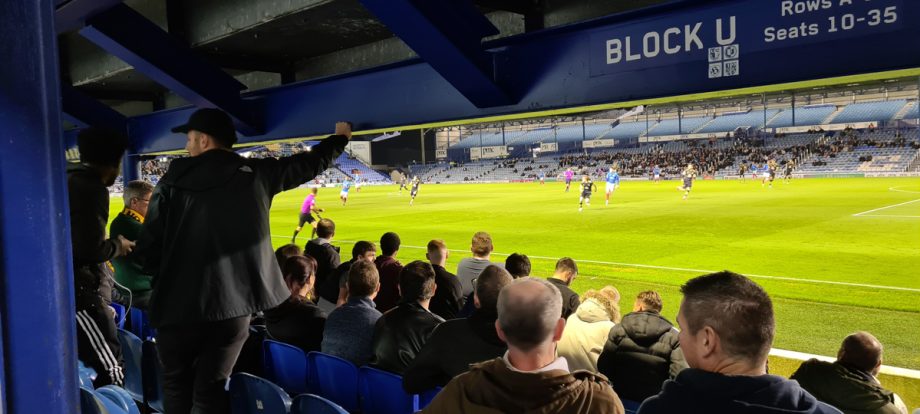 With time pressing on, we rustle up a sherbert and dart back to the Guildhall area to leave us a bit closer to a station and the train 1 stop back to Fratton for the game. We hit the Brewhouse for another pint and some much needed grub. Here everyone's drinks get confusing and we all end up trying a bit of each other's before settling on which is which. With nosebag dealt with, we head round the corner to the Spoons to find a few more U's fans fresh off the train. Here Chalmers joins us fresh from his drive down and having parked out near the ground. Here we sup a couple more before deciding to get the 20 past back the 1 stop to Fratton leaving us a short walk from the game. At Southsea station, we head onto the platform before realising that the train we need is actually on the lower level platforms that local expert Mr X had just moments earlier declared he had no idea where they went. We leg it back down the stairs and just make our chosen service before it pulls out. Panic over! Well…sort of. A couple minutes later, the train stops and we suddenly realise we're on a 12 carriage service and Fratton station should be right about here. Oh shit. Short platform!
We start legging it through the carriages and just make it to one sat actually at the platform, just as the geezer finally announces over the PA what we'd already worked out and the door alarms stop, leaving us trapped. Fucks sake! The train pulls out and we start frantically checking where the next stop is. As if it's Havant, we're boned and will almost certainly miss the 1st half. Luckily for us, it's another 2 minute run to nearby Hilsea and here Mr X's local knowledge pays off at last, calling a local cab firm to arrange immediate transport back. This pans out perfectly as the sherbert pulls up just as we pile out of Hilsea station. Having explained our predicament to the taxi driver and once he's stopped laughing at our tale of idiocy, he thankfully gets his toe down and dumps us right outside the main stand at Fratton Park just in time to hear the few fans inside welcome the teams emerging from the tunnel. Sorted! A quick jog later and we're into the away section in the bowels of the main stand just as the game kicks off.
Bouzanis, Kizzi, Wyatt, John, Rowe, Beautyman, Korboa, Randall, Smith, Sho-Silva, Olaofe SUBS: Ajiboye, Lovatt, Palmer, Milsom, Eastmond, Bennett, Boldewijn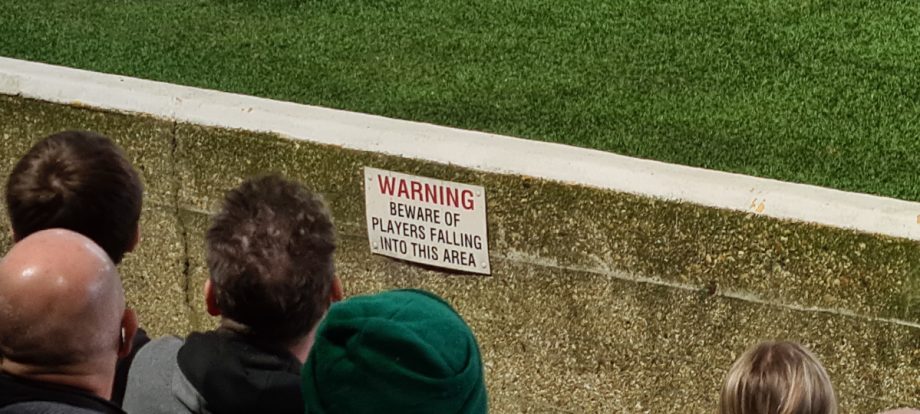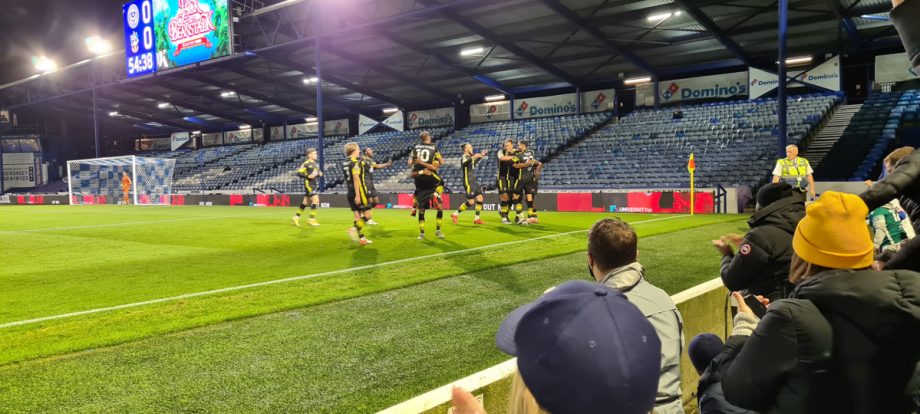 There's not a great crowd in for this one, unsurprisingly. There's a smattering on the far side with the main body of the home crowd behind the goal to our left. On the pitch, the action's not amazing and first half is mostly livened up with us late arrivals trying to find a vantage point in the cramped, low roofed seating where you can get a decent view of the game. The first 45 is devoid of any real chances with the lads looking nothing near out of their depth against a rather disjointed League 1 side. The best we can manage are a couple of soft headers from set pieces nodded straight to the keeper. So at the break, we go in goalless and we head up from our dungeon into the main concourse for a pie and a bottle of water to wet the whistle.
The second half is a bit more coherent, with the hosts causing issues from a corner, Bouzanis not able to gather in the air and his defence having to clear lines. But our brighter approach pays off after about 10 minutes when Harry takes a free-kick short, sends Korboa away wide in space. He crosses low, finding Tanto. His first effort is blocked but the ball rebounds to him and he thumps the ball into the corner. Lovely stuff! From here, we never really look in too much trouble as the hosts huff and puff whilst not really creating any chances threatening the back four and with 20 to go, the game is pretty much done as a contest. Another free kick is won on the far touchline, played to the far post and Kizzi nuts it back into the box for Louis to thump in from close range. That'll do pig!
Their hopes of getting anything disappear a minute or so later when one of their subs hobbles off and with all 3 changes made already, they see out the last 20 or so with 10 men. Meanwhile, we bring on Bennett and Eastmond to see out the tie, with Ritchie heading a good ball in over with an awkward header more off his shoulder than his nut. He then tries his luck with a cheeky first time lob from 35 yards with the keeper well off his line, but the ball drops just wide of the near post. We see out the game with no issues and get to celebrate another 10 grand in Premier League loot in the bank and a fine win with the lads from our bunker before we scarper out into the chilly night air and transport home. Greek & Mr X head back with Dukey, whilst I hop in with Magnum along with Nat and her other half. The run home is perfectly clear and takes just over an hour and the time passes nicely with a search of '#pompey' on Twitter. Most entertaining!
So, with a smile on my face, I stoll back into HQ a sniff after 11 and find Mrs Taz watching a documentary.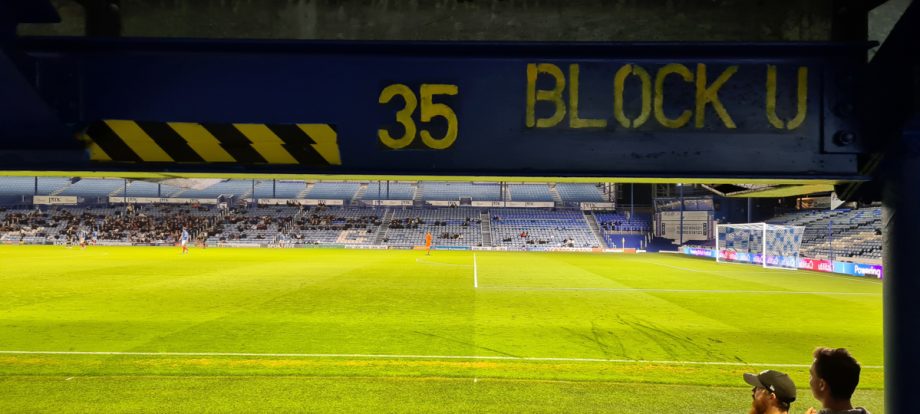 "You smell of beer!" she complains as I peck her affectionately on the cheek.
Really? Can't think how that happened love.
Taz