Port Vale now is it? We seem to be rolling our way through all those old Fourth Division clubs that used to get spewed out on the Grandstand teleprinter when we were kids and life was better and we satisfied ourselves with the simple pleasures in life like shooting each other with spud guns, shoplifting at the Pick N Mix in Woolies and watching Kojak of a Saturday evening with nothing more intoxicating than a glass of Corona pop.
Now then, there has been some political turbulence in the People's Republic since Smarty leaked the news that me and my Old Dutch are doing the off. Dave tumbled what was supposed to be kept a secret until a succession had been stitched up by spotting the fucking great SOLD board that had been nailed up outside the official residence on Gander Green Lane. Which was fair enough really.
In the Old Bank up in Northampton last Saturday there were grown men in tears at the news but they were reassured by the shocking revelation that there's actually a road called the A21 and amazing new things called trains that are known to occasionally trundle down to the south coast and back. I know. Incredible. But I will miss having Gaz Fear and Deano Sturts hurling drive-by abuse at me while I've got the shears out and am trimming the old front bush. And the chats with B Team Clive as he pulls over for a natter in the parts delivery van. But kippers for tea fresh out the smoke house on the beach will take the edge off all that sentimental old bolllocks.
Talking of Northampton you will have clocked from Taz's fine bloggage of that lovely old awayday that there had been some abuse of the old Shoebox Crew on that fans forum thing. Like most of you I never waste my time looking at it but Keepo showed me a tirade from an anonymous poster coating off "drunken men behaving like children" and "that dull boozy blogger who thinks he's an entertainer". Anyway I'm pleased to report that after a security sweep by Big Malcolm P we have identified the perp and have sat down with Mrs Totts and warned her that this sort of outburst should be confined to the bedroom and not broadcast to the nation on a public platform. So that's all sorted out then.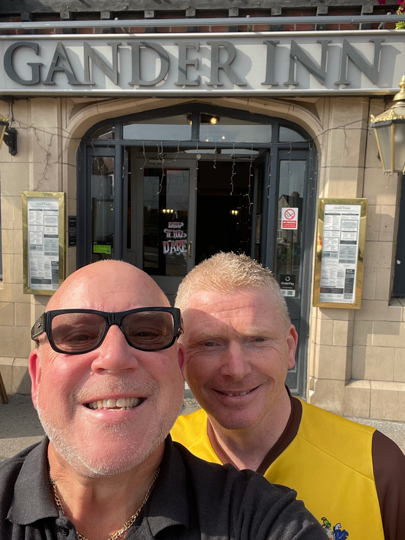 As is my want on the evening prior to the game I sent out a call for useful facts about Port Vale that I could merrily rip off and pad out this parade of old pony that laughably masquerades as a match report. That big idiot from Hackbridge, who was clearly dropped on his head as a child, offered some nonsense about Britain's biggest newt pond and the home of gangster rap. Better was from Blakey Voidoid – one of only a small handful of Dulwich fans who doesn't look like a refugee from a student rag week – with the shocking revelation that Port Vale doesn't actually exist! But my favourite was that the club boasts the second most famous musical supporter in League Two in Robbie Williams. I'm more than happy to have that kind of smoke blown up my arse all day long as it goes. Cheers Clarkey!
After a morning figuring out how the fuck I'm gonna move a juke box that can only be liberated by taking out a window, two cast iron turnstiles, a bunch of old fruit machines and a few tons of other old salvage I need a pint and after a bob up, a splash of Old Spice and a clean pair of Y Fronts I'm fit to face my people and head off up the Lane towards the Gander for a livener. Already installed are Tom The Beard, Lloydy, Scotty Coaches and Brentford John. There's no sign of Dirty Barry and it later transpires he's at the hairdressers in the village. Lloydy throws in a hand grenade with a claim that DB has been lying about his age for years, is probably over seventy and the only way you could be sure is by cutting one of his legs off and counting the rings!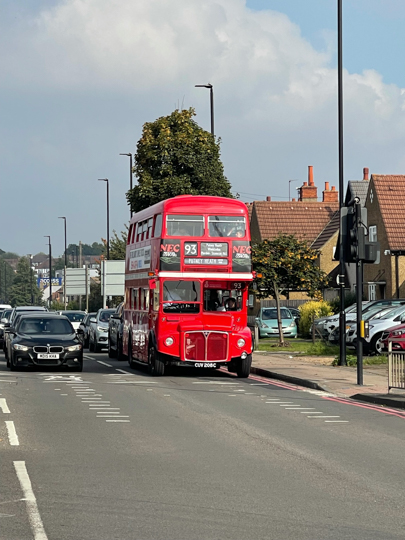 I'm still pondering this bombshell when I bump into Clive on my way out the juicer. We grab the picture he's been after for a while and talk a bit about the prospects for the afternoon ahead, little do we know the storm that the sporting gods are cooking up for us. Crossing the bypass I'm stunned to see a beautiful old 93 Routemaster standing proud and glorious in the autumn sunshine. Long out of service this was the bus of my youth. When we were kids it was 5p to go all the way from North Cheam to Putney Bridge and then a stroll through Parsons Green with my old mates Robbie Rhubarb and Kev The Freak to The Bridge. I'm not big on nostalgia but the memories give me a warm feeling inside and I'm properly chipper when I bowl into the ground. Even the sight of Britain's grumpiest car park attendant with his clipboard interrogating some poor bastard doesn't dent my mood.
DB's already got a fruity cider on the go and is having a natter with Bev The Vegan and Smarty and I'm soon in the swim myself and get a nice old Cuban Army Surplus robusto sparked up. Various faces wander over for a chat, Taz, Belly, Mr and Mrs Yeti, Bobby Bollocks, The Wing Commander, Paul The Mod and the rest of the Fear Firm and everyone is present and correct. I'm not gonna lie, it's murder getting a pint and when Woody rocks up it's looking decidedly dicey but a bit of sharp tactics via Bobby and the VP's and we get sorted. Top work me old mate. There's a lot of media around the place and I knock off a quick interview with Colin Murray from Quest, well, I don't give him a lot of choice if I'm honest and through a cloud of cigar smoke predict the Sutton victory. The old song says Sometime's It's Hard To Be A Woman, well I tell you what they should try being the only A list celebrity in West Sutton and then come back and tell me what hard is.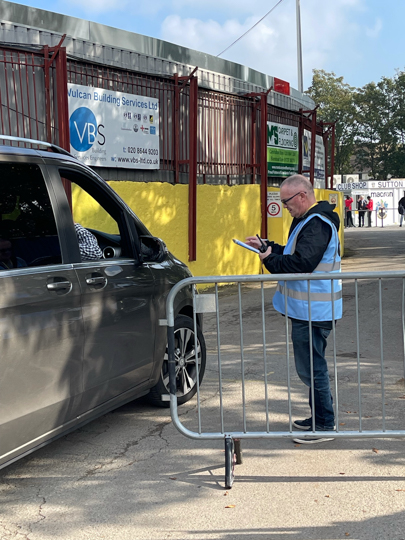 Thoughts have already turned to next weeks trip to Crawley and Lord Woody confirms that his little hostelry Bar 54 in Horley will be open for Sutton fans from 11am with a wide range of beers and ciders and a full-on seventies disco! Dancing Marcus is beside himself with excitement. Gonna be a blast that one. Before we know it it's time to spin round to the more civilised Collingwood entrance and we bump into some spectacularly pissed Vale fans. I really hope Shezza enjoyed her visit to the PROWS and wasn't too disappointed with the eventual outcome. I will give em this, they certainly bought good numbers and made a proper old racket. Certainly the loudest we've had down the Lane in a long long time.
La Curva is rammed as the gate touches that magical four thousand mark and it takes us a while to locate the DILF's and the Bacons but we are slowly getting used to the new arrangements. Crooked Ces has got the marked cards out and like mug punters for whom the fun stopped a long time ago we queue up to get the customary pumping from the DILF Bingo Racket. Frakey is always happy to join the syndicate but he's not so keen when it comes to paying out and there's still whinging and whining going on from Aldershot away many moons ago and a bingo incident that he's been banging on about ever since that's such ancient history the rest of us can't even remember it.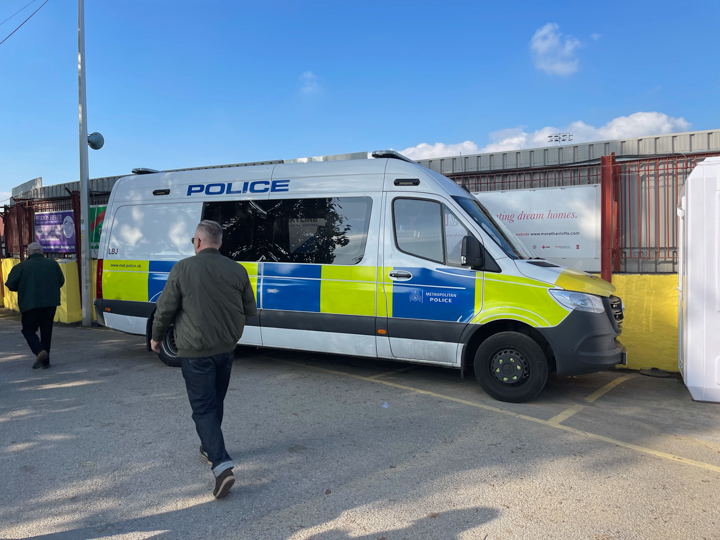 Anyway, let's get down to business….
Bouzanis, Milsom, Kizzi, John,. Rowe, Ajiboye, Eastmond, Smith, Boldewijn, Bennett, Wilson. SUBS: Palmer, Wyatt, Beautyman, Sho-Silva, Korboa, Randall, Olaofe
We know Vale are a good side on a rich run of form and they start on the front foot. Ben is out with a hammy and Coby has dropped in alongside Louis and the are soon fending off the northerners high energy pressing game. This is going to be a stiffer test than our last two outings that's for sure and the visitors open the scoring with Deano caught in no mans land and their lad looping a header over the top of his nut. Shortly after the Vale double their lead when the impressive Proctor swept the ball home after a sharp move. I turn round to Kebab Belly Bob – "we could get a fucking spanking here mate". "I know", he replies. Sagely. But a goal gets us back in the game and cometh the hour, cometh the Milson and with the help of a bit of a deflection our boy delivers that lifeline. Fair play as well to Brentford John who scoops the bingo pot and even manages to spanner two sovs out of Frakey's Purse of Parsimony. Good work that son.
Not a hope of getting a cup of splosh at half time with the queue at Roses longer than that line of nutters waiting on the bypass for hours for a gallon of four star at Kimpton Tesco's at the height of the petrol panic. This infrastructure issue needs sorting. Back on the field the second half starts off really cagey from both sides. That crucial goal before the break has taken the wind out of Port Vale's sails and given us a real boost and something to work with. An equaliser would really stir up the shit and when it arrives it is a truly wonderful own goal straight out of the top drawer and funny as fuck. Unless you're a Vale fan and had been giving it the large one half an hour ago and been denouncing our glorious manor as a shit hole occupied by a shit football team and shit fans. This game is truly on fire now.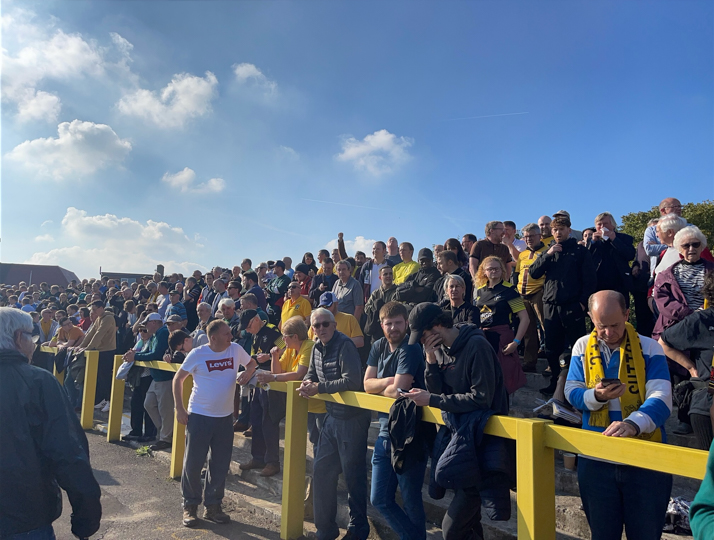 I rarely bother slagging off the officials in these pages as life is too short and we have our very own in-house, foul mouthed yobbo done up like a steward to put them straight but this ref and the lino the Shoebox side are truly dreadful and an award of a corner that should have been a goal kick sees our opponents re-establish their lead and their fans come back to life. I hope the clown balancing on the crush barrier didn't get tossed off in the ensuing melee and bruise his coccyx. Cue the expected shit-housery from Vale as they try and see out the game, I don't blame anyone for that kind of old malarkey by the way but suddenly you can almost smell the fear on them and with Matty shaking it up from the bench we are far from out of this and with a team that never knows when it's beaten we get properly stuck in.
The leveller comes from a rare direction, Will Randall's nut and now at three all there's only one team at the races and it's not the bunch from the Potteries me old chinchillas. The level of raw excitement as we enter the closing minutes is something you could never hope to explain to someone who doesn't attend live football matches in all their naked, passionate glory. And then comes the final coup de grace, chaos in their penalty area and who pops up to blast the ball past a crowd of players and into the top corner? Only Coby Fucking Rowe. At this point you just fucking lose it completely don't you? Dead and buried, twice behind and then winning the game in injury team in a seven goal thriller? The days of our lives my mates. The days of our lives.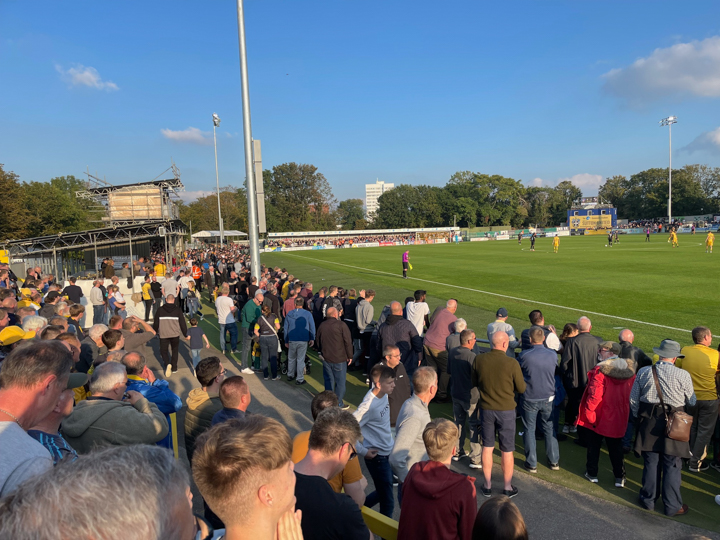 Come the final whistle there's some nonsense on the pitch and the Vale gaffer has to be physically restrained I hear. The silly old sod. Fuck only knows what he was moaning about, these wannabe heroes better get used to having their pants pulled down and their arses smacked by by the boys in the chocolate and amber. We're not here to be patronised, to make up the numbers or to be put in our place by any old fourth division lags. I think we've made that position more than clear in the last few weeks. Anyway, back in the bar we manage to score some beers before it gets too manic and we take up position on the car park wall and try and digest what I have to say is way up there in pantheon of the best games I've seen at the Borough Sports Ground in the past fifty years. It's lovely to catch up with a well-oiled Larey and Sean The Ram, a pair of veteran Plough lads, and it's smiles and laughter all round the gaff and why not?
Me and DB opt to take a stroll down the Gander for a final couple of scoops and there's plenty of Sutton in there getting in amongst it. Neil and his Cocktail Crew are certainly doing their bit to boost the West Sutton economy and that's what I like to see. And that's that really, this will be my last blog for a while as I'm gonna be busy with boxes and all that old caper for a bit but I will see you down in Crawley on Saturday.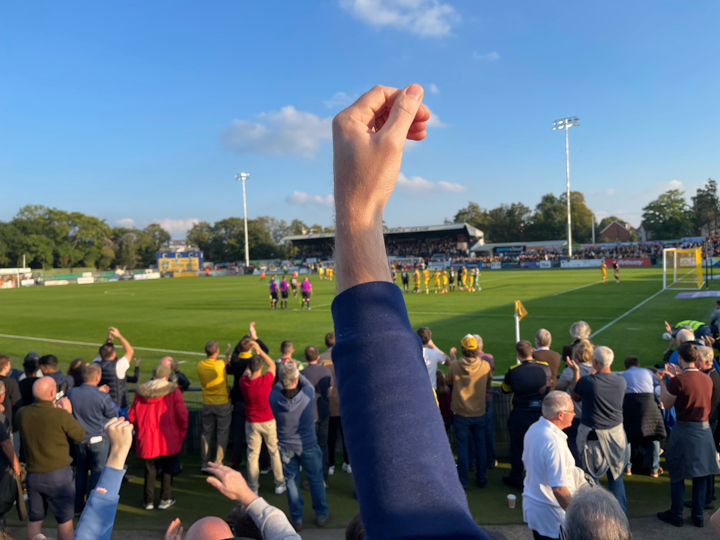 Stumbling through the front door Mrs T asks if we won.
"Yes we did."
"Good game?"
"Not bad darling, not bad."
Totts