Many footballing superstars have graced the pitch at Sutton United down the years – far too many to mention here – but there's one player who stepped out of the GGL tunnel as a kid back in May 1972 who really  should have gone on to become a household name. A lad by the name of Robin Friday.
I remember reading an article about Robin many years ago in When Saturday Comes, a tale of wasted talent, ill-discipline and a short life well and truly lived. It passed me by. I couldn't recall ever seeing him play and there were plenty of other faces around that time in the seventies who pissed it away in spectacular fashion after all. It was a golden era for the geezer and
compared to the bland bollocks of the modern game I miss it big time.
For reference
Anyway, I was looking for a book to take away on the Gandermonium jolly to Alicante for the Hercules game and the search threw up "The Greatest Footballer You Never Saw" by top Woking mod fella Paulo Hewitt and, surprisingly, Giggsy McGuigan who used to be in Oasis. It sparked something in my memory and I thought I'll have some of that.
The book maps out the short and turbulent life of Robin Friday, drawing almost exclusively on press reports and interviews with friends and family with the odd contemporary news headline and TV line-up thrown in to add a bit of context.  It's an unusual
format but it works just fine.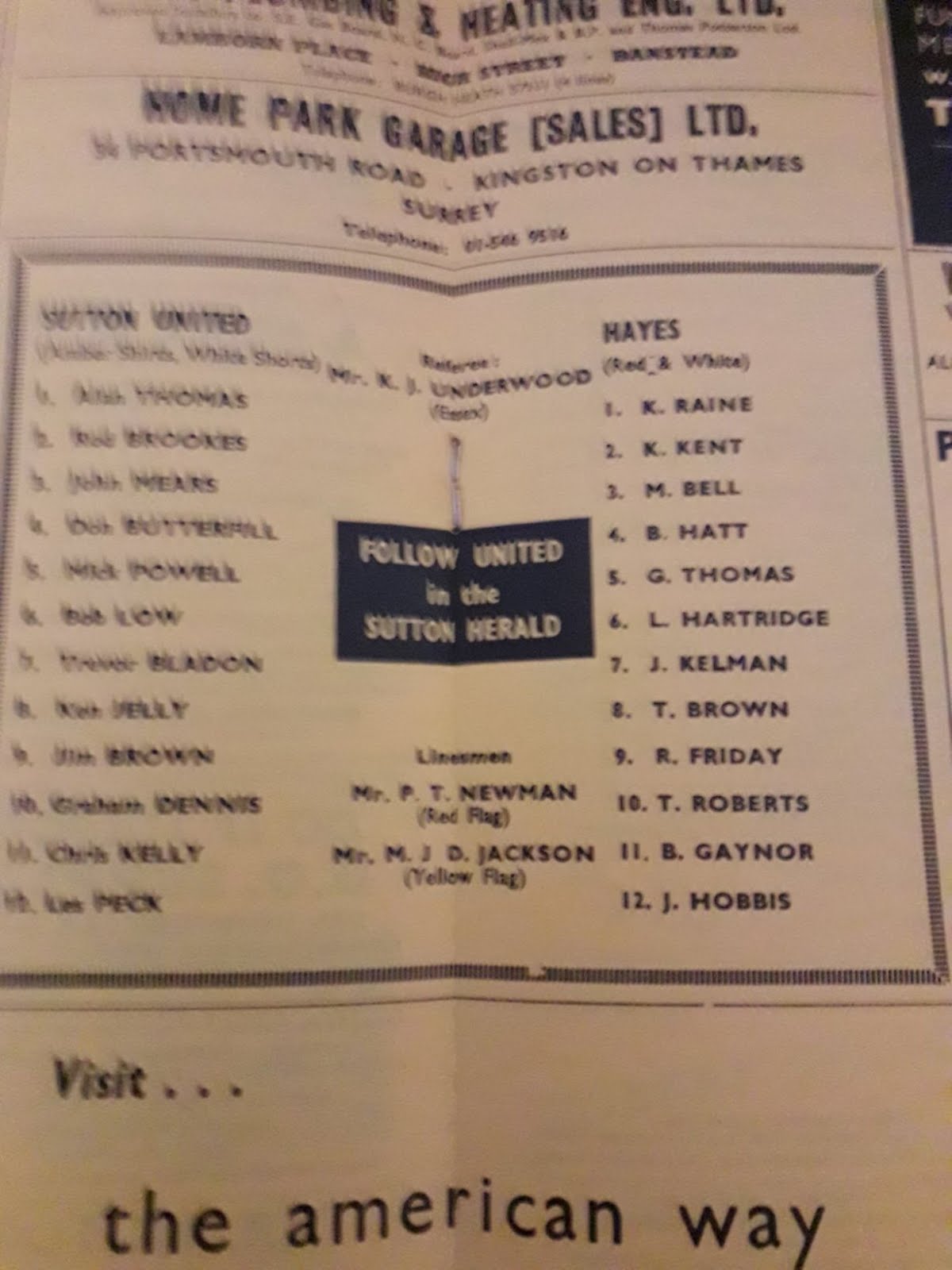 Facing the U's
Born and raised in Acton, Robin had football in his blood. One of his granddads had played for Brentford and Corinthian Casuals and his old man was a decent park player who got his boys into the game at an early age. Spending some time at both Crystal Palace and QPR as a youth Robin was spotted by Harry Medhurst, trialled for Chelsea and got in and was taken along
to the Cup Final against Spurs in '67. But a year later he was released and after a spell in borstal for nicking car radios, where he continued developing as a player, he turned out for Reading Juniors in the South East Counties League.
Working on the asphalt roofs to earn an honest bob a call came from East London via a family friend and Robin ended up on the books at then amateur heavyweights, the long-gone and much-missed Walthamstow Avenue – on a tenner a week! Presumably stuffed in the boot as was the way in those days. I can't find much of a record of his time at Walthamstow but we know he
scored on his debut against Tooting (get in) and he must have been knocking the goals in as they turned over Hayes in an Isthmian League game and the Hayes gaffer was so impressed he tapped the boy up, offered him the princely sum of thirty quid a week and lured him back over to West London.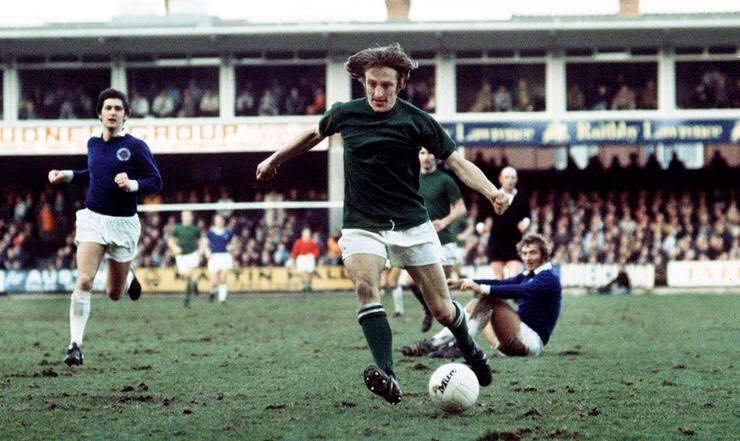 On the move
And this is where the Sutton United connection kicks in as it was midway through his stint at Hayes that Robin turned out, ironically on a Friday night, at Gander Green Lane but it was the U's who ran out two nil winners. A glance at the respective line ups shows us that a young Chris "The Lip" Kelly was in the Sutton side that night, a player who a couple of years later would go on to his own national celebrity geezerdom with his FA Cup exploits for Leatherhead, giving it the big one all over the box and his
eventual move to Millwall.  Oh yeah, and glam rock bootboy classic Metal Guru by T-Rex was just about to take the number
one spot in the hit parade. As I said, a golden era for the geezer the mid-seventies. One Terry Brown also featured for Hayes, the man who'd go on to manage the club to a decent stint in the Conference in the late 90's.
I would have narrowly missed seeing Robin Friday down the Lane as it wasn't until a year later that my old man took me to my first game but I'm indebted to unofficial Sutton historian Frakey for turning up a copy of the programme for us. Thanks mate. For Robin it was more goals for Hayes, watching bands down the Roundhouse, buying clobber from Kensington Market, pissing it up and arsing about in any boozer that hadn't banned him, a short term move to Enfield and a return to Hayes before signing for Reading in a move that should have been his springboard up the divisions and a possible England career.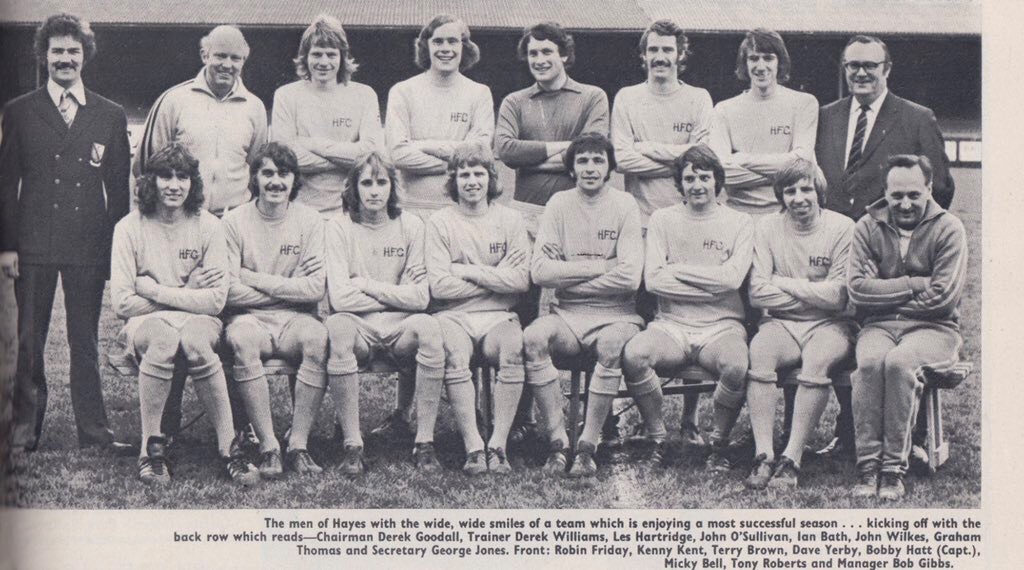 Hayes team, Friday left end of front row.
But this was a bloke who couldn't be tamed. Reading was a good move for him.  The manager Charlie Hurley had rated him since Hayes had taken his side to a replay in an FA Cup second round tie and he understood the player and looked after him as best he
could.  In return Robin bagged 46 goals in 121 games and was kicked to bits week in, week out by defenders who went out
their way to provoke him – often succeeding as he retaliated and chalked up an impressive disciplinary record of bookings and bans. Off the pitch the chaos continued and you need to read the book for the full story, some of it funny, some of it sad.
Friday was instrumental in Reading's brilliant season in '76 when they managed to climb out of the old fourth division for their first promotion since 1926, battering fellow contenders Tranmere five nil en route with Robin ripping them to shreds and with World Cup referee Clive Thomas, who was on duty that day, quoted as saying he had scored the best goal he had ever
seen. No mean feat that. There was reported interest around this time from clubs like West Ham who had him watched, and why wouldn't they with his scoring record and proven ability?
We like our music sweary….
In the end it was Cardiff who came in for him but he hated the move so far away from London, went AWOL, turned up late and pissed, but still managed to knock in six goals in twenty one games amidst a flurry of bookings, sending-offs, fines and internal disciplinary measures. And there was also his debut game against Fulham where George Best failed to show but Robin spent
ninety minutes making a mug of Bobby Moore and banged in two goals before heading back to Acton for a piss up. But in December '77 he walked into the managers' office and quit the game for good at the age of 25.
Robin Friday is still revered by Cardiff fans, they even have a special range of merch with the classic picture of him flicking the V's at a keeper he's just dumped on his arse as the ball nestles in the net, and many years later the Super Furry Animals dedicated their single The Man Don't Give a Fuck' to him. Not many players achieve legend status in just 21 games. His very last appearance for them – and his last game full stop – was an away fixture at Brighton's Goldstone Ground where he gave future BBC pundit Mark Lawrenson a torrid time but the notoriously boring bastard said something out of turn and Friday lumped him one, busting his cheekbone. The inevitable sending off was the end of the road but not before, as Cardiff folklore has it, he shat in Lawro's kit bag on his way out of the ground and to the pub while the match continued . The kind of act of vengeance no one likes to see. But true or not, it's as funny as fuck and a hell of an appropriate way for him to bow out of the game.
By the time he knocked it on the head he was on the piss and on the gear and had a personal life that could best be described as
"complicated". Fuck it, he made Georgie Best look like a bloody saint. But he didn't have the dough and the exhibition appearances to fall back on and was scratching a living taking casual jobs in the building trade. When he showed up.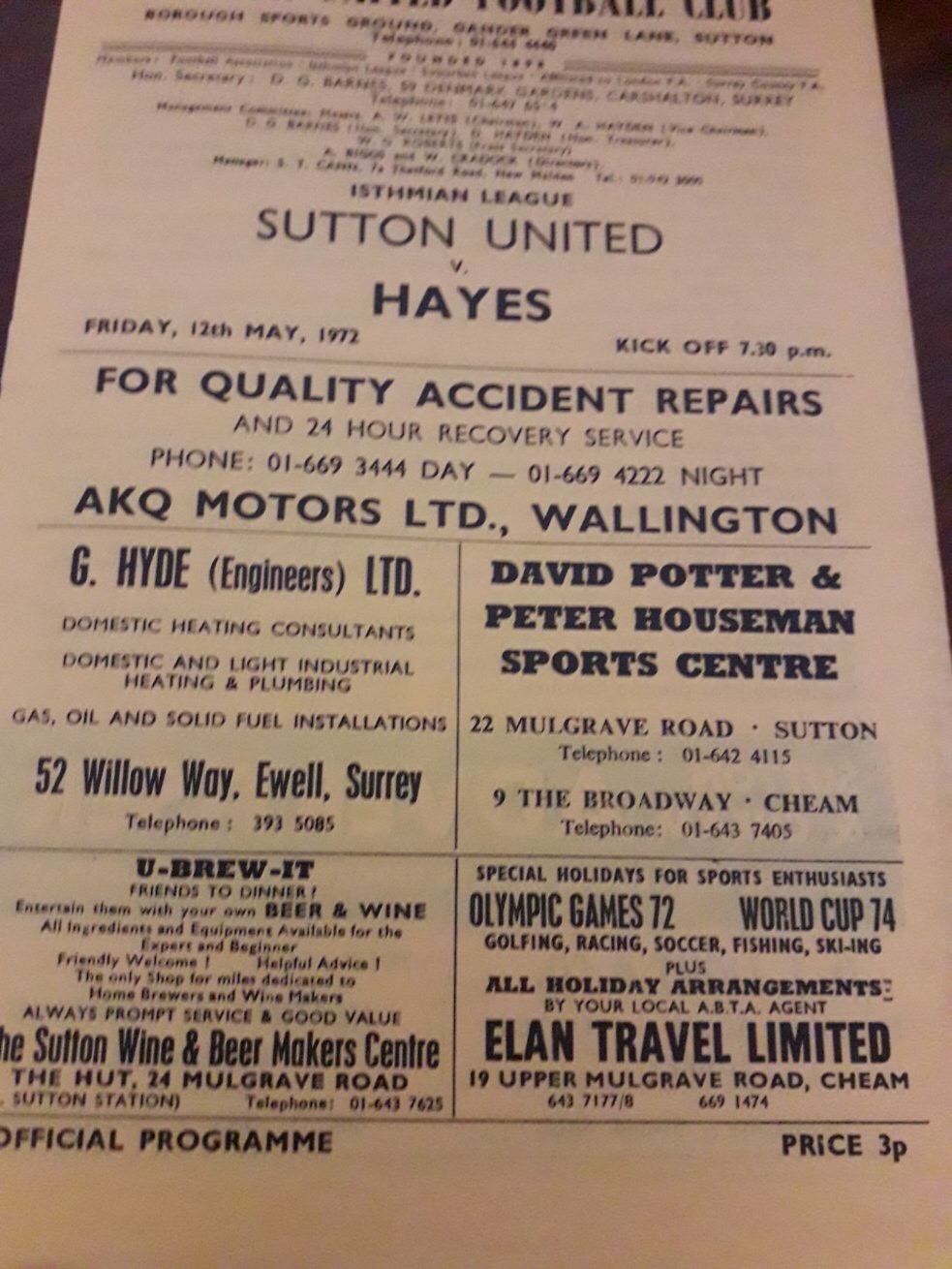 Friday at GGL on a Friday
The book says he turned out for Hillingdon Borough in the Southern League but there's no record of that I can find but he certainly
trained with Brentford for a while and even Reading came back in for him following a petition by fans but the die was cast and there was no way back into the game. Robin did more bird for impersonating a police officer as a scam to relieve people of their drugs and at the age of 38 he died, alone in his flat, possibly of a heroin overdose, skint and unknown. His funeral saw a mass
turn out of West London faces but, apart from a few magazine articles, it wasn't until the first edition of Paulo and Paul's book in 1997 that his extraordinary, but tragically short, life was properly documented and brought to wider attention.
Read it, you won't regret it. You can pick up the current edition brand new and cheap on Amazon. There's been talk of a movie. I wouldn't mind a bit part. I've got the clobber and the Ronson so wouldn't need to trouble the wardrobe department.
RIP Robin Friday. Any player who turned up pissed to training with a swan under his arm would be first on the team sheet in my kind of side. All day long.
Totts
Thanks to Mark Frake for providing the Sutton United programme info, as always!