So our lil' jaunt on the Spanish Main continues to roll on. The moving of our planned match of Chairman Totts much beloved Hercules from Sunday to Saturday at such a short notice had scuppered our original plan. But from somewhere, the footballing ground-hopping gods have given us a lifeline as a match is found at short notice for the Sunday.
The two teams that are due to do battle are Elche Illicitano playing at home against Rayo Ibense. Yeah yeah I know, we hadn't heard of them either. But it's non-league football, Spanish-style. Anyway, where did Taz leave us? Oh yeah, out on the tiles on Saturday night. There's no light in the room as I finally awake. The tower fan between the beds is on a constant cycle as it has the double function of not only blowing cool air around the room, but to also helping to drone out the other sound in here. Dr Bell is lying prone on the other bed as he sucks in air at an alarming decibel level that only those that have previously born witness to, can understand.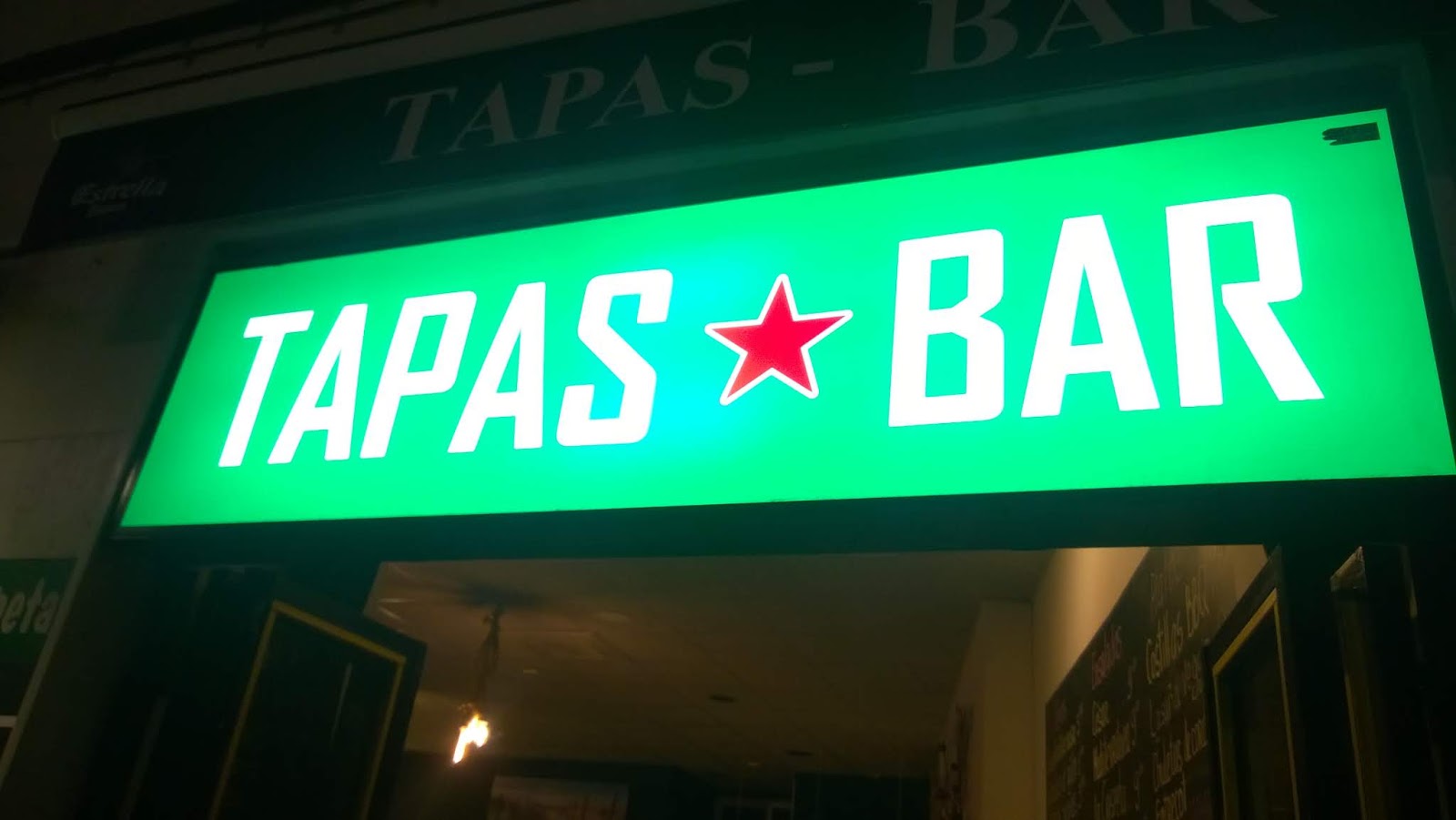 And football…
It's now Sunday morning and as always, recollections of the later parts of the previous night are hazy at best. Mr X would manage to end up talking to a local fella who'd learnt all his English from the 80s/90s table top Dungeons & Dragons game 'Warhammer'. Apparently the geezer said "bequeathed" a lot in the conversation. You don't hear that often, certainly not much outside the 16th Century anyway. A random dog would also make an appearance at one point, playing around with the punters, because random dog always make an appearance when you're in a Spanish rock club that pays only Spanish lingo songs. There was also another round of a local past time called "Throw the door keys off the balcony so a drunk man can catch them below" played before we turned in.
Mr X would once again play the doting housewife as he provided a much needed cuppa for everyone as well as Ham & Cheese toasties all round. Minus the pepper of course. Magnum PI was the DJ, playing a selection of obscure 80s hits that only he & Dr Bell knew. With the match not kicking off til much later on in the day, the Firm mulled over various ideas of how to pass the time until then. Needing to use the local transportation links, as well as a bit of coordination with those that were leaving on tonight's late flight, we also needed to make sure that our breakfast didn't turn out like the day before, where it sort of became a two hour, three course meal for a tenner.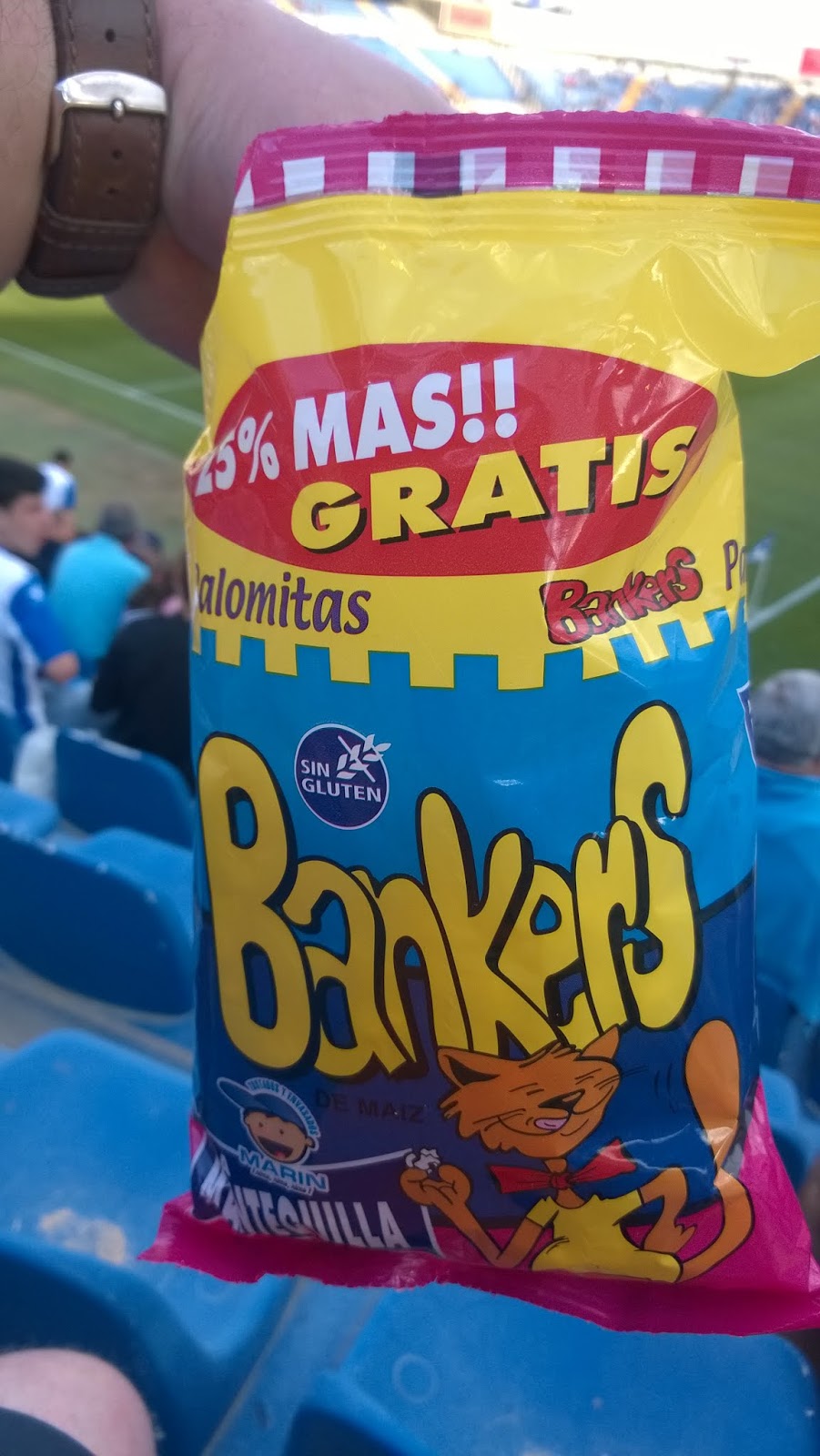 There's a few round here…
Someone somewhere came up with the idea of scaling the walls of Santa Bábara. And if you've ever been to Alicante, or just seen the photos of the place, then you know what castle I'm on about, right on top of a fuckin' mountain. And if the slave marches we'd done the day before were bad enough, then climbing to the summit of this behemoth would probably kill some of us. My money was on Magnum PI all the way. Although Dr Bell would also have made a decent each way bet too.
Luckily for all of us, Taz had been down to these parts before (whilst in Benidorm last summer no less) and knew of a lift that would take us straight to the top. Happy fuckin' days! First we needed to walk down to the beach and wait there as there were a few sleepy stragglers left behind. Surprisingly, the lift is an actual lift and not some sort of cable car as I thought. Think of the poor fuckers that had to literally drill straight forward into solid rock and then straight up.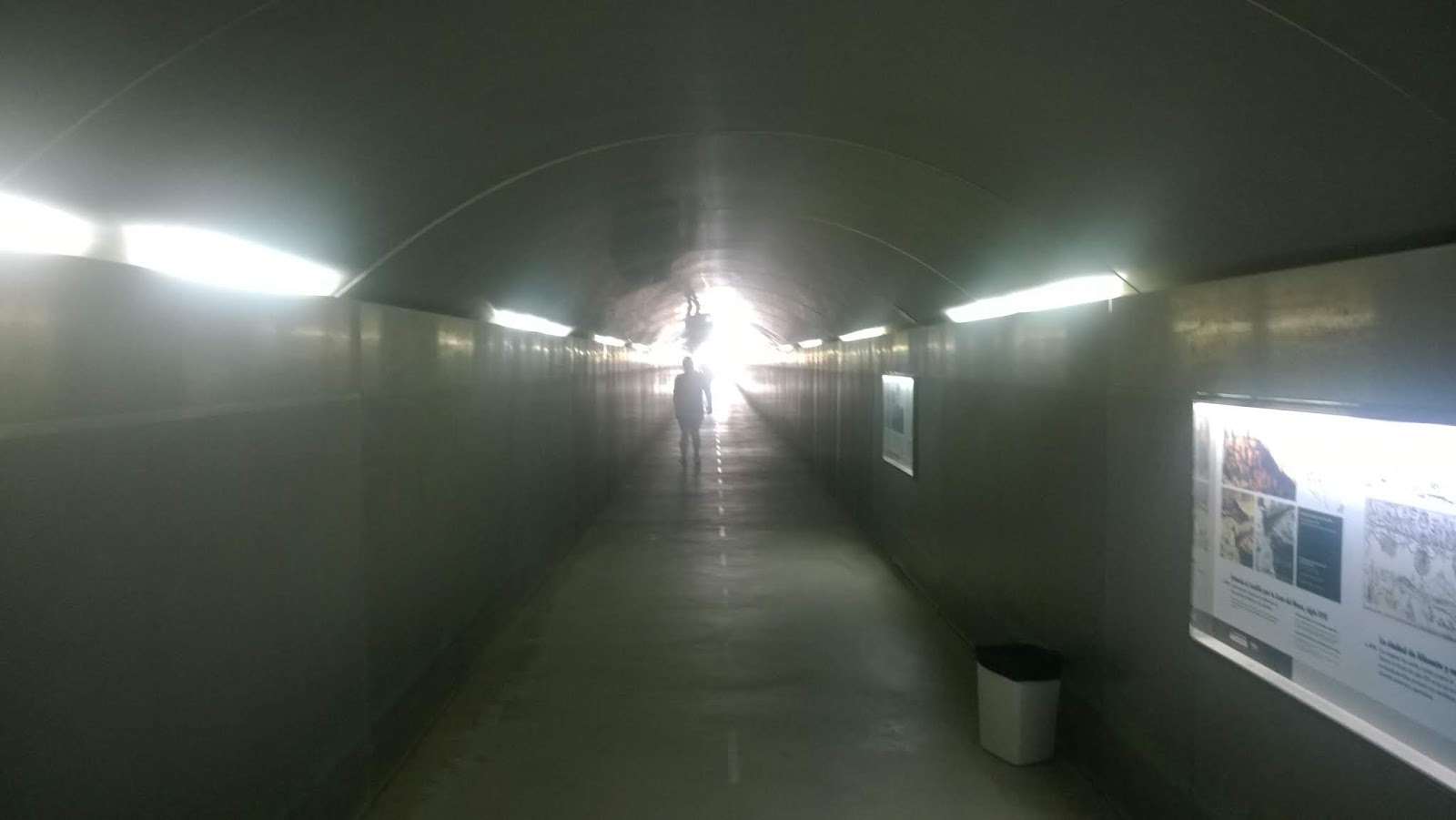 Underneath the mountain…
There was a queue for the lift that stretched right out into the blazin' sun, but anything was better than walking. €2.70 it costs to go up, but free if you're coming back down. Bit like that bridge into Wales. A bit confusing was that the tickets were being dispensed by a automated machine that had options to change the lingo if need be, but it was still being operated by a mature Spanish lady who just pushed the buttons for you. What was the bloody point of having it automated in the first place?
It's a little walk underground until you get to the actual lift, which is also operated by a mature Spanish lady who's job it is to push the buttons. Talk about jobs for the girls. With the nine of us in total, there was just enough room to let in two more people to travel up with us. Two English fellas would jump in with one of them wearing a rather loud flowery shirt. A few moments later and we're near the top and basking in the views.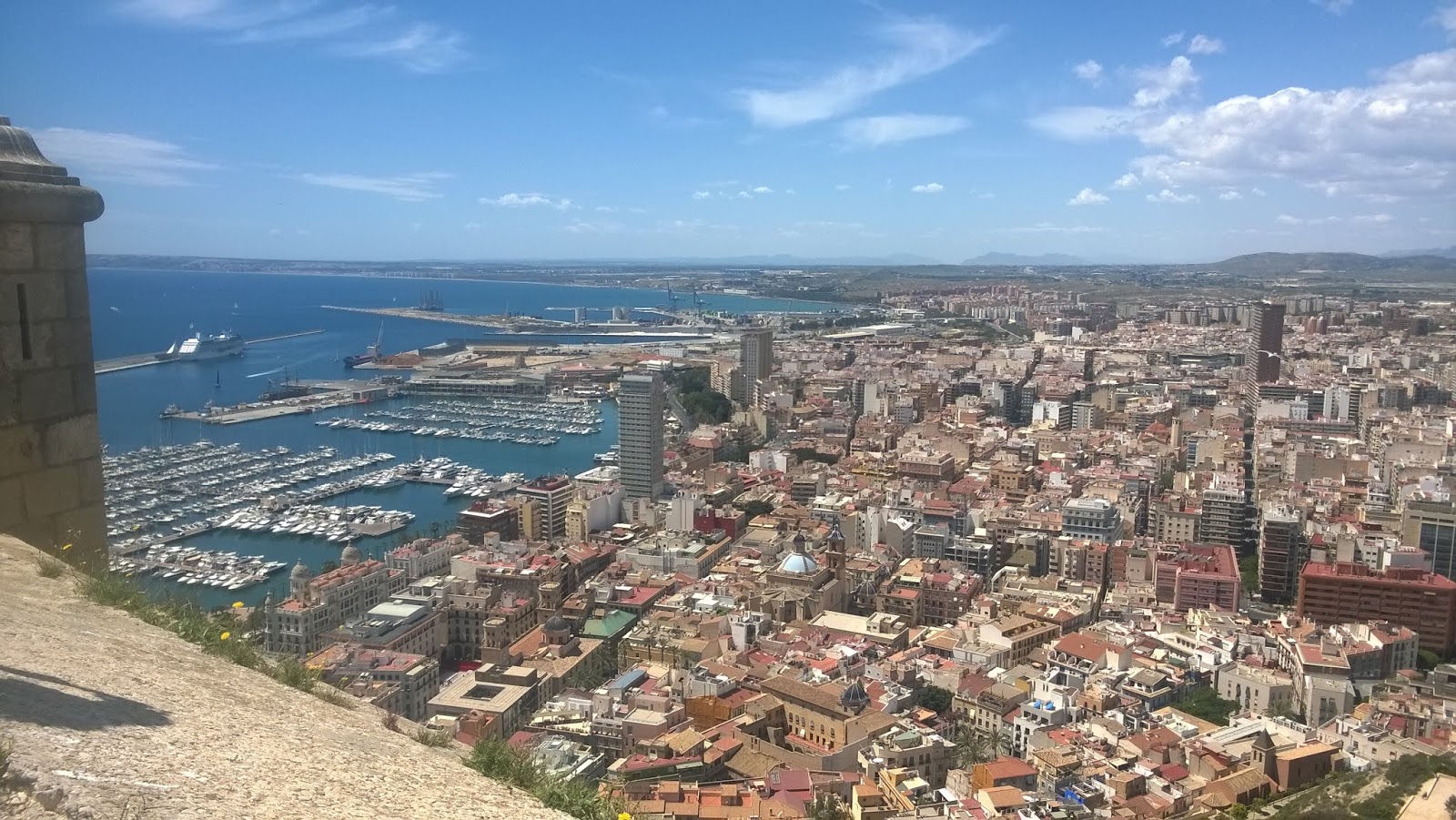 Room with a view…
There's pretty much a 360 panoramic view of how big Alicante really is is from up here and judging by the amount of Yanks that came out of nowhere, it also seems to be a stopping off point for the cruise ships that crawl up and down this part of the Mediterranean coast. But there is only so much culture that we can stomach before our own stomachs start to grumble. And as luck would have it, there is a little cafe within the grounds of our cultural stop. So we head there for much needed sustenance.
Having to slightly split up because of the lack of large tables outside, Mr X would calmly suggest "Let's sit in the sun here". And guess what? Yes, you guessed it. For the only time in the whole holiday it starts to ever so slightly bloody rain as soon as we've parked our arses and ordered grub. But it was over before it started as no one even bothers to move. That also includes the two mature Spanish lift operators sitting next to us and the two fellas from the lift who were the other side of us also having something to eat. Small world it seems.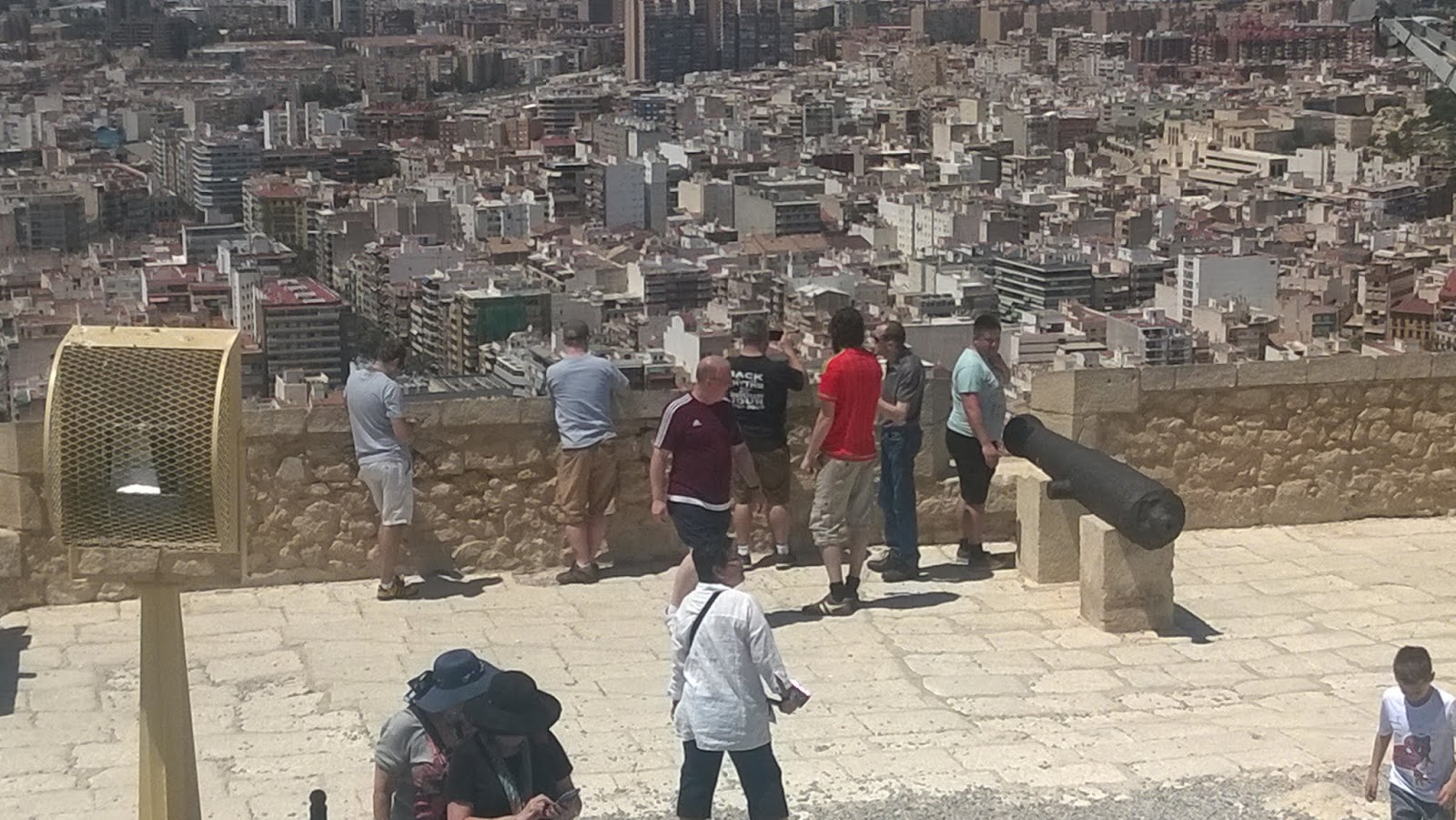 Bloody foreigners. Going over there, enjoying the views….
Late Breakfastearly Lunch is soon over (a local Spanish delicacy called "Pepperoni pizza"), and it's time for our free ride back down in the lift towards the beach. We have a little mooch around the marina to see how the other half live live these days and even though it isn't quiet like Puerto Banũs, according to Magnum, there is still plenty of money literally floating around. Amazingly, we also bump into once again the two fellas from the lift as we're making our way back to our base of operations. They must've been getting sick of the sight of us by now. I certainly was of that geezer's fuckin' lairy shirt.
Back at home and we've finally nailed down the game plan. The match is due to kick off at six and there is one train we can get at just after five. It's a fair old walk to the main station, and with the Sunday lot bringing their cases, we make it to the station a little behind schedule but still in plenty of time. There was also sadly no 4 o'clock Havant announcment to keep our spirits up. For some reason, the ticket machine wouldn't give us the train tickets for the train we needed and it causes a bit of a panic. Me & Mr X, on the other hand, just head outside to smoke whilst this happens. Taz returns with our tickets costing just over €5 return. It's like magic or something.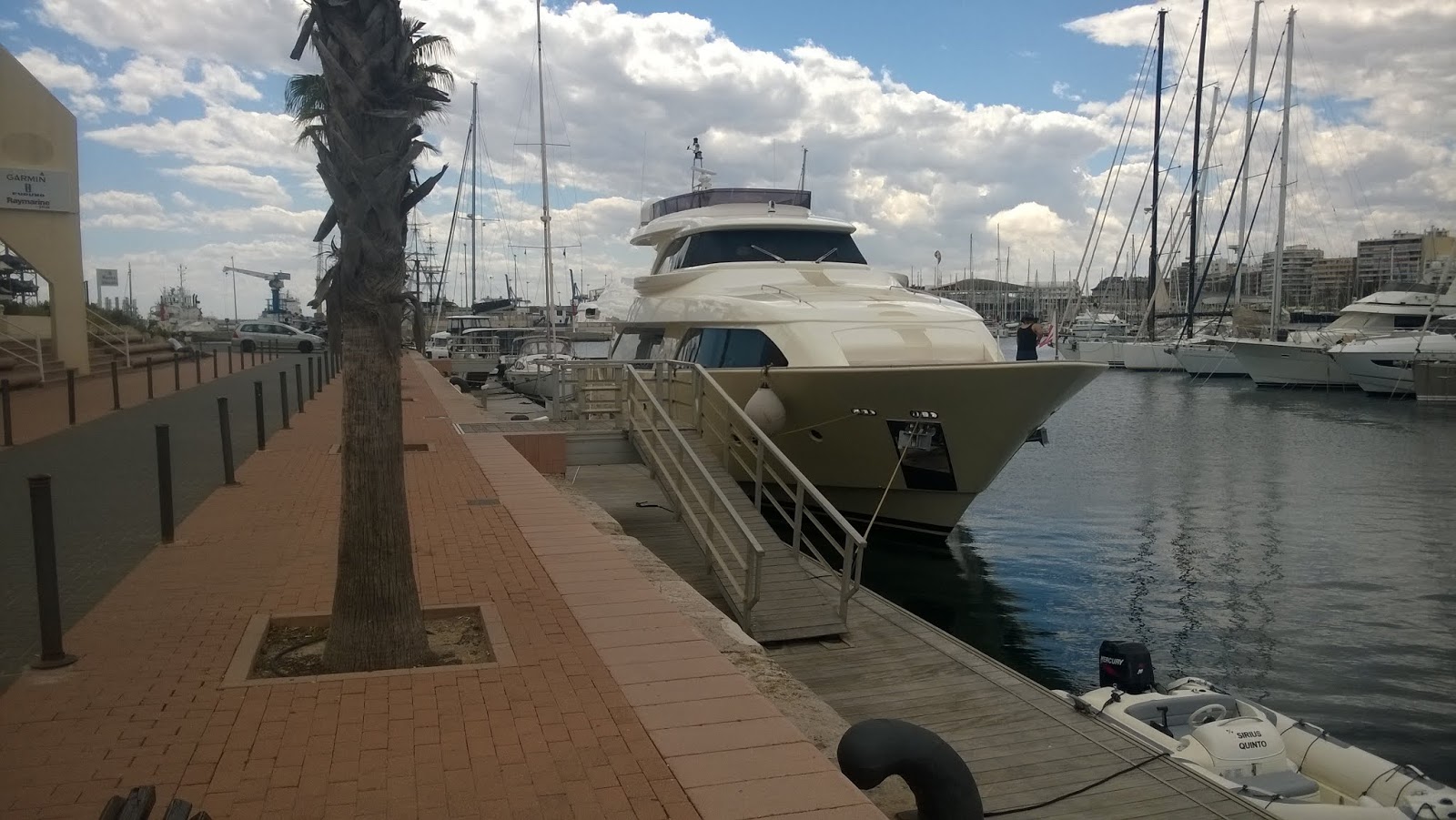 Local rowing boat…
The train leaves bang on time, so it clearly ain't no El Thameslinko and is rather more comfortable than I thought it was going to be. You know, rolling stock still from the Franco era. And a rather interesting feature of the local Spanish trains is the ability for the seats to change what way they are facing simply by flipping the backrests. Rather ingenious when you think about it, except you drastically reduce your leg-space depending on what way you're facing. The journey isn't too bad and we arrive in Elche with no issues.
Well I say no issues. Because just as we're come up the escalator and outside on the street, Alan "Red Bottom" Chalmers discovers he seems to have left his phone on the train! "Don't worry about it now, you've lost it!" came the shout from his brother. Most of us nod and mutter much the same, the rattler will be long gone by now. But not heeding to this, Al runs back into the station to recover his lost dog. By this time, we're starting to get a little worried as it's quite a walk to the ground and time is pressing on for kick off.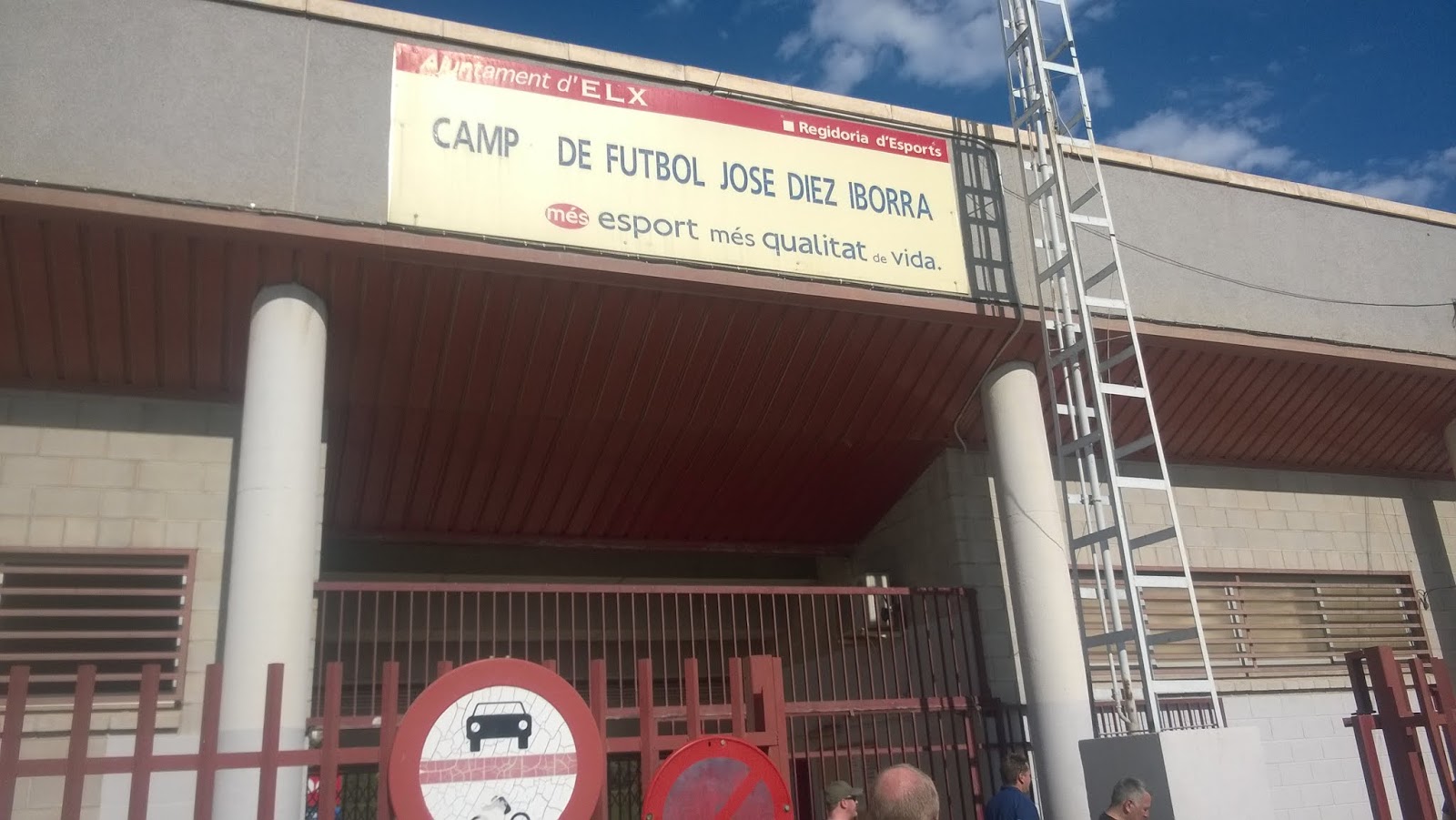 Where the game should be…
Suddenly, Red Bottom returns with the cheekiest of smiles. He's only gone and got his bleedin' phone back! Apparently the bird across the carriage from us had spotted the phone on the seat and handed it to the conductor who was right there as we got off. With Red Bottom bombing back to the platform, the conductor clocks him through the window and delays the train leaving, opens the doors and hands it back to him. What a lucky lucky fucker! Back home in Blighty, that would've been nicked and long gone and you'd have been ringing round to get it all cancelled and blocked!
Crisis over and it's back to the trek to the ground. A simple enough job as you walk so far down the main road, hook a right and it's right there on your left. Bobs your uncle, fanny's your aunt. We arrive with only a couple of minutes till kick off. It does seems rather quiet though as we approach and several gates are locked shut. Walking the length of one side of the ground we realise that there is no match going on at all. No players warming up, no crowd, nothing. Next door there are a few artificial pitches with kids teams playing on, but no senior match in sight. And the sight of nine random fellas, some of them trailing fuckin' luggage, hanging about watching some kids games is not a look we tend to go for.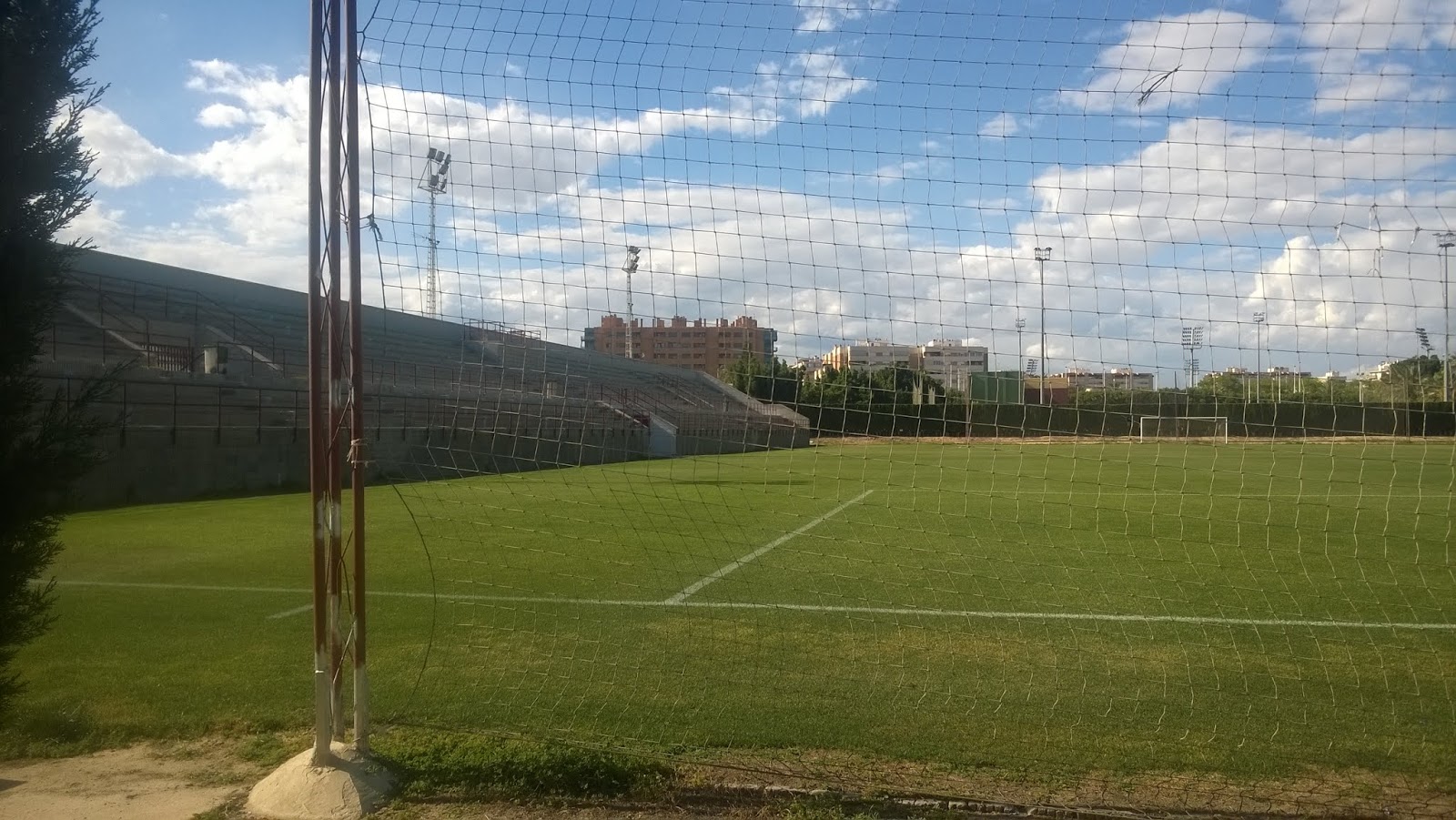 No one home…
With nothing else to do, we grab a beer from the local cafe that is open in one corner of the ground. Taz then checks his phone to make sure that the match is still on and he confirms it is. Southampton Steve then looks on Twatter and remarks that the home side have even put up a team line-up a few minutes before, as well as published photos of the warm-up and everything. One of the eagle-eyes looks more closely and clocks that they've only gone and moved the match to Elche's main stadium. Oh Bollocks!
Looking on Google maps and it's good jaunt further south. Still, we have beers so it's off we go once again. The group spreads out a fair bit until there is three of us holding up the rear. We eventually spot the concrete megalith in the distance and are quite surprised that we can actually hear noise coming from inside. A much needed change from Hercules yesterday. There is even a big cheer as we assume the home team have scored and early goal. Well, early-ish as we arrive half hour after kick-off.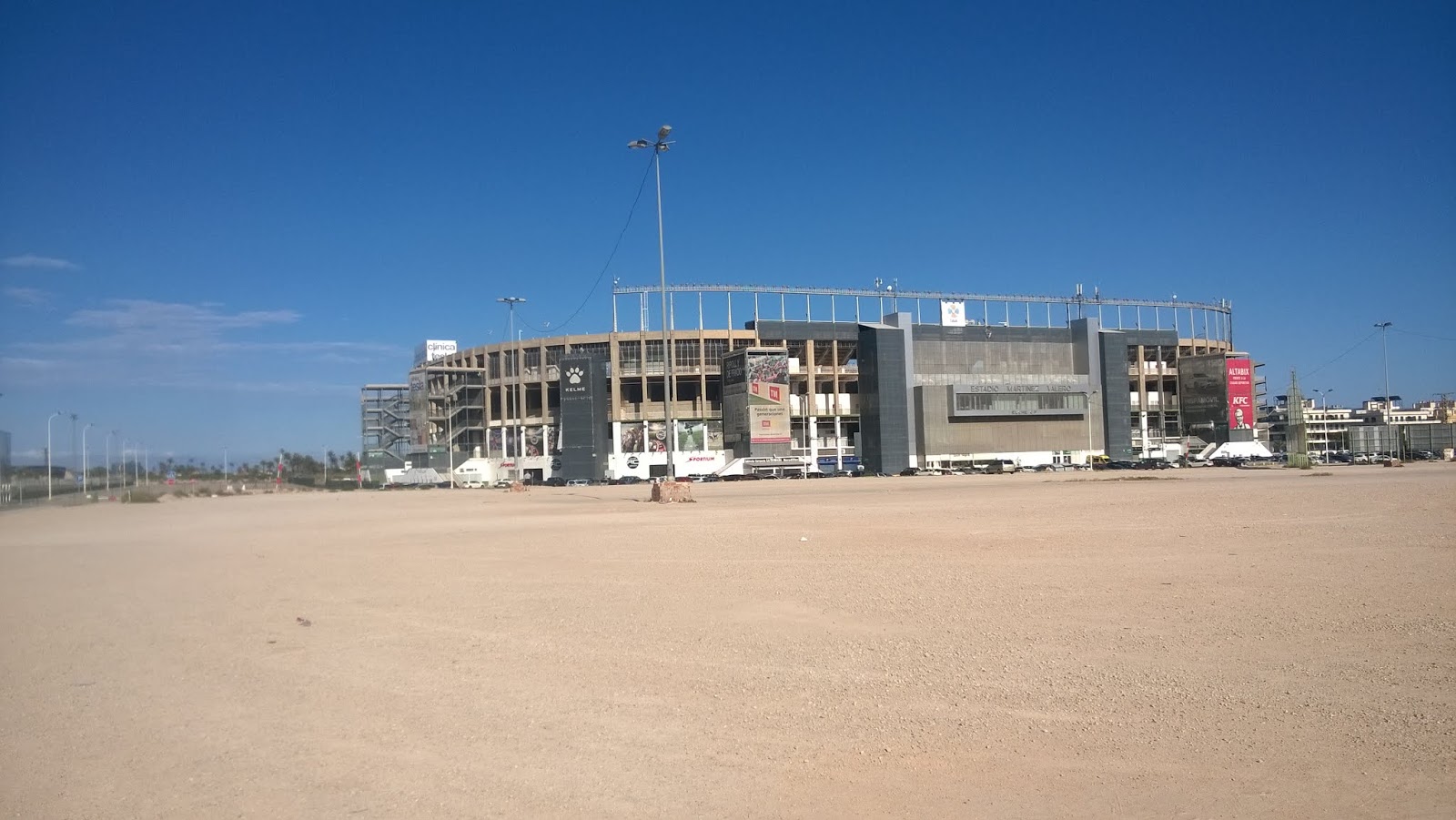 Designed to incorporate the local surroundings…
It's €5 to get in and we take a seat. But let me explain a little bit about this level of football. The Tercera Divisón, or 'Third Division' is in fact the Fourth division in Spanish football. And a fuck load (360 apparently) of teams play it out over 18 regional leagues. If you were to finish top, then you enter into a two-legged play-off match against another winner for a place in the Segunda División B. (Second Division B). Or the Third Division, if you're keeping up. There's also a whole other side of the losers then being stuck into the other play-offs with the others that have made the play-offs, but like Totts said the day before, fuck knows.
Looking around and it's clear that the match is segregated, which is probably why they moved it. Then checking our group and I realise that we're a couple people short. Where are the others? I'm soon pointed over to the far side of the travelling support to see that the missing members are over there in the away end. Turns out that because 4 Days was wearing his red Wales shirt and Ibense were also wearing red, he wasn't allowed to sit with us. 'Winning' is what I believe one of us said at the time.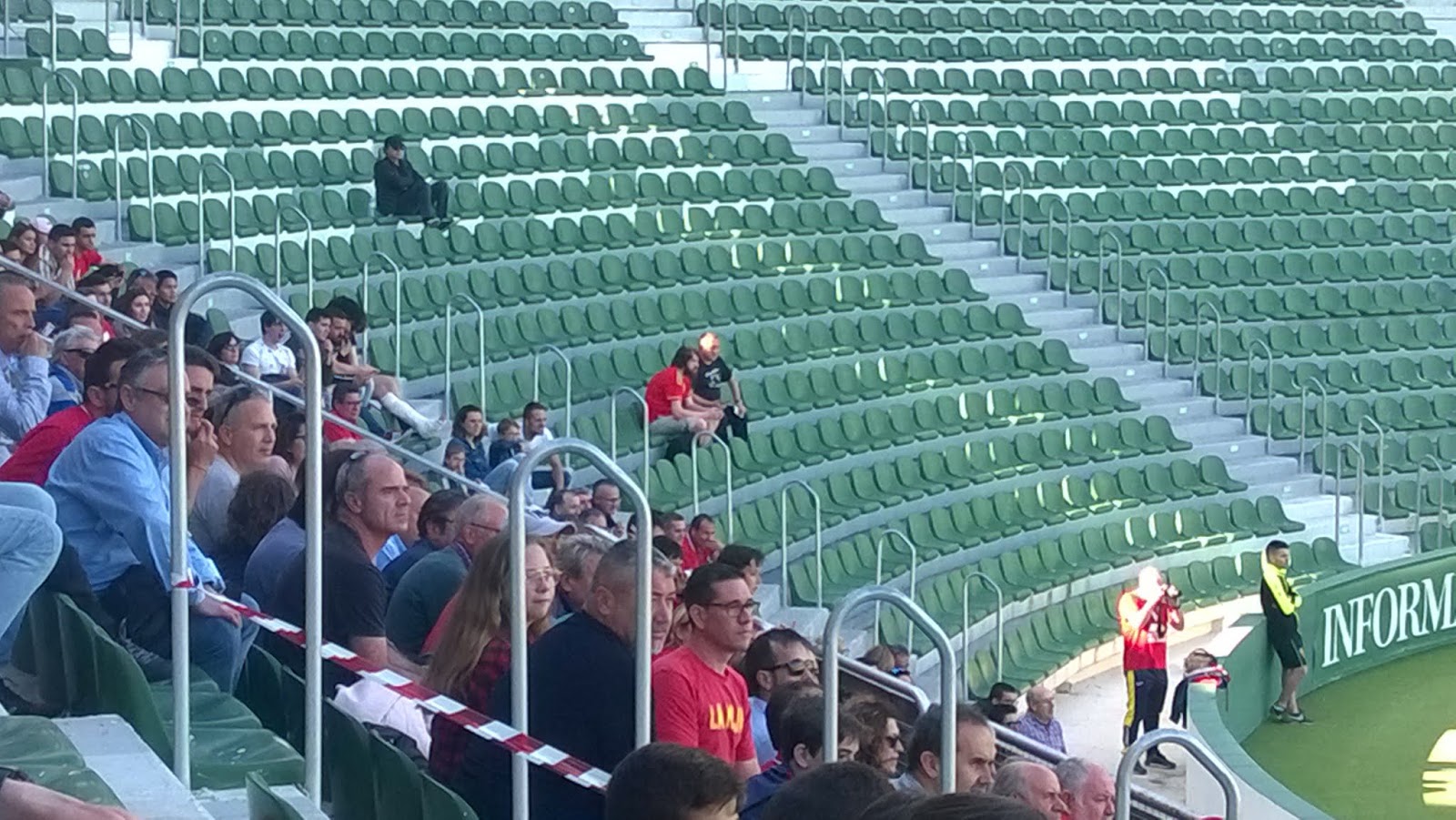 Splitters!
The match itself is a bit of a dead rubber as end of season matches go. Ibense have taken the lead (we thought it was the home side, judging by the noise, but it was actually the away fans!) and Elche fail to put the away side under any pressure. The travelling support are very loud and continue to support their side throughout the match. As for the home side, not a peep. But it Elche's reserve side, so it's mostly bored locals watching.
Half time and once again it's a ground that only serves alcohol free beer. Luckily there is a bar outside and we head there. "Four beers Juan. Por favor". We sit, and bask in the sunshine. The only unfortunate aspect of this is the smell. There definitely was a pong in he air. Forcing ourselves away, we re-enter the ground to watch the second half.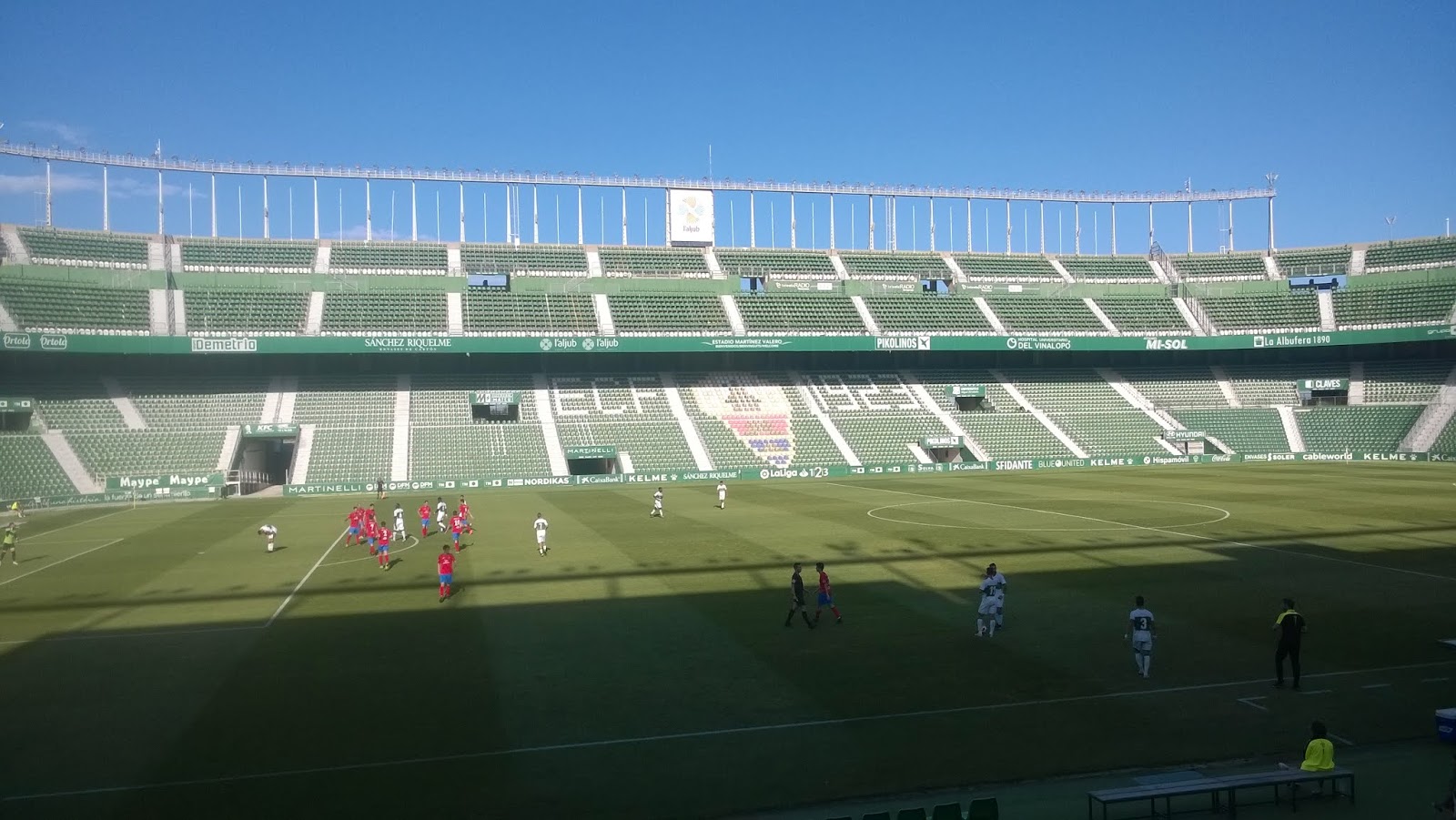 Pretty impressive…
I've got to admit that the ground, the Martinez Valero, is pretty impressive to be hosting a fourth division match. And who would've thought that this was going to be the second World Cup '82 stadium we'd watch a game in as many days. And another one for you stattos out there, this is the ground where Hungary stuck ten past El Salvador. Still a record. And yes, I am giving it all this old bollocks as I can't really remember what happened in the half. A lot of the time was trying to work out where in Spain Ibense came from and how we were going to get back after the match.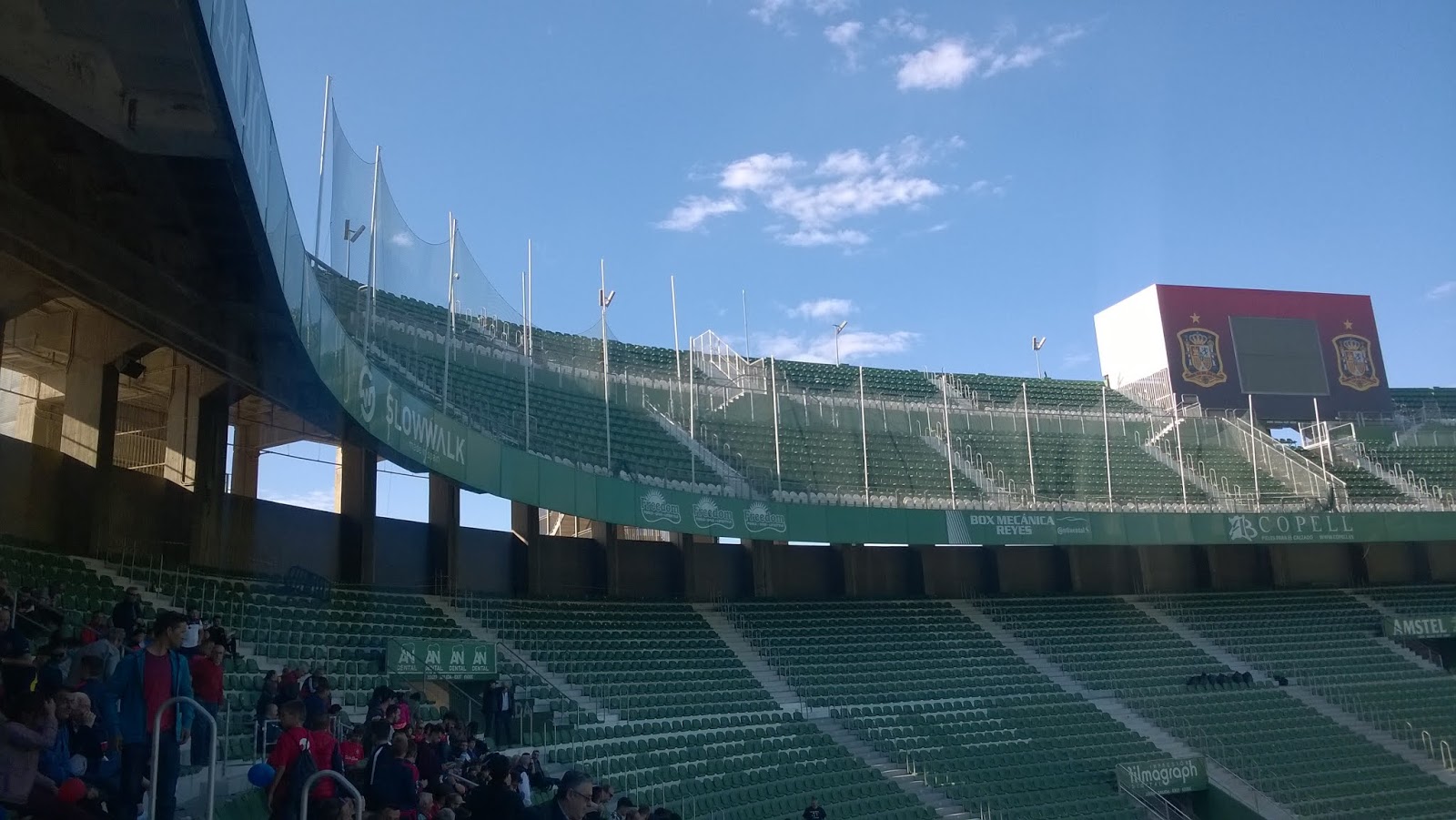 The usual away section….
The end of the game has the Ibense players head over to thank the travelling faithful. Many a member of them are huddled round their phones looking for other scores. As far as we could work out it was one important result was needed for them to make a relegation play off rather than go down. But like with many a football drama, it played out not like they'd hoped. And this was without any late goals!
The team they were looking for was someone called Acero, with is apparently translated to 'Steel' in god's own lingo. To make things more interesting, they were playing against a side called Crevillente who, if they were to win, would make the play-offs instead of, yes you guessed it, Athlético Saguntino.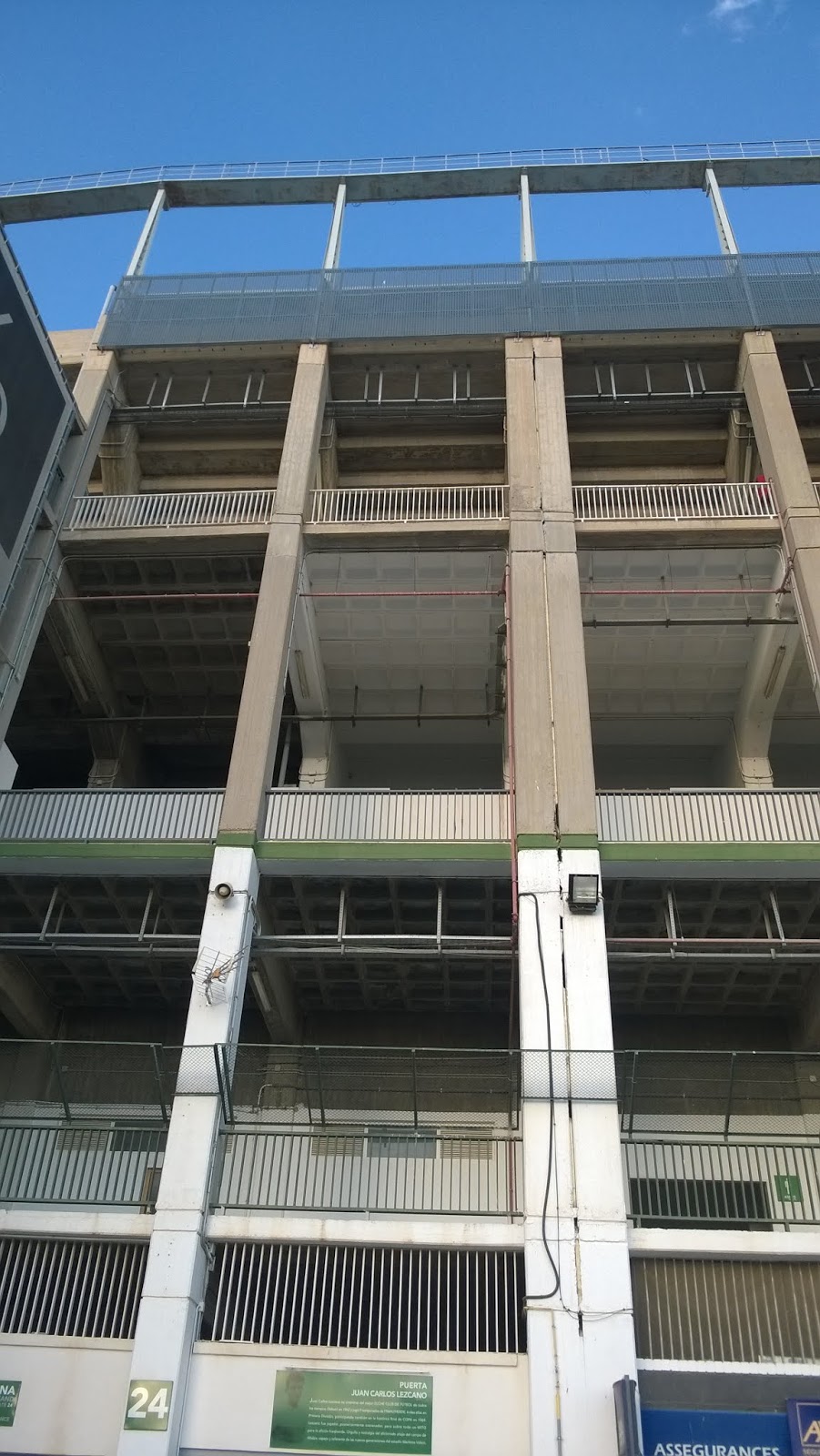 Architecture…
"Who the fuck are Athlético Saguntino" you may ask? And I'll tell you, fucked if I know! But they do also happen to be the team that occupy the same little town that Acero do. So there you have a great football conundrum. What is worth more? Seeing your side help your closest rivals achieve success, or sacrificing your place in the league to prevent this. Luckily it wasn't extreme as that is it was only a play-off spot. But it's an interesting question none the less. That game finished 0-0, so it turned out Ibense were fucked.
It's a near two mile walk back to the station and it's heavy going. Especially when you're pretty much sober. I did walk past a KFC on route and managed to see that local tradition dictates that there were chicken croquettes on the menu. With a flight to catch, the Sunday crew lot get a sherbet from outside the bus garage near the station and head to the airport before flying home. The rest of us make it back to the station for the 9pm train and sup on a few cold cans thanks to Taz and Mr X's petrol station run while waiting for our train back to Alicante.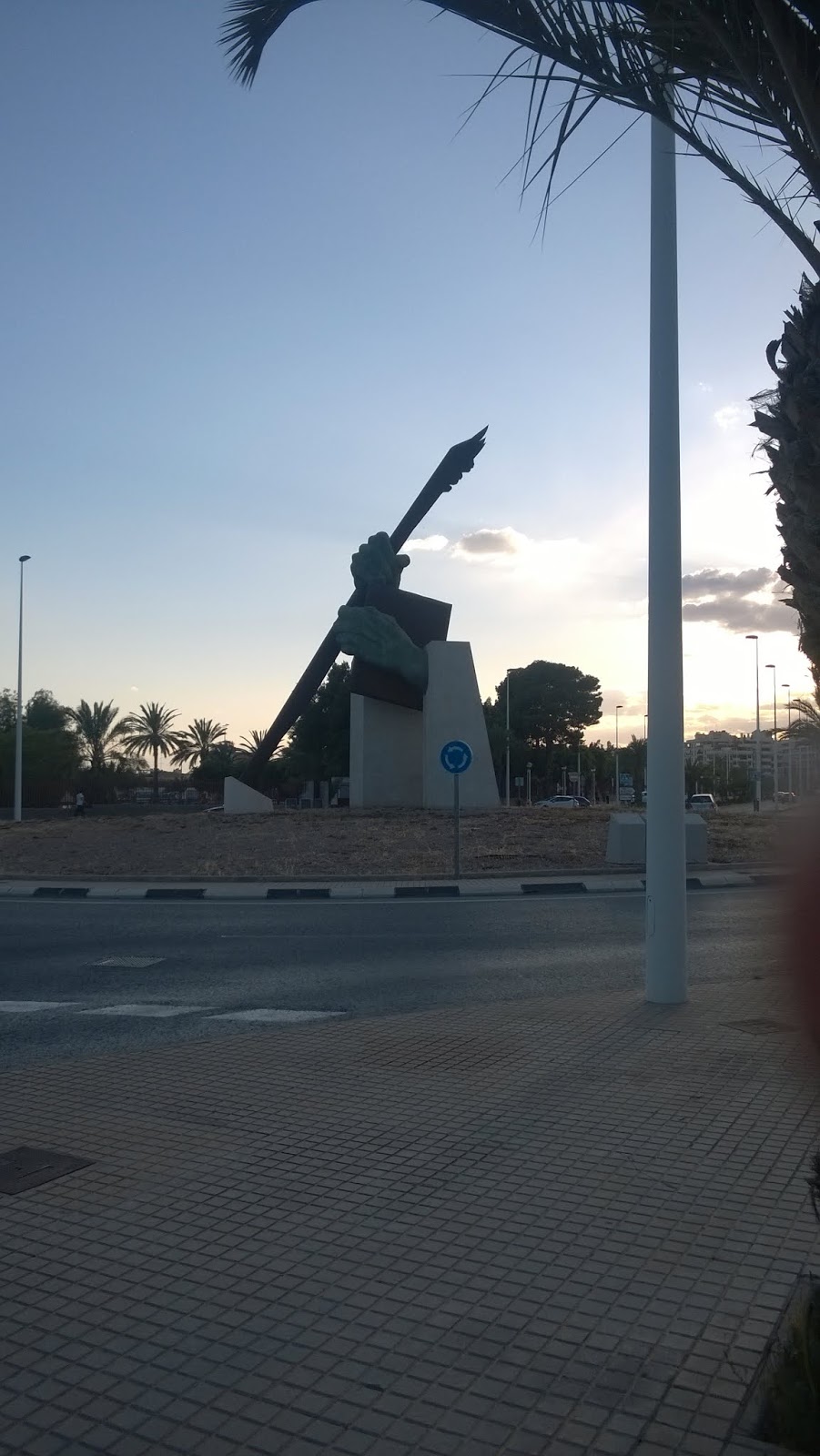 Local Elche art…
Not surprising for Spain, Sunday is a rather sombre day with paces closing early. Even earlier than they advertise as we found out to our disadvantage as we once again returned to Treblinka Tribeca. So we have to call it a night a lot earlier than expected. But after two nights of minimal sleep, it was admittedly much needed. Especially, as the Sunday lot had the same gig on their apartment as ours, so it meant I had a whole apartment to myself for the night. Manspreading? I'll show you fuckin' manspreading.
Monday morning and after the now standard Mr X-in-his-pants-cheese-&-ham-on-toast breakfast it's time to check out of the apartments. A final round of the "press all the buttons in the lift so it stops on every floor" game ends our stay and involves Mr X's luggage returning to the top floor without him. The fella behind the jump at reception is awesome as he not only allow us to leave our bags behind the jump for the day, but also said that he could order us a sherbet to the airport later when we needed it. Result!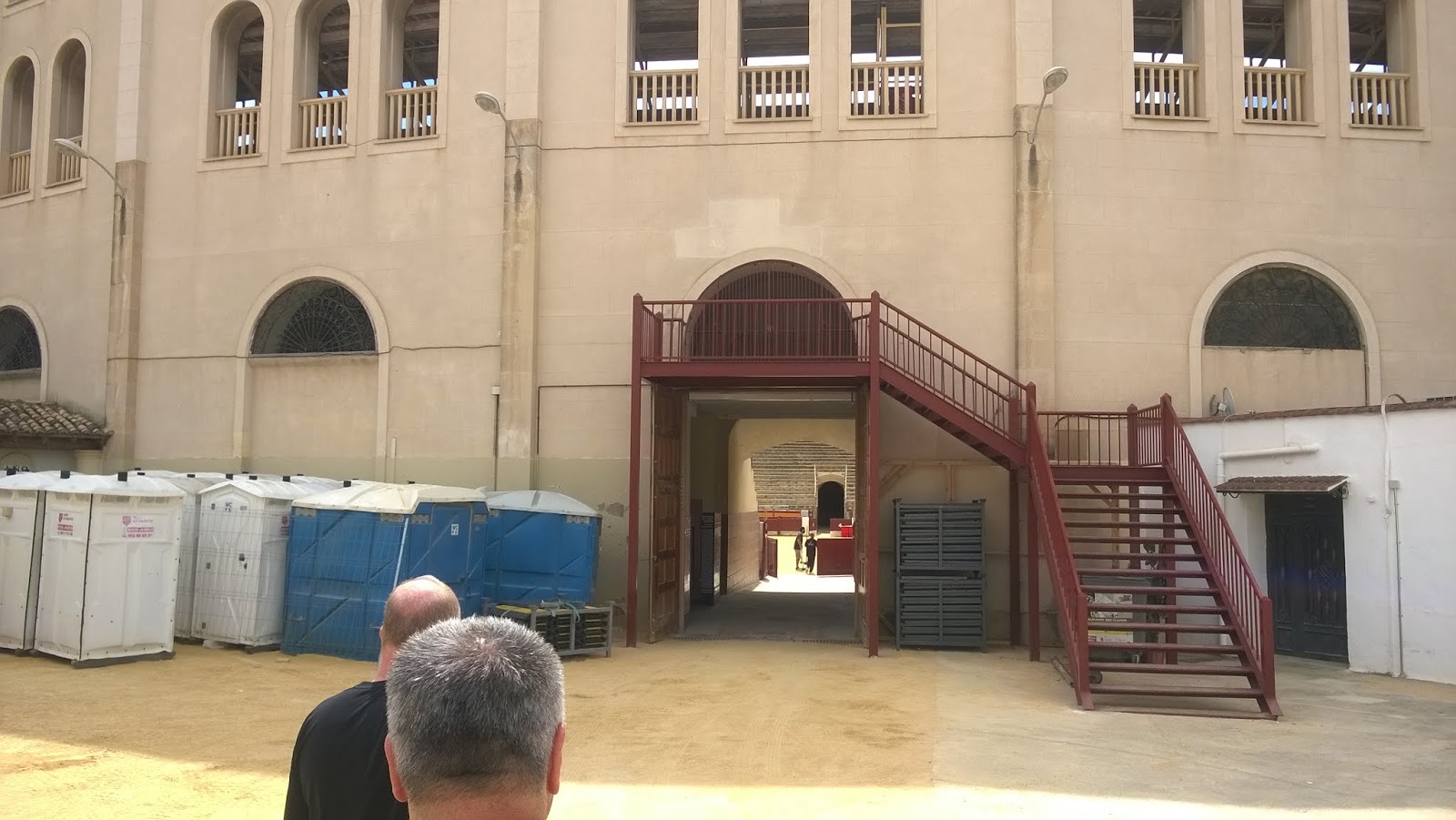 The Bull ring…sort of.
Time for more walking around as we head out to find the bull ring. There's might be a few people out there that don't agree with the whole sport, but it's made much weirder when you see advertising for some sort of Queen coverstribute act draped down the side of the place, which makes it feel a bit like the Boom Boom club, run by Fray Bentos. Guess attendances are down and they're branching out? We try to stroll in through a magic gate to take a few snaps, but to no avail as we're swiftly shown the door by some geezer who probably thinks we're from PETA or the RSPCA.
Next it's back to the home of Hercules, as some of the Firm want to browse in the club shop which wasn't open on match day. Unfortunately the shirts that they wanted were not in stock so we're once again on the road as we now start to wind down the clock for departure. In the end, we find ourselves parked outside a little cafebar on the beach and decide to watch the scantly clad ladies the world go by with a beer. There was also disappointingly no Havant announcement at four o'clock again. Talk about getting people's hopes up.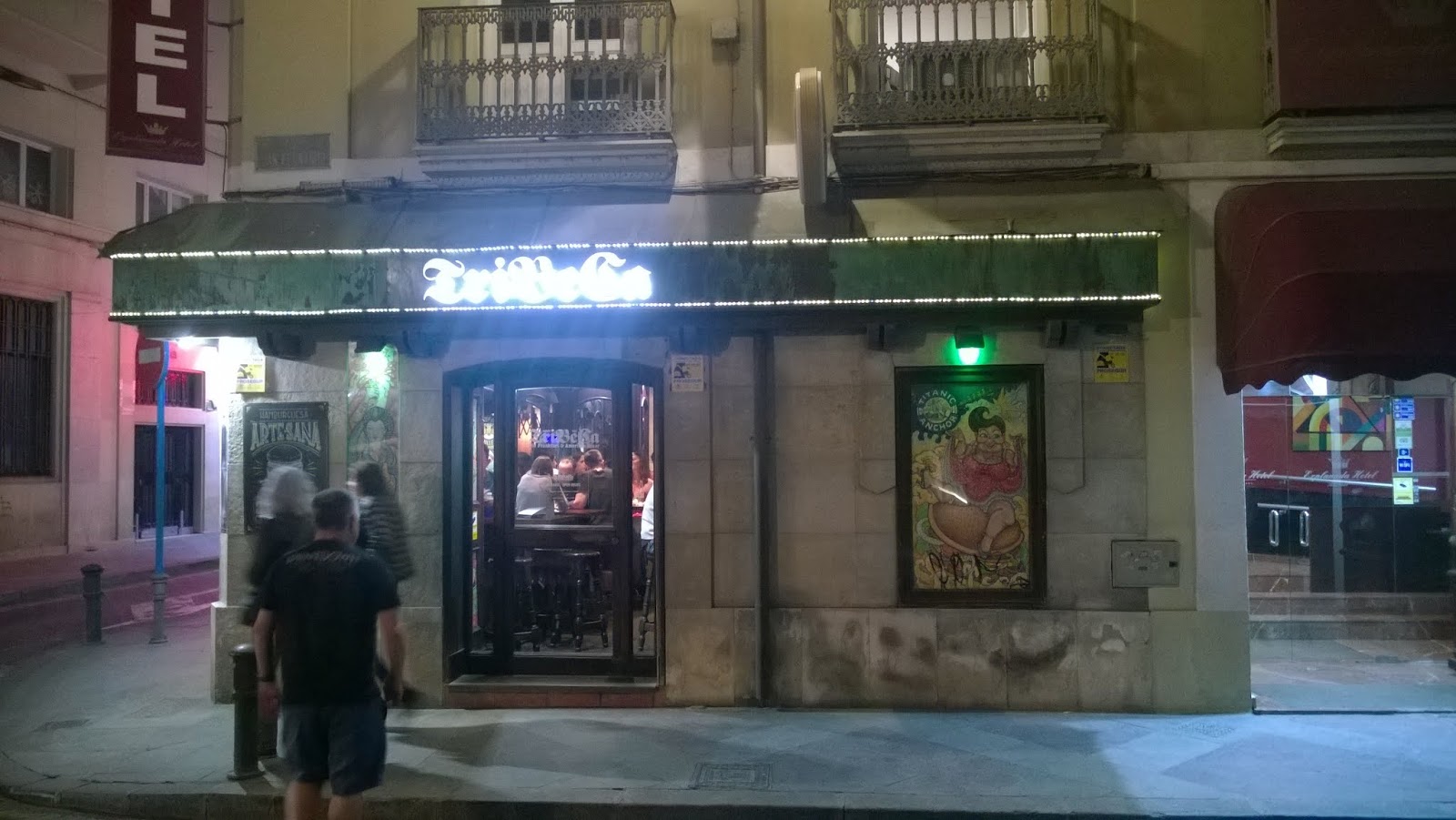 The local.
It's time to say goodbye to Alicante as the sherbet arrives to take us back to the airport and home. The plane arrives on time and even more importantly lands on time. It's all plane sailing despite the moaning vegans in the row in front of us about there being no suitable grub option. And even the moaning Forest Green bird's efforts to form a five women roadblock to prevent everyone else from getting past them at Gatwick doesn't last long. Magnum PI would also continue on his path to becoming the new Chalmers as he took many a toilet break along the way. Nine at last count I think.
Mr X was kind enough to offer Me & Dr Bell a lift home and by the time the clock strikes eleven, we'd already negotiated the car parks and the traffic and I'm crawling through the door, more tired than I was when I left on Friday lunchtime. And like with many of these Football Abroad things, I now need another holiday to just get through the fuckin' last one.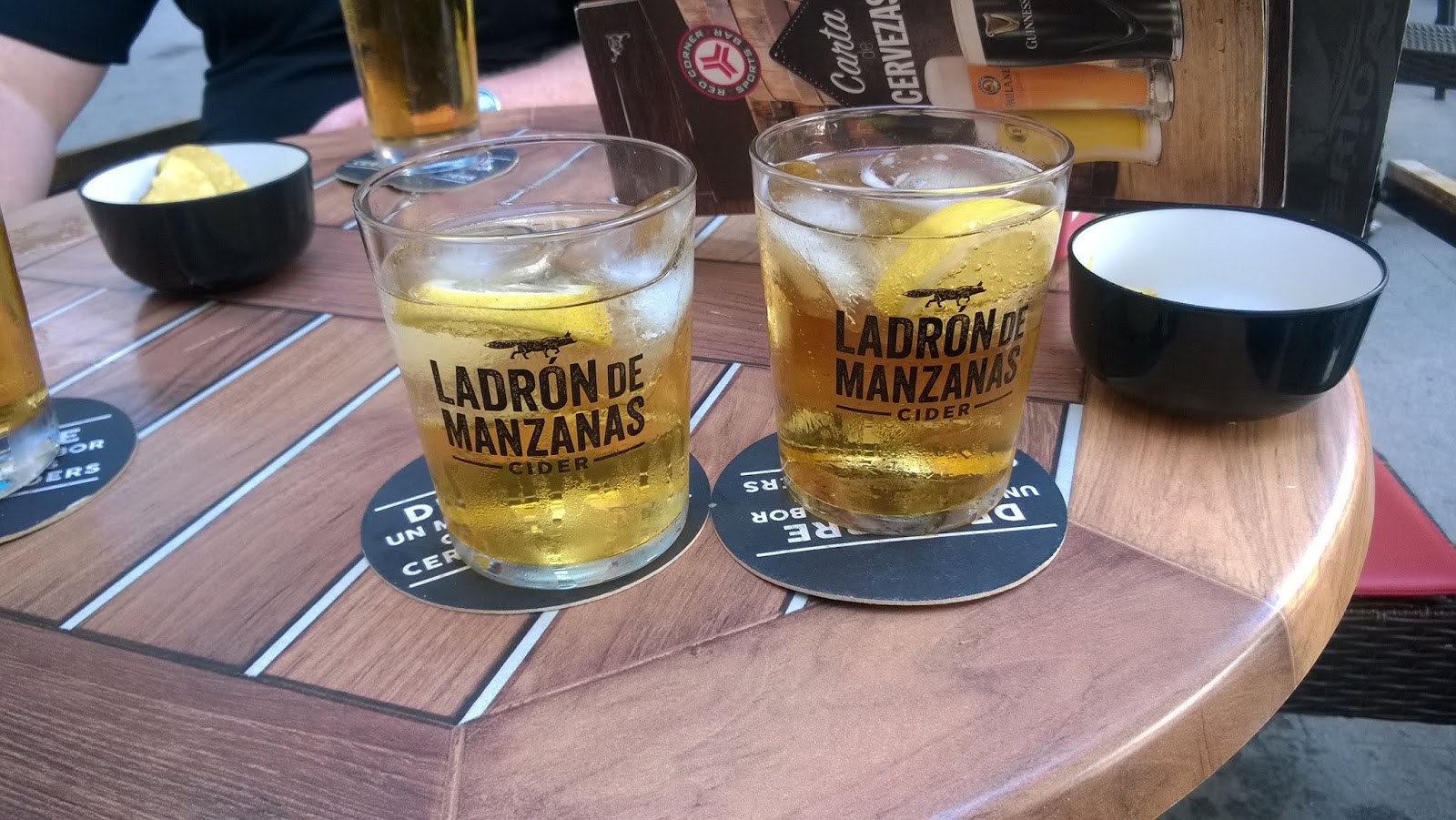 A pint of Spanish cider….
So that is really it for our little Spanish adventure. The football might not have anywhere near entertaining, but it's the experiences that count. Where will we be next time? Fuck knows! But it's all change next season, so that might have an effect on our options. But before that, we'll all be back in action in Redhill come July. Enjoy!
Duke