Jeez, what it is it these days with changing years seemingly every 5 minutes? Christ, just as you get used to one they go and bloody change it for a new one. Bloody annoying if you ask me. Anyway, it seems we're now lumbered with [checks notes] 2023 and apparently there's no returns allowed, so I guess we're all going to have to suck it up and get on with it. Shame really, as overall, 2022 wasn't half bad for us. Settling into League football, getting to Wembley. We've definitely had a lot worse if I'm honest, so it's rather unoriginally named sibling has a bit to live up to.
Having thrashed bottom club Gillingham 2-1 at GGL with Easty's injury time baggage and also seen off corner specialists and Crypto kings Crawley in the last week, it's been a pretty reasonable seasonal period for the U's. Ok, so the oppo wasn't quite of the highest calibre that League 2 had to offer, but bollocks to it, wins are wins and you can after all only beat what's put in front of you. Following up next in the Republic is the return with old friends AFC Wimbledon, who are still no doubt still coming to terms with the fact that not only are we Football League, but in the same division as them and with a properly patched up unit went and nicked a 1-0 down at new Plough Lane back in October. That defeat stung 'em a touch apparently with board members getting abused, then resigning and fans largely demanding the manager be sacked.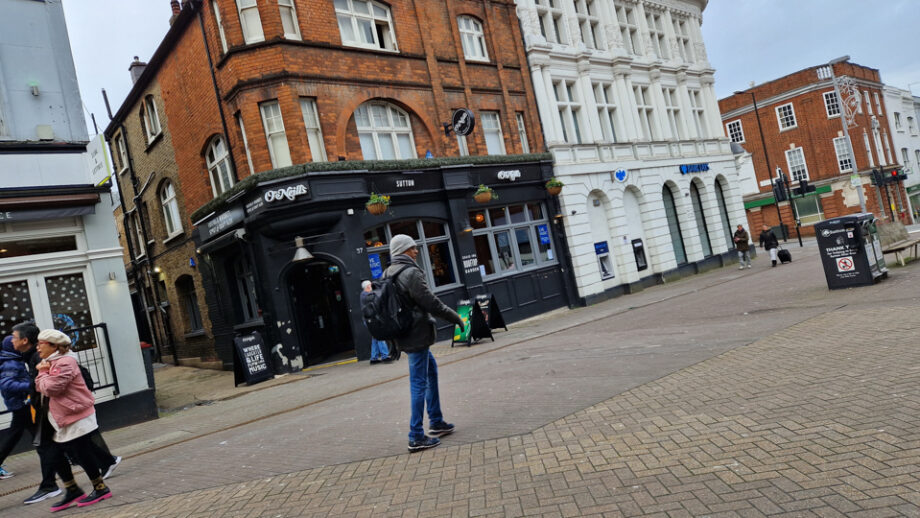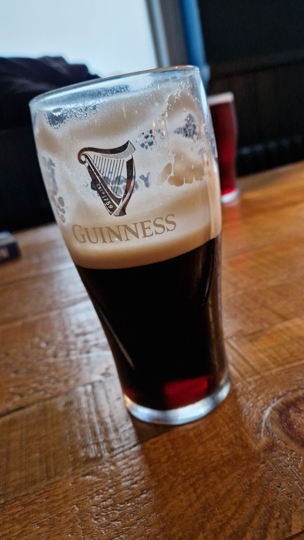 Well, since then and rather annoyingly where today is concerned, they took the shame of losing at home to little old non-league, fine biscuit selection in the boardroom, Isthmian blazers like us and balled it up into a bloody good run of form. Whilst we were out there scrapping for every single last point we could lay our little paws on, they were off on 10 game unbeaten jolly to put their "We're heading back to the National" doom and gloom firmly in the rear view mirror. Alright for some. So it goes without saying that they're coming to GGL in a bit better nick than the last 2 mobs we'd turned over this Christmas, which is a touch inconsiderate if you ask me. Where's your festive spirit you bloody litter picking rodents? Still, they did at least get a touch of revenge in the Papa J's where we put in one of those "Still be out there now and not have scored" performances that we know so well back at their gaff. So maybe that'll have sated them somewhat. We'll see eh?
Of course with the proximity between us, it's understandable that there's plenty of interest in the match and this in turn leads to what is thought to be our first ever league game full house. Sure, we've had a few in the cup in recent years, including the 0-0 against this lot in the FA Cup 3rd round, but a league game? At GGL? Sold out? Blimey. That's over 5000 people watching us go for 3points against a team in our own league. Mad to think that 10 years ago, 10% of that was a regular attendance here and 1500 was a vast turnout. We're definitely not in Kansas any more Toto! Not a bad way to kick off 2023 to be honest either. This does pose one question however and an important one at that. How are we supposed to get a beer with all these fucking people hanging about?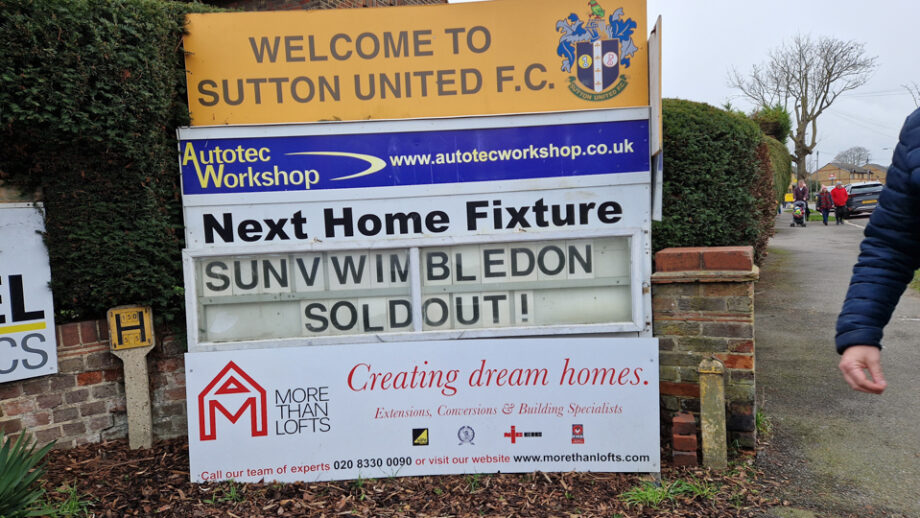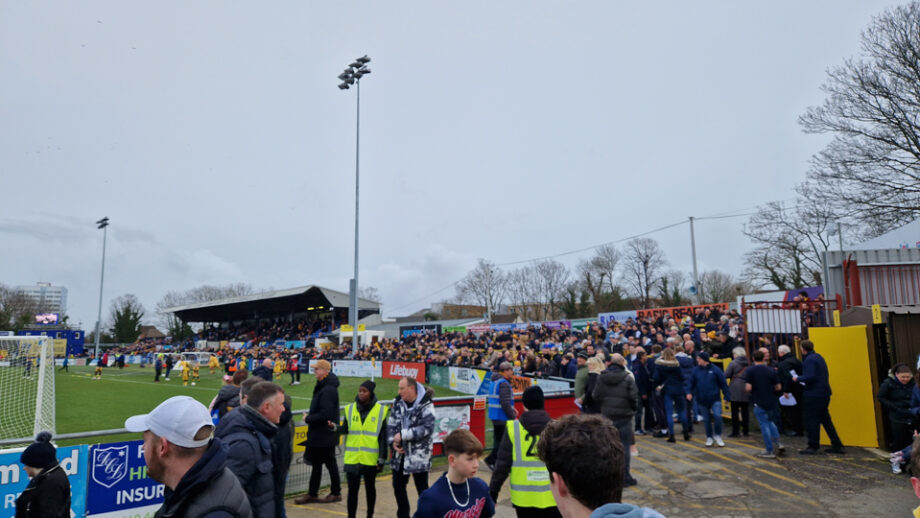 Naturally, we all decide that we'll meet up in O'Niells for a nice relaxed couple rather than battle the crowds and plastic glasses at the club. Yeah, we'll probably get shouted at for spending our hard earned somewhere else, but it's not like they'll really miss us! Greek declares a noon meet time and we're all set for the big day. First though, there's New Years Eve to navigate, although now that we're all painfully old, this is largely not a problem as we all mostly stay indoors with significant others, knock back a couple of cans and watch shit on telly. My night's kip is a bit fractured, tossing and turning, so I eventually haul my arse out of bed about 9 and grabbing a drink, lob on some laundry before going back under the duvet for another half hours snooze before I'm finally up for good and set about getting my arse in gear.
All cleaned up, I get some chores done and then turn my attention to breakfast. Toast will do and with a brew on the go and a less than balanced diet over the last couple of weeks, I decide one of those fizzy vitamin C soluble tablets in some water is definitely a good idea for my general health and well being. Apart from the fuckers are stuck in the tube and in trying to extract one I somehow manage to get a cloud of fake orange flavoured dust right up my hooter for my efforts. No, I'm pretty sure that's how they're meant to be taken either, can you OD on Vitamin C? Eventually full of bread and much needed vitamins, I bid farewell to my beloved once more and amble out to get the usual bus into town (top deck, front row of course). Music on, You and Me at 6 comes on which gets the memories flowing back from that cup run thing I mentioned earlier. For a change, I decide not to hop off at the Cop Shop and instead wait until the Post Office today. New Year, new routine! I wander down into the boozer and find that I'm the first to arrive and am heavily outnumbered by a group of Wombles also getting some New Years Day refreshments going.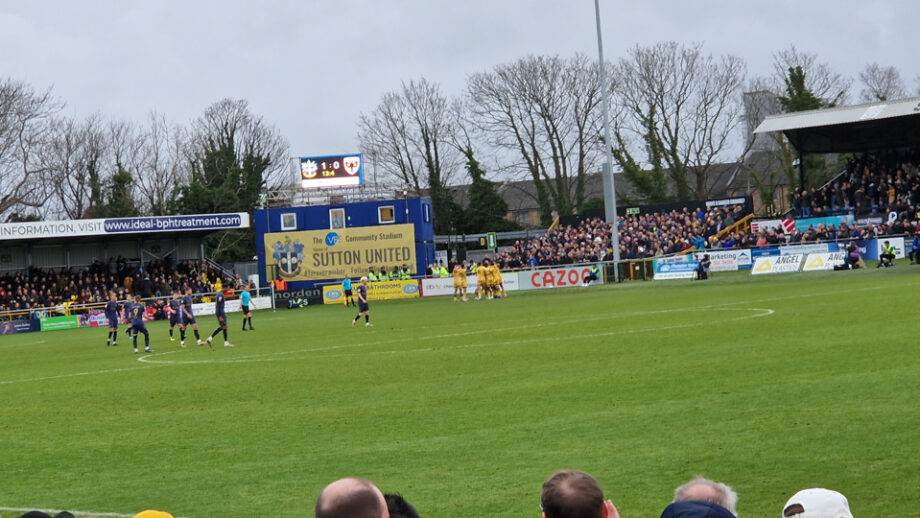 I've barely taken a sip from my Guinness when Greek rocks in, gets a Dark Fruits and declares my perch right by the bar to be 'shit' and disappears off up the back to find a larger table, flat out ignoring my argument that having less seats makes my spot way more 'exclusive'. Oh whatever. We park up at the back and just as we do, Ipswich Lee bowls in and soon after that Ossie is also in the house. Before long we're settled and enjoying a pint with the usual "How was New Years?" "Yeah Quiet" type chatter whilst a rather turgid Blackburn Cardiff clash plays out on the box. Greek's unimpressed having ignored the age old wisdom of "Don't back the early game" and put it in his bet for both teams to score. Of course Blackburn win 1-0 completely fucking his bet before we're barely 2 pints in to the day. Stupid boy! 4Days and Lil' Chris have soon joined us and not far behind is Irish Pete, who's managed to get a ticket for the right end this time having had to sit on his hands in the home stands for the win at PL back in October as guests of a couple old friends of his.
Lee gets some grub in and soon regrets his firey chips option, as it basically means the things are coated in some nasty looking chili pepper type seasoning. Rather you than me mate. We also discover that he doesn't like ketchup, the weirdo. Greek also enquires if he's searched us on his 'safeguarding' database at work and is surprised to find that he has in fact not done so. "Wait until he gets a quiet Friday now, we're all getting looked up then!". Fed and watered and with Spuds Villa now on the box, we decide it's time to make a move and head down to the ground. Ossie, Lee and Greek cab whilst Pete, myself and 4Days along with Chris go for the walk. We make good time, passing a couple of the COCs along the way and walking up the driveway about half 2 decide that trying to get a beer is pointless and we all pile on in through the turnstiles to get a decent spot on the Curva for the game.
Rose, Milsom, Kizzi, John, Goodliffe, Eastmond, Smith, Boldewijn, Randall, Bugiel, Wilson SUBS: Ward, Dundas, Fadahunsi, Gambin, Kouassi, Beautyman, Neufville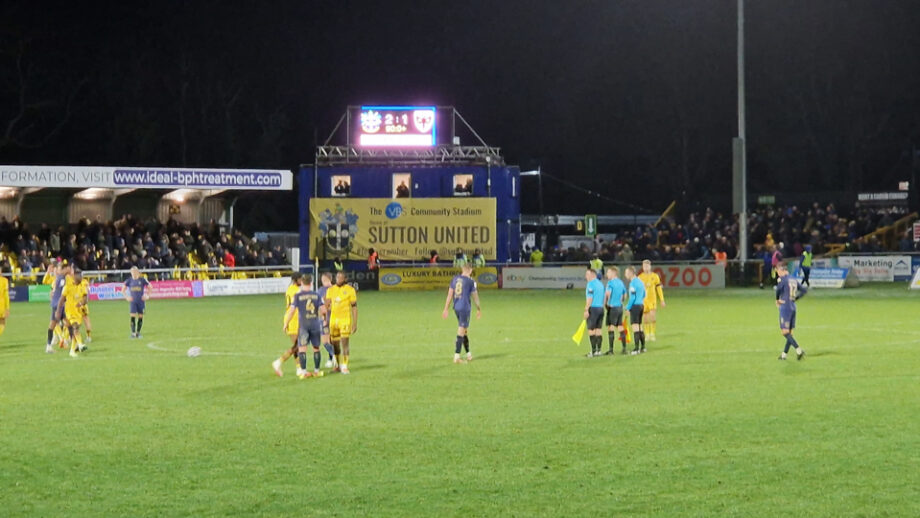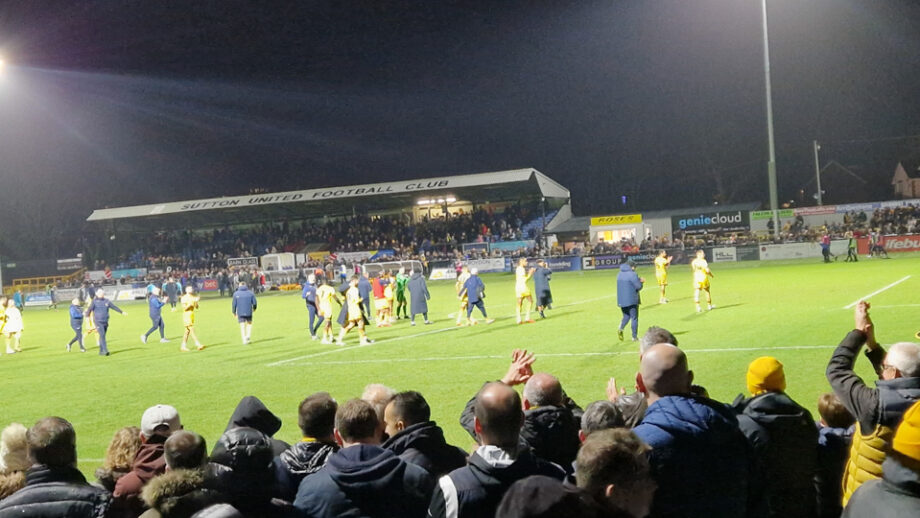 Inside the turnstiles we bump into Chalmers by the bogs and exchange pleasantries of the season just before a loud shout from the pitch has everyone ducking as a warmup shot flies out of play. My reactions are quick enough to avoid getting said ball square in the fizzog, but not to avoid the rebound off the khazi block wall behind me and catching is square between the shoulder blades. Ouch! If I wasn't awake before, I bloody well am now. After a nice minutes applause to remember Pele ("This now being the worst game in history will be a perfect tribute" notes one wag) we're off. With us getting to field what I think most would say is our best eleven for probably the first time since the opening day, the U's are right at it out of the gate and pressing the visitors hard. Ali has an early pop with drifts just off target and then Milsom and Randall combine down the line for Rob to stick in a clipped cross that the keeper loses and is relieved to see it bounce back off the bar. Easty has a shot that's easily saved by Nik between the sticks, but our early efforts are rewarded when Randall has a run left, does his trademark cut in on 18 and from our spot on the Curva, we can see his low shot in all the way as it beats Tzanev low down, clips the foot of the post and goes in. Nice start lads, keep it up!
Sutton keep up the pressure and Randall really should make it 2 a few minutes later when a decent ball wide sends Kizzi free to the byeline and he pulls it back into acres of space, but the U's no.11 doesn't wrap his boot round the shot and he screws it wide of the target. More chances come as Enzio is next to get to the bye line, but his ball to the front post finds Omar and he tries a clever flick of some sort and deflects it wide rather than onto the target, next Eastmond brings another good save out of Tzanev when a ball into the box is flicked on the keeper makes a good sprawling block. Sakes, we've seen this before and well, usually what happens is….oh wait, there it is. The Wombles giraffe like forward Hudlin goes down in a heap after minimal contact and the ref awards a proper soft free kick about 20 out on the Rec side. It's swung in, we win the first ball but it doesn't clear our lines and a scuffed effort into the crowd finds their man-bunned no.9 and he pokes home from close range. 1-1 and it's probably about the first thing they've done really, which is a bit fucking annoying. At the far end, a blue smoke bomb hits the pitch as the travelling masses celebrate. Hope whoever threw it enjoys their ban. We might be still a touch non-league lads, but even we've got fucking CCTV. From here, the Dons have their tails up a bit and go looking for a second, but the lads hold firm and we go in at the break slightly miffed that this is still even a contest.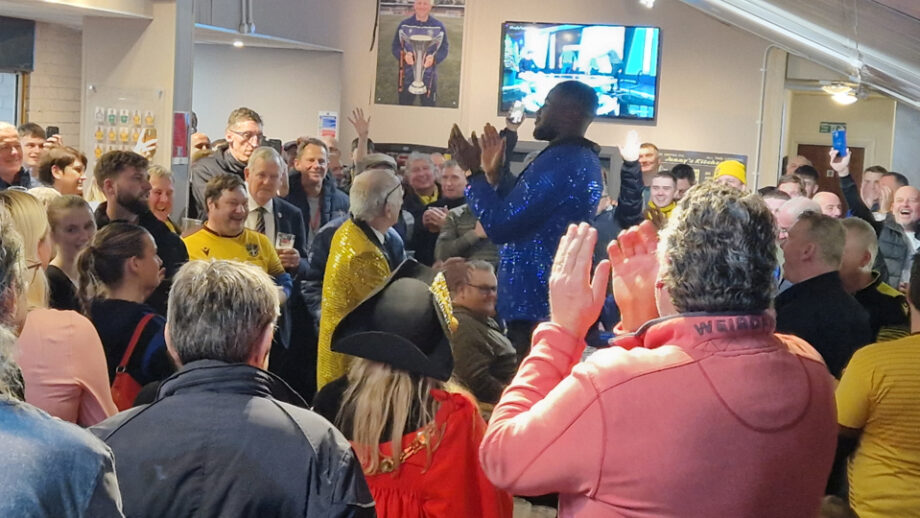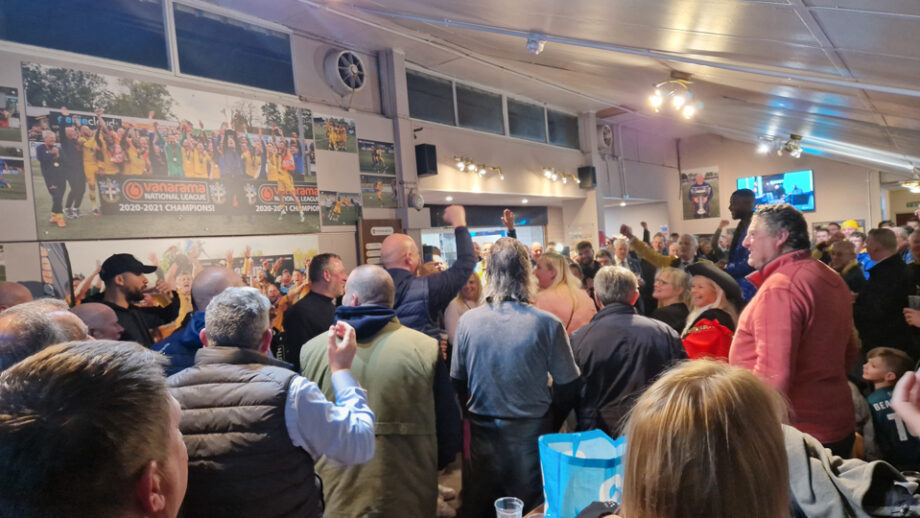 As if to put an exclamation point on the matter, we're treated to a nice rain shower during HT and into the early 2nd half. "I thought they said it wasn't going to rain" moans Mr X pulling up his hood before quietly cursing his meteorological sources. From the restart, hopes that we'll carry on our efforts from the first 30 are largely met when Randall has another dart inside early doors and tests the keeper again. Then Goodliffe nuts a Milsom fk from down in front of us over the bar when he really should be hitting the target. Come on lads, don't let 'em off the bloody hook again! Their best chance of the half comes from a silly tackle by Omar on the corner of the box that gives them a free hit, but having taken about an hour pissing about about placing the ball, their lad whips it just too high towards the near post. It's a rare moment of concern though and we keep plugging away. Then finally with 20 to go, the breakthrough comes. As the away fans start a chorus of "Sutton get battered" a long free kick from Rose is knocked down in the box, Ali hits it first time and again Tzanev's making a good stop although this time Omar's lurking and hammers the loose ball into the roof of the net. It's Omar's last action on the field as both he and Wilson are subbed instantly for Josh and Kylian.
Wimbledon react to going behind and have a little spell, first a good looping cross from the Rec side finds the towering Hudlin, but Rose is equal to the header and pushes the shot away, then from a corner, the big man again wins a header but he can't generate much pace on the ball and it plops safely into Rose's arms. From here, the game gets a bit stretched as we sit in and look to hit on the break as time runs down. Randall causes problems again with a dart to the bye line but his deflected pull back brings another save from the keeper after Ali Smith cracks it back on goal. And then we really should put the game to bed with a break down the right with Josh, whose squared ball finds Harry arriving late, but his shot is inadvertently blocked on the line by a defender. In the end, it doesn't matter and after the requisite 6 minutes added, the ref's whistle sounds and we've made it 9 out of 9 from the festive period and ended the Wombles 10 game unbeaten run in the league, ironically starting after we won at PL in October. Sorry lads! The team lap up their ovation before we hit the bar to get some celebratory pints in.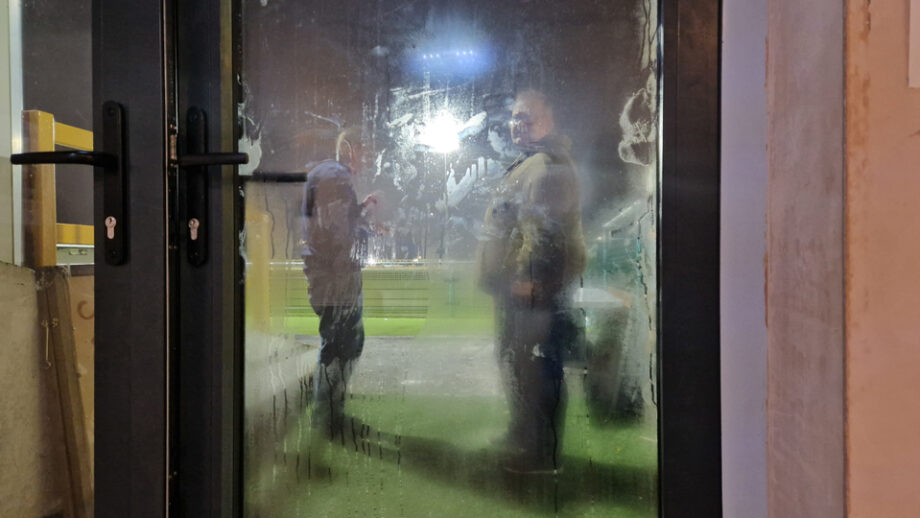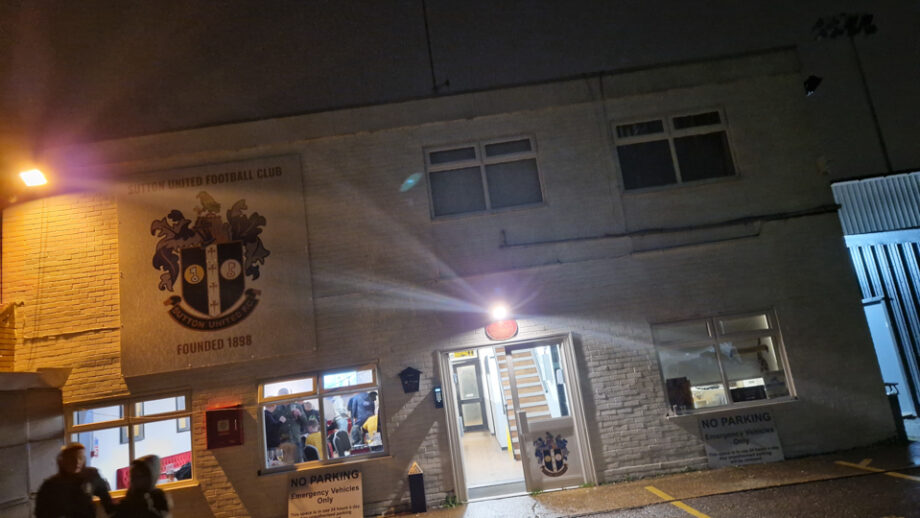 4Days is quickest in, so I hand him my card for the tappy tap action to pay for the round and step a few feet away to chat to some old Sunday football team mates who have been down today for the game. Naturally, this is the one transaction where my card requires me to enter my fucking pin. Typical! Still, it's soon sorted and we're all back in the swim catching up with many different faces. Keepo appears with a drink for Dirty Barry just as the man himself appears from the players bar with one as well. "Double parked, you know the rules!". DB also soon hands Keepo 55 quid for some reason or other and I don't really like to ask what that's for. You never can tell where DB's concerned. Fish the Cabbie's in too and he's bemoaning the fact that he's off to Fleetwood with QPR in the cup next week and having waited ages for a new ground tick to come up there's no bloody trains. Know the feeling mate, happened to us twice already this season! It's then time for the usual nonsense that is Strikers Are Key and naturally, AB has a special guest for it ("It's definitely not Pele" comments some proper wrong 'un beforehand). Of course poor old David Ajiboye ends up on the chair doing the honours again. You've got to feel for the lad, just as he thought he'd escaped this fucking madhouse, he's pulled right back in. Good to have you back though fella.
Beers flow and we get to discussing various upcoming aways such as Harrogate and Hartlepool which make up a pretty hefty bit of travelling in Jan and Feb as well as other stuff before people start to drift off for the evening. I myself get to just after 7 before booking a cab home, bid farewell and head back to HQ for a cheeky date with a big tub of Pate we've still got lurking in the fridge. That's dinner sorted! Might even have it with a read of the Wombles forum thing, see what meltdowns we may have triggered this time. 2023 is off to a fine start I must say, all that's missing is a nice bottle of port.
Right, enough of that. How the fuck am I getting to Tranmere again?
Taz