Hello everyone and welcome to 2017. The year everyone is hoping will be better than the Brexit tainted, Trump electing, famous person killing 12 months that preceeded it. Well, all except us here at HQ that is. Why? Well, because as far as we're concerned, 2016 was a bloody cracker.
Naturally, to understand this slightly unusual point of view, you do of course have to be a sad football obsessed bastard that pays little or no attention to the outside world and the events going on therein, and who instead stumbled through life living from one game to the next.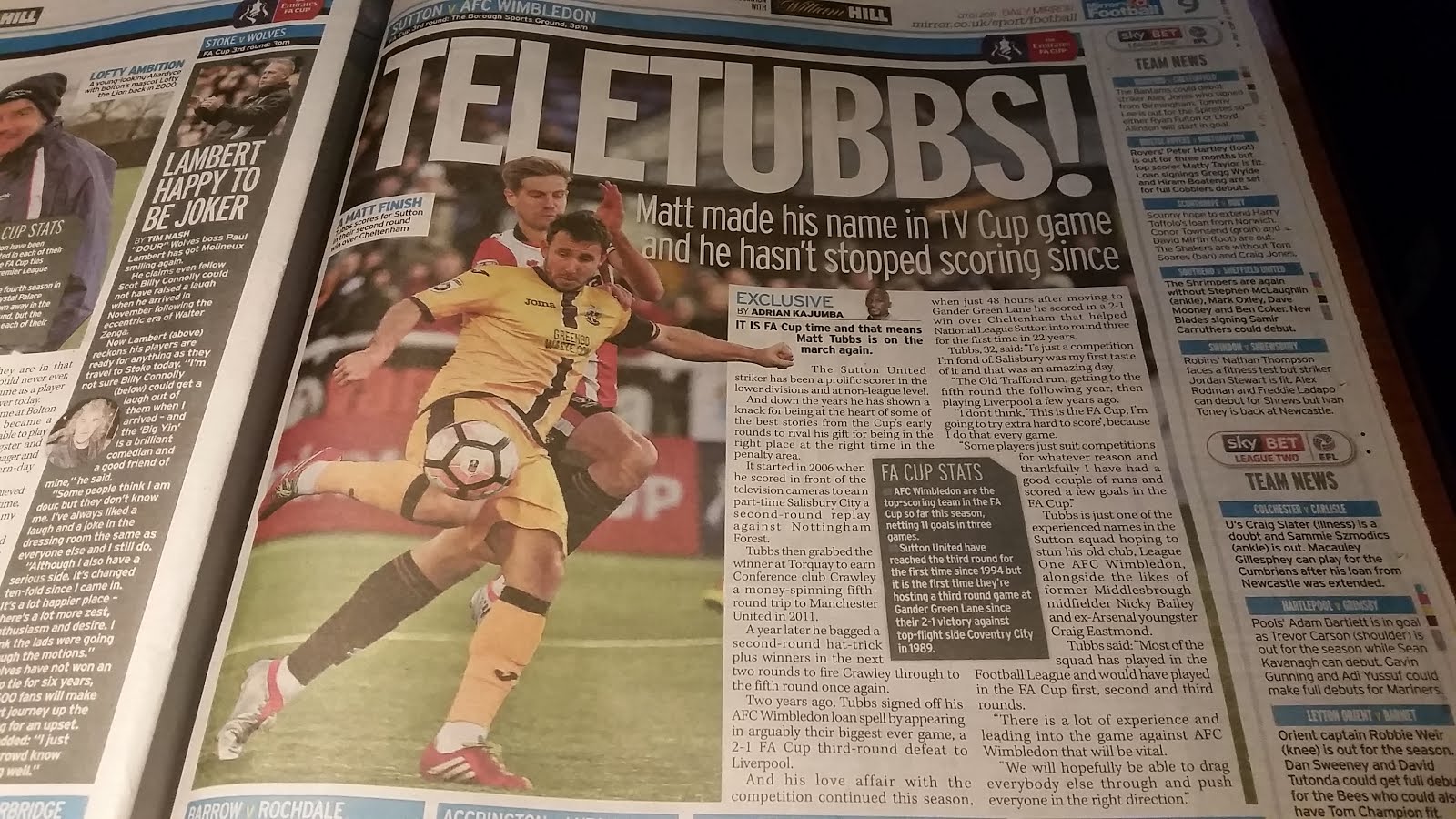 More press!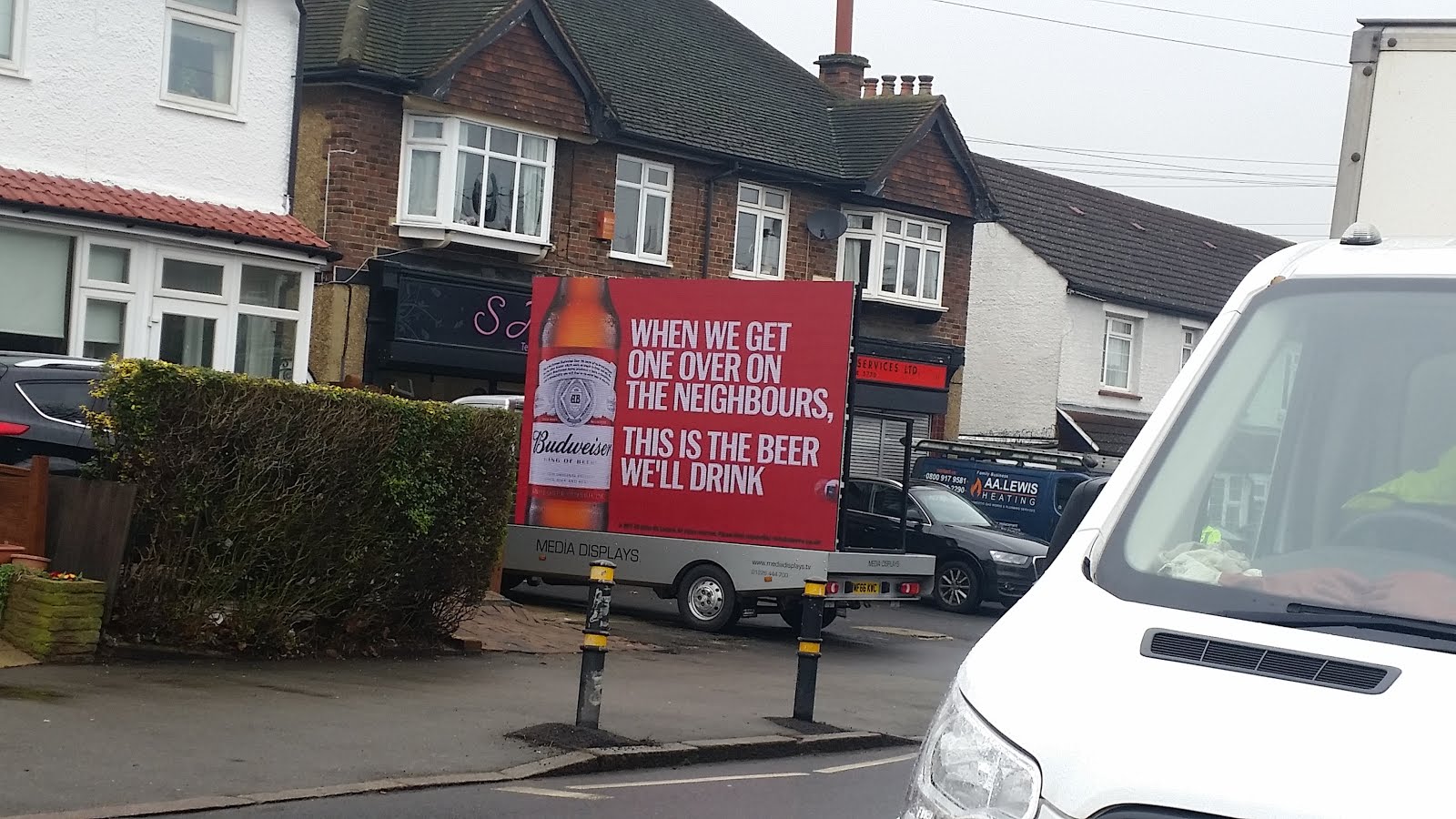 Yeah lads, if you say so…
Yeah, sure Prince & Bowie going brown bread was sad, but fucking hell. We went 26 games unbeaten, overhauled a 13 point defecit, beat our two nearest challengers in front of over 3000 people and won a league title for fucks sake!! And that's before we get to the fact that GGL hosted an international and Gandermonium was on the BBC. Both the radio AND television version! Oh and we released a record.
So bollocks to your pop stars, your Brexits and your Trumps. We had a corking 2016 cheers!
Now, the reason we put out that record was basically to celebrate the U's reaching the 3rd round of the FA Cup for the first time in over 20 years. Sadly, we weren't able to pluck a plum tie out of the hat and instead got lumbered with some recycling rodents from down the road. AFC someone or other who are a measly 2 divisions above us.
Naturally despite this outrage, we made the best of it and Totts did the business with the cracking little 'Shoebox' themed tune. Which last time we checked had gained a couple of thousand hits on that there YouTube. Ok, so whilst it's not up there picking it's nose with the likes of young Mr Bieber & his Gangnam Style, that's pretty good for us. Of course, given we've got a biggie the week takes bloody ages to pass by. But things are made a little easier by the whirlwind media frenzy whipped up by Totts track. The PROWS bard makes appearances on both ITV & BBC, along with 2 radio pieces on the Friday with BBC Surrey and Talksport.
I haul my arse out of my pit a touch after 9 and head for the shower. Then it dawns on me. It's the 7th January. Coventry day. 28 years to the day the last time we made a properly big splash in this competition at GGL. A good omen perhaps? The 407 into Sutton is actually on time and I board to find Steve slouched towards the back. "Fuck me, you're slumming it!".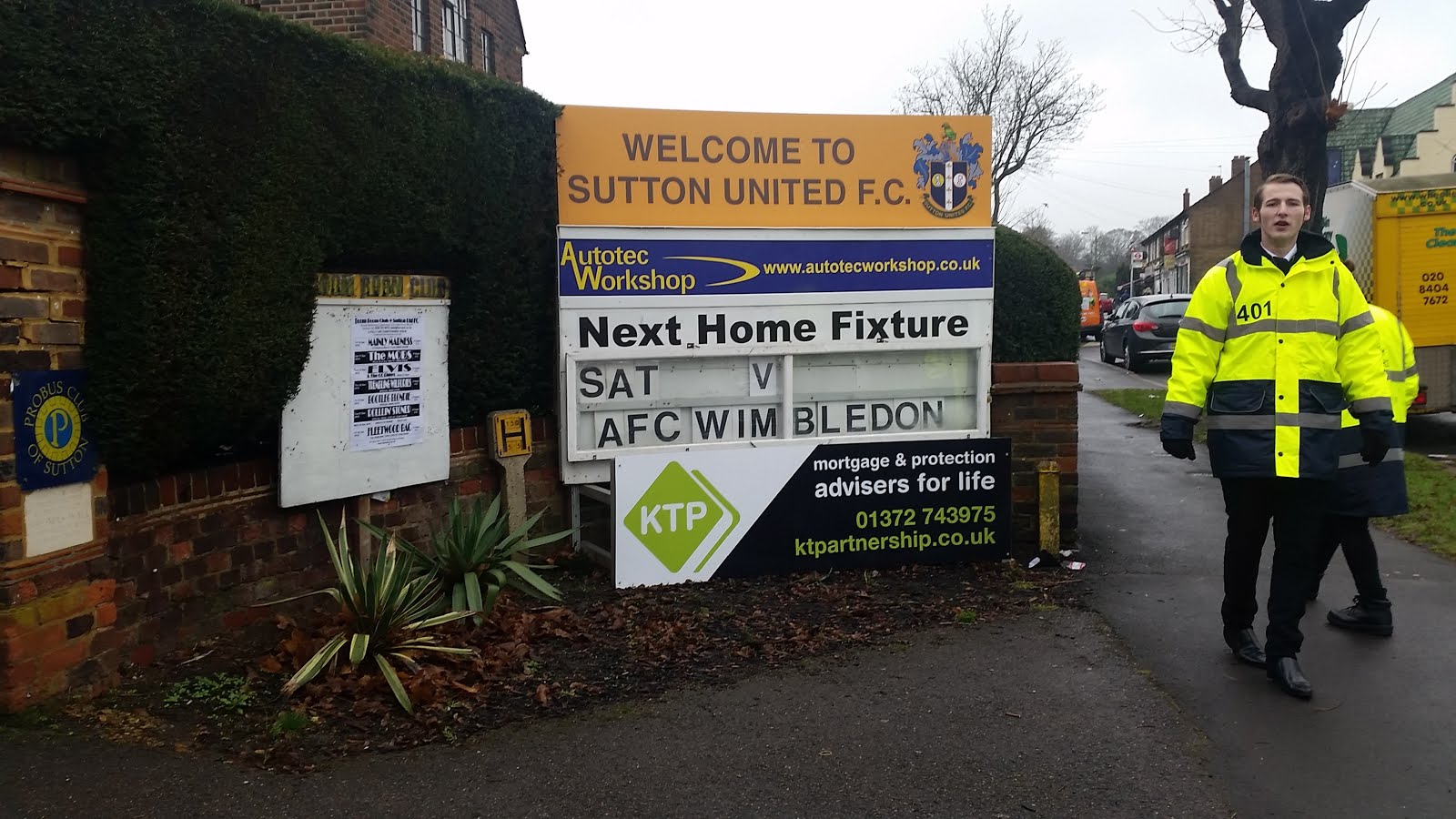 You're in my shot fella….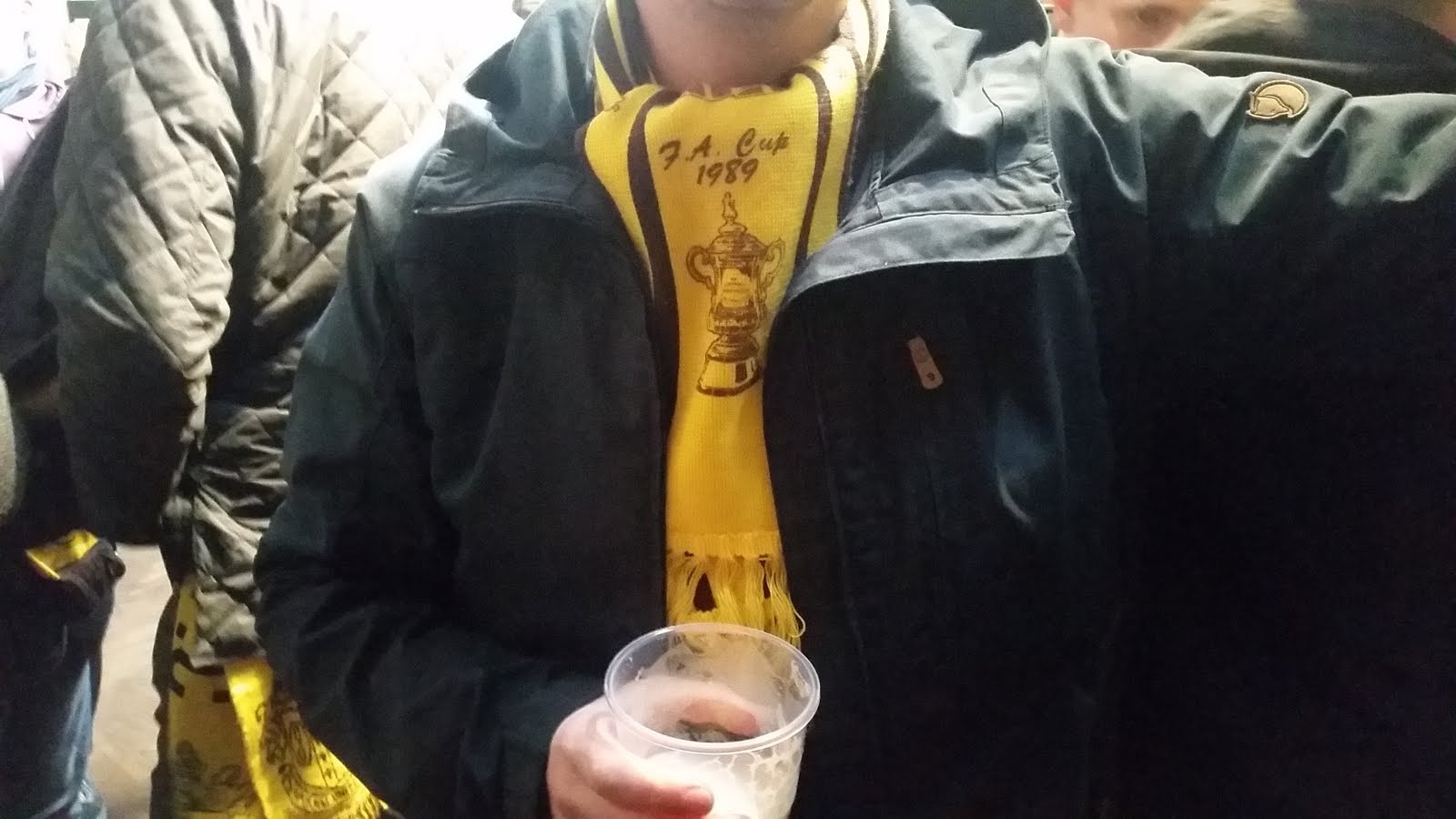 Retro gear.
"No trains!" is the reply. Ah yes. Engineering works have wiped out all the services into and around the Republic this weekend. Which is bloody typical really, given there's due to be several thousand people descending on GGL for something or other today. We alight at the Plod station, that's no doubt on the highest alert given todays festivities and head for O'Niells. We find Robbo loitering with intent outside. Right, time for breakfast!
We stumble in and find Soccer AM on the box, which is handy as we're on it later and landlord Johnno enjoying his own bit of scoff. We ensure Nick had dropped his ticket into him during the week and settle in. 4 Days and Lil' Chris appear soon after, then Dukey Mr X and the Burgers. Chalmers appears last. Soon an eiree silence descends as we all sit shovelling food into faces. Once we're done, Mr X disappears outside, we assume for a smoke. It turns out he instead has gone to buy every paper available and returns with a carrier bag stuffed full.
With our bit on Soccer AM done and every paper perused for all the stuff about our game, we decide to make the stroll down to the Republic and get plotted up in the bar. As we hit Gander Green Lane itself and pass the Plough, we notice a large animated Budweiser advertising board. For a moment it looks like it's parked up on Millsy's drive opposite the ground but our amusement is shortlived when we realise its actually parked outside the couple of shopfronts outside the entrance. The slogan of 'When we get one over on the neighbours, this is the beer we'll drink' does draw a laugh however, not because Budweiser is shite and we wouldn't drink it if you paid us (well, except Mr X), it's not even sold in the SUFC clubhouse!
Well done lads. Cornered the market there.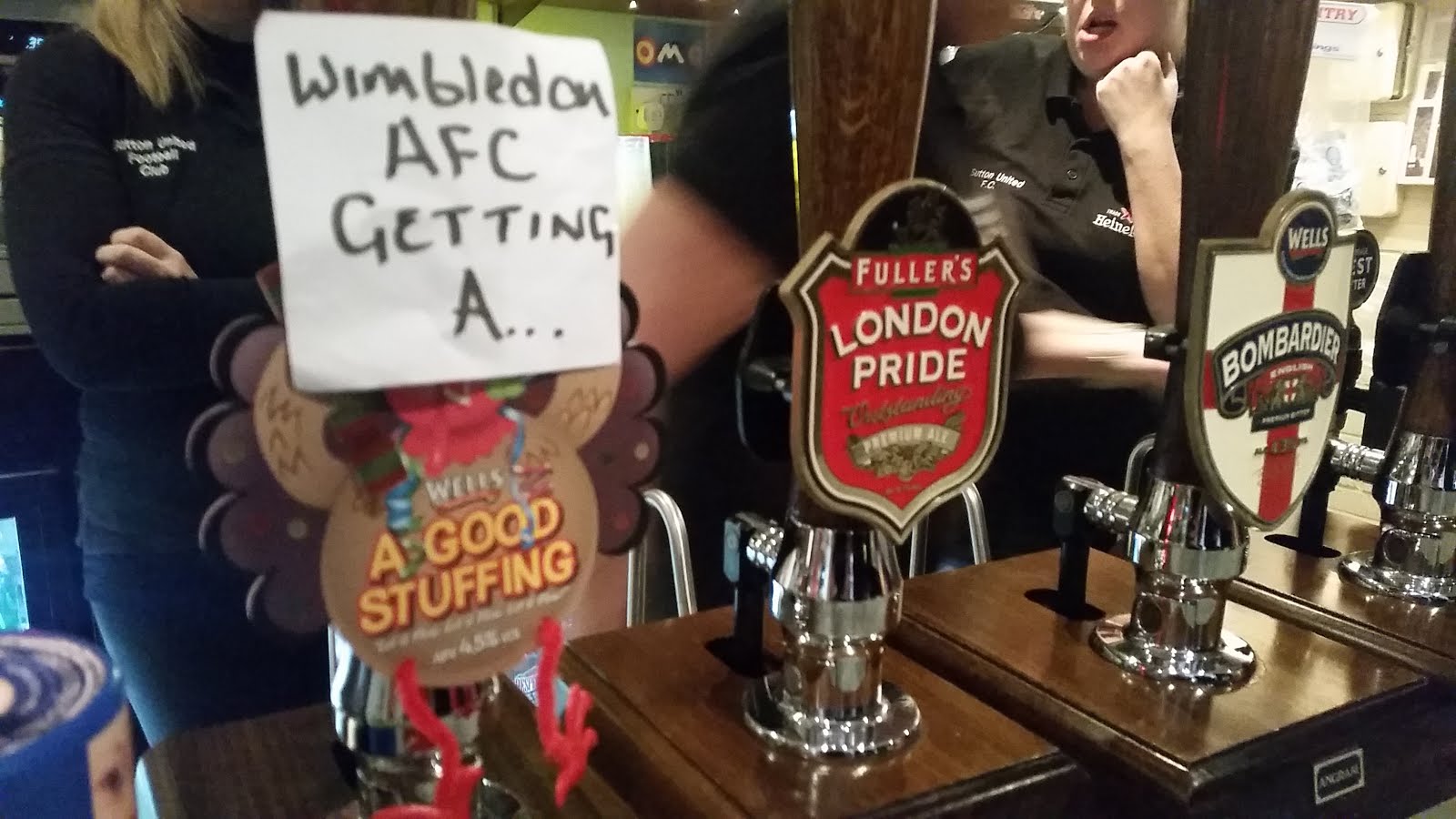 Look, we're aware of the grammatical issues, fuck off.

Panorammamama
There's loads of day glo jackets around, unsurprising given today's sell out. Just the 3500 more than normal that mill about the Lane on an average Saturday afternoon these days. Despite this, the bar is pretty quiet when we arrive, unfortunately they're already serving in plastics so there'll be no getting a glass and guarding it jealously today. Soon though, the bar fills out and we greet some familiar faces as well as chat with others we don't usually see in here pre-match. Totts is soon in the building and I take the opportunity to discuss with him our fee for helping promote the track that has just gone live on iTunes. At my request for a very reasonable 10% he merely smiles, opens his sheepskin and reveals what appears to be the starting handle for a 60's Hillman Minx tucked inside. At this point, I decide it's probably not the right time to be talking dull & boring business matters and retire to enjoy my pint watching the latest televised mis-match as Manyoo stroll past a woeful Reading.
Well, most of it anyway. As shortly before half time, the telly packs up. Now if only we knew a spark! I know, we'll ask Chalmers! "Oi, PC! D'you know an electrician?". But with no other options available, we set PC to work fixing our electrickery issue once 4 Days has of course tried turning it off and back on again. Amusingly almost killing some poor woman standing beneath it when he knocks the food hatch's electronic sign onto her head. PC gets things up and running again soon though and is a picture of professionalism as he buzzes backwards and forwards looking for the right fuse board, all the while clutching his pint of Fosters Top.
The plod makes their expected little wanders through pre-kick off and we're amused to see our old friend PC 'Fuck' from the Cheltenham game is back again. Surprising he'd wander into such a dangerous den of potty mouthed individuals! A few beers later and as the clock ticks past 2, I decide to make a move out into the ground as there's word the queues at the home turnstiles are now stretching back down GGL and to the entrance to Collingwood Rec. As I amble round, the tales appear to be true. "Fucks sake, it'll take all day to get in here!" I mutter, just as the emergency gate is opened up next to me to start getting people in quicker. Result! Just as I duck in, Wellie appears and I give him a whistle to alert him to the new way in.
Worner, Downer, Amankwaah, Beckwith, Eastmond, Collins, Deacon, Gomis, Biamou, Tubbs, Bailey SUBS: John, Hudson-Odoi, Fitchett, May, Spence, Monakana, Shaw
Unsurprisingly, the ground is bustling on the other side of the gate and the usually empty parts are now jammed with people waiting for kick off. One thing I do notice as I walk to the Shoebox is just how much room there still is around the gaff. You could easily get another 1500 in here and still be comfortable. The 'Box is nicely packed out today, with Juan's SUFC banner fluttering at the back. I add my own Union flag to add to the colour a bit. We then pass the remaining few minutes to kick off with the usual bollocks chatter before the sides emerge to a rousing welcome from both ends. Under the GGL roof, the notorious Yoof faction unfurls an intimidating banner for the opposition.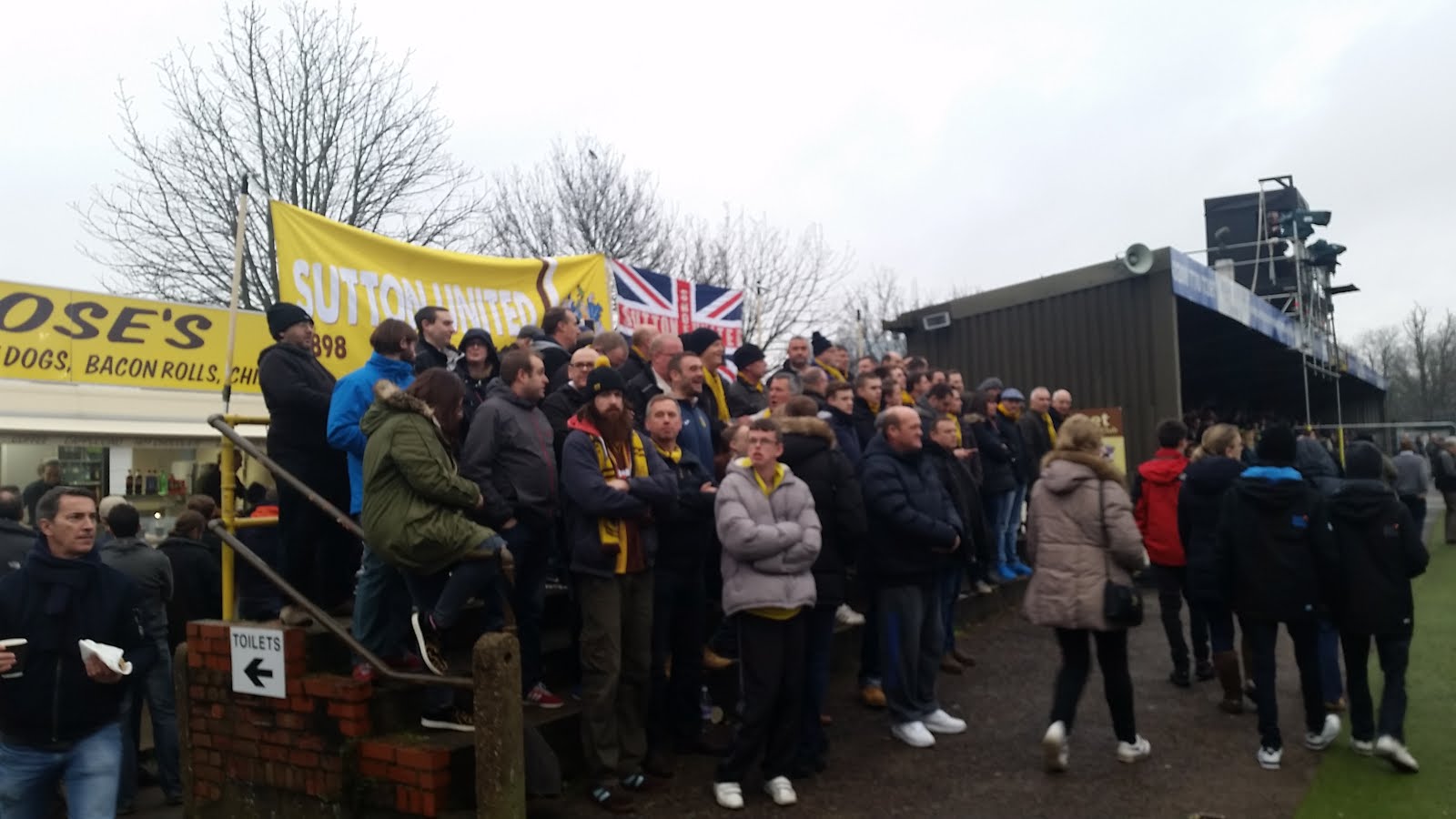 Busier than normal?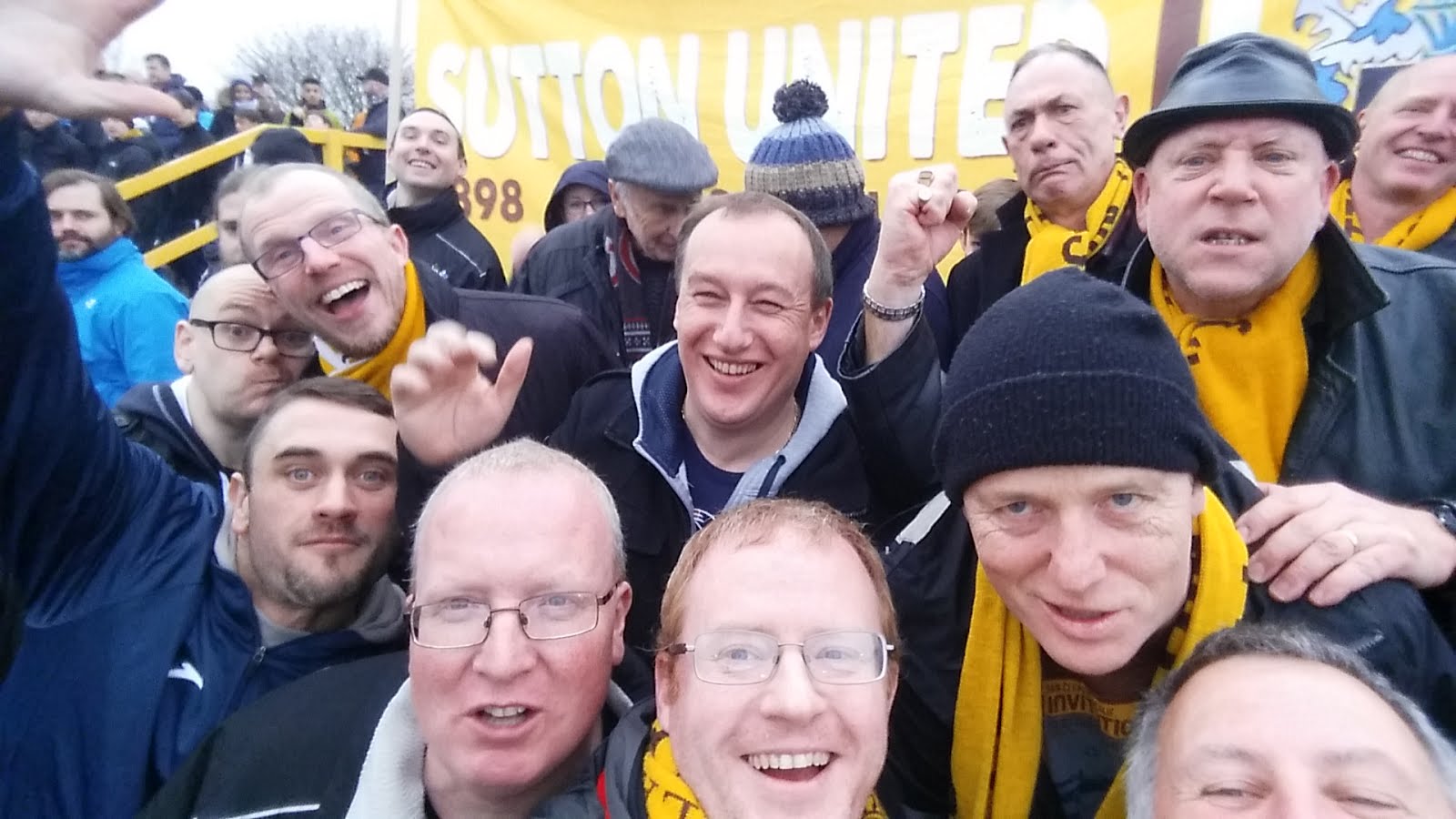 All the cool kids do selfies these days
"South London is ours" it declares. Top work lads, that'll shit 'em right up. Mainly by reminding them they live in South fucking London, which is largely shite. And even if it doesn't, hopefully it'll get on the MotD highlights and annoy the crap out of some Palace fans tonight. Win win really.
Memories of the rather lacklustre start in the last round against Cheltenham are banished today as the boys make sure they're on the front foot from the off. Immediately the midfield is nipping and being annoying with Bedsy in particular getting back to his very best breaking up a couple of bits of play early doors. And it's from one of these several minutes in that we get the first sniff of goal, as well as a taster that our oppo might be of the same sort of pedigree away from home as us. Bedsy snuffs out a move just inside our half and then lets Roarie take over. Deacon heads into enemy territory before slipping a ball through for Tubbs peeling away into the box. Sadly, the one time Womble snatches at the chance a bit and it curls away at the far post rather than nestling nicely inside it.
The rest of the half from here involves a fair bit of ball for the visitors, but with which they manage to do very little. One shot well wide not long after Tubbs effort is about it really, apart from Worns having to come and make one strong punch from a set piece. Then midway through the half, an even better chance than Tubbsy's arrives. A Womble attack breaks down and the ball finds Downer in our own final third. He immediately pops the ball a few yards forwards to Deacon, who with a bit of space bursts forwards. Ahead of him the so far impressive Max reads the run and makes a dart of his own. Roarie plays a perfect little pass in behind and the Frenchman is in.
Bearing down on goal, the keeper comes out to narrow the angle and just as Max hits his shot early, the keeper slips leaving a gaping goal to aim at. Sadly, Maxime's rather hurried shot flashes wide of the near post and he flops to the ground in despair. Even he knows it was a bit of a sitter. Composure mes amis!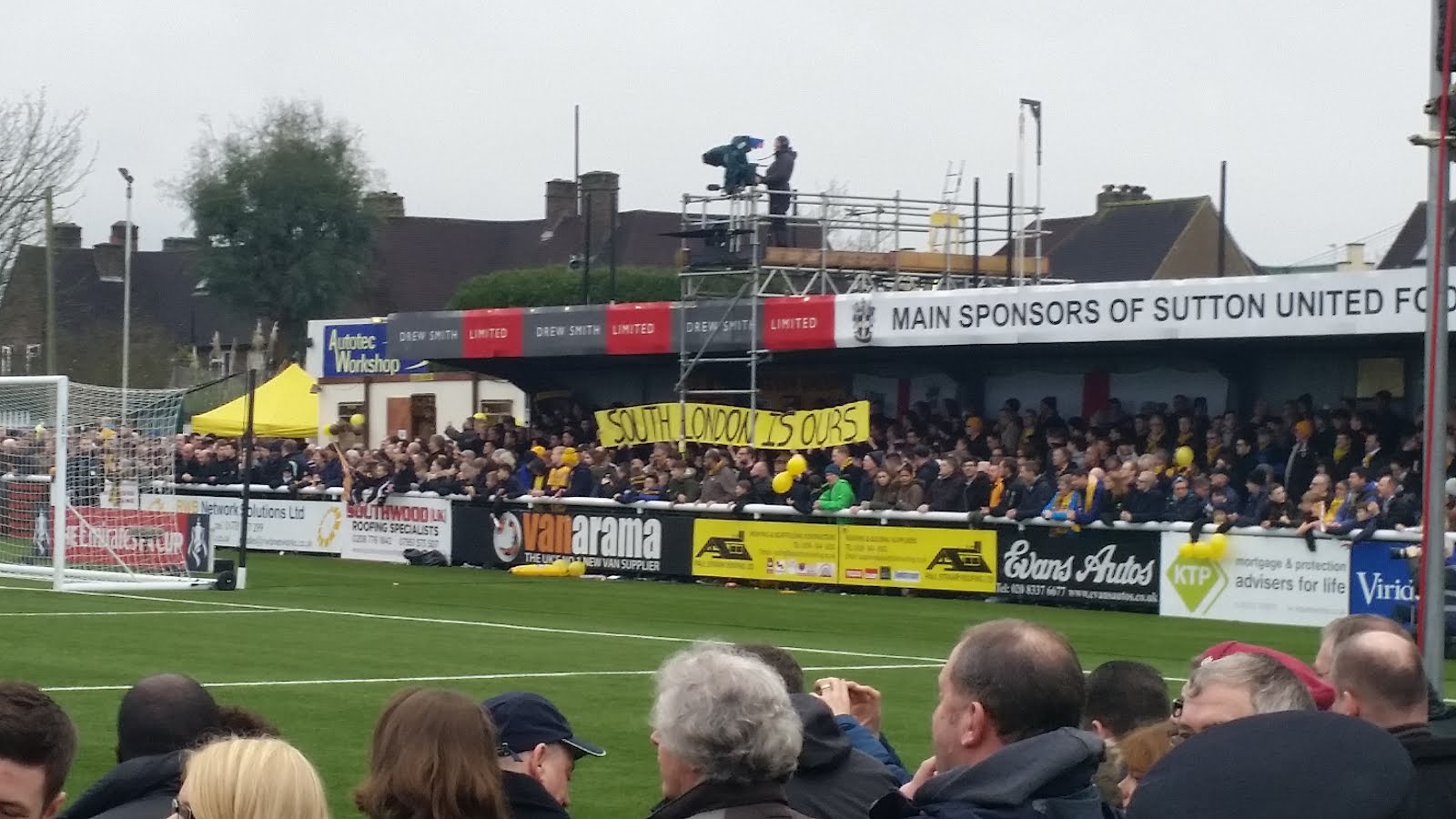 LOLz.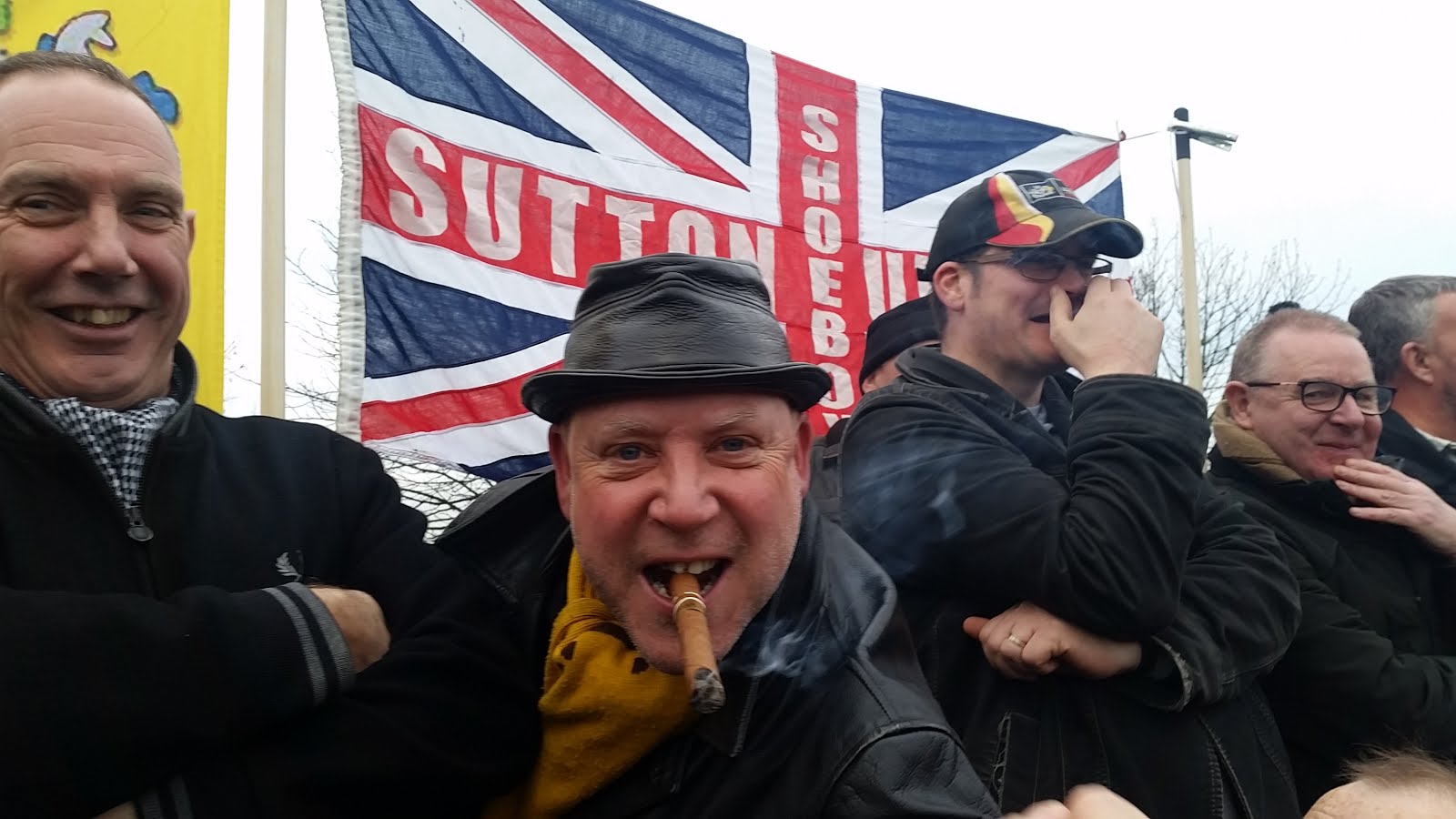 America here we fuckin' come me ol' chinchillas!
Little else happens before the break, but we're definitely on top and have created by far the better chances. Still, when the break arrives and we're all a bit frustrated not to be in front, but still we've more than matched the Wombles, and created the better chances. With no chance of getting a cuppa, let alone hit the bar for the usual half time drink, everyone mills about and reverts to the usual talking shite. I take the time to follow up on stuff like twitter, where I find a surprising amount of stuff from US people. Oh yeah, I'd forgotten. The game is live on Fox Sports over there! To add to this is some texts from my brother watching the game on Fox via a stream at home. Seems we're famous!
Apparently the pre-game amble on Fox has covered that man Totts and his little ditty. And it turns out former US international Alexi Lalas is struggling with the phrase 'Shoebox Terrace'. He also reports even Gandermonium itself has had a mention. Jesus christ. If this is true, it's bloody ridiculous. Naturally, if anyone's got this footage, we'd love to take a look. Of course, I let Totts know about the fact he's broken North America. "Bigger than the fuckin' Beatles sunshine" he grins, whilst puffing on a suitably large rock n'roll cigar.
Back underway, the visitors are a bit more involved than they were in the 1st 45, but not massively. They're still largely held at arms length by the superb Sutton back four and the lads in front of them. Their best opportunity is when their lad wide left finally gets a dart at Downer and gets to the byeline, but his cross drifts under the bar and Worns helps it away to safety with a cheeky little slap. Midway through the half, another good chance comes our way. Another Wimbledon move flounders and we spring into the counter. The ref lets play go despite a rugby tackle on the stand side and Deacon streaks away down the line. Charging away up ahead is Biamou and Roarie picks him out with a cracking cross field pass. Max chests it down and confidently holding off his man, drives a low shot on target that the keeper gets down really well for and pushes away firmly.
This leads to a little purple patch for us where we exert pressure, but fail to really carve out anything good. The best is a ball into the box from deep that sees Tubbs get away from his marker, but the ball is just a fraction too high to get his nut on in. There's no flag from the lino either. Moments later, we have another great opportunity. We recycle the ball and it's hooked inside from the near touchline, a defender under pressure miscues and sends it back towards his own goal from about 35 out. Eastmond is in like a flash and on the 18 yard line just toes the ball past the onrushing keeper. But his touch takes the ball away from goal and despite him recovering it and putting a properly teasing low centre across the edge of the 6 yard box, no one in a Yellow shirt can make up the ground to tuck it away.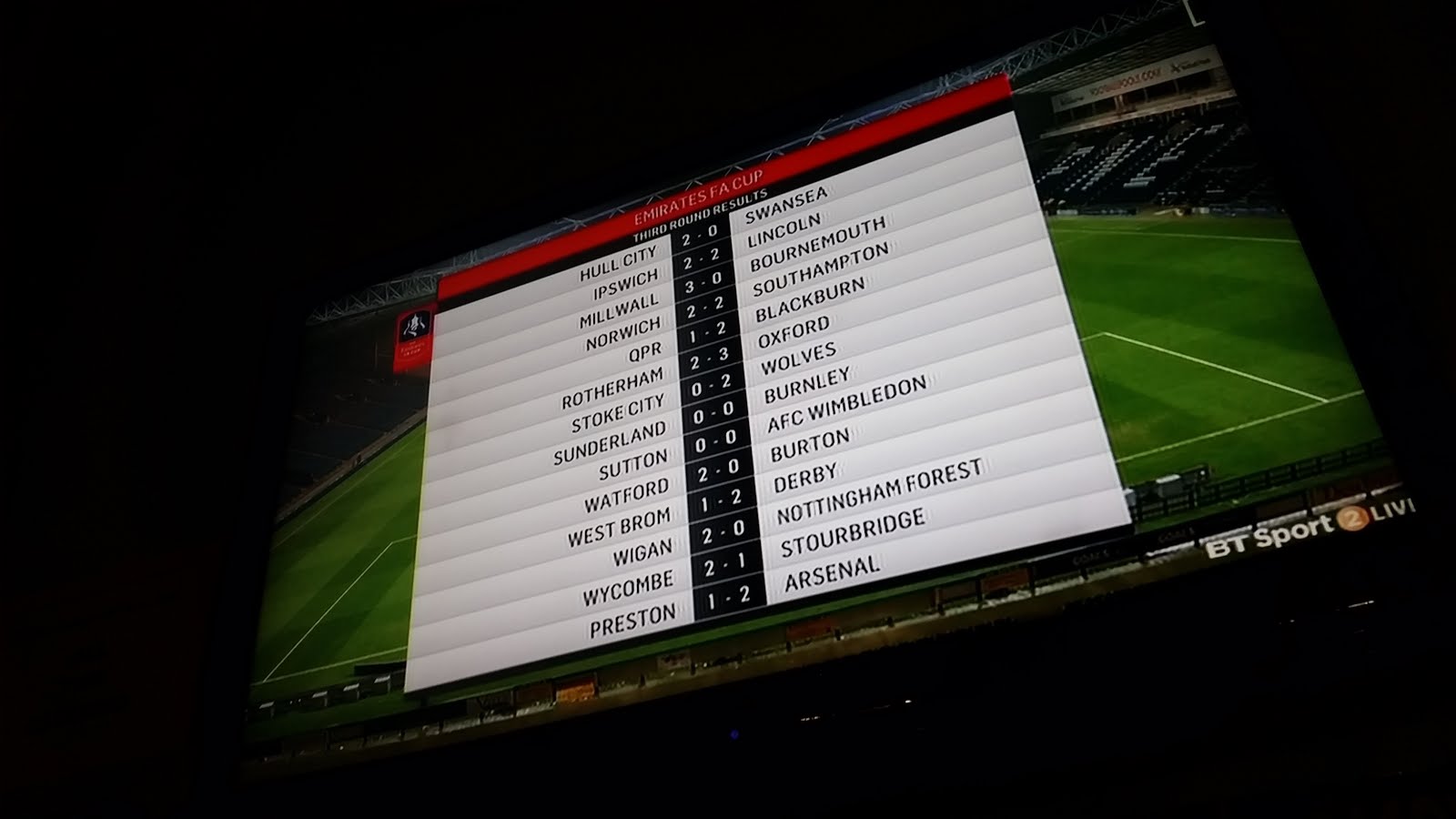 Results.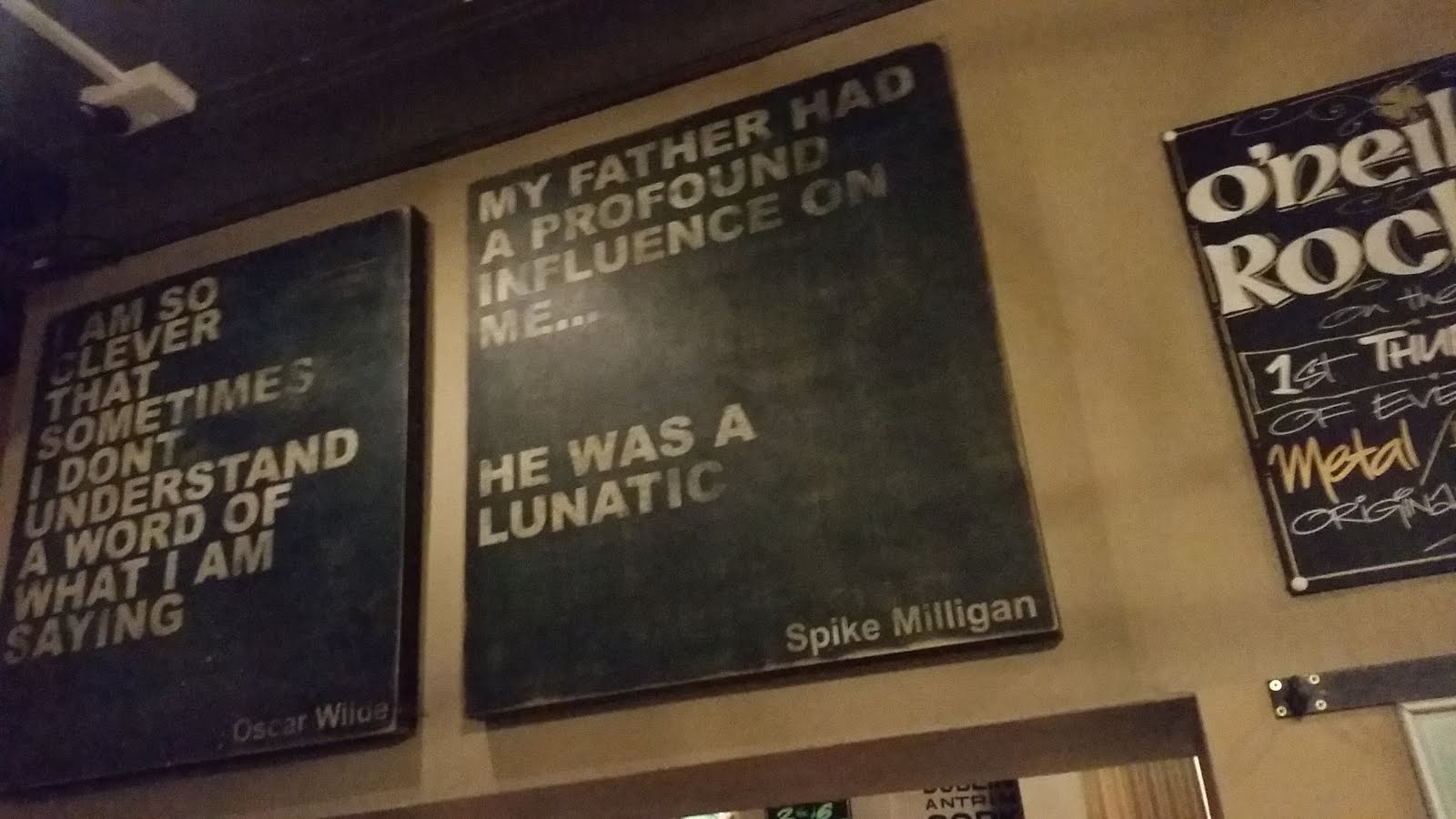 Kind words
As we enter the last 10 or so, changes are made and finally the visitors exert a bit of reasonable pressure. This brings probably their best two chances. The first is Hudson-Odoi getting the wrong side of their lad stand side into the box and making a last ditch lunge to get the ball. There's a moment where a penalty looks certain, but the ref waves away the appeals, probably feeling their man's tumble was rather too theatrical. Then right at the end, a low ball in from the byeline is aimed at their mahoosive number 9 arriving at the near post, by JC does what he does and gets there to put the ball awy for a corner which comes to nothing.
Sadly, that's all she wrote and when the final whistle arrives there's a real tinge of disappointment that we've not put this lot away. They really have been bang average at best. Still, it's been a superb showing from the boys from 1-11 with everyone being 8 out of 10's. Sadly we needed a 9 to take one of those chances!
Having given the lads a suitably warm send off, we start heading for the exits and back to the bar for a well needed pint. Back inside, despite it being several deep at the bars, the beers are soon flowing and the bollocks starts again. And has anyone got a fucking quid for the jukebox?
About 4 pints and a score in the jukebox later and the bar has emptied out sufficiently for us to stretch out a bit more whilst we watch the now customary run-back of the game on BT Sport. Naturally, with nowt to cheer this time, we pay little attention once we're past Max's missed chance. Fuck me, what a sitter. It looked a proper chance live, but seeing it back on TV with the hindsight of the slow-mo? Urgh. Someone get me another drink so we can talk about something fun, like how few tickets we'll probably get for the replay at that shite heap K's used to own.
To feed the starving masses, Mr X does the decent and orders in Pizzas for everyone so there's minimal effort made to obtain nosebag. Here a certain Mr Tom Hughes shows his face and joins us for a beer. It's good to see him and catch up again, most of which is spent reminding him of the time he ran face first into a sign at West Sutton after an end of season do at the club. God I wish we'd managed to get the CCTV of that! Sorry Hughsey. Only joking mate.
Like fuck.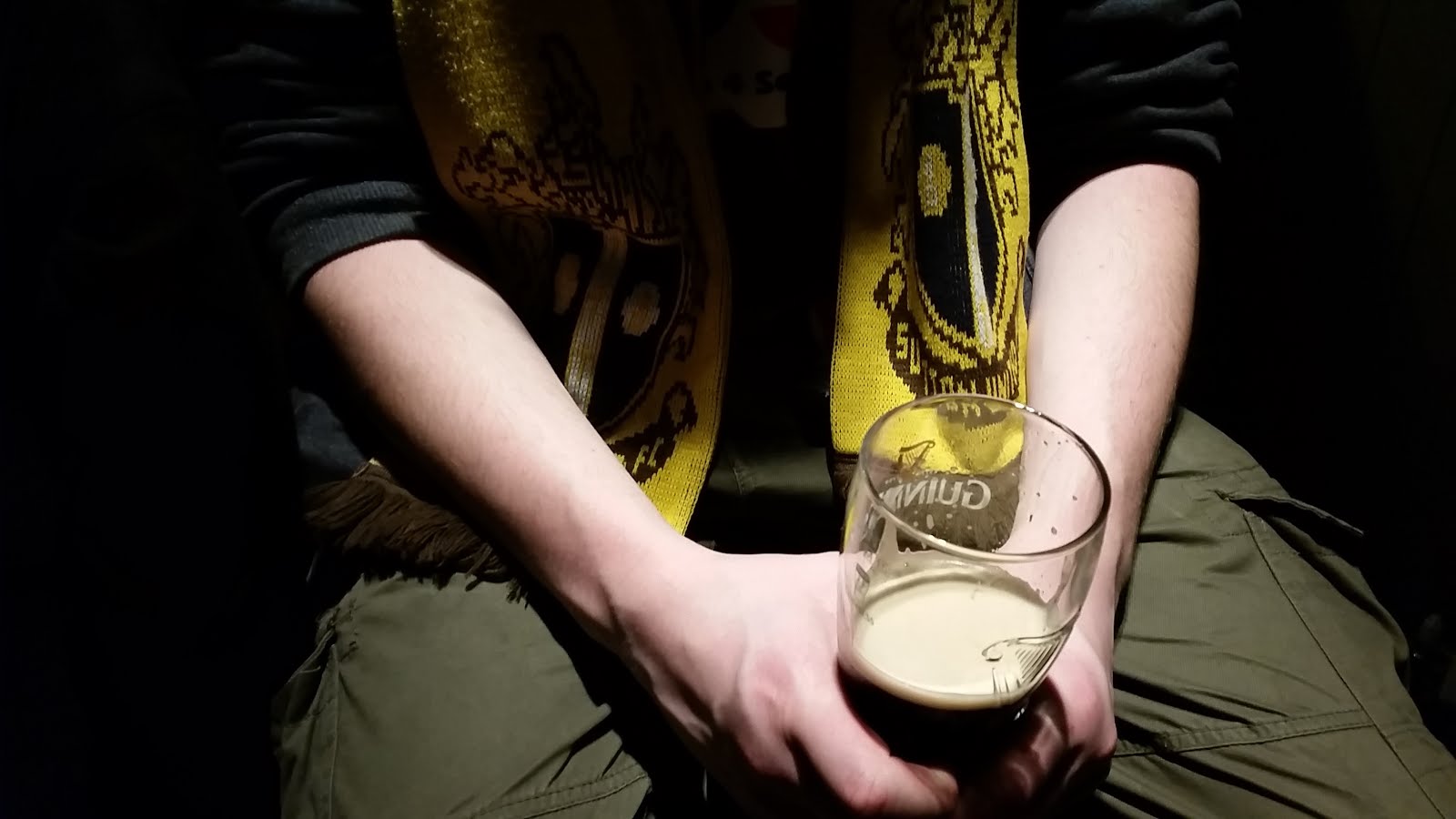 End of the night.
There'll be no repeat of that sort of shenanigans tonight when we eventually stumble out, mainly as there's no sodding trains. So it's a quick walk through the ground old school style and up the high street. Although some of us get thirsty as we're passing the posh Spoons and pop in for a livener before joining the rest of the mob in O'Niells.
Here things get properly out of hand. Sort of. Loffers has rejoined us having popped home to freshen up and hits the water hard. Then Dukey and Steve retire early as they're playing football tomorrow and don't want to be too hungover. Eventually, the Greeks and I remain, stoically propping up the small table we'd chosen by the entrance before we too decide enough's enough and head for Melvilles, where once again we end up with Dukey's favourite cabbie, who is of course delighted not to be ferrying his flat capped-ness back to his manor. But not before Greek has popped into Subways. Not for a sandwich, but a dozen of their vile cookies. He gives me a smarties themed one that contains so much sugar, it actually makes my teeth tingle. Yuck.
Finally back in HQ I'm left to reflect on today's missed opportunities as well as the fact we'll have to go to that place Kingstonian used to own as I vigourously brush away the taste of Greek's fucking awful Subway cookie with a healthy dollop of Colgate. Hey, you know what they say. Don't rush wen you brush!
Oooh, that sofa looks comfy. Night.
Taz