So we're back on the road again. And this time it's a little trip to the wilds of North Essex to try and prevent the second defeat double of season. The team waiting to make this happen was Braintree no less. Some of us may remember the home fixture back in September when an injury time goal in front of the only sub 1000+ home league crowd gave them their fist away victory of the season.
Anyway, anyone catch the draw for the FA Cup Fourth Round on Monday night? That's right, we're still in the bloody competition! Of course some of us were there, but obviously being the shy types we are, we were hiding in the player's bar. Me & The Firm Leader did consider trying to squeeze in a little appearance but in the end we watched it on the telly. I tell you, it's a crime that a man of my looks is only likely to be seen on the bloody news!
*****RANDOM FILLER ALERT*****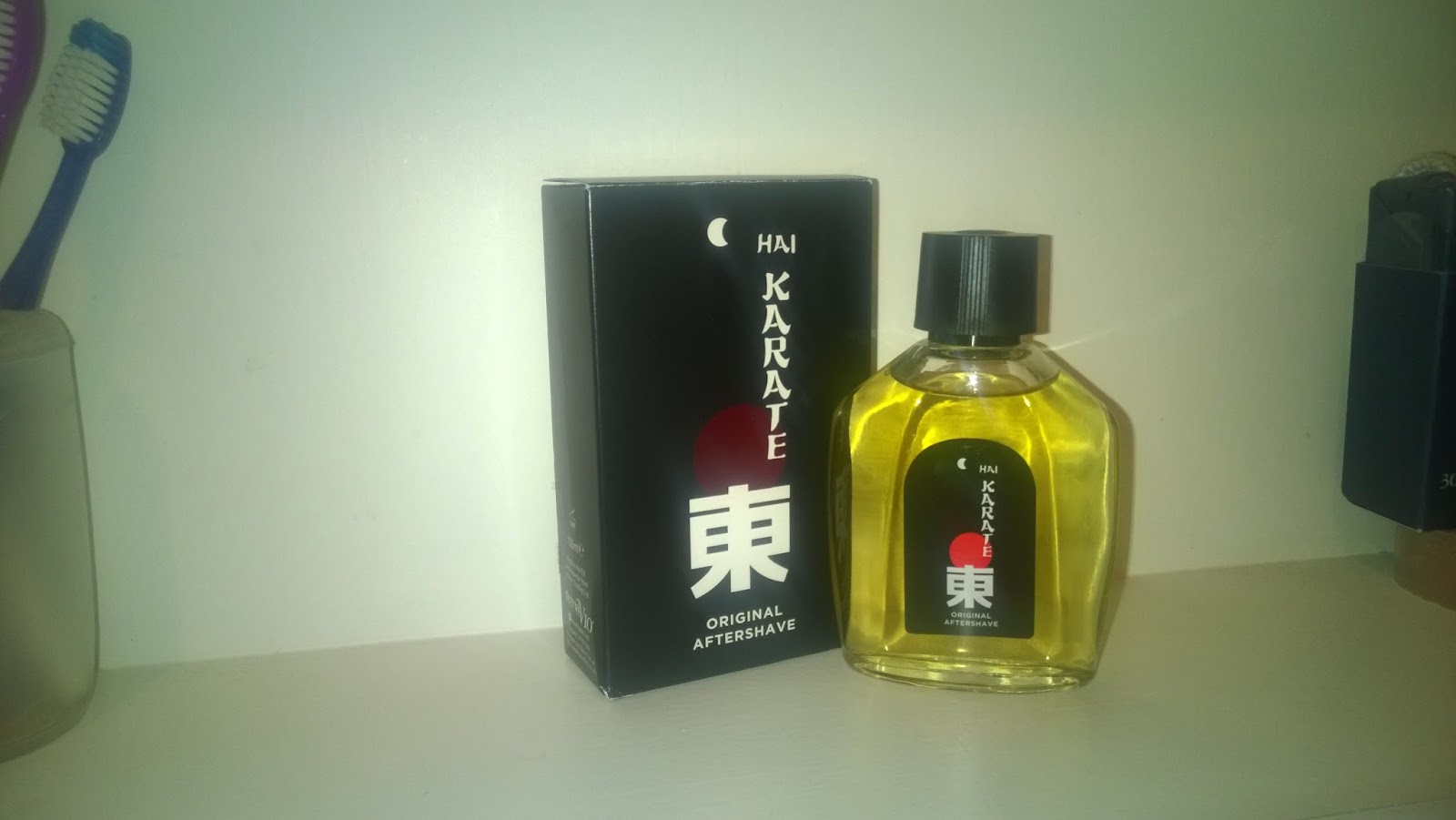 What every 70's man needs!
As you can see, the latest of my now infamous drunken Amazon purchases arrived the other day. For those of a certain age (way before my time obviously), you might remember this. Hai Karate! That's right, this shit is legit. And still legal. Although, judging by the smell, I think this might be a 1970's produced original. Still, anything that has this scrawled on the packaging can't be wrong:-
"With fragrances so powerful and appealing to women that you have to be careful how you use them! HAI KARATE Aftershave is scented with a fragrance as mystical and masculine as karate itself."
Fuck knows what that's all supposed to mean. Anyway, where was I? Oh yes…
There was to be a different attack plan for the journey up. Instead of coasting up in the Donna Rachele as usual, The Firm Leader had offered to drive. And when those kind of offers come along, you need to take them by the balls and shake them, so to speak. With a pick up time of 1645 hrs, this gave us a three hour window to reach our destination. You might think that this might seem a little excessive, but when you take nearly three quarters of a bleedin' hour to just hit the bloody M25, you then can understand our concerns. Yeah, travelling through rush hour isn't for the faint-hearted and especially when you seem to take forever just to even get across the Badlands of Carshalton.
Finally on the M25 and we can then put our foot down for the 90 mile trip. Obviously observing the speed limits at all times! With no toll booths these days at Dartford, we were soon over the river. By this time, The Firm Leader's bladder had reached bursting point, so a quick emergency piss stop is needed at Thurrock Services. What is it with my drivers and always needing a fuckin' piss?
Now it's been a while since we've been around these parts, and a sign for Thurrock FC brings back the memories of an earlier birthday away day for yours truly. I've still got a couple of Stein glasses in a kitchen cupboard back at the manor from the evening in the German Bar at Fenchurch Street the followed. Oh those Ryman days, how times have changed. Or not.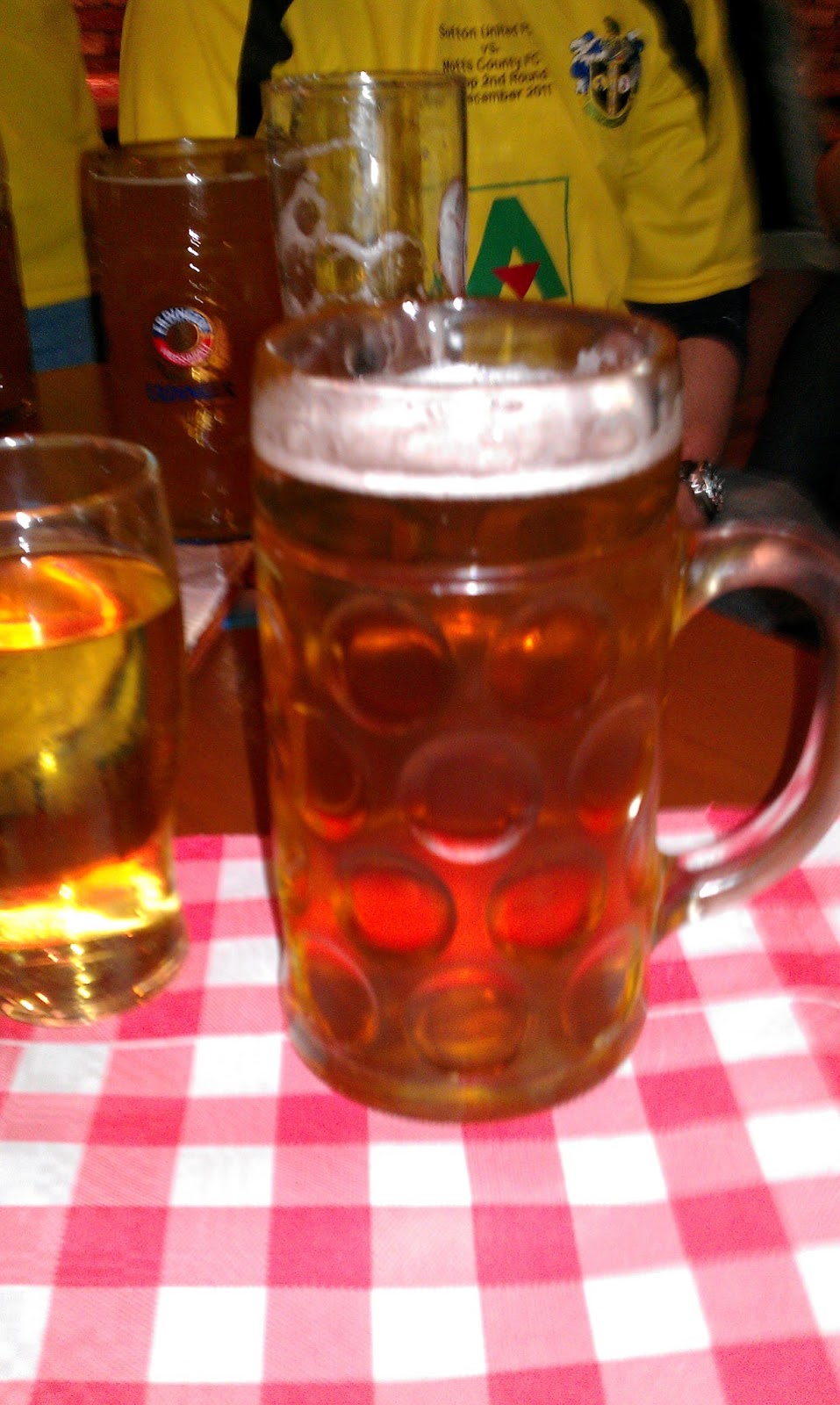 Stolen
Back on the road again, and its onto the M11 before breaking East around Stansted. Or should I call it London Stansted? News had reached us that Our Lord Dos had signed a new defender, a fella (or two if you're one of our lot) going by the name of Afolabi Coker who was currently plying his trade down at the Staines Massive.
Reaching the ground at just gone quarter part seven, this gave us ample time to look at the team for tonight. With the Gang of Four (Bailey, Collins, Downer & Eastmond) being rested due to their very close proximity of a two game ban, meant that there were rare starts for Spence, John & The Legend that is Dundo.
One thought that I did have (Yeah, I do have them occasionally) was regarding the Gang of Four (as I have just christened them). Considering that they're are all one booking away from ban, a rather unique problem arises. If we were to play out of our skins next Tuesday and get the victory, if any of them got booked in the process, it would mean that they would miss the Fourth Round against Leeds. Unless of course, we were to draw on Saturday at Worthing that is! Perish the thought.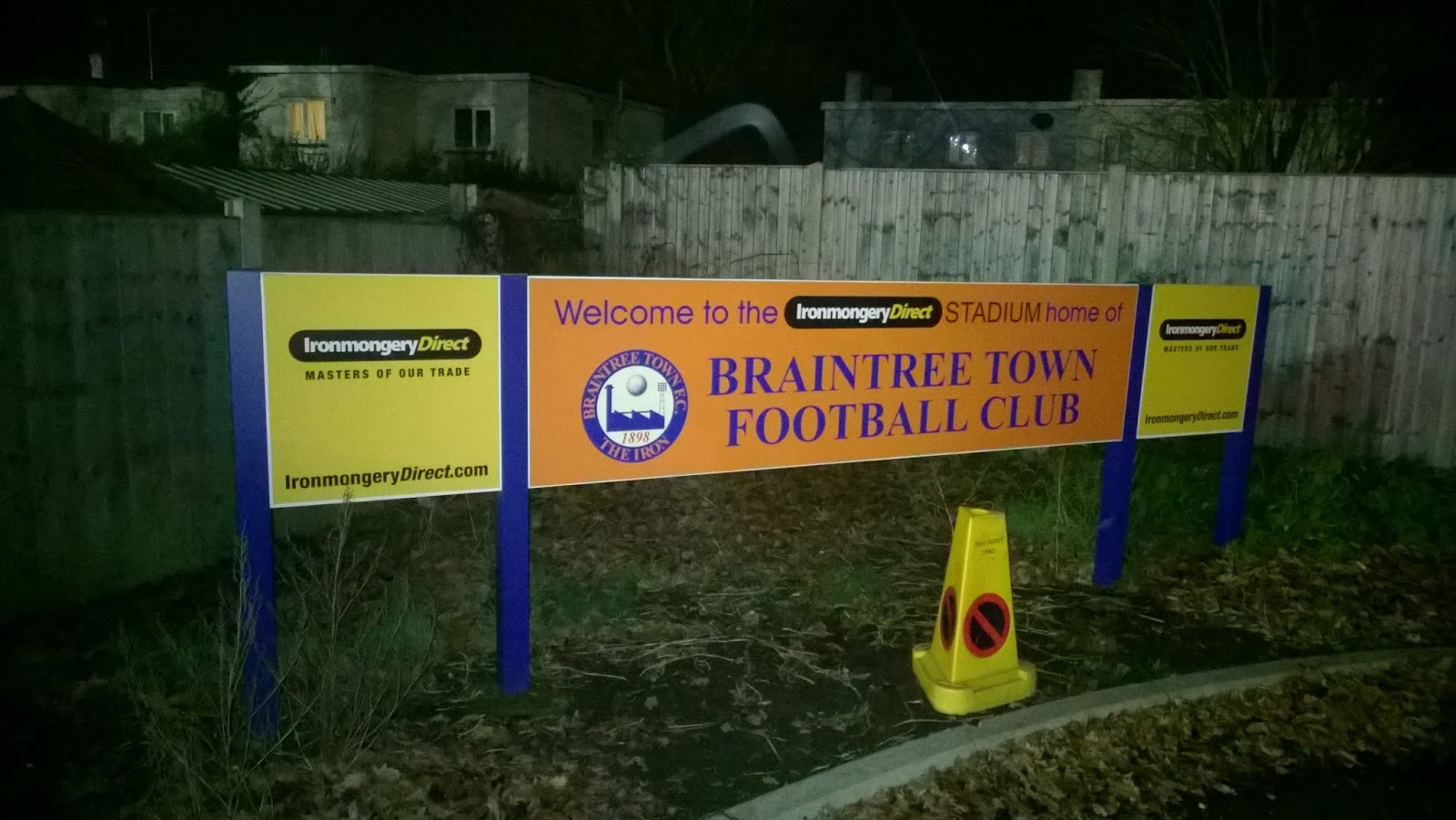 In the right place then?
Worner, Spence, Amankwaah, Beckwith, John, Dundas, Deacon, Gomis, Biamou, Fitchett, Monakana. Bemnch Warmers: McAllister, May, Coker, Tubbs, Shaw.


Only having made the one previous visit to Braintree, I soon saw that both the little covered terraces behind the goals had gone. Taking up a spot just passed the tunnel we waited to see what this changed side could do. Not much it turns out. For a long spell in the first half, it seemed that the game was going to head for a nil-nil as both teams failed to produce anything of real note.
Braintree at best managed to have a couple of crosses go across the penalty area, and Sutton just seemed to lack that final ball and not for the first time this year on our travels. We did create a couple of chances, with Biamou's header and Fitchett's one on one shot/pass probably best. Unfortunately, it was one of those "ref is the star" games, with some terrible decisions by the man in black.
Somehow, the only booking Braintree got in the whole half was when Worner messed about with the ball just outside of the box, and when he tried to return inside and pick it up, he was clattered. One probable booking was when Deacon tried to start a counter attack near the dugouts. Riding one challenge he was properly taken out by the next. And considering most of the travelling support could see this happening before it actually did. All the ref gave was free-kick. But more of this later.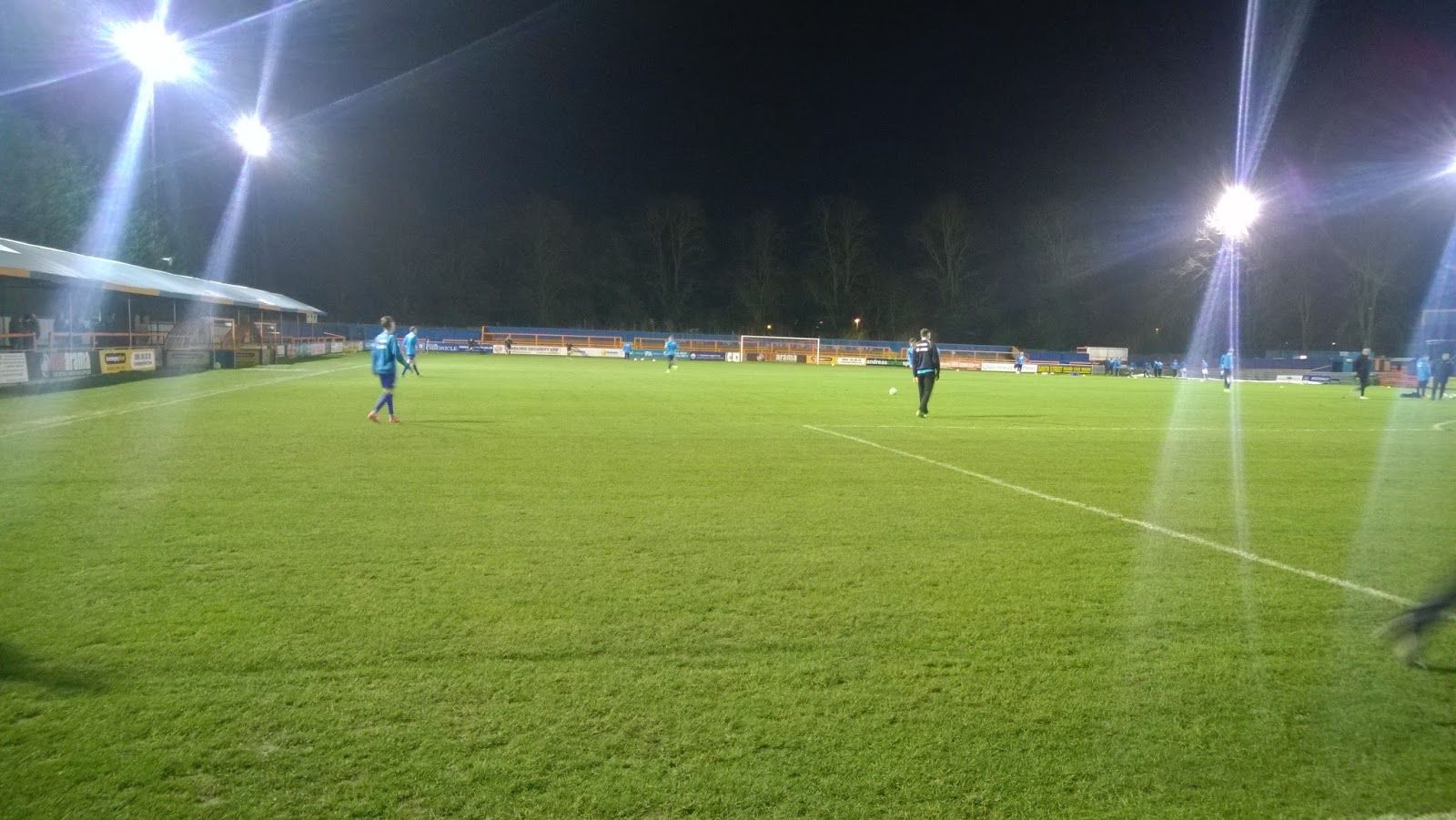 A picture says a thousand words….sometimes.
As is always seems to be the case, Braintree took the lead with their first real proper shot at goal. Some good link up work on the edge of the box between a couple of players seemed to bamboozle the U's defence and create enough space for their fella to hit a well placed shot into corner past Worner's left-hand side.
With ref blowing up for the break, the players begun to trundle off in the direction of the tunnel next to us. As the men in black neared the away support, justifiably some words were soon exchanged. "Why didn't you book their fellas for those two fouls?" was heard near me. Surprisingly, for the first time in a long time, the referee actually replied.
And what came out of his mouth? Complete and utter bollocks that's what! "He won the ball" he replied. Now, hold up a second, he won the ball? Well fella, where I come from, we call those 'tackles' and they generally don't get you free-kicks. Sometimes you do have to wonder where the fuck they get these people from sometimes. Jesus! "He won the ball". Stupid wanker.
"It looks like the set of a bad horror movie…."
Second half and it's up the other end as the weather begins to turn. It's only a light drizzle but given Braintree's record for postponements, there is a bit of a nervous laughter. We even managed to spot something rather odd sat behind us on the other side of the fence in some wasteland.
With Sutton trying to be the only team to change the game it was a case of some gilt-edged missed chances and wasted opportunities. Several were easy for the keeper as they were aimed right at him, but others should've gone in. Fitchett had a one on one that he seemed to try and cleverly slot the ball underneath the keeper, but to no effect.
Over the space of ten minutes, Sutton made three subs. McAllister, Tubbs & May came on for Monakana, Biamou & Dundas. Both McAllister & Tubbs had great chances to score. McAllister was first, he received the ball on his own in the box and only had the keeper to beat. For some reason he decided to attempt to side foot the ball past the oncoming stopper, but it just hit him and was eventually cleared.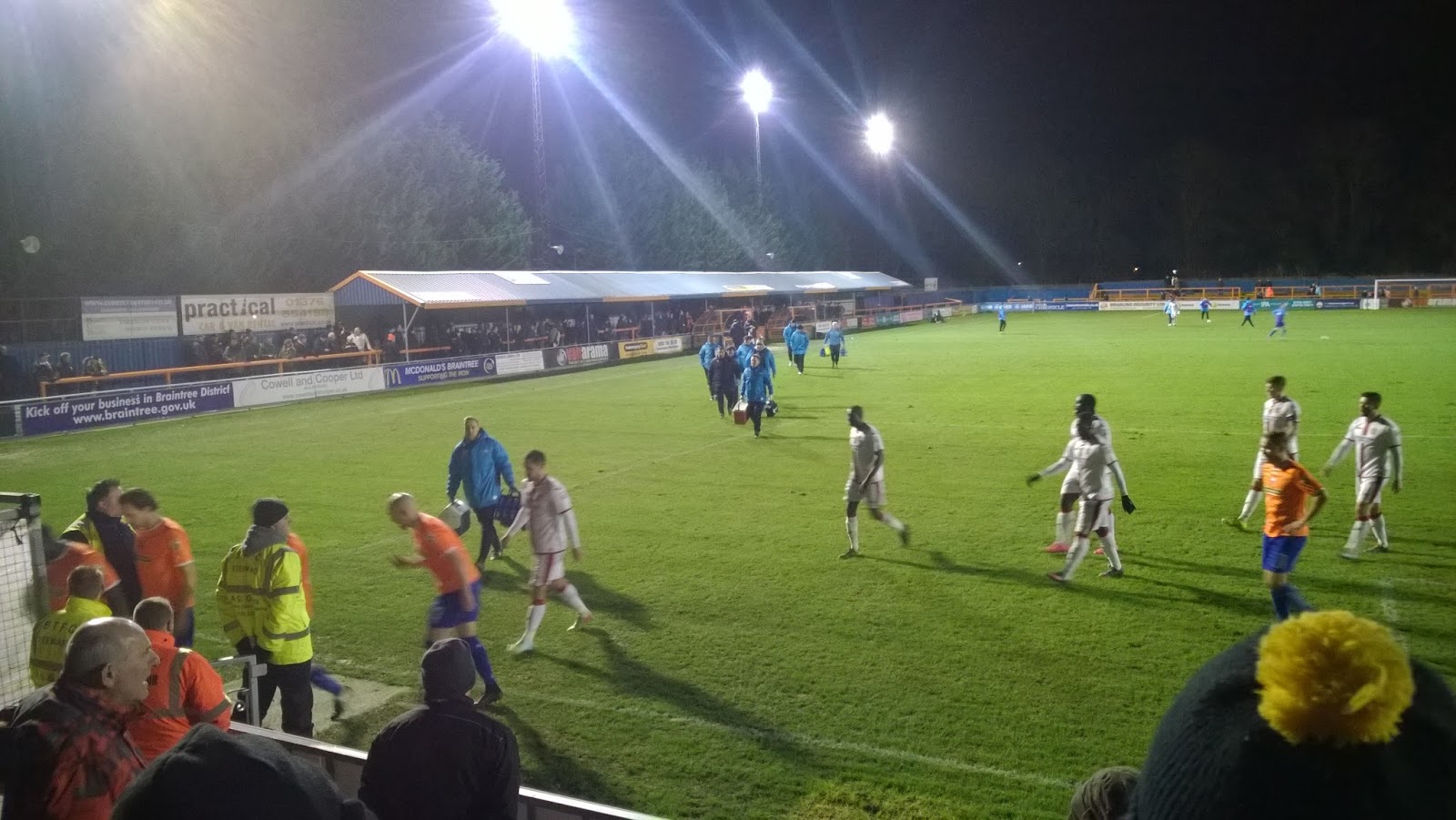 "You're a twat ref!"
Tubbs had the last & best chance for Sutton. Created by himself, he managed to keep the ball in the box long enough to create some space on the right hand side. His shot into the far left corner had completely left he keeper rooted to the spot and nine times out of ten these go in. But not for us. Instead it hit the inside of the post at such a perfect angle it then came straight back out & travelled along the goal line, a foot out. And consider the keeper hadn't dived for the original shot, he simply picked it up when usually it would've hit him on the back and gone in.
I can only think of two Braintree chances the whole half. One was a criminally free header in the box. Criminal in both the marking that allowed it and the header itself, which went so far over it nearly cleared the flats behind the ground. The second was in the dying seconds that had Sutton caught out as we pressed up and luckily Worner saved the near one on one down to his left.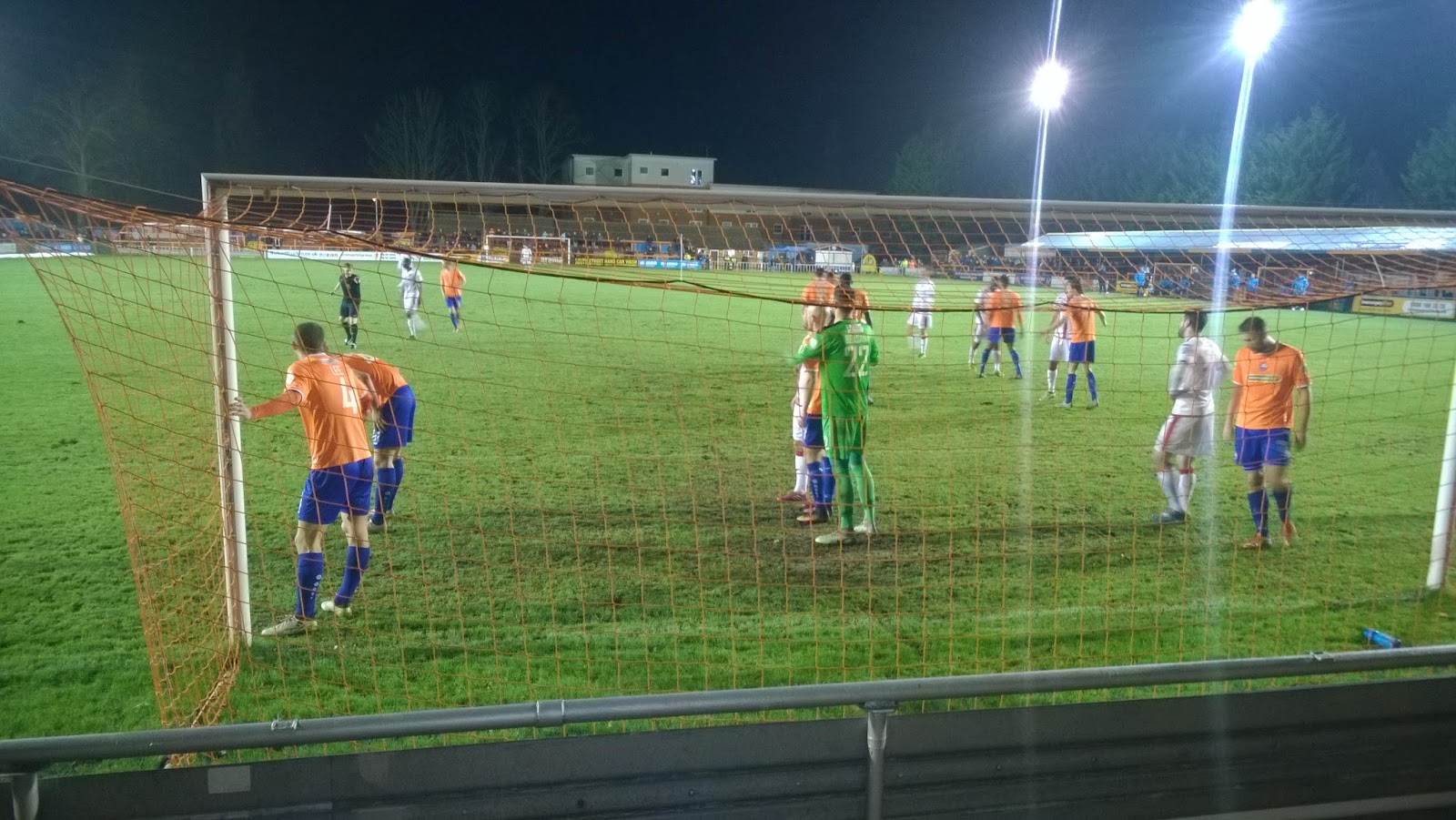 The game, at actual pace.
After the match we shuffle off to the car with that Southampton fan in tow. If the journey up was long enough, the return was a piece of piss. With a stop off in Croydon, we managed to do the trip in nearly 90 minutes. Not bad at all. Getting back home before Wednesday was certainly a nice treat. Cheers Firm Leader!
So we now turn our attention to the Amateur Cup FA Trophy and a trip to Sussex on Saturday. This could be one of our best chances to see the Mighty U's at Wembley if we decide to give a go. Thankfully the arranged British Rail strike has since been called off and the prospect of trying to get to Worthing by all manner of transport has now been averted much to everyone's relief.
One final thought, is the other pressing engagement we have (No. not trains to Tranmere. Or Torquay. Or even Barrow) that now needs to be arranged. The little case of the FA Cup replay at the Wombles. For some reason, my gut tells me that this pony "Friendly" rivalry stuff will only be one way and having bendt over backwards to accommodate as many AFC fans for the home match, I feel this might not be reciprocated for the return to Kingsmeadow. Let's hope that I'm wrong!
Not that I'm speculating in anyway, shape or form of course.
Duke
Att. 568