Well hello there! Welcome back to this stupid bit of the internet that mainly talks about getting drunk in the name of watching football in remote Northern outposts. This week, we're again on the road and heading into the wilds of somewhere up near Scotland again for a trip to one of our more favoured awaydays, Hartlepool, who managed to escape La Bastarda with us last season after winning the National League plays offs on pens against Torquay.
But before we get to all of that, it's been another busy week at chez GGL as the long awaited new stand at the away end has finally started going up, the U's pinched a point off runaway league leaders FGR and were a touch unlucky not to nab all 3 to boot, before we headed down to Bristol Rovers for a midweeker. Here we were less successful, turning in probably our most disjointed performance of the season with a somewhat patched up side. Which was a big shame, as we were all hoping the lads would stick Joey Barton's 'Rugby team' jibes right up his thick Scouse chuff, but sadly it was not to be. What made his comments about us being 'too physical' a side rather odd is that he manages the team with the 2nd worst disciplinary record in League 2. Still, on the other side of the coin, we guess if anyone would know a bunch of shithouses when he sees them, it'd be someone with a couple of nasty violent conduct charges on his CV, eh Joey? Cunt.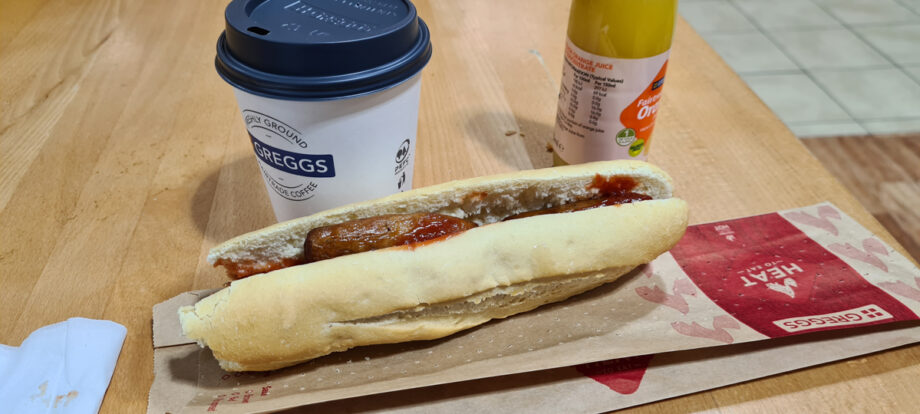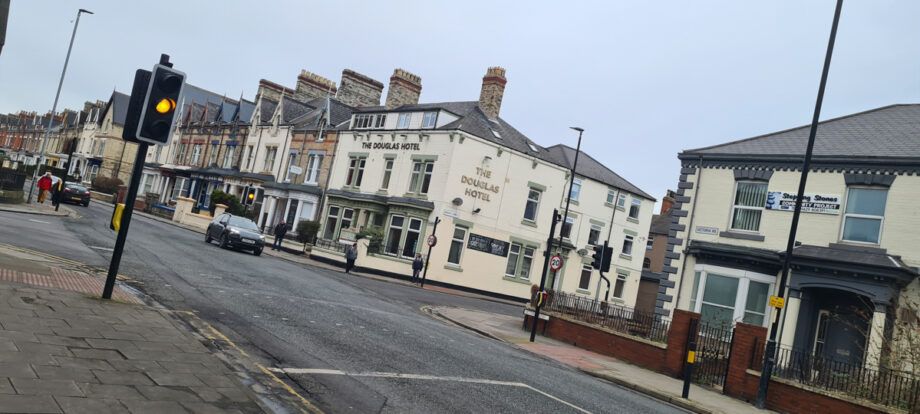 I should also take the opportunity to thank Frakey and Totts for covering those two encounters and keeping our little unbroken run going here on the Monium of Gander. Frakey's potted GGL car park history was particularly well received and just goes to show that there really is no limit to the sort of odd shit we'll stick out on these hallowed pages. But enough of the niceties, we have an away game to blather on about!
Now, normally with Hartlepool being one of the longer aways we have, we like to let the train take the strain and end up at Kings Cross stupidly early to trundle North. Well, sadly this year things aren't so simple and with there being no Grand Central services running direct up there or any returning to London any later that 5.20pm, this is naturally sacked off. Instead, we take the decision to drive and share the fuel cost. Due to the lack of trains and it now having to be an overnighter, this hits attendance somewhat and only 6 of the firm make the journey. Mr X and Greek are our advance party, heading up Friday as they don't fancy an early start Saturday morning. The rest of us will be doing exactly that in my motor.
With cheap digs sorted and more on that later, the recce team lands Friday afternoon and follows the now traditional Gandermonium "Quiet night out, couple of pints and a curry yeah?" plan of attack, otherwise known as 'the Cambridge Principle', when in town the day before a game. The same one we used Airdrie. Oh and Truro that time. This of course actually means they went out and got royally fucked before wound up in PopWorld with Ossie, also up there for the night, until god knows when with not so much as a poppadum in sight. Idiots.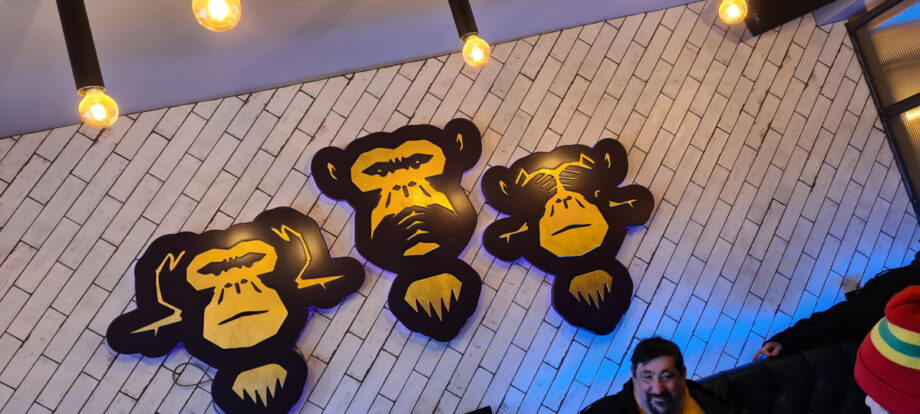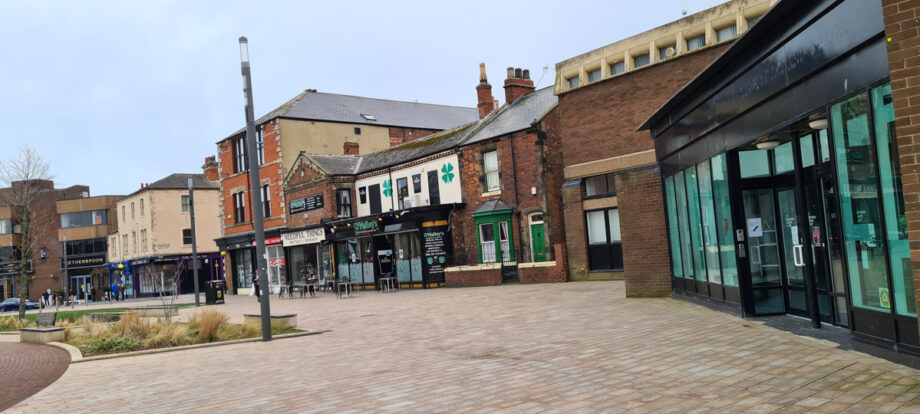 Fast forward a couple of hours and it's 4.30am. I know this as I'm being woken by my screechy little alarm clock, which has the time in big green glowy text on it's face. I kill the noise sharpish before I disturb Mrs Taz and she kills me, hop out of my pit and with "My fucking god I really need a new hobby, what on earth am I doing with my life?" autopilot engaged set about getting myself ready for the journey ahead. 30 minutes later, I'm showered and feeling a touch more human, head out to the car. A quick pre-flight check later, I'm out onto deserted 5am streets and heading for my pickups. First up is Dukey, who's crashed back at his old man's for the night to facilitate easy idiot collection. With him on board and the smell of Brut filling my nostrils, we're onto our second target. With 4Days onboard, our final mission is to locate Indiana Jones in the sleepy hamlet of Cheam. He's all present and correct outside Waitrose and with a full compliment of dickheads on board and the sat nav set to "Here be dragons", we're on our way.
Despite the UK having been battered by Storm Eunice on the Friday, as seen with the devastation at Cheam Sports Club, the journey up is pretty smooth with no delays. We're on the M1 inside an hour and stopping for breakfast up around Nottingham before getting back on the road. And all at perfectly legal speeds to boot. It's a much needed run out for the Tazmobile too, as since I bought it in December 2020, the longest trip it's done was the drive back from down near Eastbourne where I bought it! Its inactivity and my unfamiliarity with it's odd automatic gearbox along with it being shaped like a shed means fuel consumption is a little more than I'd have liked but hey ho. A quick pit stop on the A1 to top off (1.79 a litre you robbing fuckers!) removes any worries and shortly after 10am we're pulling up outside the Douglas hotel, our home for the weekend. We unload and find Mr X outside puffing away on a snout. Despite the late night, he seems reasonably chipper or at least as chipper as the miserable sod can get, which we find a little surprising. We get checked in and with the VDT clock now ticking, we're joined by Greek fresh from a post-breakfast haircut up the road and we hit the pub trail.
First stop is the Three Brass Monkeys around the corner. After bagging cash and Greek admitting he has no idea what time he got in this morning, mainly as "I usually just check my Uber reciepts to work that out!" and with Popworld barely a couple hundred yards from the hotel, there was no need of a cab. That and there is no such thing as Uber up here. One receipt he does have however is the one that shows he paid eleven pounds and four pence for 8 Jaegerbombs. We also get the full lowdown on our less than luxury abode for tonight (no heating, no breakfast & hot water not confirmed!) and find out about their pub crawl from the day before, where Mr X was bitten by a dog (whose owner had allegedly died just that day!) and 3 pints in what they described as "The worst pub in town". Mr X also regales us of the tale of his motor twatting a green recycling bin on the M1 on the way up yesterday. Luckily, it seems his motor won that battle, obliterating the sucidal receptacle and receiving only minor cosmetic damage in return. First pint done, we exit via the back door and walk over to the King John's Tavern.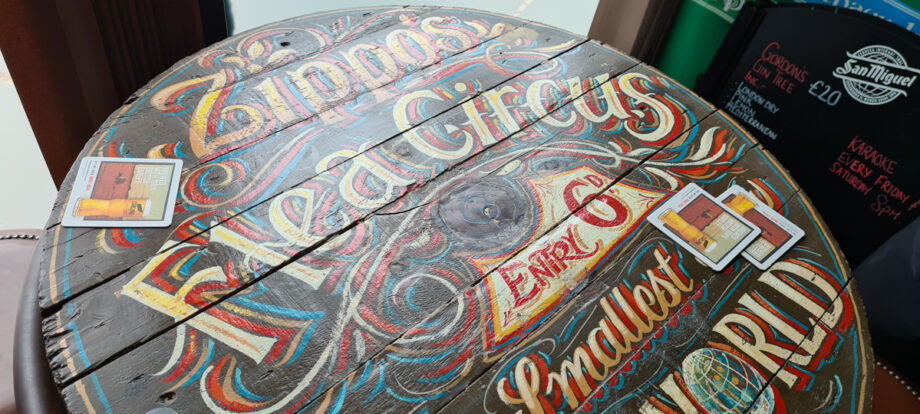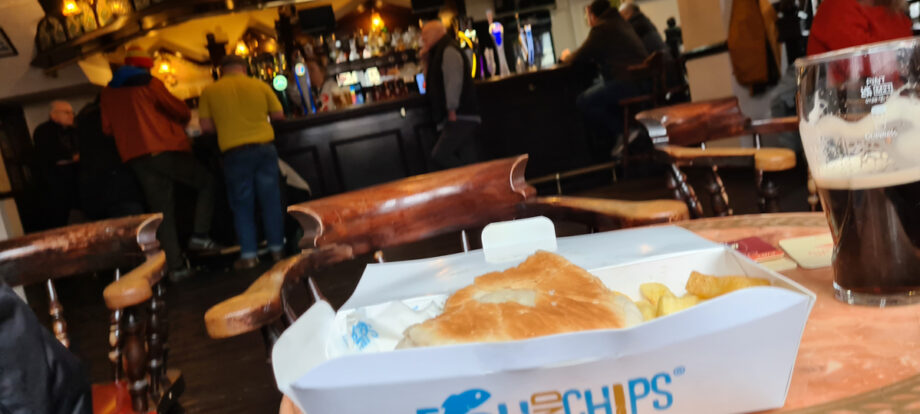 This is a very Wetherspoonsy looking type place and with good reason, mainly as it used to be one. Clearly it was one of the boozers they binned off pre-covid in towns where they had more than one location (hence why the Grapes in Sutton is no more for example), but rather than standing empty or being redeveloped, it appears there was a management buy out and the place is ticking along nicely for 11am on a Saturday morning. Greek is struggling here after the exertions of the previous evening and Mr X bets him a tenner he can't do three tequila shots, a challenge that even the big fella is simply in no mood or state to accept and just meekly offers to pay the man of mystery the ten quid to shut up and leave him alone. From here, we head to O'Malley's an Irish boozer by the church and in sight of the ground. The Newcastle v West Ham game is on the box and we knock back some pints of decent Guinness before heading practically next door to the actual Spoons so Dukey can catch up with his Father in Law to be, who's headed up for the game today as well along with his other son-in-law who has family connections in Hartlepool.
With his family duties done, we have time for one more and head to the Clarendon round the corner. Now this is the place that the recce team had declared the worst pub in town from the day before, despite stopping here for 3 pints on what was supposed to be a "1 pint per pub" crawl. We've been in here before on our first visit and I remember it just being a bit old, but we've certainly been in worse. As I'm at the bar, the old barmaid behind the jump enquires if we would like free chip buttys. Erm, yes? Now, we assume that this means she's knocking up some chips out back and chucking them in a bread roll and don't expect much at all. What we actually get is decent sized portion of chip shop chips in a big soft roll from the chippy next door! Naturally, this carbohydrate bonanza goes down a treat although Dukey does whinge up that there's no pepper to accompany his. Here chatter also turns to Dukey's impending nuptials this summer after he discovers 4Day sis seeing a lass. "I had you down for the singles table mate, was gonna sort you or Robbo out with the missus sister". This instantly offends Mr X as he's apparently not been considered for that table nor seemingly in the top 2 options for a future with Dukey's sister in law to be.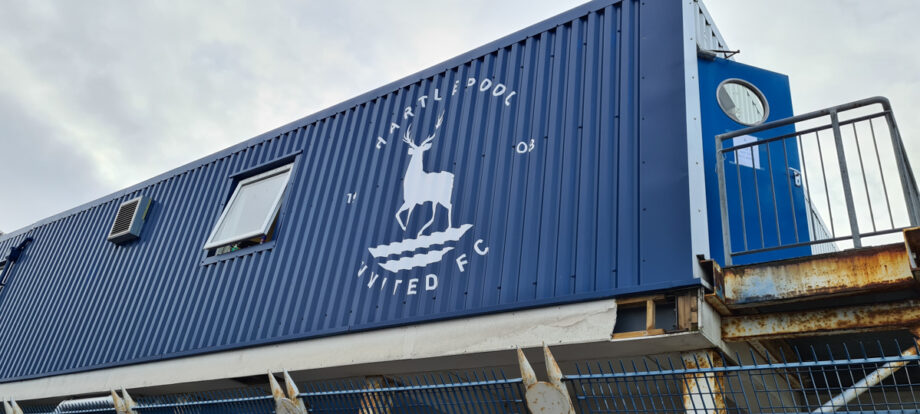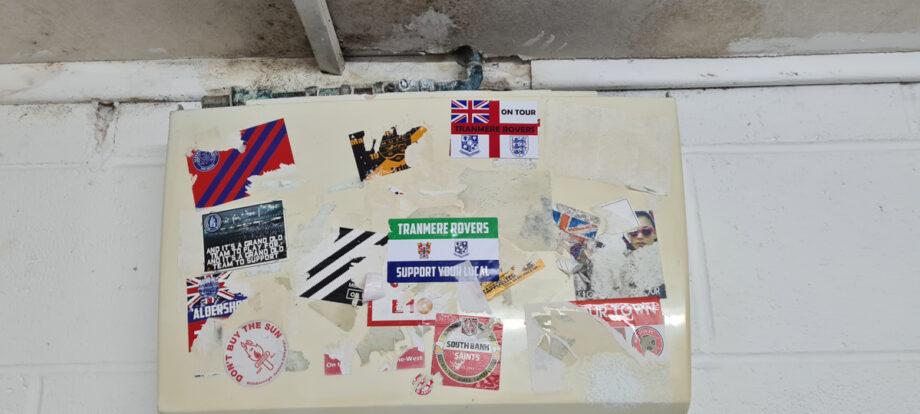 Bouzanis, Kizzi, Milsom, Eastmond, Goodliffe, John, Ajiboye, Smith, Bugiel, Wilson, Randall SUBS: Nelson, Wyatt, Dundas, Korboa, Beautyman, Boldewijn, Davis
With time getting on and kick off looming we neck the last of our drinks to wash down the chip buttys and head up the road to the ground. After the turnstiles have attacked Greek's hoodie, ripping the pocket, we're all in the stands and awaiting the action. Sadly, it seems the weather and lack of direct trains has hit the away support and we're definitely down under a 100 here today. The teams out, there's the usual pre-match kneel before kick off which draws some boos from the home support to our right. Whether this is because of the taking a knee itself or the fact that our lads stand together now for this, I couldn't tell you. The game gets underway and from the off, the lads are bang at it, with Smith and Easty in the middle dominating in particular. This bright start is rewarded when Milsom sticks our first corner of the day right on Joe Kizzi's nut and he nods it into the far corner. Lovely stuff.
From here, we stay on top and really should put more daylight between us and the hosts, alhtough they do see a speculative hit from range hit the post. Still, Omar should make it 2 when Randall swings a ball in from wide, but he fails to make contact when any sort of touch would have meant a second goal. Wilson also misses a chance, with Dave robbing them well inside their own half, a little ball through gives Don a sighter, but where a first time hit would probably have done the trick, he takes an extra touch and the chance is gone. So, we go in at the break ahead, but with a feeling that one might not be enough. Especially given their recent form and their record here at home in particular.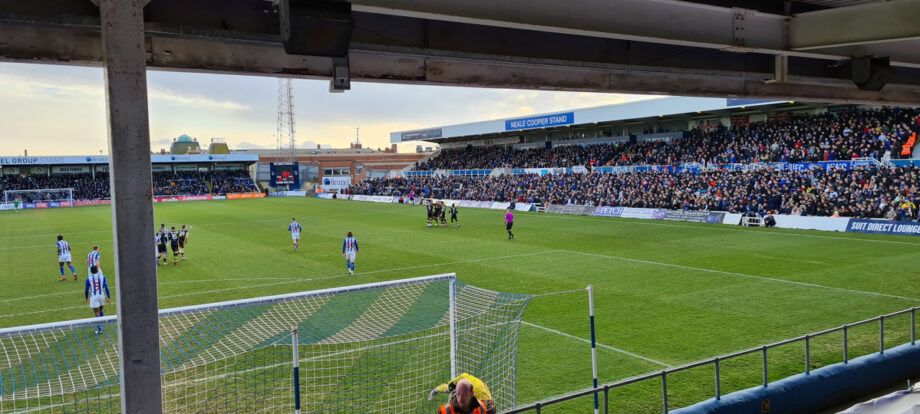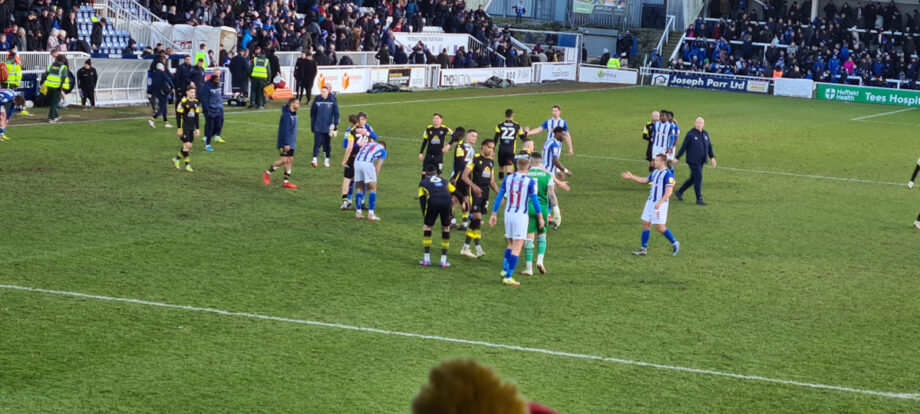 Of course, they start strong second half and like us pick up a goal early from their first corner. About 5 minutes in, we defend the first ball, but are a little slow to the second and the cross gets a flick and drops perfectly for a lad in space to poke it high into the net past Deano. It's a softy, but there you go. from here, they step up and go looking for a winner, but the lads at the back are having none of it and dig in for the battle. It's this fighting spirit that keeps us well in the tie and restricts Pools to only efforts from range that fail to test Bouzanis. With not many minutes in a few legs, there's changes made with Easty heading off for Kenny, Dave replaced by Enzio and Harry swopping out for Wilson meaning we finish with a bit more of a 4-5-1 than our usual 4-4-2. Still, it does the job and despite us not really threatening much 2nd half, we're good value for the point.
Lads waved off, we hit the road and rather than go to the packed Spoons, we pop to the Jackson Arms round the corner. A nice little old boozer we've done on a previous visit and park up with a couple of pints. Here we chat to locals about the game as Maidenhead upset Boreham Wood on the telly. We also find ourselves accosted by a couple of lasses who of course instantly fall in love with Dukey's trademark flat cap. This ends with a brief loan and a picture along with one of 4Days equally famous Wales bobble. Lets face it folks, you can't beat a good hat! From here, we whiz back to the digs to dump anything not required for a night out boozing, use the facilities (which in my case involves talking a Deliveroo driver into finding HQ to drop off Mrs Taz's takeaway whilst I'm sat on the throne) and once again start the cycle in the Brass Monkeys. Here, Greek fails to re-emerge following the exertions of last night and we lap up the 20 quid bonus this gives the whip. A proper dimpled pint jug of Wainrights here, then we head to the King Johns again and we start wondering wondering about getting some scoff. Options seem limited and in the end, we simply plump for a Spoons special and head there for more pints and some stodge.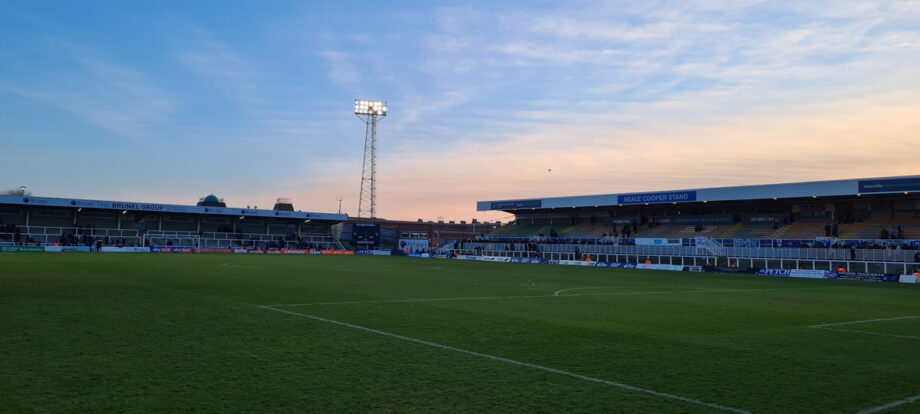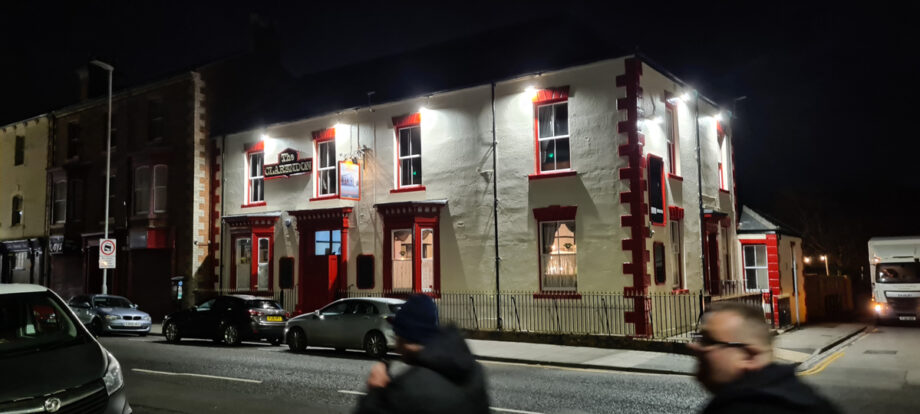 After this, we basically just take root and can't be arsed to head anywhere else, so switch to doubles and instead settle in for the remainder of hostilities. As per in such situations, the chat gets sillier and we start reminiscing about times past. In this case, for some reason, the 3-1 away win at Boreham Wood in March 2009 comes up and 4Days has us trying to guess the line up. We do ok, but there's a couple of obscure names in there that we could still be guessing now and not have got. Sadly, that took place in the internet wasteland between the first iteration of this shit and what you're reading now, so we've no blog to link here for you. Sorry!! Fed and a few too many double G&T's later, Spoons starts kicking out and we stumble out into the cold night. We could go to PopWorld as Ossies got a table booked but she's sacked it off and offered it to anyone still in town. But with a day on the piss in the bank, no one's in the mood so we head back to the hotel to crash out. Back in my room, my hopes that the recce team were idiots and completely wrong about there being no central heating were incorrect are dashed as the radiator in my room is colder than that teenage Russian figure skater's arse. So, there's nothing else for it but to whack on my hoodie and go snug as a bug in a rug to try and get some kip.
Despite the lack of temperature, I get a surprising decent night's sleep and am roused shortly after half 8 by my alarm. I check messages and find some of the mob are already assembling for a breakfast walk to Spoons, so I hop in the shower to get ready and go join them. To my relief, there is hot water although it takes me a while to find the sweet spot somewhere between 'arctic waterfall' and 'surface of the sun'. All ready, I head out into the fresh morning air and the quiet Sunday morning streets of Hartlepool in search of bacon. Greek, Dukey, Mr X and Indy are all in place when I arrive and we neck some stodge, Greek admitting he simply just didn't fancy coming out to, in his words, "Stare at more pints" last night. All fed and watered, we head back through streets littered with quite a lot of broken glass to check out and get back on the road. With Dukey heading back to his old mans, we palm him off on Mr X as he's going back to Greek's nearby, which makes the Tazmobile just that bit lighter for the return run.
The trip home is a bit more fraught than the way up. With weather closing in on the A1 it's soon lashing it down and I make a small error in my navigation, joining the M1 too early and putting 10 mins on the trip. Still, we wade through the rain and are still making good time when we stop for a tea and piss stop around Nottingham way. I elect for a bit of light food here and being an adventurous type I grab a McPlant from McDonalds. Two bites in and I remember why I tend to be a creature of habit, as it's really not very good at all. Don't get me wrong, you wanna be all nice to the animals and stuff, you crack on, fair play to you. But if you are of the vegan persuasion, I can heartily recommend you go somewhere else for your junk food.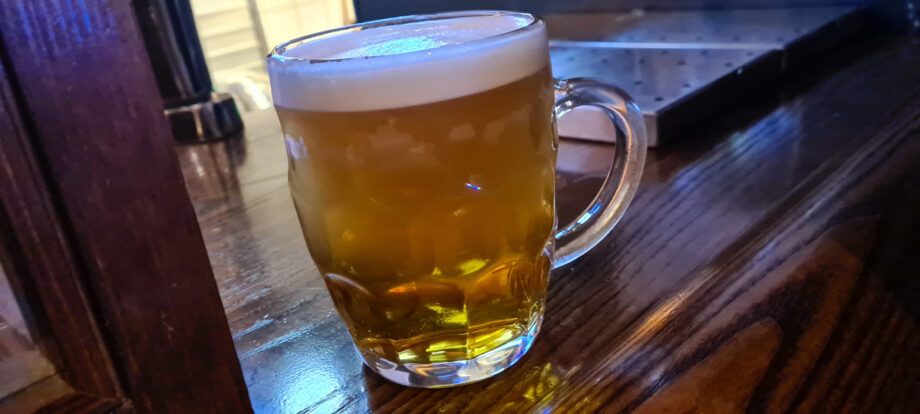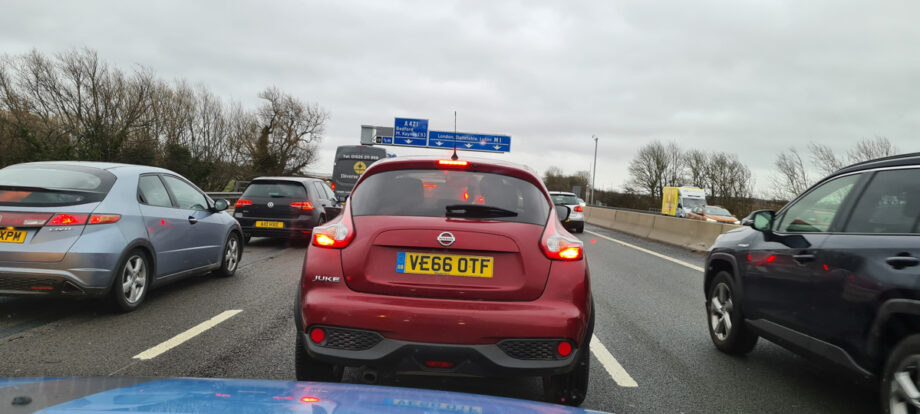 From here the minging weather clears up for a while until we get down to the far end, but then the trouble starts and after a lengthy 50mph average speed section for 'roadworks' with not one fucker working on them, some arsehole somewhere then adds a variable speed limit of the same for the remainder of the run to the M25, which in turn backs everyone up and puts an hour on our journey. Still, it could be worse, as I understand the Duke's in laws left at noon and only got back after 9.15 this evening! Finally clearing traffic, we leave the A3 and start winding back though more familiar surroundings and having dropped both my remaining passengers, I park up outside HQ at just after 4 and sprint indoors as I really need the toilet. I'll deal with the crap in the boot later!!
Hello darling! Can't talk, need a piss!
Taz