It's fair to say the "Roaring 20's" as this new decade was somewhat hopefully nicknamed hasn't quite panned out how a lot of us would have hoped. First we got the pandemic, which has made a proper mess of everything, putting people's lives on hold and meaning many missing out on all sorts or big life moments along the way. Then just as we seem to get getting that in our rear view mirror, some fucking skeletor looking arsehole with their mind rooted firmly 30 years in the past goes and kicks off what could well be the opening salvo of a third global conflict. And just as the U's are on course for their greatest season ever. Typical.
Poor old Ukraine, I've fond memories of the place. As touched upon in these very pages, I and a couple of the other lads from the Gandermonium gang actually took in a game in the captial Kyiv back in 2009, as we spent a weekend in town for a brief rest stop whilst driving across what is a vast country on our way to Mongolia as part of a charity trip. Ironically, Dinamo's opponents that day in the Ukranian Premier League, Taviria Simferepol, no longer exist thanks to Comrade Skeletor's earlier bit of liberty taking in that part of the world. We also spent a day in Luhansk in the Eastern end of the country, as I had a friend there who we stopped to say hello to, enjoy a big lunch with and utterly confuse by talking in our typical million mile an hour South London accents.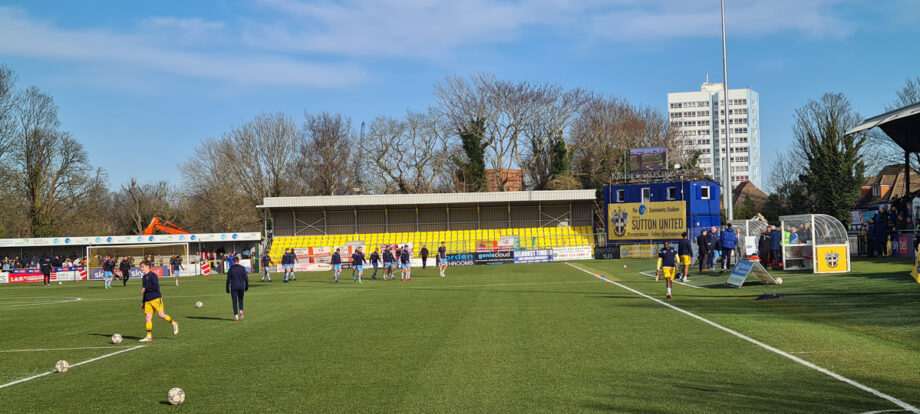 In our experience, the people were friendly in a slightly stern post-Soviet way (hey, you'd probably have the slight hump if your gaff had been run by paranoid wankers of Putin's ilk for 70-odd years) but warmed up once you got talking to 'em, the women were largely really pleasing to the eye and the beer was cheap. Plus they love a bit of the old football too. So given this, the news of Putin's latest attempt to add further weight to his "Biggest cunt this century" campaign was certainly received with great sadness and no little anger here at HQ. Of course, it goes without saying we in the PRoWS stand with the people of Ukraine and join with the worldwide condemnation of fuck face Putin and his cronies actions. We'll also be making sure the prick's barred from every pub on our manor and we understand President in exile Totts will be having words with various landlords down in Hastings too to persuade them to take a similarly hard line. That'll learn the bastard.
With such awful stuff going on elsewhere in the world, it's natural that one tries to balance this out with something good or light hearted. For us, it was the news that our new away stand at the Rec End was finally complete and comes fitted with some actual proper yellow seats rather than the Stamford Bridge cast offs we've had in the main stand for god knows how many years now. Proper job that! Apparently it should be in action for the visit of Rochdale next week, which will also mark the last occasion that the tin shed at that end will have fans on it, as it's next on the list for removal so we can get a new terrace in to match up with the shiny new stand. For old farts like us that remember the old wooden stands on the Rec Side and the big old Curva at the Collingwood end of the ground, it's quite the revelation. Elsewhere, there's the hilarious news that Papa John's, the pizza firm that sponsors pizza cup this season are opening a new branch in Carshalton next week and it's being dedicated to us, their local semi-finalists. This amuses us greatly as we remember the days when sticking Sutton fixture posters up in enemy territory used to ruffle a few feathers down at Coldsore. Now we're taking proper liberties and doing personal fucking appearances on their manor! Wonder if Dippy will pop down for a free slice?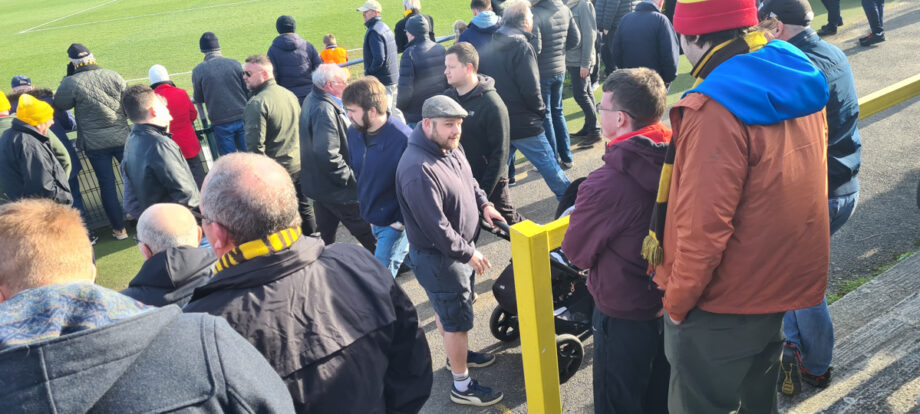 And so onto today's clash with Scunthorpe. With the lads having got a hard fought point up in Hartlepool last weekend, it was back to GGL and a match with the bottom side, who are already some 7pts adrift of safety and looking very much like the next BELT to be fed into the National League meat grinder. Still, we here at Sutton have a proud history of helping those in need and usually get turned over by such outfits, especially when we're doing fairly well ourselves, so 3 points weren't exactly what you'd call a foregone conclusion. Hopefully Matt's attempts to knock such niceties out of us would continue today and we'd grind these strugglers into dust. Like most home games, I was glad to have the opportunity of a lie in, although on this occasion Mrs Taz had other ideas and I was tipped out of bed earlier than I'd have liked so that we could go do a shop run to Sainsbury's. She justified this terrible cruelty with something or other about "There's no food in the house".
With the crowds in the supermarket battled and our supplies safely back at HQ, there's time for a quick cuppa before I take my leave and depart for the PRoWS. Sadly, a bus isn't due for ages so I stroll down the road to the green in the late February sunshine to kill some time and as I arrive, I'm greeted with the X26 express bus. Result! So I hop aboard, next stop Sutton town centre. Getting dumped at the post office, I can't be bothered to head back to Greggs for the usual and instead head down behind the architectural delight that is the Civic centre\library and then my usual route to GGL from there. as I hit the driveway, I stop for a quick chat with our car park guardian Frakey, who is basking in his team's win at Matt's football quiz on Thursday night, an event that sadly working late had kept me from. Naturally, this absence was firmly used as the reason for my intended team coming in 7th. Which is about as a good a compliment as you're ever likely to get out of any of these bastards.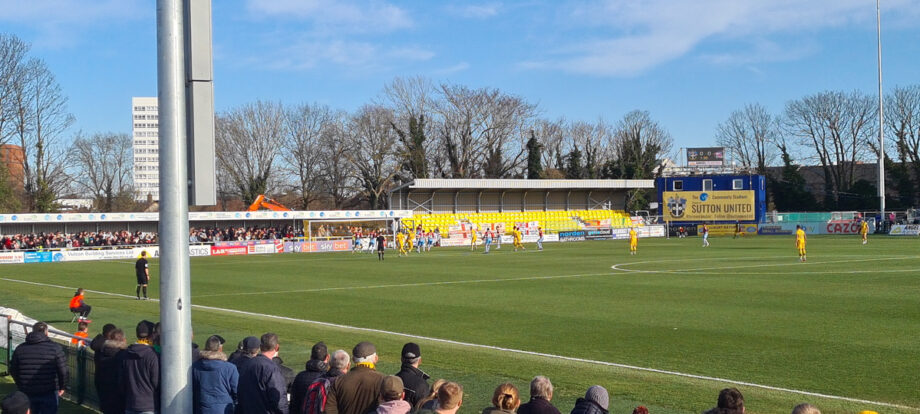 Next stop is to dig out Magnum and Dr Bell, also on Car park duty today, for standing around gassing with a cup of tea. Get back to work slackers! I also collar AB to purloin me a couple of briefs for the up coming away trips to Wigan and Walsall. Ticketed up, it's finally time to hit the bar and out in the players section, I find Greek, Steve and Indy all sat watching Sperz take on Leeds. And for the latter, it's yet another royal humping (and one that would earn their gaffer his P45 later than evening). Here I set about annoying Greek by making him change his seating position with my arrival and insistence on pulling up a chair for myself. "Let's face it, it's not the fastest I've ever annoyed you" I offer by way of apology. Kev's also soon in the house and I've a quick catch up with him about his bro Paul, still stuck in hospital after a stroke. Still, the news is promising and he's at least getting all the treatment he needs, which is all you can ask as this point. Next in is 4Days and Lil' Chris and before long the Welsh one's copping it in the neck for his earlier tweet about it being 5 years to the day since Simon Downer took over in goal for the win at Torquay, describing him as being like 'Lev Yashin'. "Don't you know any Ukrainian keepers then you Russian stooge?!".
Bouzanis, Milsom, Kizzi, Goodliffe, John, Eastmond, Davis, Ajiboye, Randall, Bugiel, Wilson SUBS: Nelson, Wyatt, Dundas, Boldewijn, Beautyman, Korboa, Rowe.
A couple of pints are downed and before too long it's time to head turnstilewards and get our game faces on. On entry, you can see the new stand gleaming in the sun at the far end with it's lovely yellow seats in place. It looks pretty smart and whilst it's just a flat pack effort, it'll more than do the job. Should look decent when the terrace gets replaced too. Shortly before kick off, Dukey arrives with the little'un in town and most people reach for their phones to call social services. On the pitch, with the oppo in such dire straights at the foot of the table, we're all hoping for a fast start like at Hartlepool last week, but from the whistle, we're a bit sluggish and fail to really get on the front foot as Matty likes and take the game to Scunny. If anything, in the first few minutes, they look the livelier of the two sides. In fact, the most interesting moment of the first 20 or so is the ref hobbling off with what looked to be an ankle injury and causing a bit of a delay while he and the fourth swap places.
The game is in dire need of a spark from somewhere and just around the half hour mark, Omar provides it. He holds up a long ball forward and turning, gets goal side of his marker and legs it into the box. The defender makes a clumsy challenge and the ref's left with no option but to point to the spot. Rob Milsom steps up and opens the U's account for the afternoon. Although quite how the lad giving away the pen avoids any sort of card for the offence is a little baffling. Anyone wondering how our struggling oppo would take to going behind has their questions immediately answered as we work the ball up to Randall, he cuts inside, gets a little bit of luck with the run of the ball and finding space about 20 or so out, bends a cracking hit beyond the reach of the keeper and into the far corner. Two goals in a minute and you can almost see the fight drain out of the visitors from here. We keep probing although without a huge amount of success, but with the break looming, another good little bit of football involving Randall and Omar sees the Lebanese geez feed a pass wide on the overlap and Kizzi races in to rifle home a third. Game over. The visitors get a little tetchy here, mostly their big number 9 who's only real contribution so far today was to get booked early for an arm in on Louis and then committing 3-4 other stupid fouls, the last being right before the break and that should probably have earned him a second yellow purely for persistent infringement. "Bet we don't see him second half!" mutters Indy. I make you right mate!
So, three up at the break and scores elsewhere are promising, meaning a win today will keep us firmly in touch with the rest of the pack. Having taken my half time leak, I return to the Curva to hear appeals over the PA for a qualified official to come forward. Jesus, did we break another one?? As predicted, their 9 doesn't reappear after the restart and Dukey joins us sans baby on the Curva. "Palmed her off on grandad" he proclaims before adding "She was fine until we scored and you fuckers all started shouting!". Yeah, whatever mate. I blame the parents. As we get underway, we're almost 4 up in seconds as a cock up sets Dave up with a chance, but the keeper is alert and spreads himself to make the save. Soon after, Kenny turns well in midfield and sends Dave away again, but cutting back across the box, he narrows his own angle and instead leaves the strike for the oncoming Bugiel, but his shot is too high with the whole of the target to hit. The fourth goal does arrive just after the hour though. A good turn from Bugiel near side, he finds Wilson and Don in turn feeds Randall on the overlap and despite the keeper getting a hand on it, his shot finds the net at the near post.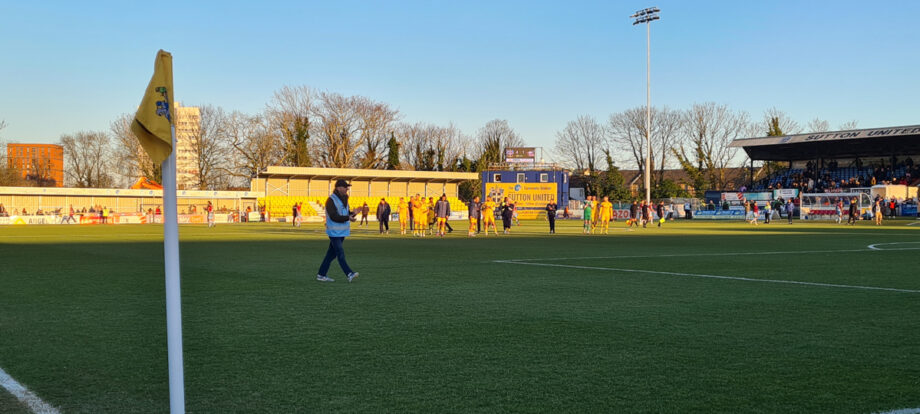 With the game won, Matt hauls off Easty, Dave and Louis for Harry, Coby and Korboa for the last 20 and from here it largely dies a death, with the only real incident of note being a wonderfully rubbish OG from Beautyman following a quick break from them after a corner. It's a decent ball in, but it looks like Deano has it covered until H arrives and diverts it into the far corner. Bang goes the clean sheet bonus! From here, the match returns to that turgid stuff we'd seen first 20 or so for the remaining 10 minutes and with no further scares, 3 more points are added to the tally. Back in the bar, pints are obtained and whilst that rugby nonsense plays out on the telly, we check out the results from elsewhere. Pleasingly, the top 3 have all lost, including FGR at Walsall. This certainly closes everything right back up in the top 10. Exciting stuff. We also find out that the replacement official we'd been asking for was found, as some groundhopper apparently answered the call, however it seems he never saw action as the lino he was due to replace was able to carry on. Hopefully we sorted the lad out with a pin badge and a programme for his effort!
With dinner duty back at HQ in my near future, I only have time for a couple after and with my choo choo back to the badlands. With time pressing on, Mr X offers to get a round in and I request a half so I can make my train. Of course the dickhead buys me a pint and as I go to protest simply shuts down the argument with a "Drink it quicker then!". Surprise pint necked, I bid my farewells to the gang and head for the station, finding Bob & Cath along the way, both still carrying their beers in their plastic glasses. Why didn't I think of that eh? Also present is Chris, an old U's fan from years back who moved away but is attending his first game in a while as he's up from Bournemouth to see his old dear who still lives local.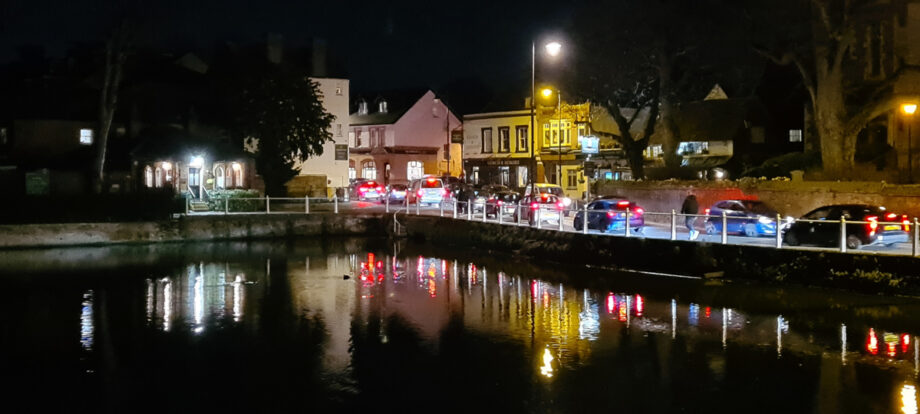 Hopping off at the badlands, I divert via the Saino's Local to pick up something we'd of course forgotten with this morning's shop and skedaddle home to get grub on the go and get Mrs Taz fed before she gets too hangry. A slap up lasange and garlic bread later, it's sofa time after getting this nonsense all started. See you for Rochdale next week folks.
Slava Ukraini!
Taz