Here's a little story I wrote late in the summer of 2009 after returning from a somewhat arduous trek approximately a third of the way around the planet in a tiny car. It involves me, two other Sutton fans, the city of Kyiv and a trip to the Valeriy Lobanovsky stadium. Oh and the search for some garlic chicken….
Whilst Sutton United are undoubtedly my team and would never be able to be replaced in my footballing affections by another side, I'd always thought that were I to find myself stranded far away from Gander Green Lane in an alien land, I'd frankly watch any old rubbish related to the beautiful game to get my fix. 
This was proven to be the case when I went and watched the less than spectacular Melbourne Victory on trip to Oz. Twice. And this theory was once more put to the test barely a year later, as I and two fellow Sutton chaps found ourselves some 1500 miles from home, in the Ukranian capital of Kyiv. Or 'KNIB' as we'd come to affectionately call it on the journey in after turning the somewhat alien looking Cyrillic characters on the road signs into something slightly more Latinised for our dumb Western brains to comprehend.
Stupidly, Miller, Chalmers and myself had decided to undertake an unusual trip in the aid of charity. Unusual in that it involved taking a vastly underpowered vehicle from our homeland and driving it to the ridiculously distant country of Mongolia. And right at the start of the football season too. What on earth were we thinking?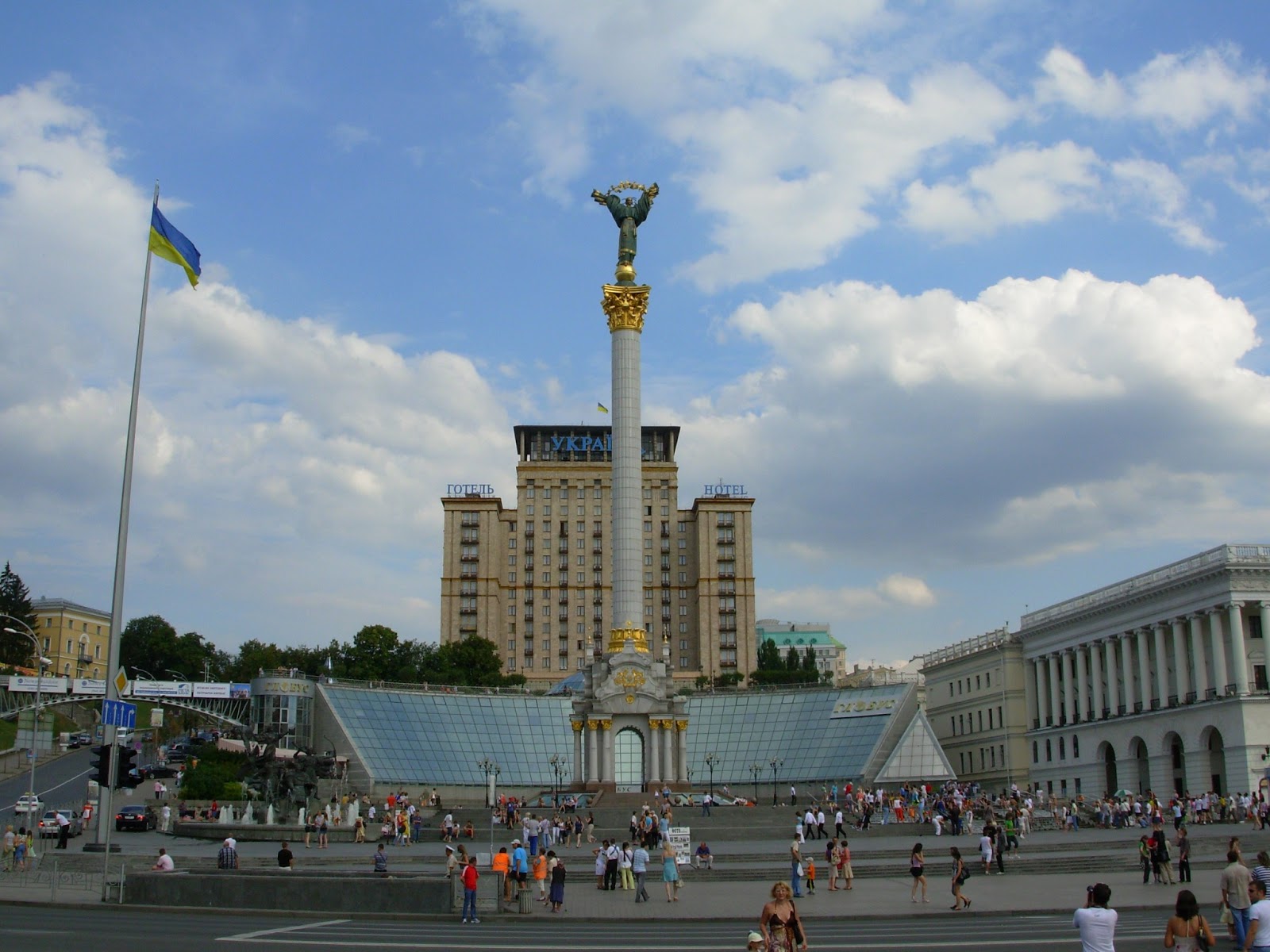 Independence Square,

Kyiv

. Chicken restaurant just out of shot….
So having set off a couple of weeks earlier on the day Sutton were playing a pre-season friendly in Havant, by the time the trip really starts to take shape and we leave the new-ish borders of the cosy EU in Poland and cross into the
vast former Soviet nation of the Ukraine we're properly dying for a game of football. With cold turkey a distinct possibilty, we decide that Kyiv would make a perfect place for some R&R and perhaps see if we can take in a match. Any match. Even if it's the 3rd division of the local Tractor factory league.
We'd also like some garlicky chicken and some beers.
Now, the first two, even three dickheads like us can sort out. Even if we don't speak a word of the lingo other than 'hello', 'thank you', 'yes', 'no' and 'beer'. We'll get by. However, we feel that trying to locate a football fix might prove beyond even our finely honed expert communications skills. We frankly don't have a clue. But we know a man who might. We'll ask Millsy!
Millsy is another Sutton man. And handily, has been married to his Ukranian wife Elena for a couple of years. Even better, he's been to Kyiv a few times. And he's even watched football there. More than once! To the nearest Facebook! Well, right after we've sorted out the beer issue.  Sadly, "Not a fucking clue lads. Sorry!" is the best Millsy can come up with. Which is a little less than a fat load of use to us. Although, he comes up with a same idea we did. Ask someone else.
This proves to be the best move of all. As we have a very useful mutual acquaintance in this regard. A gentleman by the name of Phil. A die-hard York City fan, he's useful in the respect that he's not only also married to a Ukranian lass, but has spent extensive spells in this part of the world workingteaching, speaks the lingo perfectly and most importantly of all, is batshit fucking mad about the football around here. In fact, I doubt there's a man currently residing in England who wasn't born out here who has a better knowledge of not only Kyiv as a city and its teams, but Ukranian football in general as this bloke.
Because of this, it turns out that Phil is thankfully of more use than Millsy. And despite being a bit confused by the back story to our request and questioning our sanity slightly, delivers the good news via our Sutton colleague that on the very weekend we have landed up in his home from home searching for garlicky chicken and beer, there are not one, but two matches available to us. And both are in the national Premier League.
First, we have Saturday's tie where the renowned Dynamo Kyiv are hosting Tavirya Simferopol. Then on the Sunday, there's the slightly less famous Obolon Kyiv against the even less famous Zorya Lugansk. Which is another odd coincidence as I have a friend in Lugansk who I'd end up meeting in a couple of days for lunch. Although I'd guess her knowledge of the national game is somewhat less than that of our man in York, although marginally better than ours or Millsy's.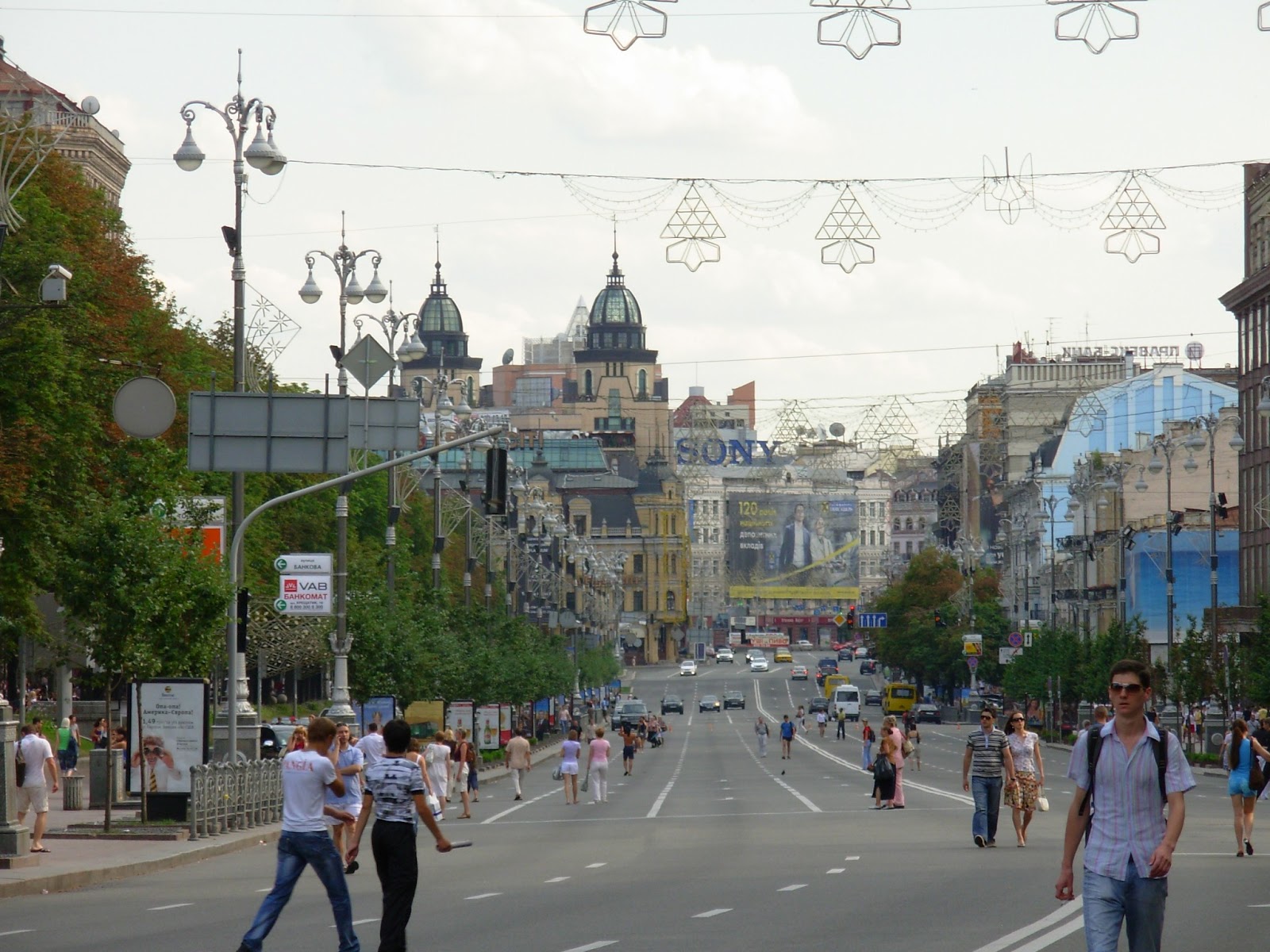 The locals stroll about on the main boulevard in

Kyiv

whilst we sit and stare at their women….
As we've arrived Friday evening, we decide that whilst we'd love to stick around and get two helpings of obscure Eastern European football, we'd really better stop dicking about too much and take this driving to Mongolia thing seriously. So we opt for Dynamo's game on the saturday afternoon and an early start eastwards on the Sunday.
Personally I'm perfectly happy with the choice. It's not often you rock up into a city and get to see the biggest local outfit, let alone probably the greatest club side in the whole region in action. Dynamo were THE force in the old Soviet days, being the most successful club in the former Russian national league. This success saw them providing a large chunk of the Soviet side right up to their last international tournament in 1988. Names like Rats, Baltacha, Mikhailichenko, Zavarov, Kuzsnetsov.  And of course their coach at the time, Valeriy Lobanovsky.
Lobanovsky was well known in European circles not only for his massively technical & scientific approach to the game but his stern disciplinarian manner. Sadly, he'd died several years before and we'd be going to watch the game in the old Dynamo stadium, which was now named in his honour.
Now, this wasn't going to be the first time I'd seen Dynamo play. In '98, a workmate at the time was a massive Arsenal fan and season ticket holder. And his beloved Gooners had decided to try playing their Champions League games at Wembley instead of Highbury for some reason. The night they played Dynamo at 'home', Sutton weren't in action and he'd wound up with a spare ticket. Somehow, despite really not liking Arsenal at all, I found myself agreeing to take it off his hands and go along. Still, Dynamo at the time were still something of a force to be reckoned with. They'd humped Barcelona the year before 5-0 and their front line of Schevchenko and Rebrov was scoring for fun and beginning to attract the envious glances of some of Europe's biggest clubs. The game I saw finished 1-1, with Sergei Rebrov cancelling out Bergkamp's goal in injury time and with Schevchenko already having had one ruled out for a mickey mouse offside earlier in the second half. But it wasn't really the score I remembered. It was the football. 
Fuck me they were good. No, I mean REALLY good. As I write this more than 10 years later, I've still not seen a more technically perfect performance as the one Dynamo put on that night. It was fucking beautiful. The passing crisp and
accurate with barely a ball wasted, the movement always ensuring a man was available and all done at great pace. Incredible. 
Now, don't get me wrong. I'm not some poncy new football purist who turns his nose up at anything that's not
the finest example of artistry with a ball. Fuck that. I accept that the dirtiest route one hoof down the middle is as valid a tactic or style of play than any 25 pass uber goal. But this was just something else. And it stayed with me. Because of that night, I was glad I'd finally get to see Dynamo play once more and this time in their own back yard.
We mill around in the centre of town, taking in the sights and wandering around Independence Square. A spot made familiar to us as the main scene in the country's 'Orange Revolution' several years before. We're also enjoying other sights as well. Of the female variety.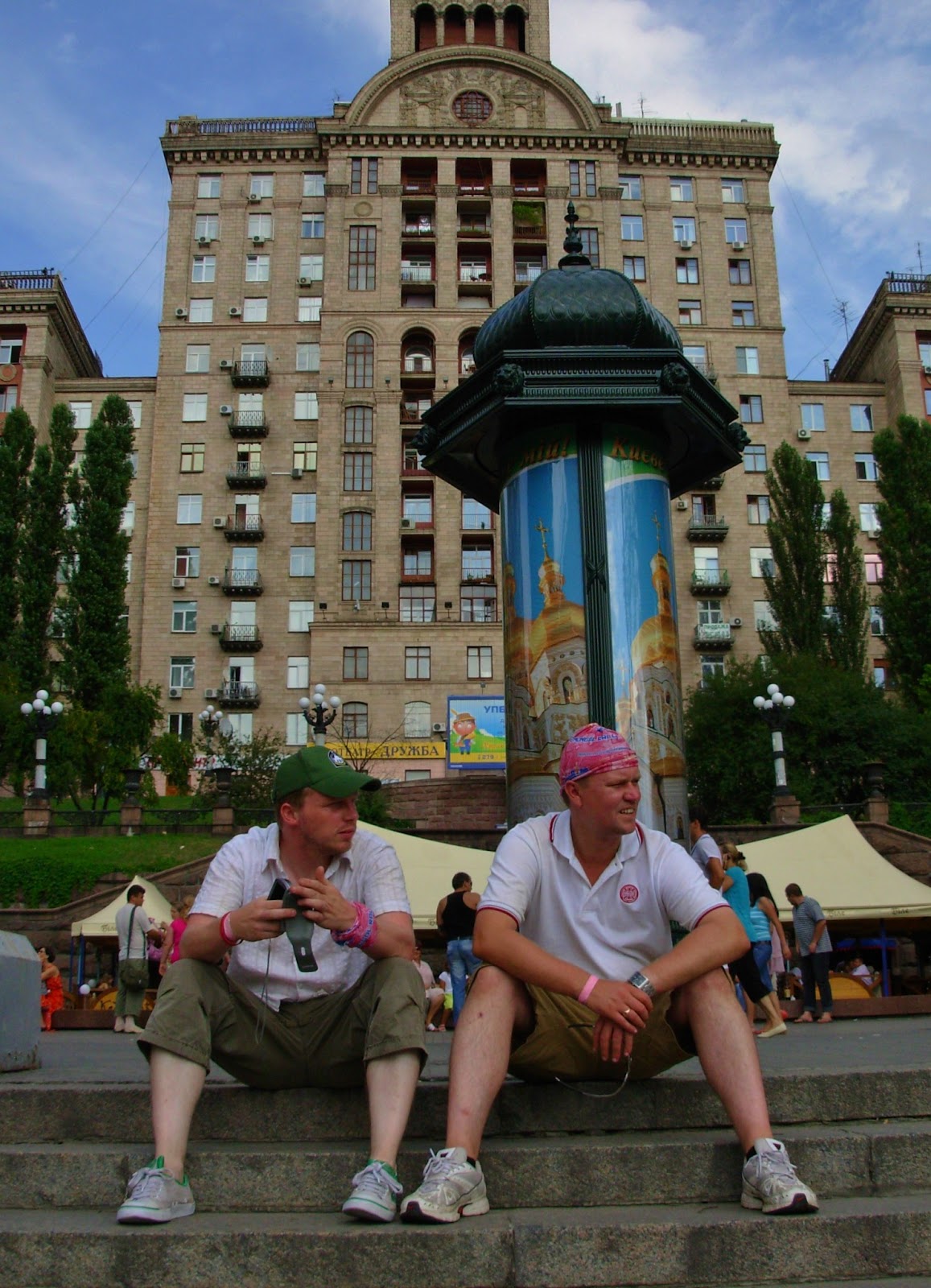 I wonder what could be distracting these two?
As we stroll aimlessly about taking in this lovely city, Miller, Chalmers and I can't but fail to be amazed at the frankly world class standard of skirt flitting about. Eventually, we pop into the local Maccy D's, grab a coke and find a spot on the main boulevard, which is pedestrianised for the weekends, to admire the local wildlife. As we do, we notice something even more obvious, yet in complete contrast to the stunning females.
"Is it me, or are all the blokes proper munters?" wonders Gareth aloud.
Now, usually a statement like this would worry us. Especially as we've got another 3 weeks cooped up in a small car with this idiot and he's commenting on the attractiveness of the local men. But he's got a point. For every amazing
goddess like creature that strolls by in company, she has a man on her arm appearing to be what can only be  described as a shaved ape. Fucking hell. I could probably be a GQ cover model here. And I'm ginger.
With our necks beginning to hurt from all the craning to look at stunning women, we decide to head back to our digs, drop unessential bits off and grab a cab to the ground for our fix.  Luckily, outside our spacious and fabulously cheap post-Soviet hotel, we find several cabs with their drivers taking it very easy. We approach the first one and nervously ask "Dynamo Stadium?". After a brief discussion, of which neither party understands a fucking word, the seemingly reluctant driver stops pointing, shrugs and ushers us into his car. Sorted!
Less than 5 minutes later, he pulls out of a turning at the far end of the boulevard. "Hey! There's Independence Square!" says a surprised Chalmers. 30 seconds later and after following the main road around to the right from the square, Mr Cabski pulls up opposite a large white colonnade emblazoned with the unmistakeable 'D' of Dynamo. "Dynamo Stad!" he says, pointing and chuckling at the three knobheads he's about to charge a lot of local currency for a journey they could have made for free in much the same time on foot.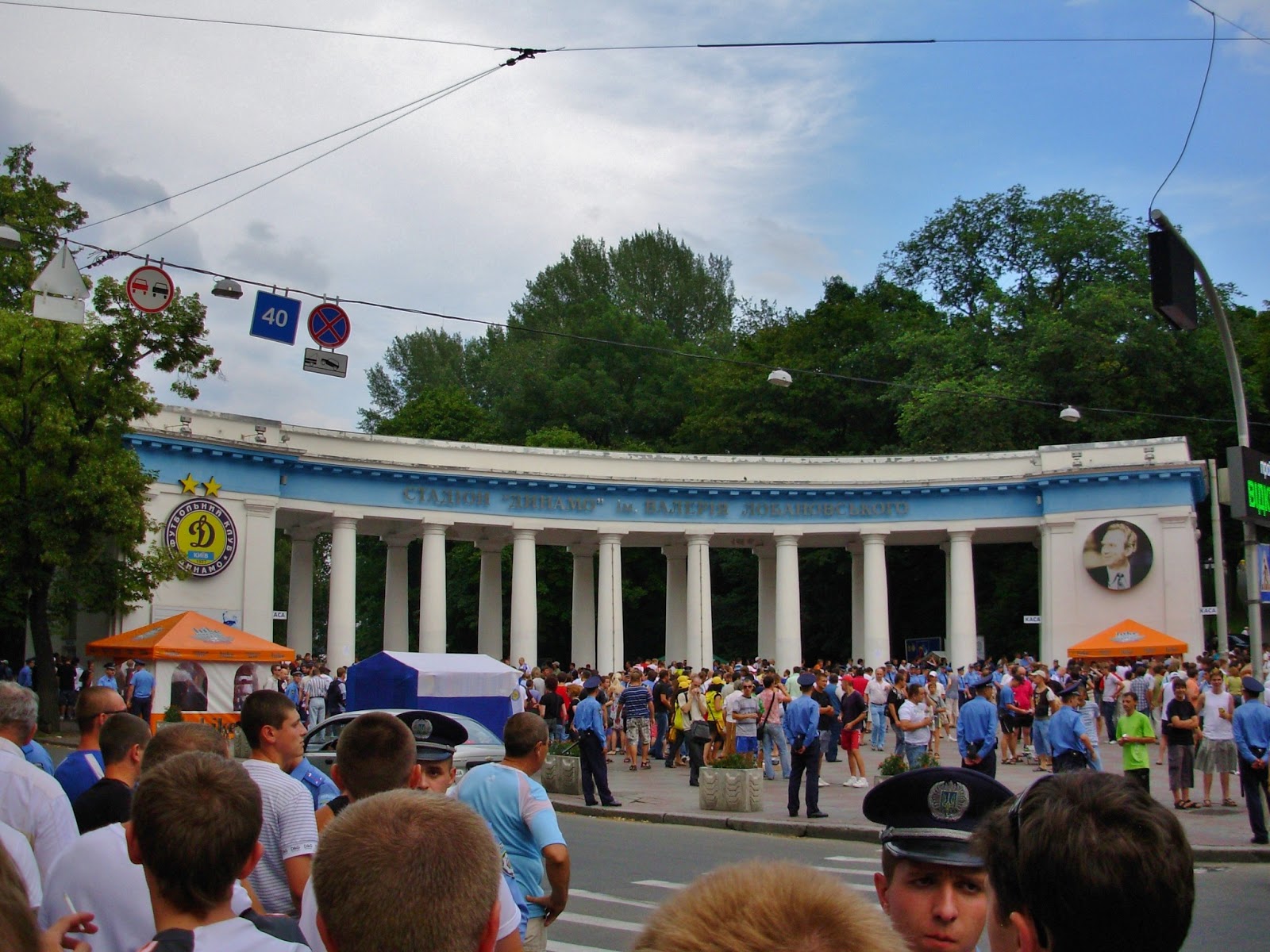 Much like the entrance to GGL. Just with a couple more columns….
"What a set of fucking tourist twats we look" Miller groans. Oh shut up and pay the man you fucking tourist twat.
There's a large crowd milling around outside the rather grand entrance to the stadium and we take a moment to snap a couple of pics and locate the ticket office that Phil had informed us we could get tickets from. Not wanting to stand out, Miller and Chalmers volunteer me to go queue up. Yeah, thanks lads. Despite the lengthy queue, the office staff are pretty efficient and I'm soon behind only several others in line. And I can see the prices. A quick bit of guessrithmetic tells me that we'll be paying something like £3-4 to get in. And it seems they're the posh seats! As I'm having an internal chat with myself about the cost of games abroad, a tall slightly scruffy gent approaches and eyes me up and down.
Uh oh.
After a moment or two, he speaks. "Tourist?". Double uh oh. Deciding that remaining friendly with the natives is  probably best, I smile. "Er, yeah!".  "Oh. American?". Obvious guess I suppose. "No no, English" I correct him.
"Aaaaaaah! English! David Beckham!" he laughs and gives me a hearty pat on the shoulder.
Fucks sake, why is it always David Beckham? There are other English footballers you know! My thoughts on the ridiculous global reach of brand Beckham are interrupted as I notice Chalmers and Miller's wide eyed stare in my direction over my new mate's shoulder. Their eyes say much the same as I thought first off too. "Uh oh!"
I ignore their concerned looks and turn my attention back to my new best friend in all of Kyiv. "You go football?" he asks. No mate, I'm queueing for the fucking opera. "Yeah! Of course! Dynamo big team. Very famous!". This hooks him, which is sadly not the effect I really was hoping for. "Nooo! Dynamo small! Manchester very famous!".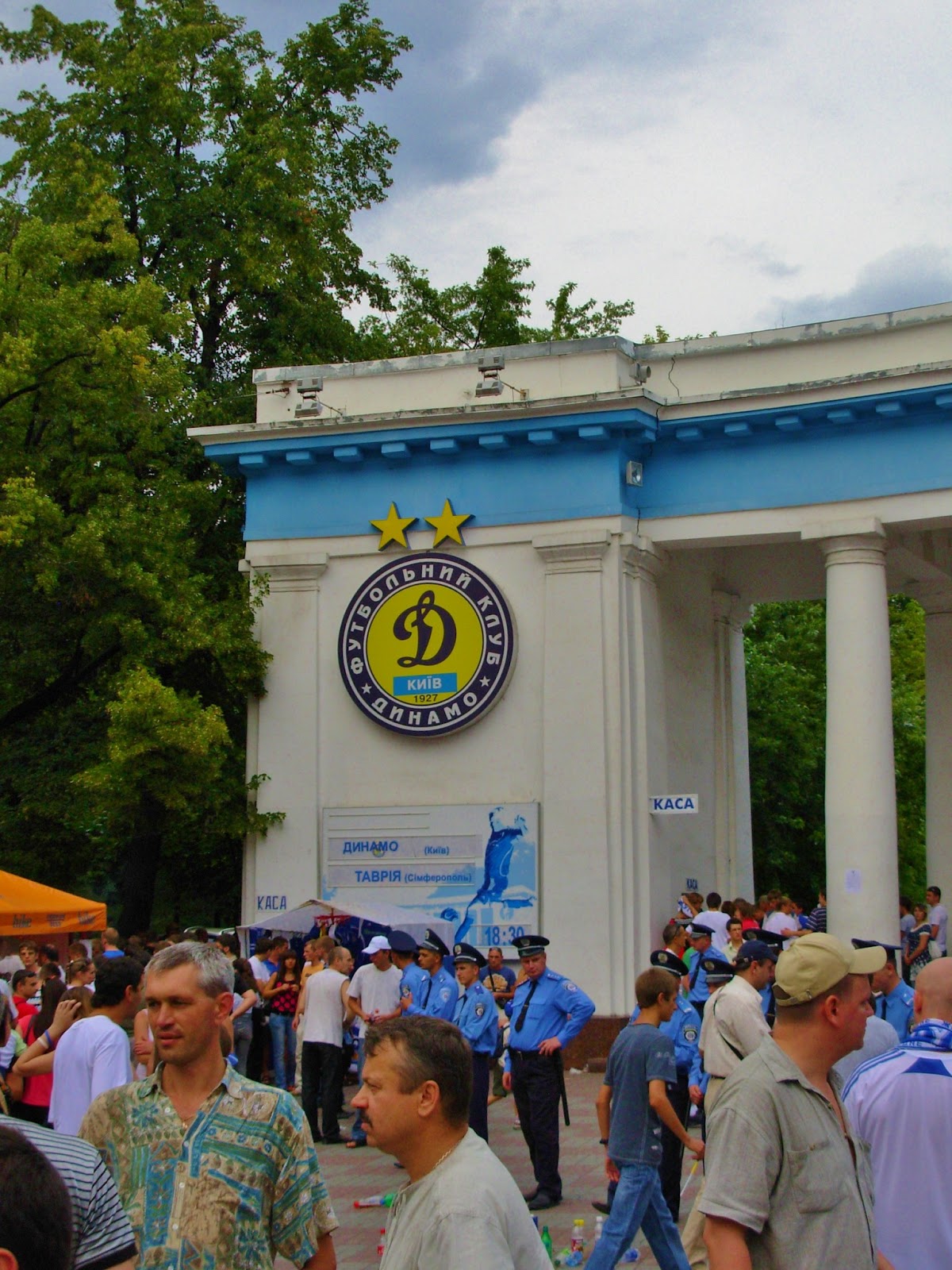 Home of Dynamo Kyiv.
I hate this. The global reach of the Premier League is now so great that even locals in countries with no historical link to England will put down or ignore their own clubs to watch that shit on TV. It's because of this that I repeat my assertion that Dynamo are a big draw. "Rebrov, Schevchenko! Very famous!". Now he's really hooked. But just to confirm my credentials as a proper football officionado and no mere knobhead tourist who knows their two most recently famous lads, I add a few more. "Lobanovsky. Mikhailichenko, Zavarov, Kuzsnetsov! All very famous!".  His eyes widen and he suddenly gives me a big hug. "English fans the best!" he shouts. I can't see Miller and Chalmers as this point, but I know that both are probably well into the final stages of producing a large litter of kittens somewhere a few yards away.
Then he hits me with it. "You. get ticket. for me?" and holds up some local notes, before nodding to the desk now just a couple of people away.
I glance over my shoulder and check the queue behind. It's huge. And it's about 15 minutes to kick off. Fucks sake! He's a queue jumper! I laugh and nod. "Yeah mate, no problem!". He hands me his money and leans over to the price list next to the window. He points to a ticket about half the price of ours and them points to the section of the ground he wants them in before finally telling me he wants two of them. Ah you little Ukranian pisstaker you.
"Ok!" I say and wait my turn. Meanwhile several yards away, I can see Gareth has moved up in line with me in the queue and is puffing away nervously on fag. He's staring at me and his eyes are asking  the obvious "Who. The. Fuck. Is. He? And. What. Does. He. WANT?". I try to placate him with a smile and wink and then it's my turn at the counter.
Buying the tickets are simple. On the desk in front of the lady serving is the same price list and ground plan as outside. So I point to the cheap seats and then section number 7 that my pal has asked for and indicate with two fingers how many I want. Then I repeat the same with pointing to a section in the main stand in the opposite corner of the ground. Whilst matey seems perfectly harmless, I've no desire to find myself inducted into any local Neo-Nazi Ultras group as honorary members. The lass behind the jump understands my order perfectly and money paid, I stroll over and hand Mr Kyiv-new-best-friend his two tickets. This earns me another hug a repeated proclamation that English fans are the bestest in the world bar none.
"Who's your mate Dan?" asks Chalmers, still a bit nervy, as I hand them their tickets.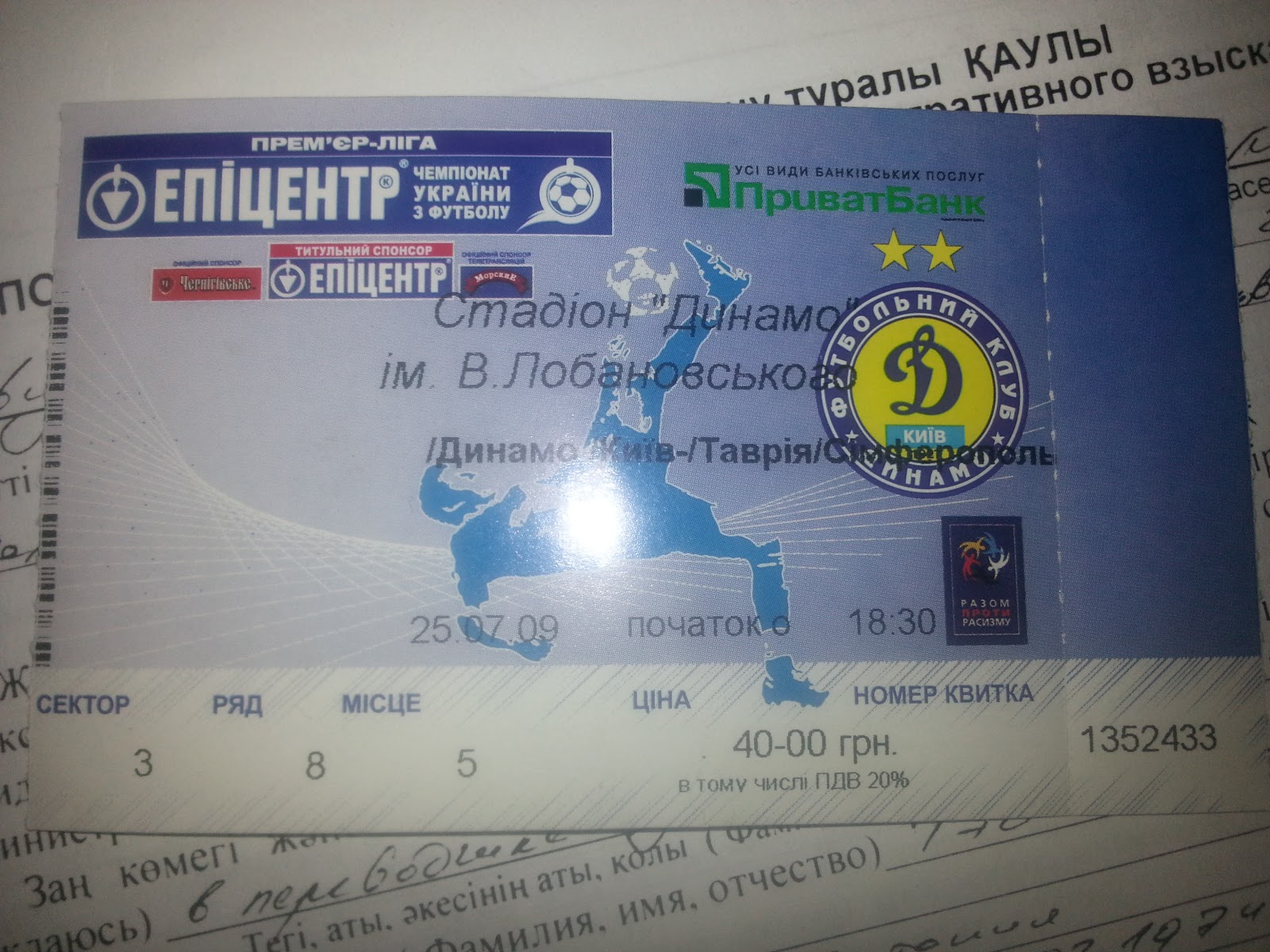 The posh seats. About 4 quid's worth….
Matey interjects and realises we've not been formally introduced. "You are Dan?" When I nod, he smiles. "I am Valeriy!". With Miller and Chalmers introduced and all of us now best mates, Valeriy then hurries us along "Come! We go football!". Clearly he's not wanting to cause his guests to miss kick off.
We stroll up what is basically a boulevard leading up to the stadium. We try to chat with Valeriy and tell him who our team is. But he's never heard of Sutton United, which seems to disappoint him a little and doesn't fucking surprise us in the slightest. But his sadness doesn't last as we come to the bronze statue erected in honour of Lobanovsky. Sat on a bench in his characteristic hunched pose, keenly watching some eternal game none of us mortals can see.
We pause for a moment and I take a snap. And again Valeriy tries to make us feel welcome. "I take picture for you?". Sure, why not. We all smile sweetly with Mr Lobanovsky staring off into the distance behind us, we have our momento and we carry on our stroll to the stadium itself. As we near our gate, Valeriy is keen to get an expert opinion on the clash we're about to see. "What you think score?" he asks. Chalmers and I try to be polite and not display the fact we know the square root of fuck all about the Ukranian Premier League by shrugging, but saying as simply as possible that we hope Dynamo wins. Miller on the other hand displays a less than diplomatic approach and goes for the 'Blow smoke up the locals arses' angle. "Dynamo. Five to Zero!" he declares. Holding up five fingers on one hand and his thumb & forefinger on the other to emphasise the point.
Valeriy is a little shocked. "Five? Zero?" he mumbles. "No no. Tavirya good team!" he adds as if to indicate he's  expecting a toughie today. The mildly silly moment is broken as what seems to be one of his mates strolls past and greets him. So our new friend makes his excuses and leaves us to find our seats. After a few yards, he and his mate laugh out loud and take a glance back. No doubt having just been told Gareth's prediction from a few moments earlier.
"Five fucking nil you cunt? Subtle, very subtle mate!" chuckles Chalmers.
Miller stands there trying his best to look offended by the accusation "I was only being nice!" before he spots
the beer tent by our entrance. "Refreshments anyone?"
"Yeah, why not…..you're buying. 5-0? You're such a dick…."
Click HERE for Part 2!