So, Duke's First Movie Review is here. Now when the rumour went around Gandermonium HQ that some of our members were trying to "diversify" the content a bit, the worry was that we were about to begin to make comments on other spheres in life that we really shouldn't. Like social issues, health & safety regulations and other so called 'sports' to name but a few.
So it was with a sigh of relief that I found all they wanted to do was write a few football related film & book reviews! Phew! I of course didn't realise that they wanted me to do it as well, but as I answered a higher calling from the editor-in-chief, the hope was that we would get to pick our own choices (I had already earmarked 'Soccer Moms 4' as a early possible watch), but alas, the guv'ner had decided to mix it up a bit and create something in a spreadsheet for us, and low and behold my first pick bestowed on me was….

Zidane: A 21st Century Portrait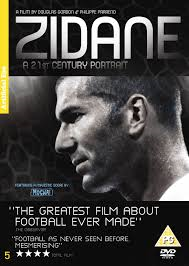 Out ages ago in some shops….
Yes a film solely dedicated to the French fella that is Zinédine Zidane, luckily I have managed to get this on DVD for nearly an hours wage (£1.27 to be exact!) during one of my post pub online shopping sprees and with this masterpiece in hand, I look at the back of the case to be greeted with the following:
"During an entire Real Madrid vs. Villareal match before 80,000 fans at the Santiago Bernabeu stadium. 17 movie cameras under the direction of acclaimed cinematographer Darius Khondji were set around the playing field focusing solely on Zidane"
Oh Bollocks!
Of course, as people who know me and what type of football I support, this film did not feel to me like it was going to be a pleasant viewing experience. Because watching a sinlge geezer play at 'being a footballer' by rolling in the mud for 90mins is one thing, but to watch a man who is described as "one of the beautiful game's greatest icons" is a totally different kettle of fish. One that I will have to psych myself up for, so as to get me in the zone for tonight's entertainment.
The way in which this movie is set up is basically like a atandard football match, it is what scientists call 'a game of two halves'. Straight off the bat you get some crazy Dutch psychedelic opening titles with the Scottish group 'Mogwaii' playing in the background. In fact I suppose it is done in the style of looking very close to the TV screen, but in reality I just though my telly might have been on the blink again.Then again it does sets you up for the forthcoming attraction as it leads on into the start of the match.
Don't be under any illusions here, in this film your are watching just Zidane for 90mins. And it appears he spends most of his time just walking about looking on as the game carries on around him, and then suddenly he would spring into action with a run or a pass and then carry on strolling about around like a lost school boy.
You also have from time to time on this DVD edition a subtitle comes up that I think appears to show Zidane commenting on his philosophy of football and some trivial pieces of information on his upbringing with examples such as "the voices inside my head". The problem with this was that they just popped up randomly, so you tend to miss half of them and some of the quotes are way out there.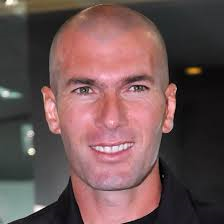 Dukey's perfect footballer. In appearance at least….
The actual day in question is highlighted at half time when several news shots are shown, the only ones of any mention was the death of Sir John Mills and the shot of a bomb scene in Iraq that has one of the bystanders in a away shirt of Real Madrid with none other than Zidane's name arched over the shoulders. Disappointingly, the only thing that was not mentioned was of course our game against Welling at home that day which saw us run out as 1-0 winners.
The second half of the film is pretty much like the first half, with the only real difference being that you begin to notice that Zidane does seem to spit a lot during a game. And the way that it has been edited means you seem to hear the sound reverberate out of your speakers. A gob here, a little spittle there and and a good old piece of green phlegm in another shot. All that was missing was a good old clear out of the sinuses really. Another note to be taken is the way in which the fella seems to drag his feet around as he watches the game around him. I doubt his mother would be pleased to see him shuffling about like that. "Zizou! Pick your feet up!".
The highlight of the film for me has to be in the final minutes of the DVD (and the game itself) when apparently we are able to witness the darker side of Zidane's game when he is sent off after a little bit of handbags. In fact, this was the only time in the movie that I had to rewind & replay a few scenes to understand what just happened. In my personal opinion I still understand what exactly caused the sending off except a possibly case of tender brotherly love as Zidane is shown to caress an opponents neck.
As this film was made in the spring of 2005 and in the middle of Real's 'Galactico' bollocks, catching a glimpse of some of the other players on the pitch soon becomes a game for me, the likes of Beckham, Owen and Raul are easily identified, even seeing Pepe Reina in goal for Villarreal is a plus point as he seems to be sporting what is left of his hair. You also get a feeling for what a short arse Roberto Carlos is. He's a properly diddy wee man!
It is a shame that he will always seem to be remembered as the "fella who head butted another fella in the world cup final" but in this film you get to see what he really should be remembered as a footballer. His vision and his lack of pace go hand in hand with a fascination of the man that will live on no doubt.
And there you have it my first film review. God knows what my second one will be, if I am ever invited to do another that is! You never know, I just might get lucky and have to review 'Soccer Moms 6' as I'd first hoped.
Duke