"At last!" we hear you cry "It's the final installment of the Gandermonium season review! Thank fuck for that! It's lasted almost as long as the bloody season itself…….."
Yeah, well you might complain, but there was a fair bit of this season that was worth remembering. Sadly, we're usually far too drunk at games to recall exactly what most of that was exactly, so if you do spot owt important we may have missed do feel free to drop us a mail eh & let us know?
Righto, onwards to March dear reader. Onwards!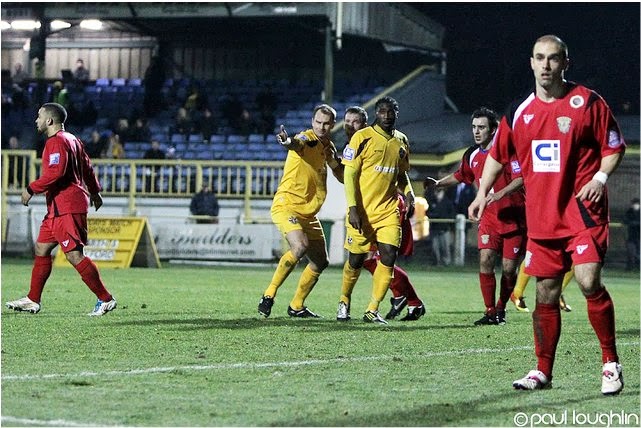 Tom Jordan tells Tim Sills where Dundo's going to run and

nod in the late winner from…..


MARCH
Er, what was that about momentum and keeping it going? Off to Havant we go and a fairly lifeless performance means we drop a fat steaming 3-0 decision and miss a decent opportunity to burrow ourselves deeper into the top half. Still, the response to this is good as another double is earned, this time over Bromley in a topsy turvey game where we lead 2-0 and then trail 3-2 before missing a pen and yet still nick a 4-3 jumpy about delirious win at the death.
Up next a trip to Woking to play Hayes on a re-creation of the Somme (minus the fireworks) produces possibly the least memorable 0-0 in recent history, before rock bottom Truro come to GGL, defend deep, take advantage of a lacklustre showing and steal a late win (1-0). An equally miserable 1-0 follows a few days later as Farnborough pull off a September-esque win as we create dozens of chances, take precisely none of them and concede the winner to our guests only serious effort on our goal (1-0). In the wake of this, Dos cuts Scriven, Boateng and Ottaway. The former for budget reasons and the latter two as they're unable to agree terms for next season. Further changes are made at Billericay as 5 ressie lads are included in the squad and this freshening up helps yield an important 4-2 win, which means we're once more gazing up the table rather than nervously down it.
Weston then make the long midweek hike to Saaahf London and appear to have been watching 'Football Italia' re-runs from the 1990's on the way up, as a brilliantly dive-tastic showing largely earns them a 3-1 win. We then end the month with a tough trip to Dover. All looks good for a solid point until Dean Sinclair sees red and the home side score within a couple of minutes. Thankfully Chris Benjamin opens his U's account with a belter (1-1) at the death from range and only a lino's flag denies Dundo an even later and equally belting winner.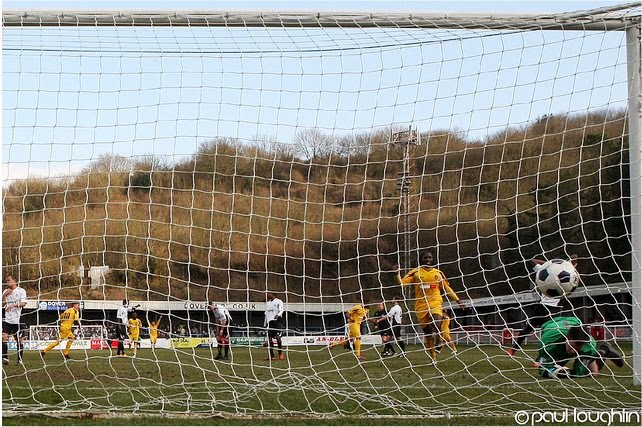 Benjamin's worldy at Dover hits the net….
Another new face appears at Dover as Dos moves to pinch Bromley's midfield maestro & skipper, Ali Fuseni to help strengthen for next season. His impact is pretty immediate as we are to find out in April…
APRIL
The last month of the season. And we've got just the 8 league games to fit in! Best crack on then.
Revenge is gained for the 3-0 slapping at Elstree earlier in the season as Boreham Wood are beaten at GGL (2-1) and then our first really comfortable win of the season comes as Billericay do their survival hopes no good with a defeat (3-0) that sees ex-stopper Kev Scriven return swiftly to Sutton in the visitors goal. Another tight 1-0 win at Maidenhead thanks to Dundo's pen keeps us moving steadily upwards before a strong line up puts AFC Wimbledon's side of mostly u18's to the sword (5-2) in the Surrey Cup Semi final, leading 5-0 at HT. Much to Dukey's delight. He even smiled! There are resolutely no jokes made relating to child abuse after this result and we definitely don't blame a quiet second half on social services telling us to lay off the little Wombles. Elsewhere, having looked doomed for pretty much 8 months, Carshalton suddenly spring to life and win some games, meaning they're actually in a vague chance of staying up. The bastards.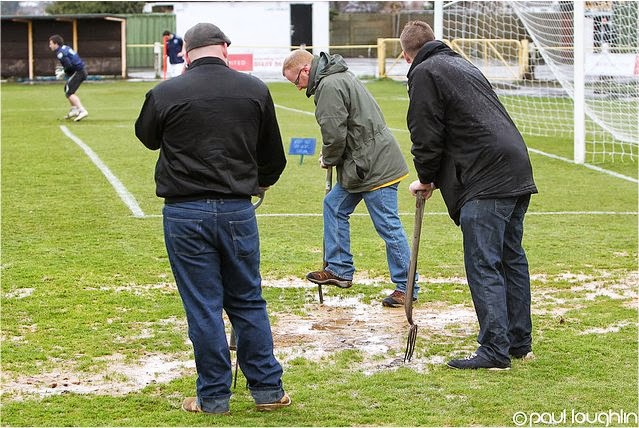 No, we're not doing community service…..
Farnborough are then seen off 3-1 away in a monsoon, which is probably for the best considering they're fielding an outfield player in goal after a row with their #1 leaves them custodian-less. Now with us creeping ever higher up the table, people start to talk again about possibly sneaking a play-off spot. Nah, we couldn't! Could we?
Dos thinks so and now driving hard for the finishing line, Sutton whack 5 past Hayes at GGL (5-1) , then leave Hornchurch needing snookers to avoid the drop with a lively 3-1 home win. And despite having played 7 in 15 days, the lads are showing little signs of slowing up! The momentum is retained with a 1-0 Monday night victory over 2nd place Salisbury to see out our home program and give Welling the league title. This makes it 8 wins in a row, with 7 in the league. Still though, those pesky sides above us keep chipping away and Eastleigh finally close the door on our slim Play Off hopes with a routine win at home against Truro the following evening.
We can't put into words how much we fucking love this pic….
So, on the final day we go to Bath with ultimately nothing to play for but pride. But that doesn't put us out of our stride as we bask inebriatedly in the spring sunshine and watch the lads hand out a 4-0 humping (including a farewell strike from Leroy and two more for Marvellous Marvin) to close out our season in 6th place with our 8th straight BSS win. It wouldn't have mattered anyway, as Eastleigh draw at Welling! Still, given the start we had, it's a superb finish to the season and bodes well for the next campaign. Elsewhere, the Scummers fail to win 37-0 or whatever it was they needed to even be in with a shout of staying up and are down. We get just that bit more pissed in tribute of their latest miserable failure.
We then enjoy a well deserved week off after the insane schedule of April and close out 2012/13 with the SSC cup final in our own back yard at GGL against Godalming. Which goes completely to plan and the plucky Southern league outfit are crushed in a procession of magnificence. The end. Thanks for reading. See you next season! Bye!
Actually, it doesn't. A largely dour match sees the 'visitors' have the better of the chances, but just as it seems we're heading for another 30 minutes of fun & frolics, Rentsy shanks a clearance, Tom comes for it and misses leaving the Godalming blokes looping header from the edge of the box to drop into the net in the 90th minute. Naturally, this result causes a massive sulk for some of us.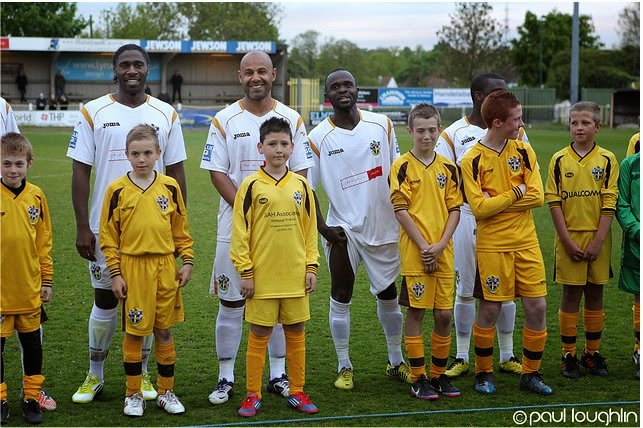 Take tallest mascot. Team up with shortest player.

Stand back. Laugh.
It's not all doom & gloom though as new signing Jamie Taylor is revealed on the pitch before the match and another new face in Jamie Slabber also makes a slightly more low key appearance in the stands, firepower that bodes well for next season. Despite the cup disappointment, the superb league run in April brings it's rewards as Dos is awarded the last Manager of the Month for the season and Marvin picks up the Player of the Month gong. Harry Beautyman also earns recognition with a call up for the England C team, in a friendly away in Bermuda. The jammy little sod.
At the end of season do, Dundo wins everything and we get drunk before looking up how much it is to fly to Bermuda at short notice for a few days. Yeah, we know. Idiots.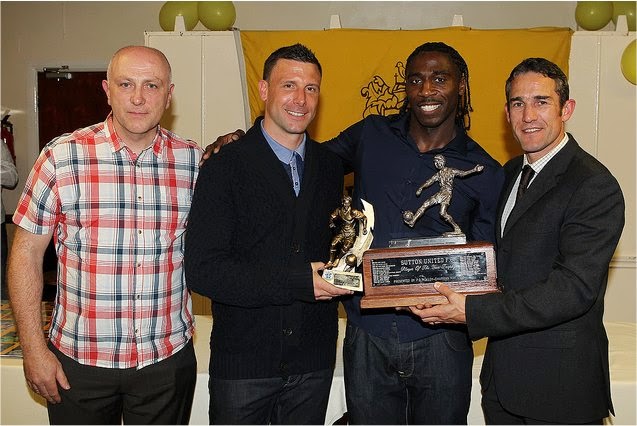 Dundo winning ALL the awards…..
So, when are the fixtures out?
Taz
BTW, a huge thank you again to Paul at From-The-Lane for pretty much committing professional suicide & not only letting us use his excellent pics in these articles, but letting us use them for free. Hahaha! Mug! No, seriously. Cheers mate.