We're back………just!
No no, we didn't spend the whole ten days in the Portuguese rozzer's prison
cells, for those of you that may have been thinking that! Instead we flew, we
saw some sun and we drank..a lot….a hell of a lot!
For those of you that follow us on Twitter, may have caught a few tweets-re
the on goings of the trip to the Algarve. Those that didn't see it ……tough!
I'm just kidding, just kidding. So in true-esque Gandermonium Style, I'll fill
you in with all the details. Oh yeah and that game I mentioned in "Dear Juan,
please can you fix it for me…(Pt 1)" we'll you'll just have to keep reading
to find out about that.
So here we go go, a little day by day summary (important bits only ) to get your laughing gear
around!
Friday, I'm in love!
An early wake up call for Juan & Duke for the transport kindly provided
by Duke's sister to run us down to Gatwick North Terminal. Arrival at the
airport was a simple straight forward affair until we were met by Customs-Dukey
getting pulled, perhaps for him wearing his good old fashion England shirt,
looking like a 90's throw back football thug, complete with flat cap.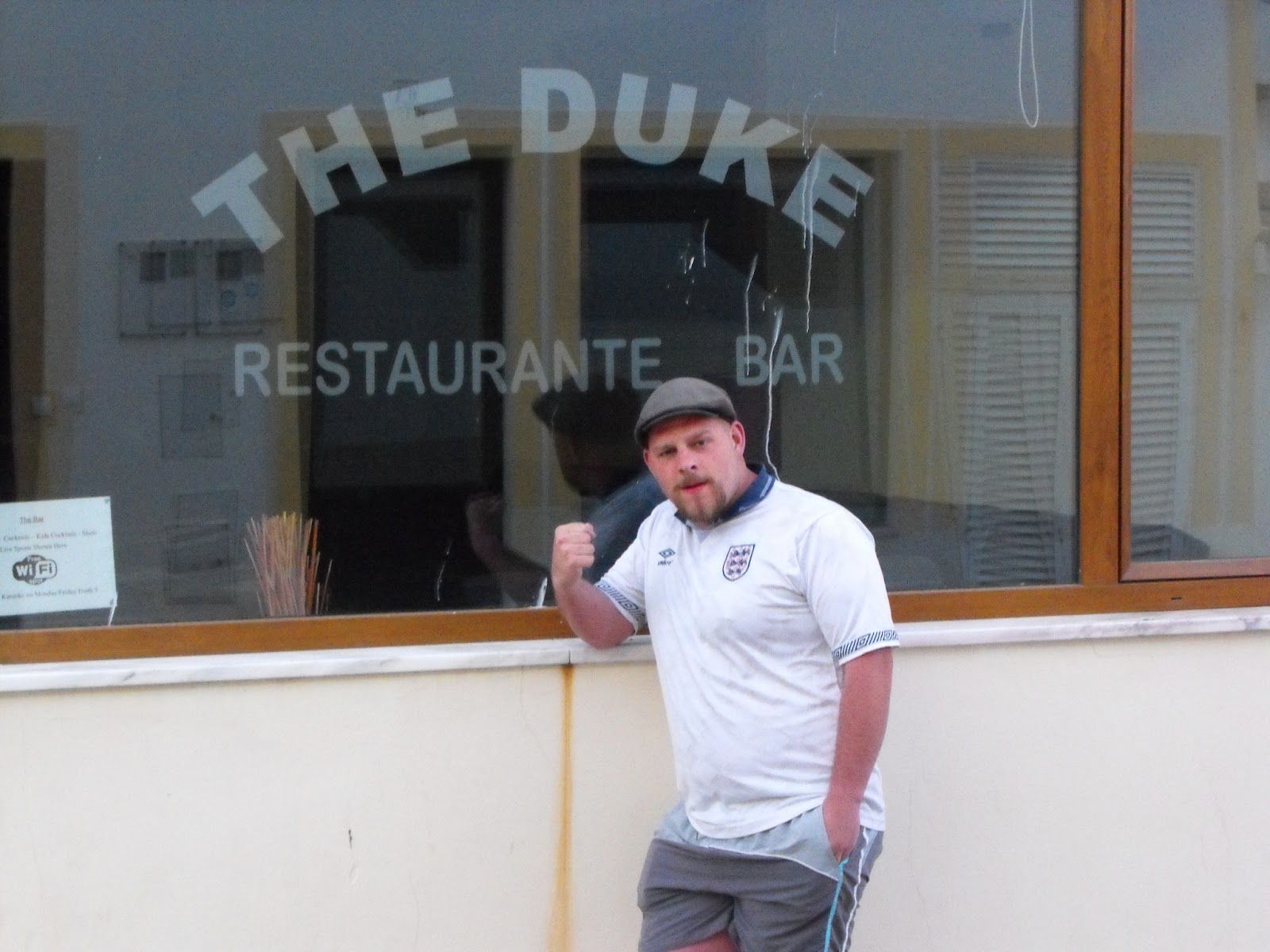 Copyright infringement, there is only one Duke…
The look
on Dukes face was somewhat priceless as the Customs Officer was ready I think
to give Duke the full body cavity search, full inclusive, complete with a
cheeky digit ready to be inserted ! Duke was in luck, no full cavity search
given! So onwards to the Departure Lounge to get the first of many beers down
our throats, alas in the North Terminal @ 0408 AM the boozer was closed,
Duke was not happy with this one bit, so we had to settle to for a cup of tea
instead. With the calling heard over the terminal for our flight, without
standing on ceremony we made our way to the gate, and jumped on board the
Easy jet flight. Dukey somewhat not enjoying his in flight entertainment, being
surrounded by a fella that clearly in his spare time was a bit of a salad
dodger to say the least. No word of a lie the BIG unit couldn't even fit into
his seat, and an extension of the seat belt was required…..JESUS! Bring back
the F.C tax. Landing ahead of schedule ( ahead of schedule with Easy jet I hear
you cry, I was a little shocked too ) an easy break through the Portuguese
customs to find our man Pablo, who would run us down the Algarve Motorway to
Juan Towers number 2.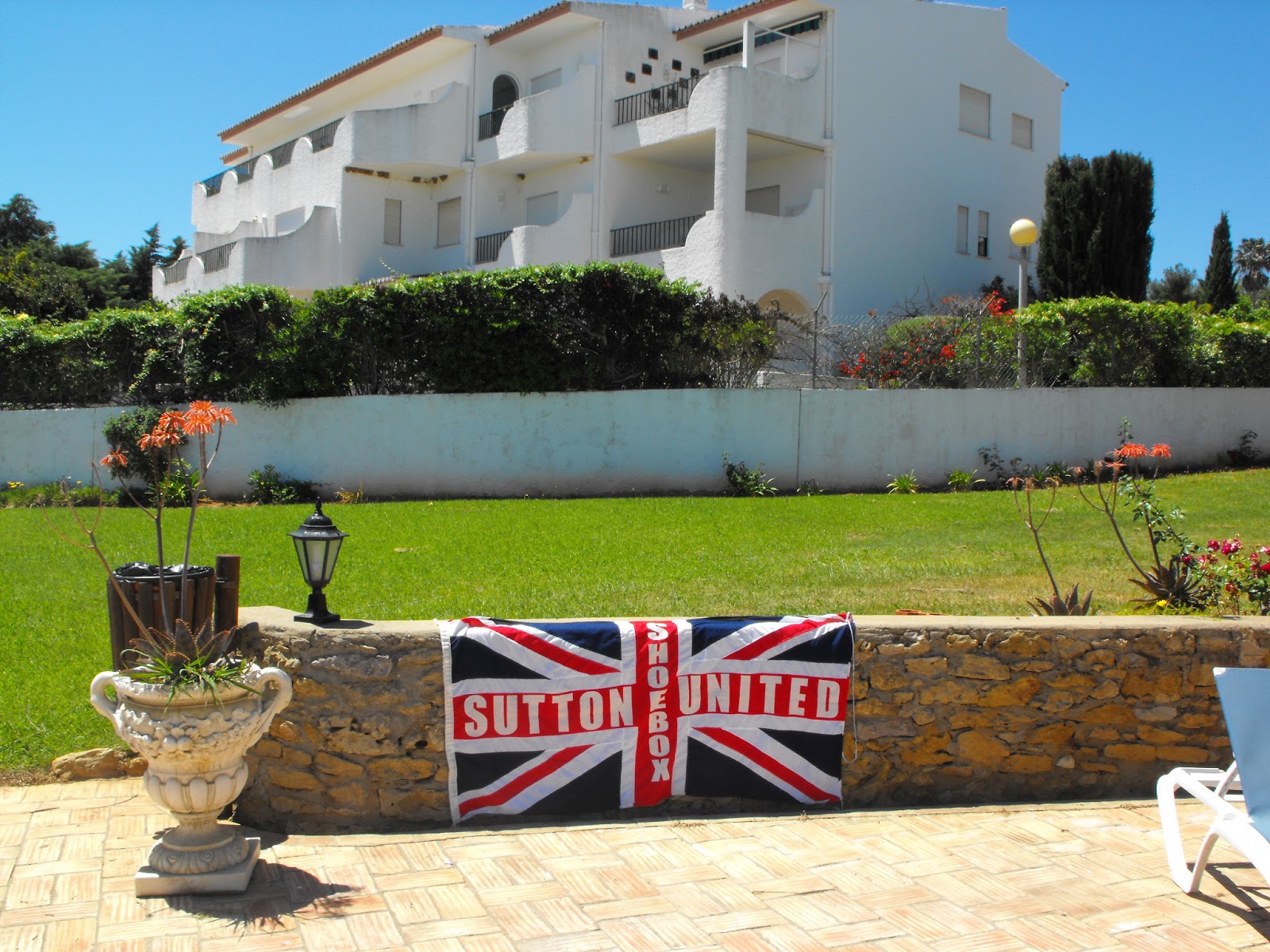 Flag up? Check! Beers in? Check! What next?

Start lobbing garden furniture of course!!
Arrival at Juan Towers, gear dumped, first port of call
the local supermarkets services were called upon to provide us with everything
we would need for the following ten days, beer lots of beer, and cigarettes of
course! The rest of the day panned out as a chilled one, nothing but lapping up
the sun down by the pool, and of course in true Brit style burning the hell out
of our skin!
Saturday-Football, Football, Football
After spending a couple of hours in the morning Portuguese Sun, "Sexy Beast
Style". We both jumped onto the local bus service for a short ride into the
next town, the town of Largos, for us to find this game of football we had
researched and planned.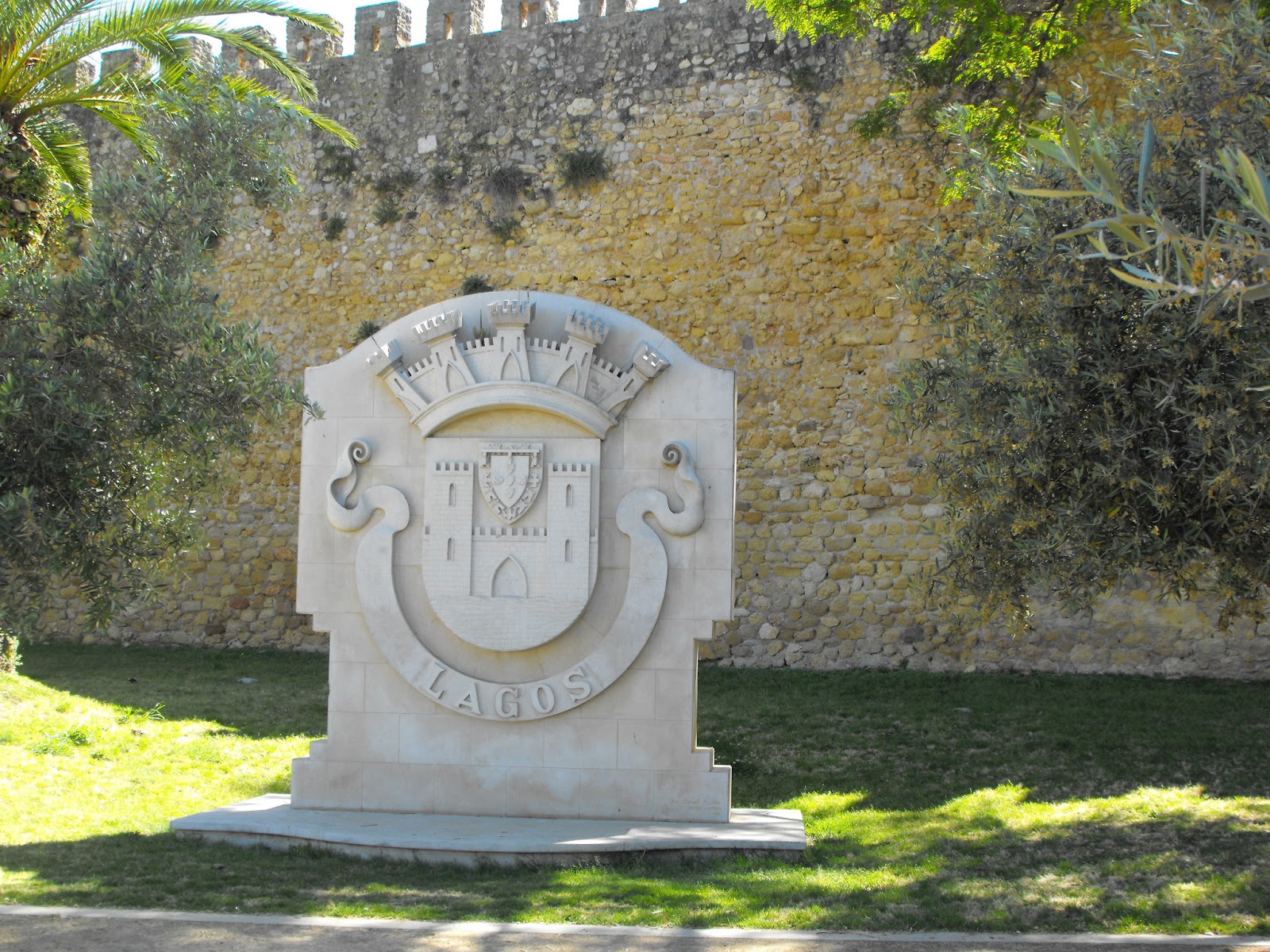 Sand and castles, they never get old…
After a short de-tour to the local Mcd's (for comparison
reasons of course), we made the short walk down to the ground. This is where
things went slightly tits up! Approaching the ground, we started to get
that feeling that something wasn't quite as it should be! Car park empty being
the first indicator. Approaching closer to
the ground, there were no signs of anyone out on the pitch, bearing in mind
today's kick off was scheduled for 4PM, and we rocked up at 15:20! Hm mm well
what the feck do we do know then! Sod it, in for a penny, in for a pound, we
thought clearly with no cars, no people, and no-one on the pitch the game
clearly wasn't going ahead. So we pushed on further into the club to see if we
could perhaps sneak in for a cheeky look around. Being armed with the Sutton
United shoebox flag, we needed to get this hanging somewhere inside the ground.
Walking towards the reception entrance, we were greeted by the sound of "yes",
the local grounds man, somewhat surprised and taken back to see two idiots roll
up, when clearly the game was off, or something. Our response to the yes was, "game
today?". To which we were escorted into the reception area of the club and we
were advised .. "not today, maybe tomorrow"! Oh FFS all this way for no
sodding game, you must be kidding right! So with that stern answer of "no game
today" we had a little nosey around the ground as you do and we were only
left unattended for a couple of minutes before the ground keeper re-appeared.
So we only had a couple of minutes to grab a few pics of the ground before
leaving!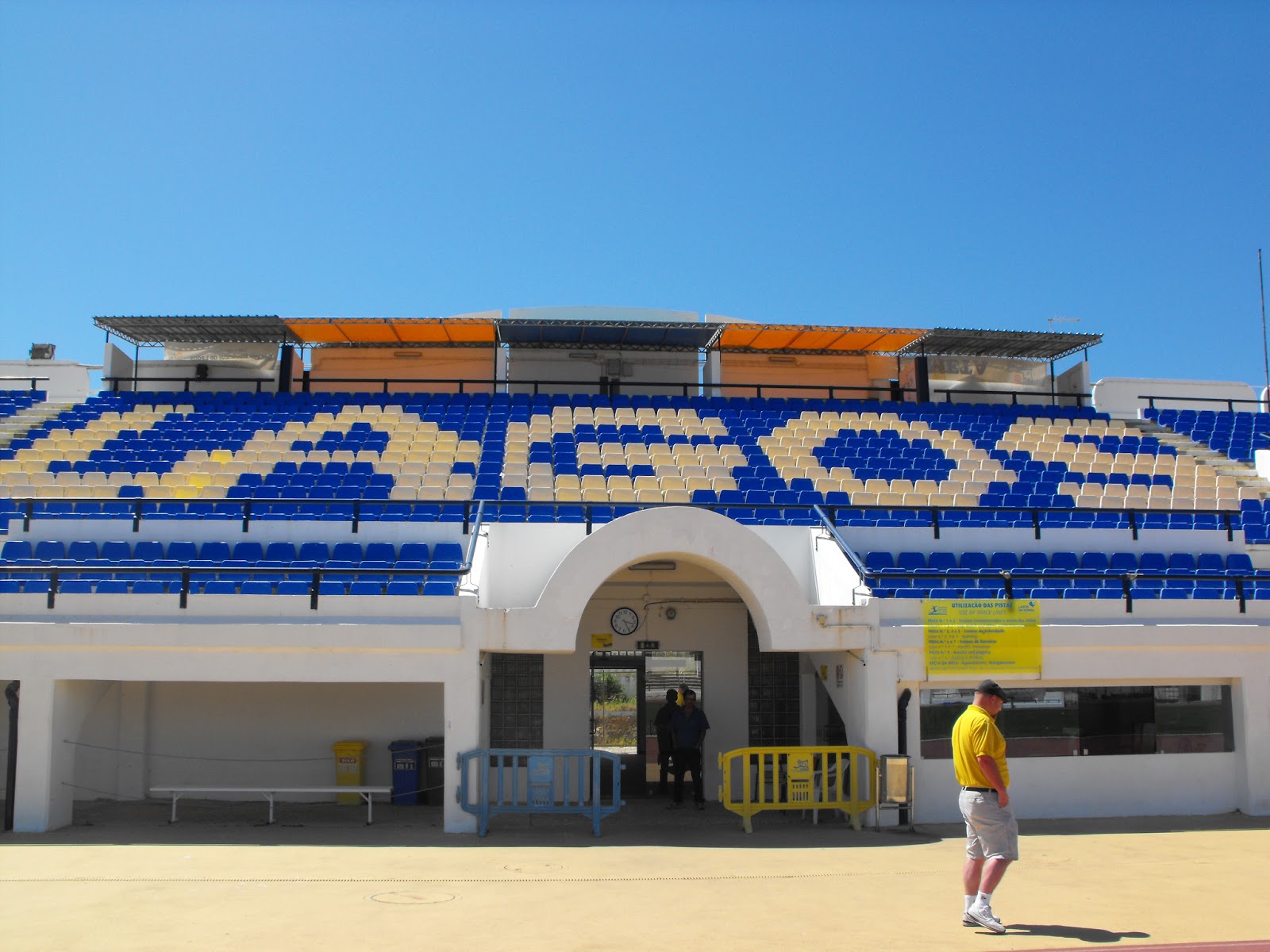 Dukey enjoys his look around the Nigerian capital's #1 stadium…..
Bollocks, still never mind, we tried, we failed epically! –Following this
I double checked my fixture sheet that I printed off, and the game was supposed
to be happening today. No wonder the Portuguese are in a world of pain, they
can't run the games as per the fixture list. So we left the stadium Esp Lagos,
and headed back into Lagos town centre. A beer at this stage required to ease
a little of the pain! So a few beers, and the local offering of Swordfish
knocked back, it was time to ditch Lagos and head back to our newly found
second home home in Luz….The Bull. A rather entertaining Taxi journey back to
Luz, listening to Brits calling a foreign taxi firm trying to arrange a fayre/collection is somewhat priceless! No wonder we give ourselves a bad name
abroad! Back at Luz The Bull is where we found ourselves, a cheeky couple of
San Miguel's, and a few other weird and wonderful cocktails were hammered home,
until the early hours!
Sunday, Sunday, it burns!
So after failing yesterday to see the game of football we had being yearning
to watch. We decided to again hit the sun for some more burning of the British
skin, well for me anyway. Duke needed his Formula 1 fix, so he swanned off back
to the Apartment for his fix leaving me to fall asleep in the burning heat for
a few hours. Spending a few hours on my jack jones allowing me to contemplate
on our latest failure of no game, Duke returned some 4 hrs later to advise me
that my chest was longer red, but a deep shade of beet root burn, holy fuck he
was right OK, I couldn't bend over to pick anything up! A lazy afternoon
followed an interesting night at one of the local restaurants, a local
pizzeria. In fact a rather racist menu was offered to us, where one of the
pizzas was named "Corporal Coons Chicken Korma" WTF! Bemused with this
strange offering of grub, we again headed back to the comfort zone of The Bull
Public House for further beers and exotic drinks. Duke going for the full
Del boy across the Algarve look, and doing what Duke does best, drinking the
locals under the table until the early hours of the morning, well in fact 2 AM.
I think he was trying to work the Dukey Magic on the barmaid. Yep, yep he was as he returned to the Apartment at
2:20 AM shouting, "fookin Portuguese Lesbians!"
Monday, Beers & a BBQ.
A quick call to a couple of friends that we know that live out in the mountains
of Luz found myself and Duke rock up at Barry and Joan's exquisite Villa, just
round the corner from Paul Scholes retirement gaff! The invitation of lunch and
a BBQ was somewhat a bonus for me and Duke, given the night before we had
consumed some rather bizarre drinks to say the least. So after a brief dip in
the refresher, lunch was produced.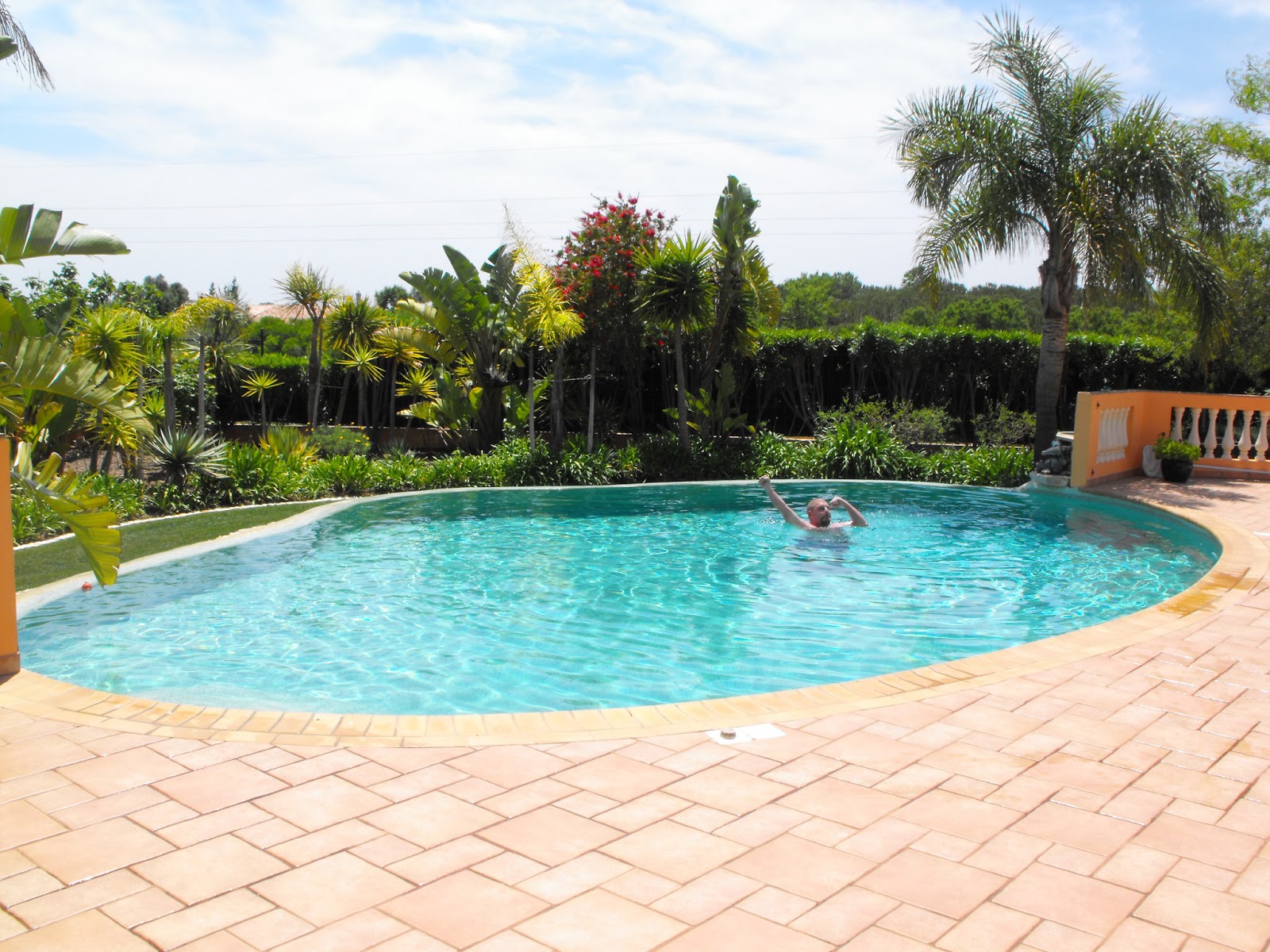 Oi! Senor! I think your pool is gonna need a clean….
An excellent spread was put on, all of which
was consumed with a number of local beers! After advising Barry how much we had
been paying to try the local beers and top shelf drinks in The Bull, we jumped
in his Range Rover, and he took us to a local boozer that he knows all too
well, just over the other side of the Boa Vista Golf Club. Turning up at the
local Boozer, Barry informed us that just above was a local knocking shop, full
of eastern Europeans until recent times, when the Portuguese Rozzers stepped in
and shut them down! Looks like we wouldn't be playing Blackjack and Hookers
tonight then! The quest for Duke to find his Portuguese lover continues…. yeah you guessed it back to the Bull, a trend appearing here!!
Tuesday, is T for Tuna.
After being awoken early doors to the sound of an angle grinder, instead of
the House Martins. It was put forward by myself to introduce Duke to the Beach
a Luz It has to be done, get sand in places it clearly doesn't belong, after
all you can go on Holiday and not see the beach! Well bugger me I'm full of
shit ideas, we only went and picked the windiest day of the week! Putting a
towel down on the sand was a 45 minute workout! It turned out to be more of a sandstorm
than a beach. Beach idea abandoned after 20 minutes. Nice work Juan ya bloody
idiot! I'm still pulling sand out of my lug holes some 5 days after the event!
Time to again try the local delicious food.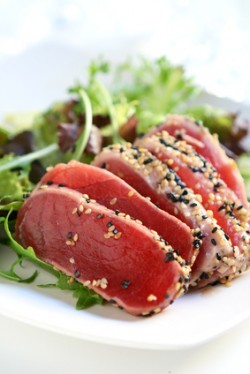 The deadliest catch that almost killed Juan….
This is where I experienced as we
Brits call the dreaded Delhi Belly. Christ after having the local Tuna Algarve
Style, I didn't think I would be seeing it again so soon! Tuna-1-0-Juan.
Wednesday is for RAIN.
It's nice to see that the IPhone weather forecast is kept nicely up to date
by the people of Apple! So with rain pretty much wiping out any chance of us
continuing the burning of our pasty white skin. We had little option but to
explore Luz and see what else we could find, pah did we bollocks, what are we
tourists with a passion for culture! Sod that for a game of cards we went back
to the pub of course, hello The Bull my old friend, I've come to talk with you
again…..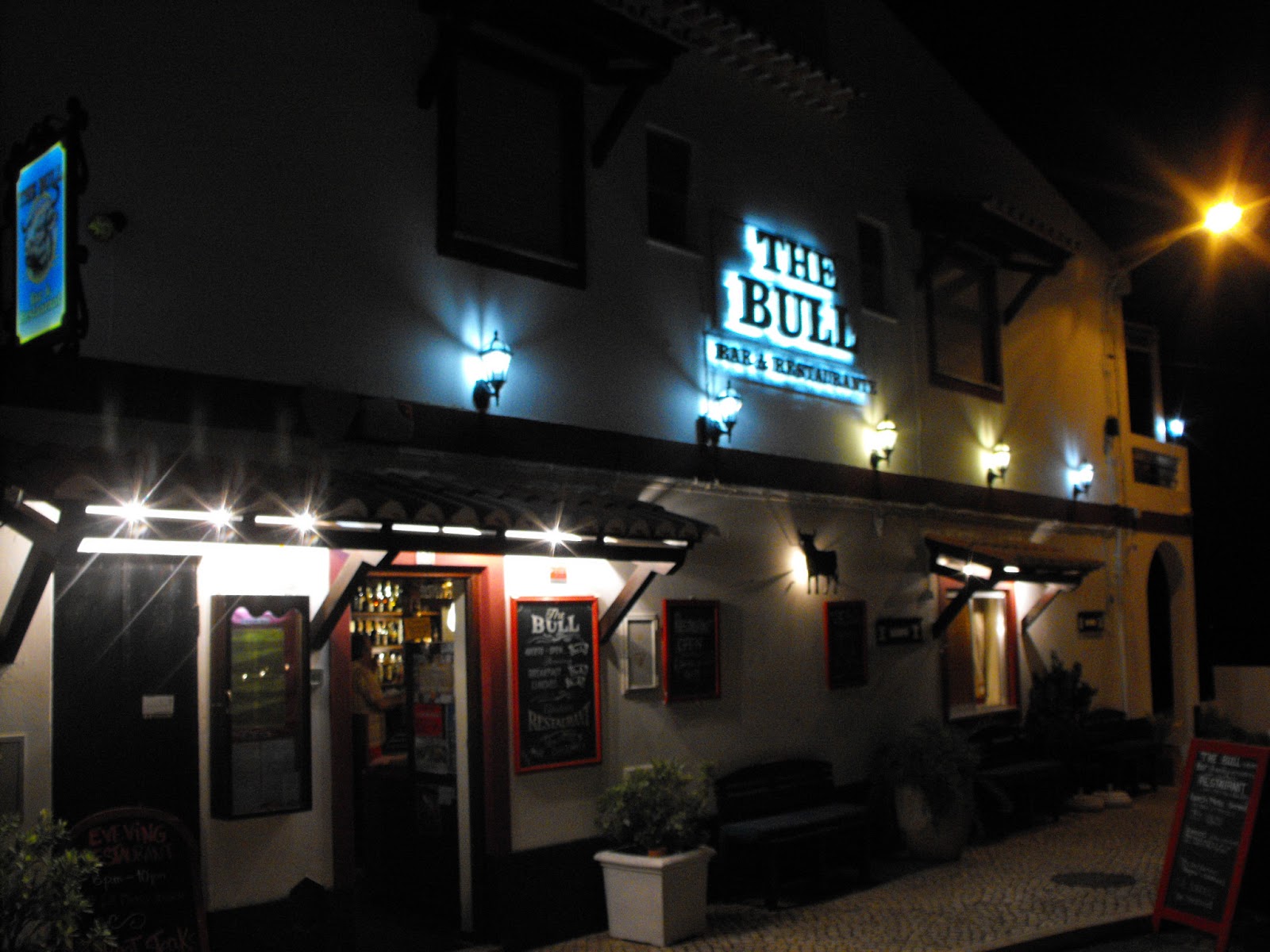 Juan & Duke grab the Bull by the Horns…..
Thursday, Rain again, this will not do Portugal!
With the rain and overcast weather setting in for another day, we hopped
back onto the local bus and headed back into Largos for the afternoon. During
the short bus ride into Largos I had a sudden light bulb moment and remembered a
further local Football Stadium from the days of visiting Largos from childhood.
We jumped off the bus and walked the rest of the way in, and found the Stadium
right where I remembered, you see an elephant never forgets Dukey boy! So after
finding the ground, but desperately searching for a way in, we followed the
local roads around to the south side of the ground, with the road taking us
further and further away, we ended up coming across an old 4 star derelict
hotel. It looked as tho it belonged in a war zone! No windows, no doors, all of
the place covered in graffiti. This interested us for some 20 minutes taking
various photos, and looking more into this bomb site, we went around the front
and saw that there was an opening into the place. We thought about going in,
but the good side of Duke and Juan kicked in, and well we didn't come here to
see a derelict hotel. Stomping back up the hill still trying to find a way into
this pesky ground, we followed the perimeter of the ground until we came across
an opening in the fence panel, where we could clearly see that this ground was
by no-means playable, and probably hadn't been played on in years!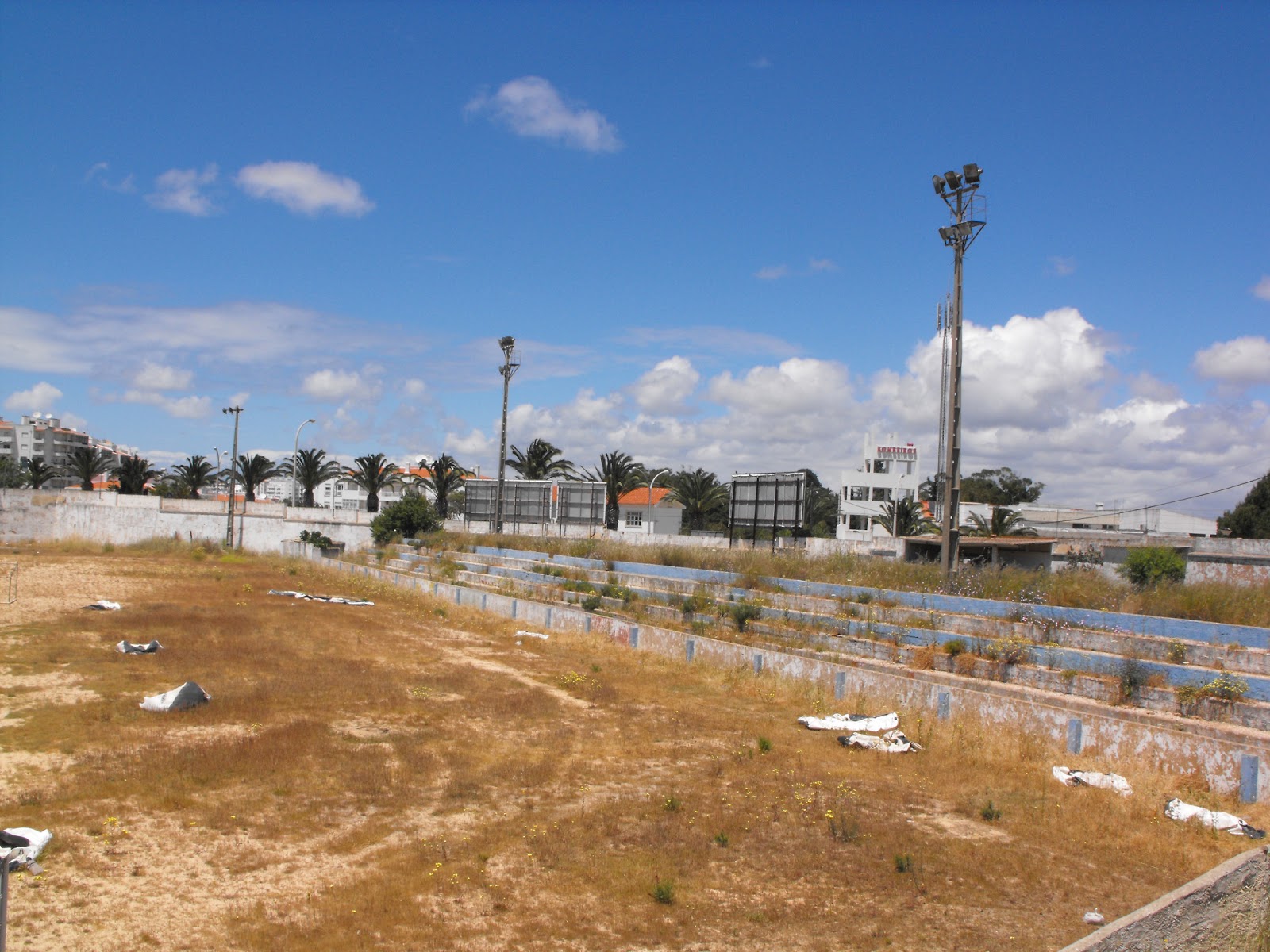 Lagos FC, twinned with Colston Avenue….
Clearly
after some fine investigating we had in fact rocked up at Esp. Largos old
ground, across the other side of Largos town! This ground had clearly been left
to go, well, to pot. Shame really!
Ground found, time to hit the town of Largos to pick up some holiday goodies
to take back to the UK. A short walk into town found us being offered a good
price on local fake watches, and even a nice smoke of Hashish. I know we were a
little down on our luck but Hashish, someone should tell that guy that the 60's
are over….man! A quick run into the local sports shop, grabbing a couple of
scarves to bring back to the UK, and Duke being offered further supplies of the
local Ganja, we had enough and headed back to the place we called home.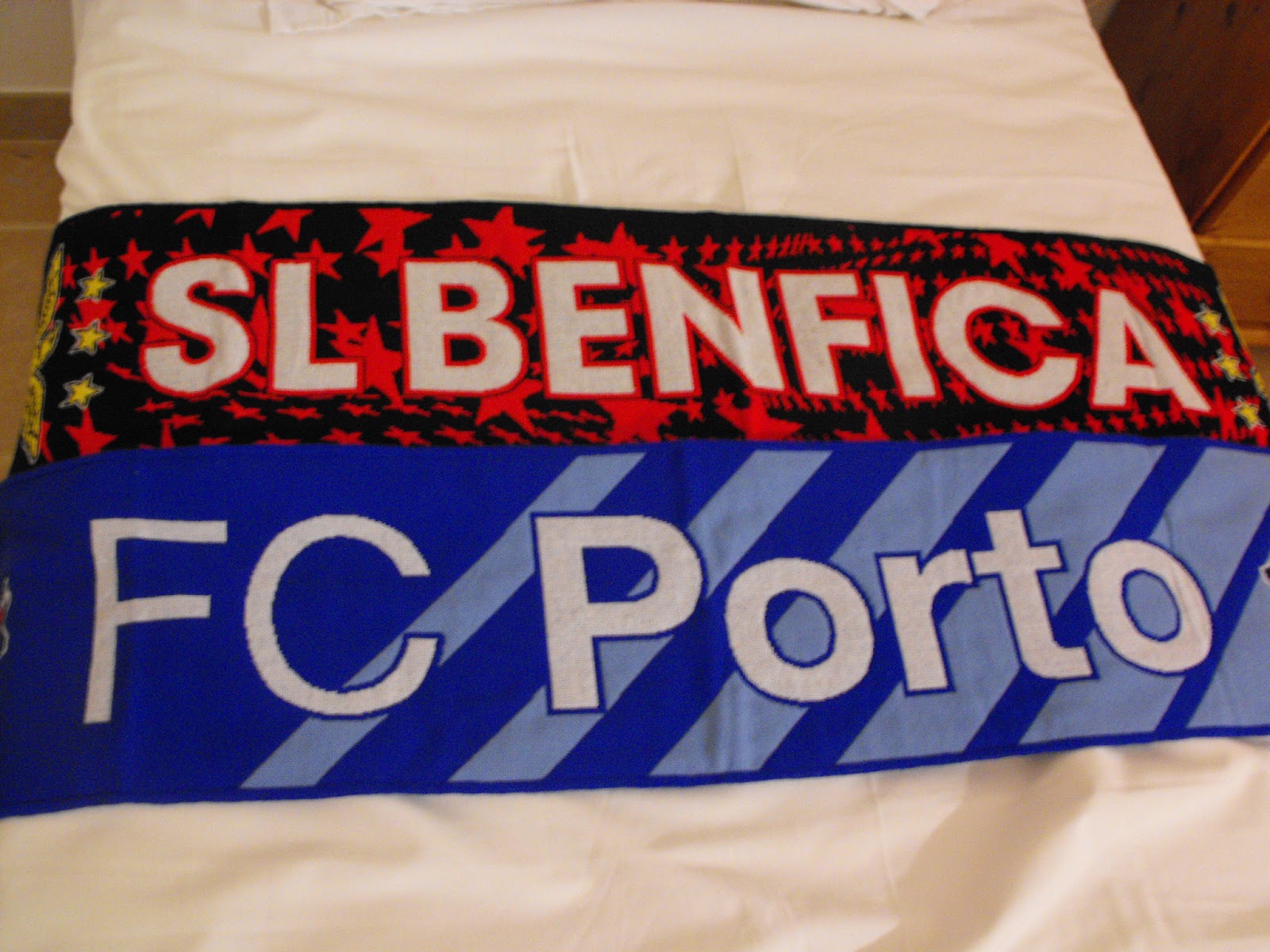 Fucking tourists….
Friday is D.D.D-Dukes Drinking Day, the last will & testament of Juan.
A little after 2pm we ventured to The Bull to commence a 12 hour drinking
session, armed with 100 Euros each the drinking began at 2:20 PM local time.
The afternoon kicked off with the local Crystal bottles each coming in at 330
ml and at a rather enjoyable 5.1% proof. The cost for these little devils, two
euros a go, not bad not bad. A slow drinking pace, whilst being entertained
with the England vs New Zealand cricket game. God Cricket is such a slow and
boring game. At one stage I think I nearly fell off my stool!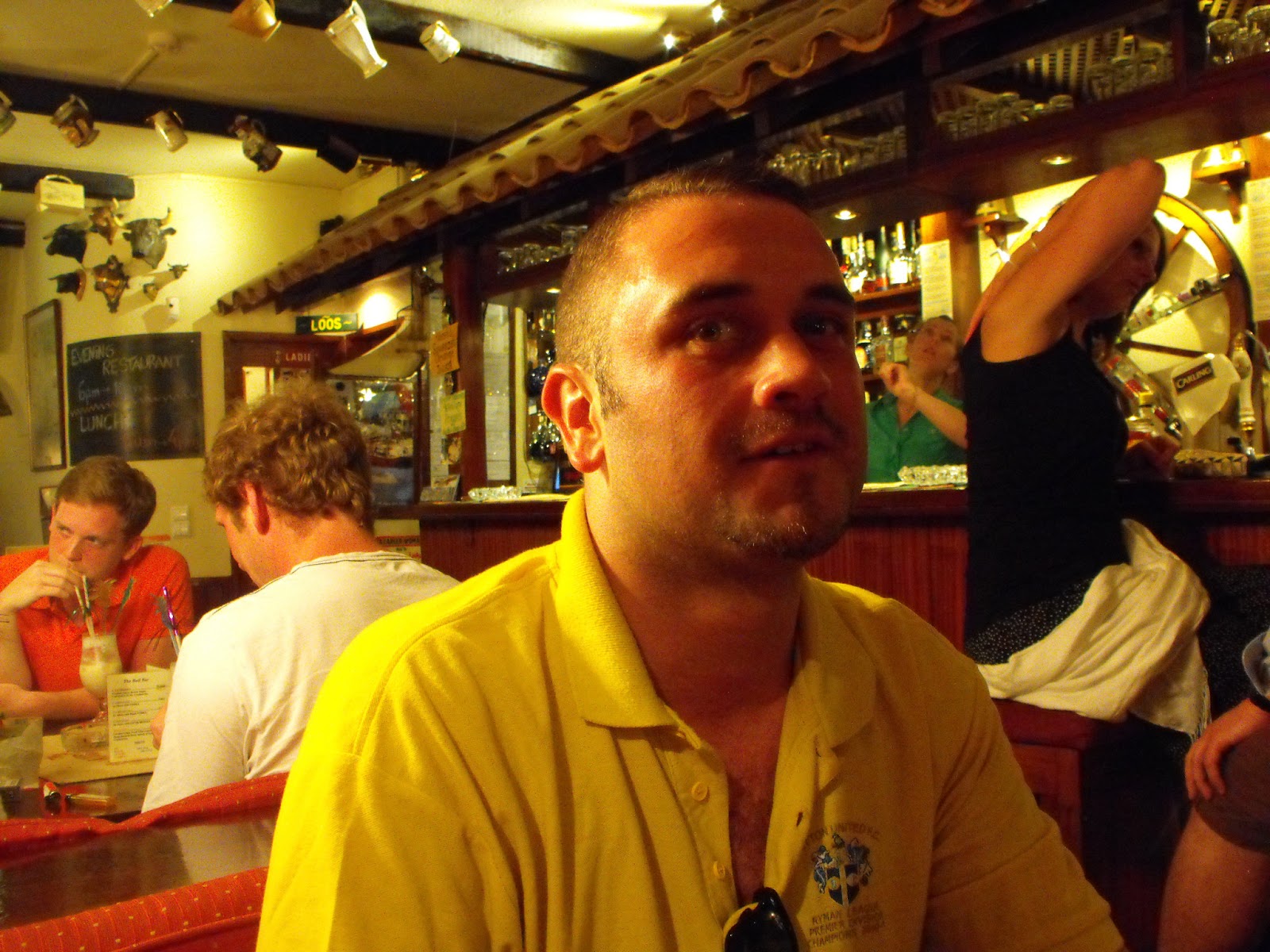 a
Whilst refreshing
our pallets, a change of drinking pace was required, so we upped the game by
asking the kind Romanian bar keep to adjust the channels, so now we had the
Nadal vs Ferrer Tennis game on the box. A cheeky snack of the local steak was needed to absorb some of the 5.1%
beer, and the drinking continued on the early evening. At this stage me and
Duke started a discussion on the countries of the world and the sports they
claim to be good at, and well the summary of the discussion was that we invented
a game (cricket) that we seem pretty shit at! The units of the Crystal were
certainly kicking us into touch now! With the evening drawing in, our attention
was given to the Copa Del Rey Final-too bad Jose, another trophy you've lost
out on! Seeing as we had been to the drinking establishment every night of the
holiday we had seen our fair share of football games abroad….if that counts
for anything!
With the sun now fully past the yard arm, and the big hand indicating that
it was heading towards midnight it was only right that we ditched the Crystals
and moved up the ladder to the top shelf.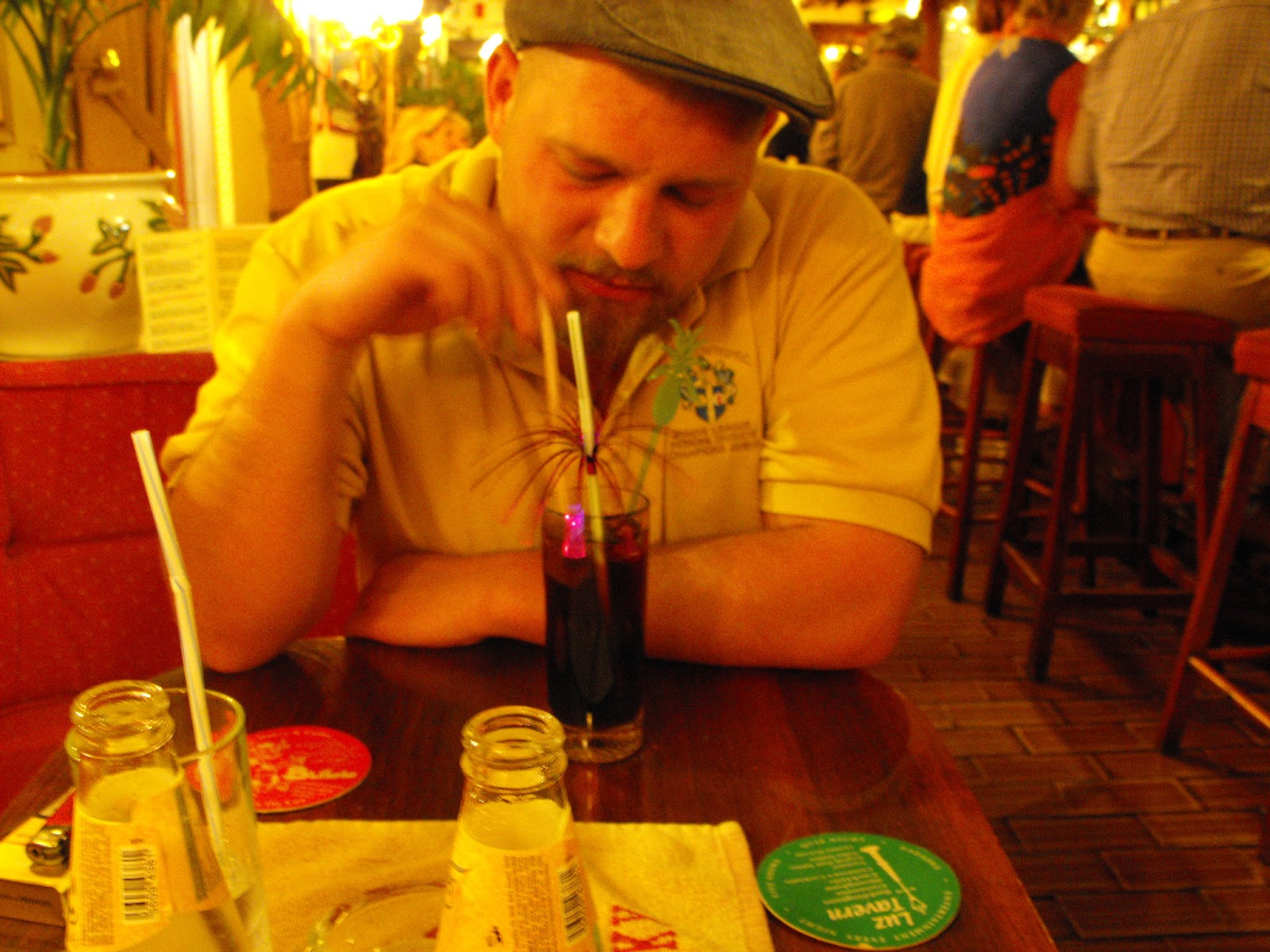 I asked for a refreshing drink, not a rainforest!

You could fall in love with an orangutan in that…..
Eristoff Black we meet again my old friend!
For anyone that isn't familiar with EB, I'll summarise, it's a
black Vodka, that goes well with Red bull, and is so damn Moorish! Mmmmm tasty!
These shots of Eristoff black and any top shelf drink in Portugal are freely
poured straight from the bottle, no messing around, just the way we like
things. With the time now pushing 1 AM
we had one hour of VDT (valuable drinking time) left before the
doors would close on us until 11AM the following morning. Without messing
around anymore it was time to get these Eristoffs loaded and down our necks. By
the time the bar keep had poured and we had paid the glasses were empty. When
next to us, a Scottish fella stood up, and approached a somewhat slightly
pissed Duke and Juan, and asked what we were drinking. So of course being the
kind gentleman that we are, we introduced this Scot to the world of Eristoff
Black, we were now a three man drinking wolf pack! We then turned our attention
to a couple of new faces that had rocked up into The Bull, on DD-Day, and doing
what we do best, chatting shit to strangers, these fellas had come all the way
from Sunny Beddington, one of them being the manager of the Asda store. Where
ever we go, we always bump into other respectable member of the County of
Surrey! Ditching the fellas we had just met, it seemed we were now on first name
terms with the owner of this fine drinking establishment- Carlos. You know you
are going to be in a world of pain the following morning when the door to the
boozer is closed, and you've drunk two and half bottles of Eristoff Black, 20%
proof and 4.5 euros a pop! 3AM and with the sun due to re-appear anytime soon
it was time to say "I'll see you in few hours Carlos" and begin the drunken
slog back the apartment. Duke at this point eager with his HTC phone in hand
wanted to get a picture of us resembling a 'no problemo' stance against the
wall, and well yes you guessed it! Battery failure. H.T.C 1-0 Duke & Juan.
Well that's enough of me waffling on about the last 10 days of the life
of Duke & Juan. It's time for me to get back the norm, that thing they call
work tomorrow.
Until next year when the adventures of Juan & Duke shall continue……If
they let us back in !
That's all from the one they call Juan Pablo Escobar…..