So, in Part 1 we left our season hanging in the balance, with the U's having taken 10 games to get their first victory and staring at the wrong end of the table. Can they improve? Who am I? What time is it? Who are you?
Hang on. Why are we telling you all this anyway? You probably already know what happened and like a shit episode of Columbo, you're just sat there shouting at the screen & waiting for us to eventually get to the point. Oh, stop looking at me like that and just click for Part 2……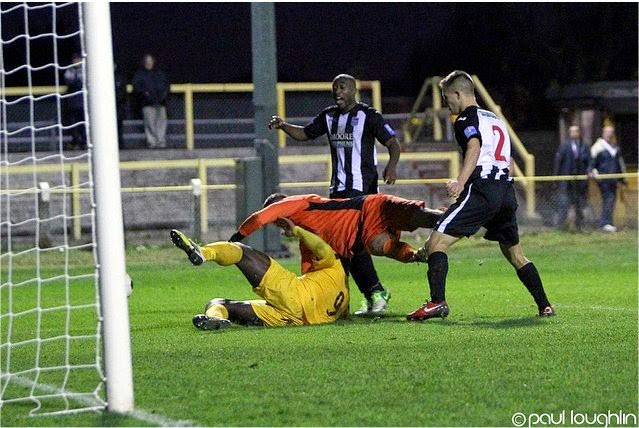 This is about as exciting as Bath at home got for us…..
NOVEMBER


As tends to happen around this time of year in the UK the weather turns to shit a bit. And some. Which is probably a good thing really, as our form sadly isn't much improved in the few games we do actually get to play, with consistency still hard to come by. A 1-0 defeat to Eastleigh with their only effort on goal (which is precisely one more than we manage) and an utterly miserable 2-0 defeat at home to a Bath side so poor they make small children (and most of us) cry, sandwiches a somewhat-harder-work-than-it-should-be 2-0 win over Ramsgate in the FA Trophy. Despite this less than stellar month, Juan & Dukey's constant badgering pays off and Taz finally switches Gandermonium back on for them to play with.
Still, it's nearly Xmas and you know what that means. Abnormal amounts of drinking, turkey sandwiches and maybe even some boozing. Oh and maybe some presents. Which reminds us….
Dear Santa. Could we have some more wins please?
DECEMBER


The holiday season kicks off with a bang as we take revenge for the dreadful loss at our place with a thoroughly satisfying 4-1 bumming of Staines thanks to an excellent performance and a couple of corking goals from Rents & Kavs. Dukey celebrates the win by leaving his mobile in a cab, severely testing the gang's "Leave no man behind! Unless mutually inconvienient to the rest of the group" motto. There then comes another hard fought victory (1-0) in the Trophy thanks to Harry O's clever flick against Maidenhead on a freezing evening and then more 'miserable home defeat' based revenge with a single goal win (1-0) at Dorchester thanks to a comedy OG in the first half. Being the sporting bunch we are, no one laughs hysterically. Much.
A Dorchester bloke scoring for us. Funny.
The trophy run continues with a convincing, but narrow 1-0 win over Oxford City, although it takes a worldy of a save from Scrivs at the death to prevent a replay the visitors barely deserve. Our activities in 2012 are then curtailed once more by the wonderful British weather until the new year. Although we do manage to squeeze in a 5-2 SSC win over Whyteleafe (which at least cheers up Dukey) at GGL before we put our feet up for the festivities a little earlier than planned and get pissed.
JANUARY


Two thousand and thirteen gets off to an excellent start with a solid 2-0 victory at Bromley. A comedy fuck up from the keeper leads to Marvin Williams opener and Beauts essentially gets the winner soon after the restart. Absent is striker Stefan Payne, who Dos announces after has been released. Present as a sub is Leroy Griffiths, rejoining after his departure in the summer. Our little purple patch then ends with a narrow, but comfortable 1-0 loss at league leaders Salisbury thanks to a massive deflected OG off Kavs. Whilst unspectacular, the #1 side in the league look solid all over the park and deserve the 3pts although it's not all 1 way traffic as both Rivs and Beauts hit the post for the U's in either half. Again we're sober, well behaved and definitely don't miss our intended train home. Our Trophy run then ends rather abruptly, if not that unsurprisingly with the visit of Conference National leaders Wrexham & it's another example of our season in a nutshell. Having been the better side for half an hour, we somehow manage to go in 4-0 down at HT after a frankly brutal display of finishing from the Welsh chappies.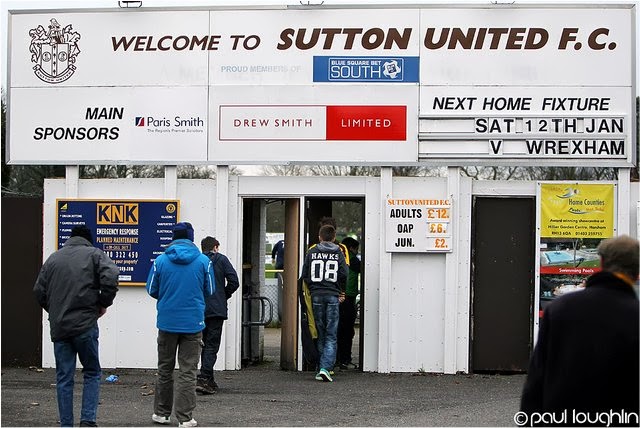 Sutton residents turn out in their droves again….
Thankfully, the nasty big boys only add one more after the break to complete a comfy Hawaii 5-0. There's further cup excitement to be had a couple of days later at Casulas in the SSC as we're treated to a not at all rubbish 0-0 draw in the freezing cold. Eventually, despite fielding a strong XI the U's progress on penalties. Once more, Dukey is only person vaguely entertained by this.
Dos makes the most of the erratic fixtures and makes further jiggy in the transfer market to shuffle the pack. In comes midfielders Dean Sinclair and James Folkes, plus forward Richard Pacquette. Out the door go Craig Watkins & Gareth Gwillim. Steven Old also departs, albeit for a nice full time gig at Shijiazhuang Yongchang Junhao (a team that must surely have the longest scarves in football) in the Chinese 2nd Division.
Actually, imagine starting a chant there with a "Gimme an S!". It'd go on longer than Dukey's "One Step Beyond" at Bath….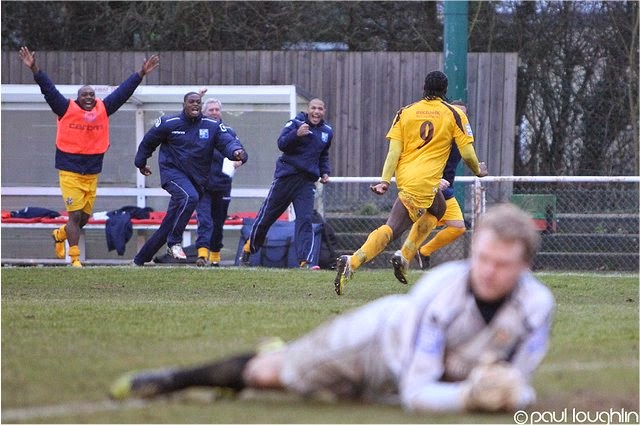 Dundo thinks he's won it at Hornchurch. So do we.

We're all wrong…..
FEBRUARY
The shortest month of the year sees our largely long overdue improvement continue. Big spending Eastleigh are satisfyingly seen off 2-1 at GGL and we again score a late late goal at Hornchurch to surely get a win, only to again steal a draw from the jaws of victory (1-1) when they once more net an even later leveller. Title chasing Welling are up next and probably our best performance of the season earns us all the points thanks to Harry O and the ever dependable Dundo (2-1), although we're made to feel nervy as the visitors score their goal late on. Eastbourne are next on the list and our first double of the season is provided with a 2-0 win and then we gain revenge for the disappointing opening day defeat against Basingstoke, although we naturally have to do it the hard way, chucking a seemingly cosy 2-0 match winning lead before Dundo nods us a deserved late winner (3-2) thanks to some dogshit marking from the ever popular Tim Sills.
Chelmo then do a bit of revenging of their own, getting back at us for those first 3 points they provided us back in October with a 1-0 win at their running track. Although they miss about 100 chances and a penalty in getting it. The month is then seen out with a comfortable 6-2 win over Molesey in the Dukey Senior Cup, with some eye catching performances from some of James Bracken's impressive reserve team helping lift the mood further.
With Feb having been good to us with 4 wins, this pushes us to a season high of 10th place and we find ourselves closing in tantalisingly on those play off spots. Just got to keep the momentum going!
Taz