Ok, we admit it. We (Gandermonium) weren't exactly around for the whole of this campaign. But the idiots responsible for it certainly were and between us we've seen every SUFC game this
season (Dukey himself saw every single one!). So we reckon we're more than qualified to reflect on the mild frustration
and ultimately finishing just outside the play-offs type fun provided by our second
campaign back in the Blue Square Bet South and our first under the new 3 days a
week training in the mornings.
Our thanks to Paul @ www.from-the-lane.co.uk for letting us pinch some of his pics to provide at least some semblance of professionalism round here. Go check out his site. He's got a dead good camera!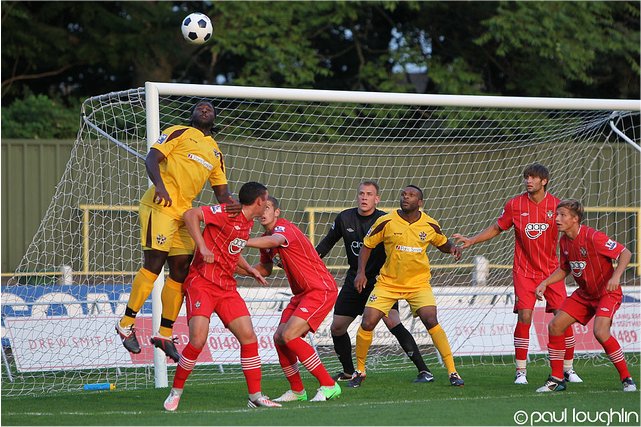 Dundo in action v. Southampton
Pre-Season
With the majority of the squad already assembled early as is usually the case with Mr Doswell, the pre-season programme seemed to go largely to plan with the emphasis being on hitting the ground running when things started for real. So this saw the use of largely the same XI all the way through and whilst lead to some mixed results, it allowed the team to settle.
Opening with a 5-3 defeat to a strong Orient side before drawing at home with fellow BSBS side and big summer spenders Eastleigh (2-2) got things off to a fairly solid start. A 2-0 win over Hampton gave us the first victory of the summer, but a 2-1 home defeat to Kingstonian perhaps gave us a little insight into the early season form to follow as the U's largely bossed it, but lost to practically their oppos only 2 efforts on goal. Comfortable wins over expensively assembled Carshalton (2-0) and a youthful Southampton XI (4-0) got us back on track before a low key 1-0 reverse at Met Police only memorable for the lumps it saw kicked out of our players sent us into the campaign with largely high hopes of success.
So, on paper, this looks to be the best Sutton side for a good while. But then again, as a wise man once said: "Who the fuck plays football on paper? It's grass you want!"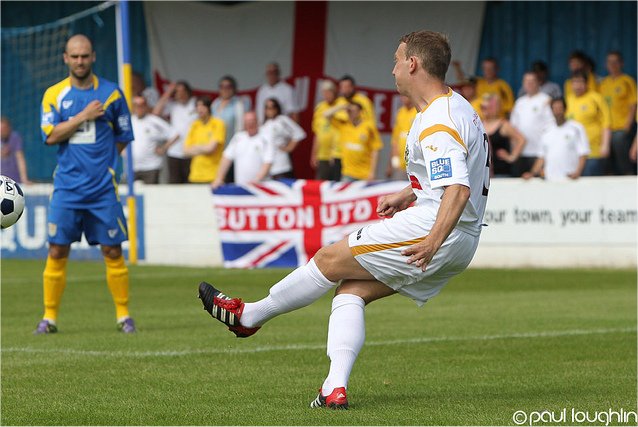 Open top bus just out of shot….
AUGUST
From the off, we established our byword for the first couple of months. Frustrating. As we perform well and largely outplay an average Basingstoke & take a well deserved lead before losing two poor goals and the game 2-1, with the performance somewhat highlighting our current lack of a dedicated right-back. Still, the hosts are delighted with the result and celebrate like they've won the
league itself at the whistle. Rumours that they proceed to hold an open top bus tour of the
town the following day are of course completely false. A 2-2 home draw with
fancied Dover follows with another seemingly winning position let slip and then
an infuriating draw with Maidenhead (1-1) where having once more dominated, we
find ourselves unable to break down a massed defence to take the win having again led. The
opening month then ultimately ends winless, as despite an outstanding first 45 at
Welling, a 1 goal lead at the break though isn't enough and the hosts go on to
lead 2-1 and also miss a penalty before a late equaliser from Vassell rescues a
point.
Yes, frustrating. The football played had largely deserved
more than the paltry 3 points it yielded. But mistakes in key areas at key
times and a lack of punch when needed to kill sides off meant we finish August
in the lower reaches of the table. Still, things can only get better eh? The
main consensus though is that we probably need a proper right back.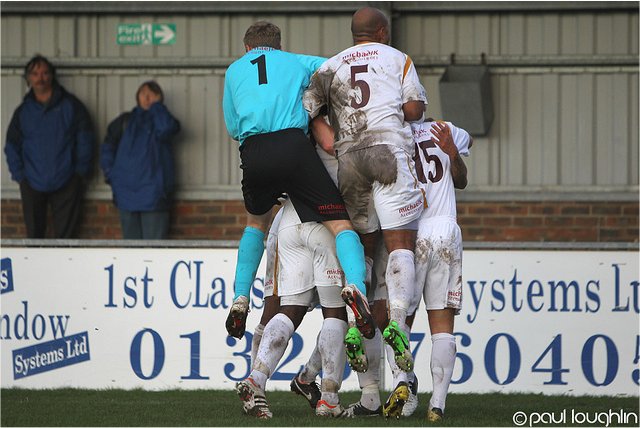 It was inevitable that one day, the unseemly scramble for the HT

biscuits would spill out onto the pitch….
SEPTEMBER
The month began with that early season confidence still just about in
effect, that we'd be up and running shortly and all would be well. But a 2-1
home defeat to a rather limited Dorchester
where we once again largely dominate but are cost dear by poor individual mistakes
and poor finishing once more raises that word. 'Frustrating'. Seemingly a little unsettled at the back, a comprehensive 3-0 bumming at a useful looking Borehamwood follows. Defender Jerel
Ifil makes his one and only appearance as a favour & then joins our hosts the
following week. We bounce back from this setback with an utterly dominant performance
at Weston, but unfortunately having once more worked hard for just the single
goal lead, a last gasp penalty robs us of what should
be our first entry in the W column on the league table and we have to settle
for yet another draw (1-1). The word 'fucking' is now being generally used as a
prefix to the word 'frustrating'. To make matters worse, this infuriating
spurning of 2 points leaves us bottom of the table.
Still, it could be worse. We could be Truro, who having been
paying their staff sporadically for some time, finally go into administration
at the start of the month and are deducted the standard 10 pts from their
total.
More pain follows for us in the home draw with Havant (1-1), where again
having spent a fair bit of time knocking on the opposition's door to no effect,
Downer turns the ball into his own net on their one foray into our half. Dundas
bundles one in to ultimately earn a point, but once more the massed ranks of
the oppo can't be breached by our increasingly toothless looking
strikeforce and we now sit 8 games in and still without a victory. Or a right
back.
Somewhat inevitably, given our start, Bromley end our FA Cup involvement at
the first hurdle in the following game, converting probably the only decent
chance of the 90 mins for either side (1-0). Two days later, Assistant Manager
Alan Payne leaves GGL to the surprise of everyone. It then takes a late Vassell
strike to earn a fair share of the points at Tonbridge (1-1) in the league as
we enter our third month still without a victory. After the final whistle, Dos
moves to counter any concerns among the support by hosting an impromptu Q&A
on the terraces. If nothing else, his confidence that the side will turn the corner very soon keeps hope alive.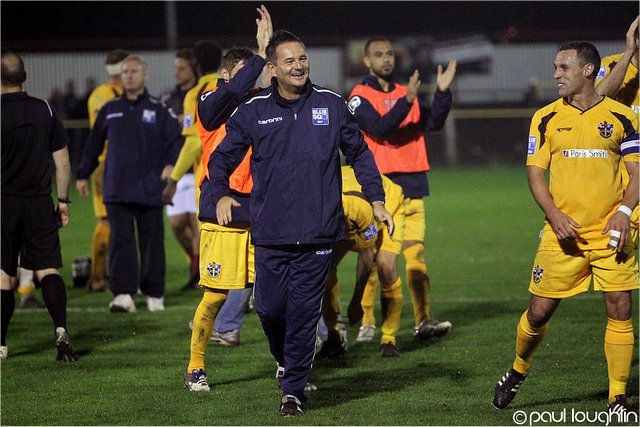 Dos & skipper happy at finally getting that win!
Plus, as always when we're down, our neighbours provide some
amusement with mad owner, president, chairman, funder, tactical genius &
manager Paul Dipre finally realises he's not that good at the latter job and
quits. Which raises a chuckle in SM1. Followed by a disappointed sigh, as it means they might get in someone who knows what he's doing.
At this point, confidence is low and performances are
becoming more disjointed as we struggle to convert chances, break sides down
and cut out elementary mistakes. 10 without a win and counting. Although we'd
rather not count if we're honest.


OCTOBER
Thankfully, we don't have to! As our first real, solid, error-less
90 minutes produces a precious opening win over Chelmo (1-0) thanks to Beauts
deflected effort although previous form is somewhat restored against Tonbridge
as we toss a 2-0 lead in the last 15mins and earn yet another draw (2-2) against a side we've pretty much overrun.
There's happier times in Eastbourne though as an increasingly dominant last 20 is finally
rewarded by Watkins deserved winner (1-0) 6 mins into injury time, bringing
polite appreciative applause from the utterly sober away fans.
Having once more looked to turn a corner, we slip in some Staines Town shaped dog shit whist making the manuever and fall flat on our arses, losing 2-1 to one of the poorest sides we've yet seen. As is the way so far, both their goals are avoidable and
a last minute reply from Stefan Payne is all we have to show for our efforts.
The phrase "fucking frustrating" is once more heard being muttered around GGL.
The month ends with the long awaited trip to Truro, scene of much
"will they won't they" faffing as the financial issues that surfaced in
September threaten to kill them off. Thankfully they get an 11th
hour reprieve (which follows 8th 9th & 10th hour reprieves) & stick around long enough for us to fly down, get fucking pissed up
and watch the U's nick a welcome 2-1 win thanks to a late goal from Stefan Payne despite the
earlier sending off of Jamie Stuart. Like Eastbourne, this late winner is greeted with
polite, yet muted and utterly sober applause. Later that night, a large donation is made to the Falmouth branch of the Cornish Frog Protection League in celebration.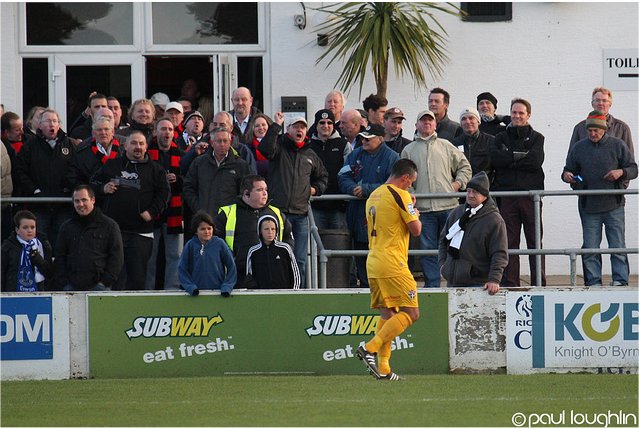 Jamie Stuart, sent off at Truro for squashing a frog. Probably.
With defensive gaps appearing due to injury &
suspension, Mr D takes the opportunity to strengthen and adds experienced Kiwi international centre-back Stephen Old to
the squad to take us into November.
Have we turned the corner? Will the fans ever turn up sober? Find out in the next thrilling installment…..
Taz