So after last nights defeat in the SSC. I thought you would all need to have those smiles put back on your faces 🙂 , so what better way to bring back those grins, by turning those frowns upside down, by bringing you a little bit of player news/updates.
So we have been putting ourselves together in groups to form our own Syndicates for the Srikers are Key Initiative. So let's give you a little low down on this scheme, before we show what our hard earned pennies are bringing forth to the turf of Gander Green Lane.
Stikers are Key.
"We have all enjoyed these past five seasons. The Manager has identified that 2 major signings are required to continue improving. Strikers!"
So basically the scheme is this, we put in £40 large into the club on a monthly basis. There will be a board of 50 numbers up in the bar ( our syndicate name yet to come to fruitation, but I reckon we'll go with Gandermonium ) A safe will be put along the side the numbers, and a minumum of £200 tokens placed inside the safe at EVERY home league game. Five keys will be placed on top of the safe, but only one will reveal the reddies, if of course your number gets drawn and you get the chance to pick one of the winning keys!
If you want some more detailed info on this scheme, then have a look at the pic below!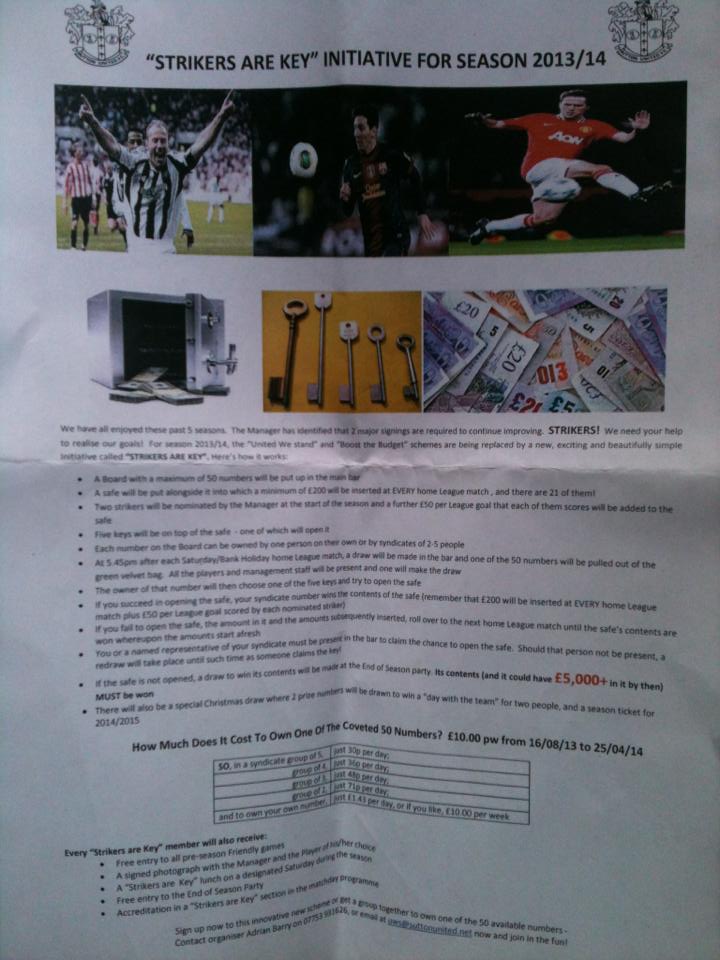 So in a nut shell, thats the scheme! Lets have a look and see what this is bringing us then shall we?
First up we have…..
Jamie Slabber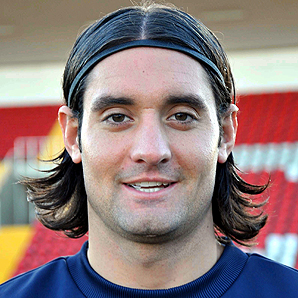 Born in Enfield, London,Slabber joined Tottenham Hotspur as a trainee in
August 2001, where he was mainly used as a reserve team player. He made just
one appearance in the Premier League, coming on as a substitute in the 79th
minute for Gary Doherty against Liverpool in a 3–2 defeat on 16 March 2003.He
set up Teddy Sheringham for Tottenham's second goal, four minutes from the end. Slabber
made the bench on two more occasions, but was never fielded.He had loan spells
at Danish outfit AB Copenhagen in 2004, and Swindon Town in 2005.
He was released from Spurs in April 2005 and signed for Aldershot Town until
the end of the 2004–05 season. Slabber made a total of four appearances,
including two in Aldershot's defeat on aggregate in the Conference National
play-off semi-finals to Carlisle United, where he scored in the 90th minute of
the second-leg. Slabber then signed for Grays Athletic on a free transfer in
May 2005, ready for the start of the 2005–06 season. He went on to make 40 Conference
National appearances scoring 13 goals over two seasons. In November 2006, he
spent a month on loan at Oxford United, making three Conference appearances,
but failing to score.Former Grays Athletic manager, Mark Stimson, signed
Slabber for Stevenage Borough in December 2006 from Grays.
Slabber was released by Stevenage on 17 May 2007, and signed for Conference
South club Havant & Waterlooville two months later, ahead of Conference
National side Halifax Town. He also had an unsuccessful trial at Rushden &
Diamonds in July 2007. He scored his first Havant goal against newly-formed Hayes
& Yeading United, a game that Havant won 4–1. He was released from Havant
& Waterlooville in October 2008 having made 29 appearances, scoring twice
in the Conference South, before re-joining Grays Athletic.
On his second debut for Grays, Slabber scored a hat-trick in their 7–0 win
at home to Maldon Town in the Essex Senior Cup. Slabber scored the only goal in
Grays' 1–0 win over Ebbsfleet United on 26 December 2008, with a header set-up
from a pass by Wesley Thomas. His second goal for Grays in the Conference
National during the 2008–09 season was in the 2–1 home victory against Altrincham
on 7 March 2009, having met Bradley Hudson-Odoi's cross. Slabber scored in
Grays' 2–1 victory over Mansfield Town, scoring with a header from a cross
supplied by George Beavan. He re-signed for Grays in July, after leaving at the
end of the season.
Slabber joined Conference South club Woking on 31 December 2009, signing
until the end of the 2009–10 season. At the end of the 2009–10 season he joined Eastleigh, for whom he scored a
hat-trick in only his second game (against Dorchester Town). Slabber scored
four goals for Eastleigh in a 5–0 Conference South win against Staines Town on
his 41st appearance for the club. Slabber won Player's Player and Manager's
Player of the Year in the 2010–11 season having made 48 appearances and scoring
25 goals.
It was announced on 8th May 2013 that Slabber had joined Sutton United for
the 2013-14 season.
A little video…
Next up we've got…
Jamie Taylor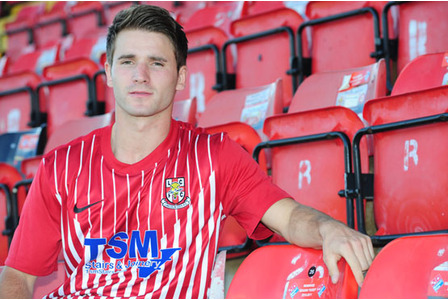 Born in Crawley, West Sussex, Taylor played for Broadbridge Heath, scoring
17 times during the 2000–01 season, before moving to Horsham at the start of
the 2001–02 season. In November 2001 he scored 9 times in three matches, all
within 12 days. He moved to Aldershot Town in August 2002. He struggled to establish himself with Aldershot and had a number of loan
spells with other clubs, including Horsham in February 2003, and Carshalton
Athletic in December 2003,before being released in February 2004. He joined AFC
Wimbledon in March 2004, helping them gain promotion to the Isthmian First
Division, before returning to Horsham in October the same year.
In the 2006, Taylor joined Woking and in March 2007 he joined Dagenham &
Redbridge.With Dagenham promoted to the football league at the end of the
season, Taylor made his league debut on 18 August 2007 as a second-half
substitute for Chris Moore in the 2–2 draw at home to Wycombe Wanderers. On 22 February 2008, Taylor joined Grays Athletic on loan for a month, which
was later extended until the end of the 2007–08 season.Taylor scored nine goals
in 16 appearances for the Blues, finishing as second top goal scorer to Danny
Kedwell.
Following his impressive loan spell at Grays Athletic, he was offered a
two-year contract at the start of the 2008–09 season. Taylor signed for fellow Conference National outfit Eastbourne Borough on 10
July 2009. He was voted the Supporters & Players' Player of the Year for the
2010–11 season. However, he turned down a new deal with the club following
their drop in division.
Taylor signed for Lincoln City on a two-year deal on 1 July 2011. After an
injury hit first season, Taylor helped the Imps survive in the Blue Square Bet
Premier in a difficult 2012-2013 campaign, finishing as top scorer. At the end
of his contract, Taylor left to return to his native South Coast.
A further video teaser….
If any more player devlopments happen in the summer, we'll keep you updated!
Some of the content in this update has been stolen borrowed from many sources, but mainly Wikipedia!
Thats's all from the one they call Juan…for now!