There I stood at my post on Tuesday night before the Salford game, waiting for the next car to pass me when up strolled a figure, he of the ginger persuasion (from memory anyway, as the hair appears to be disappearing quicker than mine). "Can you do a blog for Saturday?" he asks. Without even considering the dire consequences of a positive response I answer in the affirmative. So here I am, a wet Sunday afternoon, typing I know not what.
I can tell you this won't be like most Gandermonium match day blogs though. No alcohol, no waiting for a bus or a train no reporting of stories about the rest of the collective. I am an outsider, perhaps even an imposter, although my SUFC credentials can't be questioned at least.
In a previous life I was the club's Chief Steward, although that was back in the day when a crowd of over 700 would be rejoiced and considered decent. Fuck doing that now, especially with some of the younger element U's success has attracted. These days they seem to be able to say what they want with near impunity but touch one on the shoulder and all hell breaks loose. I admire our stewards and my current role has allowed me to get to know a good few of them and they're all decent people.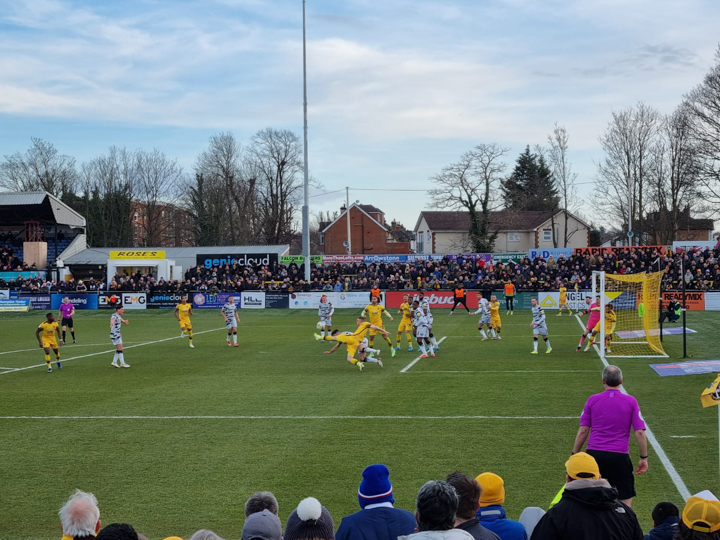 Last season when the club was looking for volunteers to help out under Covid, I offered my services and I suppose my previous experience was taken into account when I landed the front of car park role. Of course, it allowed me to be able to witness what so many other U's fans were deprived of and that was watching matches in person not on a laptop, etc. Doubling up during the game as a ball "boy", I think the average age of us ball retrievers was probably in the early sixties. At first the experience was surreal but one soon gets used to it and allowing a thousand or so into that historic Hartlepool match when it came was a shock to the system but a happy event for the fortunate few.
Having felt just a tad privileged to have witnessed an historic season where others could not, I agreed to continue this season and so my "home" Saturdays start when I leave my south coast environment at 915am returning home by around 630pm. The Sutton car park is nothing like the size of most of the clubs in League 2 and a strict permit operation is in place. If you're not on the list you ain't coming in; well, that's the idea anyway. I have had only one real issue this season and that with a former Sutton player (reserve team level no less) although I wouldn't necessarily disagree with what he described me as being – just the reason why.
The car park has been an issue for the club over a number of years. Prior to the opening of the Wimbledon to Sutton loop railway line, I doubt it was even there. Photos I have seen suggest the only access to what was at that time the 'Adult Ground' was via what we now know as The Rec side. There were no houses in front of the ground as there are now and no obvious GGL entrance. That access point is an issue for a start these days especially as the match grows nearer as motorised vehicles and pedestrians in the same area don't mix especially when some of said pedestrians seem oblivious to the fact that it is the entrance to the parking facility. Still, no real problems so far thanks to the constant "mind your backs" emanating from my orifice that must surely have become as fucking boring to hear as you are bored by now reading this pile of trash.
Still, I'll persevere! My first sight of the car park was as part of that huge queue for the Leeds (1970 version) FA Cup tickets and later my way to the entrance to the bar where as a 17 year old, I and a few others plotted our trip to the Anglo Italian Final in April 1979. I am not sure if I have mentioned before that I was in Chieti that wonderful afternoon? No, thought I hadn't.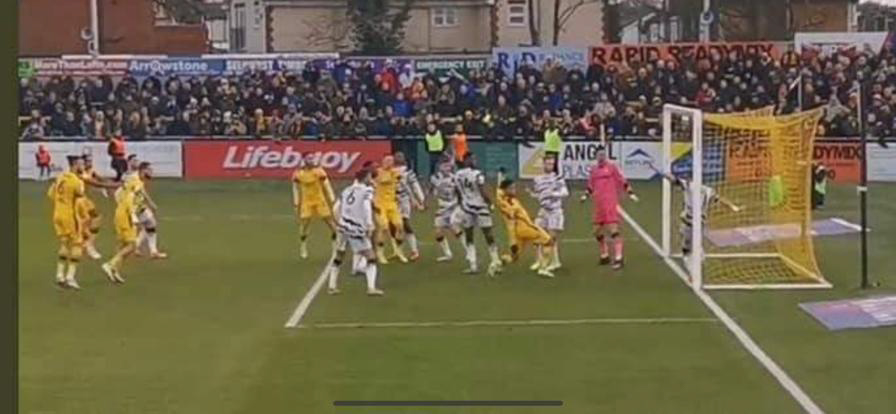 The car park hasn't always been used just for the parking of cars either. The first team used to have to train on it in the winter months as the U's infamously London clay based pitch couldn't handle two sessions and a match every week. They trained on the bottom end that was eventually closed in and hired out as a ball court. Ideal surface? Fuck off. Greasy from the oil left by vehicles and during autumn, one stretch covered in leaves that quickly turned to mulch. The Supporters' team used it too and it was dangerous, that I can say from experience. Not helped by the less gifted of those who attended those Wednesday night sessions and I came a cropper from a clumsy high challenge. As I headed towards the rock hard surface I stretched my arms out to avoid a head butting the concrete and felt the whole of my body weight surge through my wrists. They have never been the same since and my once polished performances in the Battling Tops (Look it up!) arena were no more. I suspect any other references to my wrist usage would be filed under the too much info category.
Before that in the early 70's, us handful of ball boys (yes more previous experience coming in handy during Covid) would play football out there with none other than PROWs celebrity sex symbol, Dirty Barry, in goal. Who knew back then he would later become a legend in his own lunchbox? Then, during the mid-80's the car park came under the spotlight when one of our blazered VP's complained he couldn't get a space when he arrived. As a result, a new system, somewhat authoritarian in its design, was introduced rather than pointing out to the what many would consider self-entitled moaner (not me, obviously), that consistently arriving fifteen minutes before kick-off might actually be the problem.
Being a largely dark, deserted spot of an evening, the GGL car park has also of course been the scene of the sort of heavy petting that local swimming baths wouldn't permit, although has yet to be included in the list of local dogging sites (according to DB anyway the last time I checked) and even less likely to be now the place is covered by CCTV.
In recent weeks with the road works situated right outside the GGL entrance access to the ground for visiting coaches has been a test of skill of the drivers and they all have passed with flying colours thankfully. Such was the test's popularity that one recent coach driver opted for no less three visits to the ground prior to kick off, another did two. I expect it to feature permanently in the Government's PVG examination before too long at this rate.
But I digress from yesterday's main event in EFL2, fourth hosting champions elect, Forest Green Rovers, they of the environmentally friendly persuasion (their team coach sounded very much like a bog standard diesel engine to me but I could be wrong and it could have just been very loud, electric one). The fact that The New Lawn is perched on the top of a hill in Nailsworth, a Gloucestershire town with no railway station, accessed by one road in and out that leaves your E10 (at best) petrol filled engines idling for ages as you head down the hill afterwards, making it the most polluted air in the area for an hour or so on alternative Saturday afternoons, wasn't lost on me. How about you? But then, I can be oh so petty at times. Still, there are plans for a new ground located close to the M5 – that's a motorway by the way.
Magnum PI was back on his own car park duty following a weekend off with the better, albeit football disliking, half at an upmarket (well, more upmarket than the one I live in) south coast resort. A dangerous decision in my experience, because once that smell of a Saturday afternoon 'doing stuff' is in their nostrils it's downhill all the way with regards football. Nip it in the bud if I were you. Where was Taz yesterday anyway? (Working sunshine! – Taz)
After my near four hour stint in the cold and often strong wind I headed to la curva for my vantage point at the back. Here, offers, in my expert opinion, the best view of the VBS pitch. My usual viewing company soon gathered including Coronation Man (see blog from a couple of years back, Halifax away?) who has avoided a certain sandwich filling ever since that day; just as well, as there was enough wind about already – I know, the oldies are the goodies. And the mob in charge round here advised me that sort of stuff goes down a treat with the audience.
Next was the DILF Bingo with Totts up from his new south coast residence (by the looks of twitter it's a pissheads paradise – can't think why he moved down there?) also in. The new Joker system was in place again and so far since its inception, only one player has picked it out. Yep. Me. Not that the chance of two picks has done me any good. I didn't win and there was more DILF management shenanigans when they tried to get double money out of me 'cos I had the two selections. It gets more bent every week I tell you.
Bouzanis, Kizzi, Wyatt, Smith, Goodliffe, John, Ajiboye, Davis, Bennett, Wilson, Randall. SUBS: Barden, Bugiel, Boldewijn, Nelson, Rowe, Beautyman, Korboa.
So no Easty, Tanto or Rob Milsom but Ali Smith was back and U's squad is such that the runaway leaders weren't just going to turn up and walk away with the points. No sir. U's had the wind advantage in the first half kicking towards the Collingwood Road end where 309 travelling fans massed, a marked rise in numbers from their previous Saturday visit in the FA Cup in 2016, late Roarie Deacon header followed by a confrontation with one of their less friendly fans, Coronation man the brunt of that almost skirmish.
In true tradition of Gandermonium blogs I won't dwell too much on the footy (as most people know, I don't like upsetting folk) but U's had the best of the first half but failed to take their chances before Kenny Davis stepped up to curl a fine free-kick into the top corner. Perhaps a little disappointed at only being one up at the break, U's knew they would be under the cosh in the second half but one fine save at full stretch by Dean Bouzanis was all FGR had to show before Cadden showed a touch of class to get past Joe Kizzi and his low cross was met by his opposite wing back, Kane Wilson with a sweet strike to level.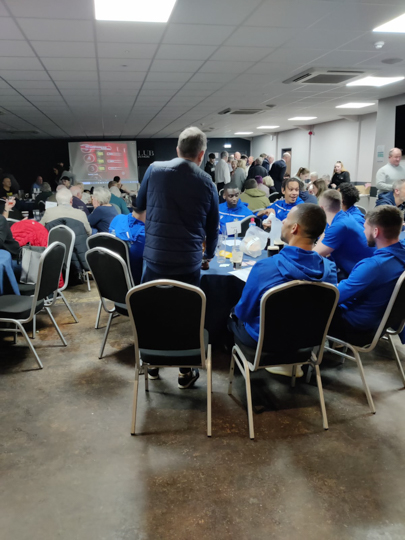 U's responded well and came close to a late winner, indeed, a photo of a goal line clearance suggests the ball was over the line but a very difficult pick for the ref without goal line technology. FGR had a late shout for a pen that the ref thankfully ignored and a point a piece it was. So 50 points from 30 matches (I would have taken that after 40 games tbh) and still in the playoff hunt or even higher. Another 3,000 plus crowd in the VBS entertained by two decent L2 sides in difficult conditions. Our suddenly much-maligned pitch will hopefully be back to its pristine best in a fortnight although I do wonder what some would have made of our previous "grass" pitch before the 3G went down. Back in the 1990's, David Seaman described it as the worst he had ever played on. We're nowhere near that at present.
Afterwards for me, is a quick chat with whoever, a thrown away comment here or there in the gents and then the drive back down the A24 to cook my Saturday slobs' "dinner" and try to make it to MoTD still awake. On the way back SUFCTV's Sol was on Five Live summarising the Chelsea World Club Cup Final, presumably from his living room. I am not sure he would have fancied a trip abroad or that the Beeb would shell out for it anyway.
Talking of abroad, have I ever mentioned…….?
Frakey