With the usual reprobates that frequent this blog to detail their adventures watching the mighty Sutton stuck back in that leafy hamlet known as the PROWS, I have offered to guest for the midweek trip to what the TV reports suggest is the only part of the Calder Valley not under water, i.e. The Shay, home of FC Halifax Town.
Rumour has it that Gandermonium, as a collective, are sitting as judge, jury and hopefully executioner as the PROWs trial of the century takes place with the architect, promoter and ringmaster of the infamous DILF Bingo, at last under scrutiny for alleged (that's a laugh) fraud. However, when they realise that I am the star witness for the prosecution and am on a train trying to avoid Coronavirus, the inevitable adjournment will drag this saga out even longer. Three years since that Aldershot match and I am still waiting for my pay out.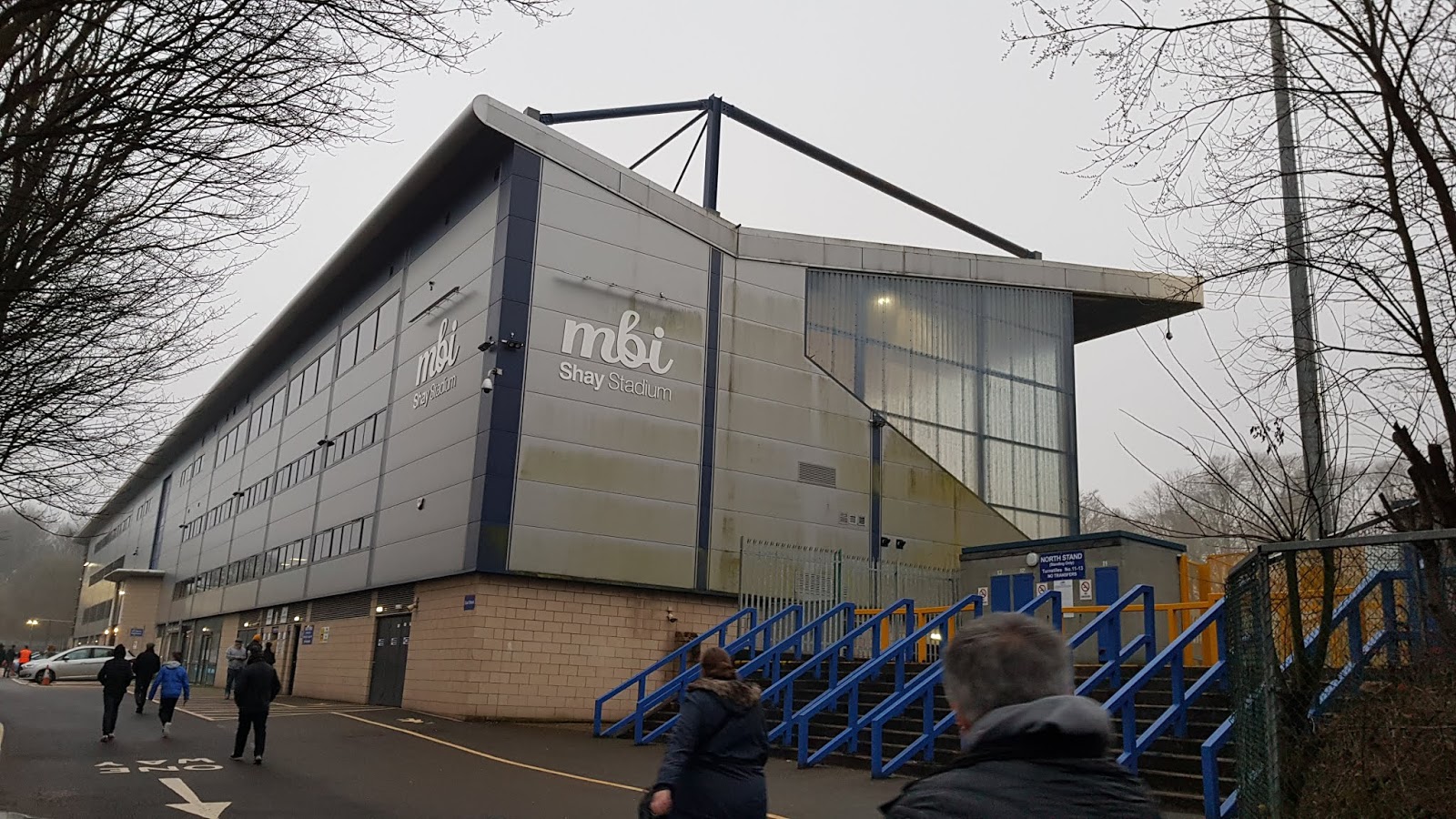 Destination
Halifax for a midweek trip (the second time in four years that this has happened) really tests the mettle of your average non-league fan. Not one to boast but I will anyway. Dukey's absence not only offers me the rare opportunity to chuck this shit together but, I think, in ending his run of not missing a match since something like 2009, means I may now hold that record. I last missed a match in December 2012 when Charlie Clough, recently voted as one of the centre backs in the SUFC 'team of the decade' on the forum, scored the only goal while wearing the colours of Dorchester Town. Sadly for Cloughie it was an oggy as U's won 1-0. If anyone else can beat that (my record not Cloughie's misfortune) please inform Gandermonium because, I quite frankly am not interested.
When I first started watching Sutton, trips up north were rare and generally confined to that fantastic competition, the Amateur Cup. Sadly, I only got to go to one and that was to Spennymoor when the 1974 Sutton team pulled off a shock and defeated the then, Northern League powerhouse by 2-0. This was the 70's and there was no way that the locals were going to let the Sutton fans off lightly as the southern upstarts, what I believe is commonly known as, shit housed their way to a win following a second half rear guard action that the surviving population of Stalingrad may have doffed their Commie caps too in mild acknowledgment. Firstly, one Sutton fan prevented one local -bedecked in Doc Martens and trousers the length of which would be popularised by teenyboppers of the time, The Bay City Rollers – from dowsing my mum with a bucket of water before the same fellow later put a brick through the coach window. Sadly for him, the coach was the one for the official party and was that belonging to a local company as SUFC had flown up for the match. I remember him being driven off sat in the back of a police mini-van that had a cage; it was akin to what they used to transport their dogs around in and I reckon the canines probably had stronger reading skills than this bloke bearing in mind the supporters' coach, emblazoned with 'Mitcham, London', sat just across the road.
Most midweek trips back then were local. Kingstonian, Tooting & Mitcham and Leatherhead. The wonderful Fetcham Grove as the mist rolled in off the River Mole and the dim floodlights (most amateur clubs' lights were of the same quality) hid its Spartan but charming delights. One particular recollection at the Grove was when Les Peck fired an equaliser past the home 'keeper high into the side of the goal. The ball flew through the inadequate netting and as said 'keeper hurried to take the goal kick that was given I was pressed into action by my mum. The fence around the pitch was such that I was able to slip under and head onto the pitch to grab the ball while my mum and others loudly pointed out the whole in the net. The ref came over, looked and gave a goal. My first assist. The best cheese roll I have ever eaten was at Leatherhead too around the same era and while Totts' memories of the venue are ones of the heart mine are of football and eating and fuck all has changed over the 40 odd years since.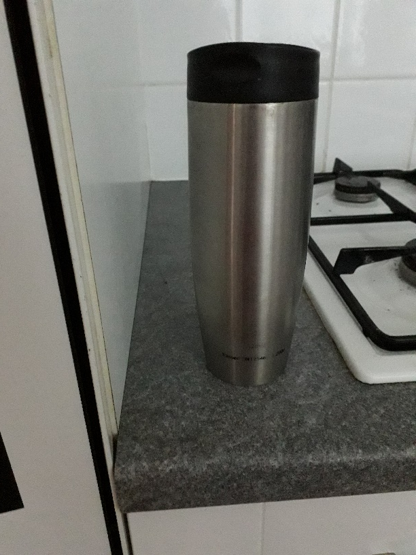 Lovely lovely tea
But I digress. This is meant to be a piece about U's latest National League fixture and while the above may have already had some heading for Haselmere or Hull in the hope at the very least of fourteen days self-isolation, be warned it ain't gonna improve.
The rattler from the south coast was on the blink on Tuesday morning and I had to leg it out the house pronto as the service I was going to get was delayed. Flask of tea was to the ready though. At the station I find my preferred option has been cancelled meaning taking a different but more picturesque route via Horsham but having to get to Kings Cross and its "change" seekers far too early for my liking.
The train up to Leeds and then the coach to the overnight venue all goes to plan as does the journey to Halifax. The road into Halifax gives a fine view of the Calder Valley and Halifax itself appears the sort of place where you could find a packet of Spangles, a Bar Six bar (so favoured by Totts) or bottle of OK sauce tucked away on a shelf in a corner shop somewhere. Old meets new and somehow gets away with it.
Arriving at the ground early I & my travelling companion opt for the Three Pigeons where I have a pint of Brunette and a chat with two more Sutton fans. Then it's back to the ground with the all-important programme purchased before hanging around outside until fifteen minutes before k.o. so I can vape my lungs away. If I get this virus thing I might be missing more than a fortnight's worth of fixtures.
Into the ground and by ko there is around 30 Sutton fans in the away section which is considerably more than I expected. A big high-five to you all. Gandermonium is represented by Mr X and Four Days and for the purposes of this crap, me. Apologies for the blurred image contained herein. I was shaking in anticipation of a thriller. Honest.
Beauts is added to the injury list and a rather different team lines up for the mighty Sutton, therefore a first start for young Callum Kealy and a return to the fold for Brad Pearce
Tzanev, Bolarinwa, Wyatt, Goodliffe, Rowe, Barden, Randall, Milsom, Bugiel, Kealy, Reid; subs: W Brown, Dundas, Ajiboye, Olaofe, Pearce,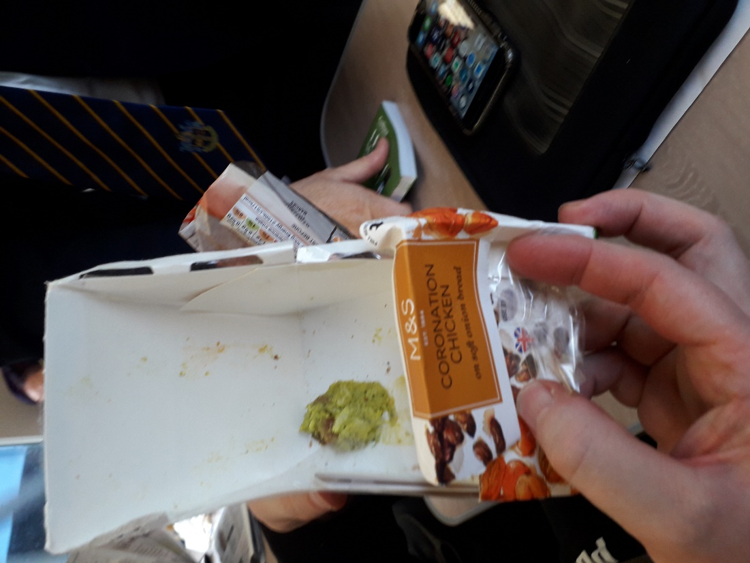 The source of a deadly infection…
A brief summary. Pitch sticky but better than probably expected, neither team really impressed but with U's missing so many players the team did pretty well while Halifax toiled and whilst making some decent openings either missed the target or found Nik in fine form once more.
Before their 88th minute penalty there was a couple of incidents that need noting. Firstly, home skipper Matty Brown who should have gone for flailing an arm into the face of Ben Goodliffe, shoving one Sutton player and then another even more forcibly all in the same incident. He and Jon Barden got a yellow as the animal that is a NL ref 'oop North stayed true to type. Later, sub Jamie Allen who livened up the Halifax forward line was seen to kick a Sutton player off the ball which even when I was refereeing on a Sunday morning was a red card offence. The officials completely ignored it. I cannot understand the level of total incompetence that appears to be a cornerstone of the NL officials' performance. Should be said that Brown is a fine defender so why he needs to resort to the stuff that he seems to do on a regular basis is a question only he can answer. Apparently, we adopted anti-football tactics at Halifax. So what is pro-football about Brown and Allen's actions?
The pen was a pen. End of.
So victory for the home side that may go some way to appease the moaning faction (which was most of the ground to be honest) of the home support. I do think when visiting northern football grounds the locals seem to watch an entirely different sport to what we, soft, southern bastards do. In 'Fax's case it is Rugby League of course. I think they get confused between the codes.
There had been a fair bit of abuse chucked across the "soft" segregation and when the penalty was converted a couple of the locals started giving it the big 'un. I decided that if we were to lose to a late pen and after travelling all that way too, I was gonna have some fun. So I walked over to the point of segregation and gave 'em a typical piece of Frake advice. For those unaware of this phenomenon, it includes the full extent of the dictionary where the words are followed by the annotation 'vulgar'. I will not reproduce them here as I know this a family friendly online publication and I would hate to drag the good name of Gandermonium down (any further). I think I may have made references to flooded housing at one stage but the memory is fuzzy and surely I am not so crass and juvenile to be so despicable. Erm.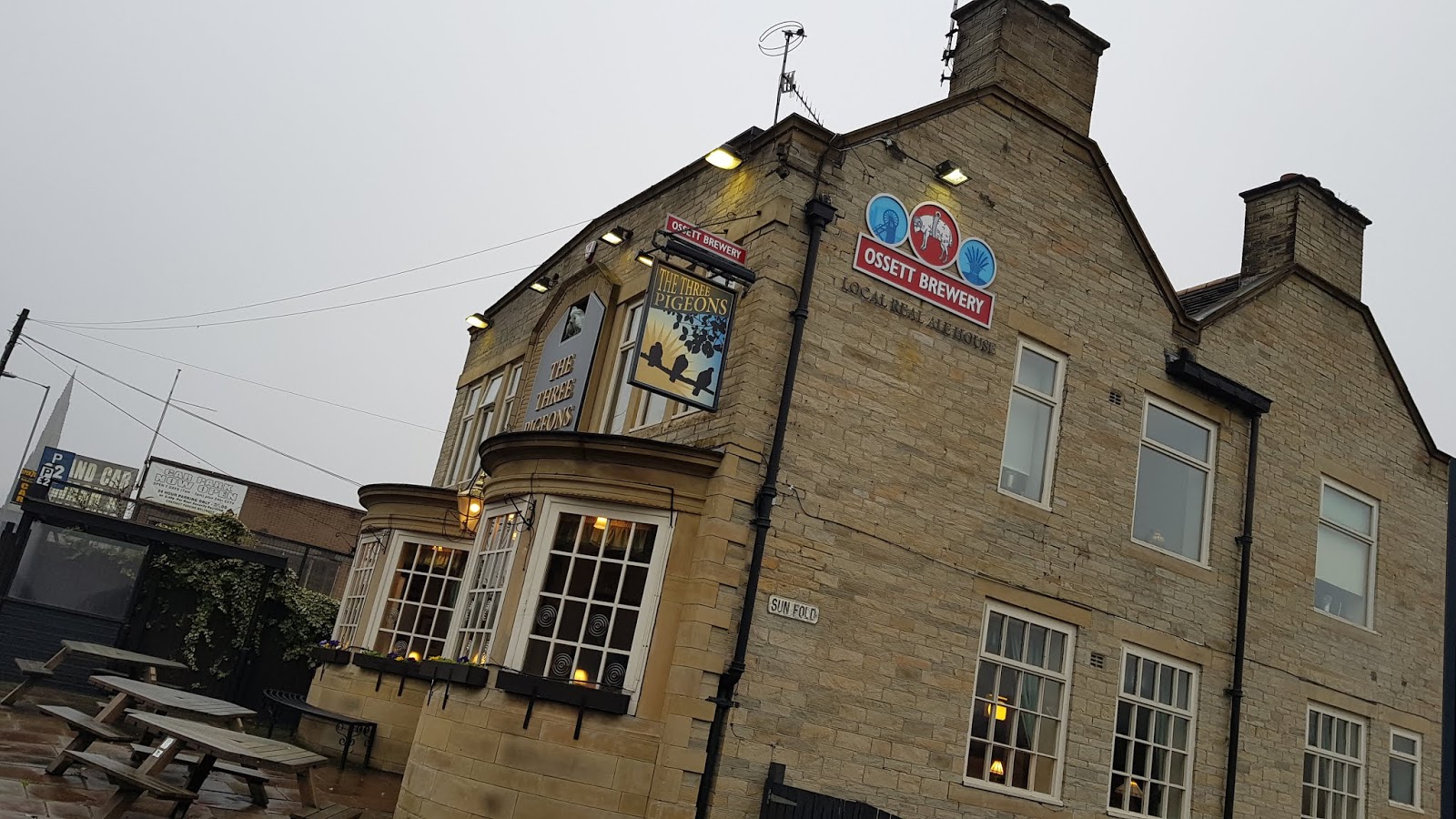 Pigeons!
A drink in the deserted hospitality bar after and then back to the overnight venue for Black Sheep Ale and a rather below par buffet. Midnight and my companion and soon to be roommate is giving me the eye. Now, I have known this fella for 50 years but we have never consummated our kinship and tonight was to be thwarted too (I should add neither of us is that way inclined).
Within seconds of entering the room my mate is saying he feels unwell. Straight to the bathroom, where by some odd design fault the loo is separated by a frosted glass panel from the shower. You could sit on the bog while you watched your roommate's silhouette shower. Possibly an erotic opportunity for some but not in this scenario. Poor guy is either on the pan or praying to it and such is the dire situation he finds himself in he has to spend all night in the bathroom punctuating the bouts of emptying of his poisoned guts one way or another by lying on the cramped floor. Not a great night. In rare moments where he is able, we eliminate the possible sources of this likely poisoning (no alcohol was taken by him) and I think it is a strong possibility it was the sandwich he had on the train coming up. Therefore he was victim of Coronation Virus and to be honest if the experts opinion is anything to go by I think I'd probably rather experience a mild dose of the other C thing.
Only the one "Sh" for me before a breakfast that is a marked improvement on the previous evening's offering and soon we're on a coach to Leeds station. All except Coronation Man who decides he will travel back later alone to isolate himself from the squad but also because he is in no fit state to travel at that time anyway. The first reason is a noble gesture that should be applauded by all, particularly considering the squad's mounting injury issues.
LNER's 'Azouma' manages to fuck up more than Virgin East Coast ever did by sending a five carriage train instead of a ten for our 10.15 ride home. Coach K that we should be in was, as in the great tradition of Thomas the Tank Engine's stories, having a strop elsewhere on the network. I get a table seat but am joined by two fellas who think the carriage is a/ their office and b/ their dining room as lunchtime approaches and one gets his veggie gear out while the other produces some evil-smelling concoction. Had my mate come with us, I dread the consequences of those two lunches appearing in such a confined space; reports of projectile vomiting and rampant incontinence would certainly have been on the menu. Poor sod.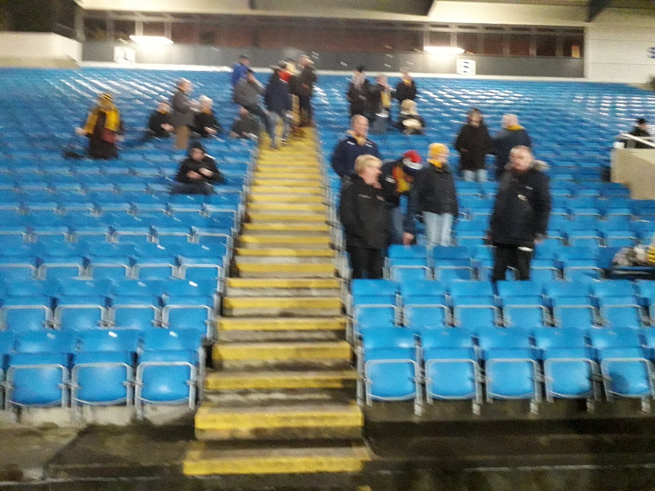 Papparazzi level stuff….
I eventually emerge from my local station at around 15.30 (that's half past three to you Mr Mainwaring types) and as has been the case for the last few months, it is pissing down and a good soaking ends yet another midweek away trip watching the U's. No points but a decent performance considering.
Frakey
Update. My mate got home without further incident apparently but relapsed immediately he walked in the door. My thoughts are with him. Yours, reader(s), should be too.