Finally, our second win of 2020 has arrived. And what better place to have it but at Hayes Lane, home of Cray Wanderers Bromley. And if you thought that recently was a so so run of form for us, then you only have to look over to these Kent boys to find some real bad form as Bromley were currently on one solitary point gained over the last seven matches. Form worse than Chorley, fact.
One issue with a trip to Bromley is not only that is a right ball ache to get to as trips across London are more hassle than heading into the centre of town, but these days, they seem to segregate the away support down the side of the ground with no cover to speak of. Not good with the current spate of recent weather fronts that only seem to appear at the weekends like a part-time Saturday pimpled bozo in B&Q.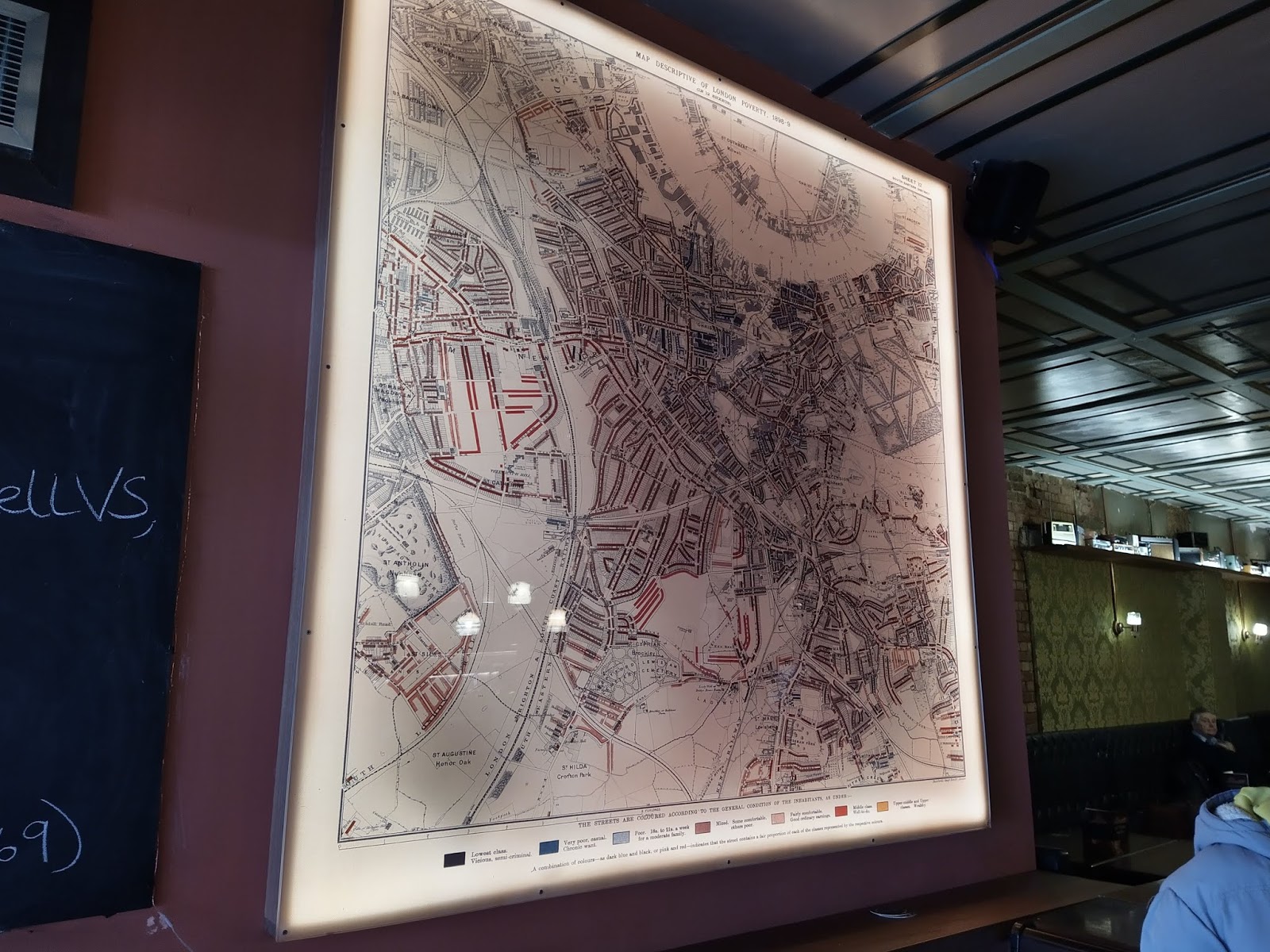 Map porn…
By the time the weekend had arrived, the hope was that the weather services were once again wrong and the rain would not be constant throughout the day. The pitch wasn't the issue of course, as Brom are also users of a bit of the old Fred Gee, but we could really do without getting soaked. Another change of our usual plan was that instead of drinking in Bromley South or even Bromley North we decide to try something completely different. Hello Lewisham! Yes, Lewisham.
It's the 0949hrs for me from the Badlands of Carshalton as the Duchess drops me off next to Taz marching up the hill as he arrives on time for the train. Not far behind us is 4 Days & Lil' Chris who also fancied a spot of non-league pre-match drinking action. The train arrives and already seated are Dr Bell & Indiana Jones. We're due to change at Tulse Hill and have nine minutes before our train arrives. Simple job.
The problem is that before we've even arrived at Mitcham Eastfields, the train comes to a complete halt. A minute later and the driver comes onto the mic to announce that there are trespassers up ahead, with the sort of enthusiasm that your average Corinthian Casuals supporter has for Kingstonian, and we must wait. By the time we get to Mitcham and the five police cars that surround the level crossing, bit strong for what seems like one young fella being arrested, we know that we're in danger of not making our next change.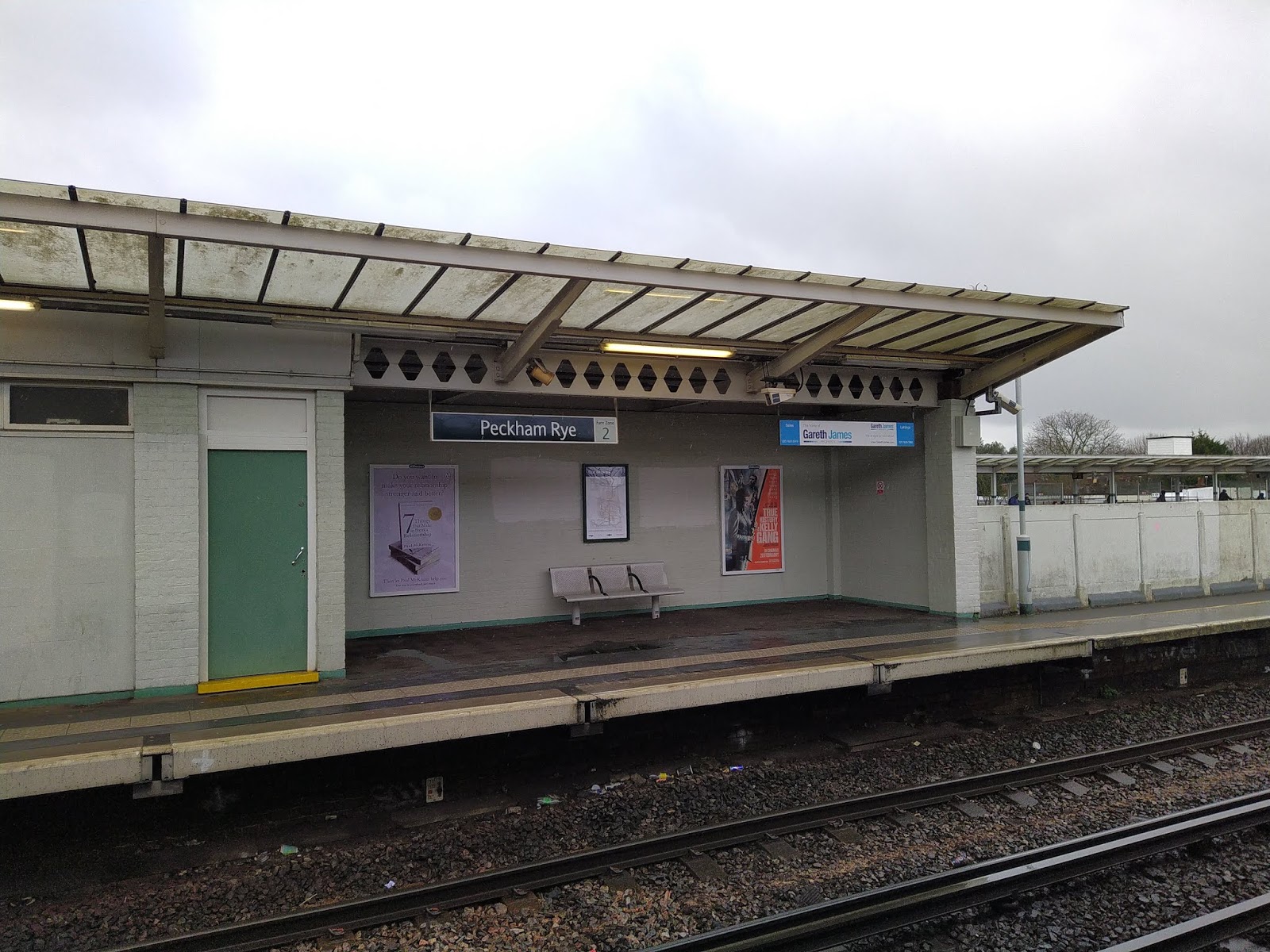 One of many changes today…
Of course we arrive at Tulse Hill when our connection had left the minute before. The wait is quarter of an hour and then we realise that Mr X is not hiding at the front of our train and is a bit MIA. Could he be missing his first match of the season? Obviously not as he's soon clocked coming over the bridge having taking the Loop the other way round. Not looking his best, he never does, he claims to have suffered from a bad back for most of the week. Showing the sort of concern that Gandermonium always shows to it's wounded members, we don't believe him and dig deeper to find out that he was also out on the piss the night before in the fleshpots of Clapham Junction. Hungover as well are we Mr X?
As the rain starts to hammer down, the next train arrives and it's off to Peckham Rye where we change one again. Last time we changed here was when we were heading to Dartford. Also this was where Dr Bell decided to not be like the rest of us and get the extension to Dartford and try his luck with only a Travelcard, so we left him behind. What a plonker! No need to worry here today as it's Travelcard zones all the way. It's meant to only be two stops to Lewisham from here but Mr X thinks it's only one as he gets off at the next stop. Except that's of course Nunhead and not Lewisham. What another plonker!
The train pulls into Lewisham and here we're greeted by a couple
of the Welling fans that we know who already knew that their home match was postponed
against Havant so had headed out for some pints. The first pub we're taken to is one of those real poncy 'cafe' type places that does beer. The "Vinothec Social" is a spot right outside of the station and as
the rain is coming down at this point is a welcome respite. Not really my sort
of place as all the people inside appear to be eating breakfast and not drinking. Rusty Russell of Welling fame would order two beers that came to an
eye-watering £12.50 odd and would have to use his card as apparently they don't
accept physical currency of the realm. What the fuck? I thought the centre of town was expensive. Lewisham has changed somewhat I can tell you.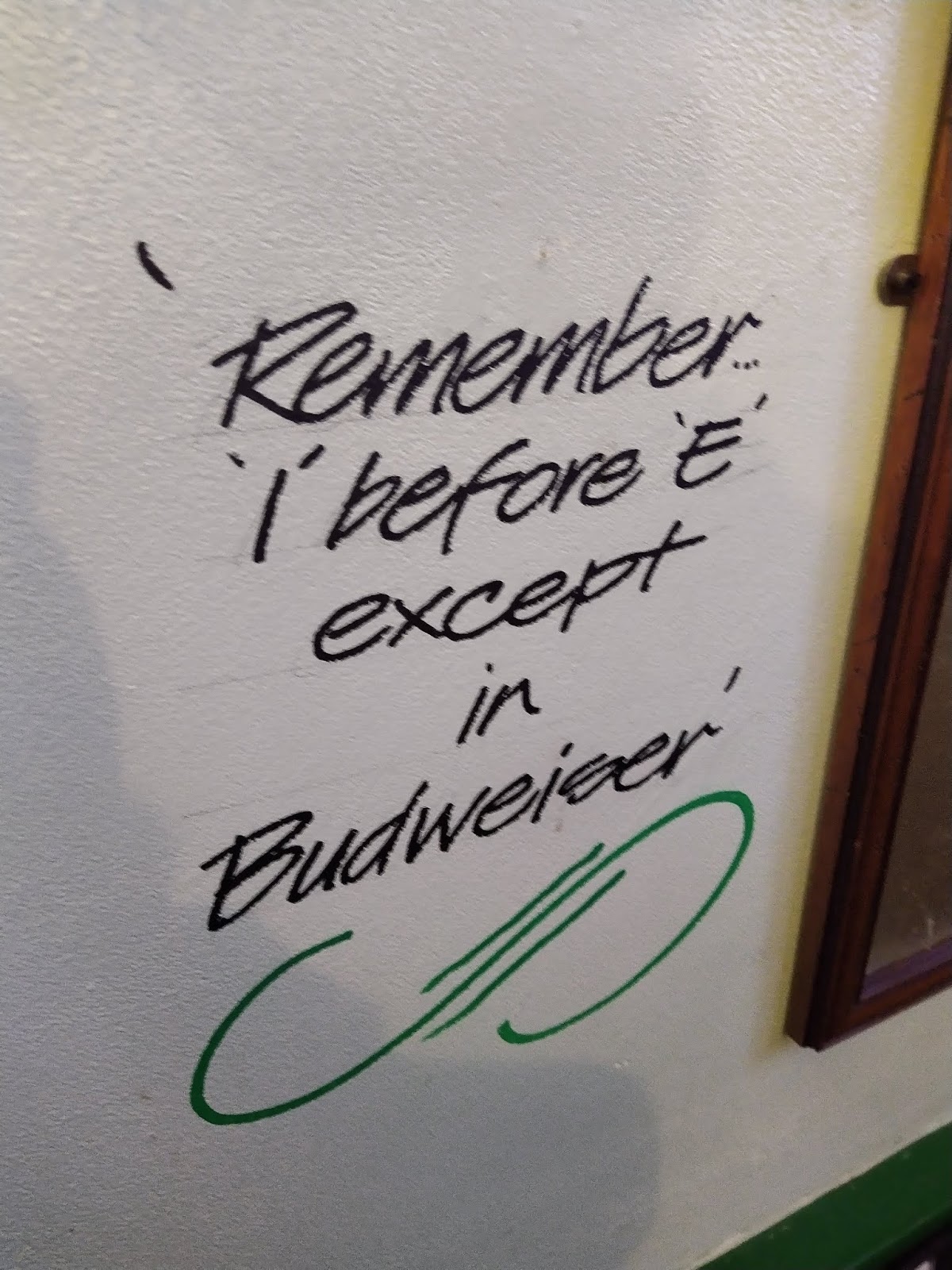 True dat…
By the time we've necked the beer it's off to pastures new and
something a little more Gandermonium shall we say. Next on the list is "The Joiners Arms"
which is quite obviously an Irish pub all decked out in green and filed with
various Green Isle fare. The only things missing is a signed autograph of Lonnie
Donegan on tthe wall and a couple of plastic harps.
We're ticking off the pubs now as we then head over the road to
the pub apparently the whole reason for this drink up in Lewisham. "Suttons
Radio", how apt, is an Antics place with everything stripped back to the walls
and a whole treasure trove of old-style radios that would be a wet dream for
our own Chairman Totts. Pride of place is a large map of the area created at
the turn of the century that comments on the poverty levels at that time and this gets us all interested as we love a good map.
Time is starting to catch up on us and next on the list is a haunt
that the Old Firkin Boys once did many moons ago. "The Fox & Firkin" is a
pub that appears to be set-up to cater for gigs as there is a large stage at the back and various adverts for something called Deptford Dub.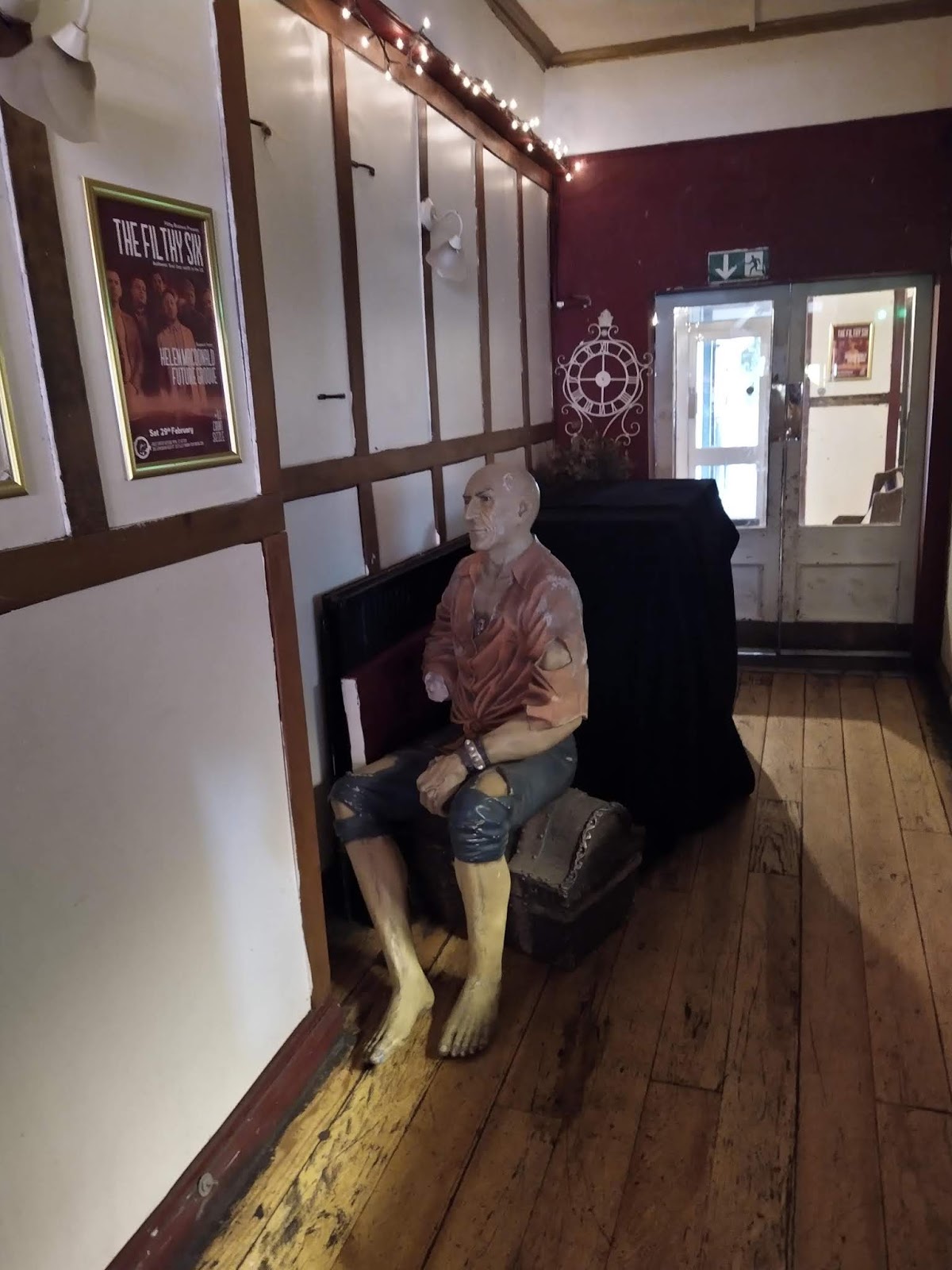 Been here long?
Now it's time to head to the station and Ladywell appears to be the best option. Saying goodbye to Rusty, our train trundles down the line as a heated argument begins with several members of the Firm arguing about a visit to Beckenham Cricket Cluba few years back. Dr Bell would claim he was there with Taz & Mr X, but he disagreed considering that he's only been there once and not with the Doc.

We roll into Hayes, and head across the road to "The Real Ale Way" where we all have to use the solitary toilet. Time to rustle up some sherbets to take us to the ground. And surprisingly both actually turned up for once! Shock, Horror! The weather also appeared to be in our favour as we journey down Hayes Lane with the sub breaking through the clouds.

We're dumped halfway towards the ground and have to walk the rest of the way up the drive. It's £18 entrance fee for me after I'm patted down by the ever attentive security guards. Time for some grub for one or two of us as we await the start of the match. With the obvious exemption of Wright, another surprise is that John has also become the latest member to join the injury list and a second start is given to Coby Rowe.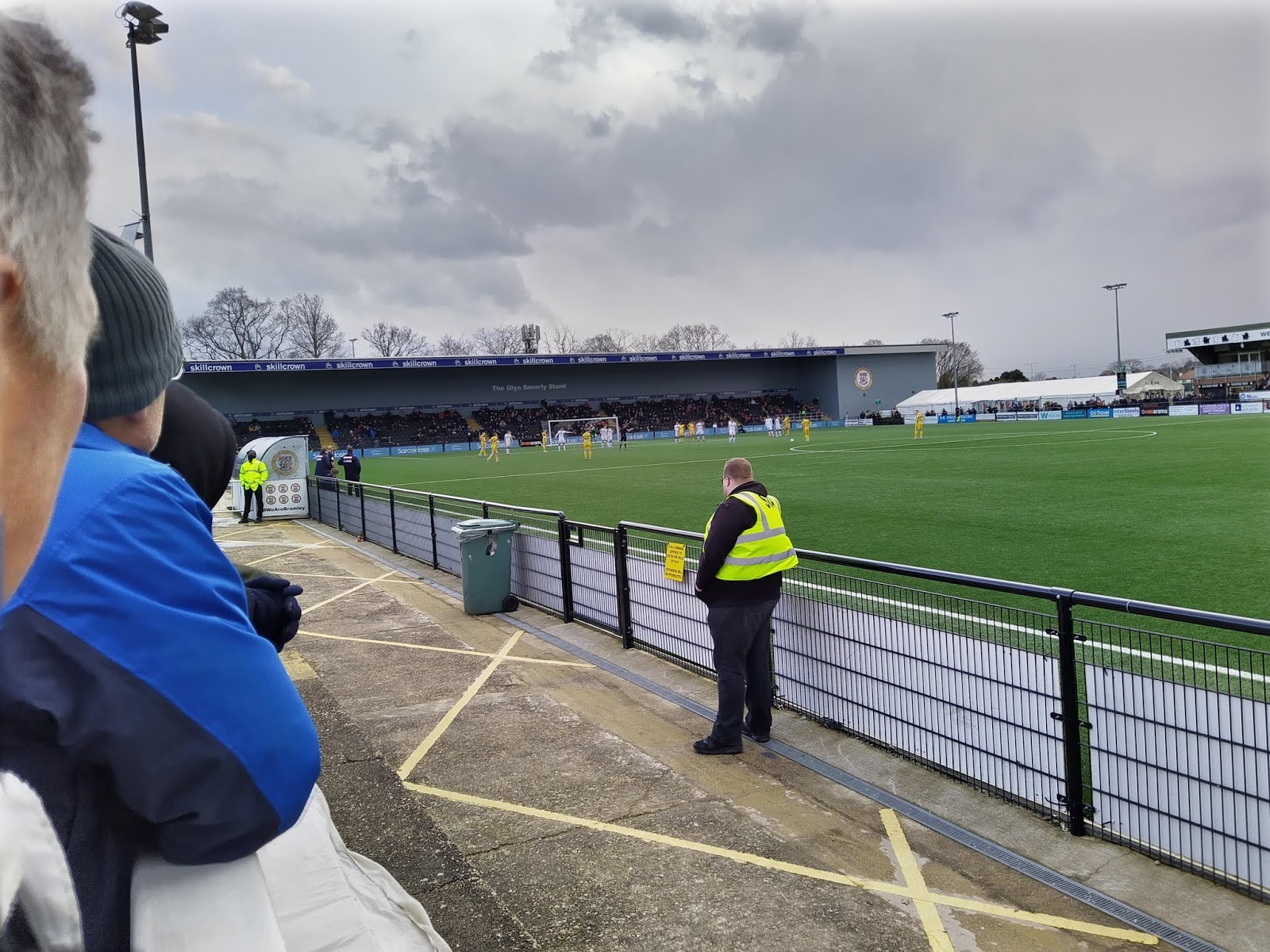 Action, over there, somewhere…
Tzanev, Barden,
Goodliffe, Bugiel, Beautyman, Rowe, Ajiboye, Randall, Wyatt, Milsom, Olaofe.
Bench Warmers: Bolarinwa, Dundas, Brown, Kealy, Reid.
With the wind coming straight
towards us in the corner of the ground, you knew Sutton would be under a bit of
pressure defending that end as Bromley started very brightly. Several times they would get a
dangerous ball into the box. Sutton might've been able to manage to deal with
the initial threat but they would leave space inside the penalty area for
Bromley players to take pot shots at goal.
Within the first quarter of an
hour, Bromley had several great chances to take the lead. The first one had the
Sutton centre backs fail to deal with a through ball that had a one on one that
should've ended with a goal were it not for some fine work by Tzanev. Minutes
later and he had to deny Cheek, who usually scores against us, with a well
worked block. By this point plenty of Sutton fans would've been happy to go in
at half time a goal down with the sort of pressure that Bromley applied. Not
that it seem to bother a group of Bromley kids behind the goal who felt the
need for their attendance was to only antagonise the away support and stood staring at us rather than watch what was going on out on the pitch.
But out of nowhere Sutton take
the lead. In a rare attack, Randall would get the ball down the right and cut
it back to Bugiel who would slot the ball past the Bromley keeper into
the back of the net. 1-0! Get in! We may have had a half chance
soon after that but it was more of Bromley putting on the pressure. On this display,
you couldn't understand how their form is so bad at the moment.
The reset of the half had Bromley trying to get themselves back
into the match whilst both sets of fans found it more interesting to trade
songs and comments between them. The final chance of the half fell to Bromley as
another shot was well held by Tzanev and Sutton could breathe when the half
time whistle final went about so late we'd already played four minutes over before
the announcement that there would be another four minutes of added time.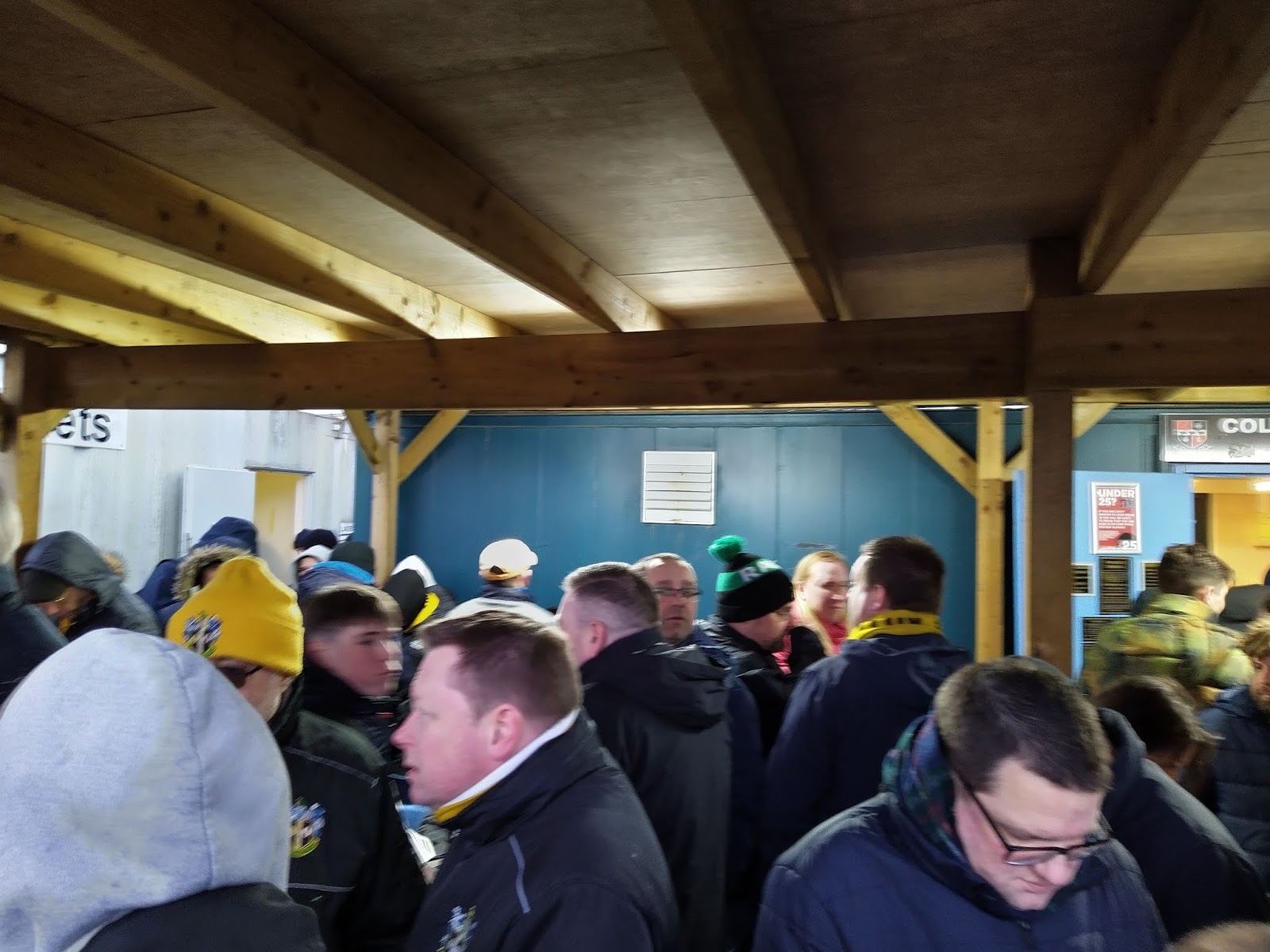 Hordes…
We send Dr Bell off to do the
half time round and the options are clear: Fosters, Fosters or Fosters. Fosters
it is then. Just about here the rain starts to come down heavy once again, along with a proper old wind, so everyone
had to find shelter where they could as several of the travelling faithful find
cover by using the turnstiles themselves. The Sutton fans that I spoke to were pretty
happy with the result if not the performance so far.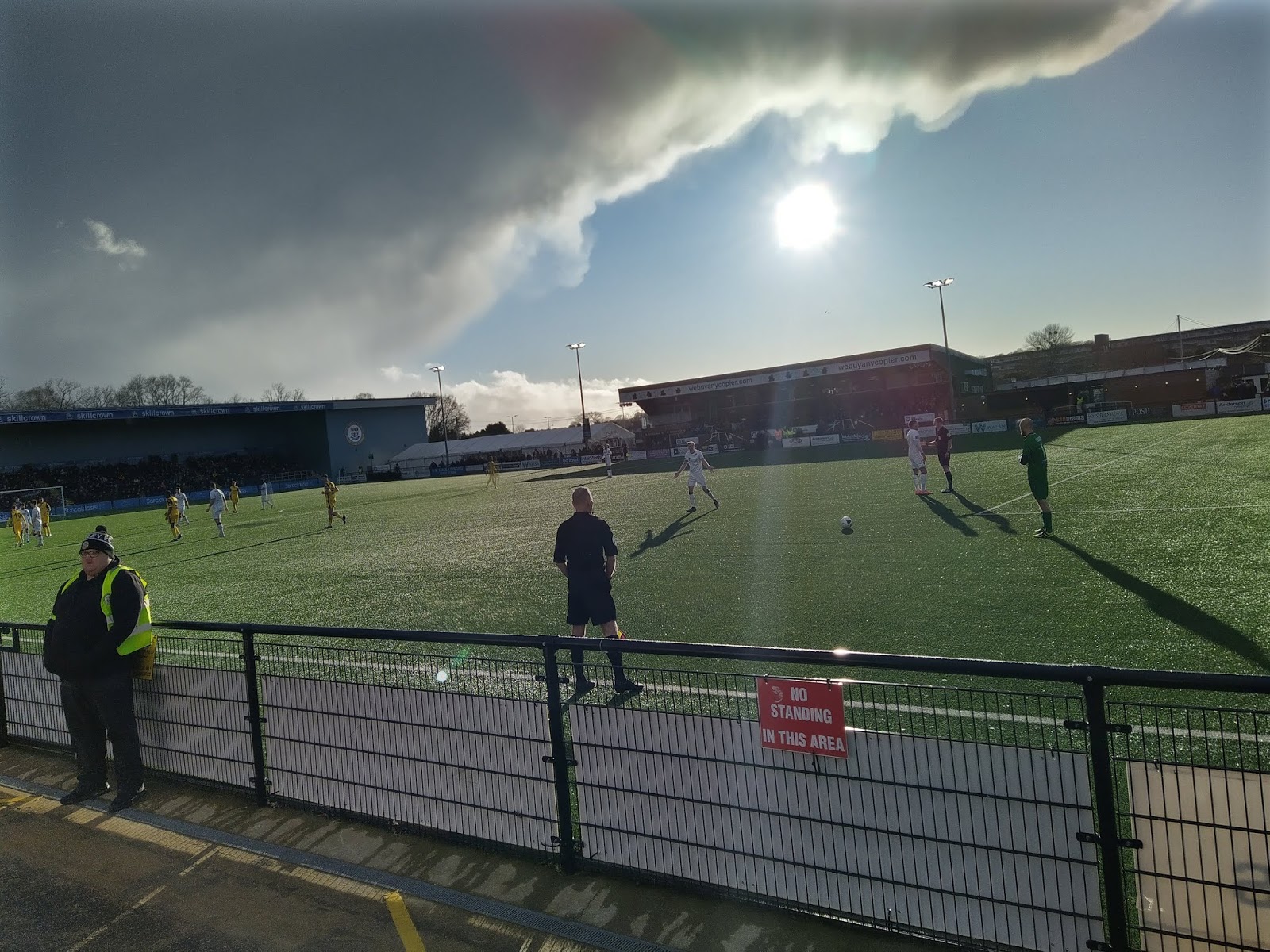 Here comes the sun…
The Second half had Sutton attacking
towards our end. There was not much happening for the first few minutes. When
Bromley decided to make a change ten minutes in, Dr Bell would comment that it
was their third substitution already as they had made two at half time. I
didn't seem to give it much thought until later on when Bromley were getting another
substitute ready, "are you sure they made two subs at half time Dr
Bell?", by the time they made the third, all credibility for what Dr Bell
had said had gone. My fault for listing to the old boy in the first place really, how would he
know? He was getting the half time round in!
For the man in the middle and
his linesmen, it was a torrid match as both sets of fans would feel aggrieved because
of several iffy decisions. The benches would also get involved and several times the
match would be stopped for a needless talking to as the fourth official would
grass up anyone within earshot. Alan Dunne, one of Robbo's favourite people
apparently after his comments at the home match, would even get his marching
order on the hour mark for whatever he was heard to have said.
Back on the pitch and it was
not much different as the Bromley players would eventually receive six yellow
card between them, mostly for moaning. Sutton would only somehow get away with only two. But I did
think that Goodliffe was a little lucky to get away with only a yellow as it
could've been a red. The same would've been said for the Bromley yellow after
bring down Dundas as he broke away, a substitution for Olaofe with a quarter of an hour to go.
The final minutes of the match would see Bromley continue to throw
everything at the Sutton goal including the kitchen sink. But with my personal
Man of the Match Tzanev stopping everything he could and the defenders in front
of him throwing their bodies on the line, even after their personal mistakes, Bromley
couldn't find a way through. Wayne Brown would even make an appearance as he
replaced Ajiboye inside the six minutes of added time.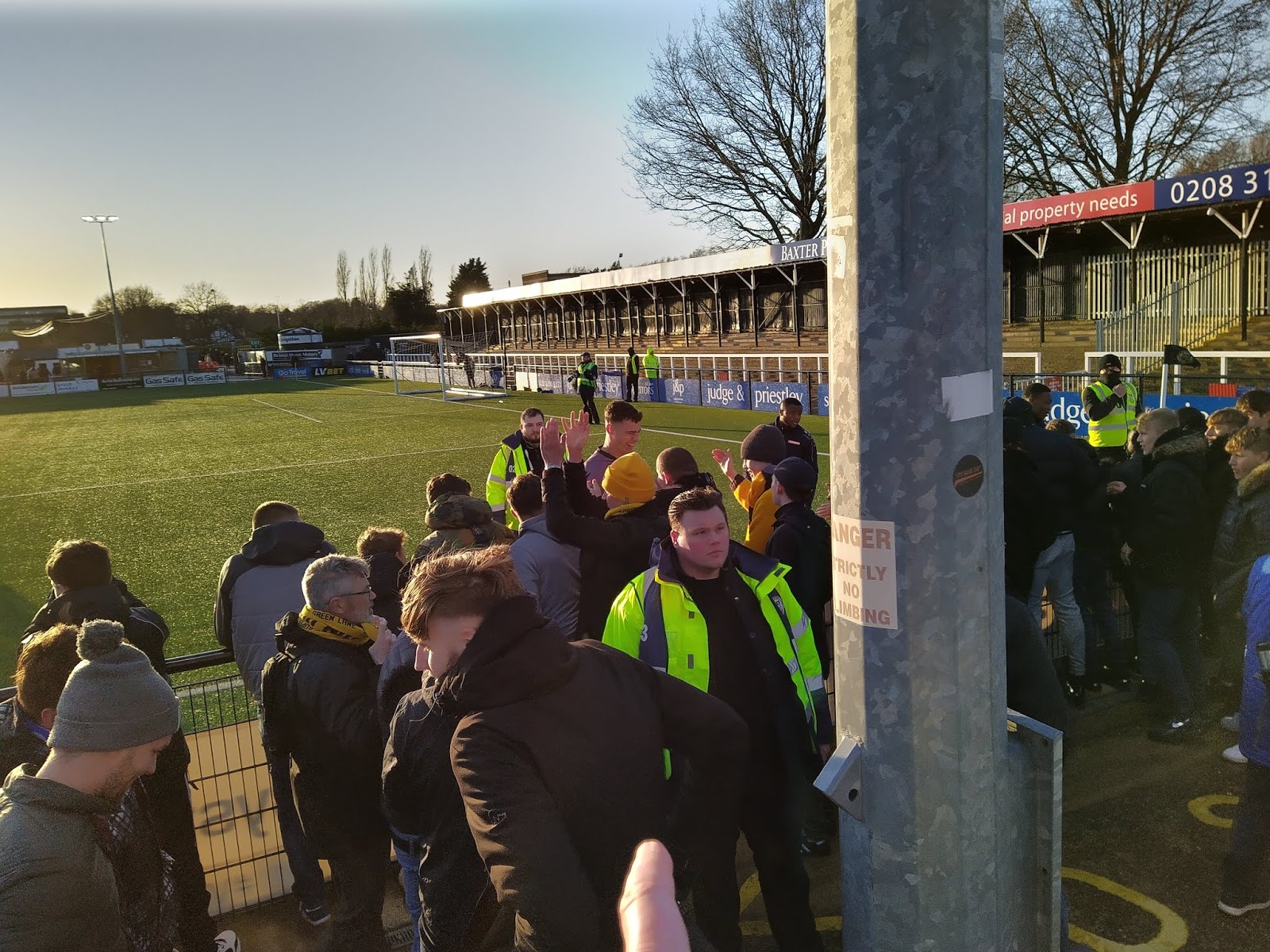 Celebrate…
After the match, and once the
boys had shared in our appreciation of them, it's time to head towards the
station. It was possible that like last time we were here on a Saturday, we probably wouldn't have been able to have a cheeky one in the 'Spoons. And
anyway, it was a proper Smash & Grab by Sutton, so you didn't want to hang
around too long. There's other boozers elsewhere.
By the time we'd reached the station via an alleyway that we'd
never noticed before, the police were out in force with a random road closure
near the station. Why it was closed, I haven't a fuckin' clue. There were
plenty of Stone Island kids doing their best impressions of how to stand sixty
yards away from any trouble as our train arrived to take us back to Herne Hill.
"The Commercial" is the pub opposite the station and we all pile
into there for another couple of beers. Saying goodbye to members of the
PWoS/COCs/DBDC the rest of us settle down to watch what would end up being an
entertaining match of the telly as Watford do what no team could do all season
against Liverpool. You gotta love the British mentality of not liking anyone
who wins everything, and rooting for the underdog.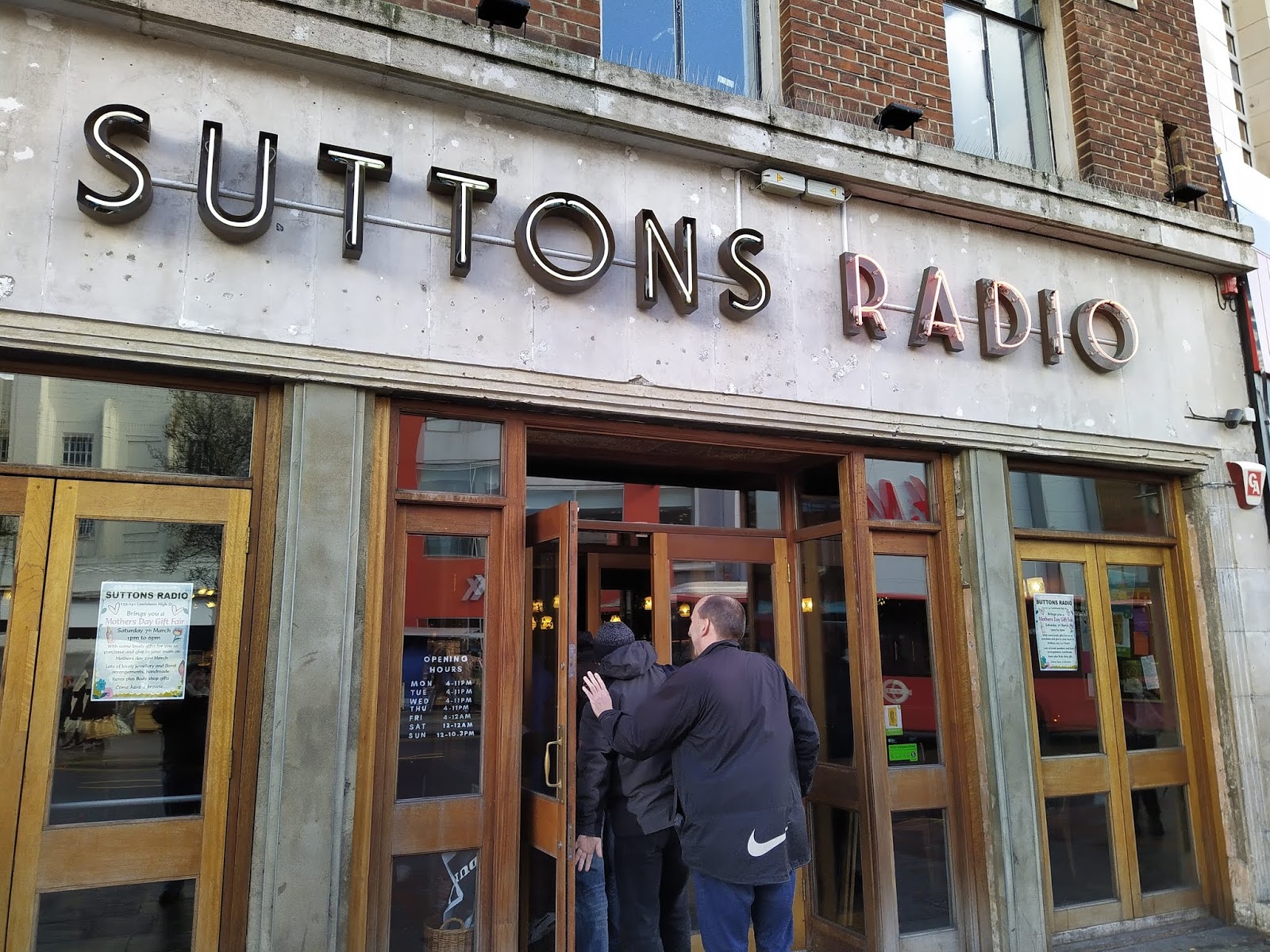 Actually contains radios…
We finally make a decision to head back to Sutton and work out that
the best train for us to get is 1950hrs. On the train and the drunken debates continue with not only a lengthy random conversation about Gary Glitter, but also about the Dr Bell once again and some of the shit he'd been up to today. Nothing naughty mind you, just Dr Bell stuff.
The train arrives back at base
in Sutton and it's time to say Au revoir, Adiós & Auf Wiedersehen, or just
plain fuck off to Mr X as he calls time on today's adventure with his back
flaring up something rotten, he remains on the train round the Loop home. For
the rest of us, it's off towards O'Neill's for a couple more libations.
Spotting a couple of the COCs in The Old Bank on the way through. we also come
across a few of the Sutton Yoof & The B-Team. O'Neill's is dead as a dildo dodo
so there's plenty of room to find some tables to rest our weary bones.
We were to only have a couple
more pints here, but there was still time for varying conversations about not
only how come 'Wreck-It' Beckett can mange to get a video of himself doing a
spot of karaoke after a match in Barrow several years ago up on his phone in three
seconds flat, yet ask him for something a bit more dirtier and he's there for about
five minutes trying to find it. Weird that boy, very weird. This would
also lead to one of those very thought provoking questions that scholars from
over the globe have struggled with since the dawn of time. "Would you
answer your phone during sex?". Thank you once again Dr Bell.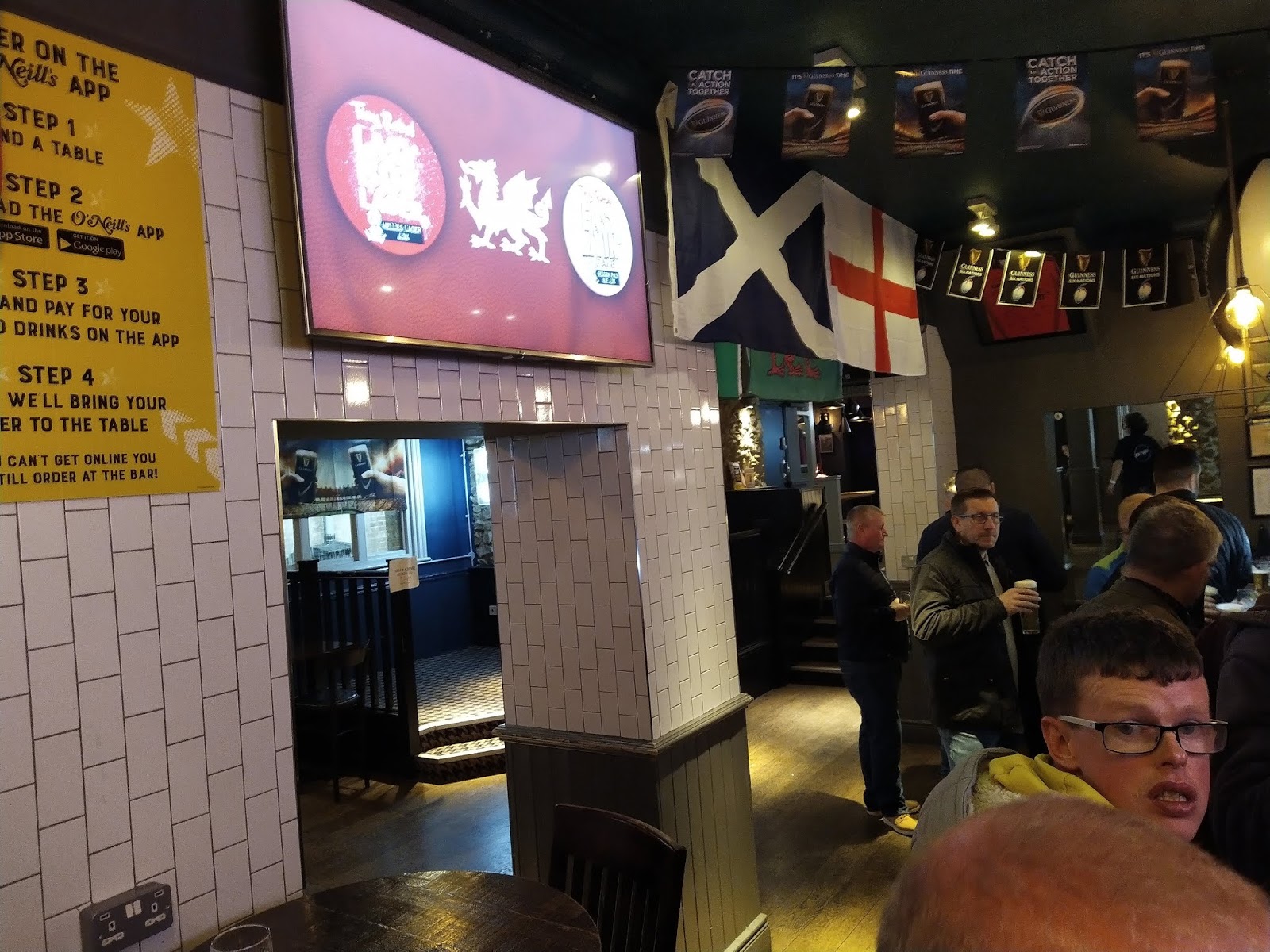 O'Neill's on a Saturday night…
So after the win today, Sutton
are currently sitting 15th in the table. Eight points off the play offs, but
more importantly ten points clear from third bottom. We're due to play up at
Halifax this coming Tuesday night, and I believe that the Northern version of egg chasing was played today at The Shay, so that do the pitch a world of good.
If that match doesn't happen for whatever reason, not only will my run of not missing a game continue but then next up is a run of home
matches that might see us claw further way from the dreaded drop zone. Especially if we can put Flid away on that Tuesday night. But that is a tale for another time. Enjoy!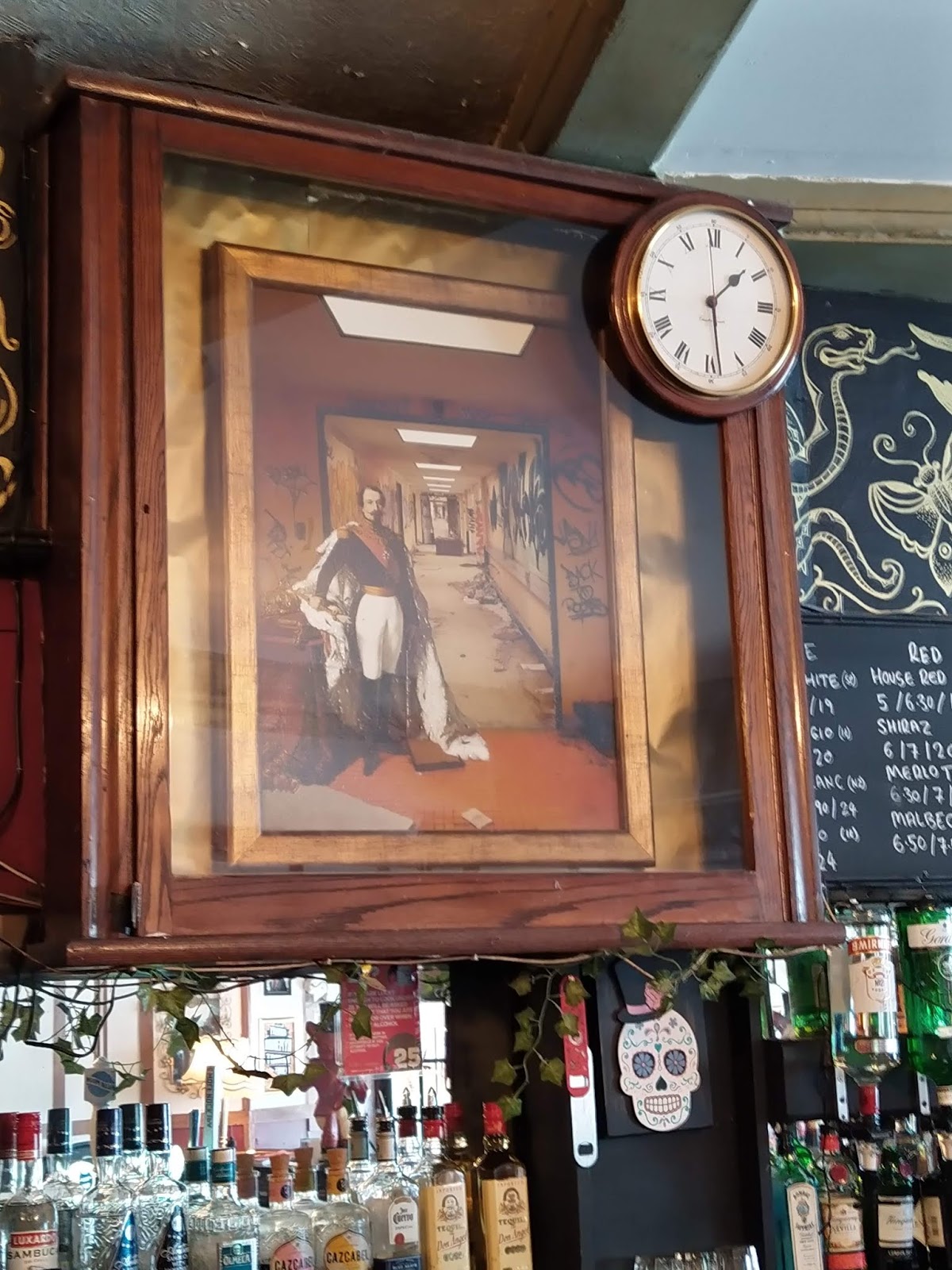 Don't get many Napoleon III pictures theses days…
Duke
Att. 1909