For many years now, we've had to put up with regularly having the tales of our silly adventures 'Top Trumped' by some of the older heads amongst the U's support with the refrain "Yeah, but it wasn't Italy for the Anglo-Italian Cup was it?". The bastards. Naturally, since we started doing this tosh again, we've been trying almost as long to get them to put some of this down in writing. That way, if nothing else, we can get some hits off these lurid tales. Finally, thanks to Covid-19, it's happened.
So without further ado, we'll hand you over to your guide on this little journey. One Mr F. Frake Esq…..
Before I commence my rambles on one of SUFC's finest hours, a polite message to whoever 'AmberSUFC' is. Please don't go on the Halifax forum and post a link to this blog. One guy on that social media outlet of reason, after reading my recent Halifax piece, accused me of 'self-indulgence'. So fuck knows what he would make of this.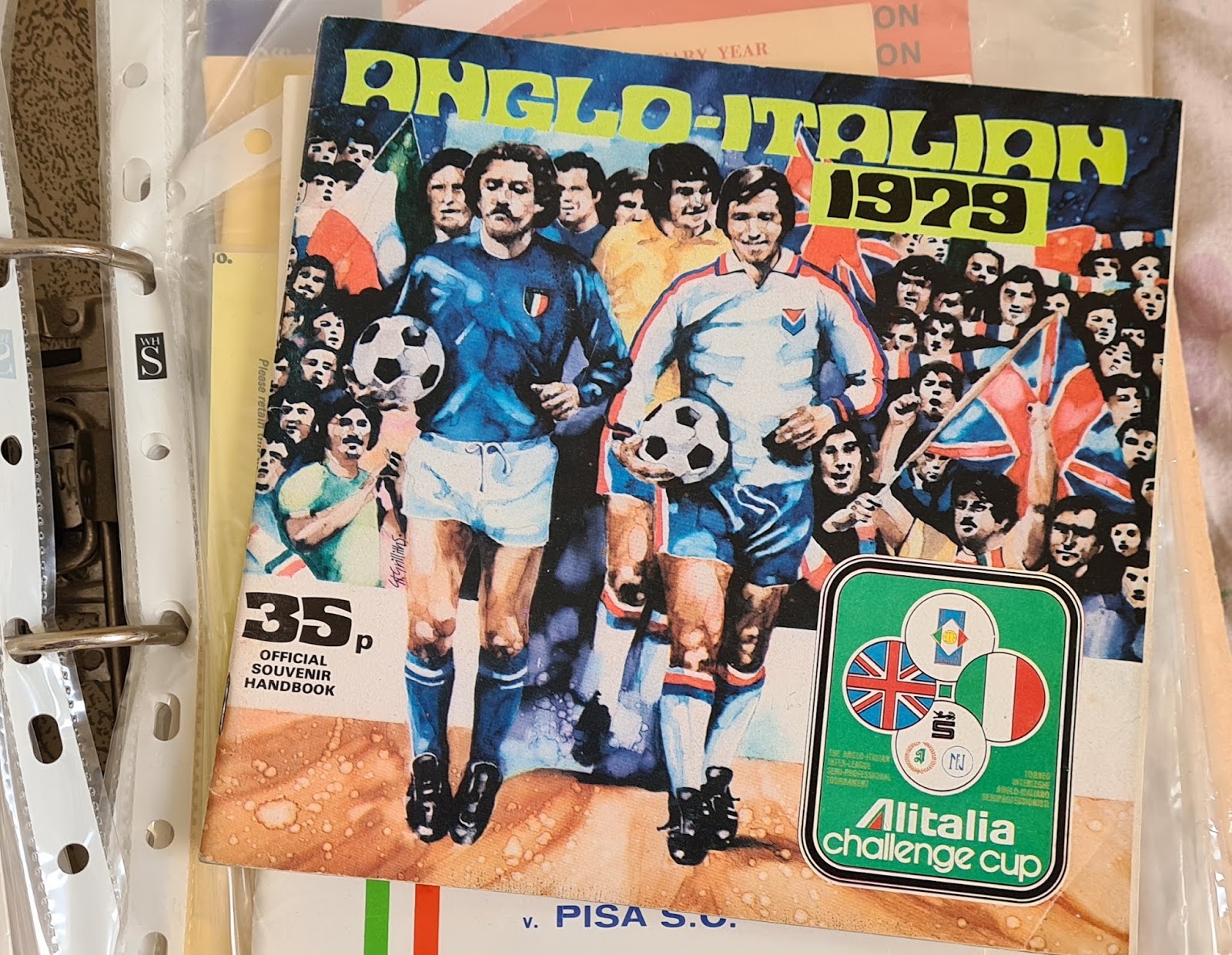 History in the making, 1979 style…
March 1979. Your writer is about to leave school, but has one final pressing examination to pass before entering the big wide world of work while still unable to drink legally in a pub. Inflation is running high and would continue to grow and PM Jim Callaghan was a few weeks away from getting booted out of no 10 following the "Winter of Discontent". The number one slot in what was once known as the "Hit Parade" was Gloria Gaynor with, appropriately for then and also these current times, "I Will Survive".
The vast majority of my sixth and final year at secondary school had been concentrated on the spring theatrical production (to the point I failed all my O-level retakes – a fact that I suspect will surprise no one) which was traditionally a musical. In the past, shows had included Orpheus and the Underworld (no idea, sorry) and the Dracula Spectacular. The previous year it had been Oliver!, in which I had doubled up in a couple of minor roles. I had always fancied a bit of thespianism (even secured the lead role in my last year at infants' school) and having seen great potential in my performance as part of Fagin's Gang, the director, a wonderful lady English teacher, approached me to take on the big role for the 1979 extravaganza.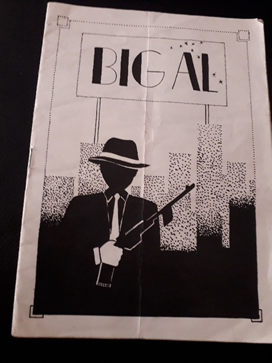 Definitely 'Off Broadway'….
So it was I landed the part as Al Capone in the production, 'Big Al'. And there lay the first obstacle. I was probably one of the shortest boys in the school. There were a couple of first years that towered over me, so pulling this off wasn't going to be exactly a doddle. Then there was the other major issue. I can't sing. And this part was very much a singing one, as you'd expect from a musical. No hiding in the chorus here as there was a number of solo efforts required. And when I mean I can't sing, I mean it, such as failing to make the school choir in the last year of junior school which, let's face it, is a rather damning rejection at the age of eleven. In fact I was/am to singing what Covid-19 is to good health, social structure and global financial calm. A fucking disaster.
One of the added benefits to landing the role however was that I suddenly had become attractive to the opposite sex. They weren't exactly forming queues of the like currently seen outside supermarkets across the land, but I did have a couple of flings out of it. All respectable stuff though. Back then I had a moral compass that in terms of the female body rather tended to point north and not south. As did they.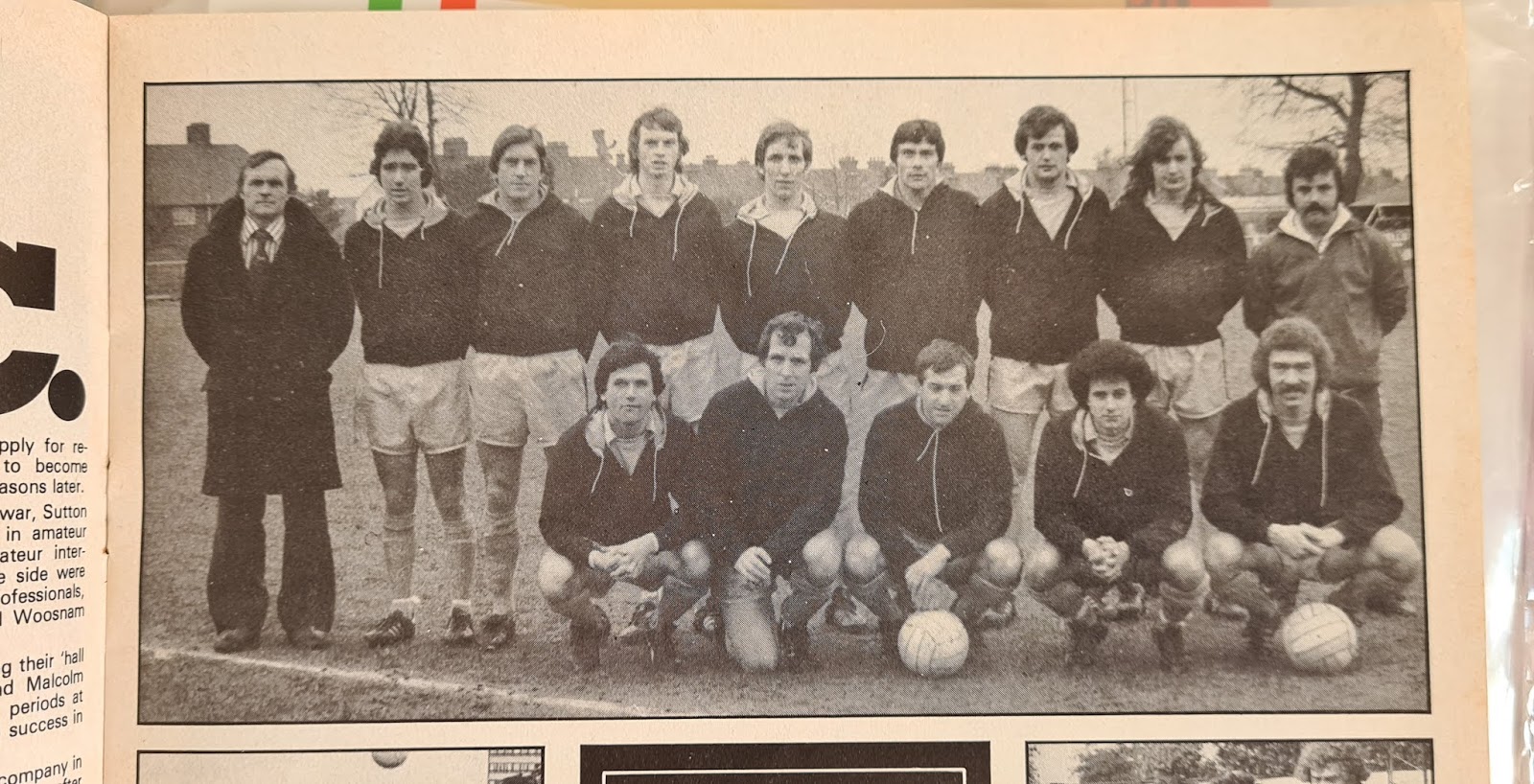 The U's. 1979 Season.
Still, I did it; mainly thanks to the brilliant music teacher who somehow trained me to produce a singing voice that could just about blag its way through the very off Broadway production. Even so, should any comparison be made (Don't worry, there won't! – Ed), Pierce Brosnan need feel no guilt for his efforts in Mama-Mia. I got up on stage for three nights in front of sold out audiences and Cheam High's main hall can hold a few punters for such events I can tell you. Such was my whole-hearted, single-minded approach to my last hurrah in academia (if Cheam High can be described as such) I totally forgot while performing in rehearsal, that the mighty Sutton were playing their first ever match in Italy, until I got home to find that a Gavin Fraser had earned U's a draw against AC Juniorcasale. This was the first of two qualifying matches in the Group Stage of the Anglo-Italian Cup, a competition that Sutton, sitting in mid-table of the Isthmian League had accepted an invitation for. This was for semi-pro clubs and not to be confused with the similarly named competition contested by the pros in previous years. It would prove one of the finest decisions the club's directors would ever make.
The following Saturday, Keith Walden's first goal for U's gave them a 1-0 win against US Cremonese and with none of the other three English club's managing to avoid defeat in either of their two matches abroad, Sutton required just one win in their two home group matches to qualify for the final.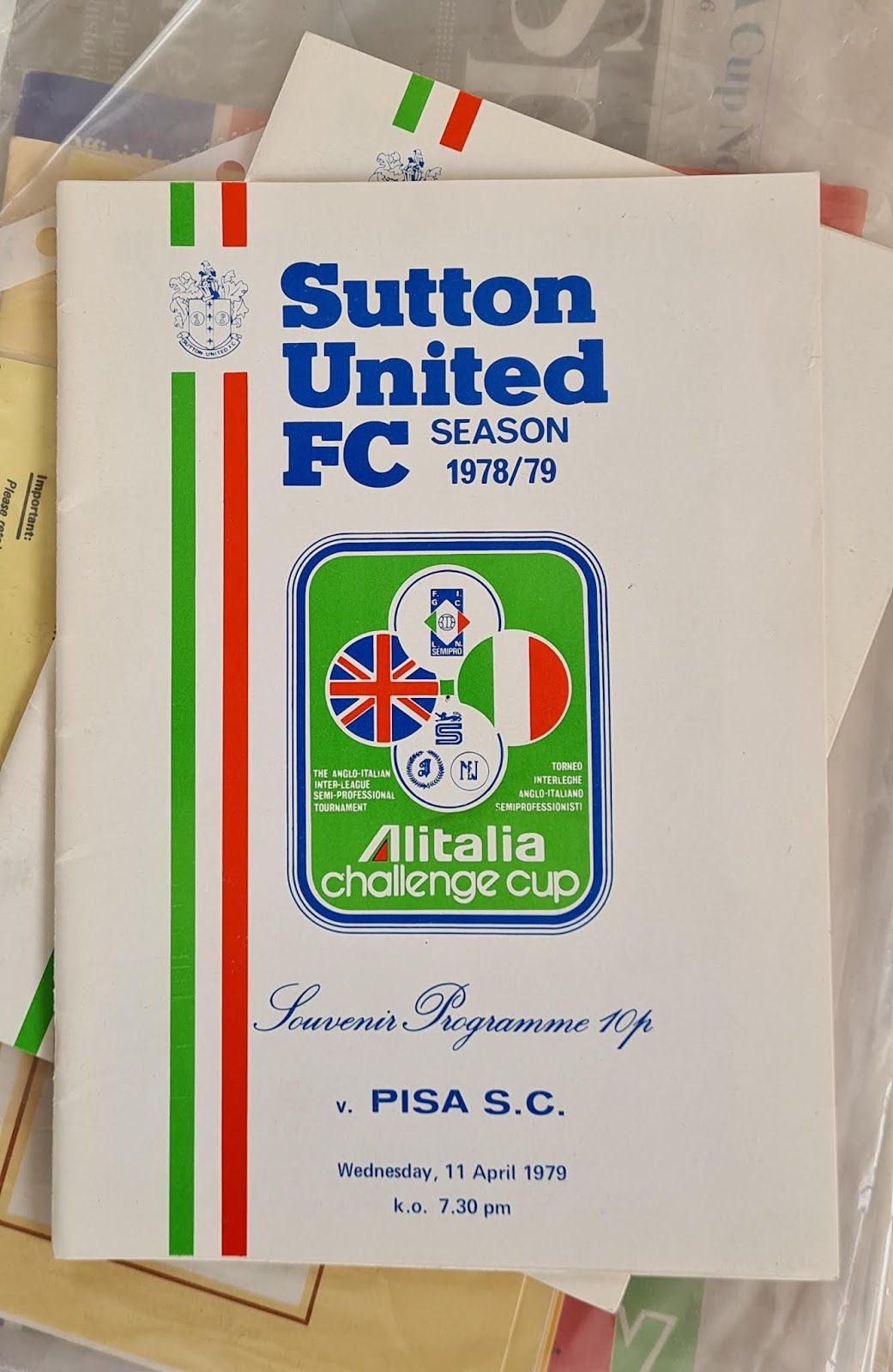 Of course we've got the proggy!
Firstly though, I had 'Big Al' to see off. I died on each night (it was in the script) of syphilis, which for a 17 year-old virgin was quite the artistic licence. And the reviews in the local papers (yes, I kid you not, some poor hack had to sit through all three hours of it) were favourable if not glowing. The week leading up to the shows I was rough as fuck, although I did squeeze in a trip to Walthamstow; U's won 5-1 but unfortunately missed the club's first ever league win at Dagenham as I would not have got back in time for my final night of board treading.
Three days later, my penultimate day at Cheam High, a few us of got served in the Queen Vic (now part of that boarded up eye-sore that dominates North Cheam – and let's face it NC shopping area makes the bottom of Sutton High Street look like High St, Ken). There I had three rapid pints which were, unbeknown to me, laced with double vodkas. Thus, by the time I got back to school to take on the women teachers at netball I was, to put it mildly, a bit merry. The old blinkers were on and peripheral vision had packed up so I got stuck as goal minder and up against the compact, athletic, Mrs B. She had already caught us coming back from the pub a few months previous and was well aware that I had once again had another liquid lunch, so, having failed miserably to stop her scoring on her first few attempts, I ended up shoving her over onto the school yard concrete and then followed that act of drunken violence by performing a victory lap around the netball court, cheered on by half the school.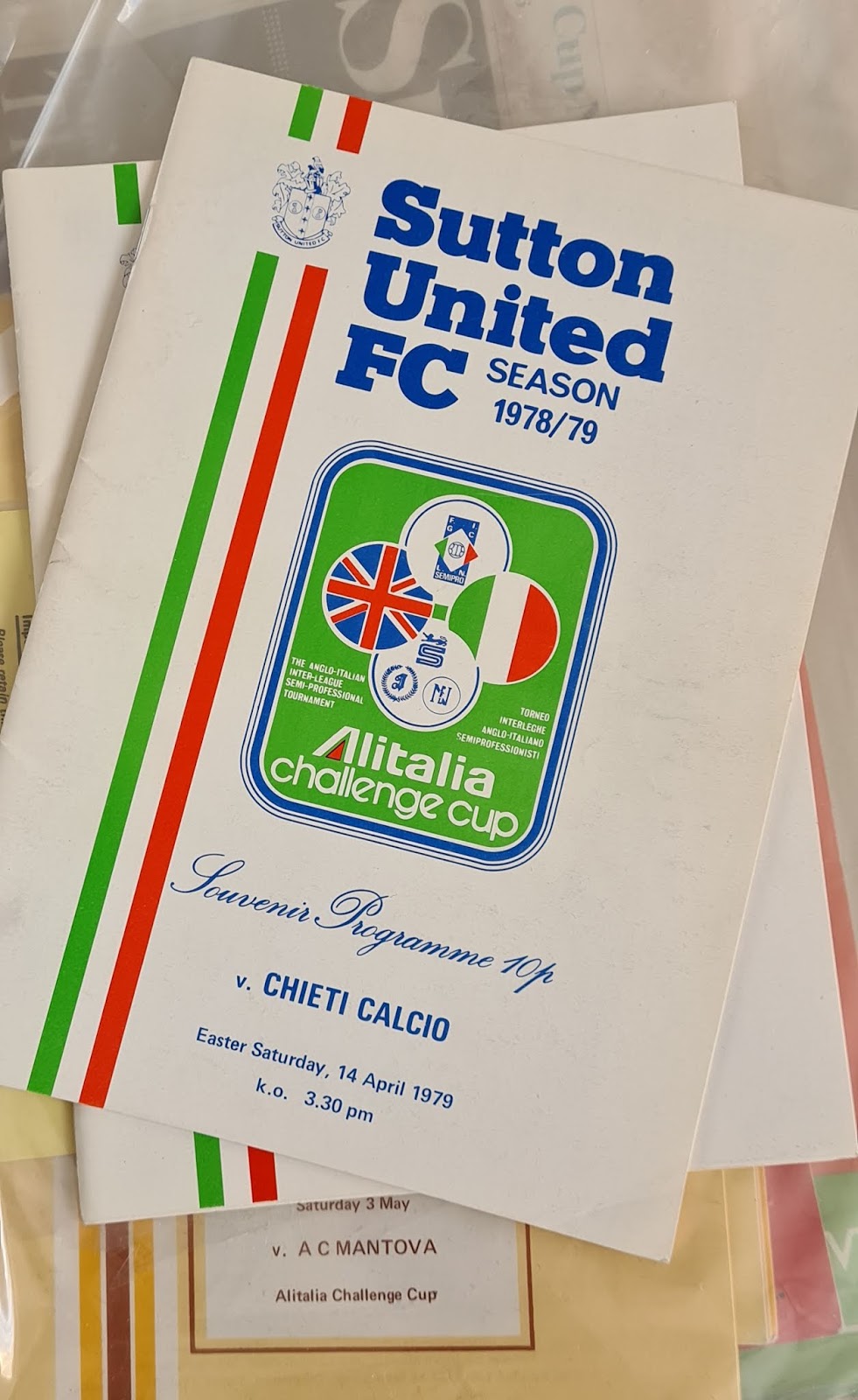 Dress rehearsal for the final…
Mrs B, a disciplinarian of the old-school mam variety – even her fellow teachers were shit scared of her – was somewhat apoplectic and I had to be hidden while she hunted me down ready to expel me on the spot. I was smuggled off the premises by another teacher (who had taken a fancy to one of my mates, but that's a whole different story). Not bad for someone who's only previous penal experience had been an after school detention for flicking saliva covered balls of paper across the classroom in French. From a 14 year old's perspective, a 14 y.o. who spent most night's doing what 14 y.o's do aided by a small stash of illicit porn (and none of your Playboy either) Mrs R was quite fit though so I forgave her, eventually. Incidentally, that detention was one of the most entertaining forty minutes I ever spent at school. It was hilarious.
April 9th arrived a couple of weeks later and it was my first day working at PO Telecoms (what's now BT to you youngsters). Two days later and U's hosted SC Pisa at Gander Green Lane in the first of their two home matches in the AIC. A Paul McKinnon penalty and a brilliant goal line clearance by John Rains saw Sutton to victory and thus qualifying for the final with a game to spare. Suddenly, a season that had been rather ordinary but typical of most of SUFC's 1970's fortunes, had got that bit more exciting.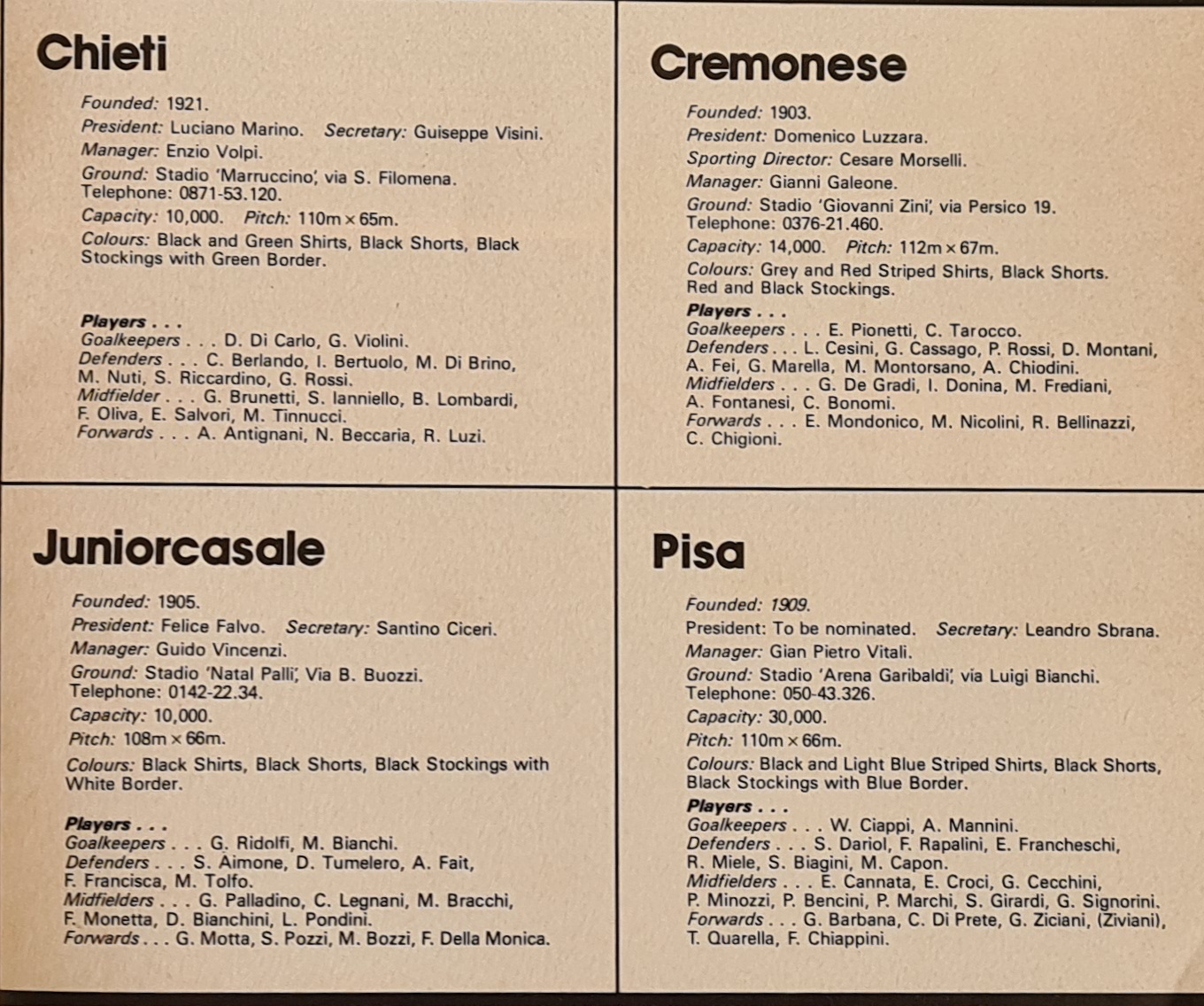 The opposition…
The following Saturday U's lost 1-0 to Chieti Calcio in their final match and coupled with the other results it allowed Chieti into the final with us at the expense of Pisa who had been considered the best of the Italian teams in that year's competition. So, Chieti would be the destination for U's for the 1979 Anglo-Italian Cup Final. But where the fuck was it? And more importantly, how could I get there and who else fancied it?
The answers to these questions were quickly uncovered. Chieti it seems was near Pescara, which is on the Adriatic (East) coast of Italy. Getting there was either by flying (far too expensive for a teenager whose main income had come from working two weekend mornings in the paper shop across the road from The Gander and was taking home £36 a week from PO Telecom, half of which went on getting to the fucking job such was the exorbitant cost of the tube back then) or by train. And there was interest from a few others too who fancied making the trip.
If you were under 26, Transalpino offered a rail ticket from Sutton all the way to Chieti for £40. That was still a fair bit of dosh for someone like me but I was going no matter what and I shall be ever grateful to my late parents for the, ahem, "loan" to get my ticket. A meeting with fellow potential travellers was held. Fortunately Transalpino was based in central London, a short tube ride from Euston Tower, where I had started work and picking up the tickets was easy; however, I had no passport and a mad rush on a Friday afternoon to get a one year passport (now long since consigned to travel document history), the application form for which needed to be signed by a parent – my mother dragged out of her work place to do the honours – to be ready to set off the following Monday.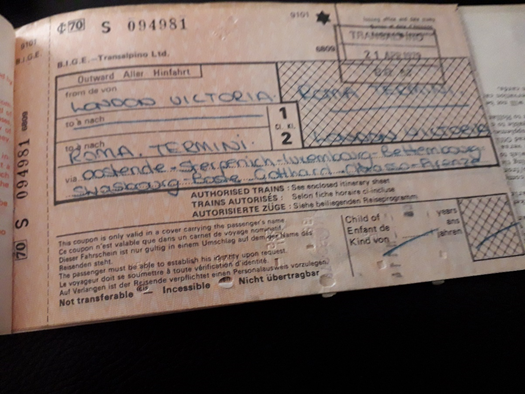 Ticket to ride….
There would be seven intrepid Sutton fans on this journey with Welly Waite (President of the 'Sutton Slut Club' no less) acting as the responsible adult; he was the oldest anyway and had copped for almost twice the price of the under 26 ticket. For me and indeed Coronation Man (see Halifax blog), this was our first time abroad. Thus my excitement had only ever probably been matched by receiving the Subbuteo International Edition, with working floodlights (although how was beyond my nine year old brain), for Christmas in 1970.
What followed when we departed these shores will appear in the second and final part of this piece. Either you're creaming yourself in anticipation or are looking for better alternatives to help pass self-isolation by. Because, if you've managed to get this far while not self-isolating I'd suggest that the possibility of contracting Coronavirus is the least of your problems.
Until the next time, and in all seriousness, stay safe.
Frakey