These certainly are surreal times we are living in. A fortnight or so ago the Gandermonium faithful were trooping down to GGL for their staple diet of National League football. To be fair the professional programme had already been cancelled and the fixture with Hartlepool was being widely touted as being potentially the last game in London for some time. Fast forward a couple of weeks and that prediction has sadly proved true.
Now football below NL level has been cancelled as though this season had never happened. This concept is probably attractive to some; in actual fact as a Fulham fan there are several seasons I'd like to erase from my memory. However it does seem very unfair on teams on the cusp of promotion. I won't dwell on this issue though as if this piece is to be carried under this site's banner it wouldn't do to become too serious.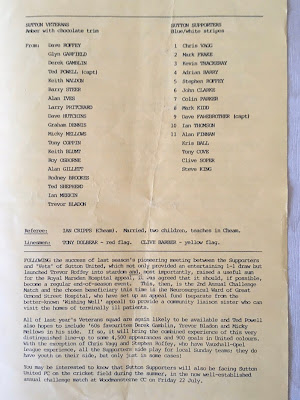 Names!
To carry on with the surreal theme it currently seems the Gandermonium massive are still getting their footy fix following the likes of FC Slutsk and Dinamo Brest online in the Belarus Premier League. I can only blame quarantine fever for this as apparently they are viewing this fare at 10am in the morning when surely it's too early even for these veterans of dawn start awaydays to be pissed??
Another reason to question their sanity is the fact they seemed to like my old tosh about the glory days of Sunday League football which was received with an avalanche of apathy on social media platforms a few weeks back. In fact when I recently tweeted some pictures of the programmes of Sutton Supporters v Veterans games I'd taken part in they wondered if there might be some mileage in it for another bodice ripping yarn.
The short answer to that is no, but if you've got this far you'll guess there is a story on its way, so consider your bodice ripped. As you may have gathered I am a Fulham fan but as mentioned I played for the Sutton Supporters team back in the old days, which provokes the question; can you support two teams?
We know a few of these….
It's a question that has exercised the foremost minds in science for generations but as their expertise is probably being put to much better use at the moment, I'll answer it myself by saying most definitely, yes. In order to back up my theory I need to tell you a little about my football following history.
I was born in Streatham to a Fulham supporting father but perversely when I first took an interest in football I took a shining to Chelsea, even though as my Dad worked Saturdays I rarely got to see them live. He took me to Stamford Bridge for a few midweek games but also gave me a few outings to Craven Cottage, presumably in an effort to cure me. My symptoms persisted but a move to North Cheam finally rid me of my affliction when a Fulham supporting neighbour offered to take me on the 93 bus to Putney Bridge for every home game and steered me back on the path of righteousness. It was about this time that I also got taken to my first game at Sutton United. I think it was an Amateur Cup tie with Marine. I can't recall anything about the match but I do remember a little more about my second Sutton game as it was at Wembley for the 1969 Amateur Cup Final with North Shields. Guttingly Sutton lost 2-1 but my disappointment was assuaged by my Dad buying me a wooden rattle outside the ground for the princely sum of half a crown. I recall my mum being seriously impressed by the racket I made with it back at home. She was fulsome in her praise of my old man for this shrewd purchase; praise only matched later in life when we trooped home late for dinner from The Gander most Friday evenings.
I was lucky enough to see Sutton win the next time I saw them when they beat Hillingdon in a Tuesday night replay to clinch a home FA Cup tie with the mighty Leeds United in January 1970. My joy didn't last long though as my Dad had to work on the Saturday of the match and I couldn't go. I did carry on watching the odd game at GGL in the early 70's but most of my live football viewing was at Craven Cottage or at Fulham away games in London.
The perfect mothers day gift!
It was in the mid part of the decade that I started to take much more interest in my local club. By then I had moved to Sunningdale Road, no more than a long goal kick from the ground itself. However my increased interest was not a result of geography but more due to a name familiar to all Sutton fans, club historian Mark Frake. Mark's family had moved to a house on the by-pass the same day as we'd moved and our proximity to each other saw our friendship grow even though we'd gone to different senior schools, after leaving that bastion of primary education, Cheam Park Farm. As all will know Frakey is absolutely Sutton mad although to be honest he didn't have much choice. His Grandad was a regular on the terraces, his Mum and Dad manned the turnstiles at either end of the ground and his Uncle Wally watched the U's home and away as well. When I wasn't watching Fulham it was easy for Mark to talk me into coming to watch Sutton with him, especially as his mum Pat would let us in for free. If Bruce Elliott is reading this I would plead for his forgiveness and argue that I've made more than reasonable financial restitution to the Club over the bar in the years since.
Although I loved going to Fulham I quickly got hooked on Sutton too. Isthmian League football was a decent standard with top Amateur Internationals like Ted Powell and Larry Pritchard gracing the U's colours. What I also liked was how close you were to the action, not so much at home where the running track still surrounded the pitch back then but certainly at away games where when we stood behind the goal Sutton were attacking you were quite literally breathing down the goalkeeper's neck. To be fair Frakey and I were not just breathing but generating a good degree of hot air as we delivered healthy rations of quick wit and bonhomie to the opposing custodian and any defenders within earshot. I recall our particular nemesis at the time were Tooting and Mitcham. They had the irritating habit of beating us regularly with what we thought were varying levels of good fortune and skulduggery. This led to the levels of our invective going up disproportionately with liberal use of the F word and dropping of the C bomb. Oh how our parents would have been proud.
I've many happy memories of following Sutton in my teenage years, not least when we made the trip by train to Chieti to see Sutton win the Anglo Italian Cup in 1979. Frakey is already blogging the sordid details of this trip on this very medium if you're eager to learn more. Just remember to sanitise first. And after.
Anglo-Italian final
The 1980's were a particularly successful period for Sutton and I was still a regular on the scene then. More trips to Italy, another Wembley final in 1981, successive Isthmian titles in 1985 and 86 and the amazing Cup runs at the end of the decade. The Coventry match is still talked about to this day but to my mind the better Sutton performance had been the year before when losing at Middlesbrough after extra time at Ayresome Park. It was also in the mid part of the decade that we played those games with the Veterans that I alluded to earlier. I recall we somehow stole a 1-1 draw the first time we played them but in doing so must have made the Vets a bit angry and more determined for the next edition. That time they annihilated us 6-0 and we were lucky to get Nil. I think I've seen Hayley's Comet more often than I saw the ball that day.
I got married in 1989 and moved to the South Coast in 1991 and as a consequence my attendance at Sutton games has dwindled although my interest has never waned. Frakey has been my best mate for 50 years and has been able to give me first hand details of all Sutton's goings on . And if the everlasting ray of sunshine's musings get too much I can now also turn to the internet for information on the club and to Gandermonium for news on how many pints it's possible to neck on a matchday.
In action at Boro in '88
I still have a Fulham season ticket so happily get my live football fix on a regular basis. However it's nice to supplement my diet every now and then by popping back to my spiritual home in Sutton. Fulham have moved in quite rarified atmosphere in recent times so although I love Craven Cottage I don't get the feeling of intimacy there that I do on my trips to Sutton . Non League football is a different animal where it's still possible to share a drink in the bar after the game with players, management and the same old faces that have been going there for years. For that and many other reasons I can happily say I've got two clubs in my heart and hopefully this current crisis will ebb soon before I have to consider making some club I've never heard of in Belarus my third.
John Clarke
Our thanks again to Mr Clarke for his contribution! Fancy featuring on the pages of this absolute shit show yourself? Drop us a line. We're far from a closed shop and if you've got something interesting to tell, read a football book you want to review or even fancy taking the plunge headlong down the rabbit hole and doing a match blog, let us know.