Here we are. Time for our longest trip of the season down to Cornwall. Usually this is also one of the quietest for the gang with us normally all tucked up in bed by 9pm with a good book and a horlicks. And if you believe that load of old flannel, you'll believe absolutely anything! If by some chance you did swallow that pack of lies, feel free to email us your bank details. You know, for er…safe keeping.
With this years schlep down to Kernow (or Cronwall as Dukey called in last weeks missive) occurring over the Easter Bank holiday, this complicates matters a tad as this also happens to be the time of year the county basically re-opens after it's winter slumber. And that means every fucker and his dog treks down there. This means we're scrambling about for places to stay and also flights. The latter was the most concerning point as since Xmas we've been able to book the flights down, but FlyBe, for some reason, didn't release the returns until only about 6 weeks ago. Fortunately, we struck quickly and had transport booked, although the timing of the game did appear that it was going to ensure numbers would be low.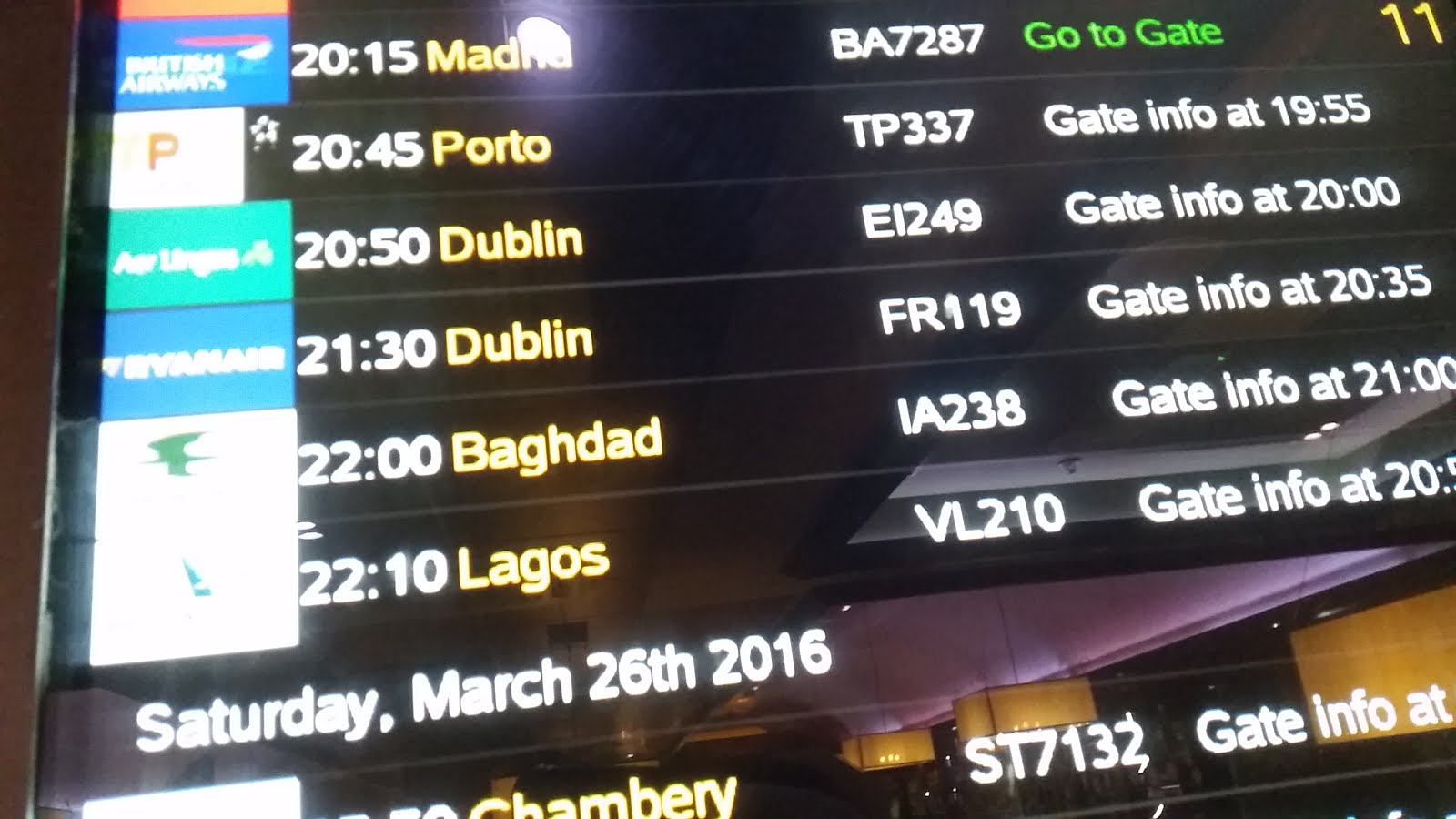 "No Tom, we can't go to Baghdad instead…."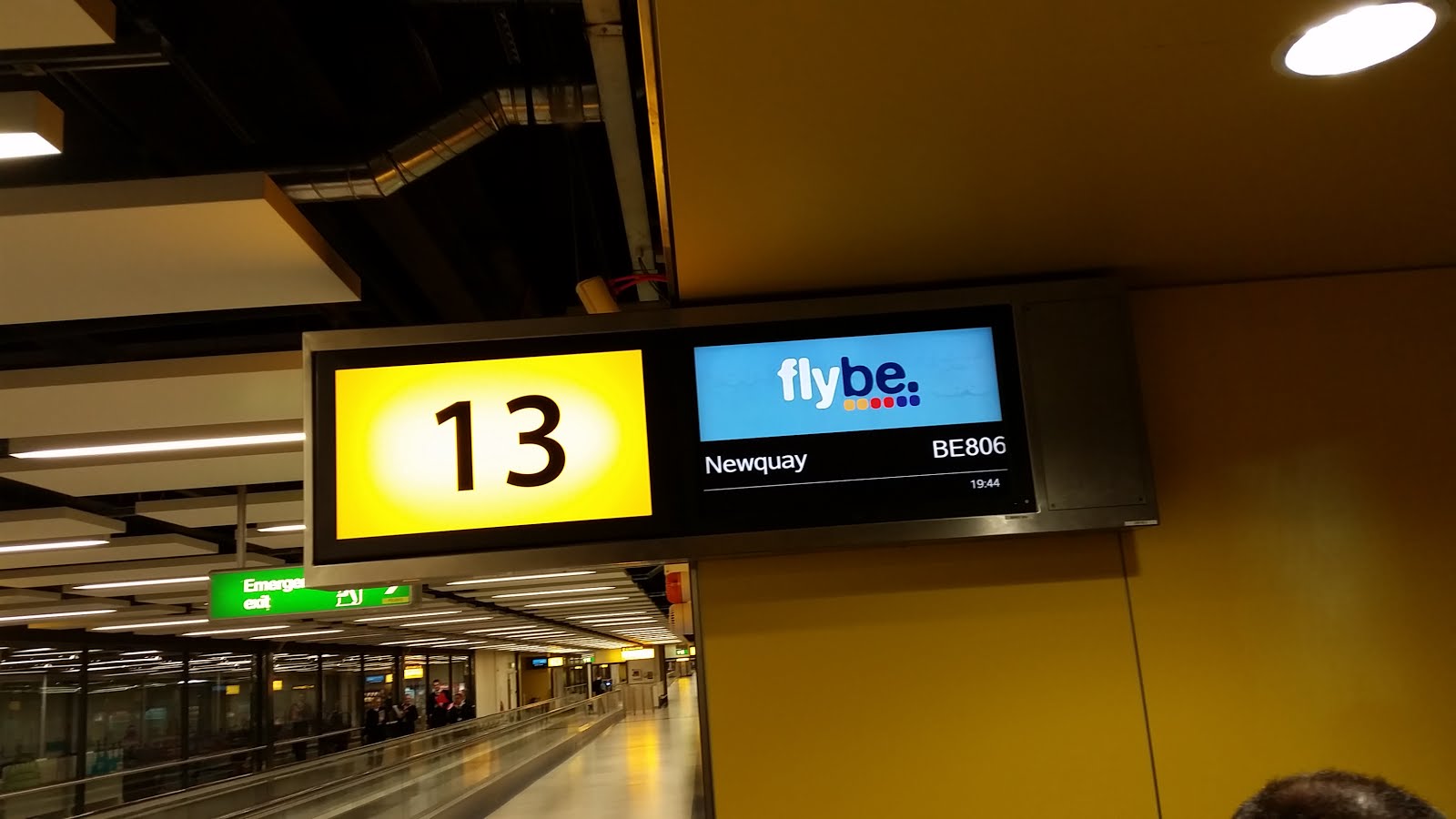 Unlucky for everyone else on our flight. We're immortal.
During the week, we got a twitter message here at HQ requesting our assistance in a small project from no less than the BBC themselves. Ok, so only the sports department of the London area Radio branch, but hey, beggars can't be choosers. It seems they, for some reason, wanted our opinion on all things Sutton United and Non League football in the capital for a feature on Saturdays show due to the international break. So on Wednesday lunchtime, I met Nick from BBCRL in Sutton and we had a chat. What? You thought they'd do a live broadcast? With us? They're not fucking mental you know. Given some of the rubbish people get so out of their pram about on Top Gear, it stands to reason they're never going to let real dickheads like us anywhere near a live broadcast.
If you want to hear the result, click HERE. We're on about 11 minutes 40 secs in. That's if we've not already bored you to tears with tweets about "That time we were on t'wireless" of course. I'm not sure Chairman Totts will be pleased however about the fact they cut out the 45 minute segment on what a glorious utopia the People's Republic is.
As we really can't be trusted not to go out and get ruined if we travel somewhere a day before the match (what we call 'the Cambridge Principle') we booked flights down for the Friday evening as this meant a landing just after 9 and in theory leave only enough time to hoover up an Indian over a couple of beers in Falmouth. Thus keeping our powder dry for the main event on Saturday. The fact it was about 70 sheets cheaper as well had no bearing on the decision, oh no. So, it was just the 5 of us assembled at East Croydon to get the train down to Gatwick. This proved to be quite stressful and not because of anything the train companies did for a change, but because down in Weston, Gravesend Ebbsfleet were trying to get their title run back on track. And failing. By the time we were in Croydon, they were 2-0 down to the strugglers with 20 mins still to play. So, like I said, waiting for that train was quite stressful as we all huddled round mobiles on Platform 4, frantically refreshing Flashscores to keep track of the result.
Ebbs pull one back with about 15 to go, but the hosts held out for a ridiculously massive win both in their race to stay up and in Ebbs race to emulate some of the greatest title collapses in English football. Naturally, a congratulatory text to our old pal Simon down in Somerset is the least we can do given the massive leg up his lads have just given us! So, with a little spring in our step we board the train down to Gatwick. And it's here that spring is swiftly removed.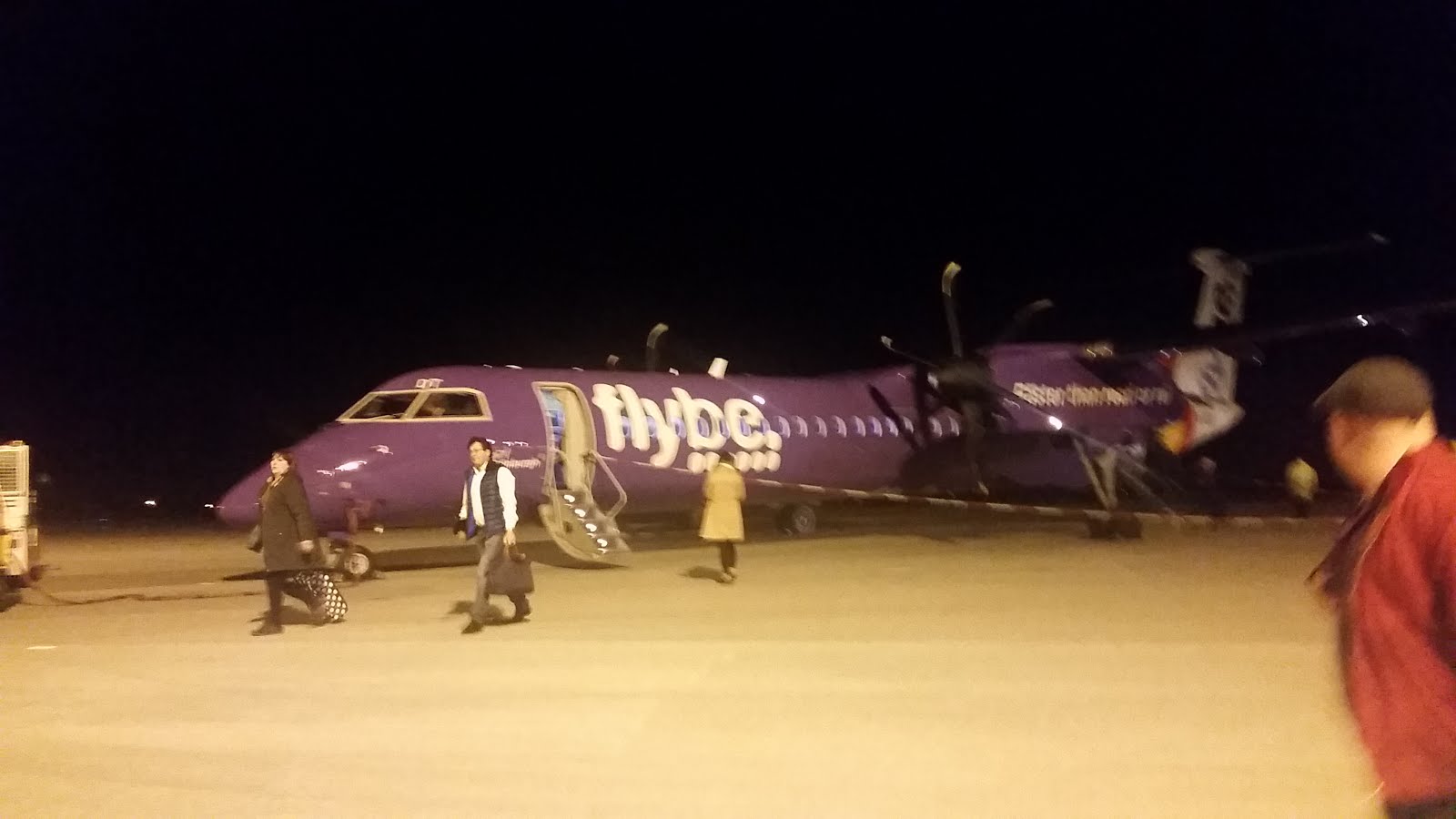 Travelling Playboy style!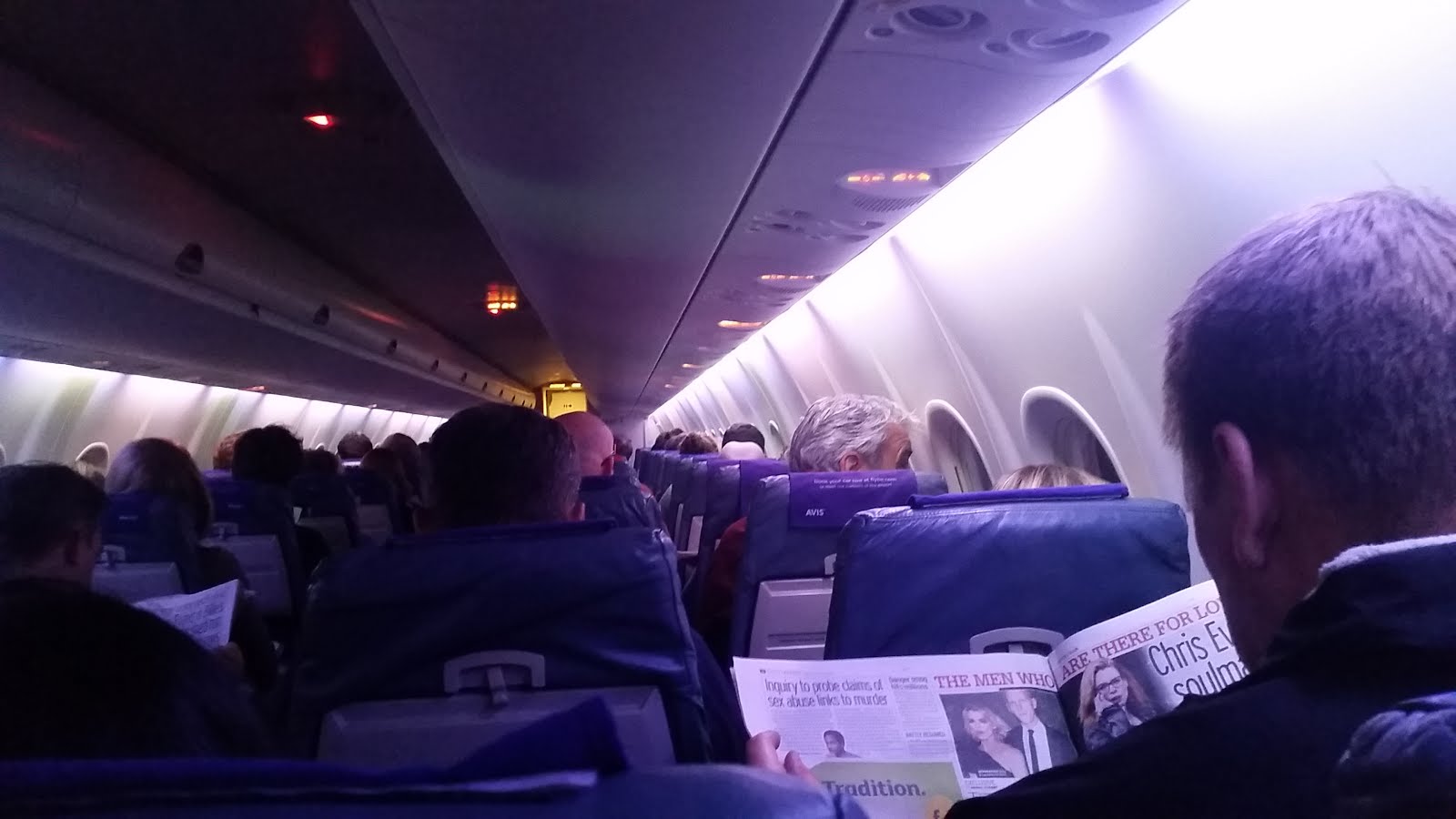 Crammed in a little tube full of farts. Mostly ours.
Mr X was responsible for booking the flights down this time out and as he starts doling out the boarding passes he'd printed out after checking us in online, he realises there's a problem. There's 5 of us. And he's only printed 4 passes. Naturally, we take this news well. Actually, we all just shake our heads and call him a useless dick. If there's one thing you can rely on from us at a time of embarrassing personal failure, it's absolutely fuck all in the way of sympathy. Still, there's little we can do now, so we settle in and resolve to get it sorted at Gatwick.
The passes error is sorted quickly and we still have loads of time, so there's little else to do but hit the pub for a couple of lazy Friday afternoon pints. But not before we have to negotiate security. Now, I'm pretty sorted when it comes to the procedures and very rarely get pulled for anything. On this occasion though, my bag gets diverted off the X Ray machine. Whilst I wait for some utter morons from Ireland who don't understand the 100ml liquids rule at all to be sorted out, I'm joined by Sean Connery in the queue. Not him too! This is not going well. I sort my issue out quickly, which proves to be nothing at all. But whilst I wait for our other detainee, I discover his transgression is a little more serious than mine.
It seems that having been down the Claret for some beers the night before, the James Bond actor has left his bloody darts in his jacket. Yes ladies & gents, one of our number is trying to pass airport security with sharp pointy objects about his person. It's all sorted amicably though and no one gets tazered or earns a weekend at Guantanamo Bay, plus somehow our 'potential threat' is even allowed to keep his arrows and go about his business! Naturally, we make sure he's aware he'll need to make arrangements for them to return via one of the non-flying U's fans tomorrow and not with us on the plane on Sunday.
Deciding that we've now hopefully bottomed out in the dimwit stakes after the highs of the Ebbsfleet result earlier, we decide we operate better with beer inside us and hit the bar. Here, Dukey and I are served by a ridiculously young looking member of staff, so much so that Tom wants to invoke the 'Challenge 25' pub ID scheme on him. "It's not fair, why can't I ask a staff member for ID?" he moans. A couple of lazy pints follow and we decide to have one more for the road before our gate is called. Whilst waiting to be served, I notice that sat at a table nearby is a guy with his young son. The boy is buzzing about and amusingly is dressed as Superman. I go back to waiting for service, before suddenly the little fella bowls over and holds out his hand. In it is a sticker in the shape of a star. And it seems it's for me. Playing along, I take it, slap it on my sweater and thank the mini-superhero. His dad apologises, but I can't let the opportunity pass.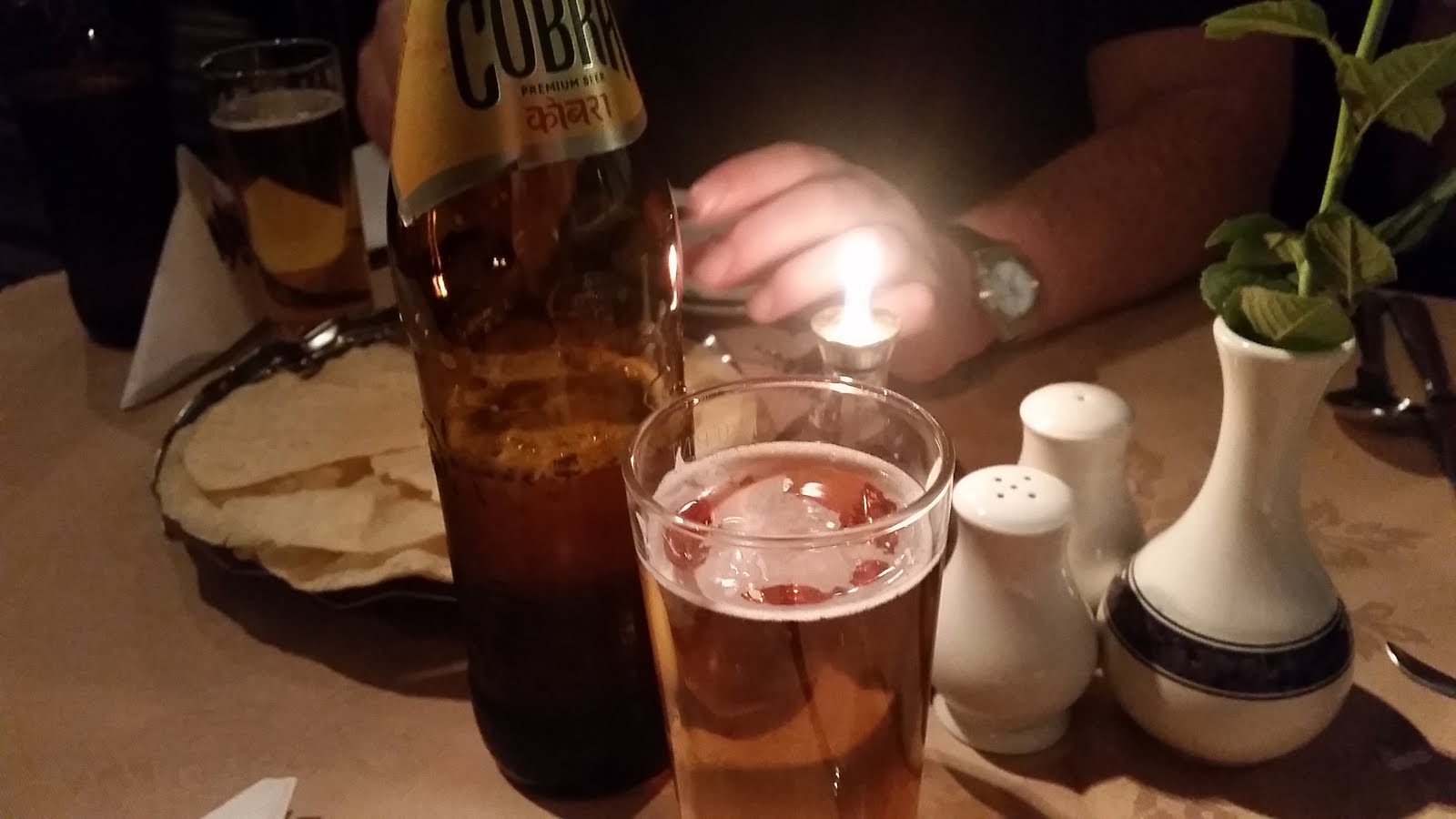 "15 bottles of Cobra & 3 poppadoms please squire…"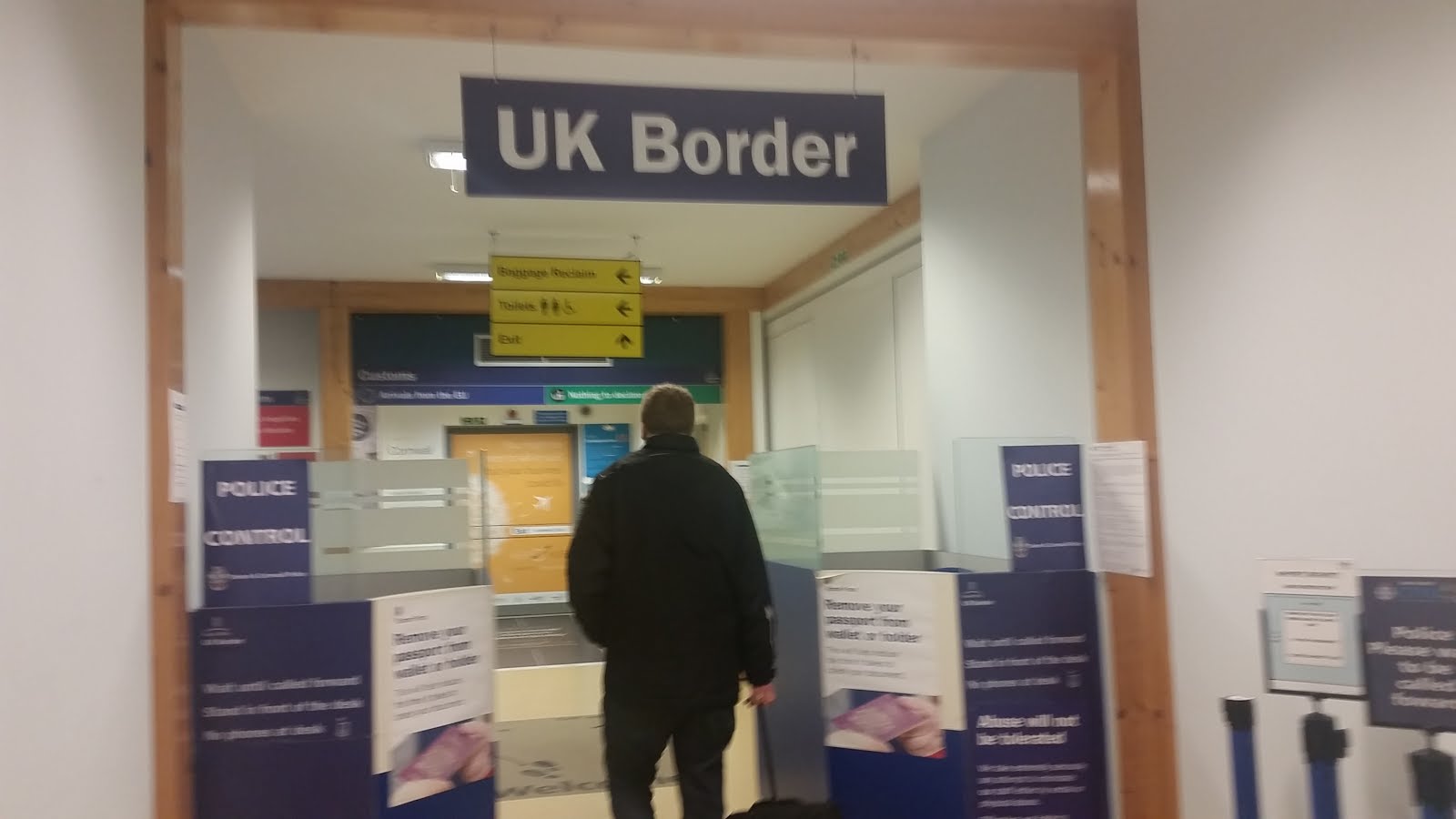 So not Baghdad then?
"If you've got Superman with you, why are you at the airport? Couldn't he just give you a lift!"
"It's his day off" deadpans the Dad.
Smart arse. And no one likes a smart arse mate, not even funny ones.
Eventually our gate comes up and we're heading for our flight, which leaves from number 13. Perfect, just bloody perfect! We get there as boarding is well under way and are directed down some stairs to the tarmac. It's a bit un-glamorous and it makes us feel like we're just using the fire exit. "I think they've just chucked us out" I think aloud as we exit out into the cold night, all a bit confused. Then we spot the ground staff waiting to direct us, we're ok. "Taxi for Miller?" someone enquires behind me as I walk to the awaiting FlyBe winged wonder.
Fortunately, we're stuck right at the back of the plane, so clambering over people whilst faffing to find seats is minimal and we're off and into the air pretty much on time. The only bad thing about our seating position is that we've all had 3-4 pints. And the only kharzi on the plane is right down the front, despite Mr X's insistence there's always one at the back too (he finds out the hard way this isn't the case). To make matters worse, the bloody cabin crew have got one of those little trollies out selling tea and coffee. On a frigging 50 minute flight! What have all these people been doing in the terminal before the flight for fucks sake? Go to Starbucks or something on the way to the gate you bastards, I need a piss! Sadly I have to suck it up and wait in discomfort until the trolley has passed before I can make my dash down the fuselage to relieve myself.
Apart from that, the flight is pretty smooth until we come in to land in Newquay, where the pilot manages a landing so rough the only way we can't term it a crash is that the aircraft somehow remains intact despite the impact! Still, we survive and emerge onto the tarmac in the drizzle and set about finding our cab to Falmouth. This is easy as the chap is stood in arrivals holding up Mr X's true identity on a bit of paper, which is mildly disappointing as I'd been expecting him to retain secrecy at all times. We pile in for the drive south and pass the time mainly by taking the raging piss out of Dukey's latest automotive purchase, a £200 T-reg Nissan Micra we've already christened the 'Purple Meanie'. Unsurprisingly, given its purchase price, it's been a bit unreliable since he got it thanks to a dodgy battery. He's also been leaving it unlocked all the time as he took several days to realise it had no central locking, so he was only doing the drivers door! We drop Sean & Indy off at their palatial Manor house hotel first and then get dropped off at our own less posh digs down the hill. Bags ditched, we go in search of a curry. Fortunately, there's a place round the corner and we're soon parked up with Cobras poured and ordering some much needed nosh. Fed and watered, we then headed to our favourite Falmouth haunt, Finn McCools for a few more bevvies and to catch the end of a decent sounding band's set before getting hoofed out at 1. Back at the digs, Mr X draws the short straw of sharing the double with Dukey but decides that the floor is a more appealing option and chucks a couple of blankets down along with a pillow to get his nights kip. Each to their own I s'pose.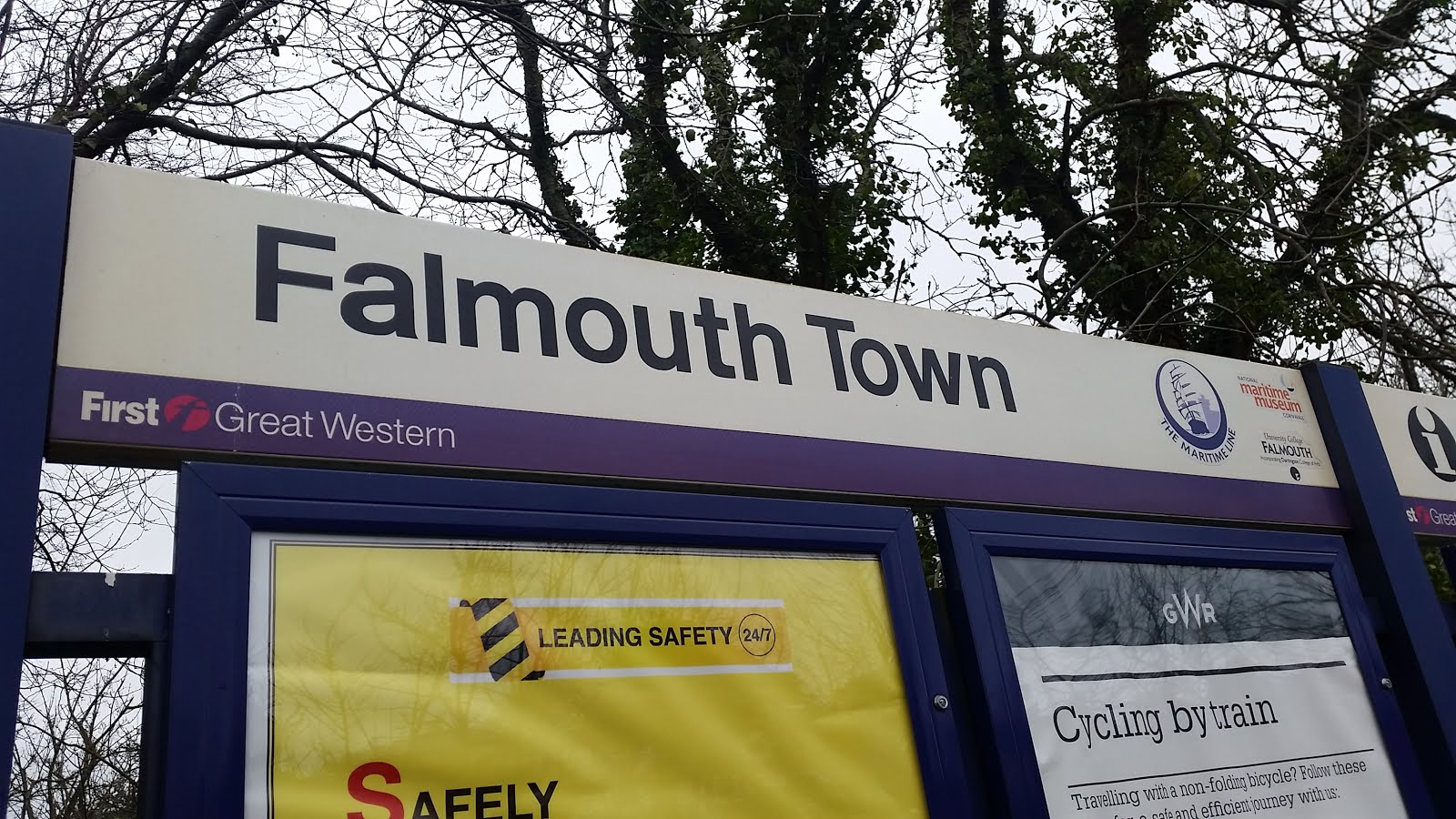 Makes West Sutton look like St Pancras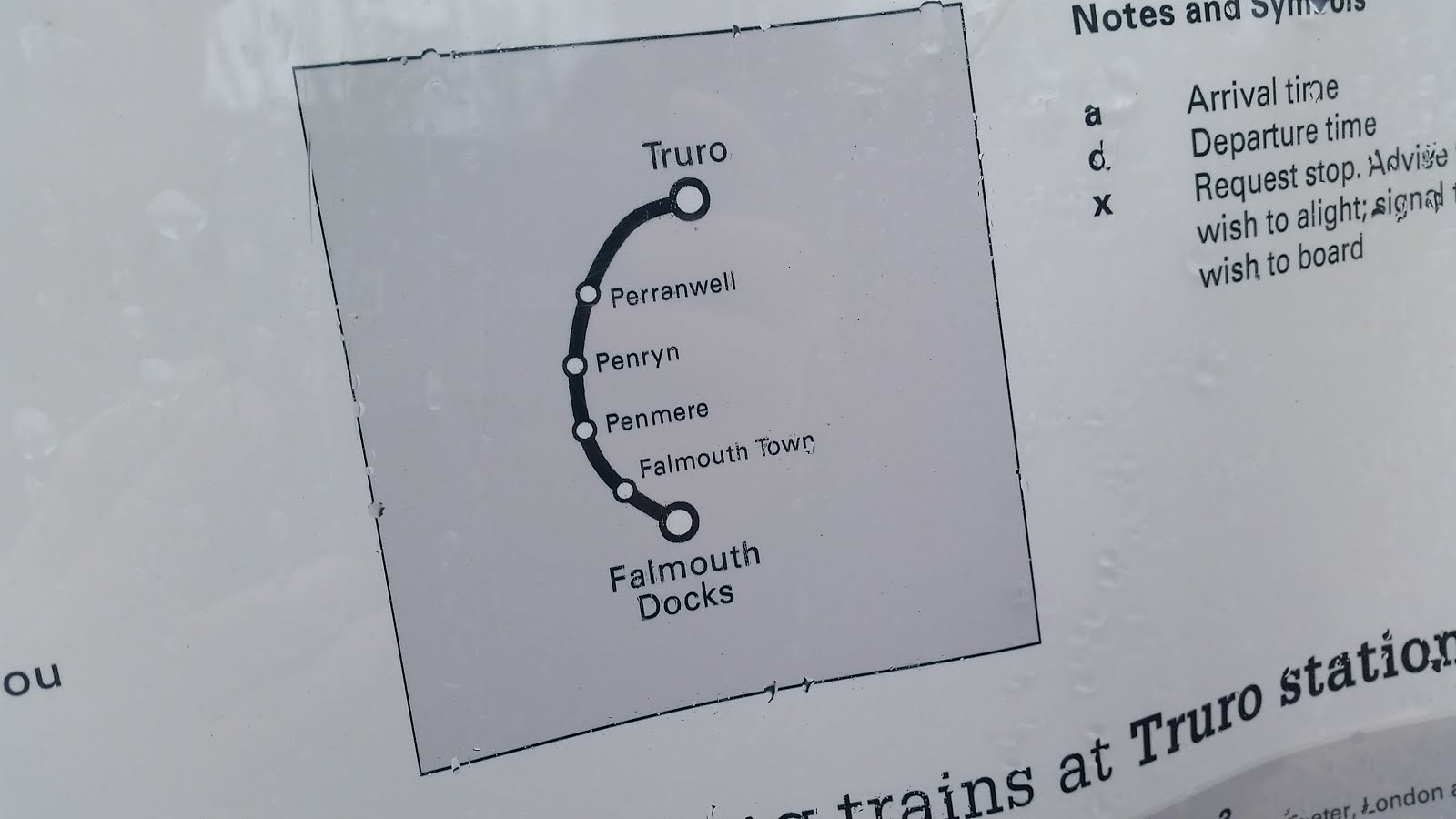 Straight lines are illegal in Cornwall.
The following morning, we shower (which was rubbish, like having a small monkey pee on you, not that we've actually ever experienced that. Honest) and head out in search of breakfast as the B&B only does a disappointing continental option. Naturally, we stumble into the local Spoons and fuel up for the day. Here Dukey regales us of the dream he'd had the night before where he was apparently hanging out with the Hairy Bikers and fighting with Hartlepool fans. Nope, we've got no fucking idea either. Damaged goods that boy. With a belly full of bacon and our minds even more troubled by Tom's mental state than normal, we take a stroll down Falmouth high street to the station for the short choo choo ride into Truro for opening time. Here we find that Falmouth Town station is pretty small, so much so that it's tiny single platform and sad lonely shelter make West Sutton look like St Pancras. There's not even a ticket machine to buy tickets! The train ride into Truro is dead easy and we're soon emerging into some horrible, wind assisted 'mizzle' which makes the walk down the hill somewhat unpleasant. With this in mind, we hit the first boozer we know will be open for 11, the William IV. Time for pints!
During our 2nd beer and making plans for where to head next, we're joined in the boozer by Kiddo, JR and a couple of others who've travelled down last night and will be heading home this evening. A couple look a bit fuzzy round the edges as it seems there had been a bit of wine consumed with dinner last night! Terrible behaviour that. They're heading off to the ground to meet others soon, but recommend the Old Ale House down at the bottom of town. Which is handy as we're just heading off to the White Hart round the corner from there. So we add it to the list and trudge off down the road in the pissing rain. We find Ross in the White Hart and he regales us of his sleeper train nightmare where he got slung off at Reading after the thing broke down and how he ended up kipping under a table on the stock replacement chuffer as it was more comfy than the seat. Unlucky chief! Still, at least as the train arrived an hour late, he'll be getting his wedge back so it's not all bad news.
Next is the Old Ale House. A properly lovely dark, low ceiling'd place with a jukebox and a huge barrel of free monkey nuts you can help yourself to. They also openly encourage you to lob the unwanted shells on the floor, so the gaff is covered in the things and your every footstep makes a crunching sound as you walk in. Over a pint I take to admiring the places large collection of various Gins. The barman notices and when I explain the object of my admiration, he invites me behind the bar for a closer look! Naturally, this confuses the rest of the mob when they then see me on the other side of the jump unsupervised and fondling the Gin selection.
Time is now short, so we once more head out into the rain to grab some cabs up the ground for the game. We get into Treyew Road and head for the bar but not before checking the place out. There's been a couple of changes since our last visit. The covered marquee type stand at the far end is no more and now a single little block of raised seats there. Down the side, one of the two big banks of seats has been cut in half and it looks like this is going to be covered to bring the place back up to the grade required for the play offs.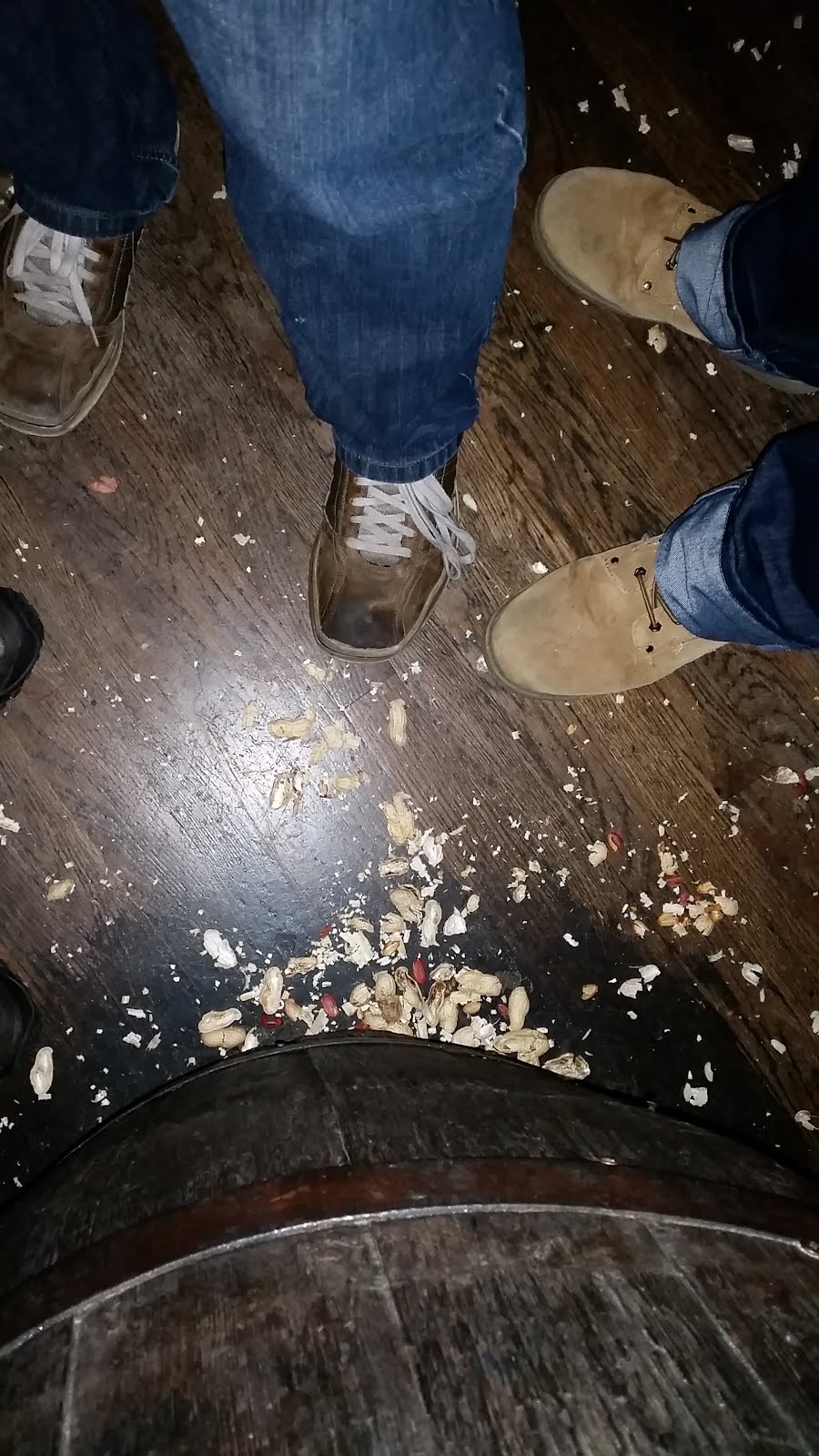 "We're not cleaning that up…."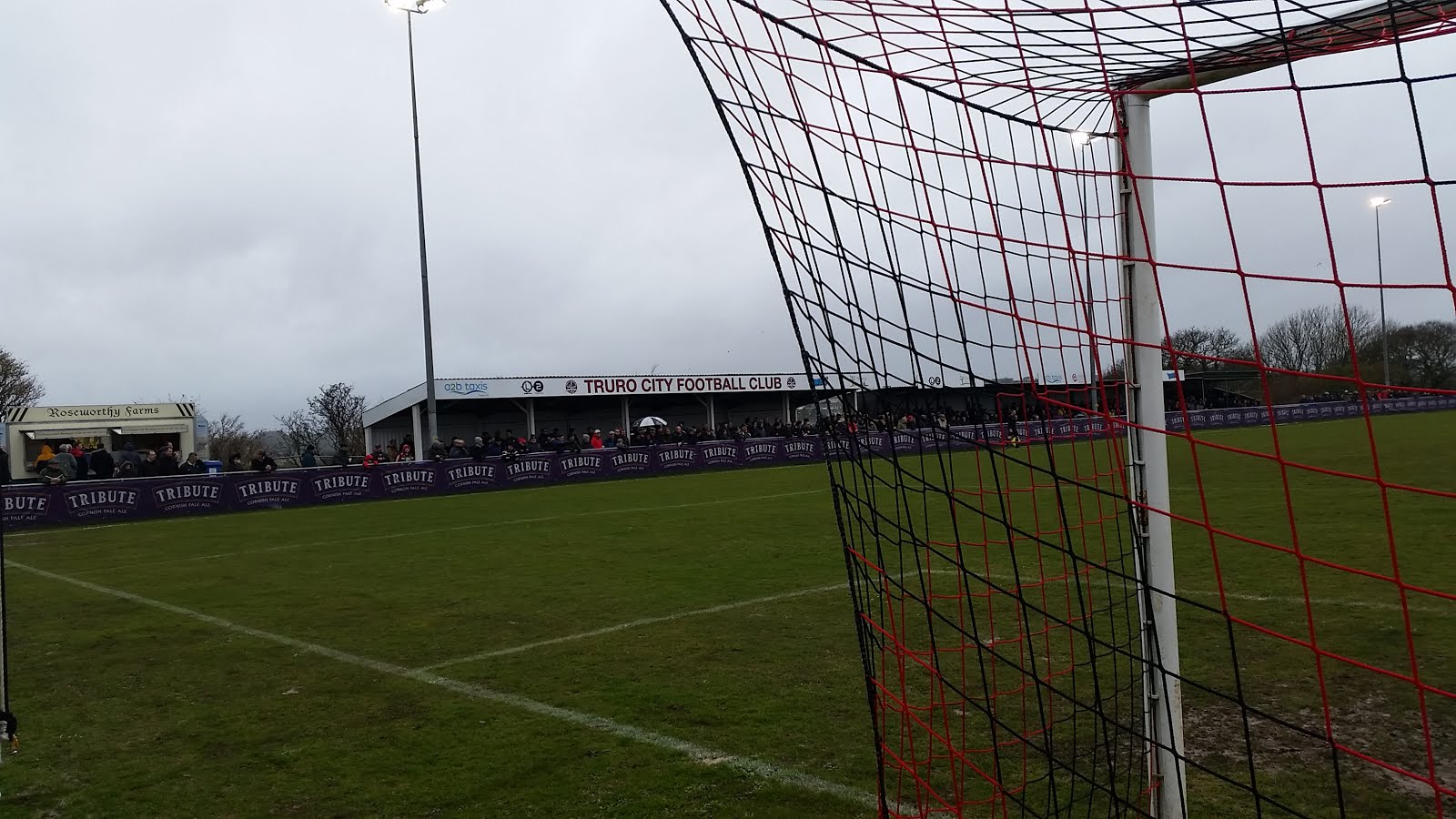 What a lovely day.
With the timing of the game we'd not expected many U's fans to make the trip down, but we find 20 or so already in the bar and in the lead up to kick off, there's a steady trickle of Amber clad people wandering in, which is a pleasant surprise.
Worner, Amankwaah, Wishart, Beckwith, Bailey, John. Bolarinwa, Gomis, Dundas, Slabber, Stearn. SUBS: Collins, Fitchett, Cooper, Spence, Gerrar
We find ourselves shooting towards the clubhouse end and with the covered shelter on that corner already busy, we can't be arsed to spend 45 minutes bobbing about on the flat un-elevated tarmac trying to watch the game and instead risk getting wet by standing behind the goal. Despite our slightly weakened side thanks to injury & suspension, the lads make light of playing against wind as well as the hosts home record and set about them from the off. Tombo has an early opportunity but pulls his shot wide and Slabs is sent clear by a clipped ball in behind the defence. But having drawn the keeper, he saves his shot with his legs for a corner.
The lads keep coming and a busy Gomis backed up by the experience of Nicky Bailey boss the middle of the park and the home side find it extremely difficult get out of their own half. Another chance comes from one such bit of graft, Stearn's cross just evading Slabs in the middle. Dundo also has a decent sight of goal, but he fires over. It's just getting to the stage where we're beginning to worry that our old issue of not making pressure count will come back and haunt us, we finally get the breakthrough we need after about half an hour. A rare Truro foray into our half is stopped on the edge of the box. Although the ball looks like it's hit Dundo's arm. The hosts complain whilst we take full advantage with Tombo bombing away up the left. He scrambles past the last man, clips the ball to the near post and Bailey times his run perfectly, trying to deftly lift the ball over the keeper. He's denied by the bar, but Stearn nips past a dozing defender and nods into the gaping goal. 1-0!
We see out the half with little trouble, but there's still that nagging doubt that one won't be enough as we head round to that little block of seats for the 2nd 45. Still, at least we'll have the wind! The break in play is enlivened a little by not one but two members of the travelling mob struggling to negotiate entry to the stand we're in. First the aged Sean Connery ends up on his arse after misjudging the first step before Dukey joins the arse over tit club soon after with a far nastier and far funnier tumble of his own. Ask him to show you his scar next time you see him, be warned though, he might demand a bottle of fruity bottled Cider for the privilege.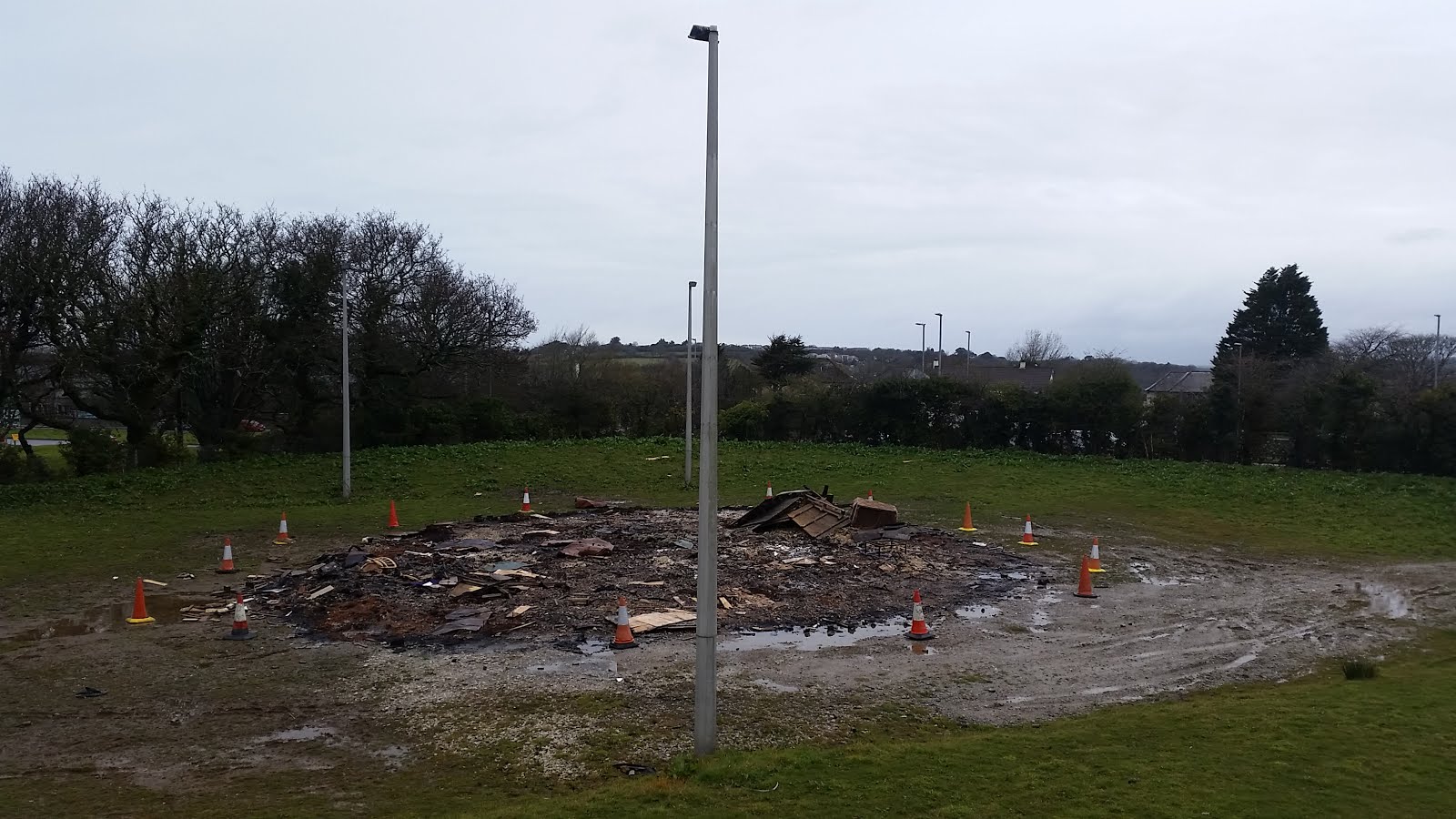 Ebbsfleet's title challenge?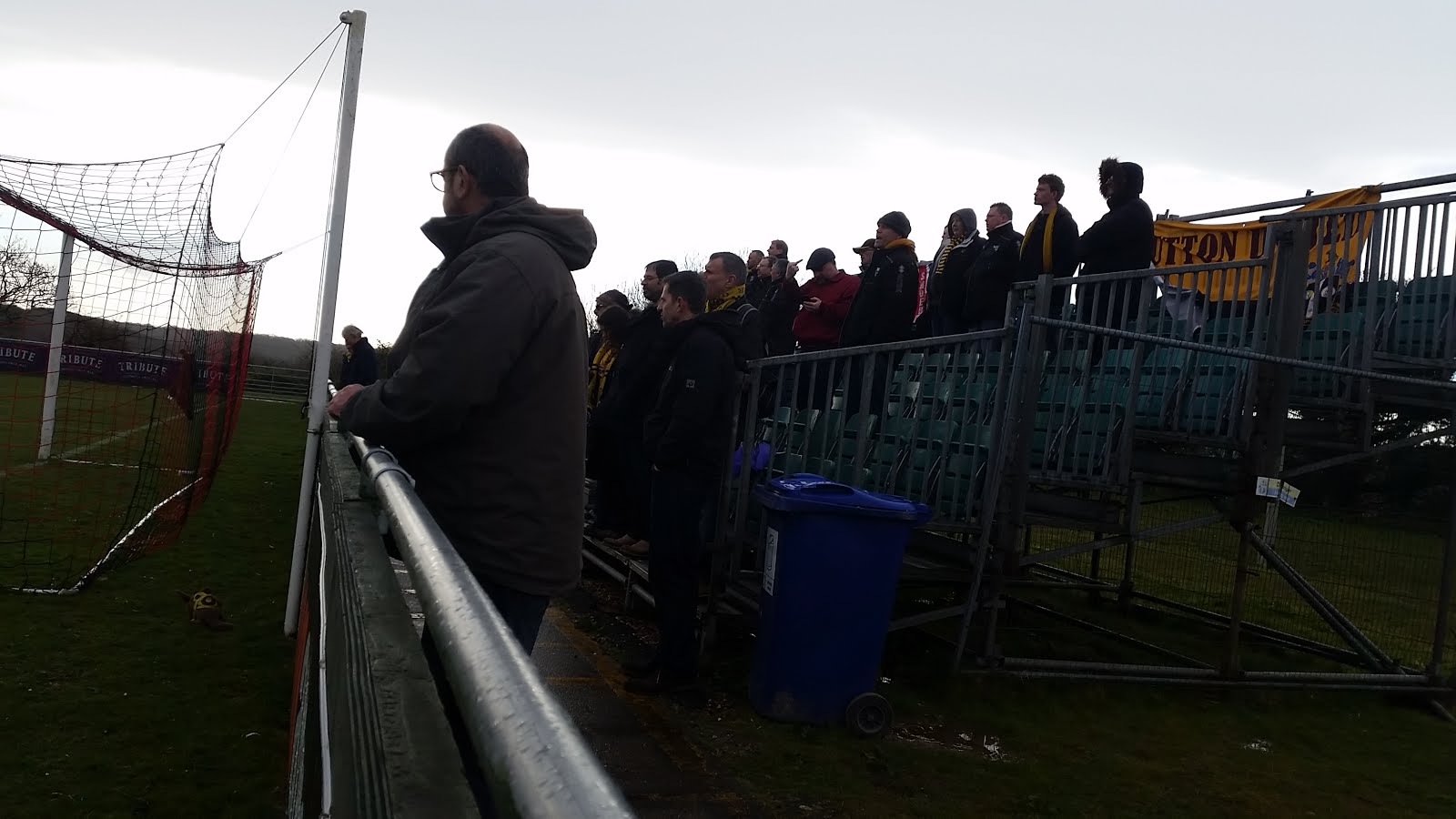 "Pathetic away support (for a top side)"
Annoyingly, the gusts that had been at our backs in the first half have decided to mix things up a bit and now swirl around the rather exposed Treyew Road. This ain't going to be easy! And so it proves, no doubt having had a rocket and not wanting to let us dominate again, the home side come out firing 2nd half and put us right under pressure. However, it's not until the hour mark after the introduction of some actually decent looking attacking talent that they manage a shot on target as one of the subs forces a reasonable save from Worns barely a minute after coming on. The U's stopper also has a couple of other decent stops to make and a really good catch right under his own bar from a cross that catches the wind to keep us in front. At the other end, there's less action than before but Stearn really should double our tally and his own when teed up in the box, sadly he snatches at the chance and fires wide into the side netting.
As the pressure mounts at the other end, the lads dig in and Mr X's decision to recently cut back on his smoking is pushed to it's limits. Thankfully Dos sends on some reinforcements. Sadly for X it's not fags, but fresh legs on the field. JC makes his comeback and Fitch replaces slabber to give us fresh legs up top. To add to this, we rejig slightly, playing Tombo up the middle to try & stretch things.
This makes us a bit more solid and as the hosts push right up trying to level, we make them pay. With about 5 to go, an attack breaks down once more thanks to the persistence of Bedsy, who looks up and threads a lovely ball between the two centre backs for Tombo. The winger is onto it quicker than an Arsenal fan is to boo at full time and races off up the field and having gone a touch wide and drawn out the keeper, whips the ball inside the near post to the huge delight of us all behind the goal. 2-0!
Game. Set. Match. Pub anyone?
We see out the last few minutes without problem and register yet another huge 2-0 away win. If only we were so ruthless at home, we'd be miles clear at the top by now! We head for the bar and some celebratory scoops whilst chatting with some of the friendly locals. Here we work out that the trains back to Falmouth are going to go hourly after 7pm, so we elect to head for the 7.02 so we can get out on it in town and maybe catch the Germany – England game in a pub. With a plan hatched, we head to the County Arms for one more pint as it's halfway to the station and it's here we leave a rather pissed Ross. We stumble off down the hill and Mr X goes on a '24 Bud' run, but arrives empty handed at the station having discovered that despite there being a Sainsburys on the way, the entrance to it was a 10 minute walk on the other side of the building.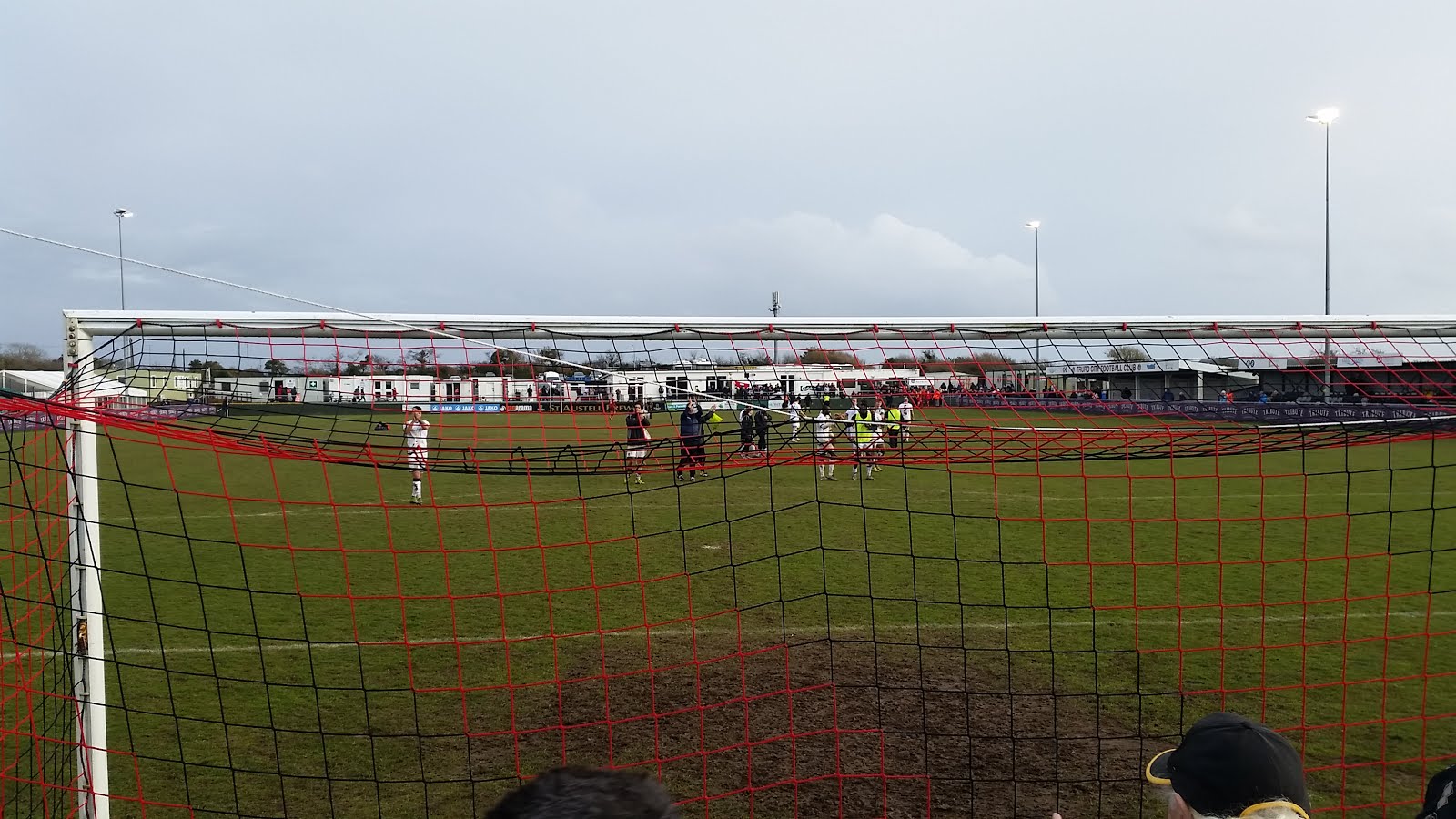 Clapping.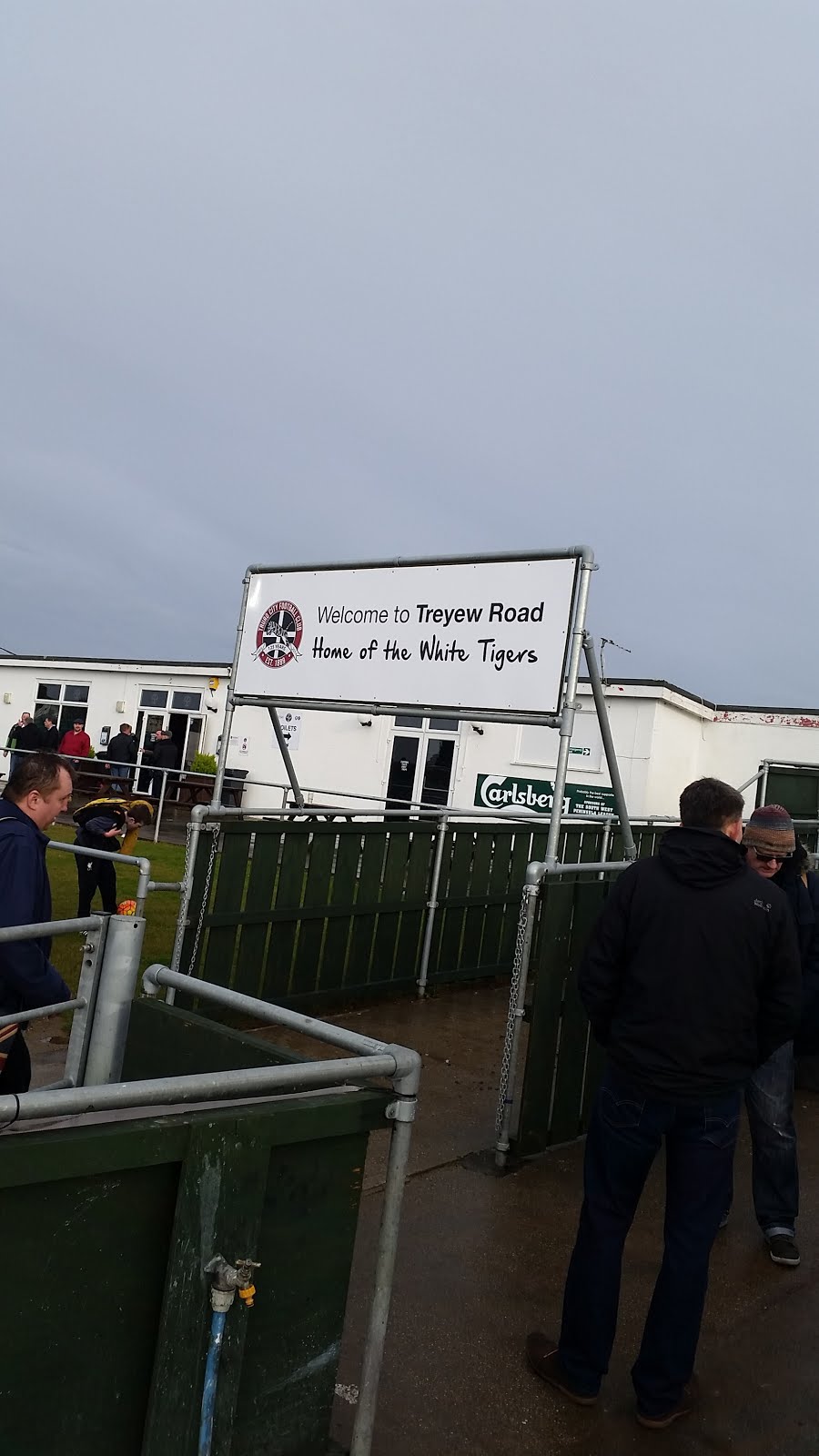 "But they play in Red!"
We get off the train at the stop before Falmouth as it's a quicker (and downhill!) walk to our B&B. We pop in for a dump of kit and flags before heading to the Wodehouse pub a couple of mins away for the England game and more pints. In here are a load of pissed up Rugby lads, a club from Beckenham no less, who are on their annual tour. They're an alright bunch despite having chosen the wrong sport and we get a bit of banter going with em as the England game is proving a bit dull. We strike the killer blow though when one of the elder Rugby lads makes a joke about a large jug of beer that's on our table, enquiring "Would the football lads like some lemonade to go with it" as he thought we'd not drunk very much and were struggling. Problem is, it's not our jug. It was there when we arrived, dumped by one of his lot on their way out to the next boozer! Naturally, we take great pleasure in pointing this out, much to the amusement of his remaining peers. Oh the shame, out Jolly Jape'd by football fans! As it's clearly Rugger bugger property, we put it on his table and also get him a straw to go with it, in case he feels like helping his comrades out by clearing up their leftovers.
And in the late result, Association Football 1 Piss Drinking Jolly Japesters 0.
By early in the 2nd half of the England game, I decide I'm bored and also my ageing collection of cells and atoms needs some sustenance to soak up a long day's worth of beer, so I take my leave and head for the KFC over the road. Now, this place was roundly derided on our last trip down as the place ran out of chicken just as Mr & Mrs Greek got to the front of a massive queue. However it's the closest place to eat and this time, I check there's stuff available before ordering. But even then, they take nearly 15 mins to produce my grub. Falmouth KFC, redefining 'fast food'. Even worse, while I stuff my face, the WhatsApp chatter indicates that England have sprung to life and pulled back their 2 goal deficit. Still, at least I get back into the boozer in time to see Dier nod the winner.
From here we forgo Finns as the DJ that's on isn't playing nearly enough cheesy shit for our taste, but instead Mr X insists we go to the Prince of Wales round the corner (or the 'Prince of Les' as it's known after due to a signage malfunction on our last visit) as there's another band on, which a sign in the gents later reveals to be 'Simon's Band from Essex'. Here I purchase an absent-as-he's-outside-smoking Dukey a pint of frankly vile looking cider, which he of course hates but stubbornly refuses to give up on despite my generous offer of getting him something nicer in it's place and we enjoy the choons from the band, with X unsubtly calling out for the Proclaimers 500 Miles by going "Der derla der" between every song. In the end they play it as an encore just to shut him up, for which we are all very grateful. Plus we get to bounce about, pissed up, going "Sutton United!" to the chorus.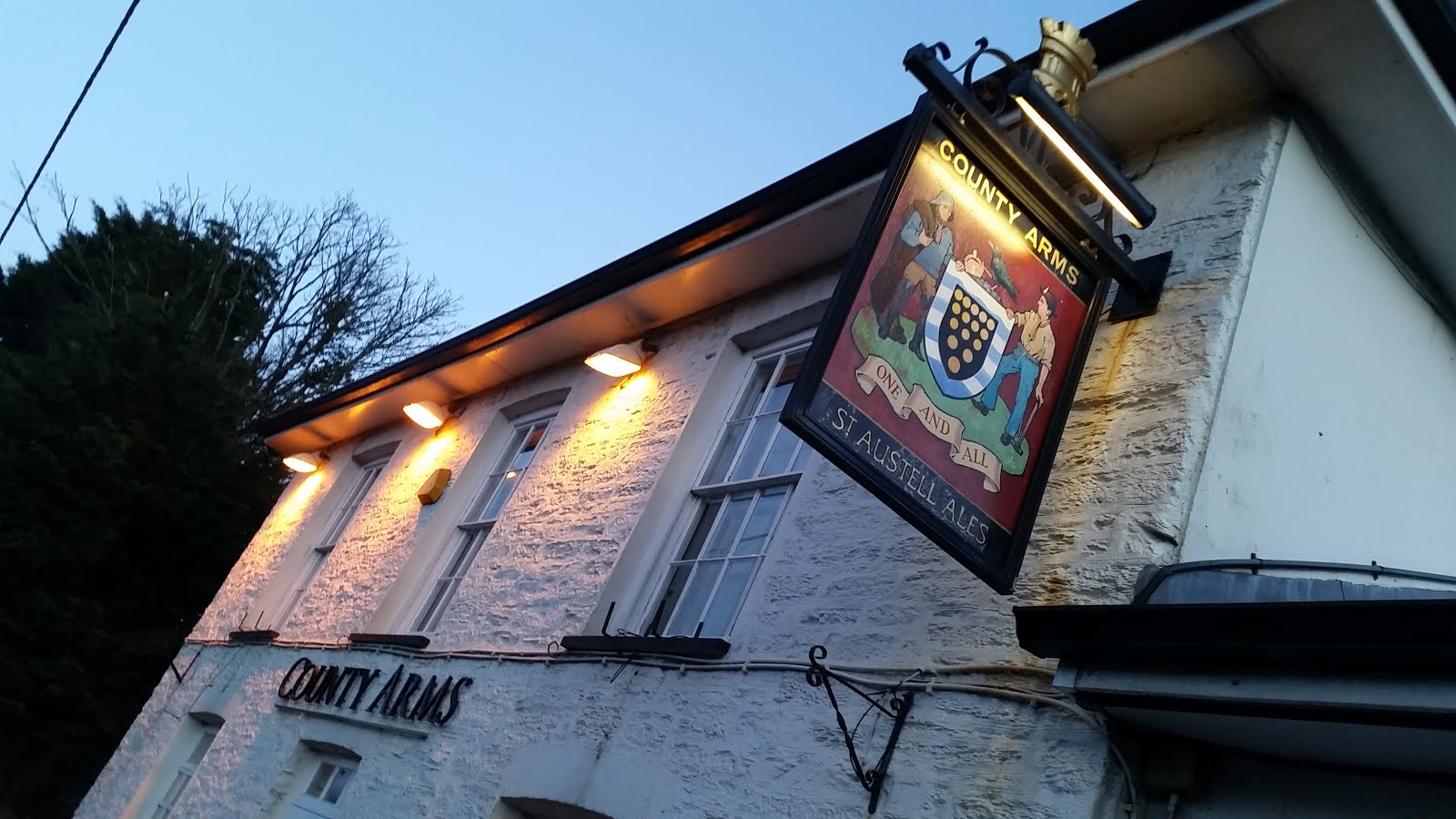 One for the road.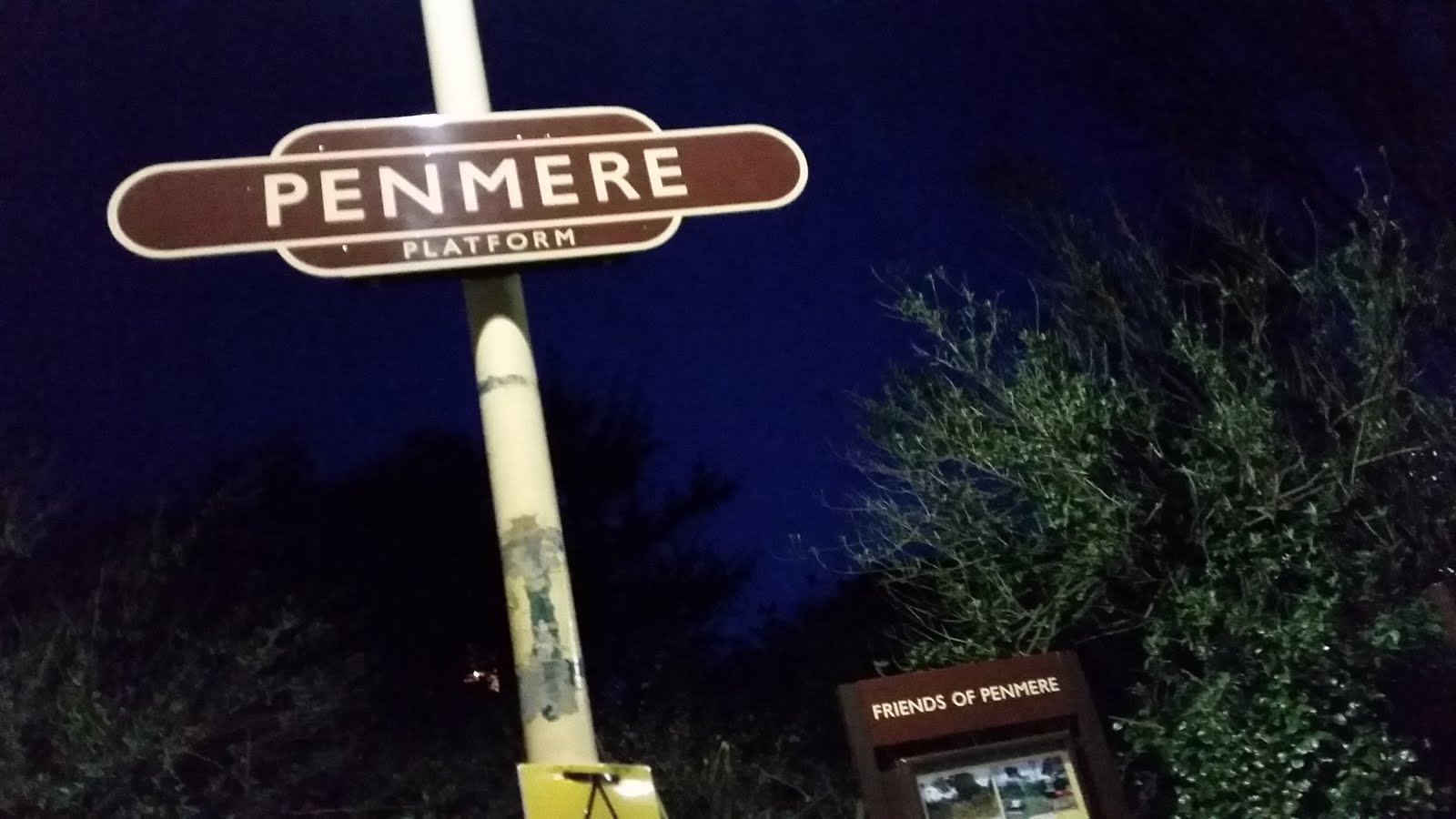 It's too small to be a station….
Yeah, we're very easily pleased. What's it to you?
Sean & Indy call it a night here and I, Dukey & X head over to Finns where the DJ has packed in for the night. More booze along with squashed frogs shots (another previous Falmouth tradition) are necked before we formulate a plan of heading up the road to the late night place called 'Mangos' for an hour and a couple of nightcaps before coming back for some chips and hitting the hay. But as we head up the high street, what seems like half of Cornwall appears to be queueing outside the fruitily named establishment. Naturally, we declare 'Fuck that' and turn on our heels for home. Chips? Chips.
Nosh sorted, we head home and once more X decides that the floor is the best place to kip, this despite Dukey's kind offer of letting him have the bed tonight. Within seconds of him sprawling out under his blankie in the way of the door, he's snoring like a good'un. Lovely.
The next morning, we 'check out' of the B&B around 10. Although this simply involves just leaving the keys on a table in the hallway with us not having encountered a single member of staff the entire time we were here! Then it's spoons for another breakfast fuel up and another walk to the station. We find the others on the platform and we take cover in the tiny shelter just as the heavens open. Back in Truro again, we spot Bob & Cath on the platform, say hello and then head for the bus station at the other end of town, sadly we just miss the one to Newquay and with 2 hours to kill until the next one, we park in yet another Wetherspoons for some softies.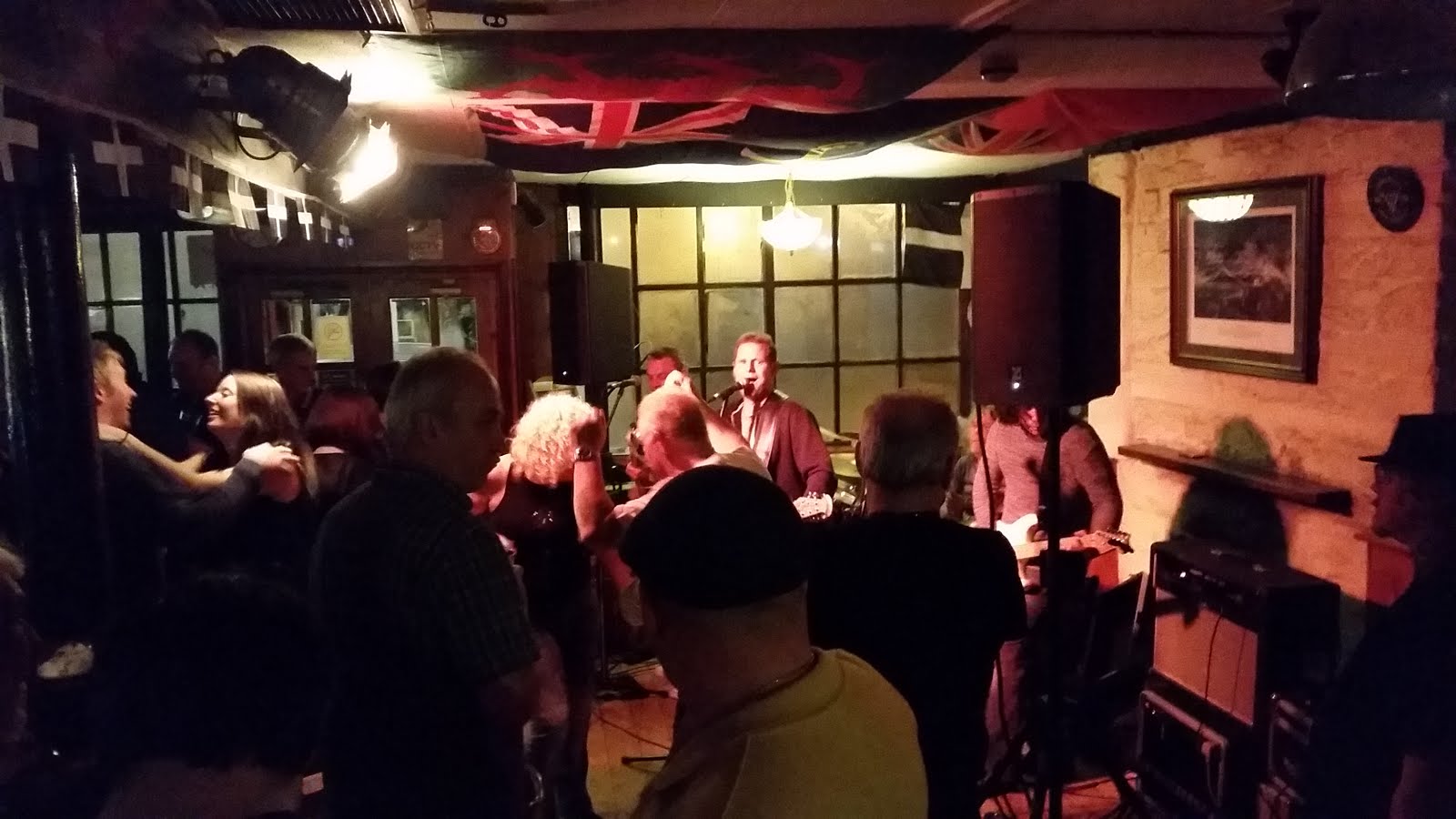 Der derla der!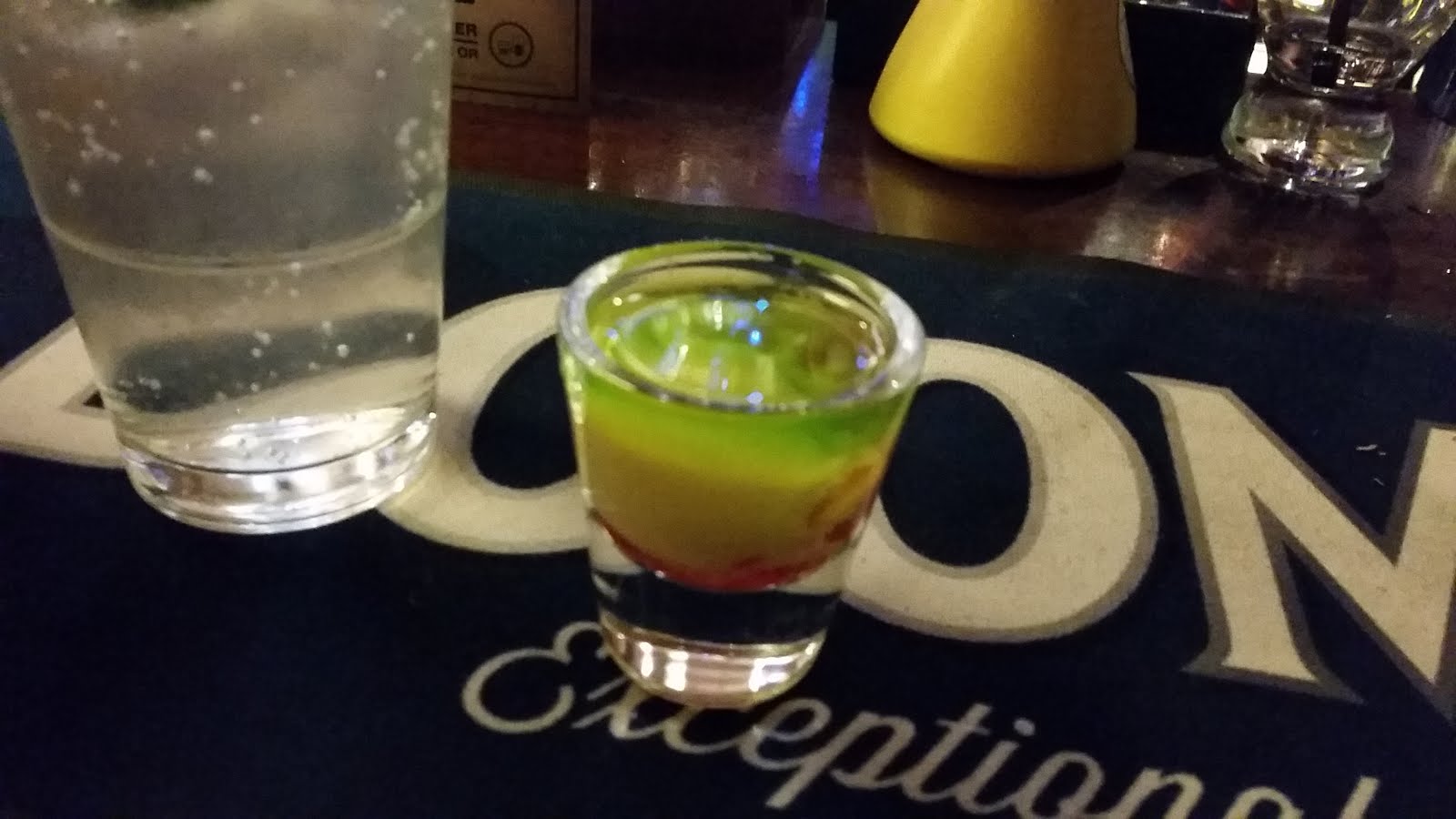 Frog. Of the squashed variety.
An hour's bus ride later, Newquay heaves into view and having had nice blue skies all the way down, we disembark into another grey, wet Cornish day. Lovely. We seek out another place to hole up and have some lunch, only to realise it's yet another fucking Wetherspoons. Here I headbutt a lampshade much to the amusement of some Brummies on the next table before we finally get a cab down to the airport to await transport home. Here, we find that our luck is still in. Normally at this point, the locals rob you of a fiver 'development fee' so you can exit the county. But, starting from this very date, it's no longer necessary. Result! The flight home is a bit late but smooth and we land in an equally shitty & rainy Gatwick.
On the train back to East Croydon, Mr X notices Indy taking his tickets out of his inner pocket on his SUFC jacket. X has the same one and despite owning it for 4 years, this is the first time he's realised it's there. Doofus! We all pile on the X26 back to civilisation and I stumble off at the Dukes Head to make the walk back to HQ in the now steadily falling rain, pondering where this weekend has left us. The answer is still 3rd, but now just the 6pts behind Gravesend Ebbsfleet with the 3 games in hand.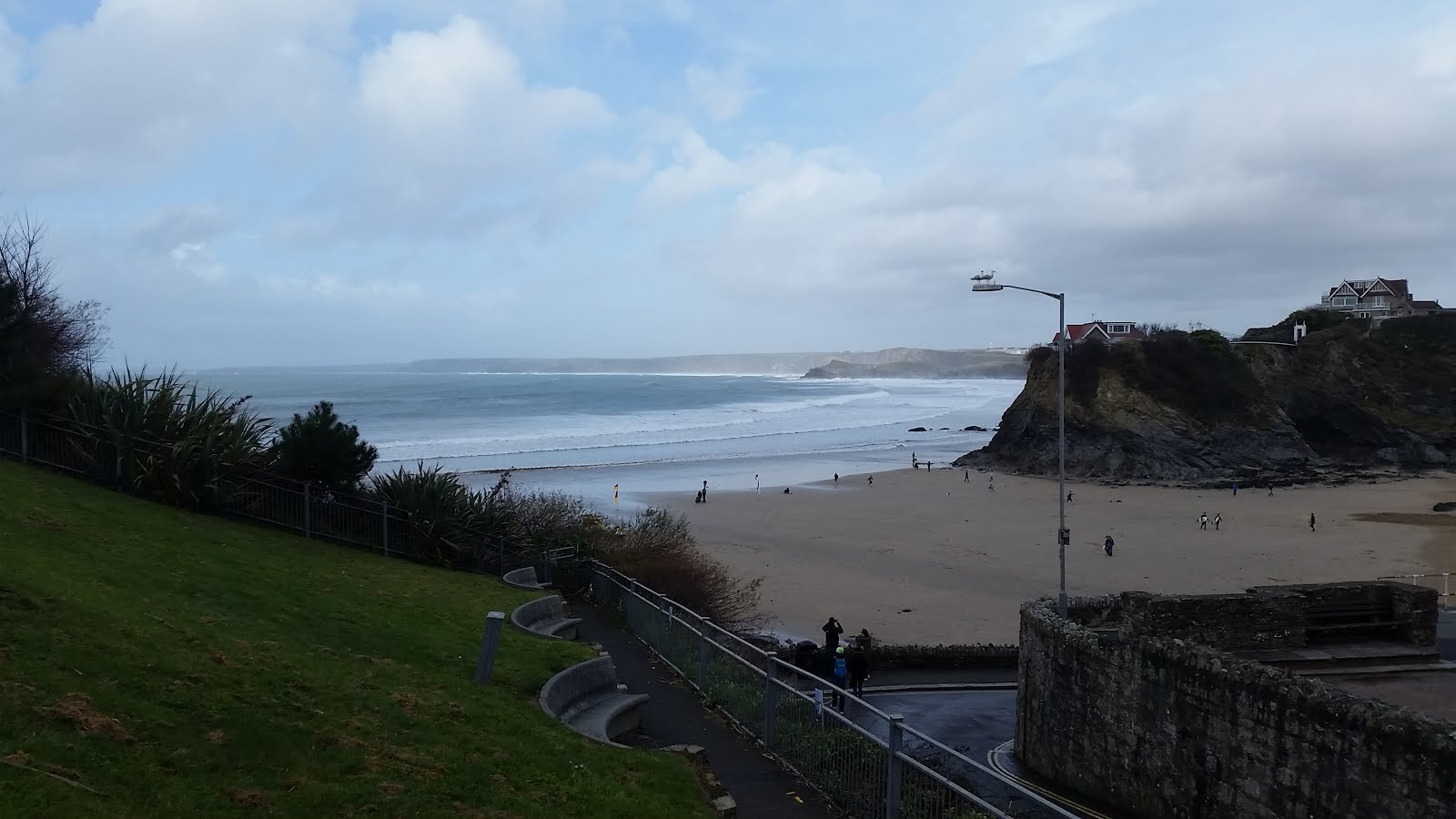 Touristy!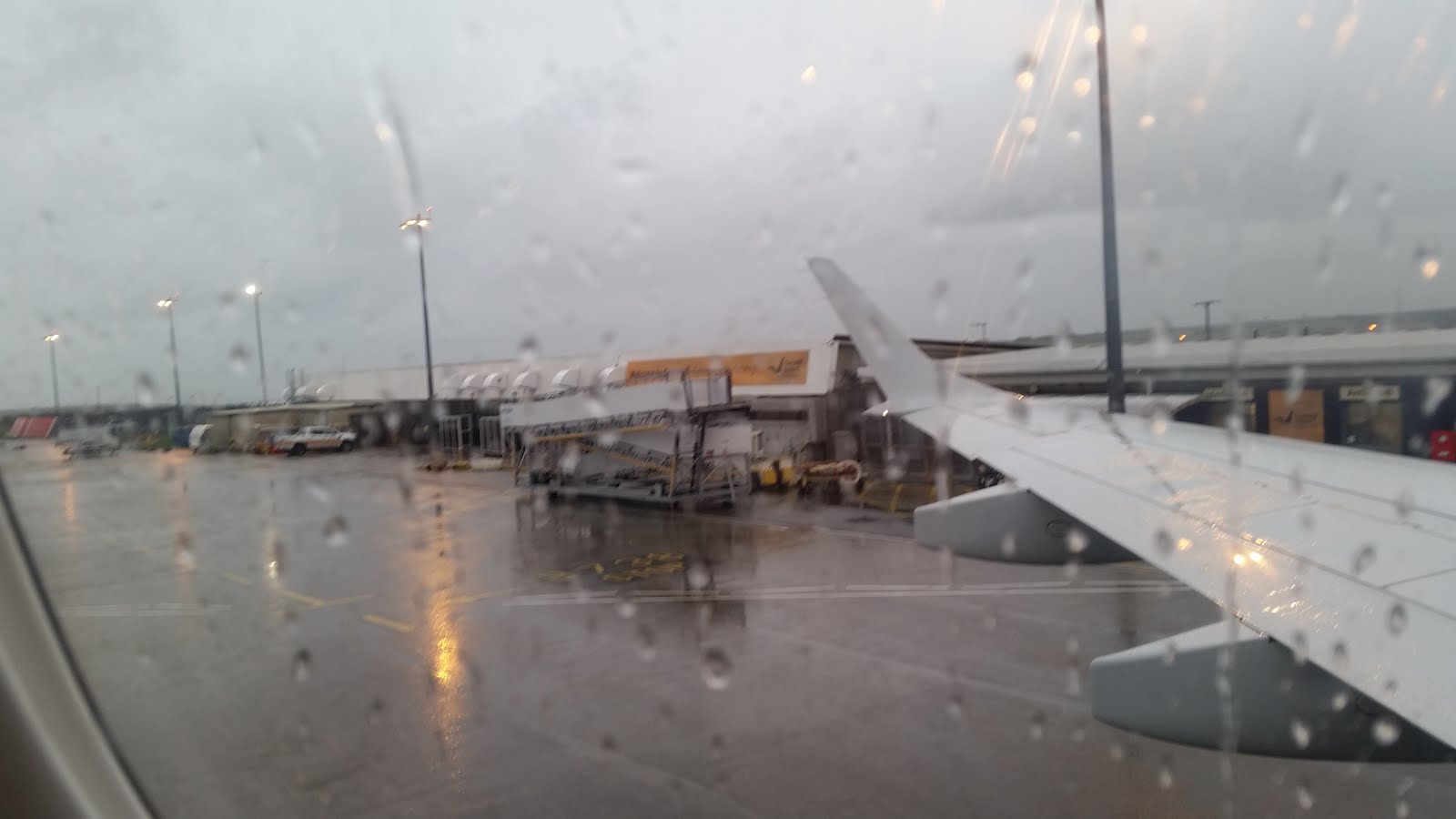 Turned out nice again.
Christ, we might actually do this.
Taz