Well, I think Saturday was rather successful as awaydays go! A nice day out in Gosport, we got thoroughly beered up, found some new pubs, we got to use a ferry to get to a game, no trains were missed & no one died. Top stuff. Oh and we won the game 2-0 as well. Which helps a bit.
We're now thoroughly into the business end of the season and the run in is looming large. With this the games start to come thick & fast and just 48hrs after relieving Gosport of all 3 points we're off on the road again, this time to Wealdstone, in search of 3 more. Even more importantly, this match is the first of our 4 we have in hand over current leaders Gravesend Ebbsfleet. And with them 12pts in front of us, a win tonight would be bloody handy.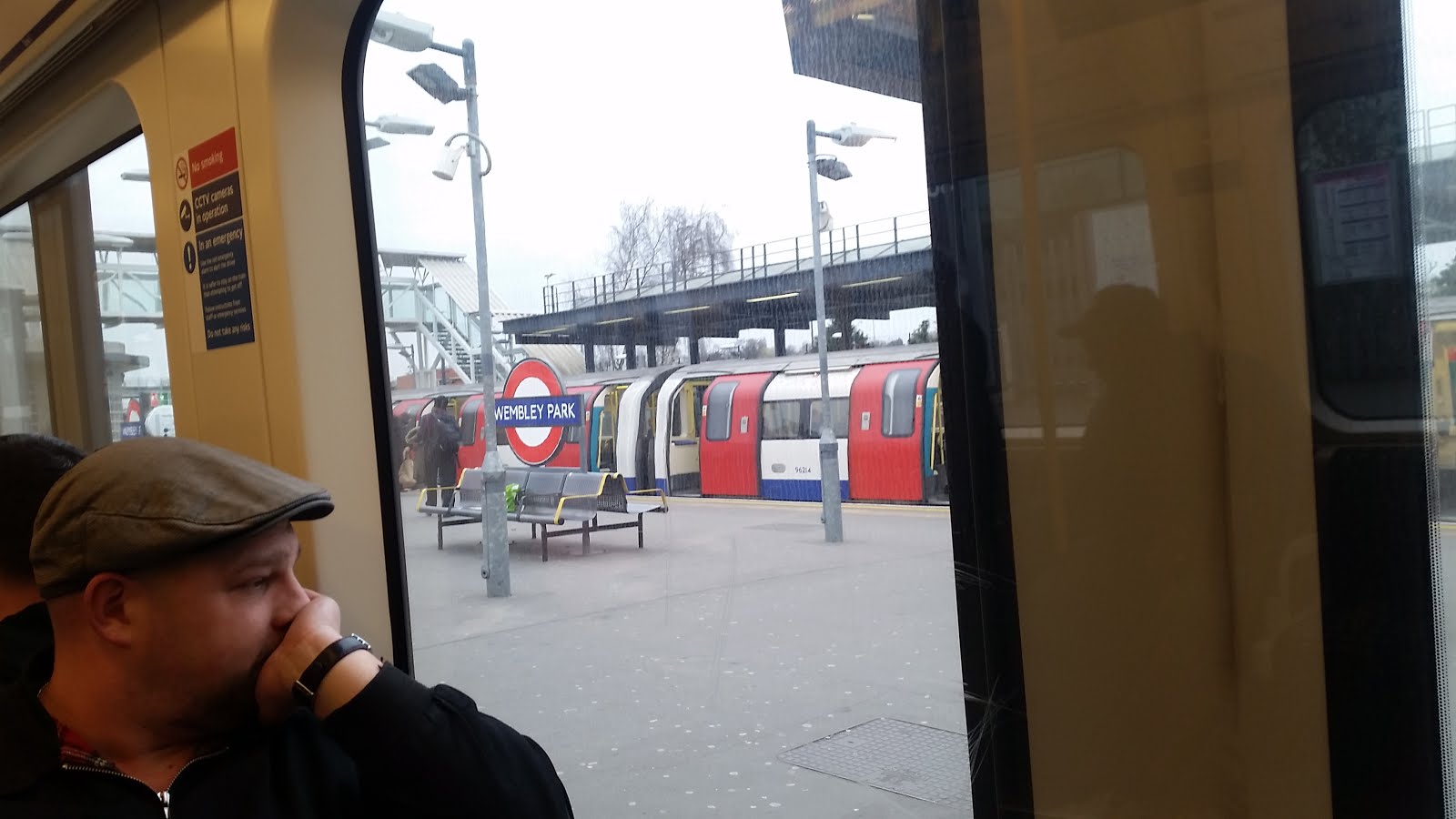 Closest we'll get this fucking season….
As I'm still tending my garden than I don't actually have & searching for a new employer, this meant I could take a nice leisurely stroll up to Ruislip for the game. Sadly though, as Dukey and Greek are both off today as well, I've got those twats on my daily. Still, I guess it's for the best that they have a responsible adult present to ensure they don't go doing anything silly.
I depart HQ in plenty of time to make our 15.41 train and set about weaving my way through the mass of Wallington Grammar school kids aimlessly stumbling along, heads down. Pay more attention kids! I rock up outside Carshalton station just as Dukey & Greek approach from the opposite direction and with their nicotine addiction briefly sated, we hit the platform. Stunningly, for a Thameslink train, it's on time! The slightly tedious trip up to Farringdon is passed by filling in the usual alcohol induced gaps from Saturday and trying to work out what sort of side Dos will field this evening in light of us losing Fitch & Downs for a couple of weeks at Gosport.
A change at Farringdon and there's handily a Met line tube on the platform going straight to Ruislip Manor. Result. We hop on, find a seat and discuss other shit that only we can possibly come up with. One being Dukey's refusal to take out a Tesco's Club Card as he feels it's an invasion of his privacy and he doesn't want Tesco's to have a record of his purchases.
"If I want to buy Cheerios and Lube, that's my business!"
Well, quite.
With the trip up coinciding with the start of rush hour, we've forgone any refreshments in town and instead elected to head straight to Ruislip for beers and food. Sadly, the only real option round there is a Wetherspoons, which of course delights his Dukeliness and slightly disappoints myself and Greek. The Mediterranean chap though is optimistic that there'll be some other options available for dining and drinking. I on the other hand am not so sure, but I let Greek have his little dream this once. Sadly for him, after a brief check of the high street area on arrival, we confirm that there is indeed fuck all else of any use and we trudge into the Spoons regardless.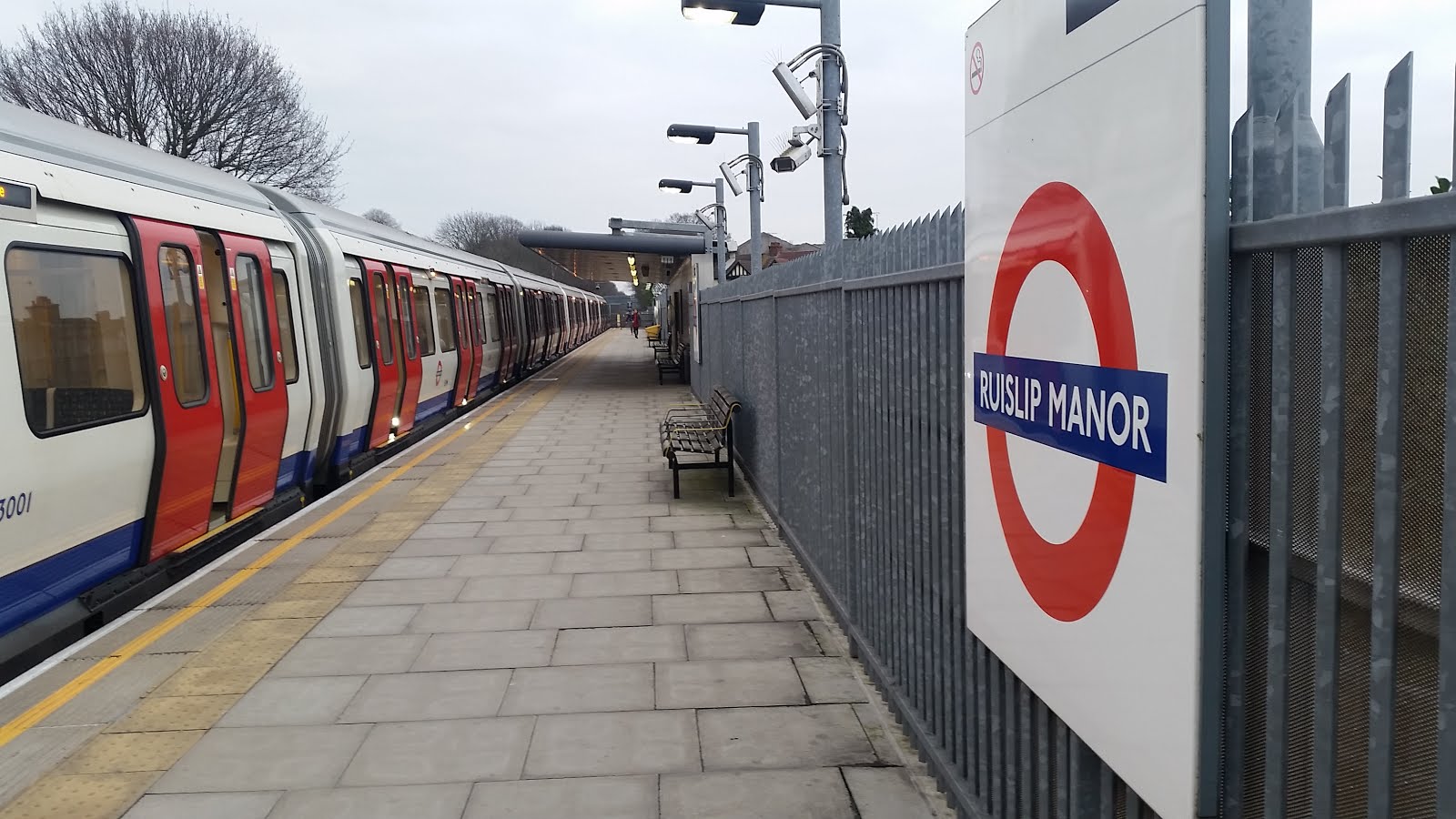 Crowds piling off the Tube…
Here we find a couple of other early arrivals, with Youngers in the house as well as BT Pete, a mate of recent contributor on here, Robbo. We make ourselves at home, order some burgers and pints and set about killing time until kick off in a pub that really should pay closer attention to it's thermostat. Christ it's warm! We pass the time talking more football before Steve rocks up and wolfs down a large mixed grill. Then with 20 to kick off, we gather our things and head towards Grosvenor Vale for the game. Thankfully, Dukey comes in useful for once as he can remember the walk to the ground and I can't. It's weird, I've been here several times already, but the route from the boozer to the turnstiles is one that just doesn't seem to have stuck. Maybe it's the dull suburban surroundings that do it? These also impress Steve, as it's his first visit.
"It's not as shit round here as I thought it was going to be" he says, sounding almost impressed. But then again, he has a Croydon postcode, so you can probably understand his wide eyed wonderment.
We arrive at the ground to find a queue of 30 or so people at the gate. With 10 to kick off, we decide to hit the bar for a snifter and to let the queue die down a bit so we can stroll right in a minute or so before the off. Which in theory is a good plan. But we'd not counted on the fact that there's just the 1 turnstile open and it's operator doesn't appear to be the quickest, along with the fact that we're about the only game of any consequence on for miles around. So when we emerge refreshed from the bar 5 mins later, we find ourselves faced with a queue that's now 3 times fucking longer than when we went in.
As I've said before, we're full of great ideas, but the moment we put them into place they rarely retain their 'great' status. Mumbling about the lack of turnstiles open being the cause of our problems and not the need to squeeze in one more beverage prior to the match, we sulkily join the back of a fucking long queue and wait our turn. Fortunately after a minute or two, someone spots the issue and before long all 4 gates are open and in use and we step into the arena a minute or so before kick off. Naturally, we then have to wait until 10 to for kick off rather than quarter to.
Worner, Amankwaah, Wishart, Beckwith, Eastmond, John, Bolarinwa, Gomis, Slabber, Burge, Stearn SUBS: Bailey, Dundas, Spence, Cooper, Wright
Shooting towards the far end, we take our places on the rather shallow terrace and we're underway. From the off, the hosts are clearly looking to test our mettle and start getting the ball into the channels for their wide men to attack, particularly down Amankwaah's flank. It causes some problems, but the lads stick to the task and manage to deal with most of it. Although there's an early warning when a low ball in from the left is prodded home from close range only to be chalked off by an offside flag and cut the celebrations short.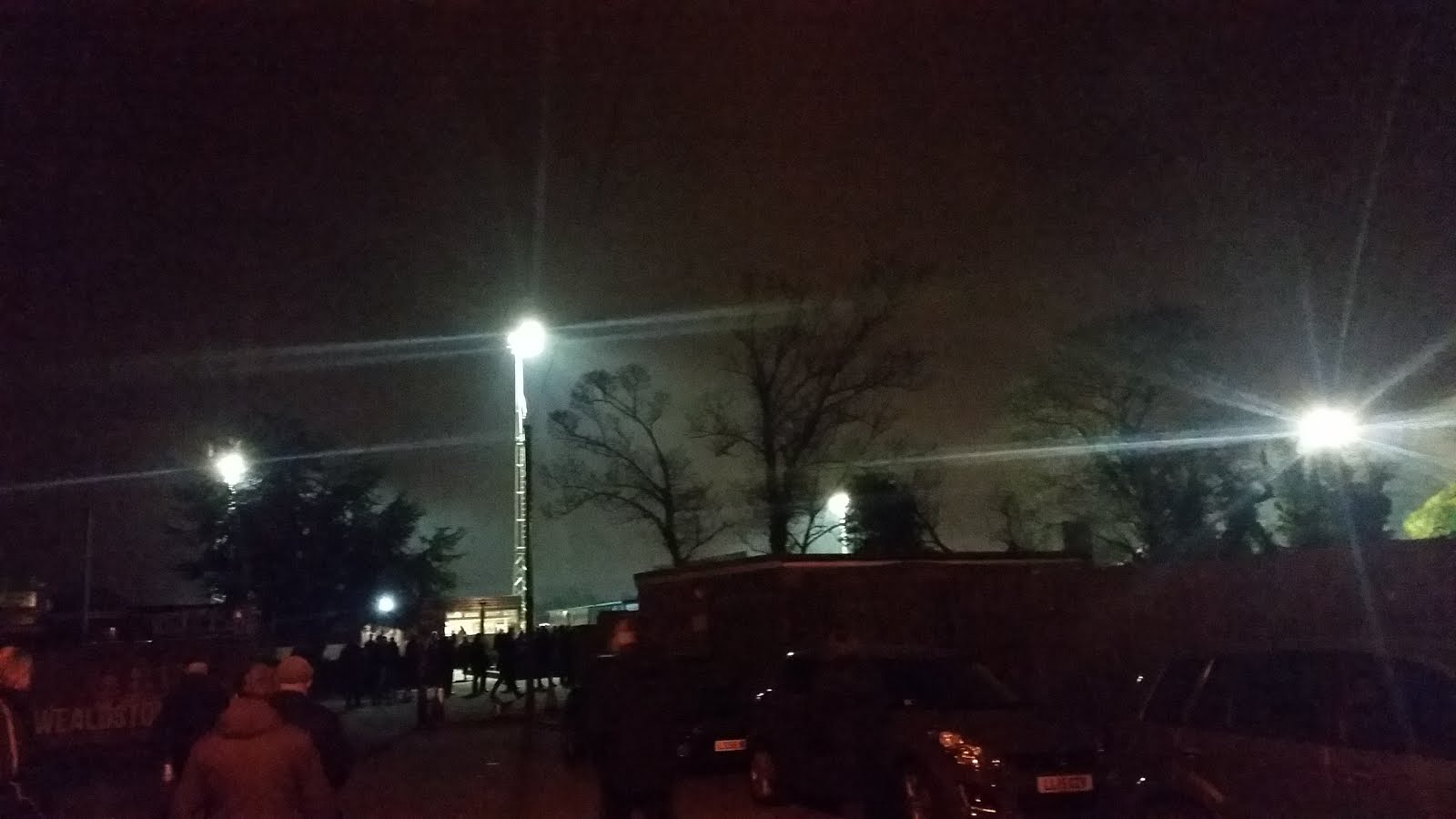 Floodlights guide us in.
The game then enters a bit of a scuffy spell. Neither side can really string too much together with punts forward being the order of the day as well as a lot of running about. Things are brightened up at our end a tad when we hear that before the game, a carload of our squad had turned up at Lower Mead for the game. Which is where Wealdstone used to play and left in 1991. It's now a Tescos. The best thing about this is quite where the lads got their travel info from. A fucking copy of the 1984 Rothmans Non-League guide? Still, it seems to be a theme with this place, Totts once told us the tale of some of the 'Cheam Park Dads' mob rocking up at the club chairman's house a couple of years ago as that's where the club is registered to.
Sutton United. A special club and in more than one sense.
After a lacklustre start, we suddenly come to life and a clever little corner routine puts Burge in space just inside the box. His wallop on goal from a narrow angle is punched away at the post by the keeper. Then another corner soon after is poorly cleared and Louis John has a bang from about 25 or so yards. His effort fizzes a fraction over of the bar and draws a satisfying 'Oooooh' from the away fans. That's about it though and the game is soon back into it's scruffy, aimless pattern from earlier.
After about 30 mins though, it's good news bad news again. The bad is that Burge who's had another decent shift so far is felled somewhat agriculturally in the middle. To add insult to injury, the culprit makes a nice show of treading on our man as he gets up. The damage is already done and Burge limps off very slowly with what looks like ankle knack. The good news is moments later, before we've even had a chance to get a sub on, we win another corner and once more it causes a bit of uncertainty in the Stones box. It bounces about a bit and then Dale 'once of this Parish' Binns tries to clear his lines. He makes a mess of it and instead of hoofing it upfield, hoofs it up into his own arms stretched above his head. Handball! The ref, who so far hasn't been particularly inspiring, suprises us all and points to the spot. Although I think even I'd be the first to admit that a lot of refs at this level would have given fuck all.
Bedsy steps up and despite the keeper guessing right, his firm strike makes the net billow nicely and we're 1-0 up! In the aftermath, we finally get back to 11 with Dundo coming on in place of Burge.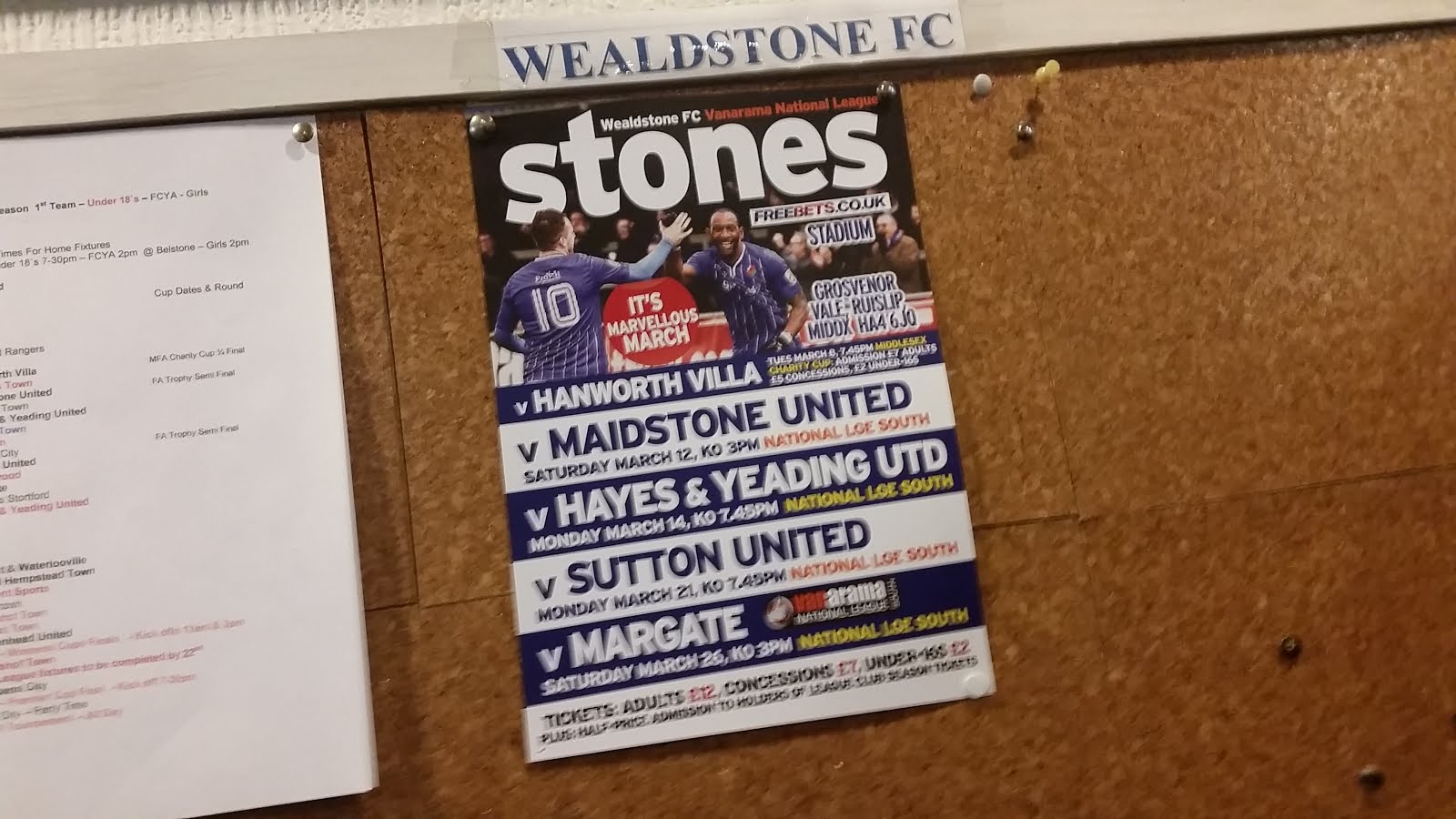 That's us that is.
Despite having given away the peno, our old mate Binnsy has largely had a decent game playing the full back role for Stones that he got lumbered with at GGL. He's faced with Tombo and unlike many defenders this year, he's actually doing a sterling job keeping our wide man quiet. Although the one time Tom does get a decent run at him, he glides past and clips a super ball into the box that just evades Slabs diving header in the middle.
We see the half out and head in the one up at the break. Having strolled round, I find Dukey & Greek talking to Mr Loughlin about Burge's injury. It seems that his ankle has balooned up already and ligaments is the fear, which would be just fucking great given our current injury absentees. Mainly as anything more than a twistsprain will probably see the lad miss the rest of the season.
Second half, shooting down the hill we start the half in a great hurry for some reason and punt away a fair bit of possession when a slightly calmer approach would help far more. For all this and the hosts workrate, we're still looking the more likely side however and Slabs has a golden opportunity to re-open his U's account shortly after the restart when a freekick from wide finds him unmarked at the back post. But his little nod over the keeper is a touch too high and just clears the crossbar. The battle continues in midfield, but despite Eastmond having easily his least effective game in a Sutton shirt (and let's be fair, the lad has set the bar stupidly high so far!), we do seem to be getting a grip on things and are killing the game when required to ensure our hosts don't get too much of a head of steam up. Around the hour, a ball forward finds Slabs wide and with a couple of options on, he swings a brilliant cross to the back stick where an unmarked Tombo powers in a header.
Naturally, with us being somewhat cynical types the celebration for the 'goal' is combined with a quick shufty off to our left, just in case. Yep, flag's up. Offside. Bastard!
With the ref having been a bit odd in some of his decision making all night, things get understandably a little fractious. Eastmond goes in the book for a frustrated tackle moments after having a shit descision given against him and the Stones number 2 performs a ridiculous dive to win a free-kick after being closed down by Slabber, which goes down well. The fact our man is about 2 feet away when the little alice banded scrote chucks himself to the turf makes it one of the more embarrassing efforts we've seen in a long while.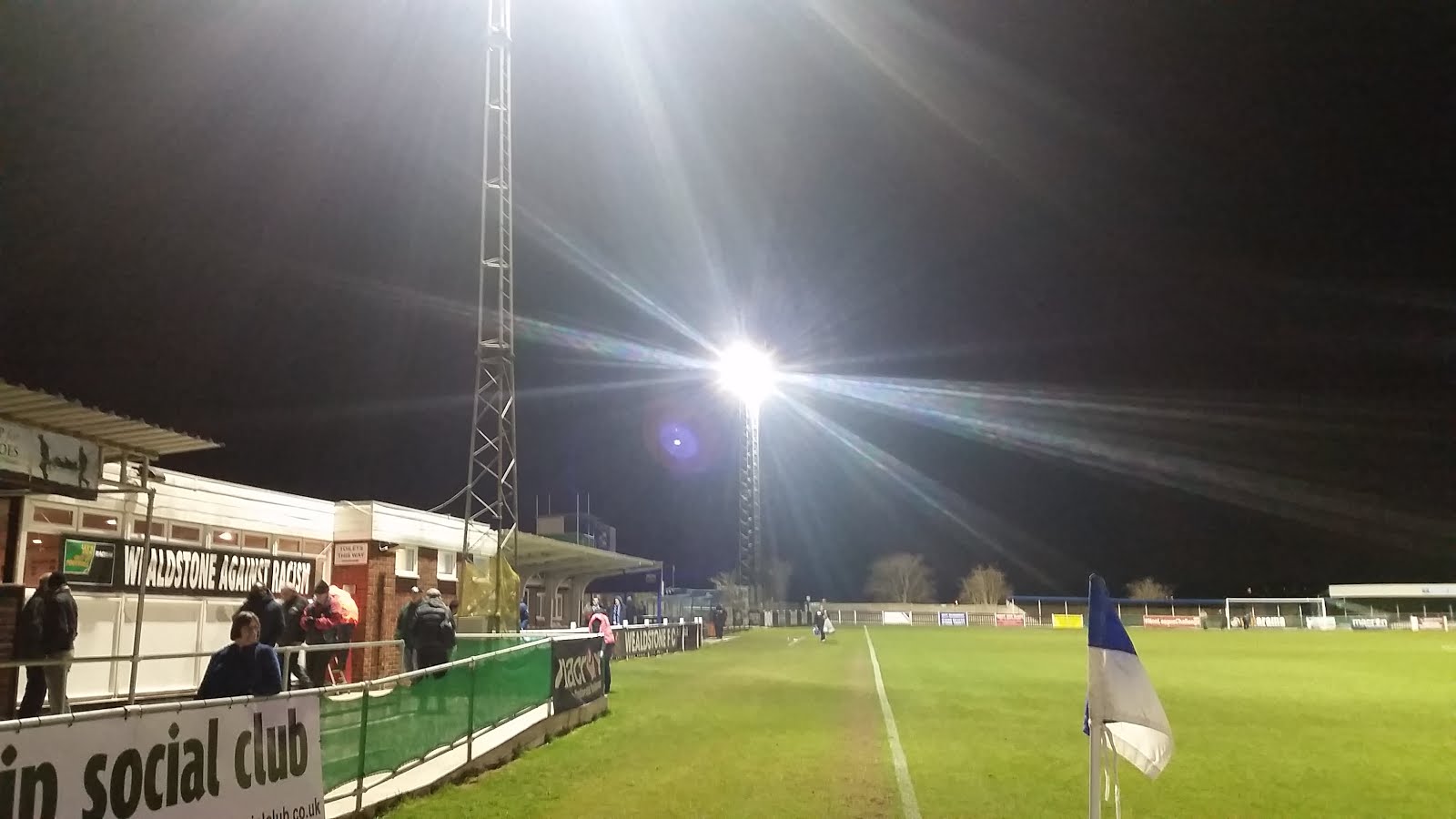 Bye! Thanks for the 3 points!
Eastmond should make it 2-0 when Slabs slips in down the right and pulls it back into the box, but the divey 2 gets in the way and deflects the shot just over. Then another corner is poorly dealt with by the defence and the ball drops to Duns who bullets a shot toward the far corner from 8 yards only for it to ping back off the lad stood on the line at the back post. We make a change and get Bailey on and this finally seems to give us the control we need. Then into the last 10, the Stones defence can't get another corner away, the ball finally finds it's way to Tombo and he skips in past 2 challenges to the byeline and slams it across the 6 yard box for Louis John to slide it home. 2-0! The cheer that greets the goal is quite loud, especially given that our turnout is rather pathetic for a top side (well, according to the Wealdstone report anyway). Louis seems to enjoy his goal too
The last 10 are also notable as the period where the hosts finally get a couple of shots on target, but Worns handles the mild peril this presents and we really should add to our tally at the other end as Slabs drops deep and allows Tombo to use his pace up top, but further damage is avoided and the final whistle brings another big 3 points to the tally. More importantly, it means we've finally made a bit of ground up on Gravesend Ebbsfleet at the top.
Will it last? Fuck knows. Still, just the nine 'cup finals' to go!
Game done, we forgo a nightcap and instead amble out to Mr X's Italian made hatchback to all squish in for the short journey home via the M25. Once back at HQ, I take the time to apply my editors eye to Dukey's Gosport write up, that he'd sneakily put live minutes before leaving the house that afternoon as he'd wanted it to remain in it's 'purest form' for as long as possible. So in other words, with a million spelling mistakes, typos and vaguely libellous content. Amongst others, this included the statement that we were off to 'Cronwall' this weekend. Tit.
Actually, whilst we're on the subject of 'Cronwall', anyone know a good Curry house in Falmouth? We shall be in need of one Friday night.
Ta muchly.