As a god-fearing atheist Easter is probably my favourite of
the religious holidays currently on offer although I still don't understand why
it is held on totally random dates or some of the highly strange licensing/shop
opening hours that it throws up. As well as signalling the potential start of some warmer weather and longer days Easter also tends to be pivotal in terms of what matters most – the footballing calendar.
This particular long-weekend kicked off for me with a hot
cross bun and a trip up the 217 to Chipstead to take in the Epsom/Westfield
game, which saw Epsom played off the park, followed by a dive across the Rose
Hill border to the Hope for what is laughably called a "beer festival" where
blokes with beards openly take snuff and drink pints of Toilet Duck.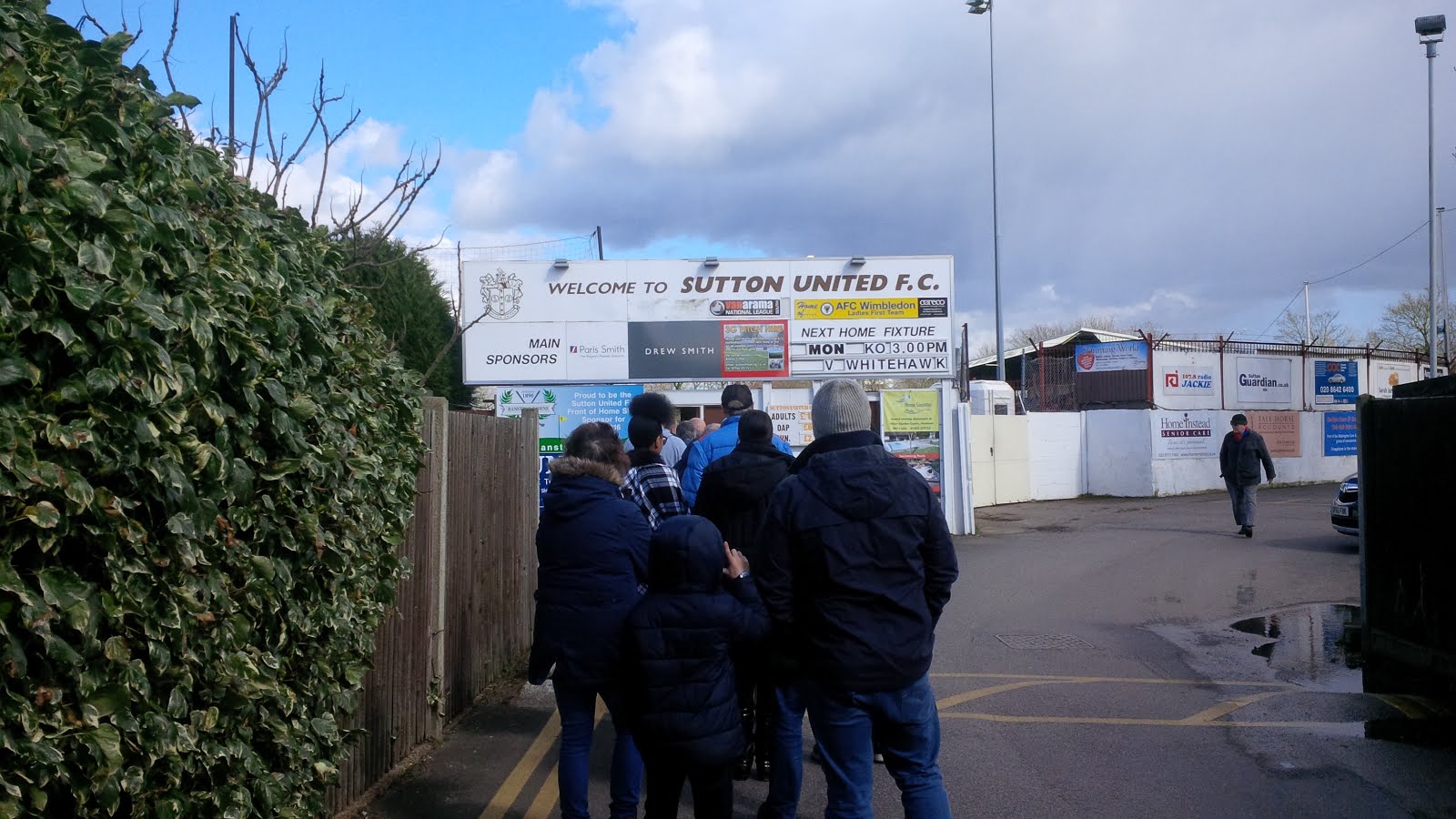 People waiting. In line.
I had a glass of something which had clearly been strained
through the brewers unwashed pants and was just leaving when Four Days, getting
pissed up instead of packing before his brief political exile to the Ukraine,
announced that they had a decent pint that looked and tasted like something
normal and that he had deliberately kept from me for a laugh. Why I bother
traipsing all the way over to the occupied territories to be fucking poisoned
and pissed about like this I do not know.
Whilst subjecting my guts to this misery, tweets, and some
things called WhatsUps? And
Instantgrams that I know very little about, had started filtering through from
Gatwick where the rest of the firm were flying down to Newquay for the Truro
game. The bloke who thought you could take a set of darts on the plane in case
the stewardesses rig up a board for a game of arrows will remain a total and
utter local legend.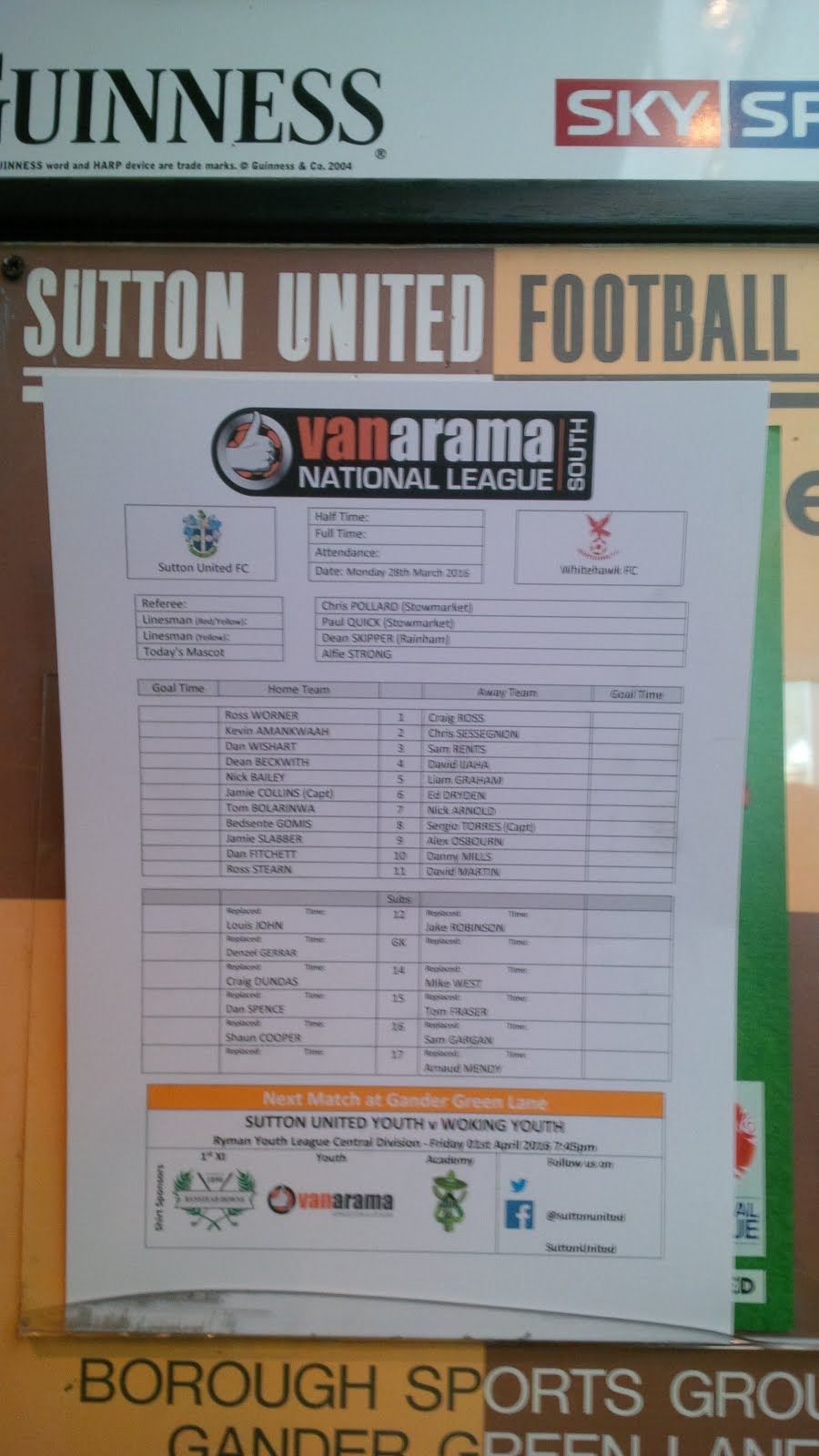 Names.
If you are not part of the travelling party to the deep
South West there is nowhere better to keep up with the news from the game than
back at HQ where Sutton Common Rovers were hosting Horley and giving them a
right proper pumping. Quite a few faces
were lurking around the stand including one or two who were getting in the mood
for the return to the ring that night of local pugilist and all-round decent
bloke Ricky Boylan. Well done mate by the way.
With news of what sounded like an exceptional team
performance filtering back from Truro the vibes were good as we battened down
the hatches for Storm Katie and looked forward to a bumper bank holiday Monday
fixture against the White Hawks.
Plans to squeeze in the morning fixture at Raynes Park Vale
were well and truly scuppered by the atrocious weather but the Fred Gee laps up
that sort of battering and as the clouds cleared the skies across the People's
Republic we knew there was no danger and it would be game on at GGL. I headed
out the door wearing nothing more than a t-shirt and levis jacket full of the
joys of spring and a chocolate Easter Bunny that I'd thieved off one of my
daughters.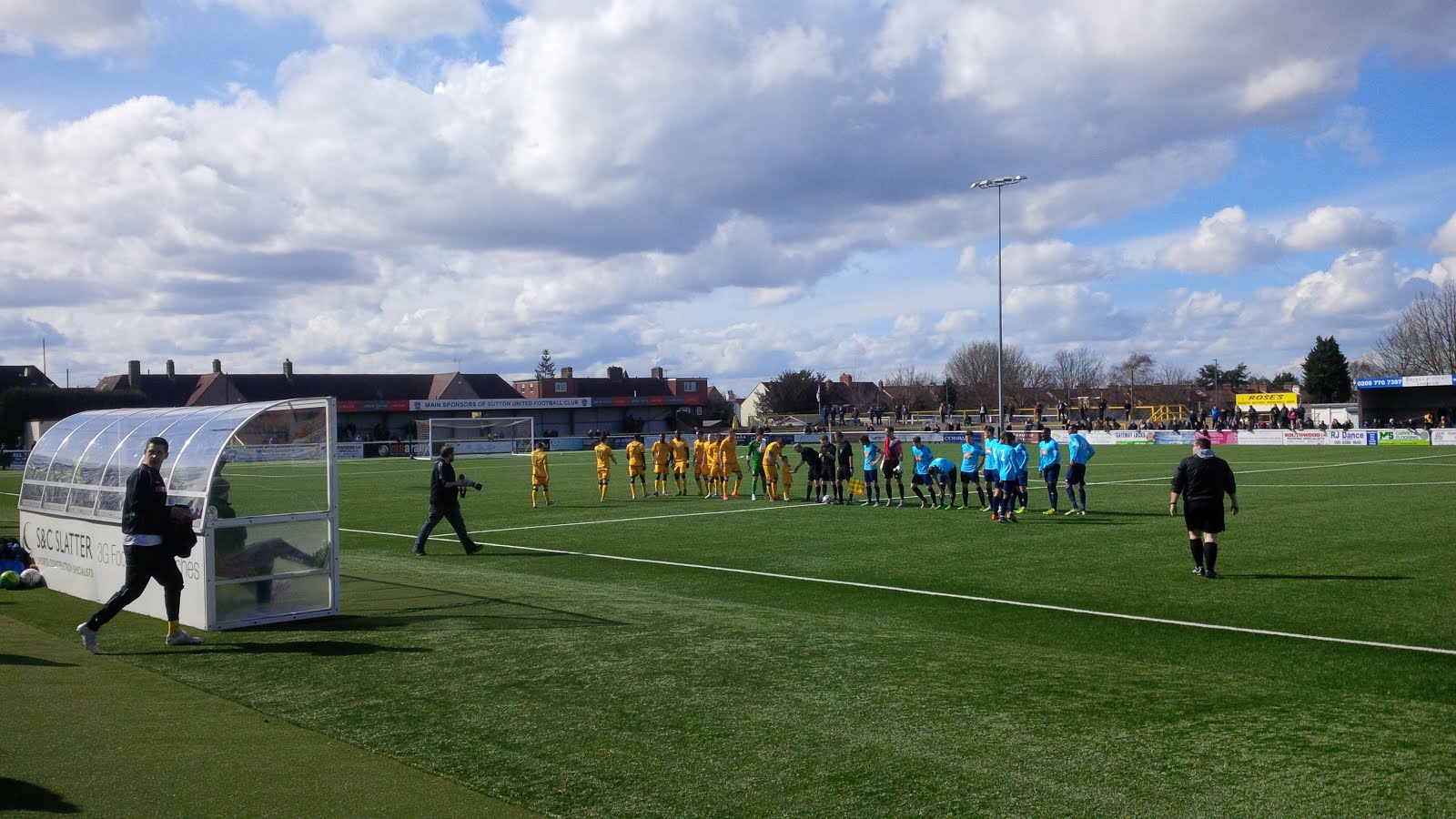 Nice day!
Thinking I would breeze straight in as I was early, and
looking forward to a couple of liveners, I was surprised and pleased to find a
queue already built up most of the way back to the Lane. This was later
explained partially by the fact that Mod/punk Beddington legend Marky N was
back on main gate turnstile duties and taking time to show off to all and
sundry his new pair of desert boots that had arrived that morning in a giant
egg. I may actually have made that last bit up but I am merely the painter of
pictures for your delectation.
Into the bar and you can tell this is going to be a busy one
and the place is absolutely buzzing with anticipation. With the Hawk's fielding
a fair old smattering of U's old boys, and a scummer between the posts, that
little bit of extra spice is sprinkled into the mix. After trying to explain to Duke why there is no duty free
allowance on an internal flight it's time to head out of the tunnel and into a
well-filled arena.
I am pleasantly surprised to bump into my spiritual adviser
Father Kev, a man of the cloth, who has taken time out from ecumenical matters
to put in an appearance. When the glitterati of the local Catholic Church start
turning up at GGL unannounced you know there is something in the air. Fucking
glory hunters.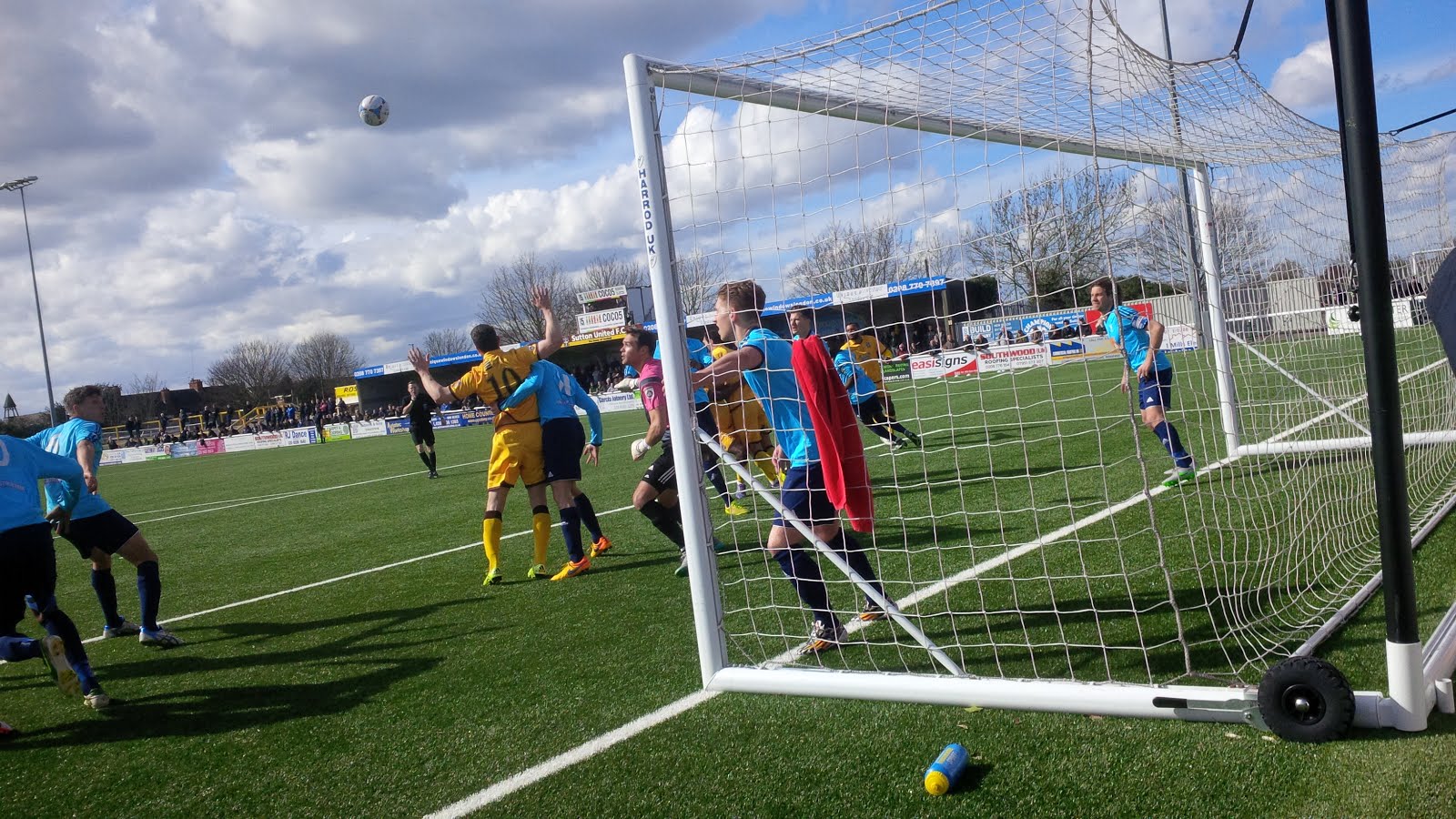 GERRIT IN THE MIXER!
So with a bit of rotation to rest some of the tired legs
from Saturdays long haul, and with the very welcome return of Jamie Collins and
Dan Fitchett, we start brightly enough and within a couple of minutes Ross is scythed down with a shocking tackle that merits only a mild
rebuke from the ref who lays down an early marker for a "mixed" afternoon. A
couple of early corners see some blatant obstruction and wrestling of our
players in the Hawks box but are not only ignored but actually see an offence
awarded against us. Yes, this is what we have come to expect at this level in
this day and age.
First twenty five minutes it is all us but with the strong
wind at our backs long passes and crosses are proving tricky but we still
manage to create some decent chances with Fitch hitting the side netting from a
tricky angle and the ever-lively Ross Stearn getting a couple a couple of
decent chances away.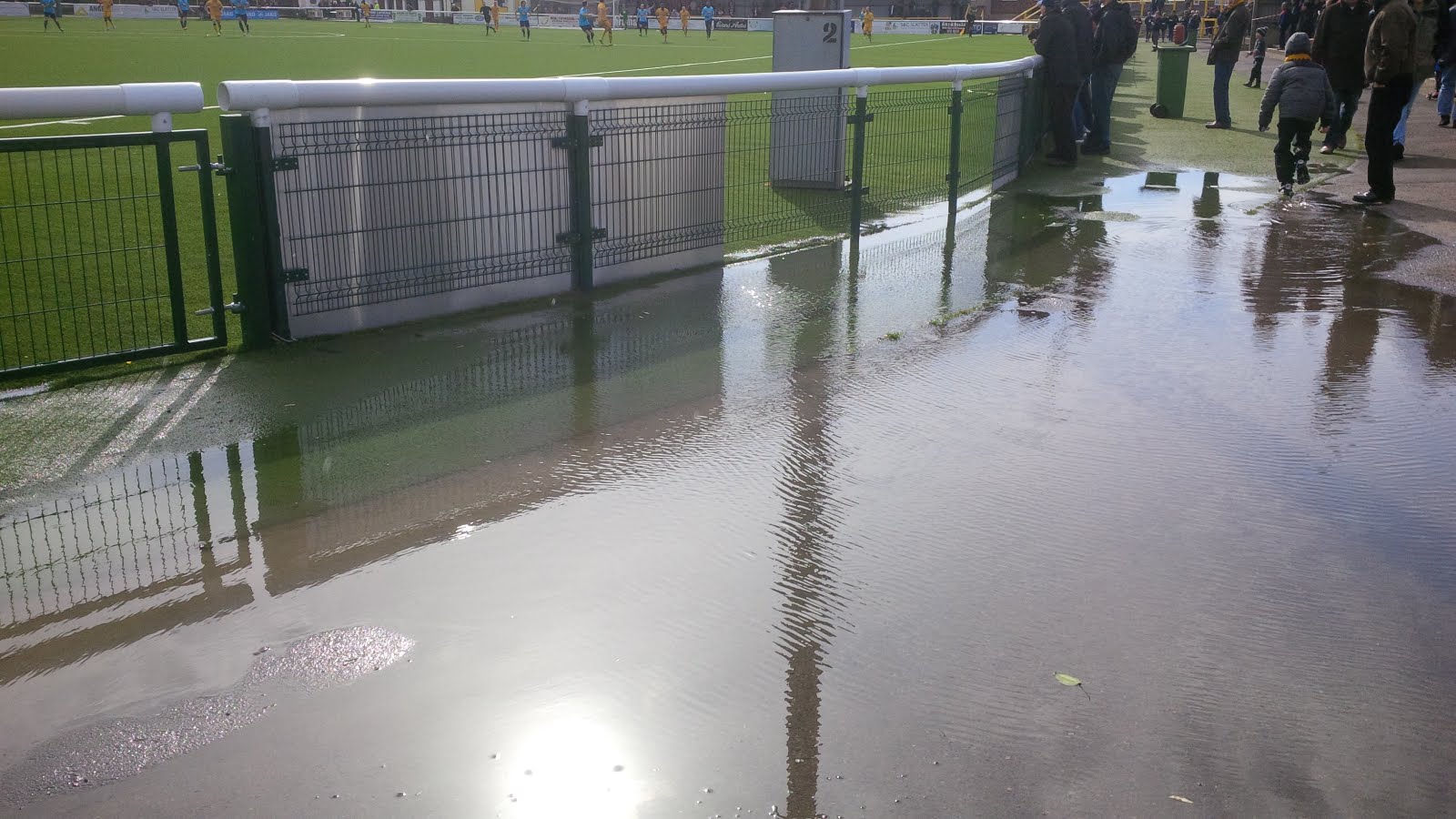 Lake Gander is just beautiful in spring.
But Whitehawk are a decent enough side and they had
certainly turned up for this one and as the half wore on they got a stronger
foot hold in the game and JC had to make a fine defensive header to prevent
what looked like a nailed-on scoring chance at our end. It was a warning and
just before half time an unusual slip by Wish allowed their forward to get in
round the back of him and despite a few shouts from the Shoebox for offside he
calmly slotted the chance pass Ross, the first goal we had conceded in nearly
nine hours of football.
In injury time in the first half Fitch had a strong shout
for a penalty turned down for a blatant shove in the back but as that kind of
stuff had gone unpunished up till then it was no real surprise when the ref
waved it away. So we went in at half time a goal down and knowing we would have
to give it some to get back into contention. But as it turned out it was
Whitehawk who got the early second half goal.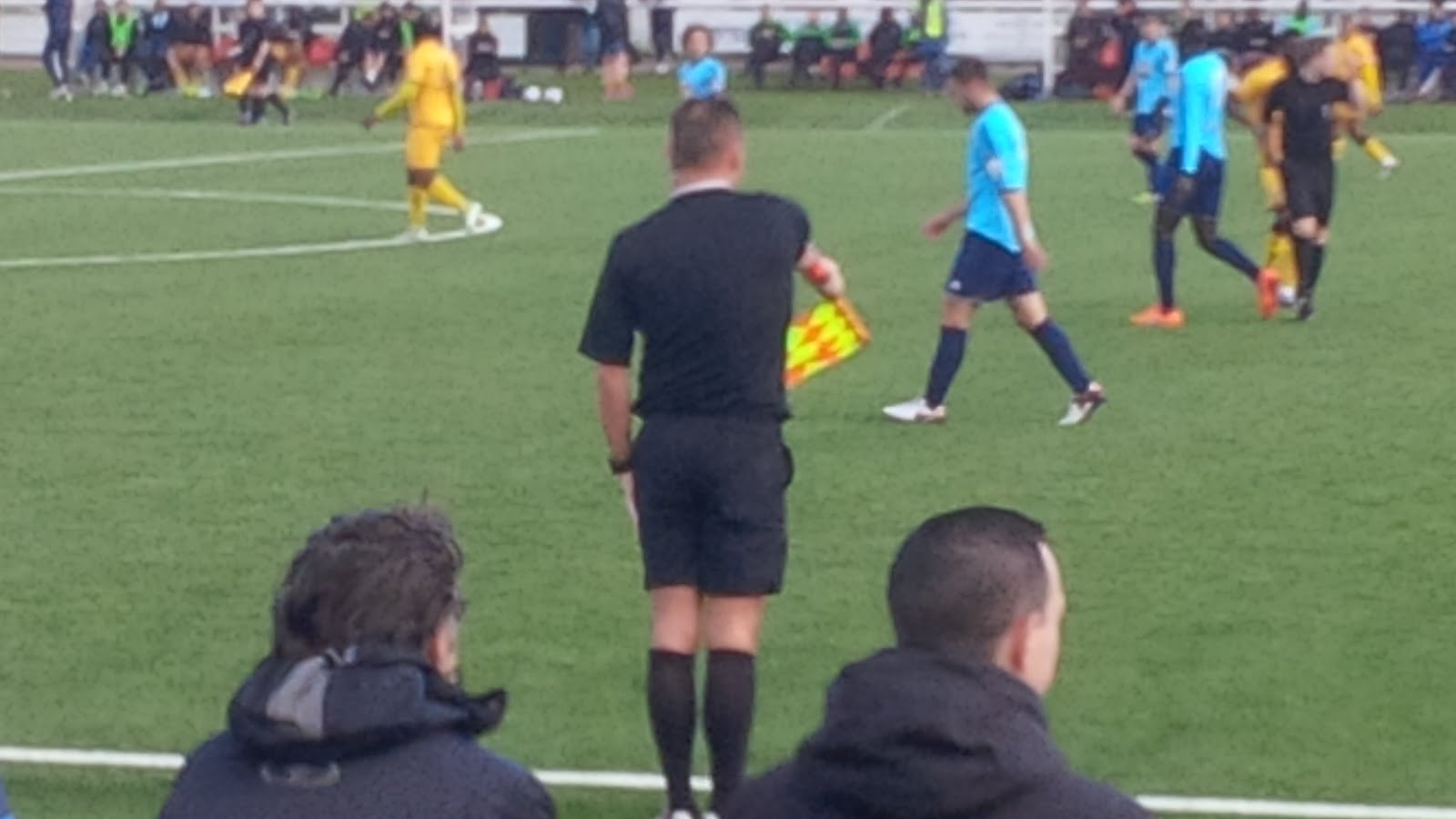 Guessing
Another warning came just a few minutes in when Ross had to
make what was a quite extraordinary save from a header off the back of a Sam
Rents corner. Ten minutes later their man found himself round the back of our
defence in space and was able to calmly lob Worner with a very high quality
finish. Two down, with half an hour left and off the back of the long return
trip to Truro, this was now a real test for us on Easter Monday and Jeez, did
we rise to it. (See what I did there?).
From then on it was pretty much all us and we went for it
like a team that simply doesn't know when it's beaten. Bedsy thrashed home a
lovely volley from a Kev long throw to get us back in it, and, switching to
three at the back and sticking Tom up front with the sub Dundo and Fitch it was
mayhem and after some near misses Dan himself finished coolly after being set
up by Tom. There was only one team going to win this now and it wasn't the mob
from Roedean.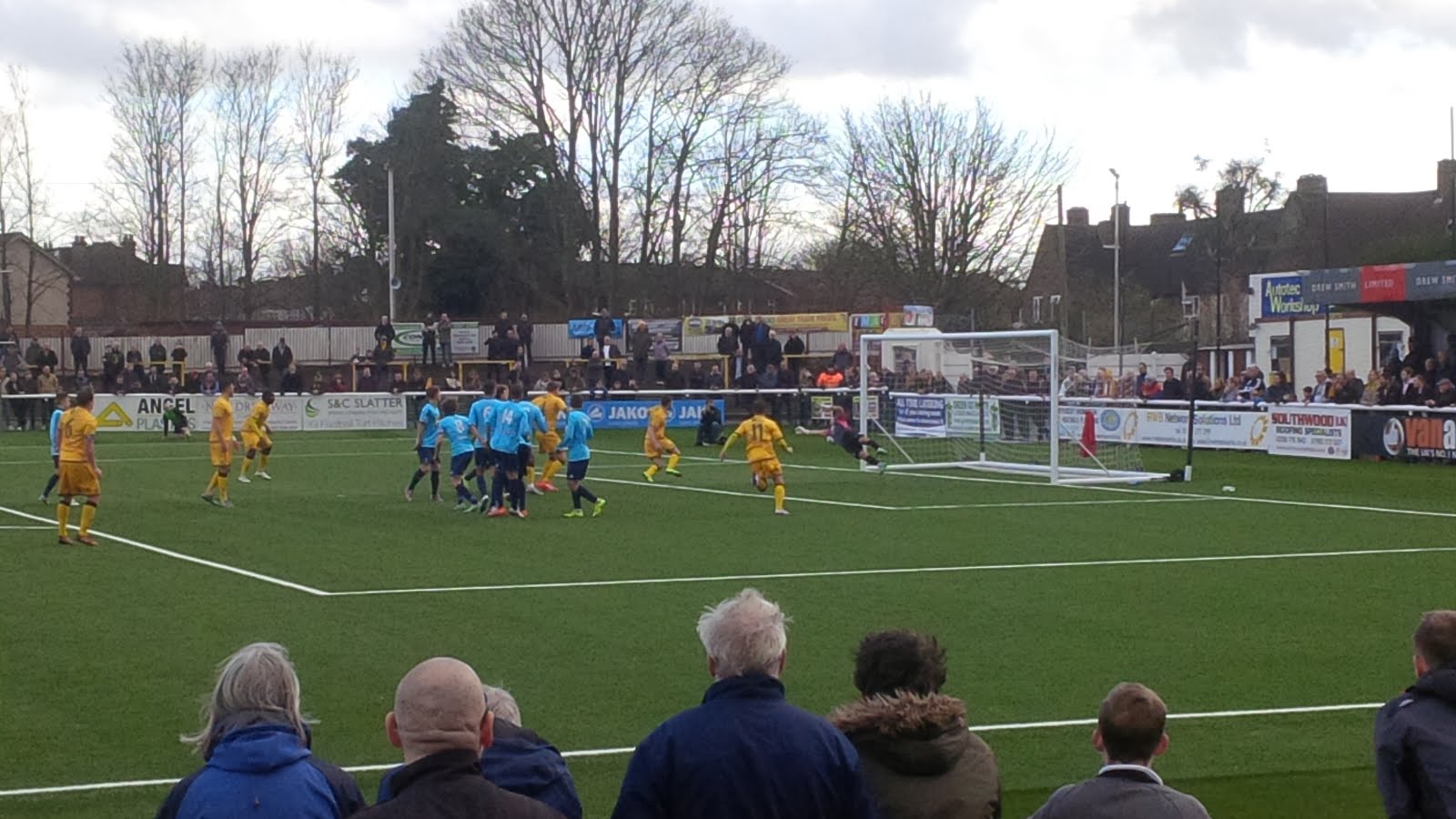 Inches from victory.
The final chance came in injury time when a superbly struck
free kick from JC was fingered onto the post by the scummer between the posts and
Dundo just couldn't get there to stick in the rebound. But what a game and superb
entertainment for the bumper crowd of well over a thousand and it felt like a
win as the other favourable results drifted in and the epic unbeaten run is
extended to 19 games.
I had to leg it at the death but there was some buzz as the
crowd bundled out onto the Lane. This, along with the season ticket offer, is
the stuff that will draw the crowds in. So, youth team Friday night and
Eastbourne home on sat before the big one in a week's time down a Maidstone. If
anyone can give me a lift back to the West Sutton area from that PM me via the
fans forum or email this blog.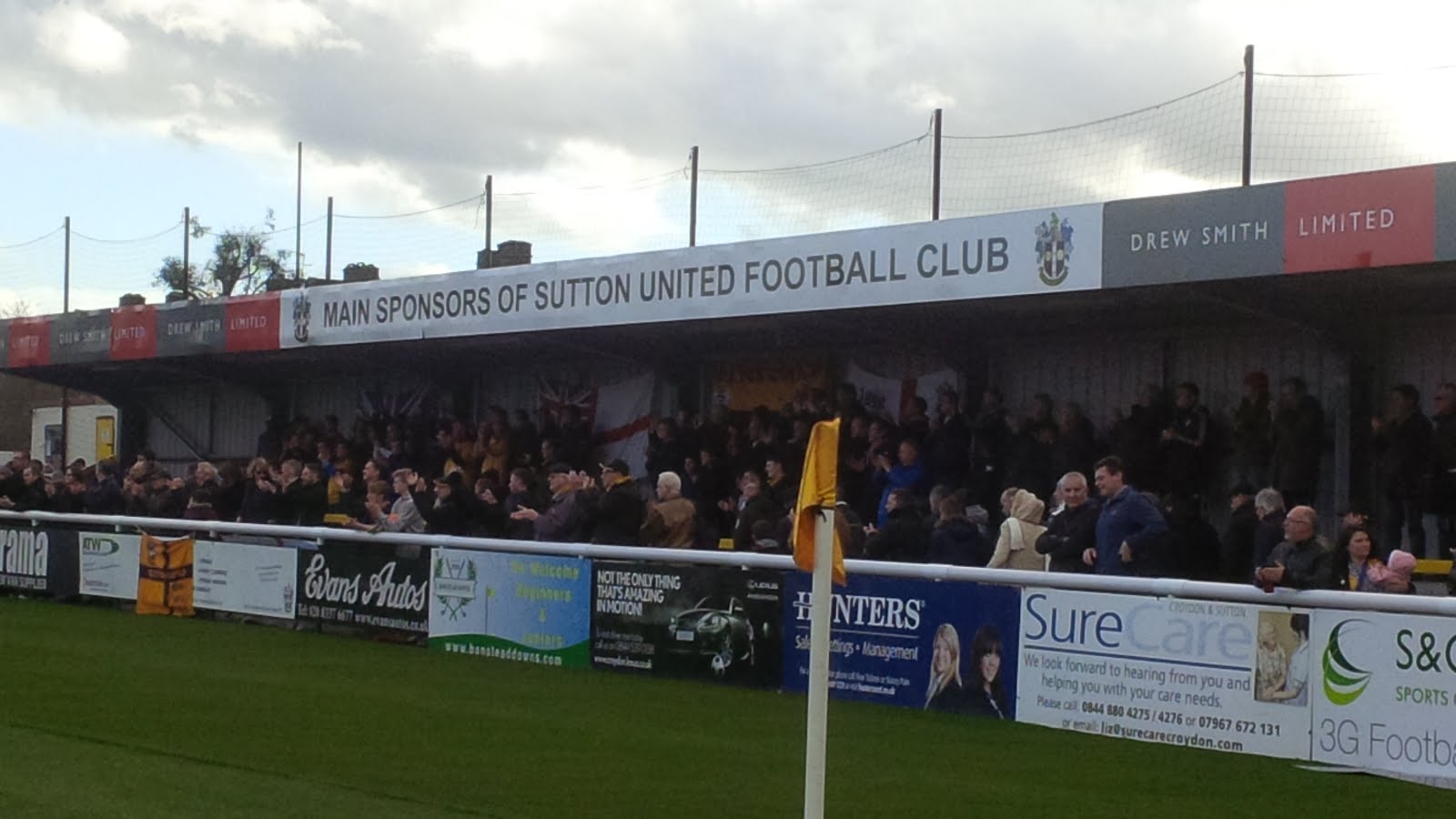 Busy busy!
On we go.
Totts