Wow, I really can't believe that it's been over nine months since I've had to put the twentieth twenty-first century equivalent of pen to paper and write a little missive on the adventures of the Gandermonium Firm and a lil' known team from the depths of what is now called 'Elite Football'. Whatever that means, Surrey Elite League or something probably.
With Saturdays win against Solihull Moors being the first time that most of us have seen twenty-two men kick the modern version of a pigs bladder in-between some jumpers for goalposts since a solitary friendly visit to Haringey Borough back in September, it was time to welcome back to GGL the 1981 Anglo-Scottish Cup winners all the way from Derbyshire.
Last time we had the fortune to see Chesterfield down at the Borough Sports Ground, we were lucky enough to witness a 4-0 drubbing back in September (the 2019 version) that got us our third win of that season. Unfortunately it would be another two full months before we saw another win in the league after that. Oh those were the good old days, physically watching shit non-league football, getting ridiculously drunk and all the bollocks that came with it. Disappointment mostly.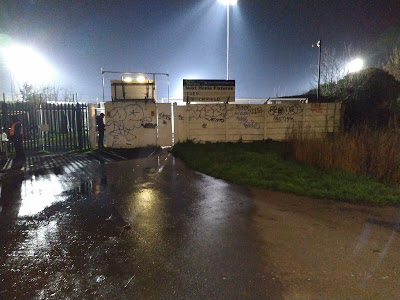 The Rec at night…
Onto the football on this Tuesday night and a bloody cold night at that. Well it is December after all I suppose. Time to unearth all the winter gear that been gathering dust in the wardrobe at Duke Manor. Out comes the Wing Commander jacket, Pair of jeans that are now too big for me & don't forget my genuine fake fur Soviet-style hat. You never know when I'll need to wear them again. Just being able to fuckin' go outside is a bonus at this stage of the year.
Down to the ground and there's plenty of changes afoot. Some making more sense than others. Match tickets at the moment have to be brought in advance and upon the conformation you get allocated an entrance. Like on Saturday, I'm at the Rec End. Furry Muff. The programme is now digital only and I suspect some of the old boys won't be too happy if that stays after this period of uncertainty. And what's the deal with these 7pm starts? Makes us look like we're playing in the Central Reserve Leagues from about 1981.
Smoking as many cigarettes as I can before passing through the turnstiles, as some twonk thinks we shouldn't be allowe to do it in the ground at the moment (I hope & pray that fuckin' changes when we're back to normal), I spot Dr Bell as he's making his way through the Rec. No hip flask with him this evening and instead of his 'spit-roasted Pineapple' Gin on Saturday, he's now sporting 'beware in the woods' flavour. Whatever the fuck that is. Safeguarding issues again spring to mind.
Definitely beware Dr Bell…
Bouzanis, Barden, Goodliffe, John, Wyatt, Easmond, Simpson, Beautyman, Ajiboye, Olaofe, Sho-Silva. Bench Warmers: House, Dundas, Lovatt, Kealy, Adebayo-Smith.
Sutton kicked off the match by shooting toward the Lane End for a change. The first quarter of an hour is a cagey affair with both teams cancelling each out out in the middle of the park and both keepers being kept silent as no one offers up anything exciting. It's brass monkeys on & off the pitch and with the crowd subdued the game is in danger of petering out early on.
Out of nowhere Sutton catch Chesterfield on the break and the ball is played over to Ajiboye on the right who has some space to lash a shot at goal that has the keeper tip it wide of the mark. Much better Sutton. But our luck is not to last as five minutes before half time, Chesterfield snatch the lead via the way of some suspect Sutton defending. Another long throw is lobbed into the box, someone gets a flick onto the ball to send it to far post and in. Oh great balls!
Obviously the fella who nutted it in was lucky to even be on the pitch as he could very well have been off for two yellow card challenges that first resulted in a stern talking to the first time and then a yellow minutes later. The wonder of National League football for you. The Premier League has VAR to moan about, we simply have shit refs. There was also a crazy Covid moment when the referee refused to let the ball boy give another ball to a Chesterfield player and then moments later chastised him for not giving the same ball the next time it went off. Go figure.
Action…
Half time and some of us have to do the walk of shame outside the ground to feed our filthy habits. Bollocks to the facemasks, this is proper oppression! Although, this lead to an interesting conversation heard over a steward's walkie-talkie where apparently the away changing rooms had been left without any power. Welcome to non-league fellas! Back on The Shoebox and we awaited hopefully for an improvement from the boys.
Twelve on The Shoebox…
The second half begins with the game once again even-stevens. Not much to discuss, or remember, for the first quarter of an hour except Chesterfield begin to set their stall out with some very traditional 'shit-housery' or 'game management' as the kids call it these days and taking cards like it was Christmas. On the hour mark, Sutton make their change with Simpson being replaced with Adebayo-Smith.
The new boy has apparently got some pace about him, but the first opportunity for him to open up his Sutton account would have to wait as his attempt was a scuffed shot that failed to reach the target. Dundas & Kealy soon came on for Sho-Silva & Olaofe and soon enough Sutton had their best chance of the match when the ball fell to Beautyman with nothing but an clear sight of goal in the six yard box. But for once this season his effort was high over the bar. Damnnabit!
For most of us on The Shoebox, the writing was on the wall as Sutton huffed & puffed their way to another solitary goal home defeat. Chesterfield did their very best to wind the clock down taking plenty of yellows for time wasting as well as another possible red card as one geezer had not one but two attempts to slice down Beautyman. Not finesse football by a long shot but if it gets you results then that's what you do. Old Totter doesn't call it the Bastard League for nothing.
Social distancing…
After the match and it's time to say goodbye to the boys as there's of course no bar or anything to warm the cockles. The curse of Tatey has struck once again. Cheers fella! Luckily there was a lift waiting for me and it wasn't long before I was regaling to the Duchess about what we'd just witnessed. Not that she was in the least bit interested. "Why do you bother?" she remarked. Sometimes I have to think why, and sometimes my wallet tells me, but tonight I couldn't describe to her. Good job we've got a page that answers that exact question on this very site! You're welcome my love.
So that's it for another tale from The Shoebox. Not quite what we were expecting, but nothing is these days. Come this weekend and in a normal world we would've been expecting to drunk as skunks on the fringes of Manchester before watching the great game in the Northern cold, but alas no, instead some of us will instead be tempted to pay over the odds for an 'automatic' camera that seems more interested in following the bald spot of the linesman than the action on the pitch. Not me, no way Pedro!
Our only hope of seeing any action and not withstanding a tier change for London this side of Christmas is wholly dependent on what the footballing gods throw our way with the FA Amateur Cup Trophy Draw. If they ain't feeling generous, then it'll be the Bromley Boys on New Years Day next for us. Oh joy of joys. Can't fuckin' wait. Merry Christmas you bastards.
Seems like a lifetime ago now…
Duke
Att. 776