"Football without Fans is nothing". We've all heard it, read it and probably even said it at some point. Certainly in relation to the modern era of the game over the last few years as it's often (over?) used to try and illustrate that the sport would be really quite dull, if not a little pointless without us obsessed weirdos in attendance, shouting at a large area of grass containing 22 blokes running about after a bag of wind. A
nd to be honest, the powers that be have largely yawned, gone "Yeah yeah lads, whatever" at this and just got on with counting the pound notes. Mainly as they basically knew we could never really prove it. But then came Covidbollocks. And only being able to watch games solely on TV\laptops etc as the players shouts echo around almost ghostly, empty stadiums finally produced if not 100% definitive proof that football is indeed nothing without its fans, it at least showed that it is at best really really shit.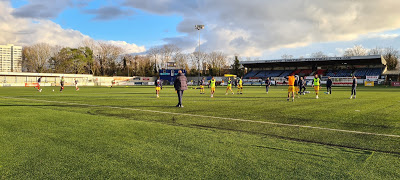 Warming up…
Oi! Those two don't look 2 metres apart!
Well, unless you're Sutton United FC that is. In which case, it was more like "Football without fans is, well, yeah, the peace & quiet's actually been quite nice if we're honest" as they've got through the first quarter of the season with 7 wins and only 2 defeats to their name. Yes dear reader, the bastards have had the absolute fucking nerve to go and be good whilst we're stuck indoors watching on poxy internet streams! Are we upset? Well, yes and no. On the one hand we're basically half way towards staying up already and we at least didn't have to schlep up to Wrexham midweek to watch the one truly Sutton performance of the season so far (and holy fuckamoly that was bad!?). But on the other, we missed out on getting biblically lashed up in Weymouth for our first ever win there as well as our first win at Aldershot in over 20 years and against Maidenhead in what feels like longer. Let's just say we're currently considering perhaps not sending them an Christmas card this year. And if we do, we'll definitely be sending it second class. Yeah, that'll learn them.
Still, they're bang out of luck this week. The honeymoon period is officially over, as Boris the Bullshitter has said we can go watch again and with the agreement of Sutton Council, the club have announced we're able to admit up to 1100 fans for this weekend's game against Solihull. Which will be our first actual visit to Gander Green Lane for over eight months. Yes, eight fucking months. So yeah, sorry about that lads. Hope you enjoyed the break from our pissed up footballing expertise being hollered from the terraces, but we're back baby! Don't let this put you off being good and doing that second in the table shit though. Feel free to crack on with that for as long as you bloody well like, don't mind us.
As you would expect from a pandemic, the H&S stuff for getting a game on is quite something and also throws up some challenges no one had considered. Like, as everyone attending HAS to have a ticket, how do we let our Season ticket holders get first dibs via the website? Well, we simply put the tickets out at £999 and sent all the ST holders a 100% discount code to enter. Seems simple right? Well, as I work in software and know full well the myriad of ways people can manage to get even the simplest looking processes & stuff wrong, I fully expected someone to have actually had their account debited by a nugget shy of a grand and I resolved to enquire after this fact today, simply so I could share this fact with you dear reader. And I can confirm to you that whist no one in any authority would cough the exact details, even after some mild torture, I did discover that "more than one" had indeed paid just under a thousand pounds for a ticket to a National League game and whilst refunds were of course swiftly incoming, the club had to swallow the loss of the merchants fees incurred. Ah, ain't technology grand!
Welcome back!
One nil to the Super U's…
With today's clash confirmed at fairly short notice, us being a touch out of practice for all of this actually going to football matches lark as well as the fact that pubs still aren't really much of a thing currently, there's no real pre-match plan hatched so the mob are scattered to the four winds beforehand and largely left to their own devices. To keep things sensible (hey, quit laughing at the back. We can do that…sometimes) I decide to take the car and just concentrate on seeing the game this time out, that and with Mrs Taz not being overly keen with me attending an event with horrible, unclean objects like other people in the first place, I figured the further risk involved in hopping on the 407 like usual would just be providing me with unnecessary earache, let alone exposure to the plague. So I hatch my plan and make sure I hook myself up with the exclusive, VIP only, secret Gandermonium parking space. Otherwise known as 'across Mr X's driveway'. Still, it's a short walk to the ground from there, so it'll do nicely thank you very much. So, I head out shortly before two and park up just off GGL just after. Here I find one of Mr X's neighbours looking at me suspiciously, mainly as I've just dumped my jam jar across the many of mystery's drive. I take a quick look to make sure his Astra is the only thing I am obstructing, give the neighbour a cheery "It's fine, he's not going anywhere today anyway!" and toddle off to the ground.
Outside the slowly decaying remains of the Plough, I find some Shoebox reprobates displaying the lengths they'll go to for a pre-match bevvy, as Totts and Dirty Barry are parked up with a couple of cans of Estrella on the wall, with the PROWS great and good taking the opportunity to get his normal half time Lah De in early given the total smoking ban inside the ground today. "They're late opening!" I offer as I pass, nodding to the now long since shuttered battle cruiser. "Fuckin' liberties" answers Totts, "Knock 'em up for us will you Taz!". Sorry Mr President, I'd love to, but I have an appointment with some hand sanitiser and an NHS app check in.
Entry is easy enough, my ticket scanned and checked in with the NHS. Doddle! Nearby I find Mr X doing his bit for club funds by hawking the club's range of face masks. I already have mine, so let him know about the encounter with his neighbour and toddle off towards the Shoebox. Magnum and Robbo are already milling about watching the lads warm up, the former having made the most of the sunny afternoon & walked it. Clearly he's been off the spinach lately! It seems Dukey & Belly aren't too far away either, as they're getting their pre-match cans on in the Rec with some of the Yoof. It's also Dukey's opportunity to smoke 20 tabs before kick off. They're soon in the ground though and as numbers grow everyone starts catching up again after another few weeks without seeing each other. Belly reveals he's been given a gin based advent calendar by one of his suppliers and is carrying two days worth of its output. "You don't drink gin!" I protest. "I do when it's fucking free!" he replies. Then proceeds to show me one of the flavours is 'Spitroasted pineapple'. "Did you just say you spitroasted a pineapple?" enquires Greek, catching only part of the conversation, "You disgusting old man".
Two nil innit
Was definitely a 'Lucky Forres shirt' kind of day…
Bouzanis, Wyatt, Barden, John, Goodliffe, Eastmond, Beautyman, Ajiboye, Davis, Sho-Silva, Olaofe SUBS: Simpson, Dundas, Adebayo-Smith, Kealy, Milsom
The game gets underway with the U's, as on many occasions this season already, on the front foot and looking to make a quick start. Ajiboye, who was bang at it when the last season was abruptly curtailed but hasn't quite caught fire yet this campaign, is looking lively. As is Olaofe, both players causing the visitors nervy moments early on. But Solihull eventually settle in and whilst not looking particularly fluent, show flashes of quality that reminds us we need to be on our toes. Midway through the first half, the ball finds Issac outside the box, he steps inside to make a little room and hit a low shot that comes back off the foot of the post and then hits the unlucky keeps and rebounds in. 1-0! Ah, non-league football. How we've missed your wonderfully scuffy nonsense!!
Of course, this being the first goal, it means it's quite important for the shady, illegal gambling game known here on the Shoebox as 'DILF Bingo' and a pay out is (or is not) due. Now, I'll be honest here, I've been stood on the Shoebox for probably the last 30 years watching Sutton and even I don't have a fucking clue how it all works. And given the slightly questionable nature of it's legality, I think that's probably for the best. One person who does know however is Totts and if you follow us on twitter, you'll probably be well aware of his views on it all. And he's not happy, loudly berating game master Cess as it seems the fact it could go down as an OG could deny him a few quid? Fucked if I know, like I say, the less you know about this shadowy bollocks the better. Still, the saying "Don't hate the player, hate the game" seems rather appropriate at this point.
From here on it, we're largely on top with Easty drawing two although the visitors do have one moment where a low whipped ball from wide just evades two red shirts arriving back stick, but Easty has two chances with a few moments of each other that should extend the lead. First he cracks a half clearance on the half volley that the keeps sprawls down to save well at his near post. Then from the resulting corner, another half clearance comes his way and his shot is in all the way until the keeps makes a superb one handed stop to claw it out of the top corner and over. We keep going though and with the break looming, we put a bit more daylight between us and the Brummies. Ajiboye makes a dart out wide and going past 3 red shirts, it seems he might just have overrun it, but a little prod finds Sho-Silva in the box and he doesn't miss. 2-0. Lovely stuff!
People. A crowd if you will….
Deserved plaudits…
The break is passed by catching up with a few more half hidden faces and finding out what everyone's got planned for Christmas. Which reveals that 'Fuck all' is quite popular for this upcoming festive period. Can't think why.
Out on the pitch, the teams re-emerge and the general feeling is this lot will have had a bollocking and surely can't be that bad again, so we just need to keep it tight for 10 mins, no early….oh for fucks sake they've pulled one back. Whilst not quite Wealdstone levels of "Er, we've kicked off again lads", it only takes Solihull about 90 seconds to halve the deficit. The ball's worked wide, cross comes in and a bloke gets up in the middle to glance a header into the far corner. Still in a way, the groan of "Ah fuck, here we go again" from the old heads around me is at least somewhat familiar and reassuring. Time to wake it up boys!
Now back in the game, the Brummies push on and we have to withstand a good 15 minute spell of pressure as they go looking for an equaliser. But despite having a load of the ball and probing constantly, Bouzanis only has one real moment to deal with, spreading himself well at his near post to block a prodded shot after a long throw is nodded down in the box. Things then get a bit niggly as their frustration shows and there's a flurry of stoppages, cards shown and it starts to turn the game back our way. Ajiboye has been having his best game of the season so far but he's copped a bit of a rough time from the oppo. But with just under 20 left he makes them pay, Olaofe battles with a defender for a ball forwards, wins out and turning inside finds he's up against the last man with acres of space infield and Dave's galloping up in support. He slips the ball perfectly into the winger's path and he darts past the onrushing keeper, holds off a chasing defender and rolls the ball into the far corner of the unguarded net. Get in there!!
With the 2 goal advantage restored, things get a bit more fractious as the visitors show some of the shithousing they displayed far more prominently under Mr Flowers last season at GGL. It doesn't help though and with a sub subbed, Milsom limping off having already replaced Davis, the last replacement finishes off the afternoon with a flourish in the last 5 minutes. Simpson intercepts a short pass around halfway and drives forward at pace, he skips past a couple, steps inside and thumps a dipper between the keeper and his near post. Fucking have that. Now that's what I call a welcome back!
Watching football, late 2020 style…
The lads see out the win and at the whistle, everyone sticks around to applaud the performance. Although to be honest, it's so long since we all saw a game most of us would have given the shittest of 0-0's a standing ovation. We make our way to the exits and then end up walking back the way we came as we're directed out of the Rec side gates instead of walking around. I offer Magnum a lift back to his as he lives near me and we figure that being masked up and sitting in the back of my motor is going to be much safer than him using the bus. Dropping West Sutton's foremost PI back at his top secret base of operations, it's then a short hop back to HQ and a 4 pack of Neck Oil that requires my immediate attention. We're second in the league after all, stuff like that needs celebrating.
So, same again Tuesday night then boys? Just the 24pts required now…
Taz