News that Sutton's latest fixture at Wrexham has been postponed due to Coronavirus issues at the Welsh club is yet another sad reminder of the effect COVID-19 is having. Football may be considered trivial in comparison to lives being lost but for those passionate about the game, being denied our regular fix of seeing our team is a tough cross to bear.
Readers who've seen my guff before will be aware I'm a Fulham fan. The last time I saw them in the flesh was at the end of February. I was of course elated to see them promoted via the play offs in August on TV and have been able to see virtually every game since lockdown on the box. However it doesn't compare with the buzz you get from being there along with the surrounding pleasure on matchdays of sharing a drink with your friends and chewing the cud about the game. What is now worse as a Fulham fan is not only losing every week , but being asked to fork out another £15 for the privilege on pay per view. Masochism clearly doesn't come cheap these days.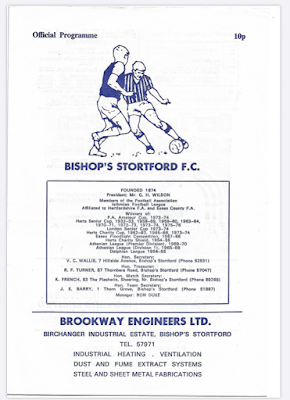 As I knew it was unlikely I'd be getting to Craven Cottage any time soon I treated myself to a Sutton season ticket for the current campaign. I thought at the time there would be a decent chance of fans being allowed in at National League level and in any case was pleased to make a contribution to the club coffers, when virtually all their normal income had dried up over the lay off. Unfortunately even that proved a false hope and with the perverse logic being used as to what games fans can go to it doesn't seem GGL will be open for first team games any time soon either.
Nevertheless I've been delighted to see Matt Gray's lads carry on where they left off at the end of the last curtailed campaign and as I write the U's are at the dizzying height of 3rd in the table. One can only hope that the imminent rumoured National lockdown doesn't affect football too much and the team can build on this early season promise. A collateral casualty of behind closed doors games is being denied the guilty pleasure of reading about the Gandermonium crew's matchday antics. As a result, and in an effort to fill the cultural vacuum, I've decided to take another trip down Memory Lane and tell the story of a Sutton cult hero of the 1970's.
As many may know I grew up very close to the ground along with my best friend Mark Frake. Although I was going to Fulham's home and London away games the Everlasting Ray of Sunshine had no difficulty in persuading me to join him at a lot of Sutton's fixtures. I was a regular on the scene from about 1975 onwards and with Sutton plying their trade in the Isthmian League was able to go to many away games too. The mid 70's were a pretty unremarkable period for the club. My chief memories were a 1-1 draw with Bournemouth in the First Round of the FA Cup and regularly being stitched up by our nemesis of the time, Tooting and Mitcham.
The 1977-78 season was fairly typical of the era, Sutton had a decent side but were never in serious contention to win the Isthmian title. Clubs like Dagenham and Wycombe who both subsequently earned League status were above us in the pecking order. However the Isthmian giants at that time were Enfield and they ran away with the League that year by a massive margin. United were having a reasonable season but were probably over reliant on the prolific Ricky Kidd for their goals. Therefore fans were interested to see the club sign another forward in November 1977 from the obscurity of Spartan League Barkingside. Norman Milne was his name and he immediately entered supporters hearts with a 30 yard thunderbolt into the top corner in a 2-2 draw with Staines on his debut.
Straightaway you could see Norman offered something different . He was an uncoached type of player and his wavy haired, moustachioed appearance exemplified his Maverick nature. When he got the ball you were never quite sure what was going to happen so he must've been a nightmare for defenders to deal with. In fairness it was probably unlikely that Norman knew either but it was this unpredictability that endeared him to us.
Norman contributed his share of goals that season as we ended a creditable 6th in the League. However it is one goal in particular that accorded him cult status among any of us privileged to see it in the flesh. It happened on an April Thursday evening in the unremarkable surroundings of Bishop's Stortford. The home team were battling the drop and led at half time. Skipper Larry Pritchard levelled after the break but the game remained in the balance until eight minutes from time. I'm grateful to Mr Frake for supplying a news cutting from the time and the match programme but I have to say even the report in the paper does not do justice to the genius of Norman's winning goal. My memory may be clouded by the mists of time but from my recollection Milne slalomed round half the home side before eschewing the easy option of shooting and doing much the same thing again. Once he was finally content that he'd left the Stortford defence with twisted blood and in a state of collapse he delivered the crowning glory of his masterpiece by whacking the ball home.
Norman left the club in December that year so in the grand scheme of things can't be considered a club legend in the vein of a Rains or a Prichard. However for what he created and gave us on an evening in Hertfordshire 42 years ago he will never be forgotten. Sadly Norman passed away in 2018. I've taken the liberty of attaching a tribute to him I found from an Enfield fan online which neatly sums him up. RIP Norman Milne- Cult Hero.
John Clarke