What's the best away trip in the National League? We each have our favourites, chosen through personal criteria. For me, some interesting local history, a ground within easy reach of the railway station and (most importantly) a good choice of real ale pubs are the key factors. The three 'Ha's (Hartlepool, Harrogate and Halifax) are all high on my list. Of those, Halifax might just have shouldered its way into pole position. What follows may help to explain why.
Let's start with the town, perched on the edge of the Pennines. I love the architecture, the grand Victorian buildings made from Yorkshire-hewn stone and grit. The Town Hall was designed by a certain Charles Barry – whose other works include the Houses of Parliament. And you'd be hard pressed to find a finer open space in any English town than the eighteenth century Piece Hall, once a market place for woollen goods. Then there's the Shay which, although it's seen better days, is still an impressive arena in its tree-fringed, hillside setting. The local topography is helpful too, as the stadium, station and town centre form a convenient triangle, the longest side of which is little more than a five minute walk. There are some terrific pubs. And the beer is cheap. What's not to like?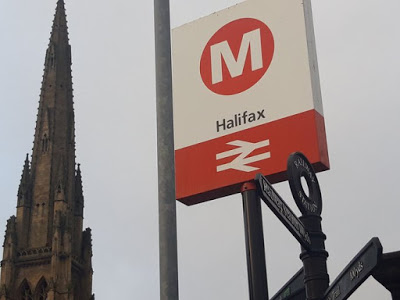 Signs, always informative…
I first visited Halifax in August 2002. What took me there? Sutton United's short-lived second spell in what was then the Conference had ended two years previously, a big disappointment. I'd started following the amber-and-chocolates in the late 1980s, during their first spell at that level, and soon developed a liking for the long distance away trips (then to places such as Boston, Kidderminster and Runcorn). Our first relegation occurred in 1991, and though I enjoyed much of the eight Isthmian League seasons that followed, I longed for a return to non-League's top flight. Alas, that first return was to last just a single season. After the second relegation I resolved to keep up with all the clubs newly arriving in the Conference. Halifax Town AFC dropped back there in 2002, the first club to suffer the ignominy of a second automatic relegation from the Football League. So it was that I forsook Sutton v Harrow Borough and travelled for a day out in West Yorkshire.
The Shaymen were home to Northwich Victoria, a club with a proud history but who had perhaps been punching above their weight in the Conference. I was in the end with the Vics fans, which turned out to be a good choice. As two Shaymen received their marching orders meant Northwich romped to a 5-0 victory, Greg Blundell scoring a hat-trick. I got to some lovely pubs that day too: the Three Pigeons (of which more later), Shears Inn and Big Six.
It would be the best part of sixteen years before I went back to Halifax. In the interim the original football club folded and FC Halifax was formed to take its place, starting in the lower tier of the Northern Premier League. Thanks to Sally Wainwright's TV dramas (Last Tango in Halifax, Happy Valley), Calderdale's profile was raised. The new football club was promoted back to the National League in 2017, a year after Sutton, and the two were scheduled to meet in Yorkshire on the first Saturday in March.
A rarely seen sight on here. A picture of a pub!
This was a trip that many of us were looking forward to, but, not for the first time, a meteorological phenomenon was to thwart our plans. The 'Beast from the East' swept in, wiping out sporting fixtures across the land. I cancelled my trip, but a small group of Sutton fans who'd booked trains went up anyway, tramping round a snowy Halifax and sending back reports of a plethora of good pubs. With appetite suitably whetted, I booked up for the rearranged fixture on a Tuesday evening in April.
Arriving in the afternoon, I had plenty of time for pre-match drinking. Starting at the traditional Cross Keys (with its friendly dog), I progressed to the Gundog (lovely interior), Grayston Unity (great micropub) and Pump Room (another micropub, though sadly now no more) before joining other travelling fans in the Three Pigeons. This had been acquired by Ossett Brewery since my last visit but its Art Deco interior was unchanged, three comfortable rooms and the servery radiating from an octagonal drinking lobby. From there it's a short walk downhill to the Shay.
That evening Sutton took an age to get going and went a goal down, eventually rousing themselves and equalising through big Ross Lafayette, only to concede the winner shortly afterwards. Oh well, straight back to the hotel. I did get to two more pubs the next day, the Barum Top (Wetherspoons) and the Victorian Craft Beer Café (where I bumped into Cathy and Bob) completing a sweep of central Halifax's Beer Guide entries.
Impressive entrances always get our attention….
Fast forward just over eight months and we were back in the 'fax, this time on the Saturday before Christmas the following season. I travelled up on the Friday, deciding on a little hike westwards in the evening. Starting off at the Alexandra, a new micropub in the town centre, I continued to the Big Six, one of the hostelries I visited in 2002, and a cracking multi-roomed place. I'd vaguely assumed that the name was a rugby league reference, but no, it relates to a mineral water company that once operated from the premises. I continued on to the Wainhouse Tavern, which displayed a list of available beers on a board in the entrance lobby – nice touch. Like the nearby Victorian folly, the pub takes its name from industrialist J E Wainhouse.
From here it was a descent to Sowerby Bridge where I visited all four Beer Guide pubs. In the third of these, the Firehouse, I was engulfed by a group of around a dozen well refreshed women, one of whom insisted on taking a selfie with me. I suppose it was the season of goodwill and good cheer. By contrast, I was almost the only customer in the Jubilee Refreshment Rooms at Sowerby Bridge station. Shame, as it was a characterful bar with a decent beer list.
I stayed overnight at the Premier Inn, and for breakfast headed to the nearby 'spoons, the Percy Shaw (named after the inventor of the cat's eye). Here I received a message from Mr X that the Gandermonium crew were heading my way. Once the gang had arrived and drained their glasses it was time for a meander through the town centre, stopping at almost every available pub. The COCs caught up with us in (of course) the Old Cock, and were photographed under the pub sign. I diverted off for a pint in the Square Chapel Café Bar, just off the Piece Hall, before rejoining the others in the Royal Oak. From here there was the inevitable visit to the Three Pigeons before the gravity-assisted amble to the Shay.
The hardy few….
The match itself was a rather dour affair and seemed to be heading for a 0-0 conclusion – until, deep into stoppage time, Craig Eastmond burst forward and struck a low shot past Sam Johnson in the home goal. There's nothing quite like a late, late winner. Of course we had to celebrate the festive gift of three points by going back to the Three Pigeons. Not only is the beer good here but the pork pies are excellent (and reportedly miles better than the dry pies on offer at the Shay itself).
That brings us to the curtailed 2019/20 season. Halifax had gained a measure of revenge for that pre-Christmas smash-and-grab, winning 1-0 at Gander Green Lane in October, with the return fixture scheduled for Saturday 15 February. But, again, the weather was to intervene. Not a beast from the east this time but a tempest from the west, as Storm Dennis blew in from the Atlantic.
I'd caught a direct train up to Halifax on the Friday with the prospect of the match taking place the next day rather uncertain. The fact that Halifax's rugby league team had played on an already muddy Shay pitch the previous weekend didn't exactly instil optimism. But it wouldn't be a wasted journey because I of course had pubs lined up! I only needed one Good Beer Guide tick in Halifax, the Stod Fold Brewery Tap in the historic industrial district of Dean Clough. Here I quaffed a pint of excellent Gold. The barman was a Leeds United fan so of course needed no excuse to remind him of a certain FA Cup result three seasons previously.
Stock "Include view of the pitch" picture….
After a quick check-in at the Premier Inn, I nipped across to the bus station, destination Bradford. My bus dropped me in the suburb of Wibsey where I found the Hooper Micropub, a friendly enough place but where I felt slightly out of place, seemingly the only customer not accompanied by a dog. After a pint here it was another bus to Bradford Interchange, where I made sure to purchase my train ticket back to Halifax while still relatively sober. Bradford city centre has seven pubs in the Beer Guide and I got to them all. I started at the furthest out, the Fighting Cock, a renowned ale house with a dizzying choice of beers, and finished at Jacobs Beer House, an old building in a cut-off street near the interchange. I did manage to eat during this little tour, the Peacock Bar providing me with a pint, samosas and a curry, all for about a tenner. Decent value.
There'd been some rain during the day, and, with Dennis approaching, I wasn't surprised to learn that there'd be an 8am pitch inspection at the Shay. In the morning I was awake before 8 and, at about three minutes past, the message came through – match off. It was pretty clear that the inspecting official, having clocked the forecast, had made up his mind before he got to the ground. He might have saved some people the bother of setting off early in the morning if he'd made the decision the previous evening. I sent a message to Peter, who was due to travel up that day, that he shouldn't bother. He still hasn't managed a drink in Halifax.
My train back south that evening was from Leeds and, with the wind starting to pick up, I decided I'd be safer there than in Halifax. At Leeds station I was told that I couldn't use my ticket on an earlier train. So there was only one thing for it – pub crawl of Leeds! I needed a few ticks in the city centre, and was the first customer through the door at the crazily-decorated Brunswick. In fact I was the only customer apart from a homeless guy who the staff let in for a wash and brush up and whom I bought a drink. Like so many on the streets, he was ex-Forces. The barman tipped me off about a newish place, Association Underground, that had street food stalls and a bar run by Vocation Brewery of Hebden Bridge. I'd just enjoyed a beer from Vocation so decided to check out the gaff. Very nice it was too, with a good mix of people (including families) sheltering from the gathering storm, as I opted for a shawarma with my pint.
Sustenance
My next stop was at the Slocken (the name derives from a Norse word with a similar meaning to 'slake') near the Corn Exchange, before a train out to the Leeds suburbs for four more pubs. These included the Kirkstall Bridge Inn, a fine establishment by the River Aire, with an eye-catching yard entrance, but the highlight was the Cardigan Arms in Burley with its magnificent late Victorian interior, and where the US Session IPA from Anthology Brewery slipped down very nicely. As the day advanced, I realised that Dennis was turning into a bit of a damp squib. Yes, it was wet and windy, but a football match could probably had taken place safely enough.
So that was sixteen pubs in about 28 hours. As I write, I'd settle for 28 minutes in just one pub these days!
The match was rearranged sharpish, for Tuesday 3 March. I again got myself onto one of the few direct Grand Central trains (distinctly cheaper than using LNER to travel via Leeds). It was no surprise that I wasn't the only Sutton supporter on board, as I found Bev and Sal opposite each other in the next carriage. On the way we learned that this time the pitch had passed its inspection. From Halifax station we went our separate ways. I had one Beer Guide pub to visit, a short bus ride into the hills taking me to the pleasant Travellers Inn at Hipperholme where I savoured a slow pint.
Back in town I checked into my hotel then checked out a couple of newish Halifax pubs that I'd been tipped off about by intrepid pub-ticker and blogger Simey Everitt. First up was København (Copenhagen in English), in an arcade near the Borough Market. Apart from a proliferation of pinewood there didn't seem to be much Scandinavian about the place. The beer (Northern Monk IPA, from Leeds) was very good though. Just round the corner was the Meandering Bear, a fair-sized micropub named after an ursine escapee from a local zoo. Here I'd provisionally arranged to meet another pub blogger (and FC Halifax supporter) Chris Dyson, but, after I'd ordered a pint, a message arrived from Chris saying he couldn't make it. This left me with time for at least one more beer before kick-off. But where? Invisible threads of course tugged me to the Three Pigeons. It had gone 6pm when I got there but the pub was starting to fill up with home fans. I found Bev reading a book in one of the back rooms. There was room at the table. A few other Sutton fans drifted in whilst I supped, including Johnnie of the notorious Yoof section.
Decisions decisions….
The match was another rather forgettable affair. Injuries forced Sutton to field a patched-together team, and 0-0 would have been a decent result, but late on we conceded a penalty for a high boot while defending a corner (no complaints about the ref's decision) and that was it. The thirty or so Sutton fans had to endure some pointless taunting from the home section, though the Halifax fans I met in the pub were perfectly pleasant. The heat of battle doesn't always bring out the best in people. "After that," I said to Bev as we walked away "I think I'll head straight back to my hotel". "Well I'm going for a drink" came the response. That's settled then, back into the Pigeons (my fifth visit in two years). Cathy and Bob joined us in one of the front rooms. There were plenty of Ossett ales (and some others) to choose from. We left at closing time. Rude not to really.
The next day was bright and sunny, one of those glorious spring days that we were to have many more of in 2020, albeit staring at most of them through our windows. The mellowing of the weather seemed synchronised with the morphing of the coronavirus threat from something vague and distant into a clear and present danger. Already peoples' behaviour was starting to change, hand-washing becoming more studied and anybody exhibiting a slight cough being treated with suspicion. I again returned south via Leeds, with just one new pub to visit, out on the city limits. A train out to the new Kirkstall Forge station left me with a pleasant walk along the Leeds and Liverpool Canal to the Abbey Inn for a spot of lunch and a pint of porter.
My return to Leeds station was much less straightforward as the train I'd targeted was cancelled and the next one badly delayed. Yes folks, welcome to the joys of travelling on Northern Rail. I ended up catching an express bus that had come from Leeds & Bradford airport and, although it was indeed pretty quick, by the time I got to Leeds station I'd missed the London train I was booked onto. No problem though. A mere utterance of the words 'Northern Rail' was enough to get me waved onto the next London train.
No idea what that says….
And that, as it turns out, was my last away trip of the season. Less than a fortnight later the National League campaign for 2019/20 was suspended, with Sutton standing 14th in the table, eight points clear of the drop zone. Halifax were 6th, so technically in a play-off place, but as things stand it looks unlikely that those play-offs will ever take place. So it seems another trip to Halifax is very much on the cards for next season.
When that will be though is anyone's guess at this point.
Amber Aleman