There are good and bad times to reach a 'significant' birthday. Those of my schoolmates whose birthdays fall in balmy April, for example, will have been 'celebrating' their 60ths in a virus-induced lockdown. And, for once this year, I'm really quite glad that mine falls in bleak mid-January, as I was able to mark the start of my seventh decade by, you know, going outside, to places.
The big day itself was a Thursday, and I spent a pleasant evening with friends in Rick's, a little jewel of a restaurant in Tooting. I'd decided long ago that my party would be on the Friday evening in Sutton United's large function room. To be sure of bagging this I had to book up about ten months ahead. I avoided the Saturday as I didn't know whether Sutton would be home or away on that date. Having secured the Friday, I still hoped that we'd either be at home or have a local away trip the following day. When the fixtures came out the National League's tinpot computer handed us Stockport away. Not great. At least it wasn't Barrow. I promptly declined the bar extension to midnight, knowing that I (and others) would have an early start the next morning.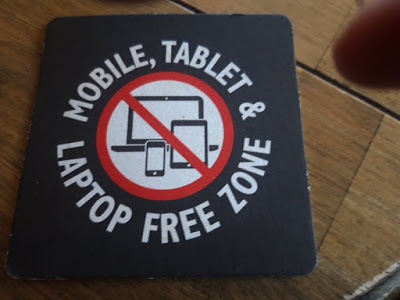 So that's a 'maybe' then??
Over sixty people came to the party, a right old mixture from different phases of my life, and including a decent sprinkling of Sutton fans. The bar opened about 90 minutes later than expected, but the La La La La Amber ale soon started to flow. The talented Scales twins sang some risqué songs and I got Vegan Bev onto the dancefloor. Afterwards my mate Paul the cabbie gave four of us a lift home for free. That's your birthday present, he said. Inevitably, I was the last one to be dropped off. Encumbered by birthday cards and clanking beer bottles, I stumbled through my front door at around the witching hour.
The Saturday was one of those rare winter days when the sun rises brightly into an azure sky and, if you're in the sunshine and out of the breeze, it can almost feel warm. Not that Euston station at 9am felt particularly warm. The train journey up North was uneventful. Across the aisle from me was a young lad wearing what looked like a Man City shirt. I heard him say to his dad: 'My first team is Chelsea, my second team is Tottenham and my third team is Watford". Oh dear. Is there something about football that today's youngsters don't quite understand?
On arrival at Stockport I receive a message from Keepo, a member of Sutton's infamous 'Cash Out Crew'. His fellow COCs had opted for some pre-match hospitality at Stockport County, but he hadn't fancied that and asked if I was up for a few beers. Funny you should ask! As usual, I had a 'hit list' of Good Beer Guide pubs to visit, and one of the few to open before noon was the Boar's Head, located on Stockport's historic Market Place (as featured in Netflix's 'The Stranger' no less). And so a rendezvous here was swiftly arranged.
The Boar's Head is owned by Samuel Smith's, a company so traditional that as we advance deep into the twenty-first century it seems ever more determined to retreat into the nineteenth. Every table carried an array of beer mats warning customers that use of mobile devices on the premises was strictly prohibited. So for about twenty-five minutes we were disconnected from the outside world. The Old Brewery Bitter was on good form, but despite this it was soon time to move on. We didn't have far to go though as the next pub, Bakers Vaults, was just across the corner of the Market Place. Owned by local brewery Robinsons (known for their collaboration with Iron Maiden's Bruce Dickinson), this was a contrast to the last pub, a smart bar with a choice of guest beers. From here we meandered round to the simply-furnished Remedy Bar & Brewhouse where I partook of a marshmallow stout from the house brewery.
Town
It was then time for me to check into my Premier Inn, just up the hill. The woman at the desk then rustled up a cab to convey the two of us towards the football ground. Keepo received intelligence that the Gandermonium mob were in the Olde Vic (a small corner pub noted both for its beer and its collection of dusty bric-a-brac). This was on my list and we were duly dropped outside. By then most of the gang had moved on however, but we joined Four Days and Sutton Sal who had lingered for final pre-match pints.
It was a short walk through terraced streets from there to Edgeley Park, a new ground for me. I'd seen highlights footage on BT Sport which tended to dwell on the impressive big new stand behind one of the goals. The rest of the stadium is a little shabby, but the place has that aura of the past that the older ex-League grounds retain. You could almost smell the scent of Woodbines drifting through the crowd.
The Sutton fans were in the south stand (opposite the one named in honour of legendary former County manager Danny Bergara). Here I met my CAMRA chum Peter who'd travelled up from London on a later train. Peter was for over thirty years an Arsenal season ticket holder, following them all over Europe, but during the last decade he'd gradually become disillusioned with the Gunners. No doubt their slow and painful decline under a once fêted manager played its part, but his main complaint was the leeching of money from the club by an absentee owner increasingly unwilling to invest in the team. Peter had watched the occasional Sutton game back when we were down in the Ryman League and had gradually got sucked in as we rose up through the divisions. Now he holds a Sutton season ticket, and in 2017 was rooting for the team in amber when we played Arsenal in the FA Cup. He gets to quite a few of our away games too these days, his principal test of course being 'is the drinking good?'. Stockport passed comfortably.
This was actually the second consecutive Saturday on which I'd seen Stockport County play. A week earlier I'd watched them draw 1-1 at Dorking Wanderers in the FA Trophy. (My dad came from Dorking ,and my mum from Sutton, so I have a fondness for both towns.) Wanderers, from National League South, then won the midweek replay 4-0 at Edgeley Park, a major shock, and we weren't sure how County would respond.
Crowd
I won't say much about the game as there's a more than adequate summary in Taz's 'official' blog about the weekend. Suffice to say that the final score was 0-0, a repeat of the result at Gander Green Lane in early October. That had come during our dismal trough of autumn form when we were either failing to score at all or, if we did find the net, were outscored by the opposition. The turning point was a 2-1 win at Torquay in mid-November, kicking off a run of seven wins in eleven league games (including a festive double over old rivals Woking, 2-0 away and 6-2 at home). We'd hoped to carry some momentum into this match but it wasn't quite to be. Still, an away point against a side above us in the table wasn't to be sniffed at. And it meant we were now seven points clear of the bottom four with mathematical safety edging closer.
After the final whistle I returned to the Olde Vic with Peter, the pub rammed with fans of both clubs. I'd had quite a headstart on him in the drinking stakes and, mindful that a long night's boozing lay ahead, I resumed with a half. He, keen to catch up, promptly ordered a pint of the Sarah Hughes Dark Ruby Mild (6%).
I had a plan of campaign for post-match, and our next two pubs were on Wellington Road North, the arterial route that heads up to the centre of Manchester. Getting there wasn't quite as straightforward as I'd thought, and at one point we had to scramble up a grassy bank and over a roadside barrier. But the Magnet soon came into view and we settled in with our now well earned pints. It was here that I bumped into a Stockport fan whom I'd met in a Dorking pub the previous weekend. Small world? Not really. One of his mates had told me that this was his local so the encounter was no great surprise. The pub was busy, but our next port of call, the Hope Inn (home of Foolhardy Ales) was surprisingly quiet. There was time here for reflection (and a pork pie) before a bus back to the centre of Stockport and a wander through the shopping streets to our next stop, the Swan with Two Necks.
I'd last visited the Swan back in the 1980s when I was in town on Union business, but hadn't got a clear memory of the place so was keen to return. Another Robinsons house, the pub has an interior of historic interest with a panelled drinking lobby (a feature of some older pubs in the north of England) and a cosy back lounge. And the pub name? Not about a genetic experiment gone wrong but a corruption of 'Swan with Two Nicks', a reference to the twin nicks on the bills of swans owned, under Royal Charter, by the Worshipful Company of Vintners (wine-makers).
Action
While esconsed here we got chatting to a local couple who were interested to hear what had brought us to Stockport. We weren't to know that we'd encounter them again later. Our next pub was the Railway in the suburb of Portswood, and walking here entailed crossing the River Mersey (yes, that one, and we used a bridge not a ferry) then following an unlit cobbled street that had Peter questioning my navigational skills (more of those later). But a dimly-lit corner building soon appeared through the gloom, and we'd arrived. The Railway was a down-to-earth boozer with a forest of handpulls and a bunch of County fans sitting at the bar. We soon fell into conversation with them, agreeing that a draw had been a fair result. Friendly place, Stockport.
Next on the list was the Petersgate Tap near the Market Place, only a ten-minute walk away but my companion insisted on a cab and the landlord obligingly ordered one for us. Once there we checked out both floors of this stylish bar before settling downstairs and again got into conversation with some locals. I explained that our last pub was to be the Arden Arms, not a huge distance away but tricky to find after several pints and through a maze of little streets. One of them helpfully gave directions: back to the Market Place, turn right and keep going. Sounds simple enough, and we set off anticipating final pints in the pub I'd chosen as my recommendation on the Sutton forum. But somehow I took a wrong turn and we ended up at a roundabout in an unpromising location on the edge of the town centre. We asked directions and were told we were ten minutes from our destination and more-or-less needed to go back the way we'd come. D'oh! Peter, for whom patience is not a top virtue, was on the verge of calling a cab to his hotel and calling it a night when we heard a voice calling from a car that had just pulled up. It was the couple from the Swan. They'd recognised us and thought we looked lost. Was it that obvious? A quick conversation followed and they offered to drop us outside the Arden. What nice people!
Alas, by the time we got there it had gone 11.00. There were lights on in the pub, and through the curtained windows we could make out people inside – but the doors were firmly shut. It looked as if we'd missed last orders. We lingered for a few minutes then Peter spotted a passing cab, admitted defeat and hailed it for a return to his hotel. Barely had the cab pulled away than a customer emerged from the pub. The door was closing slowly and I had time to nip inside.
Would I get a beer here? Rather sheepishly I asked the woman behind the bar if they were still serving. "Certainly Sir, what would you like?" "I'll have a pint of Uncorn please". So I settled down for a slow pint of Robinsons finest, soaking up not just the ale but the ambience of another classic pub interior (featuring a snug accessed only through the servery). With the day's events pleasantly marinated and pint glass drained, I took the short walk back to my hotel.
Weird named pub
The next day was also bright and sunny, but clear skies in January can bring unseen hazards. As I descended to the town centre I soon discovered that there was black ice on the pavements. On more than one occasion I slipped and narrowly avoided landing on my backside. After a successful hunt for a copy of the Non-League Paper, which I perused over a coffee, I set off to meet Peter outside Blossoms, a Robinsons pub on the south side of town that, according to the Guide, opened at 11am on Sundays. But on my way I received a message from Peter: it was almost 11.30 and the pub wasn't open. That situation hadn't changed when I arrived soon after, so to kill time we caught a bus back into town then out again. As we disembarked I spotted two familiar, amber-decked figures heading towards the pub. It was Cathy and Bob, Sutton-supporting beerhounds like us and with a similar plan in mind it seemed.
It was now almost midday, and the Blossoms had still to open. After loitering on the pavement for some twenty minutes, during which a phone call to the pub established that it was in fact going to open today, the four of us were finally treated to the sound of big key turning in lock. And it was worth the wait. Here was another wonderfully preserved pre-war interior, three comfortable rooms radiating from a tiled lobby faced by the bar counter. We opted for the back room with sunbeams streaming through the window to make the most of the bright morning. I later discovered that the indie band Blossoms hail from Stockport and took their name from this very pub. Always nice to make connections.
I was on an earlier train back to London than the others and as such had time for just one pint. And, thanks to engineering works today, my train actually started from Wilmslow, meaning a rail replacement bus there from outside Stockport station. I'd allowed myself plenty of time, and the wait for the bus was pretty tedious. But once I was on the move the journey back south went as smoothly as could be expected. Peter meanwhile managed to get to the Arden Arms for lunch, so didn't miss out in the end, while Cathy and Bob did a tour of Robinsons brewery.
Sunny inside…
It was about this time that news reports were coming in of a nasty virus which was sweeping through a Chinese city that few of us had even heard of. That all seemed very far away and nothing much to worry about at the time. Little did we know that, two months on, that virus would not only have arrived on our shores but shut down pubs and football for the foreseeable future. So for now we have to make the most of the memories. Stockport certainly provided some good ones.

Amber Aleman