So that's it. The end of 2019. A year that, in what was an otherwise pretty decent decade for Sutton United, turned up late to the party and proceeded to mostly just bum everyone out with its seemingly endless supply of shit, grinding football. Still, the lads at least did what they could to try & mitigate that somewhat over the last couple of weeks, so yeah. Happy New Year and all that.
Ah yes, winning games. Remember those? Nice feeling and not something we've had much of this calendar year. With just 8 league victories earned up to the middle of November when we went to Torquay and five of those came in the less than memorable second half to last season, In fact I think it's fair to say no one will be including this year in our occasionally misty eyed nostalgia trips when we're comfy in a pub somewhere and already had far too much beer. Thankfully, both from a league position perspective and that of our own sanity, we've clicked nicely of late and in 6 weeks we've rattled off almost as many wins (7) as we managed in the previous 11 months.
Which is nice.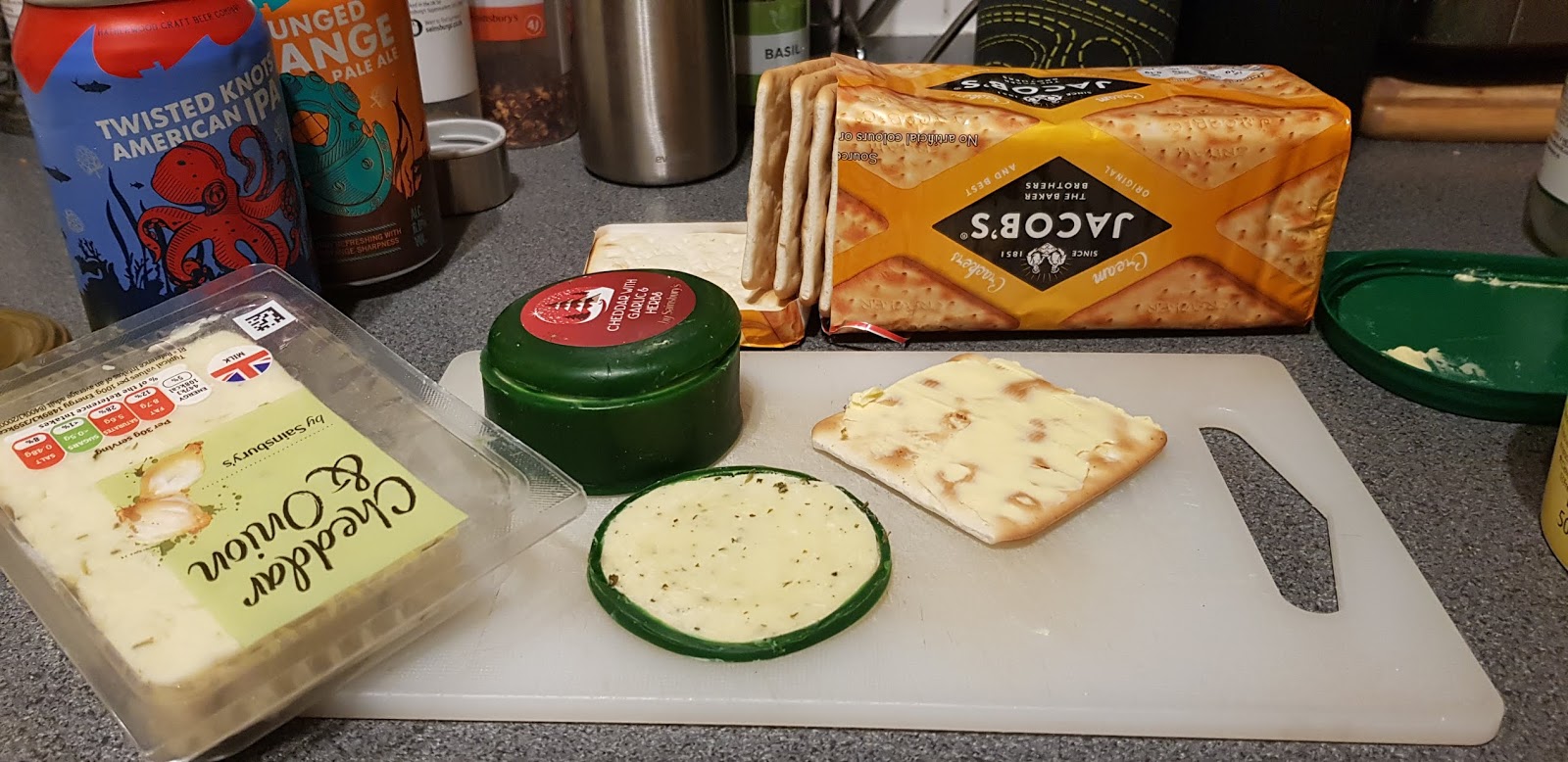 Beer & cheese, all a growing lad needs.
Another break from the past was made this week with the announcement on New Years Eve that JC is retiring with immediate effect. It seems that a decent gig outside of football has come his way and with his injury issues this season and lack of game time, he's made the best call for his family and future. Not only has he been our skipper, he's been a big part of the most successful portion of the decade we've just left. The Conf South title, 'the run', the FA Cup madness and that peno against Leeds, 3rd in the National League, a massive character as well as a leader and organiser on the pitch plus a bloody good footballer to boot. It's a huge shame and we'll miss the big daft bastard. Although judging by Harry's Insta 'stories' this week and the doling out of the squad's 'secret santa' gifts at training, it'll be a while before his spirit and sense of humour wears off around the place.
So, New Year's. Get up to much? I and the good lady did the usual, went to see Star Wars, stuffed our faces at home and stuck some shit on the telly with our feet up partaking in a couple of scoops to pass the time. Fuck paying a Pony to be packed in a boozer somewhere, far too old for that shit. And besides, they wouldn't have a shitload of cheese left over from Xmas that needs eating would they? Win win.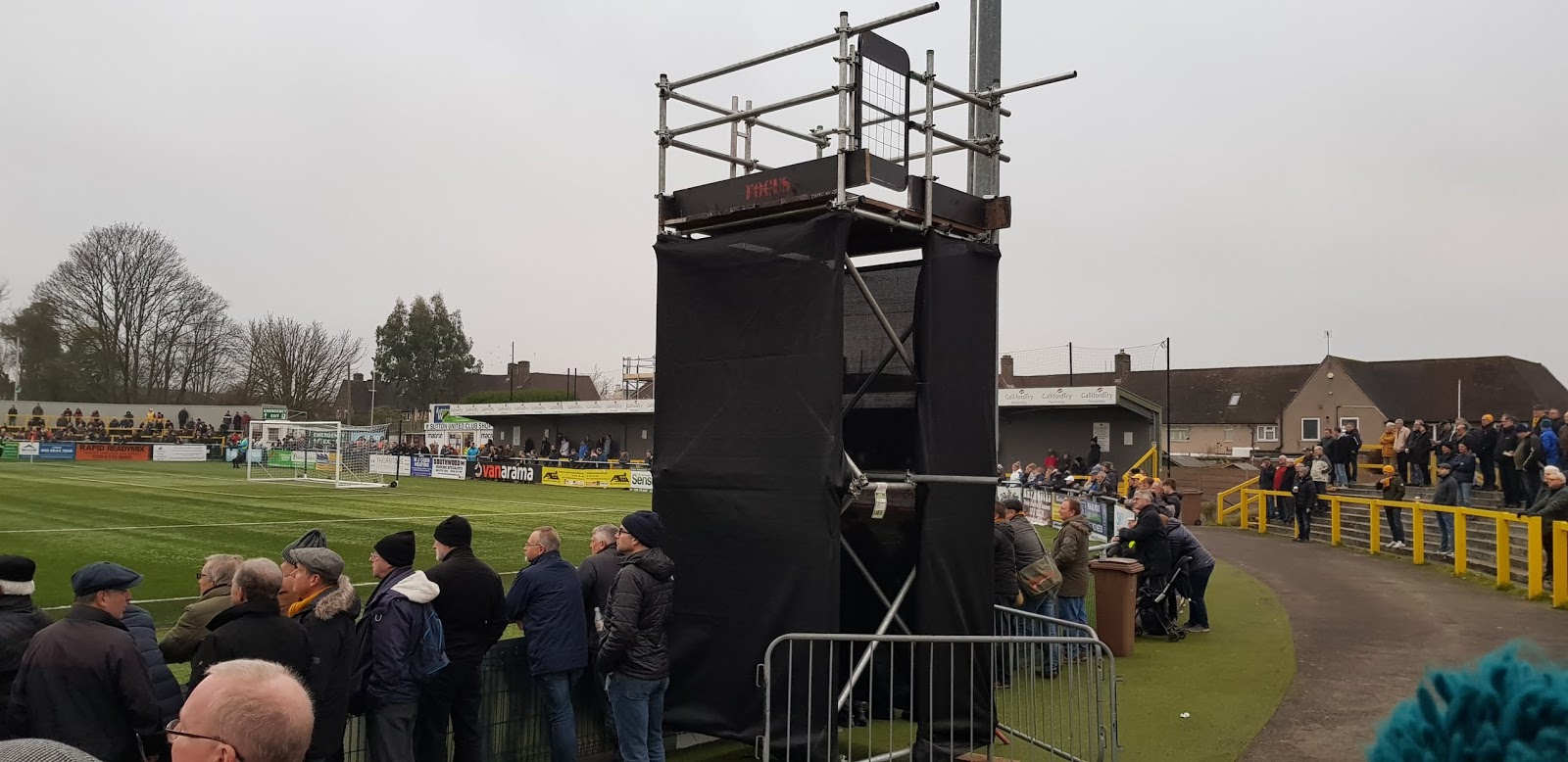 Could have at least removed the bloody netting!!
Thankfully having a quiet one means I can have a lie in and head out in plenty of time for kick off. Assuming most will have no real desire for beers after busy evenings celebrations I leave a little later than normal and stroll down to the station for a train round to Sutton. The walk clears out the Christmas cobwebs as well as helping work off some of the several million pigs in blankets based calories currently being forced around my bloodstream by my non-league football and beer weakened heart. The end result is that I'm blowing a bit when I hit the platform, but I'm straight on he rattler and three minutes later I'm instead blowing on Sutton High Street heading for some folding.
Finding a hungover Johnnie guarding the driveway, apparently he didn't turn in until half seven this morning, I head for the bar and find a surprising number of bellends already in situ. It seems there wasn't quite the wild festivities all round that I expected last night. First beer of the new decade in hand, it's time to dive on into the throng and catch up on the goss. It seems even Greek took it easy last night, visiting friends and playing 'Cards Against Humanity'. Which isn't a great idea when you've a two bob cunt like Greek playing. Seems his timing's improved as his last move moments before the Uber home arrived was suitably offensive. Belly is not so well however, grasping his pint of Fosters like it'll leap out and kill him if he doesn't. Seem the old goat was out until 3am and he's complaining about the volume of Whatsapp nonsense he had to try & focus on in the early hours. "I was so rotten I couldn't even see my phone!". A reply of "You can barely see it when you're sober you dick" soon puts paid to that complaint.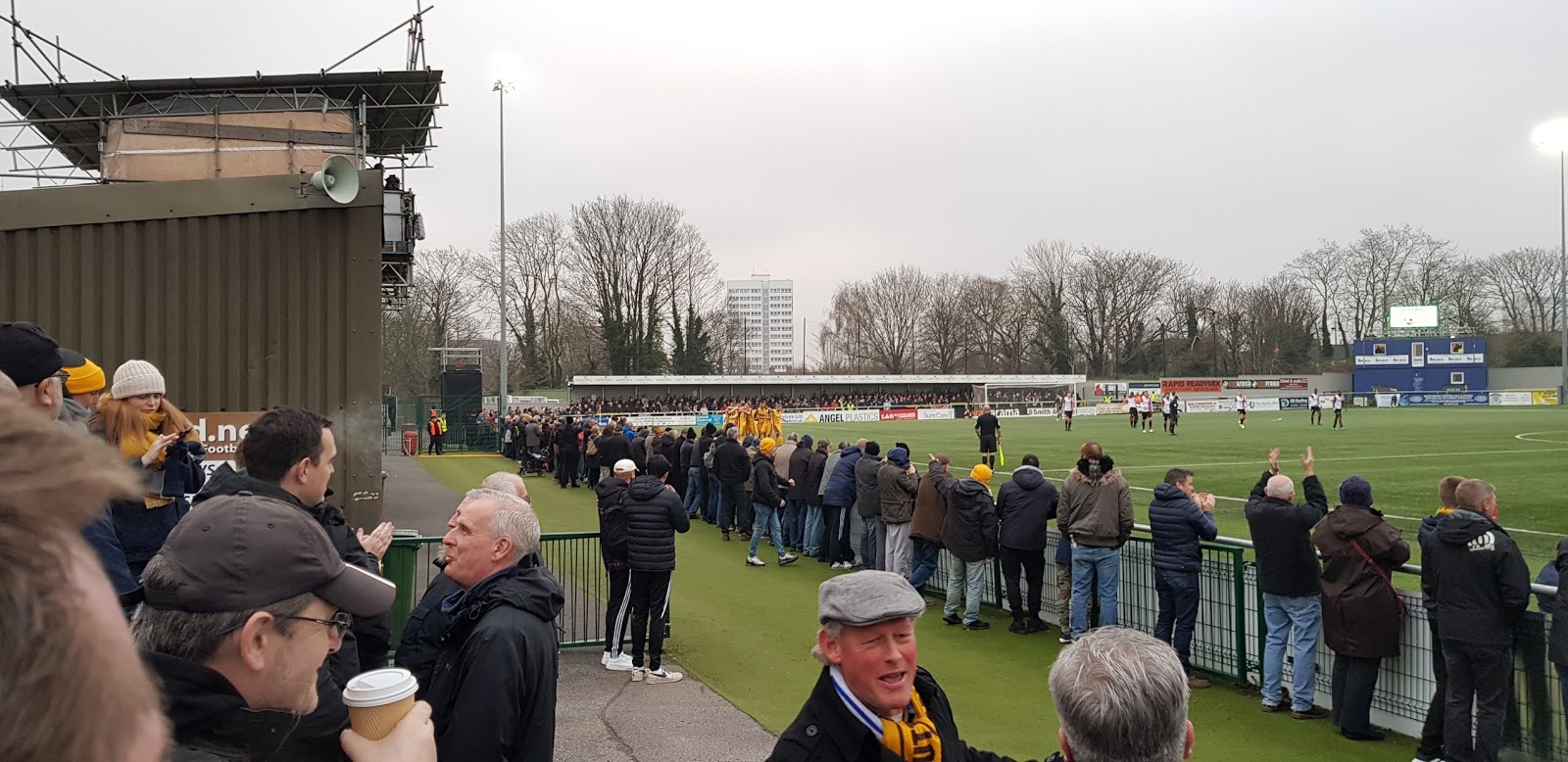 Harry starts the massacre.
We're also treated to the appearance of a couple of fugitives, with Crockett getting out for the first time since becoming a dad and our favourite jonah Tatey also showing his face. Amusingly, they've basically come dressed almost identically to each other and this of course doesn't get them tons of 'Father and son day out' and 'Did your mum dress you?' abuse flung their way by all present. Oh no. As the bell goes to signal the teams in the tunnel and time to sup up and head out, as a final note Mr X confirms that his back door issue from Boxing Day remains. I decide now is not a good time to discuss such matters and make my escape for the turnstiles.
Tzanev, John, Wyat, Barden, Goodliffe, Eastmond, Ajiboye, Wright, Bugiel, Beautyman, Randall. SUBS: Bolawinra, Davis, Dundas, Milsom, Reid.
It's a busy Shoebox again today, although god knows why as the poxy TV towers are still in place restricting our view of the bottom corner of the pitch! Still, we all slot in nicely and off we go. Woking, start relatively bright for the first few despite being shorn of Poku their best player on Boxing Day with suspension and the likes of Hyde and Tarpey up front as they don'twon't play on 3G apparently. Despite our own sluggish early doors, we don't really have to face any big danger and on our first coherent foray forwards, Tommy is barged over clumsily and Harry steps up for the free-kick about 20 or so out. He gets it up and over the wall and despite the visitors new keeper getting his fingers to it, the ball finds the corner and we're 1 up after barely 10 minutes. Quite why they've ditched ol' ex-Scummer Ross come to mention it, is a little odd. He saved 'em from a far heavier defeat 6 days ago and being taller than their new bloke, he'd surely have saved Beauts effort here.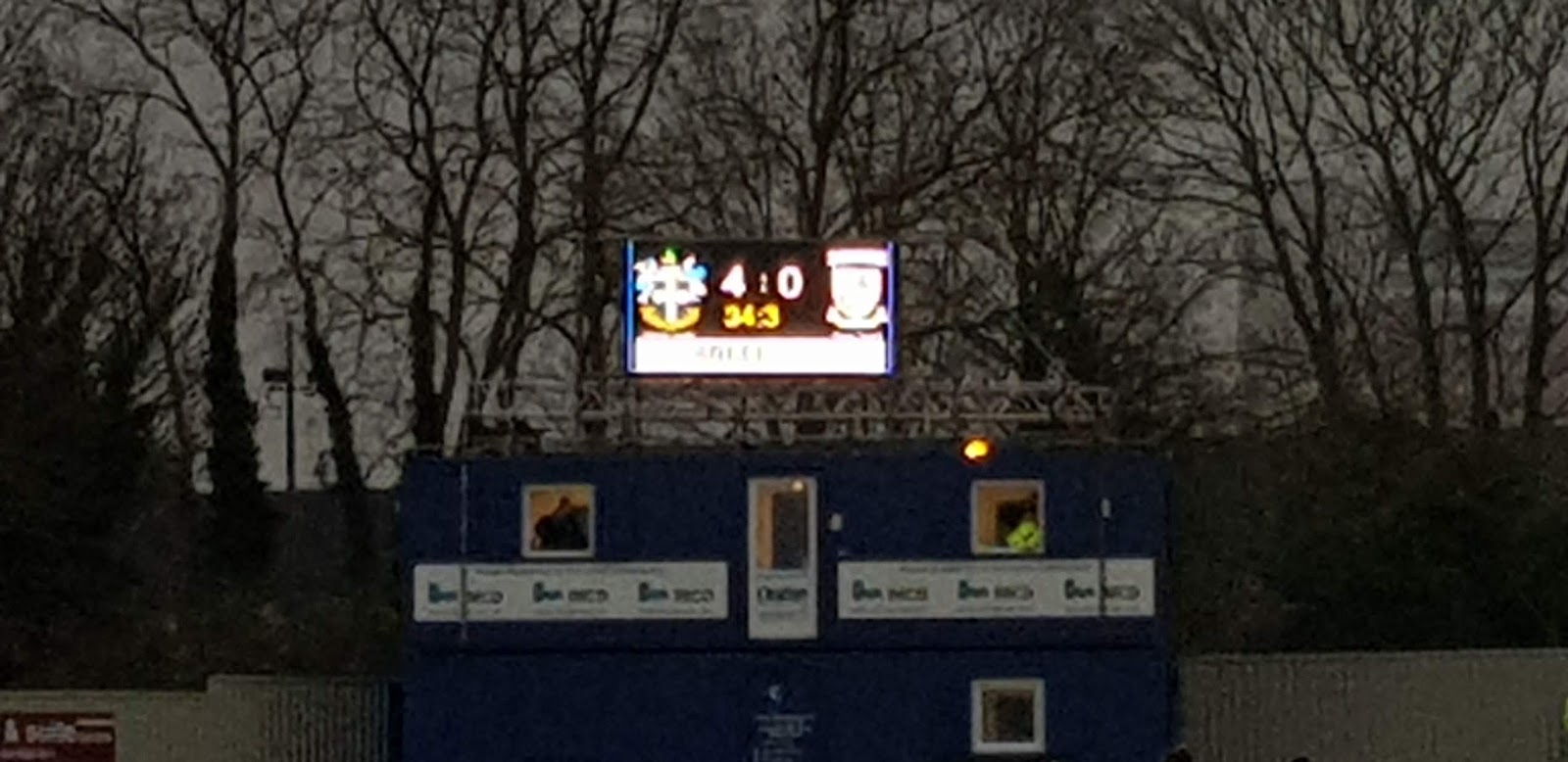 That's not gone well eh lads?
Ah fuck 'em. If they want to play silly bollocks, piss about with the side and cry about 3G pitches that's down to them. This is the Bastard League and being nice gets you absolutely fucking nowhere in this world. The goal seems to knock the early spark of life out of the visitors and whilst not displaying the sort of fluidity we've seen more recently, Sutton start to take hold of the contest. A couple of half chances come and go but after quarter of an hour, it's two. Wyatt and Ajiboye combine on the left following a corner and Dave whips in a teasing little reverse ball into the 6 yard box where Ben Goodliffe arrives to poke in from close range and double the lead. Lovely stuff, 2020 is looking good from where I'm standing.
With the visitors looking like they'd rather be at home sleeping off biblical hangovers than tossing it off on our carcinogen carpet, two soon somewhat inevitably becomes three. Wyatt overlaps onto a lovely ball down the channel from Easty, pings it low first time across the 6 yard box and Tommy arrives to sweep it into the far corner. Easy easy easy! A third goal in under half an hour is too much for some of the travelling support to bear and about 20-30 invoke the age old 'Law of three' and head for the exits to either return home or to the pub. Touchingly, they're waved off by most of the Rec side of the ground. Happy New Year lads! A few more are to give it bollocks and follow them out 3 minutes later when Dave skips past a couple of soft shite challenges on the right, steps inside and absolutely bullets a shot through the hands of a startled keeper and into the top far corner. He might only be a little fella, but fucking hell it seems he can't half hit it when he puts his mind to it! 30 minutes played. 4-0. And fuck a duck this lot are pony.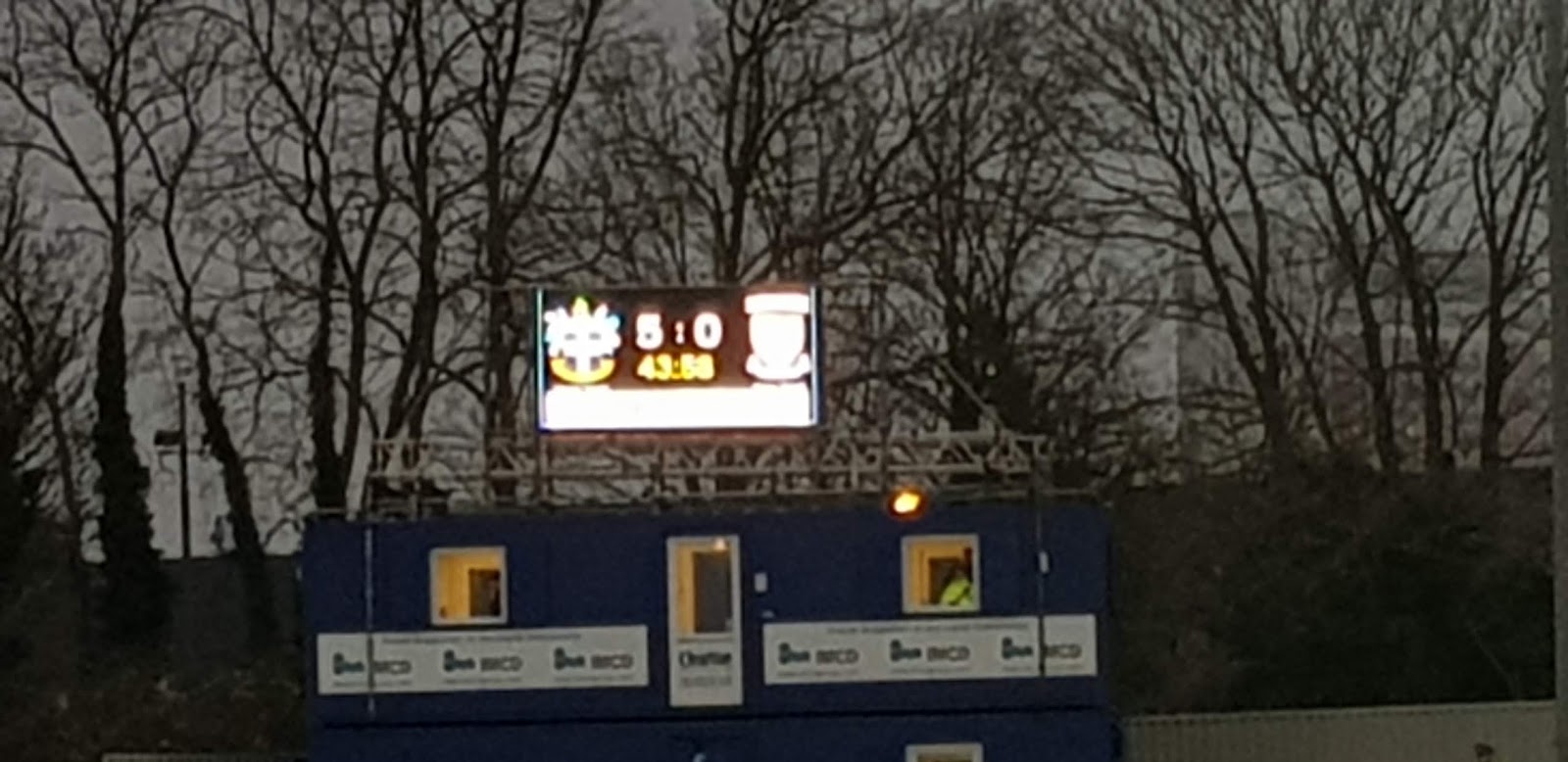 Stop, they're already dead!!
There's a little lull in the scoring, thankfully for the remaining bunch of masochists in the away end, although their team's 'efforts' don't improve any. In fact, with 5 to half time, they take the opportunity of making 2 subs to try and stop this getting even more out of hand than it already is before the break. Also departing is Will Randall, who's got clattered with a shit looking tackle on the byeline that the ever vigilant Sam Allison in the middle has seen absolutely no issue with. Sadly for the visitors, their 2 subs don't help much and a couple of minutes before the break, we make it five. A quickly taken drop ball is pinged over the top, Tommy darts in, tries to round the keeper and is taken out. Penalty! Up steps Harry and he lumps it into the corner to round off a rather daft half of football.
The usual faces head for the bar whilst the rest of us mill about on the Shoebox mulling over one of the most brutal 45 mins of football we've seen in a very very long time. The main question is will we maintain that tempo 2nd half or just clock off and consider it job done, as keeping our foot on the gas against oppo this poor could easily see us trouble the 9-0 record score at this level. I mean, we've got five already and Omar hasn't even had a sniff yet! The other main query doing the rounds is of course "When the fuck were we last 5-0 up at half time?". None of us can think of any off the top of our heads, so that's definitely one we'll need to refer to the keeper of records Frakey at some point.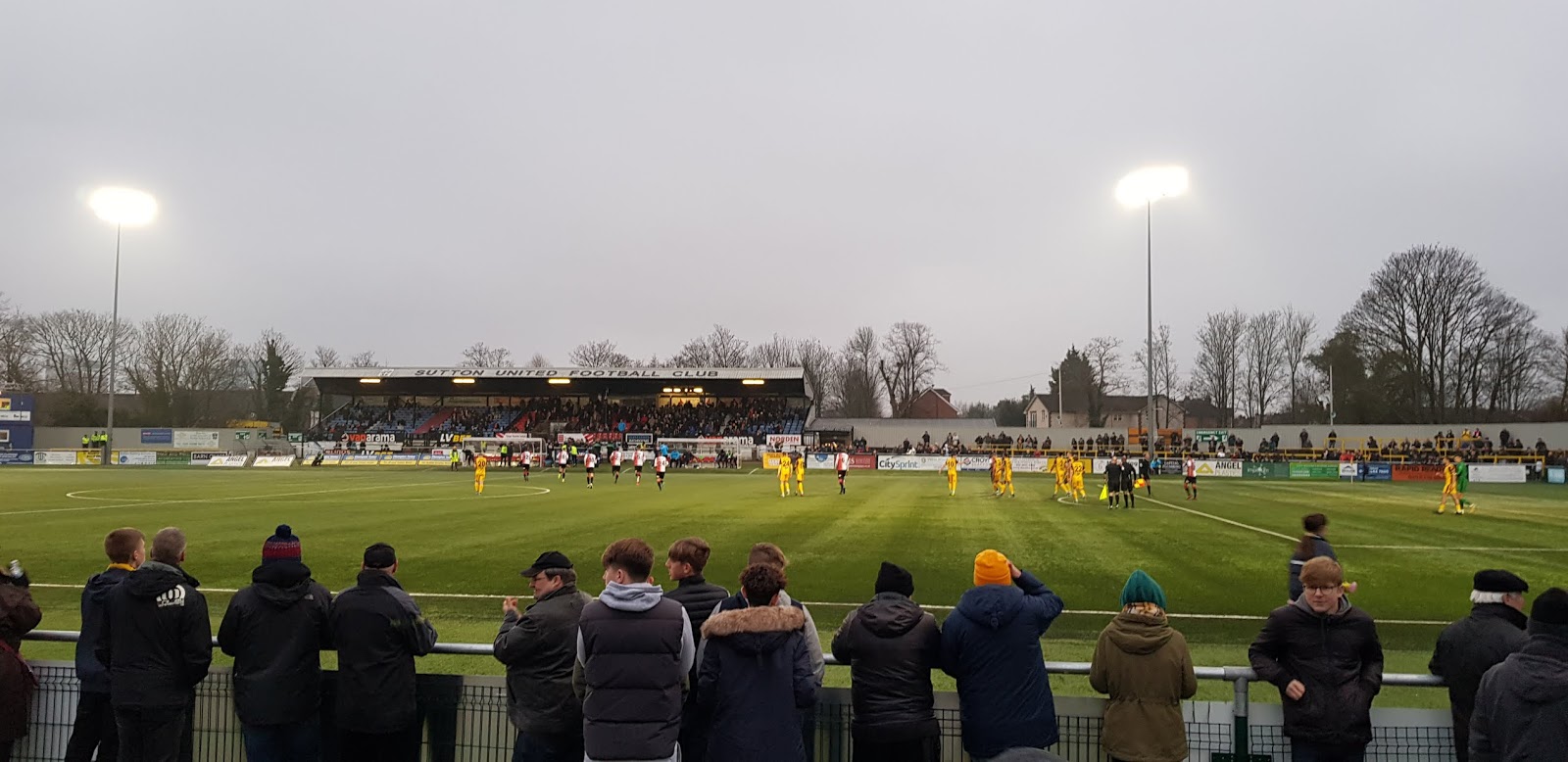 Blessed relief for Woking
Sadly, the 2nd 45 is a bit of a damp squib. It seems we're happy to just dump Woking's savaged corpse into a hastily dug shallow grave rather than properly dismember the body and scatter the parts over several counties. It's disappointing of course, but slightly understandable given the scoreline and the amount of football we've played over the last 2 weeks. With this in mind, Omar's removed on the hour for Dundo and Dave departs with a knock with 20 left. This hurts our rhythm a little and Woking pull one back soon after with a simple run wide and low cross being converted in the centre. It's really more than they deserve to be honest, as they've been absolute dog shit today. I also have to lend Crockett an arm to steady himself as he checks in to find that QPR are also winning by 5 against Cardiff. Let's face it, his year isn't going to get much better from here on in, downhill all the way mini-Tatey.
Then with time running out, they further reduce the deficit when Tzanev drops under pressure and their bloke bangs it in through a crowded box. But thankfully the final word belongs to the lads in Amber, as deep into stoppages a so far under employed Bolawinra races clear on the break, brings a decent one handed save out of the keeps low down and Dundo rumbles in to rattle in the loose ball to round it off nicely at 6-2. Get in there the big man! It's a popular strike amongst the lads and even Niko legs it the length of the pitch to join in the celebrations down by the turnstiles corner flag.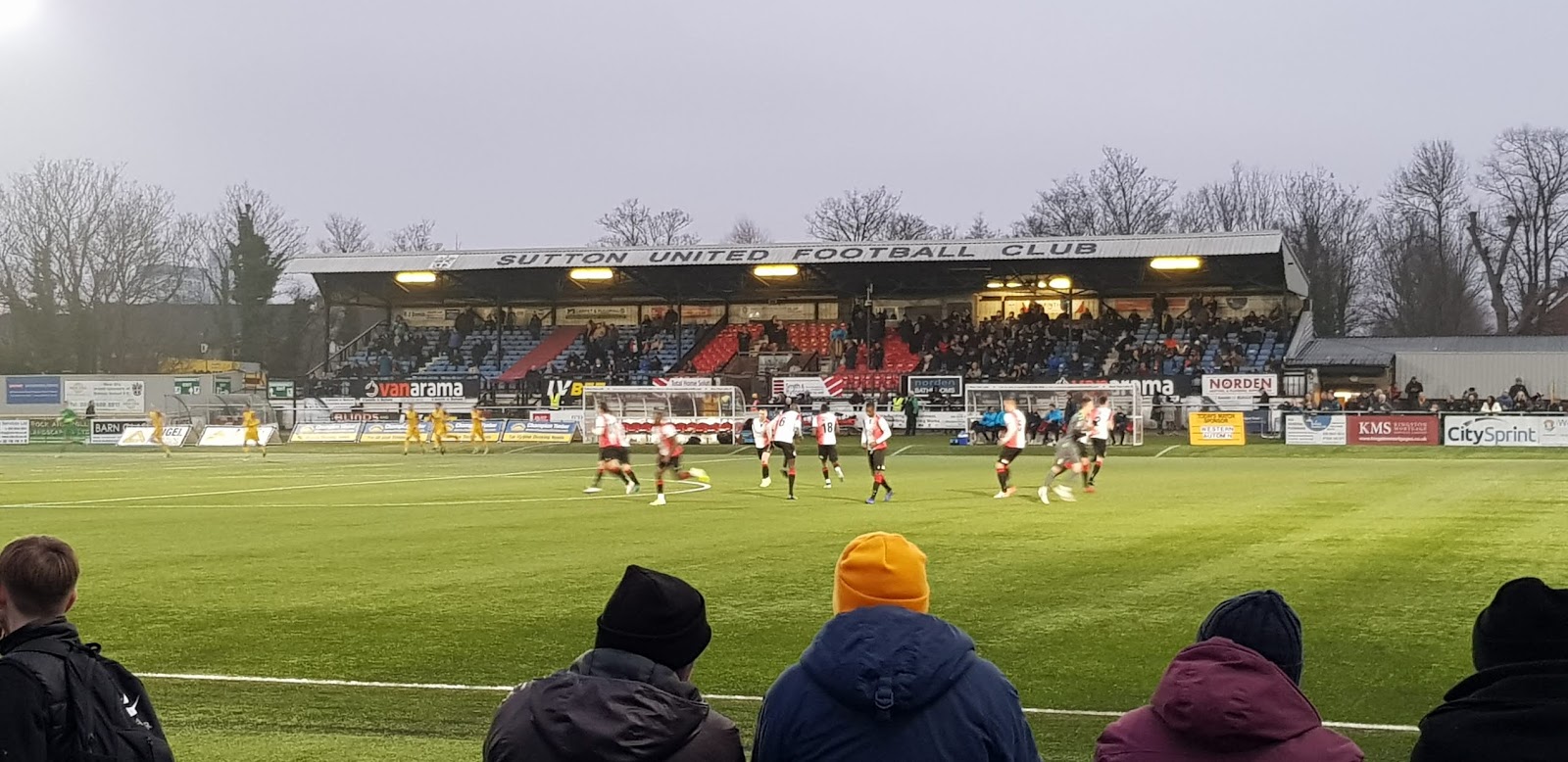 Bet they've been shouted at…
With the boys deservedly applauded off, we head for the bar and some celebratory scoopage. Even better, it seems that Pete has bagged 2nd prize in the Amber 500 draw at HT and he's walked away with 900 sovs to stick on his hip! Congratulations mate, now get to the fucking bar. Understandably, he's a touch worried about this little New Years windfall as he's still got to get home in Greenwich from the Republic afterwards and there's apparently a lot of temptations between here and there for a suddenly wealthy young man as himself! So, UberX to Spearmints after yeah?
The beers flow, we do the usual Strikers Are Key shouting and accordion playing with AB, who gets our departing skipper up to do the honours, much to the delight of Easty, Dundo, Wrighty and Ben Wyatt who stand at the back hooting all sorts of abuse JC's way. I also take chance to catch up with Cookie, an old Sutton head from the past who's bizarrely decided today wouldn't be a bad one to make a rare appearance at. Fucking glory boys, turning up once in a bluey and getting shitloads of goals to see. Makes you sick and no mistake.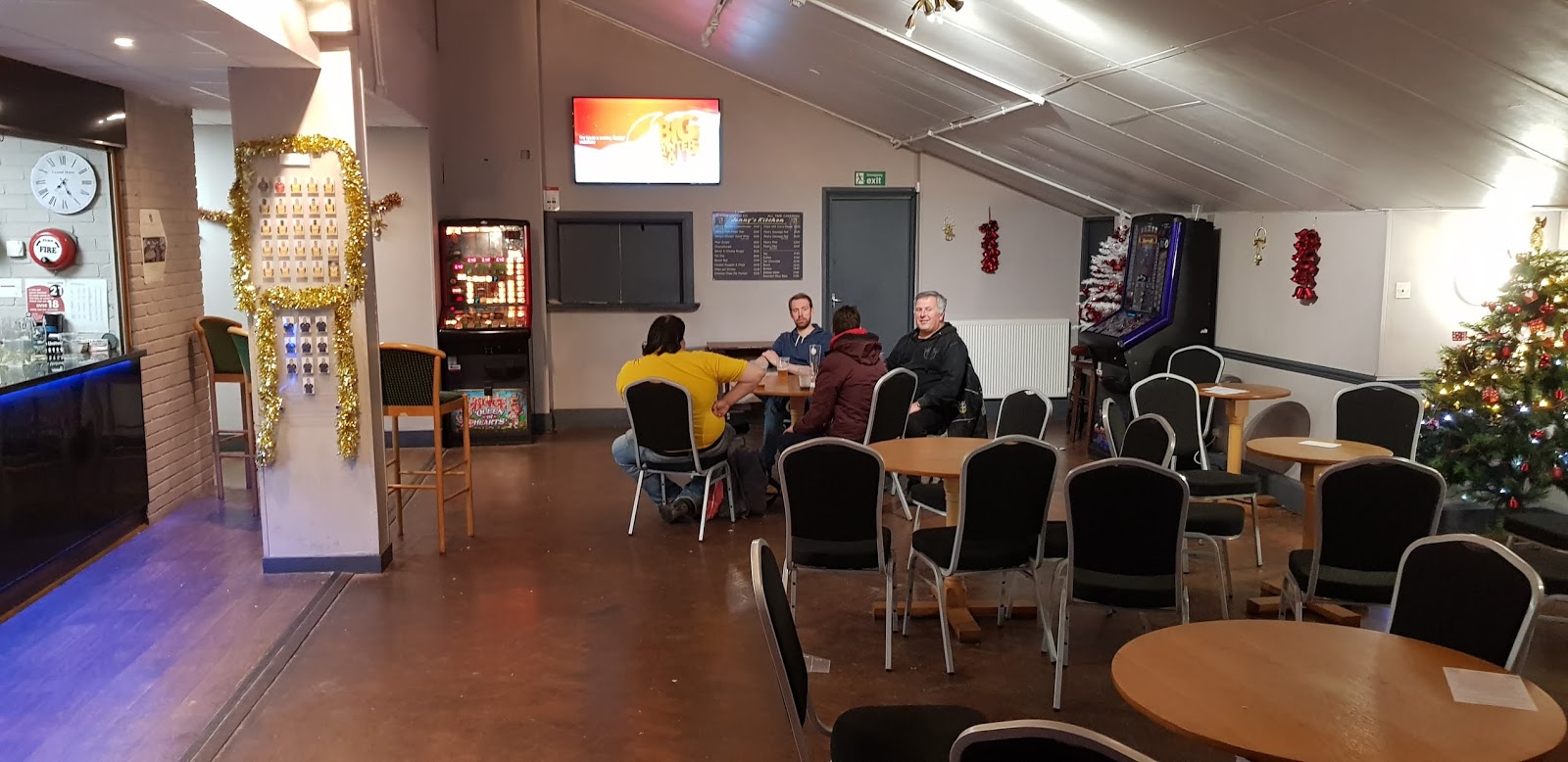 Stalwarts!
More beers follow and a conversation I'm having is interrupted by a phone call from Mr X. What it's about I know not as it stops after a couple of rings, before I can answer. Then a minute or so later, it goes again and once more the man of mystery is ringing me. This time, I at least get to answer. "Can you get one of the bar staff to let me out of the MBA Lounge please? I'm locked in". Naturally upon hearing this I rush to my friend's aid. Well, once I've told everyone else present about this that is. And stopped pissing myself laughing. And once the barmaid's stopped pissing herself laughing too. But as soon as we've got all the minor details out of the way, we release Mr X from his function room prison and all fall about laughing again at his expense. It seems he'd decided to use the newer, slightly more upmarket facilities in the MBA for a 'luxury poo' and someone had locked up without checking if anyone was still in the khazis. Oh 2020 you little tease, you can only be downhill from here.
With the club shutting at 7, we stick it out to the end and whilst contemplating an Uber home with Magnum, I find out that he's been using Dukey as some muscle over the Xmas period to serve some of his notices. Fucks sake, not only is he wandering about looking like Douglas Bader with a thyroid problem at the moment what with his new jacket, he's now seemingly becoming one half of West Sutton's answer to Crockett and fucking Tubbs? Or is he more playing TC to Magnum's PI? That's it, I'm done. I can take no more of this new decade's seemingly limitless banter. I need a lie down. TAXI!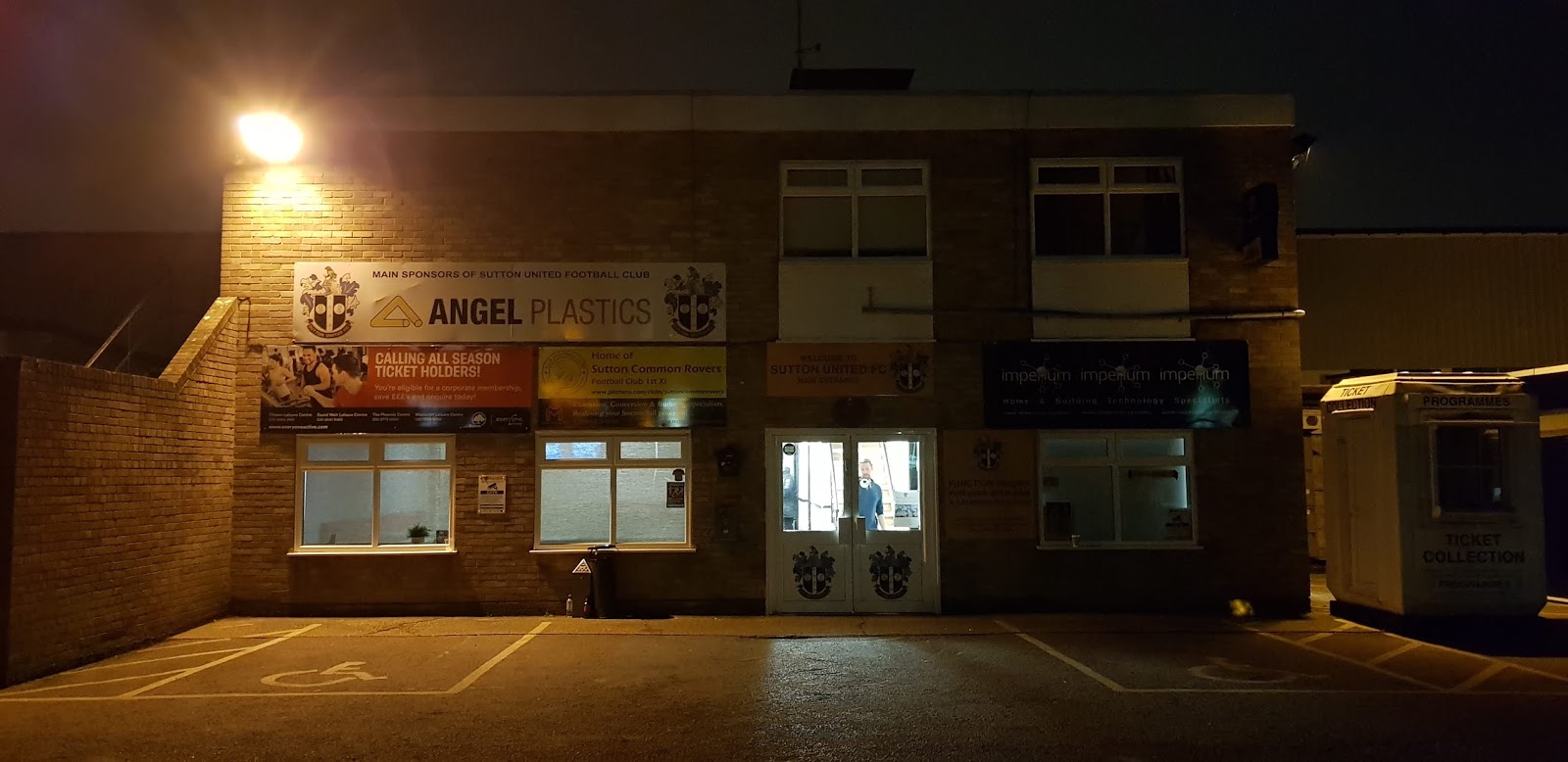 You're ok so far 2020…
Thanks for reading through 2019 and all the kind comments about this nonsense. We'll do our best to keep entertaining and amusing over the coming months and years with the finest Non-League bollocks we can muster. Happy New Year all!
Taz