Ok, so it was a Bridge Too Far in the end. Everyone knew that it was going to happen to us at some point. But when you're up against a team that had only sacked their manager during the week, down in the relegation zone and were on the reverse of a 4-0 bumming by us at home back when that was more of a rarity, you know that we're the type of team to help them out. So shall we continue with another Longest Day adventure? I hope you're sitting comfortably…
It's a new year and a new Sutton for all intents and purposes as they continue on this fine run of form that, if you discount Dagenham & Redbridge in the Amateur Cup FA Trophy, have seen us remain undefeated since Bromley, where we were joint bottom in the table, in late November to now where we're sitting pretty at the top of the form guide after eight matches and in mid-table. Now depending on what type of Sutton fans you are, we're either four points off the playoffs or nine points clear of the dreaded drop zone. Still, a nice place to be, whatever way you look at it.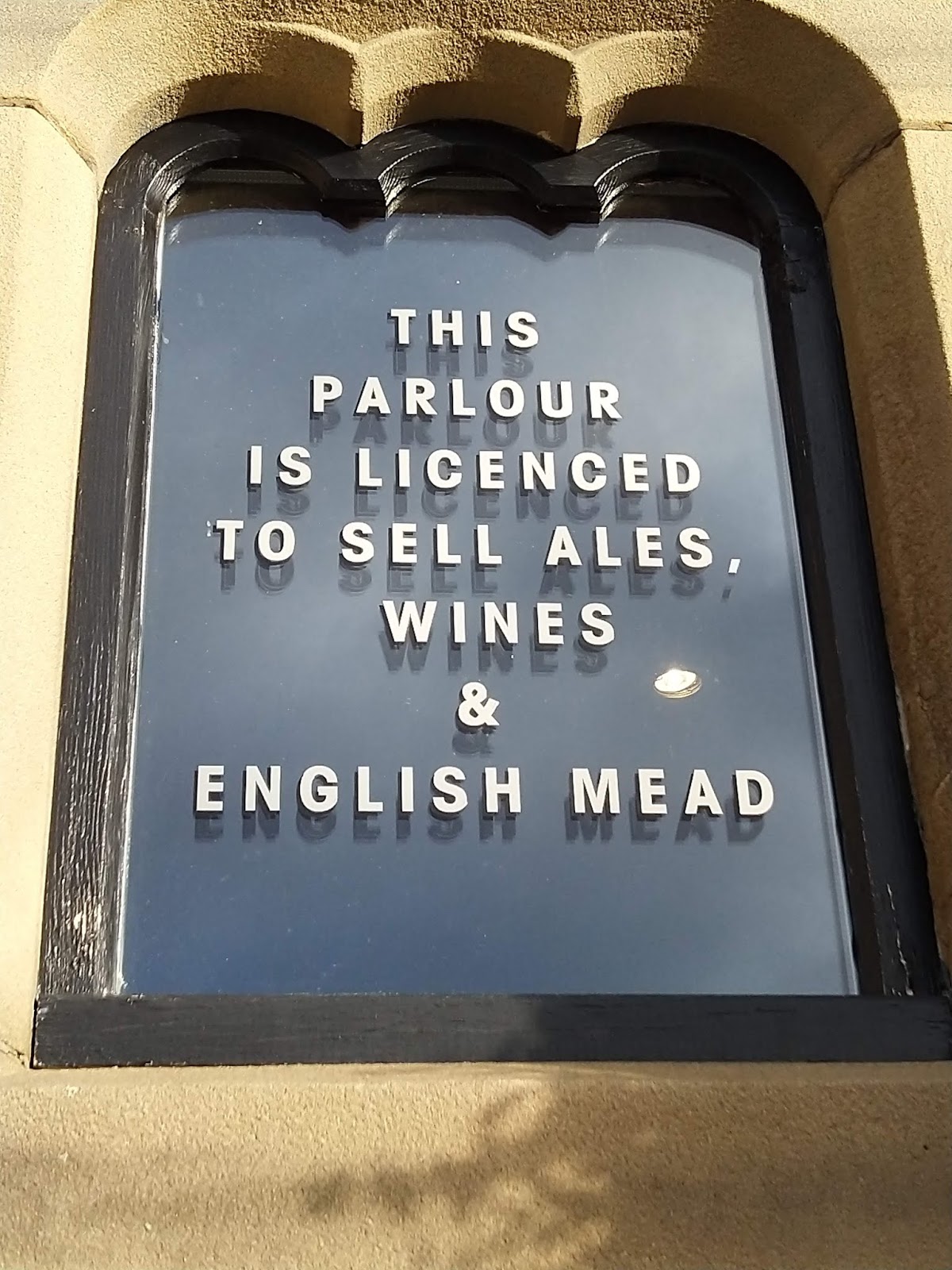 Mmmm, Mead…
Surprisingly, there was no struggle for yours truly as the alarm blurts out at half five in the morning. The three S' would soon follow and yet I'm still running late as I leave the front door. But as with most of our plans for a centre of town meet-up, I usually keep a train in reserve. Today it's the 0705hrs from the Badlands of Carshalton that takes me to St Pancras via Victoria. And despite the Hammersmith, District & Circle (Pink, Green & Yellow colours on the map) not running today, there is hardly a person around as I make it to our meeting point before the clock has even struck eight.
Loitering with intent were 4 Days & Mr X and not too far behind them is Taz & Magnum P.I. who were also making the trip. And with Southampton Steve now sunnin' it up in the land of the Boers as he watched the cricket, there was an extra train ticket going spare. Surprisingly, despite our run of form lately, no one actually took up the offer. Did everyone know something we didn't? News had also followed through that there were issues on the M1. And as the team were taking the coach for this one instead of the rattler like us, there was a concerned look around from us. Not again please! There was even worse news to come through as it turns out that the players coach also had the misfortune of having to sit through that fuckin' song that Robbo loves so dear. Gotta feel sorry for the boys! We just had to hope they weren't too traumatised by it all.
It's the 0805hrs East Midlands train for Gandermonium as we go upstairs at the station once again. Book-A-Table Bingo, and it's a success as we have a table. We also have some space that means one or two can spread out a bit. Of course our luck wasn't in regarding the usual tea run as there are no catering services on-board. The trip to Chesterfield has to be made with a change at Leicester. One random place we went through was Market Harbourgh that according to Taz has changed from "A silly little platform with a level crossing" in the 90's to some behemoth of an eyesore with an exceptionally large car park. I did try draw the attention of all present to what looked like Zeppelin Airship hangers off in the distance but I was not to believed until we could Google it on Yahoo.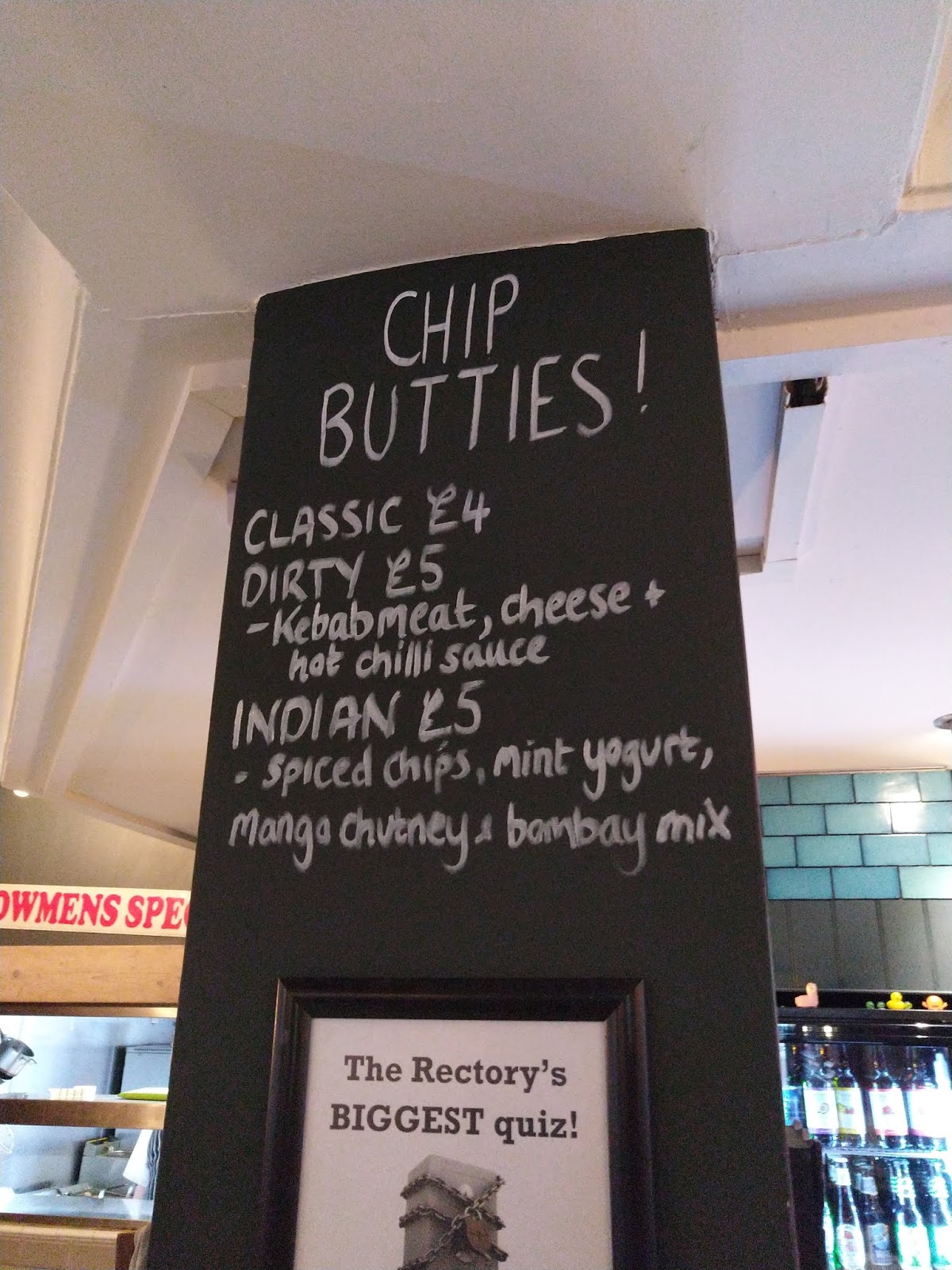 Dirty Chip Butty!
By half ten, we've finally arrived. Hello Chesterfield! To the 'Spoons! Walking towards the nearest boozer, we're all amazed how many bars and pubs that are about. This could be a good weekender destination. Maybe next year? If they stay up. The first pub of the day is "The Spa Lane Vaults" where we bump into Bob & Kath who came up on Friday for this fixture. Talk about keen. The One Pub, One Pint rule doesn't even last the first pub as Taz goes for a shite and we're forced into a second beer. Not that anyone was really complaining.
Next is the pub across the road. The "All Saints Tap", a little more upmarket than 'Spoons, a Theakston's I think, and at least 50% more expensive! The weirdest thing was that you had pumps of Foster's & Strongbow that actually had drink descriptions written on the front of them. Talk about dressing up muck as brass.
In spitting distance, next is "The Rectory" where the rounds are back to a more acceptable price. There is for some reason a confessional in the corner and an advert for a Dirty Chip Butty. Hmmm, choices. We then also get into a whole Gandermonium-style debate about Tonbridge as we manage to confuse ourselves a lot by mixing about three different visits to Longmead into one. Very confusing for us.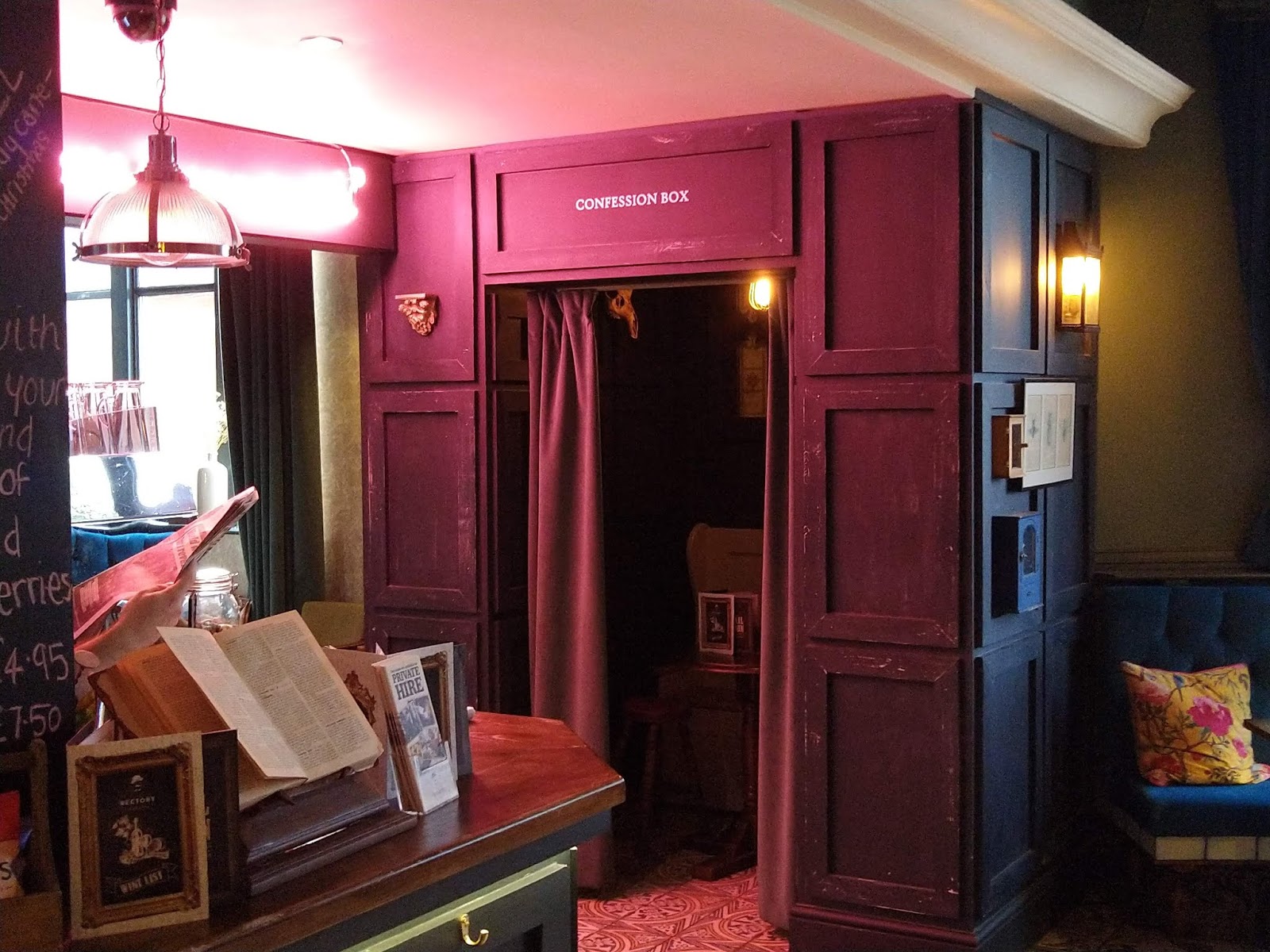 I would've been in there all day…
Round the corner is "The Pig & Pump", or as Magnum P.I. insinuated 'pump a pig', he'd know that himself, where we try and work out what we were going to do next. We'd been here nearly a couple of hours and we'd still not got any closer to the football ground. In fact, it seemed that all we'd done was move about 200 yards since we'd stopped in the 'Spoons! Ok lads. let's move on.
"The Burlington" is past "The Rectory" near the Gordon Banks information centre, and is one of those that had two entrances. And surprisingly this is the first pub that we've been in that has a few televisions around the place. The cricket was going well, so Steve will be happy. By now we'd came to the decision that in the next pub we'd sort out sherbets as we were getting nowhere near the ground nor were we likely to.
The final pub before the match is "The Victoria", a bit of a funky smell, but the cheapest round yet. Six pubs and seven pints is not a bad effort from us. The sherbet is ordered for twenty past two and when it does finally arrive, we are then heading north to the football stadium. It's £18 to get in and we had to walk round towards the large queue at the ticket office. Luckily, next to the large queue is a small window for away days. Happy Days! It's then on into the stadium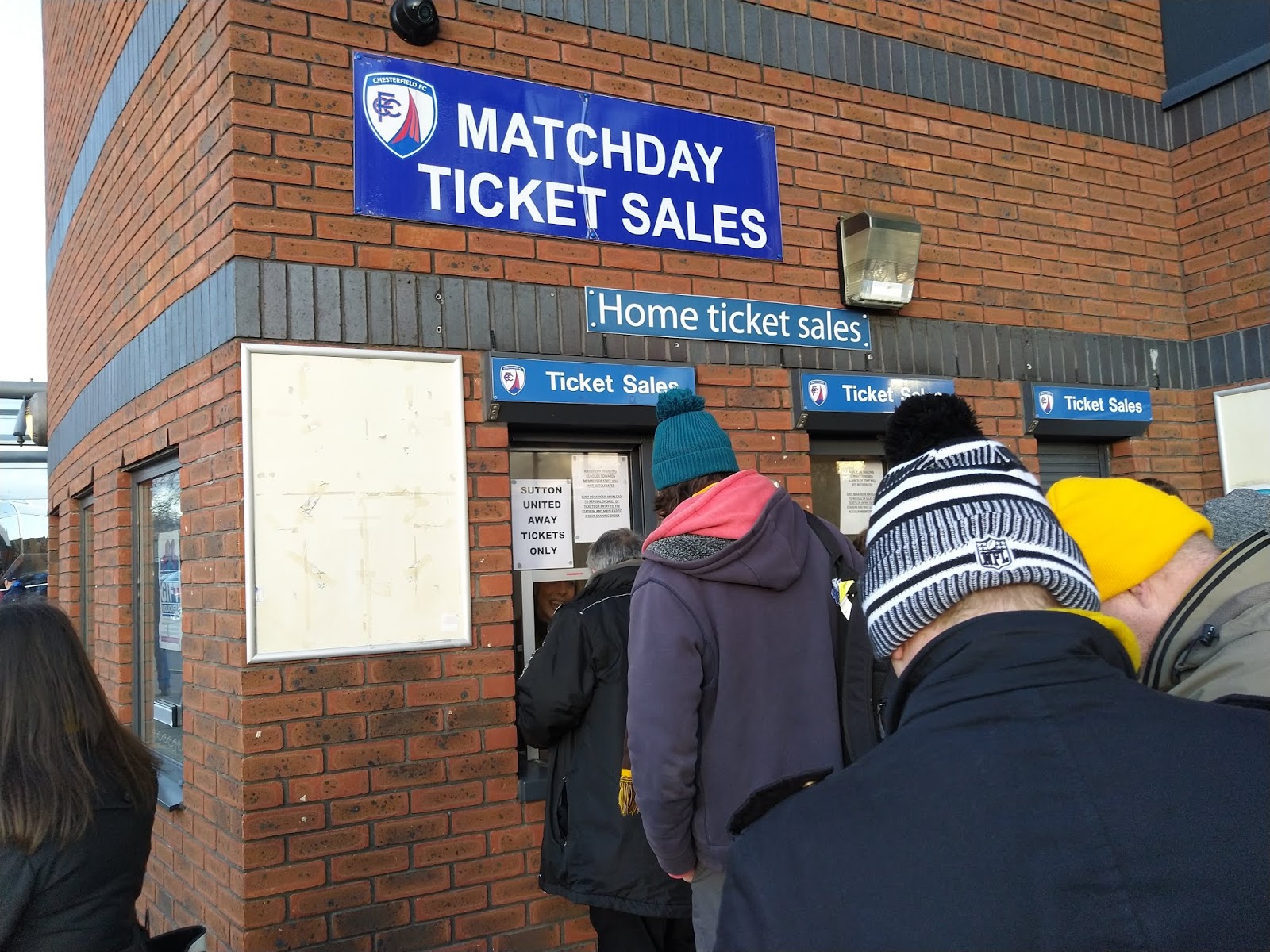 Get your tickets here…
Tzanev, John, Barden, Goodliffe, Davis, Bugiel, Beauyman, Eastmond, Wright, Milsom, Reid. Bench Warmers: Bolarinwa, Dundas, Wyatt, Jarvis, Mbeta.


Sutton started the match by attacking the goal in front of us. And inside the first ten minutes, Wright would see a half chance hit the side netting. Minutes later he would also have another chance that went across goal this time. Bugiel as well was going to be in the wars today as he was getting kicked and pushed all over the park.
At the other end of the pitch and Chesterfield were given a golden opportunity when a foul on Goodliffe was not given as one by the man in the middle, who was to be fair poor for both sides throughout and felt the wrath of both sets of supporters. This left only Tzanev to beat but the shot was terrible as it went high and wide. Phew, let off there lads.
Sutton continued to work the ball around the pitch with out really troubling the Chesterfield keeper too much. One example would be the Beautyman free kick we got. Where as on New Years Day we saw his shot curl over the wall and into the bottom corner, this time it was a timid effort that rolled straight down the keepers throat. Not the best half of football we'd seen, but at least we weren't losing. Compared to Gravesend Ebbsfleet, who were getting a proper bumming at Barrow. Jack King Off always brings a smile.

Panorama…
During the half time we head down below the stand for my half time round. And who would've thought that a football ground serves Vodka & Cokes! Sorry Steve, missed out there. An extra kudos point to Chesterfield here as they let you out for a cheeky smoke at the break Cheers lads. The pies were apparently not the best we've had but you can't have everything. Right, back to the action on the pitch…yeah yeah, I know.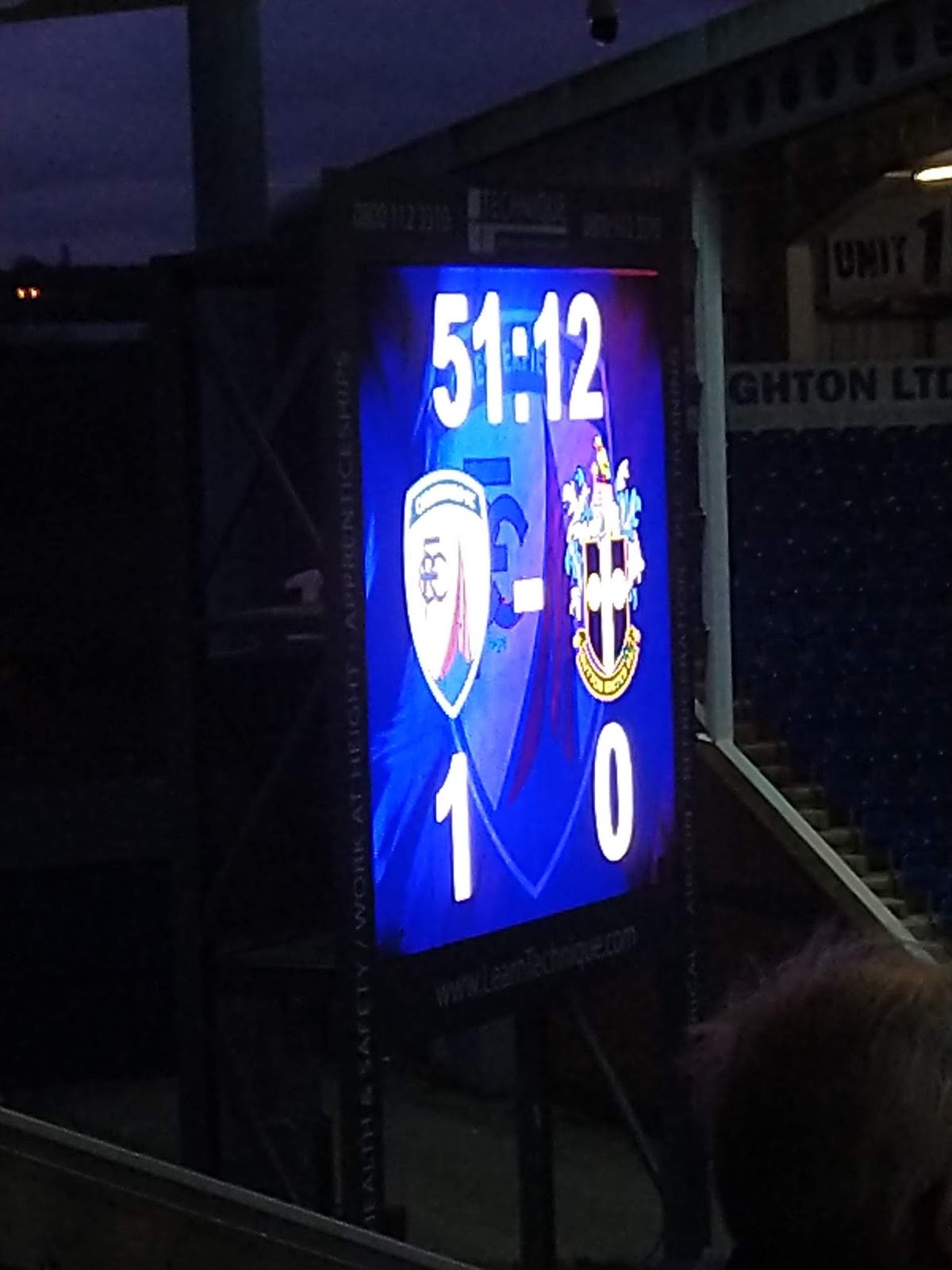 Bollocks…
Sutton started the second half pretty much like they have done in the past this seasib by lacking a bit of energy and composure. It was poor defending that let us down as we fail to clear the ball properly and is quickly played back into the box and is met with the shin of a Chesterfield player. He doesn't connect with it as cleanly as he liked, but it's enough to get the ball to loop over Tzanev and into the goal. Bollocks! Sutton would take a while to recover from that and had to sacrifice a couple of yellow cards to keep Chesterfield at bay.
With ten to go, the legend that is Dundo comes on for Reid. And once again immediately makes his presence felt. Minutes later the ball is flung into the box and meets the head of Harry. His header is saved by the keeper, but it's spilled and then the ball is bundled over the line by Goodliffe. But as we start to celebrate the man in the middle has already blown up for some sort of infringement. Oh bollocks! And Wright also gets his name taken down in the book for his protests.
Sutton would continue to pile on the pressure and Beautyman is next up as his header is well placed but is equally well saved. Several corners would follow. We must've won the corner stats match at least as we had over a dozen throughout the game. Dundas was the last to try his luck and does well just to get his body around to connect with the ball inside the six yard box. But unfortunately the ball won't come down quick enough and his shot goes over the bar and our last chance for a point has gone by.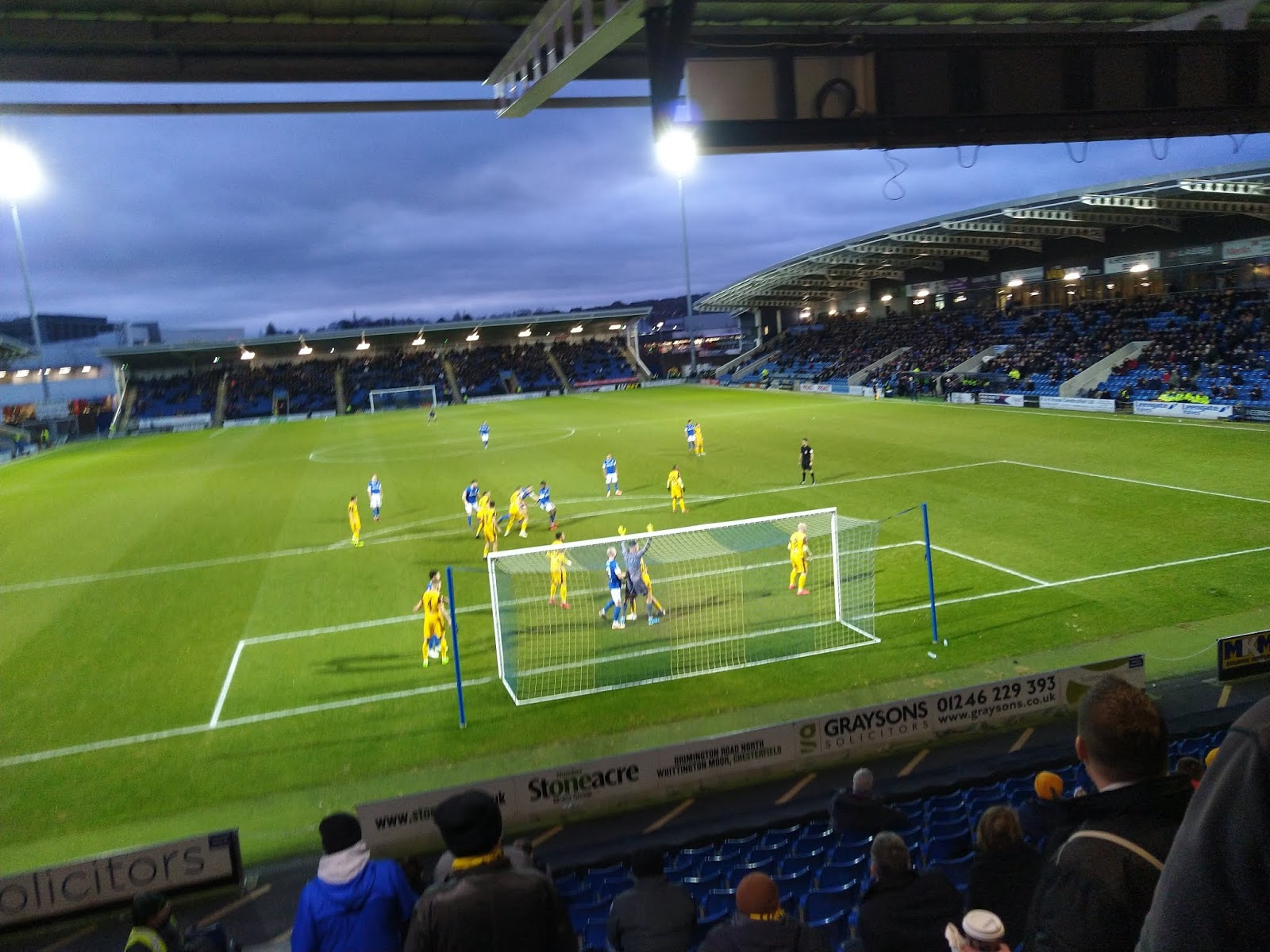 Action!
With the final whistle, the players and the management start to come over towards the 90 away fans in the stand. Just on the edge of the box is Eastmond and he appears to be deep in conversation with the Chesterfield forward. Turns out that this fella was Fondop and he and Eastmond have a bit of history. Next thing we see everything gets physical and Eastmond swings a right hook at him. And he fails to connect. Next he tries a left hand jab that also fails to hit the mark. Jesus man! Hit him! Everyone else piles in and before we know it, Eastmond is given a red card.
Four match ban we reckon with his second red of the season. Whilst this was happening, Fondop had quietly tried to run off the pitch. The man in the middle would begin to chase after him but got bored after a while and just brandished him with a red card. Someone manages to grab Fondop before he heads down the tunnel to tell him what has happened and then he now decides to react. All very weird.
After that we all head to "The Glassworks" opposite the ground to decipher what we'd just witnessed. I know The Firm Leader won't like it, but we did seem tired today with the amount of football we'd been playing. Someone did mention that the performance was like what we used to witness a couple of months ago. Here's hoping that the weeks break we've got now does us good and we come back stronger against Stockport on Saturday week.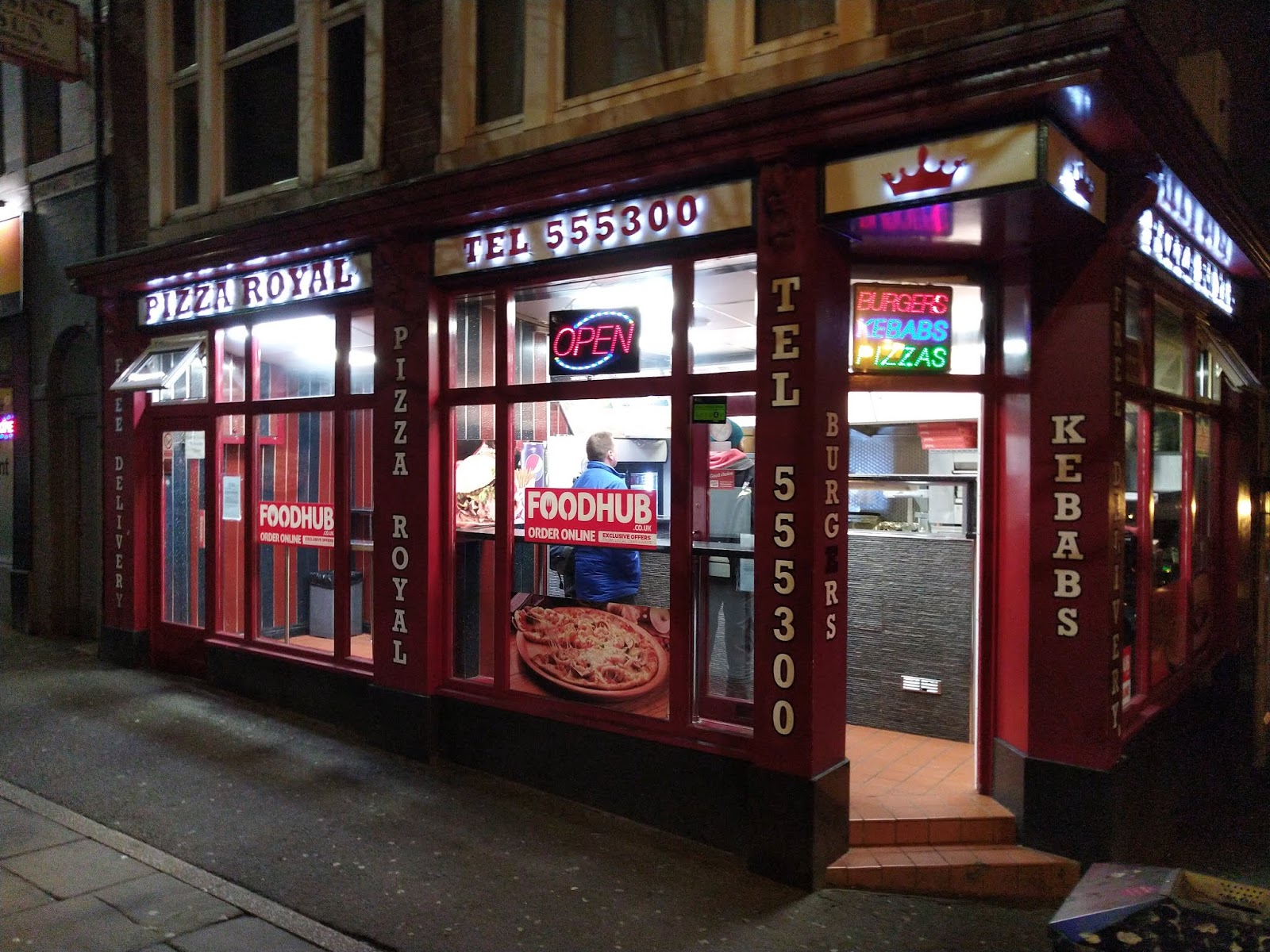 Food!
With a train to catch at quarter past seven, we arrange for a sherbet to pick us up and take us back to the 'Spoons. Of course this was discussed over a few jars as we spoke to a few of the local Chesterfield fans who were clearly happy to have beaten us and picked up a valuable win. Fair play to you lads, you need the points more that us at the moment.
The Sherbet arrives and we all pile in. Stopping to pick up Taz and the drinks order from Asda, we head to 'Spoons for a cheeky pint. We also then get the story of whilst putting the drinks order into his basket, he'd manages to 'make as mess' and smashed a couple of bottles on the floor in the process. Whoops! Not something you want to do after a few jars.
After that pint, it's time to head towards that station via the local kebab shop. As 4 Days wasn't in the round, he got his own concoction of Lamb Doner meat and grated cheese. For the rest it's a couple of pizzas, some garlic bread and something magical that was like a folded bread with cheese & garlic. With time of the essence, Me & Taz opt to go to another food place to get some more nibbles as we'd be in danger of missing the train if we all ordered from the same spot.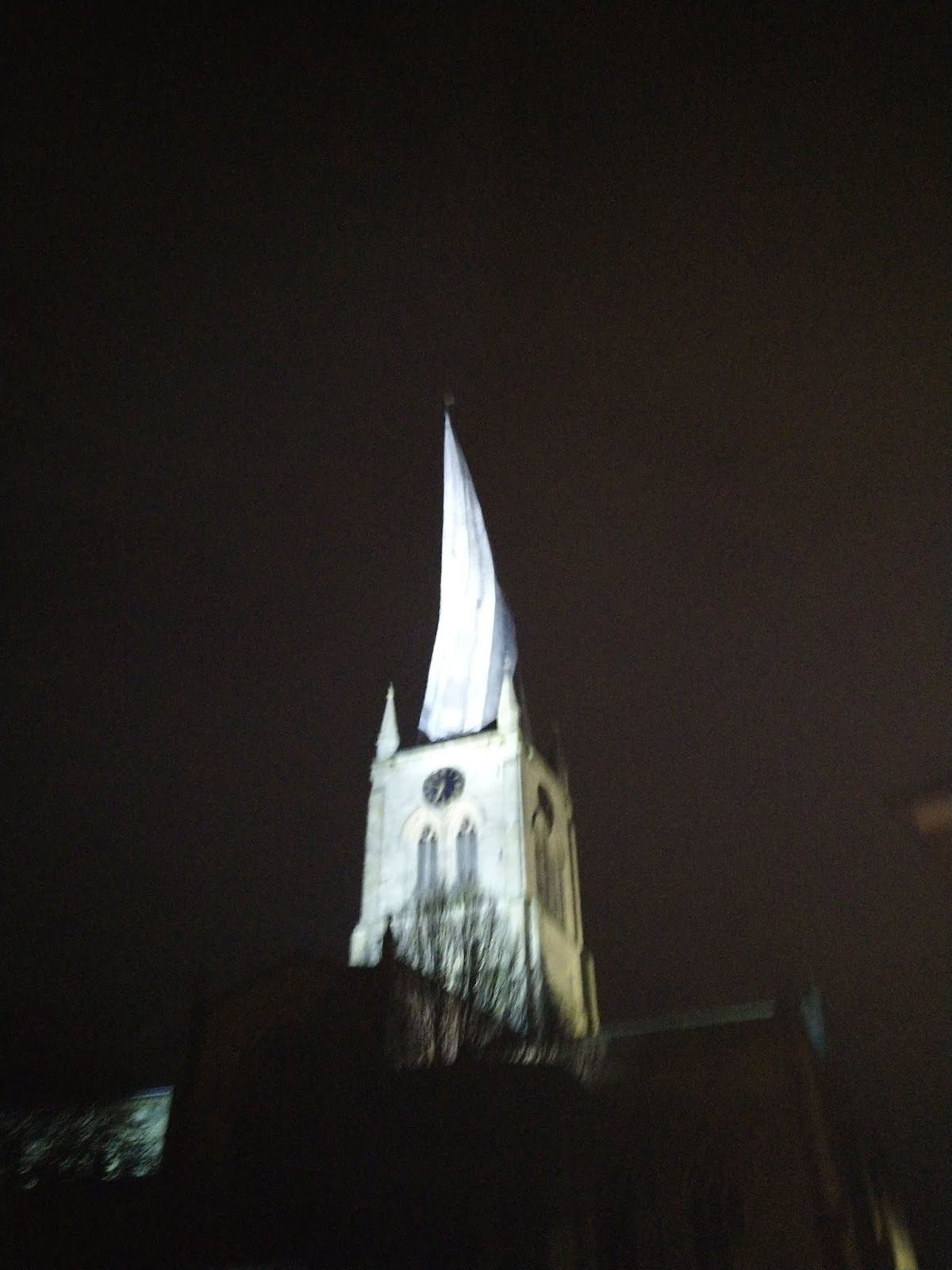 That looks a bit pissed…
Stopping to give some homeless fella a quid, who then followed us to the same kebab shop for a portion of chips, we grab a couple of portions of chips ourselves and some onion rings. By the time we get to the station the train is due to arrive and there are a few people on the platform. At one point, we were even told to moderate our language. Wasn't me obviously!
The train arrives and we locate our seats for the journey home. One casualty was the pizzas that have appeared to have taken a battering on the way down as it got squashed to one side. The ride is quiet enough by our Gandermonium standards as we trundle all the way down to St Pancras. Or at least that's what I can remember about it. It's then onto the Thameslink to takes us back to the Badlands of Carshalton. Only the 15 pints today. Not bad lads. Not bad at all.
So that's it for another Gandermonium tale of shit football and plenty of beer swilling. We might've have put in a below performance today but it was expected to happen at some point. Hopefully this week off can help the boys recover and get us back to fitness. There's plenty of football left in this season, so we're going to need it. Next up, we're off to Stockport for another Gandermonium weekender so hopefully there'll be plenty to write about after that. Enjoy!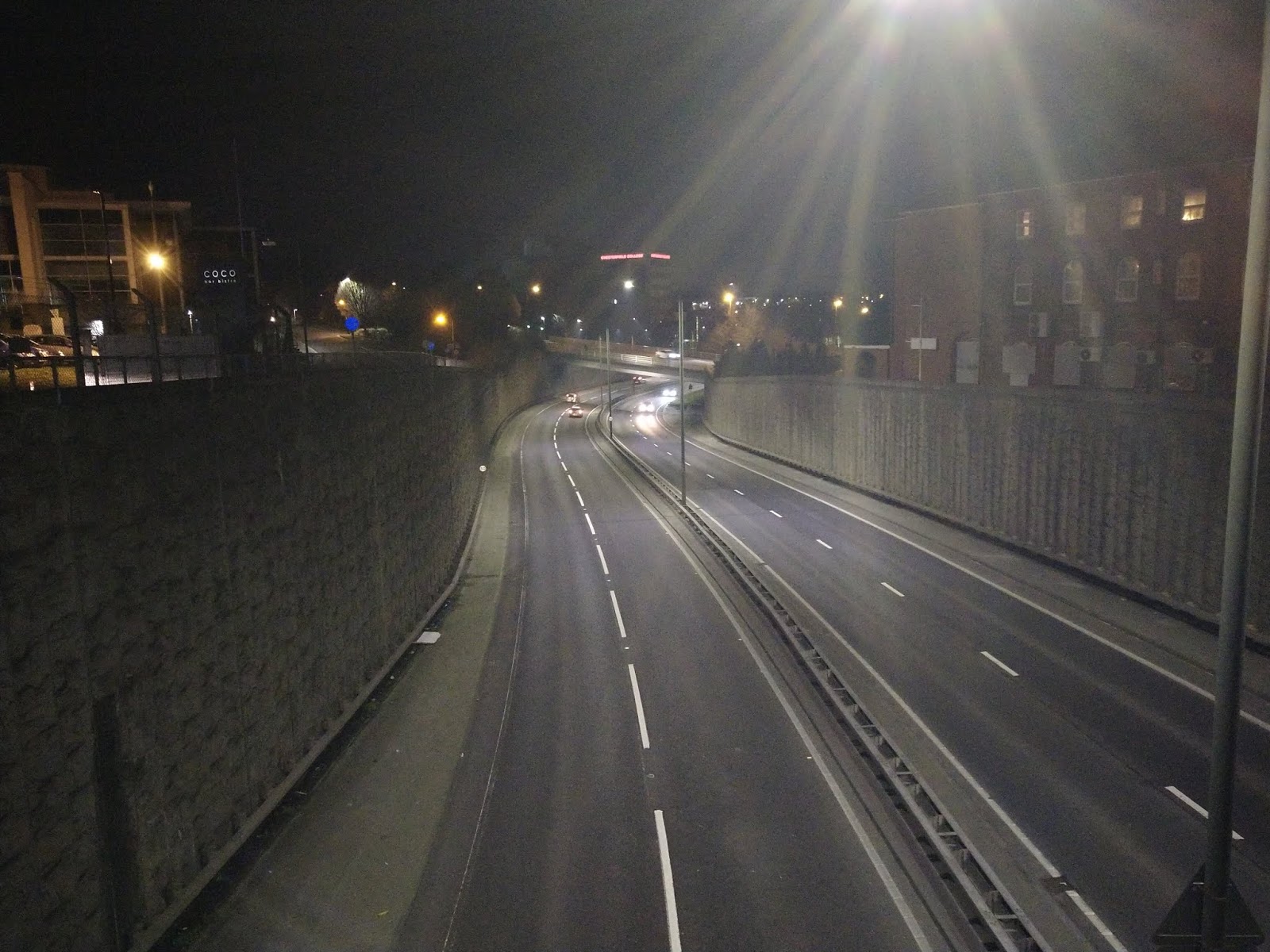 I call this "The A61 by night"
Duke
Att. 3283