Well this is odd. After 7 years of Gandermonium 2.0 and our tired old cobblers being regurgitated endlessly for you, our adoring masses, we actually had someone from outside our shadowy and drunken cabal approach and ask if they could do a piece for us. Well, we're all for putting our feet up and letting someone else take responsibility for stuff, so we of course said yes. And here it is. Fulham & Sutton fan, John Clarke's vaguely SUFC flavoured recollections of his Sunday League days. Enjoy!
Twitter, which is very much part of the modern world has inspired me to reminisce on something which is most definitely from the past. I am talking about my largely undistinguished career in Sunday football which was a staple diet of my life in the 1970's and 80's.
A recent tweet had pictures of an old football ground in Carshalton Road, Mitcham. The venue had once been used by Fisher Athletic who remarkably climbed as high as the Conference (now the National League) at the top of the non league pyramid in the late 80's after moving to a purpose built stadium in Surrey Docks. Although Twitter is a relatively new medium it does give the older generation a chance to share a trip down memory lane. One of the gentlemen I follow on Twitter is a Sutton United fan and contributor here, Totts.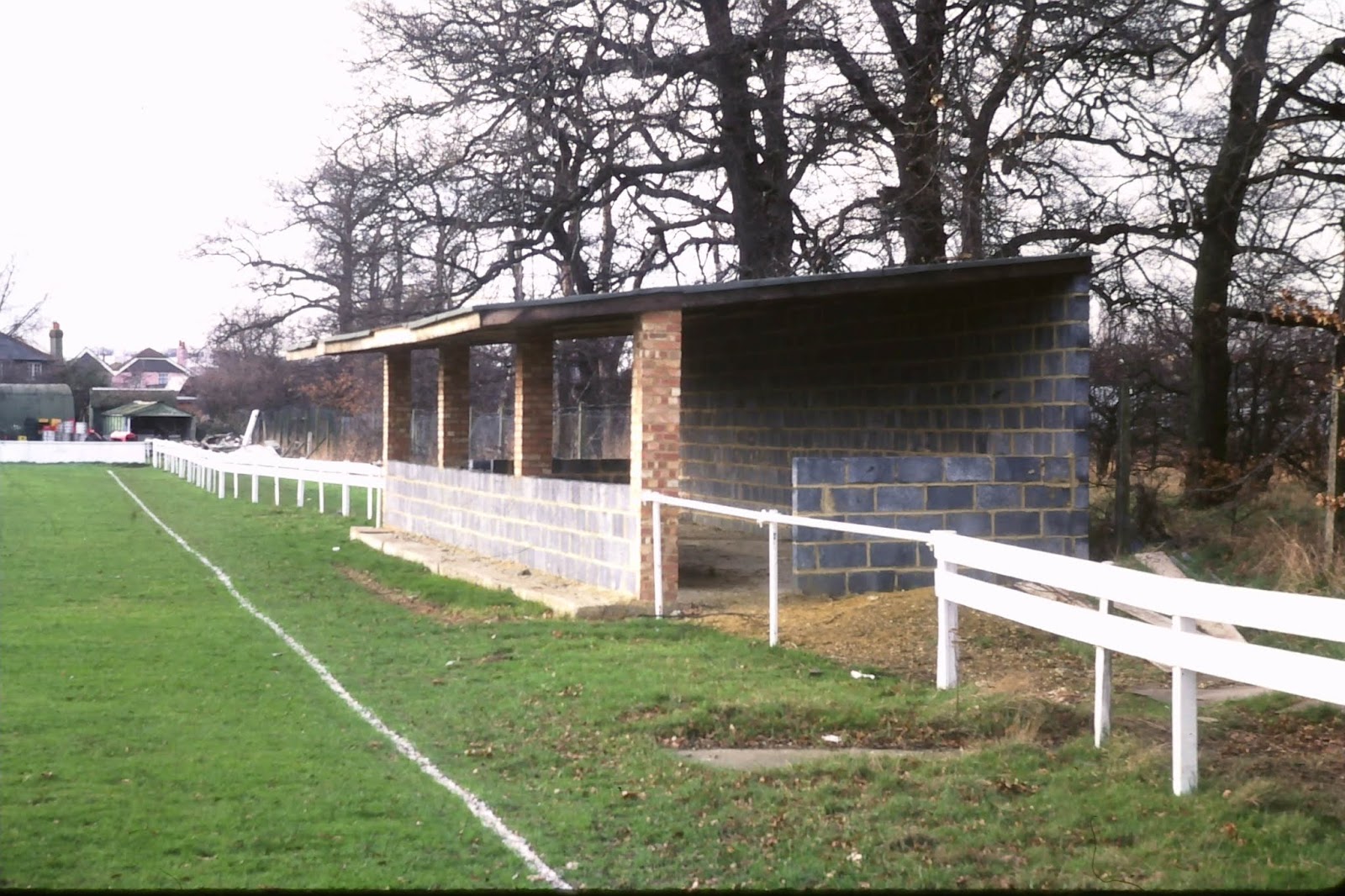 Fisher FC. Carshalton Rd, Mitcham. What started all this!
< Pic Courtesy of @GroundtasticBob Lilliman Archive >
Although Fulham are my first love I grew up no more than a long goal kick from Sutton's Gander Green Lane home and have always taken a keen interest in the club. Luckily I can now keep up to date with events via some very entertaining blogs about Sutton matches courtesy of the Gandermonium crew, where Totts reports in particular are laced with references to the past and the social climate of times gone by. His keen interest in nostalgia is further evidenced by his research into the history of local clubs that are no longer with us. He had commented on the photos posted as he's looking into the history of Beddington Corner FC who had also been previous residents of that Mitcham ground. I happened to remark I had once graced that same turf for my Sunday side. A little banter ensued involving a mutual friend and another U's fan, Frakey and it was suggested that a Pandora's box of interesting stories may have been opened.
As anyone who has ever turned out in the hurly burly of Sunday morning football would attest, there are tales aplenty. This level of the game is as awash with characters as most of us were with alcohol on a Sunday morning, when it was a major achievement to haul one's carcass out of bed let alone take part in any sort of athletic pursuit. To be fair to in any way describe our efforts as athletic may be stretching a point, although stretching never featured much in our pre match routine. The warm up consisted of rubbing white liniment lotion (fondly referred to as Harry Monk) into our legs in the vain hope circulation would be triggered, before emerging from the dressing room having hopefully bagged a pair of shorts that vaguely fitted. The team then split into two distinct factions. The smokers would take the opportunity to have one last pre match gasper while the rest of us tried to whack as many balls as hard as we could in the general direction of our net. This was hardly a confidence booster for our hapless keeper as he endeavoured to take avoiding action rather than try to save any of our pile drivers. In fairness some of our less accurate efforts did at least cause us to indulge in some pre-match exercise as we had to retrieve the balls that disappeared beyond the goal; often into an adjacent postcode.
Sunday football had become my natural domain for a number of reasons. My talents had been discovered as an 11 year old not as a result of a wily scout spotting me starring in a big school match. I just happened to answer the door one Thursday evening to our Pools Collector who was picking up my Dad's coupon. Our collector was involved in the newly formed Sutton Wanderers Boys Club and he was trying to recruit players to make up the numbers. He noticed I was about the right age, had two working legs and asked me if I wanted to try out. I was down Collingwood Rec the next Saturday morning for a trial and by lunchtime had signed on the dotted line without even getting my agent involved. The age of innocence to be sure.
I then played for the club for the next five years with varying degrees of success. Winning the Epsom and Ewell Parks League as an under 15 was a highlight although the undoubted low light had occurred a couple of years earlier. In those days we used to meet to be picked up for games outside Brian Kimberley's paper shop opposite Sutton's ground. We were there one Sunday morning when I saw a teacher from my school approaching the shop to buy his paper. It was a chap called Major Wall- he was ex military and ran the school's Combined Cadet Force- however he was more commonly known to us as Max in honour of the rubber legged Music Hall comedian. I informed my teammates of this fact as he strolled towards us whereupon two or three of them decided to do Max Wall impressions with as much gusto as they could manage. This went down like a lead balloon with the Major who identified me as the culprit being as I was the only player in the team from his school. He pulled me to one side and invited me to come and see him outside the Head Master's office the next morning. On his departure I thanked my pals for unceremoniously dropping me in the shit and then proceeded to have an awful game as my mind lingered on my ensuing punishment. To be fair to the good Major he told me the next morning that he imagined the rest of my Sunday had been spoiled as much as his trip to the shop and called it quits.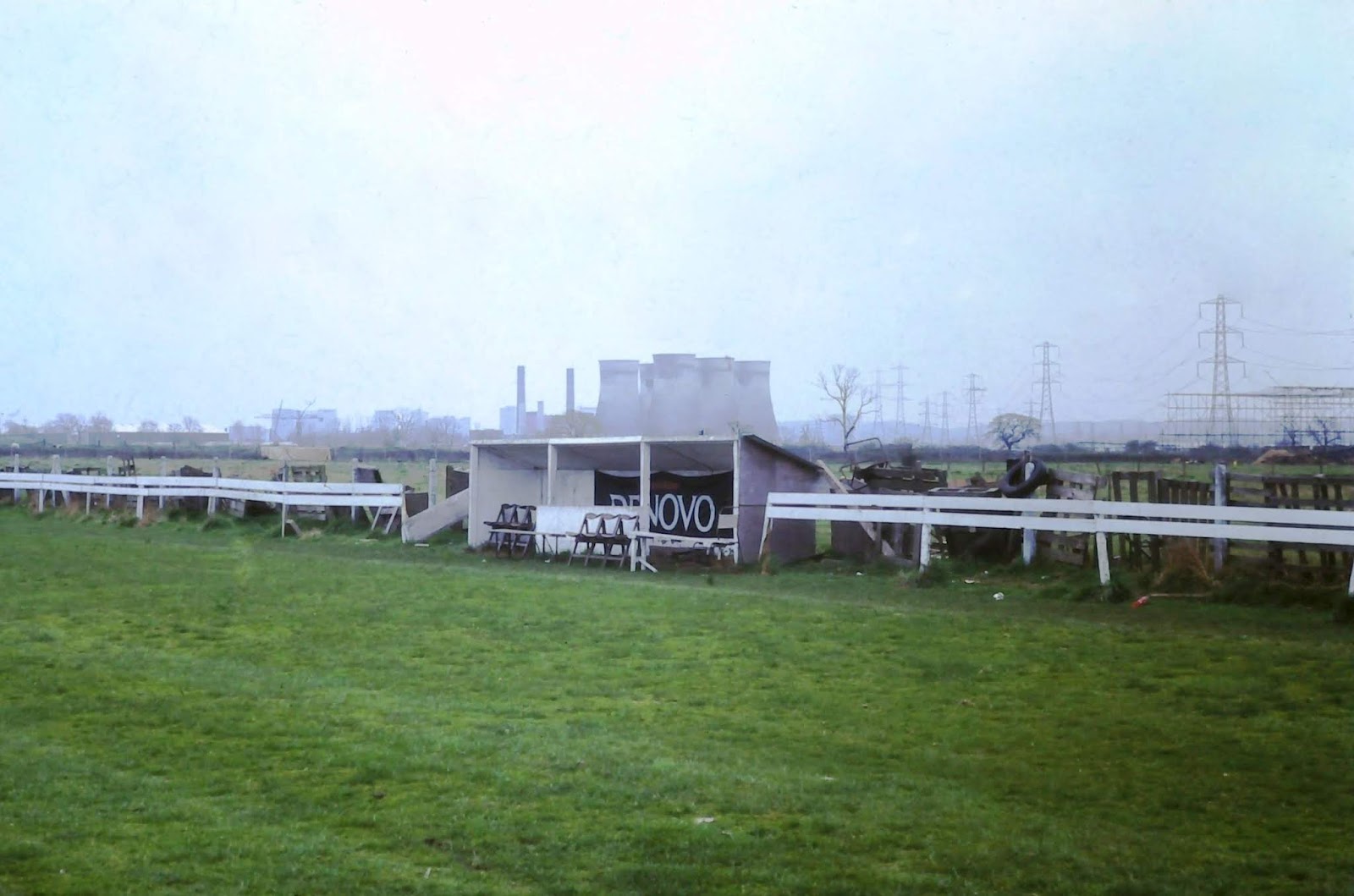 Fisher FC. Carshalton Rd, Mitcham. Is that Ikea we can see??
< Pic Courtesy of @GroundtasticBob Lilliman Archive >
The 1976-77 season was another interesting one in my nascent football career as we were struggling in the newly formed Apollo Boys League and were in desperate need of new players. I approached my best mate Mark Frake to see if he fancied joining the cause. He signed up with another couple of lads from his school and helped turn our season around. To those familiar with Sutton's club historian it may be hard to believe but in those days Frakey had a reasonable turn of pace and was decent in front of goal. He scored twice to help us win a Cup Semi Final but before the big day we got rumbled. Although Mark and his pals were all in the same school year as us their birthdays were the wrong side of the Apollo League's arbitrary cut off date for eligibility. Frakey and his pals were banned for the rest of the season and we were chucked out of the Cup Final; and modern fans think VAR is a scandal!
Although I enjoyed playing football the attraction of watching Fulham or Sutton on Saturday meant I was never interested in progressing beyond Sunday League fare. To be fair a lack of height, pace and in all honesty talent would have seen to that anyway. I'd embarked on another season in youth football in 1978-79 when this time Frakey asked me if I fancied a rescuing act . His Uncle Wally, who used to drive us to Sutton's away games, had just taken over as manager of Delta FC in Division Nine of the Morden District League. They were in dire need of players to get a side out and Mark's uncle had spotted us lurking at the very bottom of the barrel. Although I had started in the world of work, I was only just past my sixteenth birthday and at that time the razor blade and I were still comparative strangers. Men's football was therefore going to be a serious step up even at the subterranean level of Division Nine- to be fair there were two Divisions even below us (Sunday football was big in those days). Me, Mark and a few other motley teenage mates were therefore thrust in at the deep end to line up alongside the few adults Delta had left for the first game of the season. Astonishingly we raced in to a 3-0 half time lead before the opposition ground us down with a mixture of craft, intimidation and outright savagery and beat us young pups 4-3. It was a baptism of fire but I was hooked; there was no going back to the callowness of Youth football for me.
I spent the next several years playing in the Morden and District League where we managed at one stage to reach the dizzy heights of Division Six ; although this was due to teams dropping out of the League rather than us actually earning promotion through our league position. This 'success' led to interest from other clubs although to be truthful the guest appearance I made for the Sutton Supporters team was at my own behest being as it involved an away trip to Beccles on the Suffolk/Norfolk border and the opportunity to go on an all day bender. The biggest surprise was managing to squeeze 90 minutes of football into the outing.
This day out was knocked into a cocked hat though by the two football tours I went on with Everest FC. Delta had by now been renamed Everest as two of our players were sales reps for the double glazing firm and somehow managed to get the company to stump up for a set of shirts. Big business had their sticky fingers in football long before Sky came on the scene, I can tell you!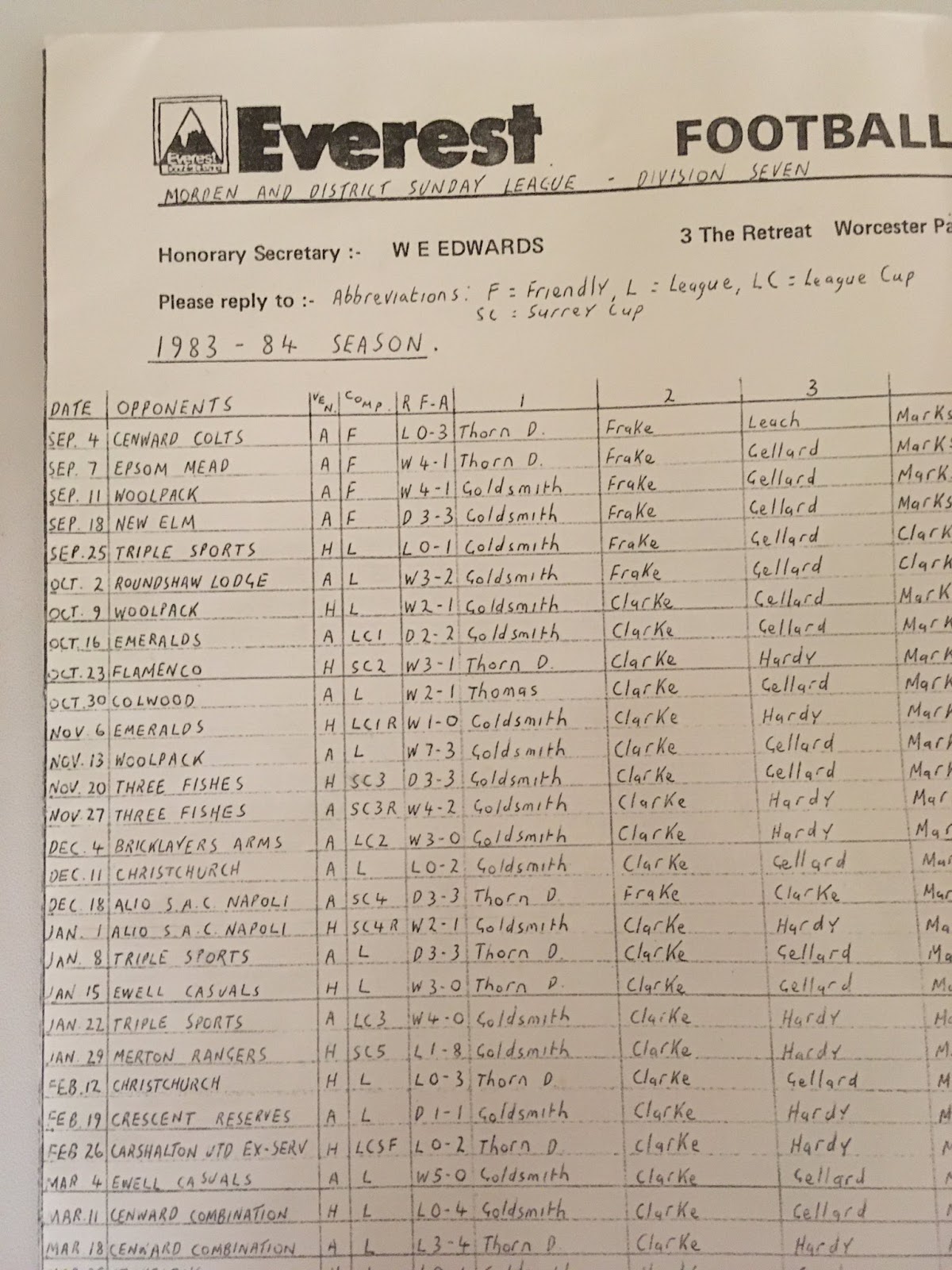 Displacing Frakey…
Our first trip took us to the fleshpots of Amsterdam where we were cooped up in dormitory accommodation with a ladies hockey team from Germany. Most looked like they were direct descendants of WW2 Camp Guards so we headed off to the Red Light district to see if there were any prettier maidens on show. One of my mates thought he'd take a holiday snap of a 'window display' only for the young lady's pimp to start chasing us down the street. It was undoubtedly the fastest we moved that season.
Our next excursion was to Lloret De Mar in Sunny Spain where our star player broke his arm on the first night. He was dancing to Tiger Feet with a bottle of San Miguel in his hand and went arse over tit on the dance floor. His arm may have been broken but his beer remained intact. Now that's talent for you. Things went from bad to worse the next day when we saw posters up for our match as we approached the venue. It was a proper ground and we'd been billed as a Select XI from Inglaterra. Little did they know we were a selection of pub players who'd been up until 5 that morning sampling the local culture. A decent crowd was in, it was about 80 degrees in the shade and within 5 minutes we were 2-0 down. Our captain who was about 40 with a midriff to match thought enough was enough. Next time a local took the ball past him he took him out with a tackle termed agricultural at best. As he picked his victim off the floor his expression suggested anyone daring to do that again would meet the same fate. Funnily enough they didn't fancy it much after that. We actually got a goal back in the second half which restored English Pride. A 2-1 defeat was a sensible option to take in the circumstances; after all we didn't want to push our luck.
My career continued in a similar vein of mediocrity with some cameo roles for East Cheam in the Leatherhead and District league where our centre forward was none other than that erstwhile Sutton custodian, Chris Vagg . I was also playing regular Wednesday afternoon games for my work side in the Gatwick Airport League where we actually got time off to play. It was the closest I got to being a professional.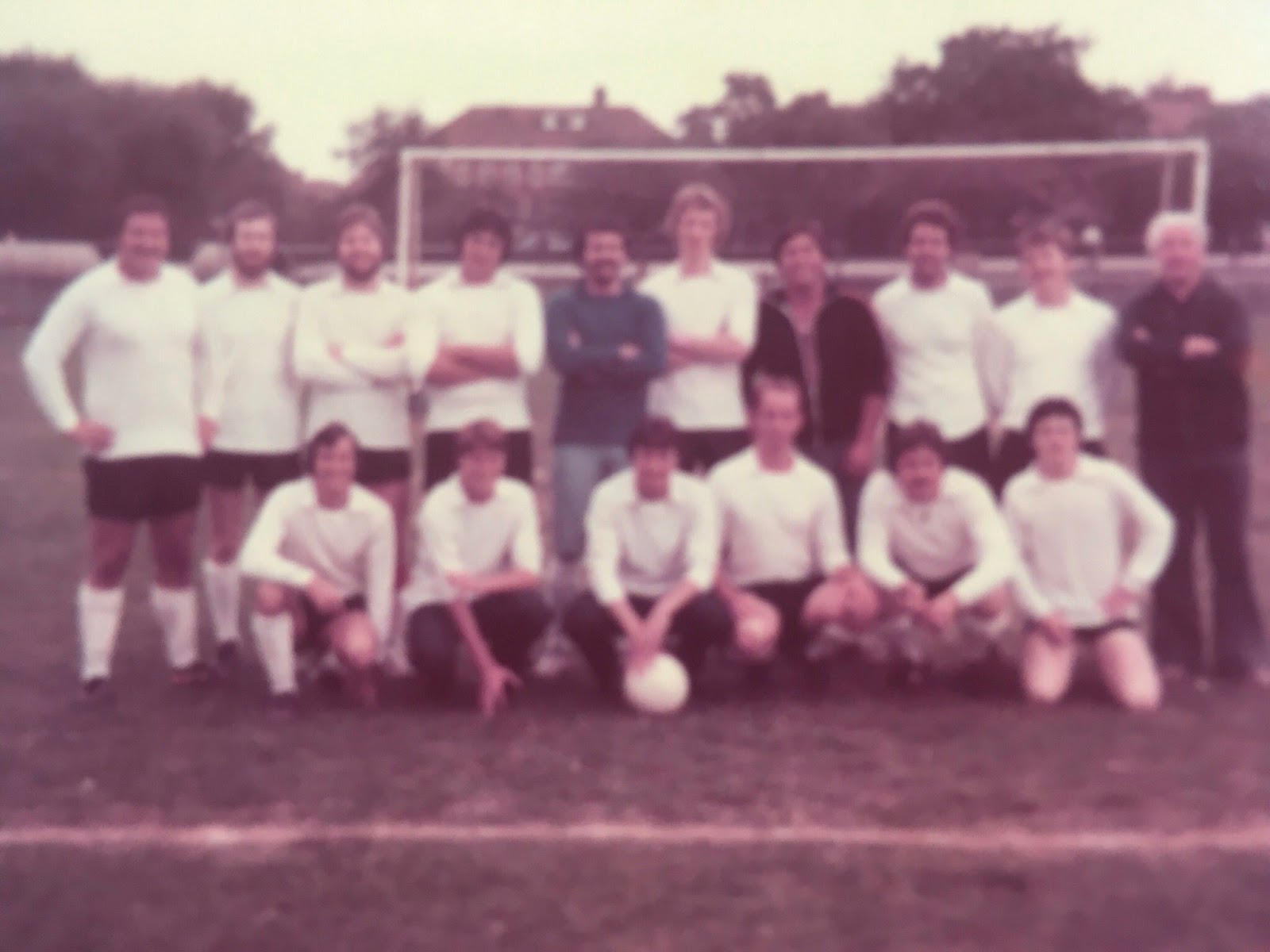 Everything Sunday League was blurry back in the day….
I finally hung up my boots in my mid 40's when I started pulling muscles I didn't know I had. I still miss playing , primarily for the dressing room banter as much as the game itself. An old friend recently told me he'd taken up the new concept of walking football to scratch the itch and wondered if I was interested. I declined on the basis I didn't feel the sport was that new: I'd perfected the art of walking football about 40 years ago.
John Clarke
Our huge thanks and appreciation to John for penning this. He's actually a published author (god knows what he's doing messing about with idiots like us) and his book 'Time to Declare' about his career in the Customs Service is out now! Click HERE to find out more and perhaps even buy a copy.


Fancy featuring on the pages of this absolute shit show yourself? Drop us a line. We're far from a closed shop and if you've got something interesting to tell, read a football book you want to review or even fancy taking the plunge headlong down the rabbit hole and doing a match blog, let us know.