A Merry Christmas to all you old buggers! The festive season is now firmly upon us and the games are coming in thick and fast. There's no rest for the wicked as those of us who've hit it hard over the last couple of days are required to head to the wilds of Surrey. That's because that young oik on the YTS at Conference HQ has written Woking (A) Boxing Day on the back of the special fixtures Benson & Hedges packet again. A home game would've been nice.
There's no denying that Saturday's win against Wrexham has lifted the spirits somewhat before the Turkey went into the oven and the Christmas period now looks a little less daunting as we try and climb further away from the dreaded relegation zone. And if you forgot about our dreadful FA Amateur Cup Trophy matches against Dagenham & Redbridge, we're currently on a run of only one defeat in seven going into this match. Perhaps the future is a little brighter than it looked a couple of months ago. Perhaps…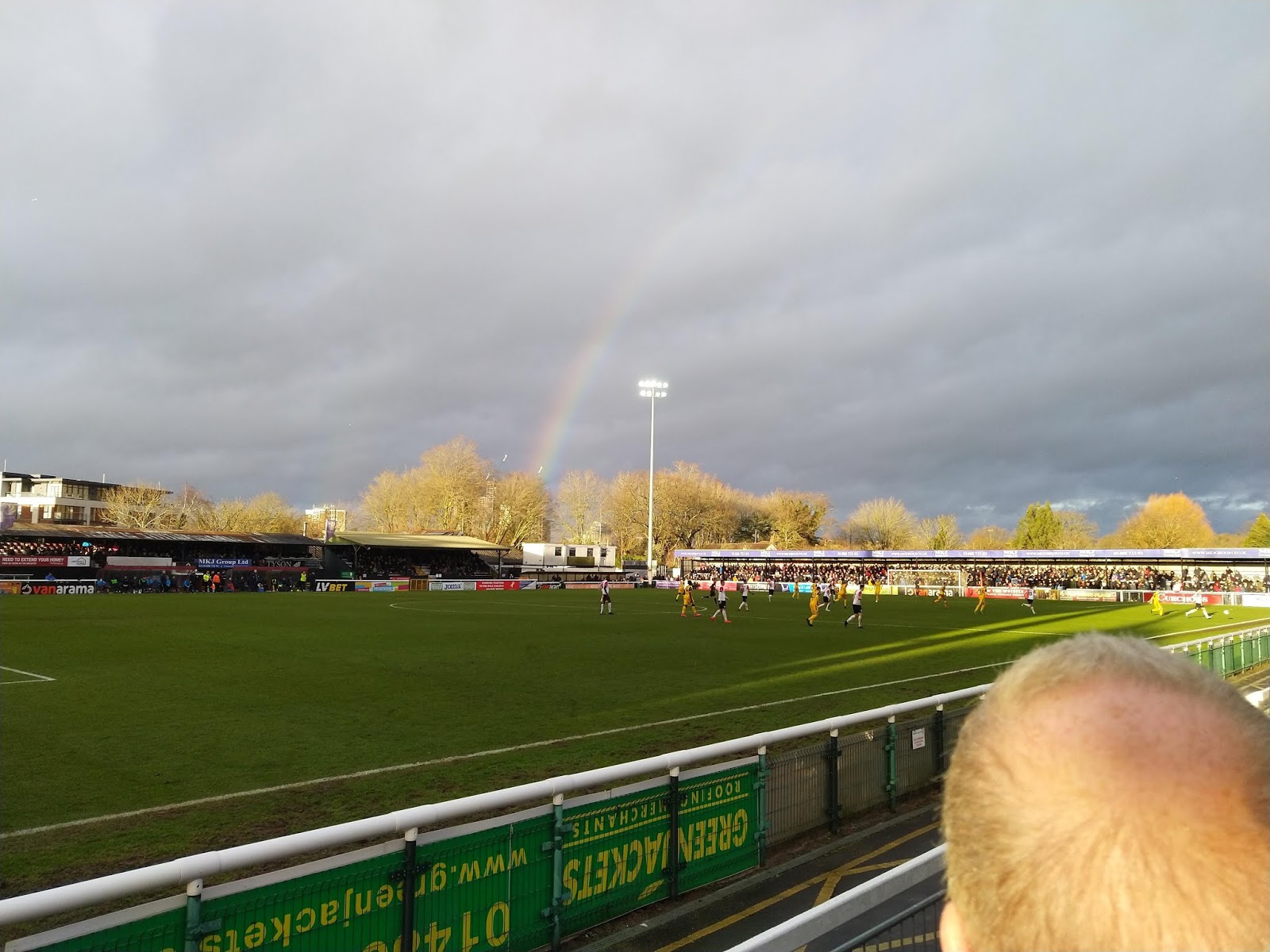 It's a rainbow, and Bungle's up top…
So how was everybody's Christmas? Celebrate the birth of Our Lord Jesus Christ in style? For the Duke it was the usual routine of getting the piss taken out of me for watching the Queen's speech, through to firmly stating that I wouldn't cook dinner, only to end up doing all of it. The only consolation was the gallons of "God's own juice" aka Brut that has been collected from all over the four corners of this fine nation to keep me smelling irresistible in 2020. I also got an expensive 'genuine' reproduction of an RFC RAF jacket that made me look like Biggles or a fuckin' Wing Commander. More opportunities for the arseholes I hang about with to take the piss out of me then. Merry Christmas.
One issue sorted out might not have been the answer to the question "What is the meaning of life?", How is it '42' anyway for fuck sake? But who was driving to the match. Throwing my flat-cap into the ring early on in the week saw my popularity stakes rise through the roof. Eventually it was worked out that I would take Taz & Dr Bell. Why Magnum P.I. didn't take Taz was beyond me, but beggars can't be choosers.
As the other drivers arranged times for their pickups at around half ten, for me it was eleven as I couldn't be bothered to wake up early. That and those 'reduced to clear' mince pies from the previous day were giving me a touch of the old 'Gandhi's revenge'. By the time I arrived at Gandermonium HQ, the heavens were threatening to open and after a quick stop at the surgery to grab the doctor, they did indeed drop their contents on the South East.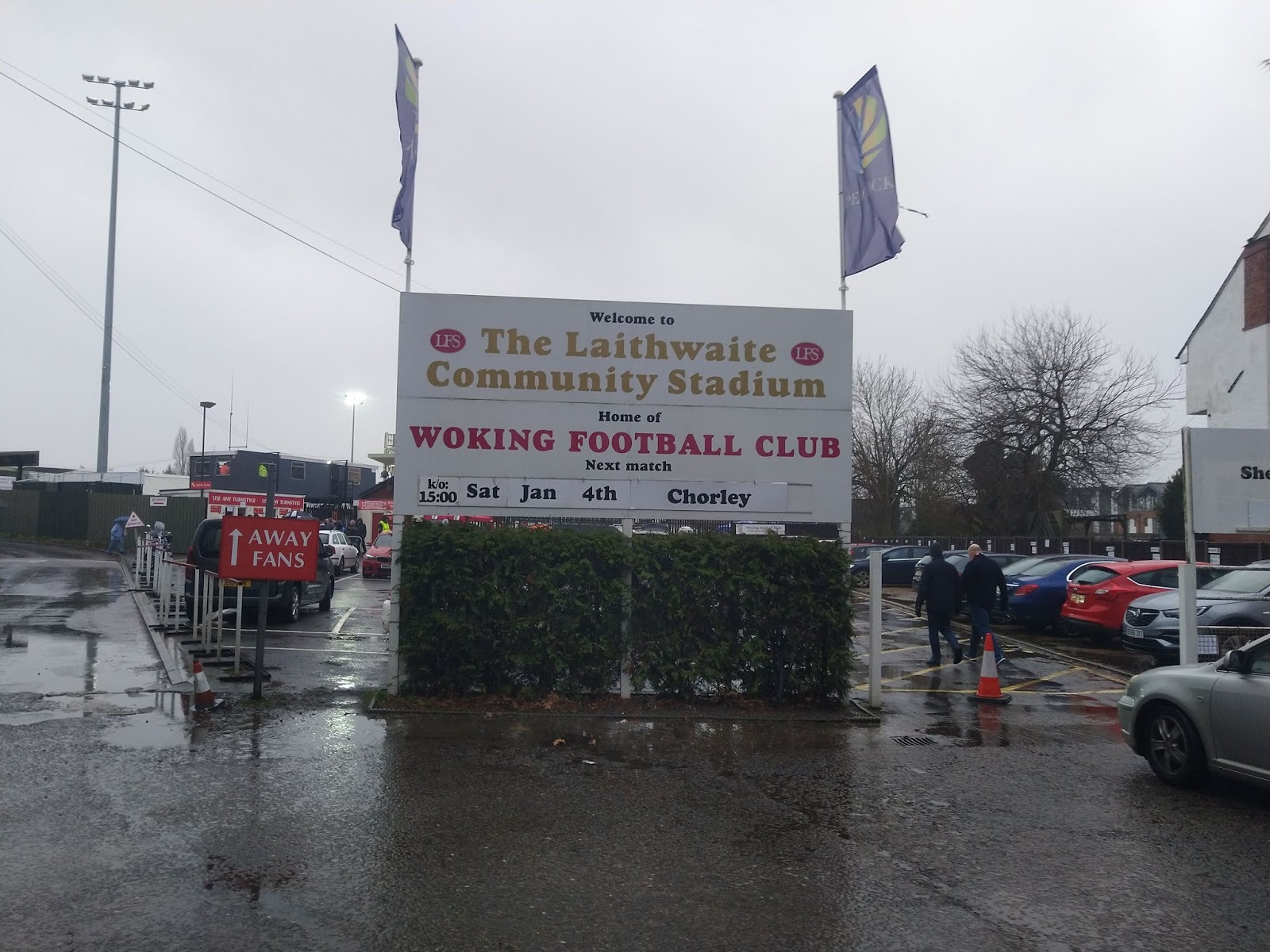 Welcome to Kingfield…
By the time we came to a stand still on the M25, there was a worry that the drainage at Kingfield would not be up to scratch. Memories of the pitch back when they used to shared with Hayes & Yeading came, pun intended, flooding back. Apparently it's Sheerwater that squat on the Kingfield pitch these days. Bet you never knew that little tit bit. But you can have it for free, my little Xmas present to you all. With Taz as my navigator, we make good time despite the slow slog along on the motorway. And that's even after my best minicab impression as I drive several times around a parade of shops as Taz has to get some dough out for the £18 entrance fee. You know you're of a certain age when all the directions are via drinking establishments. "Take a right by The Jovial Sailor, then it's a left by the Saddler's Arms and then follow it past The New Inn…". And that was just through the tiny village of Ellen Ripley!
As it's Woking, there is a large leisure centre car park nestled in between Kingfield and the big local boys Westfield. And with the first three hours being free, it's a festive 'Winning' moment. They could've been more clear with the whole not needing to display-a-ticket-thing mind you. Three minutes of my life I won't be getting back any time soon. Still, gave me time to realise that I'd left my phone in the car. Taz would not have been happy with that. Wouldn't be the first time I've left my phone behind and haven't taken any photos for one of these.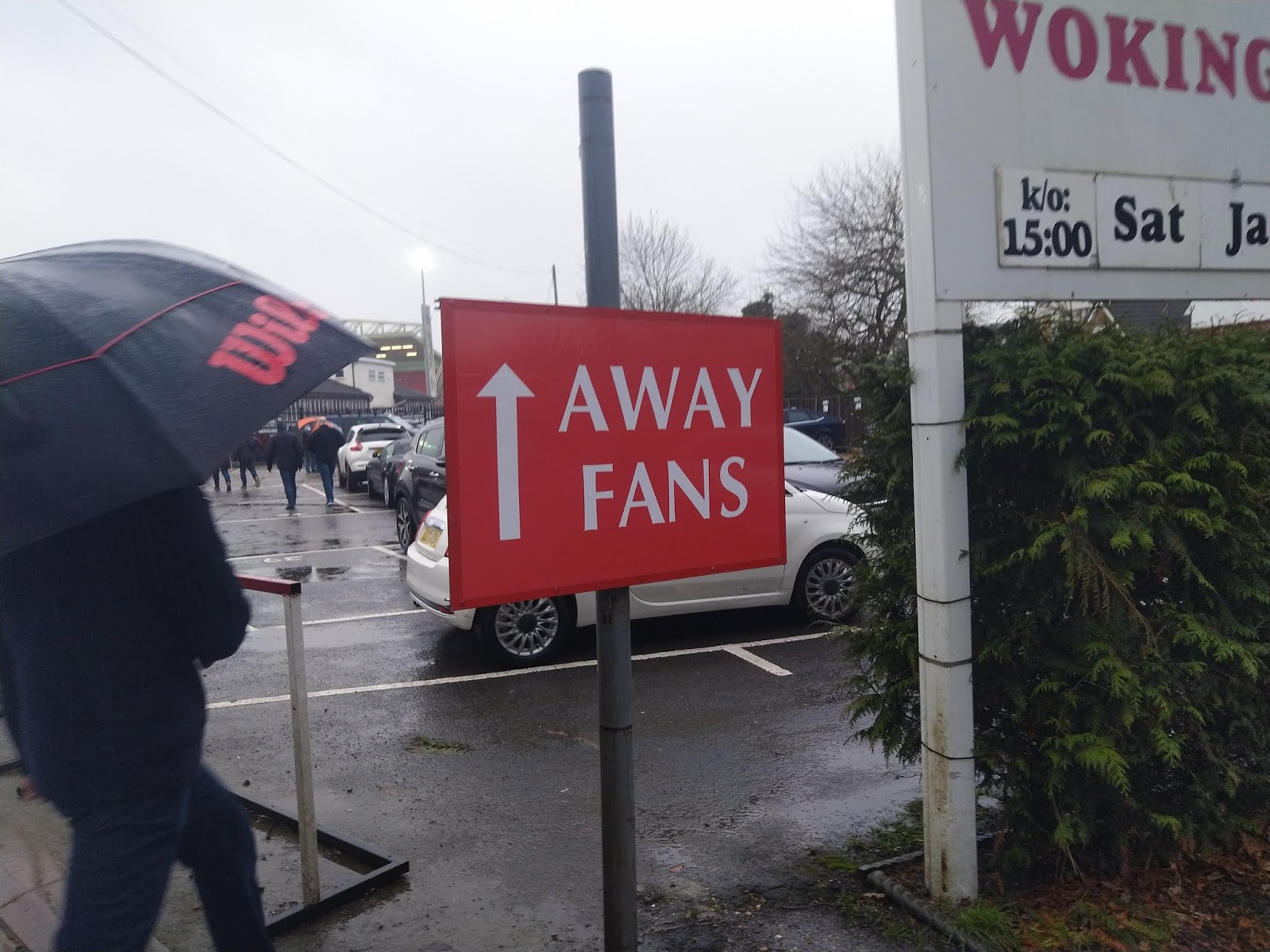 It's a sign…
With the rain still coming down heavily, we head towards the ground and spot a couple of reprobates next door in the snooker hall, smoking in the doorway. Suppose we better head in on in there then. It's fuckin' dry for starters! The rest of the Gandermonium Firm who were making the trip, were already partaking in a little libation inside. One person not there was Robbo, had an issue with the film Cats or something I overheard. That or he'd seen a Channel 5 about the loves of his life Chesney Hawkes & Jane McDonald are hosting a New Years Eve show. I shit you not.
After the initial piss taking of my new Christmas present. There's the usual ask around of everyone's various Christmas days. One reply was from Mr X, who complained about spending most of the day on the throne as his guts gave up the ghost. He would then follow up this statement by asking us of anyone knew a locksmith, apparently he's needed help 'closing his back door'. Euphemism or what?
It's time to head into the ground and with the weather still bit wet, we elect to head into the massive stand that adorns Kingfield, much like the white elephant at Farnborough. But fair dues, it's a crackin' view from the top and extra credit for the stewards who didn't complain that there was plenty of us standing up in corner. We could even smoke in the ground, so another thumbs up from The Duke. Are this lot on Trip Advisor?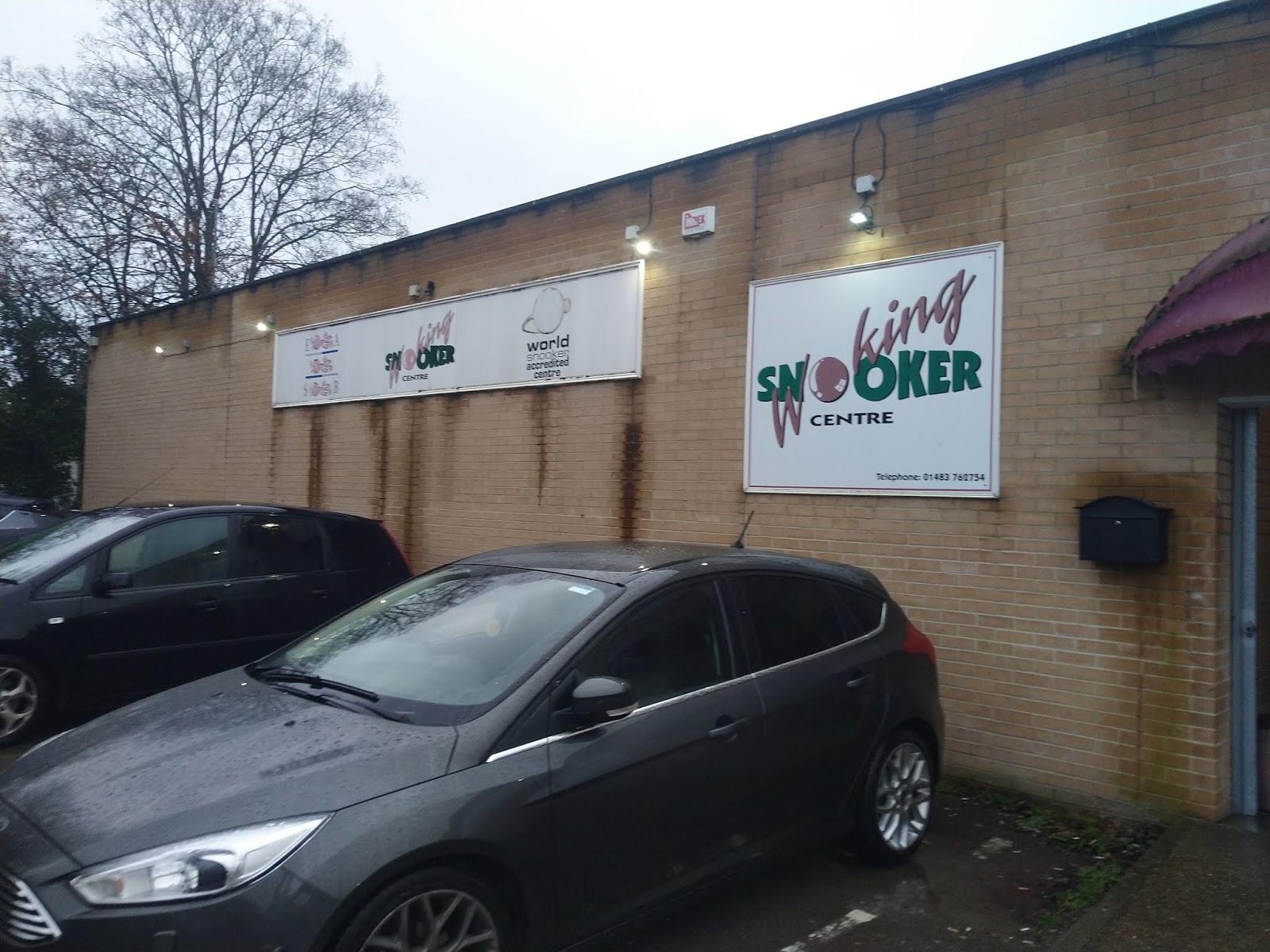 Anyone for snooker?
Tzanev, John, Barden, Goodliffe, Davis, Bugiel, Randall, Eastmond, Wright, Wyatt, Reid. Bench Warmers: Beautyman, Dundas, Ajiboye, Milsom, Jarvis.
Sutton started the match by changing round and attacking the far end. There were still away fans trying to get into the ground as Bugiel watched the ball come to him about 25yrds from goal. Seeing that 'Snood' the ex-Scummer was off his line, he unleashed a shot that looped over him and sailed into the back of the net. 1-0! Blimey, only thirty seconds gone and we're already ahead! Perhaps we might win here for the first time in like nearly twenty years?
With Woking now on the ropes, Sutton continued to pile on the pressure. First Reid and then Eastmond both had good half chances before Woking woke up and started to get themselves back into the match. Their defence can be questionable at times but their attack can be dangerous. Especially from set-pieces as shown by danger man Tarpey flying in some fizzers that caused us several problems. Oh what would we give to have a player who could do that. To be fair, I'd just take someone who can beat the first man actually.
Half hour gone, and Sutton ended up on the counter after one Woking corner. After eventually forcing a corner of our own thanks to Tommy, it's not the best and the ball is cleared but only as far as Randall. His second attempt is slightly better and the ball eventually finds its way to Bugiel on the edge. And boy, his attempt is right at Snood, NUTS!, he somehow fails to save it with his legs and it ends up in the back of the net. 2-0! Holy fuck! Obviously there are what the kids call 'scenes' at the back of the stand as 'limbs' are everywhere as some of the Yoof fall down a row of chairs. The game starts to slow down after this as both teams cancel each other out.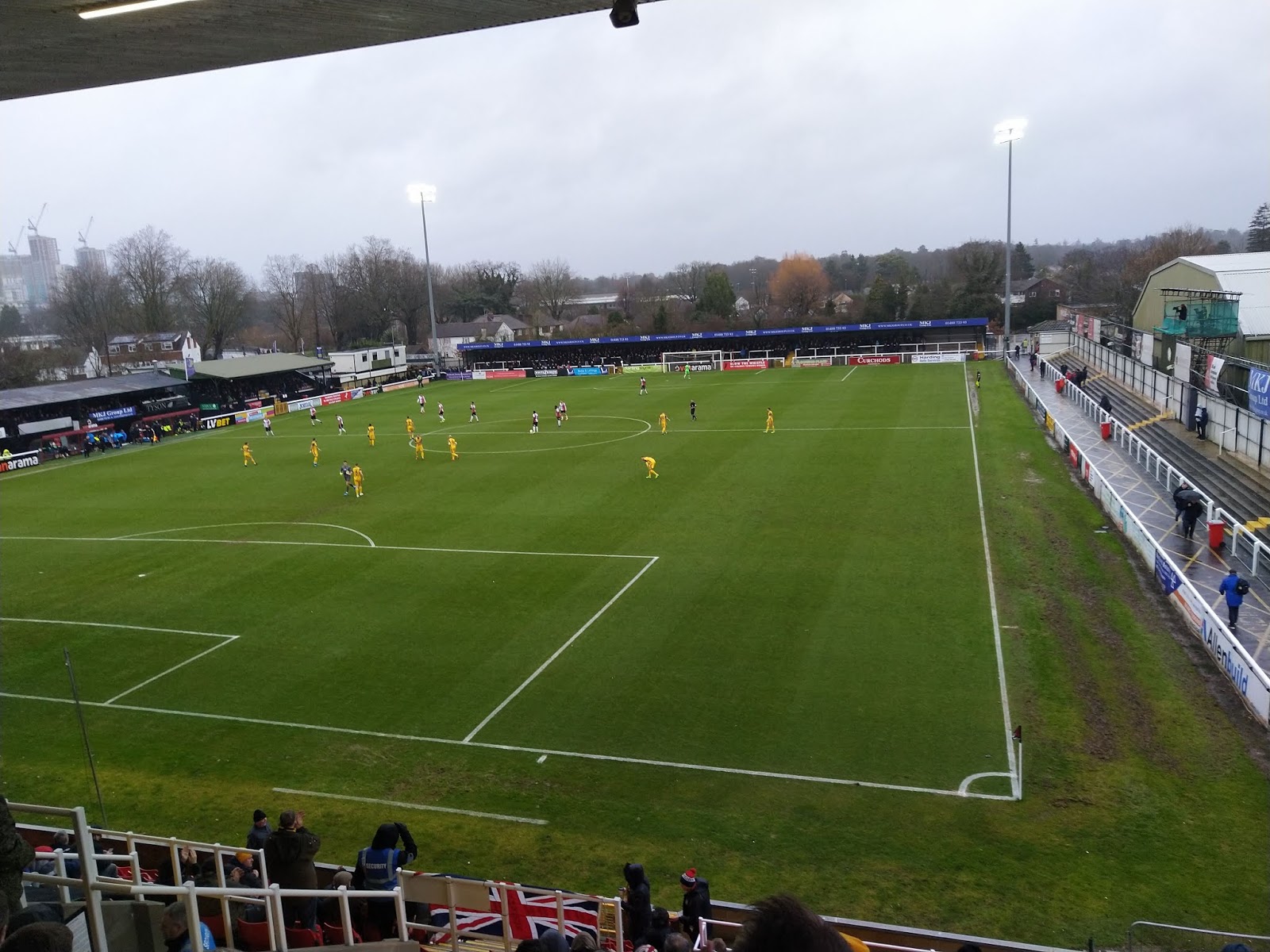 The view from the gods…
At half time, most of us decide to head downstairs for refreshments, hunger suppression via tobacco consumables & empty weak bladders. Although one member of our group, who shall remain nameless to protect his embarrassment, and have his boat plastered over this blog with a photo, made a right meal of trying to climb down one row of seats to get out. What a wally he is…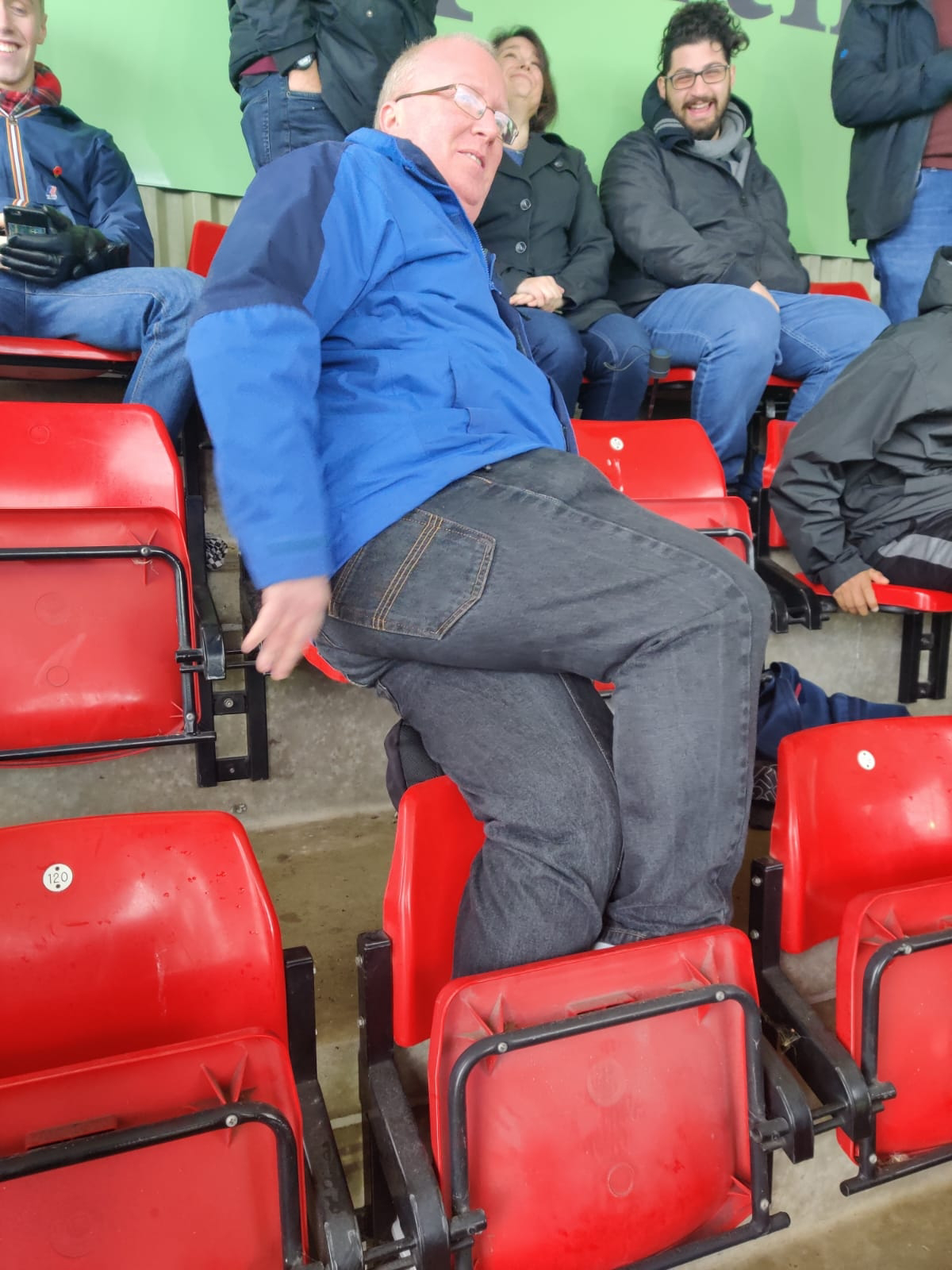 "Old Man Stuck in Chair"
Taking a spot down the side for the second half, we waited for the match to restart. And restart. And restart. About three fuckin' times, Eastmond had yet to kick the ball before a Woking player had run into the centre circle. Jesus man, just let him kick the ball first. It was like a shit non-league version of that Zaire geezer in the '74 World Cup. When we did finally get on with it, it wouldn't take long before a string of Woking corners would put Sutton under pressure again.
Things would get very bitty in this half as the yellow card count would rise up for both teams. Can't remember how many Woking eventually ended with but I think at least three of the back four ended up with their names being taken. And how the right-back didn't get his taken because the man clearly couldn't take a throw-in, let alone from the right fuckin' place. If the man in the middle had a proper set of balls, things could've been better. There was also a battle between Eastmond & Woking boy Diarra as to who could push the limit of getting not receiving a red card after being booked for as many fouls as he could concede.
Sutton were forced to make one sub when Reid pulled up clutching his hamstring after the hour mark. It didn't look good and he was replaced with Ajiboye. In the last ten minutes, the front two were changed with first Bugiel making way for Dundas and then Wright leaving the field for Jarvis. The rest of the match continued to fail to raise pulses, although our lot had the better chances for adding another goal, as the final whistle count come soon enough for the apparent 127 away fans.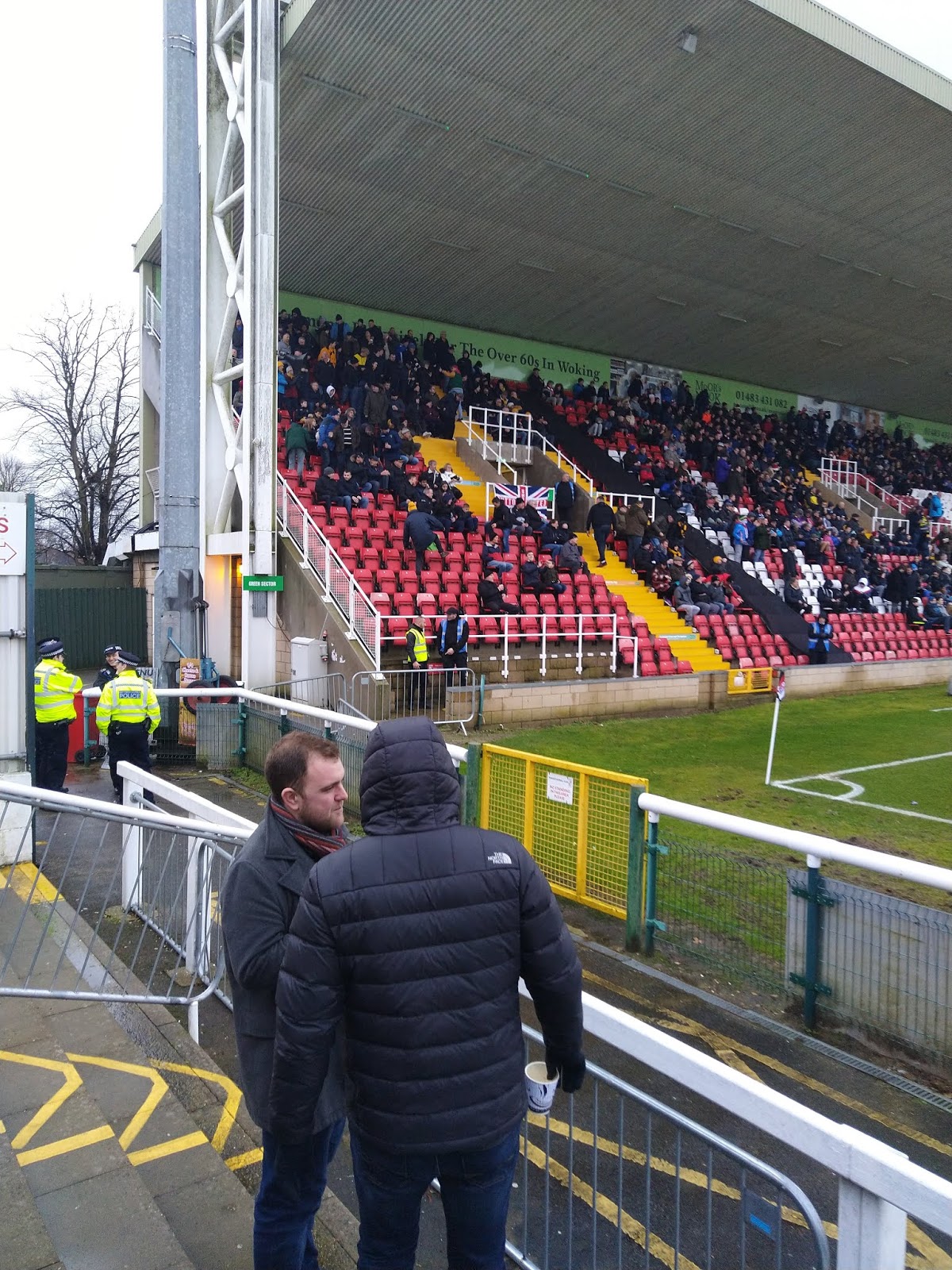 Some of the travelling faithful…
After the.match and we clap the players off, it was good to see Beautyman & Collins amongst them after their little post-Daggers prang on the A12, and wonder where in hell that win had come from. I would be the first to admit that I was just hoping for a solitary point today, let alone all three! There is only two goals that separate us and top of the table leaders Barrow in the form guide now. That's also a turn up for the books. Four points from relegation and yet only 8 points from the playoffs shows how tight this league is this season.
Some of the boys had decided to head to back to Sutton for a couple of jars, but I had others plans. And no, it wasn't to defend the nation from Luftwaffe. Taz had also decided to get a lift back from Magnum P.I. as he thought "there wasn't enough room in your Spitfire…". The cheeky git! Although him constantly asking for "a go on the guns" did do my nut in on the way down. There was plenty of time to contemplate what we'd just witnessed as trying to get out the car park took another lifetime but there are plenty of smiling faces amongst the Sutton fans departing.
We now move onto another Christmas cracker as we take on Yeovil down Gander Green Lane. It's an early kick off as it's on the box as well. There is also a small thing of Mainly Madness playing the Boom Boom that night, so could very well be a long-arsed day of drinking for one or two of us. So we'll leave it there with this one. Happy New Year and all that bollocks! Enjoy!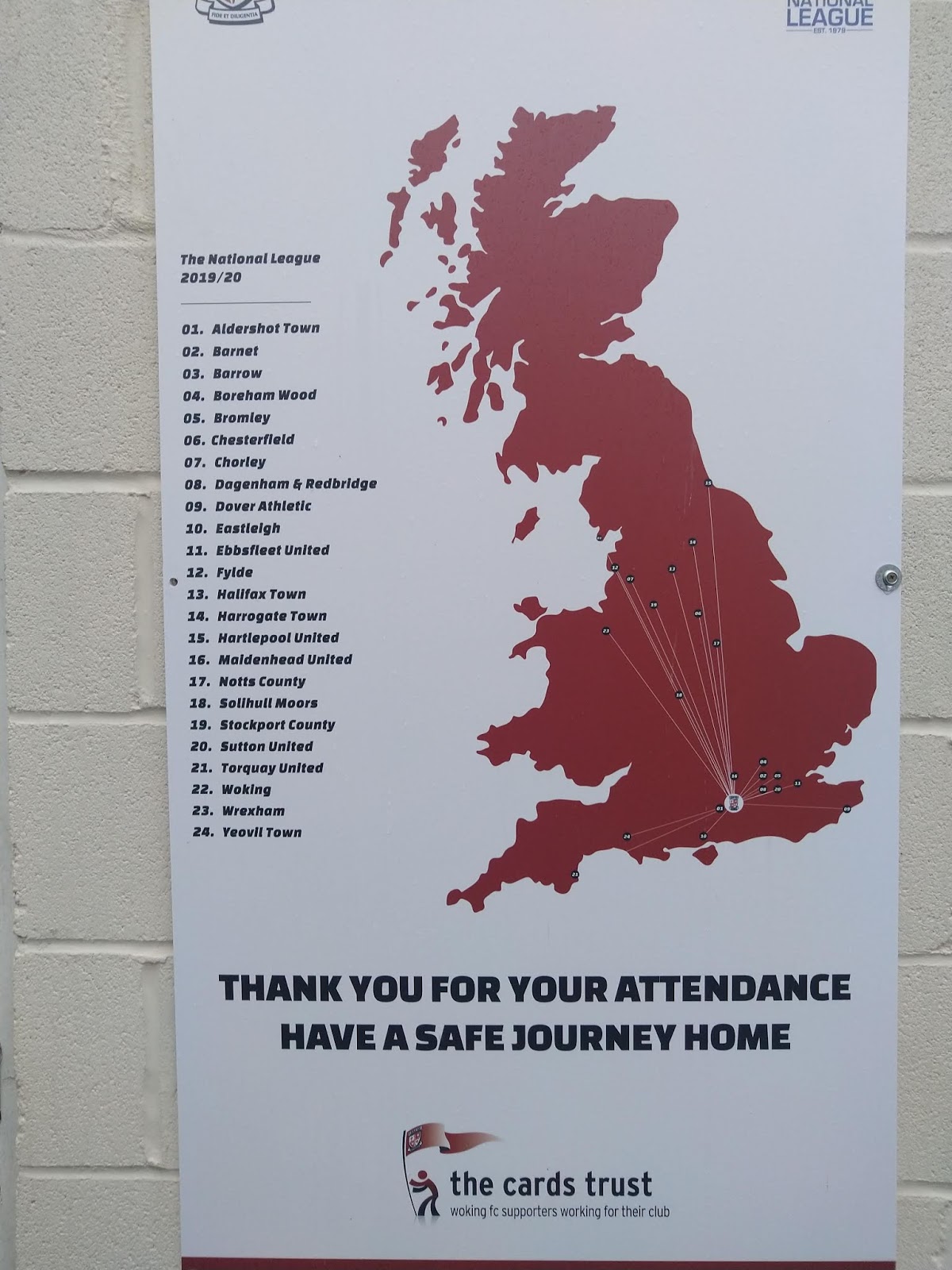 We'll take the three points with us as well…
Duke
Att. 2257