Hello readers, and good morning/afternoon/evening (delete as applicable) and welcome to Robbo's blog on the events – pre, during and after of the Wrexham game. The last working week of yours truly sees the draw for the Second Round of the FA Trophy, which if we'd beat Dagenham and Redbridge in the replay could have sens us return to Notts County.
Which, some regular readers will remember, I was due to attend said league game at Meadow Lane, but after a work's Christmas do I was pained with headaches and lacking energy (That's called a fucking hangover you lightweight! – Ed) that as of 6am on that morning I called my personal attendance off. So, maybe I may get to attend Notts County after all? And what I will tell you is during my work's Christmas I kept pointing out to my work colleagues that I had a train to catch at 08:31 but still the refreshments kept coming.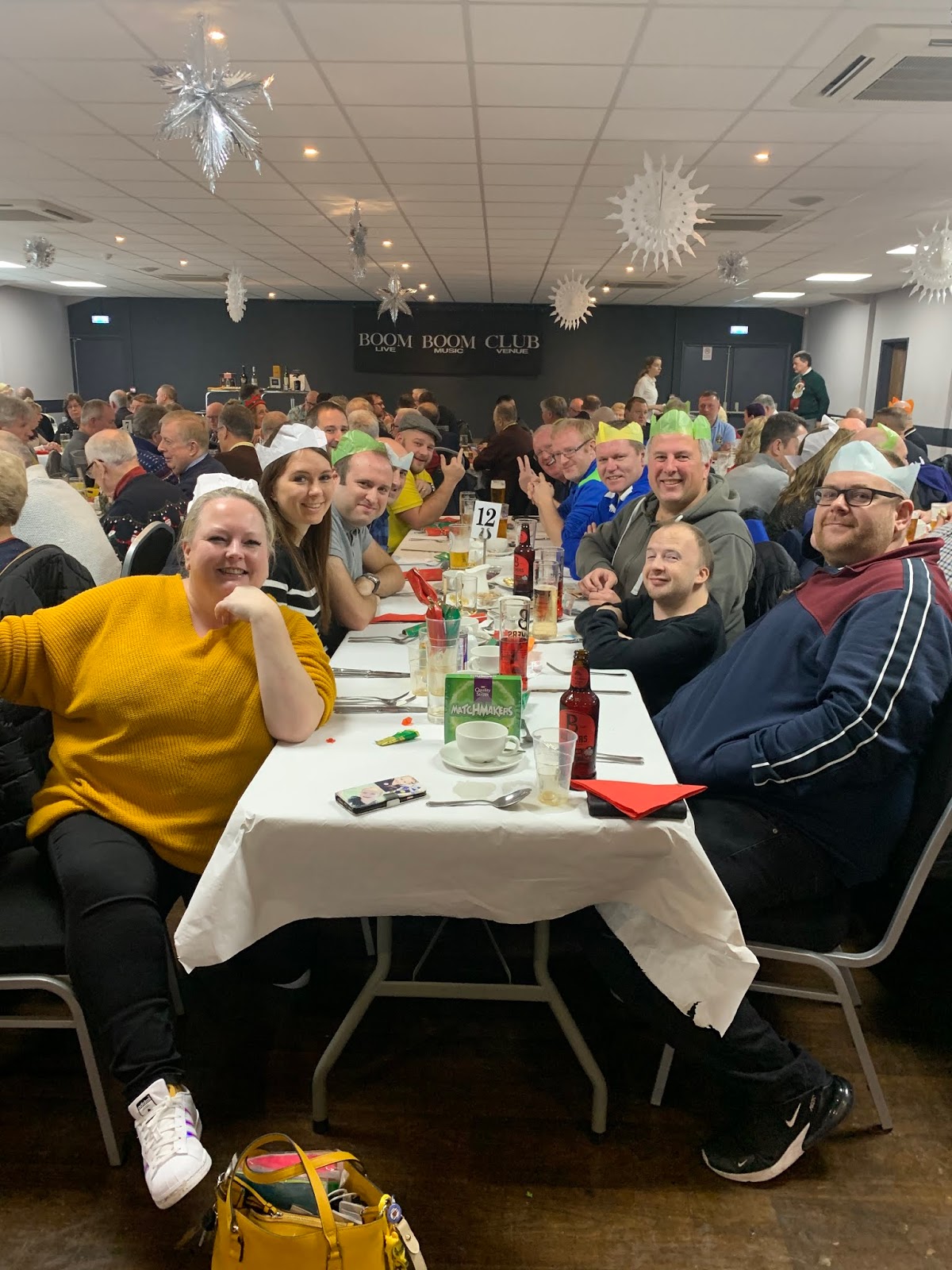 Full of Christmas Spirit…
That brings me onto that Dagenham replay, a full 90 minutes leading to extra time see the Us knocked out of an FA Competition in Essex for the second time this season and further tire out a depleted squad of ours. Do not worry Nottingham I'm sure I will see you next season! However, the joke of me failing attend that fixture has become a recurrent theme amongst the Gandermonium Whats App VIP group, as you can well imagine. None of it polite.
The day before Wrexham, a selection of the Sutton players went to visit Queen Mary's hospital to spread some Christmas cheer to children and their parents. This is what is good about non-league football, keeping it within the community. Also on said day, it was my last working day in the office and after work drinks included each of us having a bottle of Prosecco to one's self – this of course, led to further doubts on the Whats App group suggesting I will not turn up today, this time I remained silent and not use the term "come hell or high water, I will be there" again. I've at least learnt my lesson on that front!
Game day, and before the game we are invited to attend a pre-match Christmas lunch arranged for the hoard courtesy of the non-sticker buying, spinach eating JR. I made it to the club with Southampton Steve via Thameslink for 12 midday. Therefore, I am not late so that's Robbo 1 Doubters 0! All the lunchers are gathered round the table and the three courses included a salmon pate, roast turkey with all the trimmings, followed by a choice of three puddings of roulade, cheesecake or Christmas pudding. I could not handle the pudding so I gave mine to Southampton Steve. The rest of the lads seemed quite taken with the cheesecake.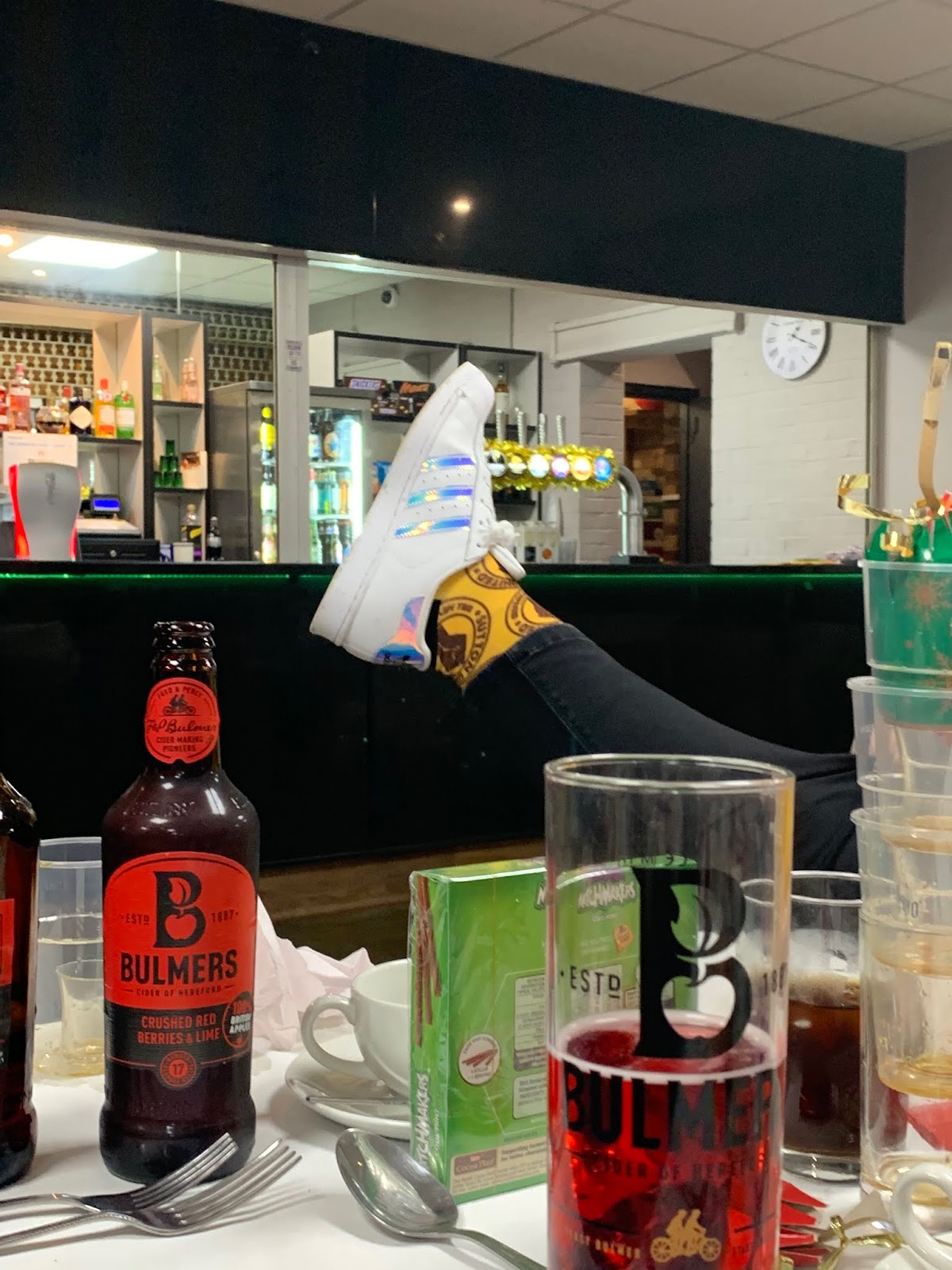 Socks!
But a lot of the events of today occur during the lunch, courtesy of Ossie. After between four to five Jaeger bombs, and a few vodka and cokes, it is apparent that Ossie is somewhat very much past half-cut. Perhaps even three-quarters. So much so, that whilst showing off her newly purchased and incredibly fashionable Gandermonium socks, she nearly kicks a plate of hot food held by one of the catering staff – gawd knows how she will cope with the rest of the day. What also occurs with these socks is that JR has been done by paying customs charges – whoever heard of four pairs of socks costing about £70? Meanwhile down the other end of the table Taz, Dr Bell and Dukey talk about the different uses of socks such as hand puppets, where I raise "tube socks", you know as seen in the opening scene in the film of American Pie where the character is getting off to a pornographic channel. Strangely after this, the subject proceeds no further.
What has also occurred at the lunch, is Natalie has created a brand new cocktail – the VAR. This stands for Vodka, Archers and Red Bull. Apparently it leaves you confused and feeling like life was better before you'd encountered it. You heard it first, if you are at a bar and wanting to order a VAR, you make the signal of a television to the bartender. Surefire winner. During the lunch Matt Gray speaks to us about today's team and I remind myself that today I must buy him back that beer I owe him. With lunch over, we now have to make it outside for the game, the line-up is as follows:
13. Tzanev, 4. Bard, 5. Goodliffe, Ben, 2. John, 22. Wyatt, 28. Kyle Reid, 8. Davis, 15. Eastie. 17. Dave, 20. Tommy Wright, 9. Bugiel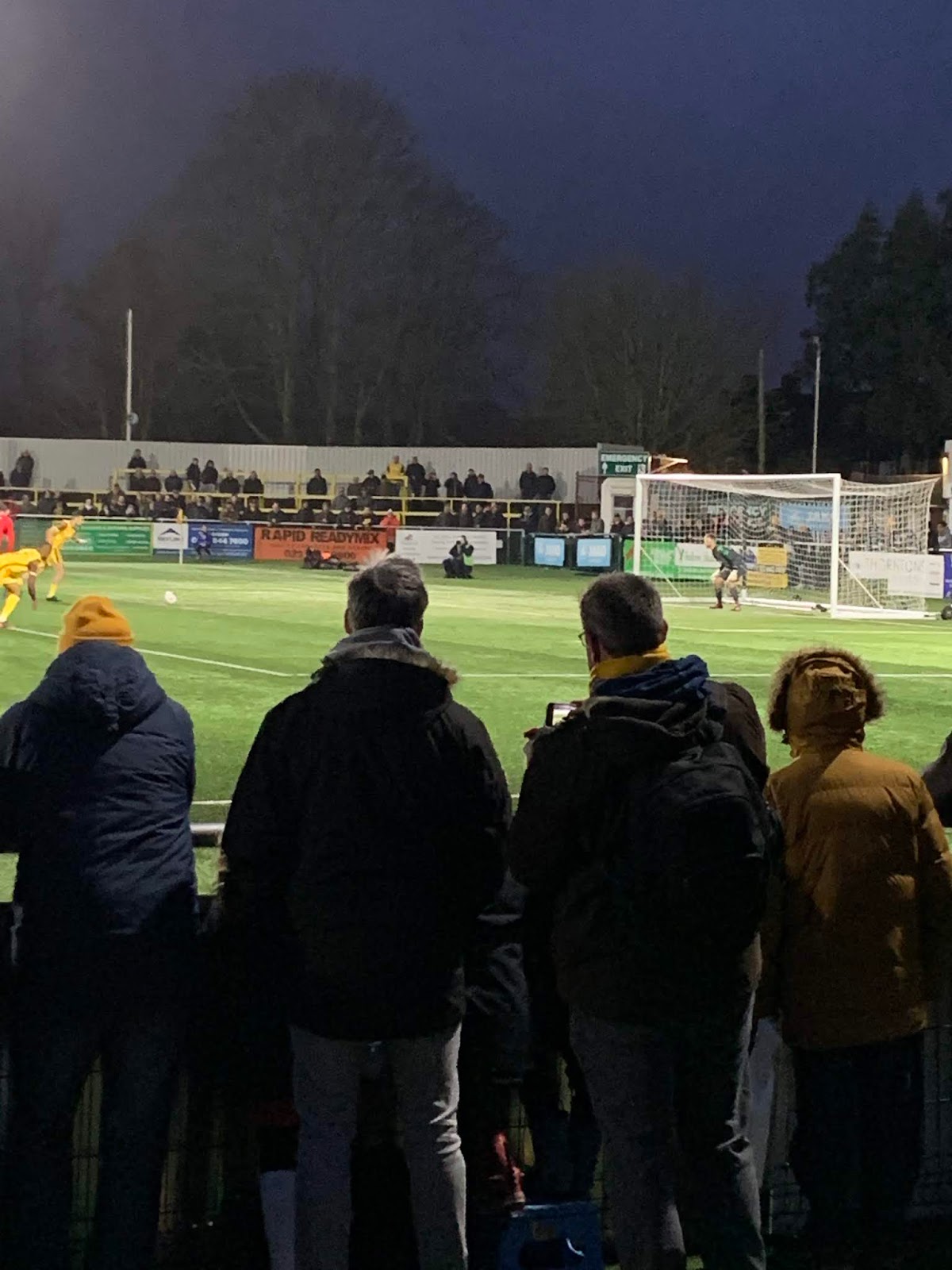 Hat trick coming up!
It now comes to the point I do not know where to go and stand before kick-off as I express to Oakesy, but from us shooting towards the Collingwood Road end it is obvious we have won the coin toss; now with the game being unsegregated we can go there but it appears some Wrexham have stayed put at the Rec End. Conflicted! We make a good start and the 12th minute see us deservedly taking the lead after a couple of early chances, with Tommy Wright taking the ball into the box where his shot is blocked and Omar pouncing upon the save to make it 1-0. Soon after, we should have been awarded a penalty as the numpty Wrexham number 5 placed his arm right across Tommy's throat but surprise surprise the referee does not give anything and shock horror nothing from the linesman either. This does not disturb the U's play and thus leading up to the 35th minute, Omar Bugiel with quick feet sends a shot towards goal after a lovely flowing move, leaving the keeper just watching on as the ball hits the net and making it 2-0 to Sutton.
It should have been another penalty just before the half time break, as Dave runs his way through into the 18 yard box and is bundled over by two Wrexham defenders but guess what – no penalty. Had that been anywhere else on the pitch I am 100 per cent certain that would have been given as a foul but nope the referee and his linesman either bottled it or felt sorry for Wrexham. Disgustingly, Kenny Davis is booked for making a similar point to the referee.
A change of my schedule sees me not hitting the bar before half time for once, so I was surprised as any to see a beer waiting on the table courtesy of Half Time Steve, he says he'd text me but I was apparently so engrossed in the game and making notes on my phone for this very blog that I missed it. I boast mention to HTS and the guys that I am now off work until the New Year, but then again in the Civil Service you are never truly switched off. Always on duty.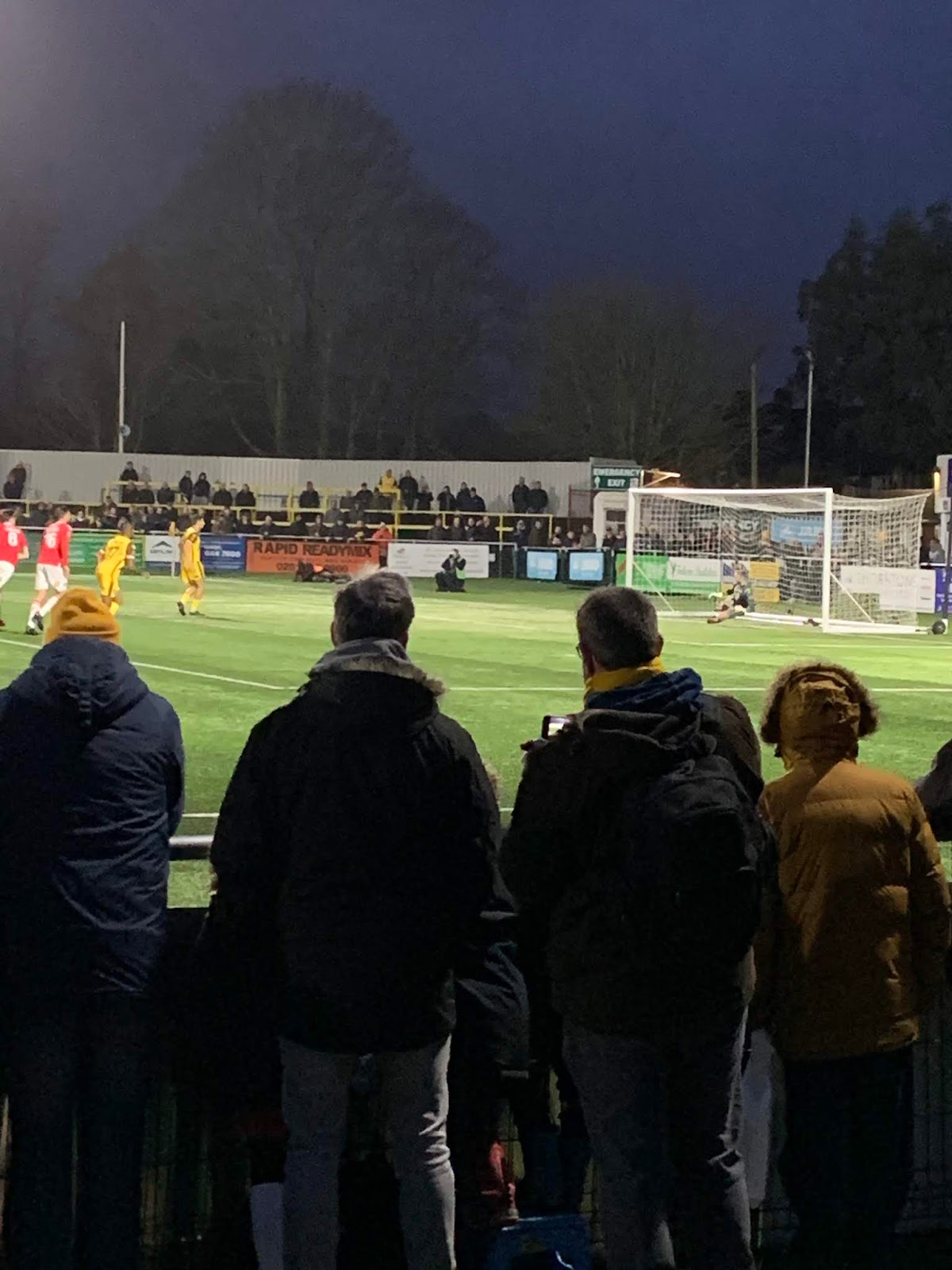 3-0!
Time to head out for the second half but before doing so, I really need a poo – something which my awayday Roomie Mr X had trouble with last week. Trust me you never want to share a room with Mr X after he has had a dump! Talk about destroying.
It's a second half on the Shoebox and we are joined by the one and only AB – getting his voice finely tuned later for Strikers Are Key, thankfully he's left the accordion indoors. On the 65th minute after the third penalty claim we have, one is finally given and as you will see from a couple of pictures I managed to get, Omar takes it and subsequently scores to make it 3-0 and a hat trick for himself. That really should be that as far as the game is concerned, but rather disappointingly we give Wrexham a consolation goal on 89 minutes, which really was not deserved at all. Not to worry, the final whistle soon goes and it's a nice Christmas three points for Sutton and sees us climb up to 17th due to other results going our way.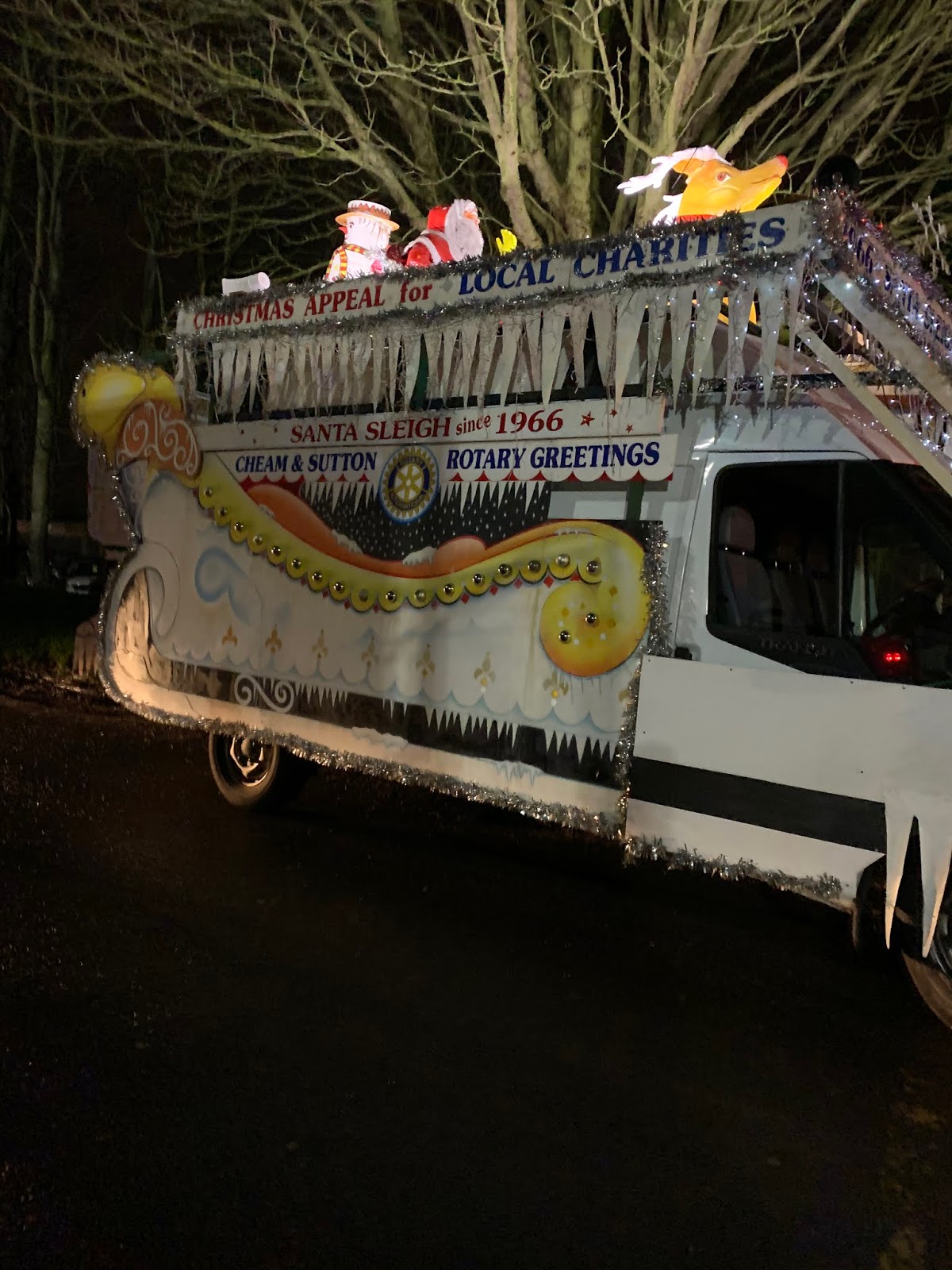 Charidee!
Omar is deservedly given man of the match, although it could have gone to several of the lads who all turned in fine displays and what perfect timing for the attendance of 1637 to either head home or for the majority of us to go inside for drinkies as it starts to fall/pour with rain. Omar has also inspired my title for this blog and loyal readers may see I have included a SWEAR word, first time ever for me. I think I've been hanging around with this Gandermonium lot for too long. Stood outside on the way to the bar is the Rotary club who have been present at today's game doing a collection, thank you Santa for bringing us three points.
Can I also just take a moment to put it on record that each blog I have written for Gandermonium this season, has seen us win the game!
In the bar it is a good atmosphere as of course you'd expect with the U's winning the game, but Christmas is also right round the corner so that helps with the cheer too. AB takes up his position on the chair for SAK, and who else to pull out the winning syndicate than the hat trick hero Omar, he subsequently pulls out one of the syndicates of the COCs. Sadly Skywalker is unable to find the correct key to open the safe and the money rolls over till the next home game against Yeovil, which will also be screened live on BT Sport. You lucky lucky people.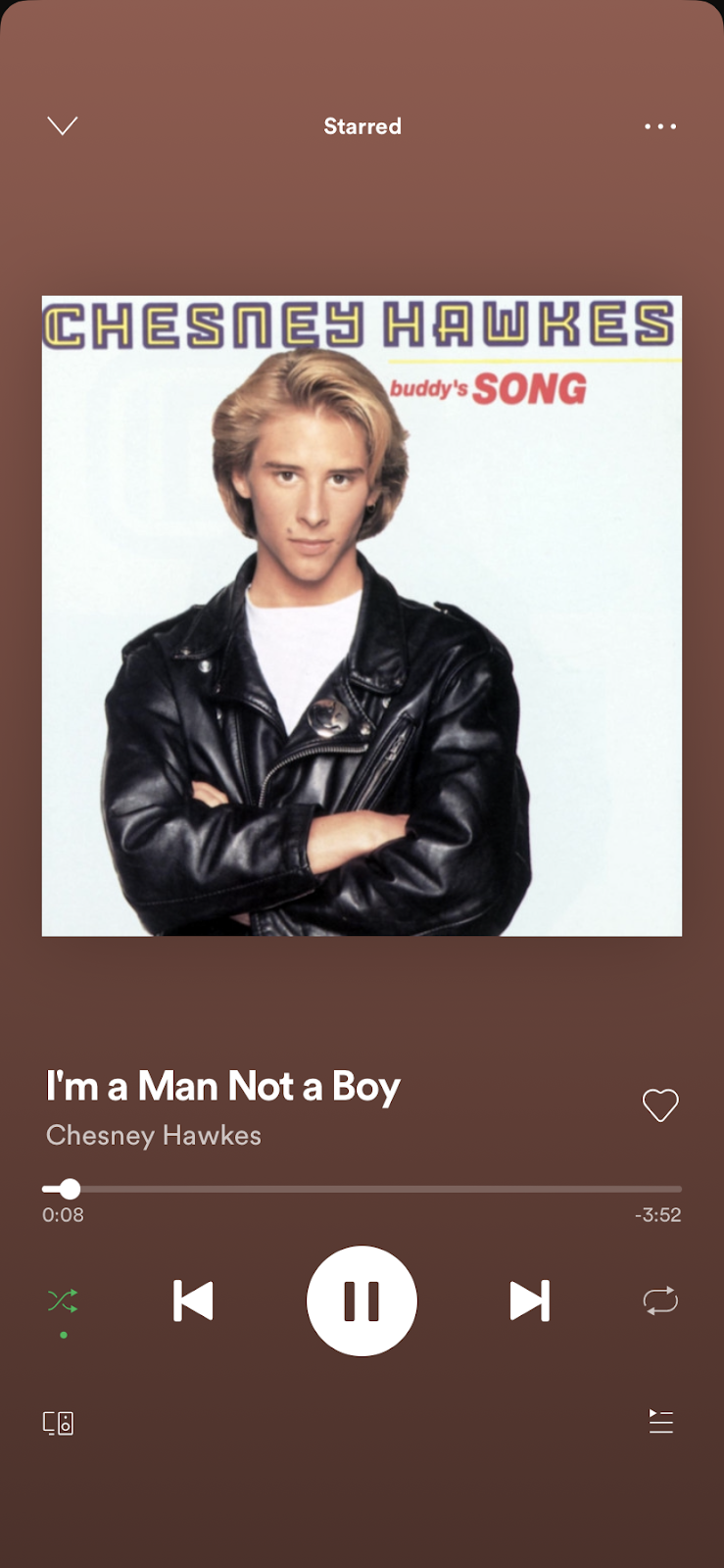 He did another song? Really??
Drinks flow, tunes flow and I spy with my little eyes, Matt Gray and Jason Goodliffe in the bar and I finally pay my beer duty to them both. Speaking of the COCs in the paragraph before, it's nice to see them all, well all apart from one loyal fan – Keepo – who I am informed had others thing to do! I hope it was worth it sir, you missed a good one.
Now it is evident to all that I am a fan of the artiste known as Chesney Hawkes, but yes he did another song apart from "The One and Only" which is called "I'm A Man Not A Boy" which popped up on my Spotify playlist the other day. The film Buddy's Song is also on my library to watch (Have you still not seen that? – Ed) and during my time off I will definitely be watching said film. Can I also put it on record that Mariah Carey's "All I Want For Christmas" (what also has annoyed me that Walkers her on their TV adverts but also her bloody face is on all their packets of crisps. Give me Lineker any day!) along with The Pogues "Fairytale of New York" are the worst Christmas songs ever? Wham's "Last Christmas" being the best, obviously. Although I'm not sure Taz agrees as he was hugely disappointed to hear it start playing on the jukebox right before he departs for home. Apparently he'd managed to avoid hearing it at all until today! Unlucky chap, maybe next year?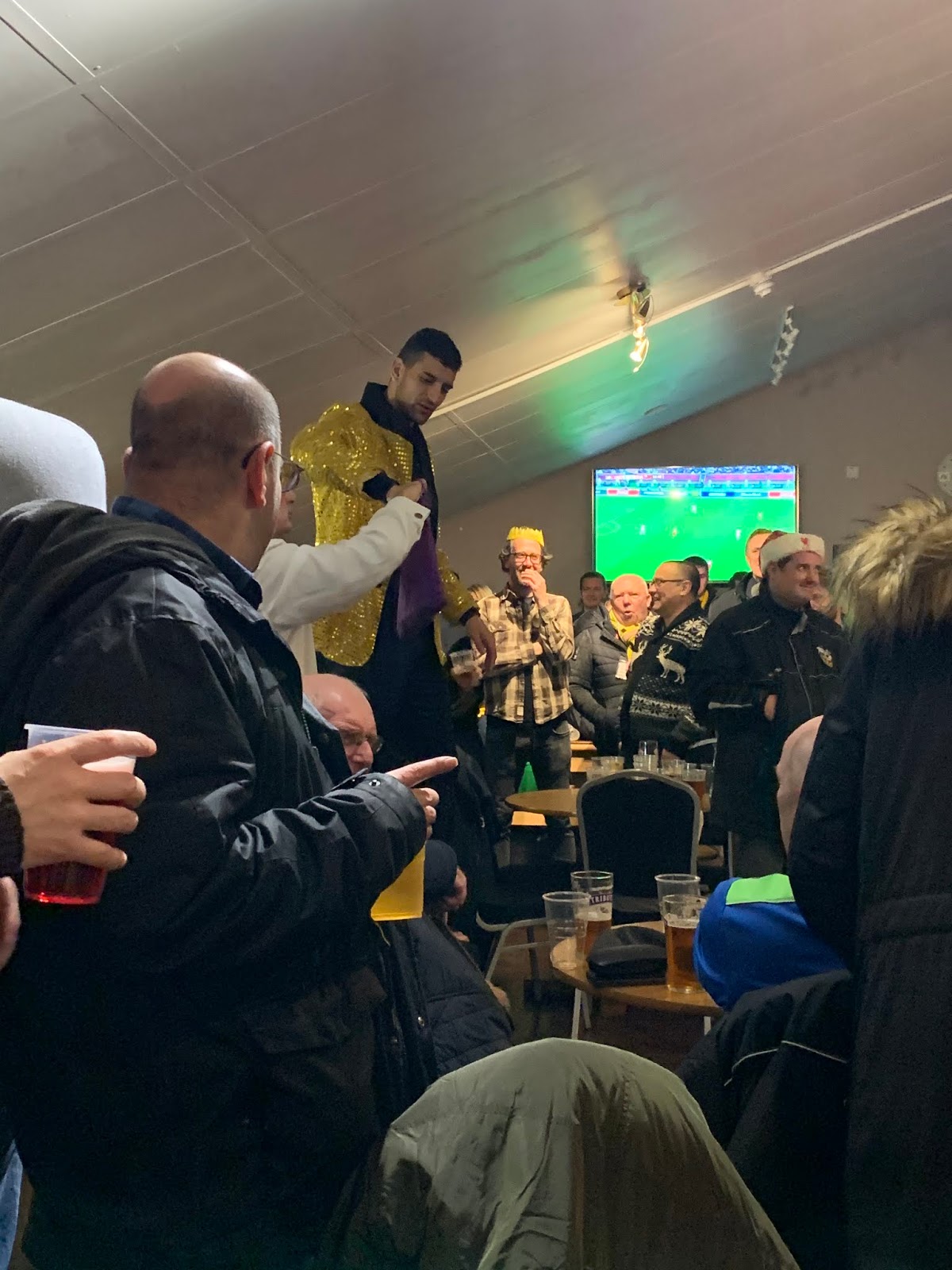 Scores a hat-trick, made to put on daft spangly jacket…
I am invited to the COCs dinner at Thai Number One in Sutton, and even after all that food earlier I am actually feeling very peckish. I join them, and they try again to convert yours truly from Gandermonium to their own firm. Sorry chaps love you all but I am loyal to Sutton's top boys, after all I do write for them. Let me tell you, the food is superb and the atmosphere inside the restaurant is good too – excellent service. Just remember though guys when it comes to a COCs t-shirt I take the S size as since hanging round with Gandermonium I have put on weight!
Time to head off home, I say my goodbyes to the COCs and find it's still bloody raining outside. I make my way to the bus and I begin to think "maybe I should have stayed for more drink?". You know, just while I waited for the rain to stop.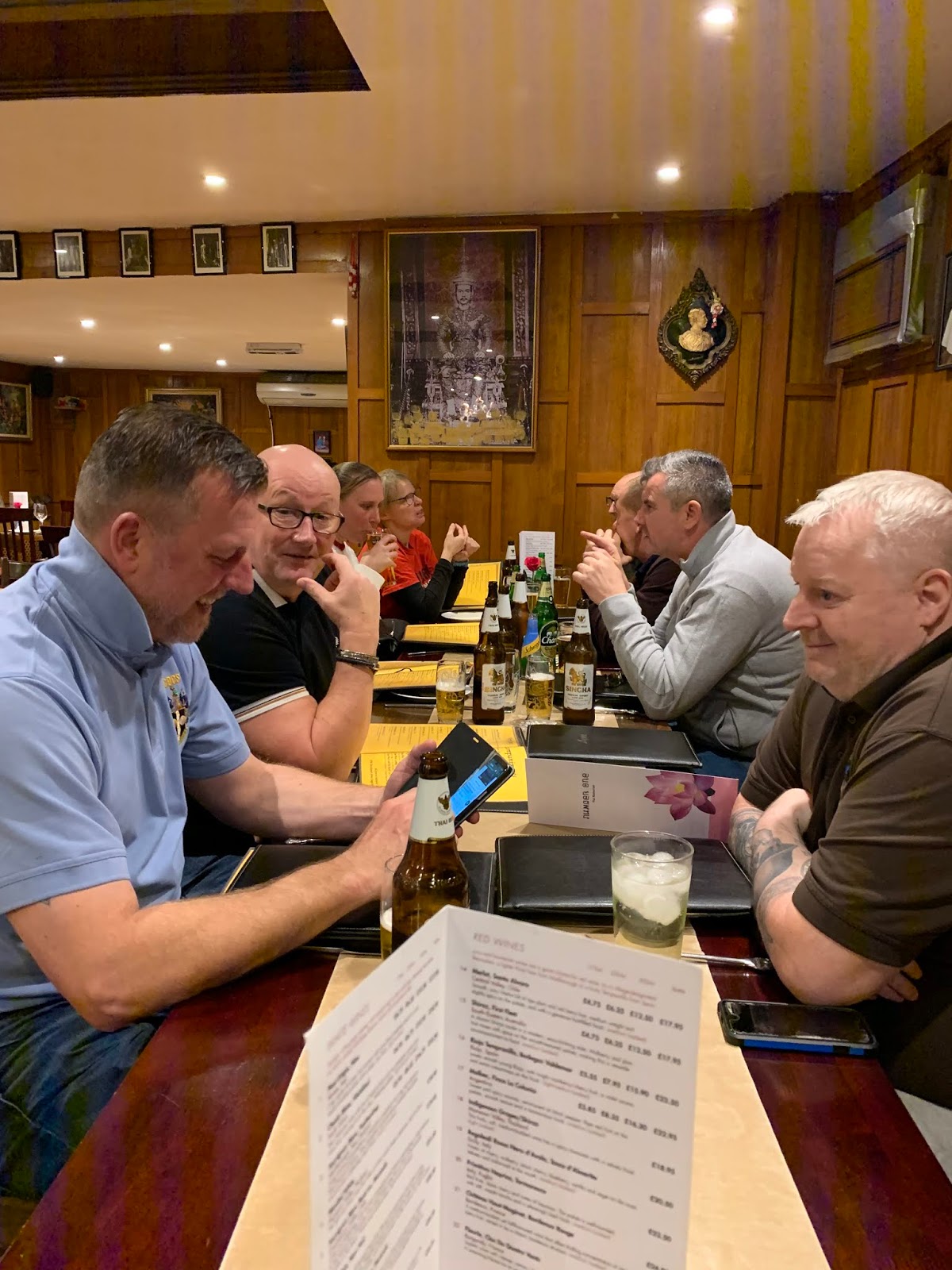 Started with food, ended with food.
I would now like to take this opportunity to wish all our loyal readers and everyone connected to Sutton United a very Happy Christmas and a Happy New Year. For 2020, we need to keep winning games and picking up points to stay in this league, which I have full belief can be done.
Wise men say…
Robbo