T'was the seventh night before Christmas. The roaring fire has filled the room with heat as Bing is warbling away on the wireless, crooning out a festive tune like no other. But yet, there is nearly fifty Sutton fans who've made the trip to East London on a cold Tuesday night to see if our team can finish a Amateur Cup FA Trophy match from Saturday that did for football what Schindler's List does for comedy films.
Before that, Monday afternoon saw the second round draw for the Amateur Cup FA Trophy. Nestled in between trips to Chesterfield and Stockport, a home game would've been a welcome respite on the old wallet and maybe also the liver. Failing that, then a cheap local away tie against some new opposition would've been nice. Of course it wasn't to be the case as we were drawn away at fuckin' Notts County. Oh great, especially considering that we were only there like five minutes ago. Reckon a few of us would've given the trip a miss if it was to be the case.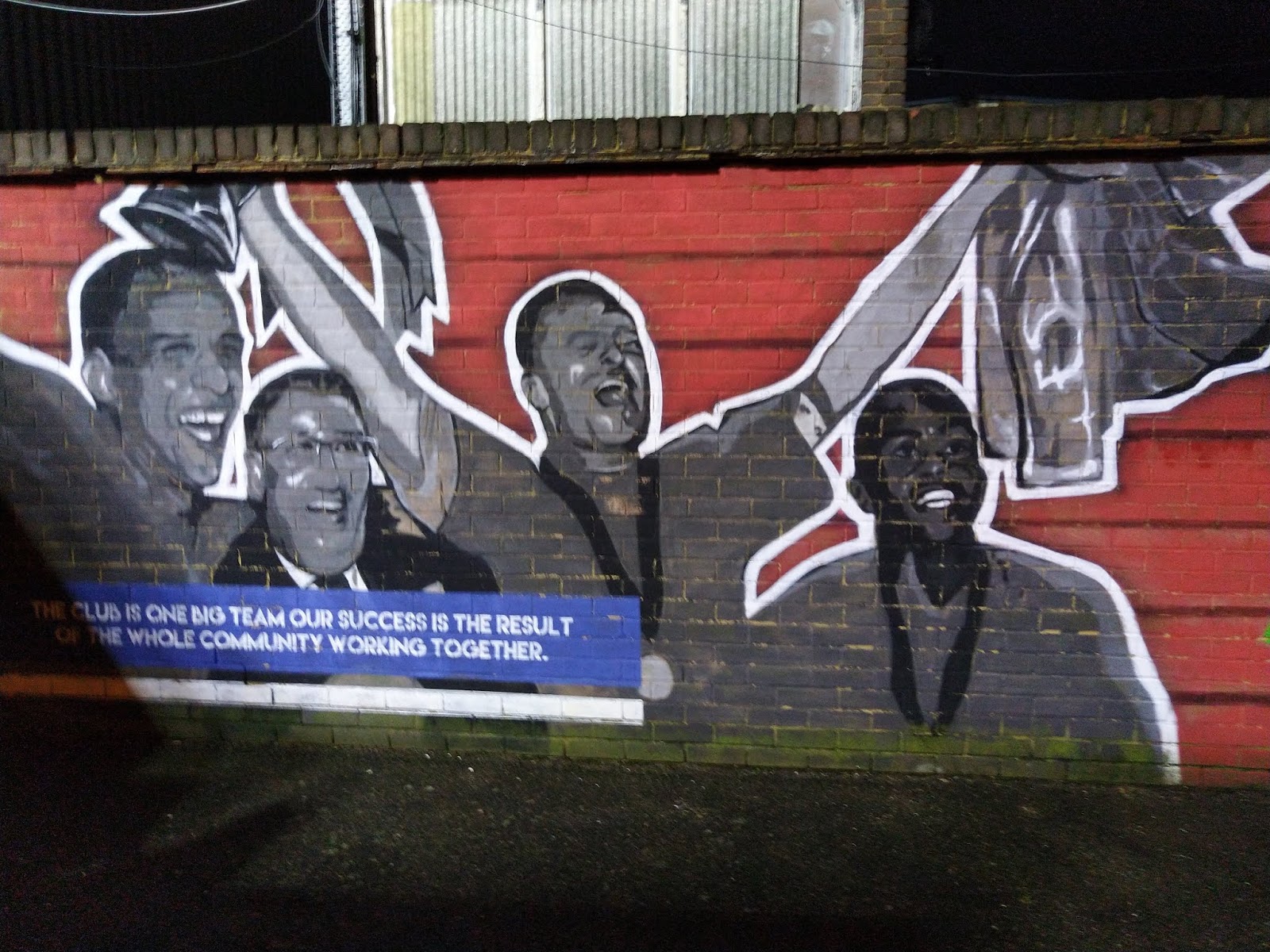 They love 'em a muriel in Essex….
But first of all, we of course needed to get past Dagenham. And if Saturday's performance was anything to go by, then it was going to be a tough ask for us. Once again it was down to me to get myself over to East London and just like last time, it was a dog shit of a journey. Leaving at five o'clock it would take me nearly two hours to go round the M25 as traffic was so piss poor. Especially around Dartford as at one point we came to a complete stop for what seemed like forever as the rain came down on the Astra's roof.
When I finally did make it, unlike the league game up here a couple of weeks back, parking spaces were everywhere. A clear indication of how many paying punters were going to turn up tonight. Walking towards the ground I find Frakey outside fiddling with his vape. Apparently, there had been another change in the set-up for away supporters. Which was another change from the already altered information given out originally. Now, we were going to be segregated and put into the family stand down the side of the ground at £15 a pop instead of a tenner on the terrace as Dagenham had failed to realise that no one was giving this match a fuck and not bothering. We didn't do this to them on Saturday.
The team line-up is released and I can say it raised a few eyebrows. With only one recognised striker, the legend that is Dundo, we were either playing one up top or someone unexpected was going to partner up with him. We'd also seemed to have gone from naming a full compliment of seven subs on Saturday to naming only four tonight and one of them was Dudzinski! Gotta think that Butler might be on his way out at this rate. Sorry Ozzie.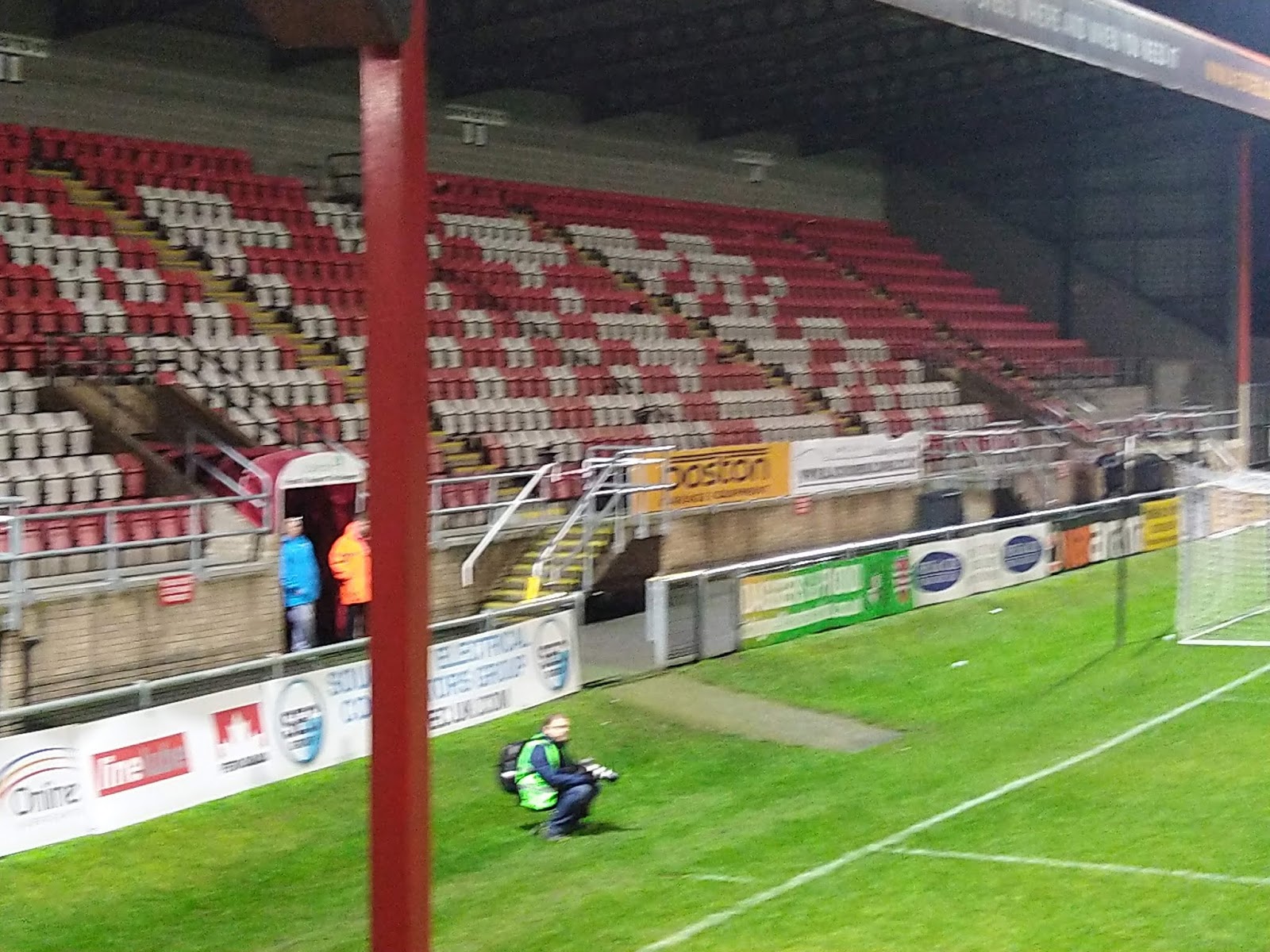 Empty stand…
Tzanev, John, Bolarinwa, Goodliffe, Dundas, Beautyman, Ajiboye, Randall, Wyatt, Milsom, Reid. Bench Warmers: Dudzinski, Collins, Bugiel, Wright.


With a Sutton team announced as the one we had done, you'd be right in thinking that Dagenham would start the stronger. Dundas & Ajiboye were going to play up top with Randall on the left and Reid on the right. Beautyman would once again play a very deep midfield role like what he did on Saturday.
To make matters worse, the man in the middle was once again Carl Brook. And given that he'd taken charge of our Billericay match, and considering how he usually is with us, we figured were playing against twelve men once again. Plenty of the action would happen down the wings with Randall and mostly Reid trying their best to get the balls into the box without any success. I was surprised that they never seemed to switch sides during the half to try & mix it up a bit. A feature very much used in the Dos era.
Surprisingly despite the patched up side, we seemed to play a bit better than we did on Saturday, but still without any real threat. Too many times there were misplaced passes and miss controlled balls. Definitely not a vintage Sutton performance. A vintage Gandermonium performance however came from Mr X who managed to, as he strutted up and down the row of chairs in front, knocking over half drank cups. One of those would be Spennymoor Pete's (name check) Bovril that was kicked over the back of Keepo's shoes. Very entertaining. Certainly better than the football.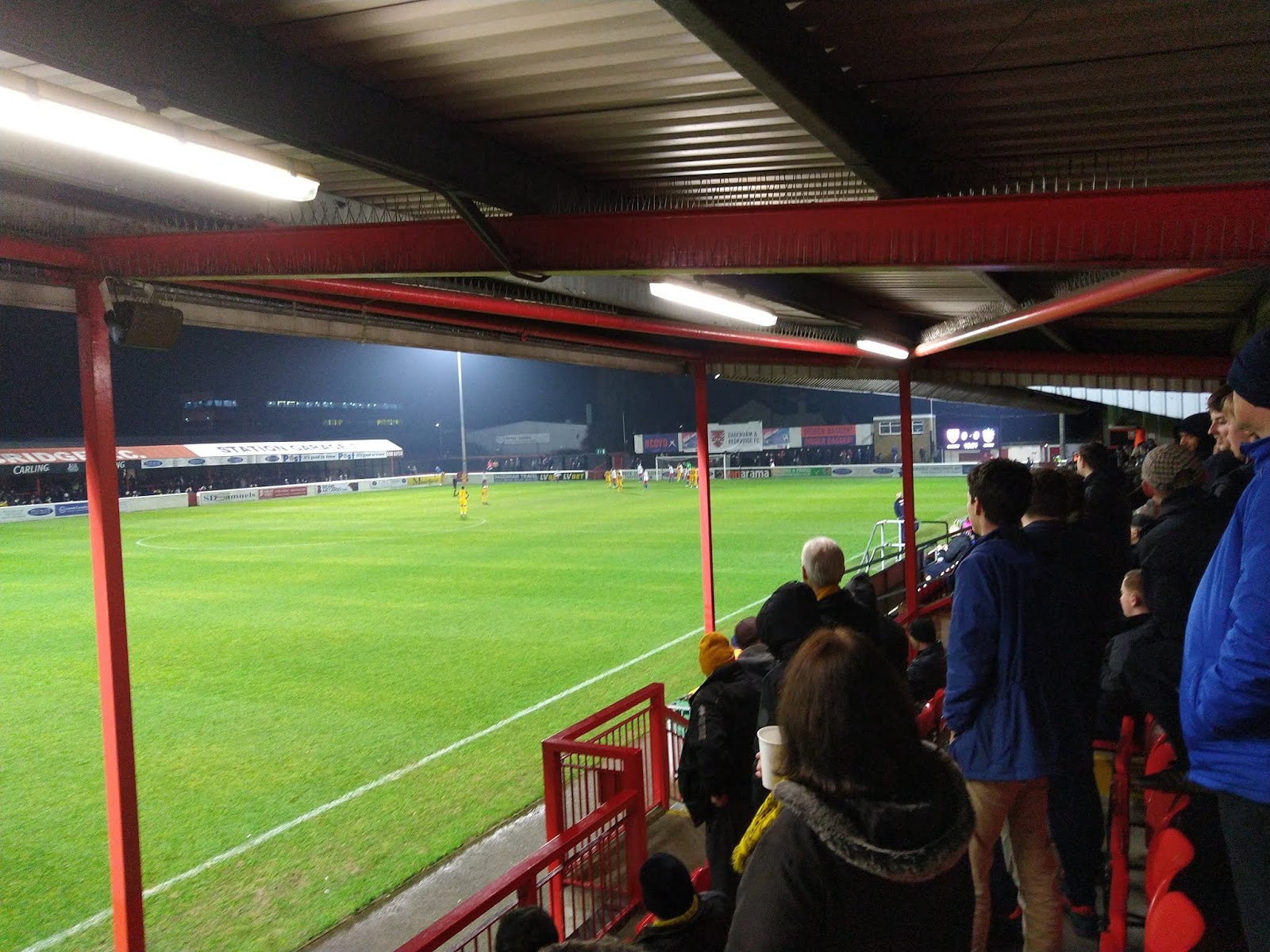 We have a corner somewhere over there…
Second half would see much of the same as Sutton did ok but continued to fail to find their rhythm. Things would get worse when Dagenham took the lead. Poor defending once again led to them being able to create space inside the box to slot the ball home. Well crush my knackers in vice! Our segregation obsessed hosts would continue to put on the pressure as Sutton failed to provide the front two with any real service.
On the hour mark and Sutton make a double rub-a-dub. The Legend that is Dundo & Randall are replaced by Wright & Bugiel. And it wouldn't be long before they'd made an impact as Bugiel was brought down in the box. Surprisingly Brook points to the spot! Beautyman would step up to he plate and smash the ball home. 1-1! Back in the game!
With twenty to go, Beautyman is replaced with Collins as he appeared to be giving his hammy a rub. And instead of what we figured might happen, Collins goes straight into the middle of the park. Collins and Milsom in the middle? Blimey Chief. Pace a fuckin' plenty! The clock begins to wind down as both teams huff and puff their way through. Into the last few seconds and Sutton grab a free kick.
The ball is flung in and out of nowhere, Collins leaps like a salmon and gets his head to the ball. Instead of trying to power a header towards goal, he instead heads it back across goal to an unmarked John. His header is a a little too high and it ricochets off the bar. Damn nab it! Another last minute chance gone begging. Before Brook could blow his whistle and signal another 30 minutes, a fella is spotted below us carrying several pizzas towards the tunnel. Think they'll be going cold John. Hope they've got a microwave.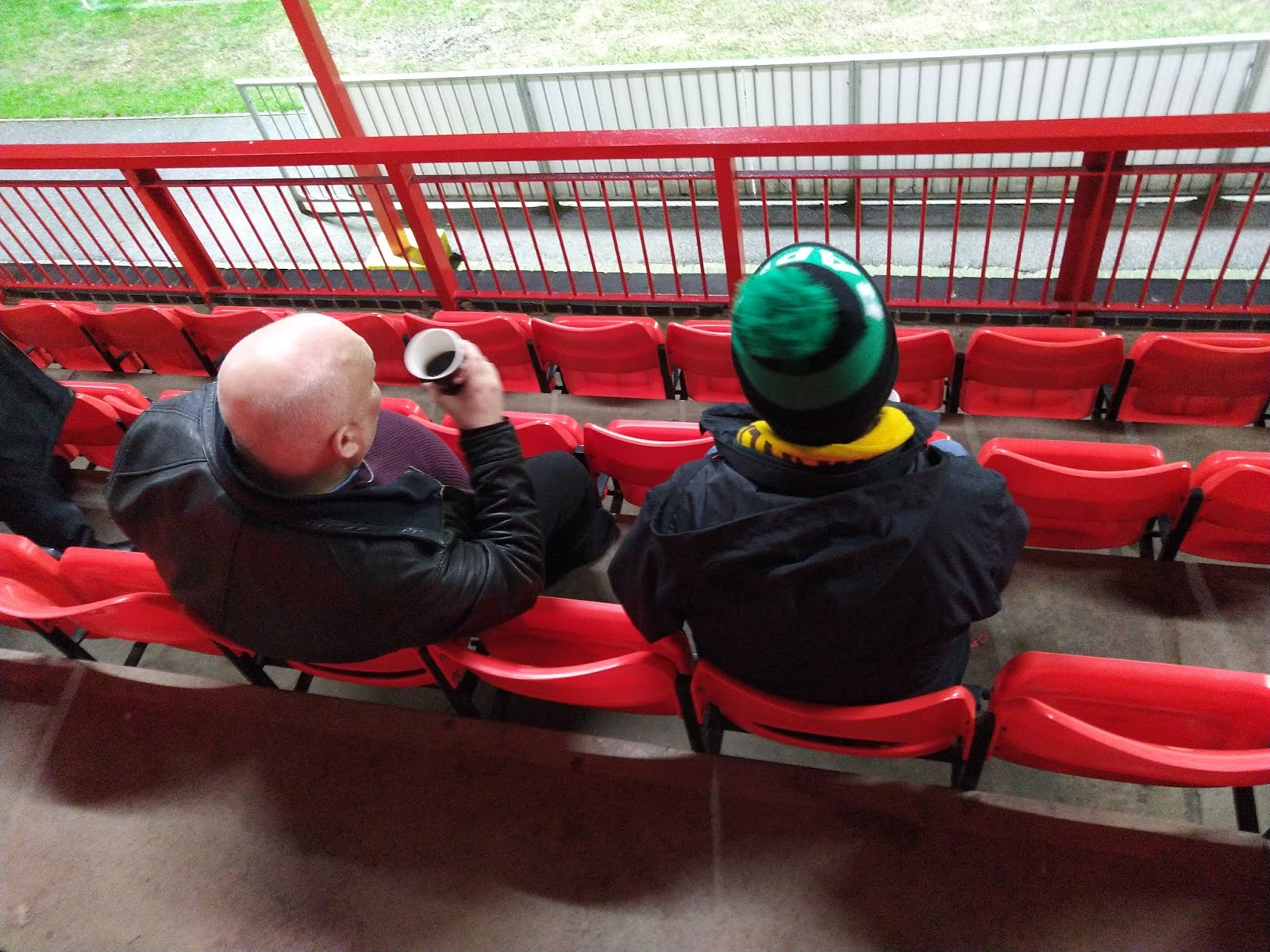 Spennymoor Pete lovin' the Bovril…
Extra time was now pushed upon us. Anyone else remember the days of the eternal replays? These days you even get a extra sub to use. Shame we only had Dudzinski left to come on as ours!. The game seemed destined to heading towards penalties with both teams running out of steam when Reid went on a magical run. His shot was spilled by the keeper and Bugiel reacted the quickest and tap the ball in. 2-1! Are we going to Nottingham again?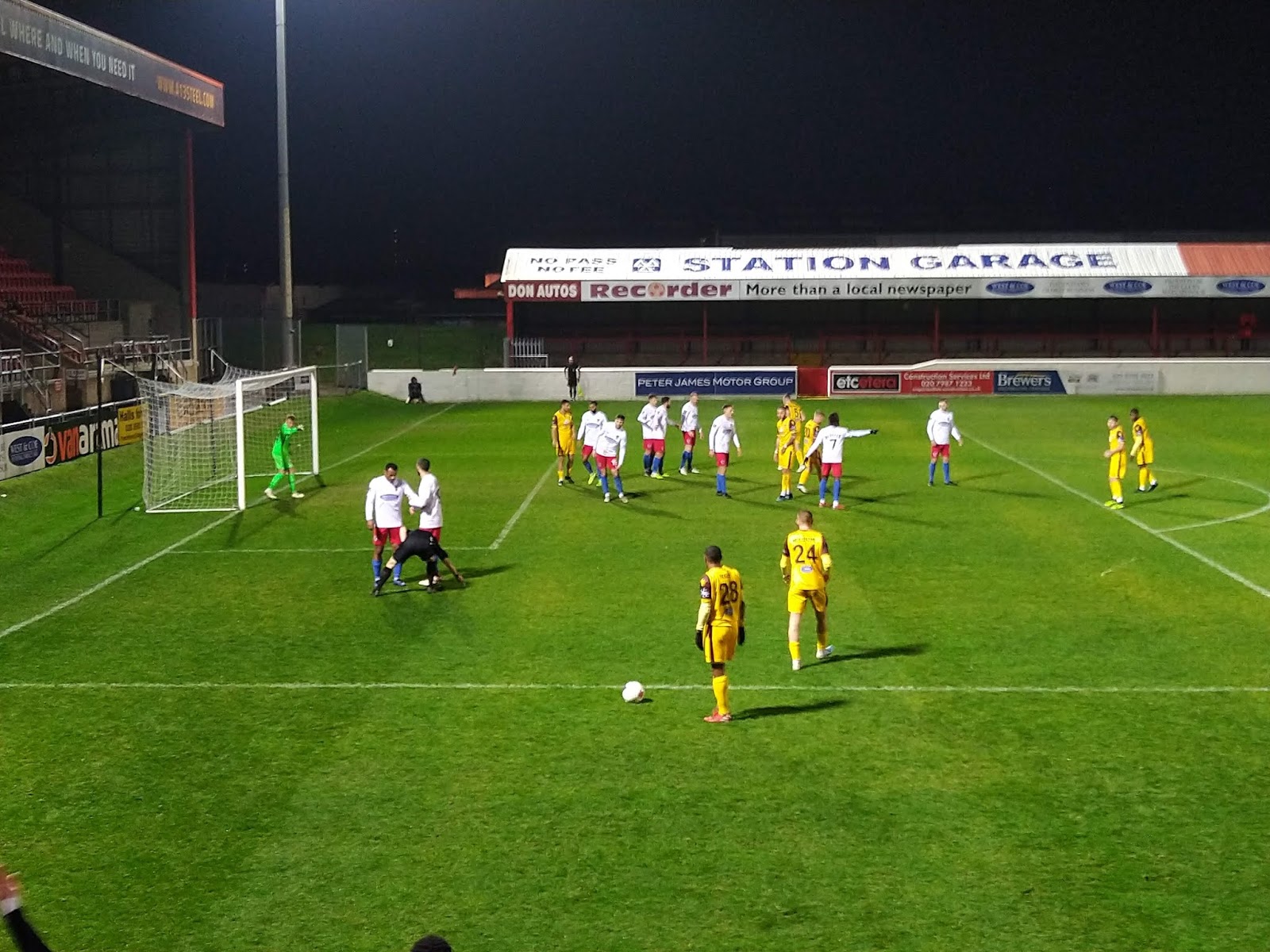 Action…
The second half of extra time would prove our downfall as Dagenham score two goals in the space of three minutes to kill the tie. Bolarinwa would be at fault for one of them as his poor clearance leads to one of the goals. Also, I felt that Tzanev had his worst half I've seen from him as his kicking went to pot and put us under a lot of unneeded pressure at times.
With five minutes left of extra time to go and Sutton are giving one last chance as Wright beats the offside trap to put the ball into the back of the net. Unfortunately for him he's given offside by the slightest of margins. Some near me thought he was offside, yet others felt differently. If we'd had VAR, I'm sure his left knacker would have offside once they'd finished drawing their lines. Gone are the days of daylight between attacker and defender and all that. But after an additional two minutes of added time. Mr Brook calls time on a Sutton cup campaign in Essex for the second time this season.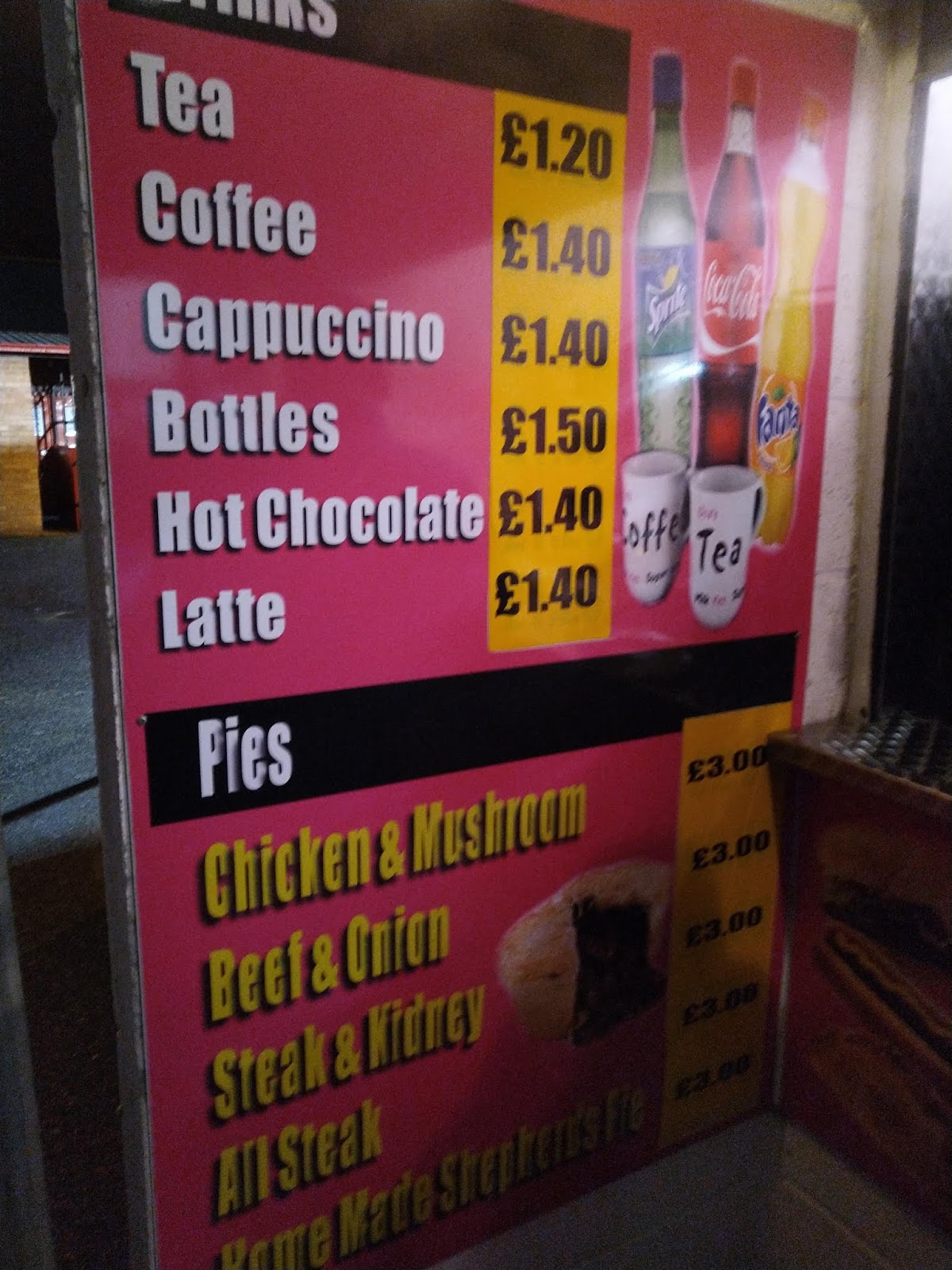 Hot drinks…
So that's it, we're out of the Amateur Cup FA Trophy before a run could even start. Looks like we're going to have to rely on success in the Surrey Senior Cup once again for some silverware. We're clearly lacking numbers at the moment and our ability to score goals/create chances have been short of late. Hopefully things will change on that front at some point. Still, at least we're not getting rolled over every week.
After the match and there is extra baggage in the Jam-Jar as not only Southampton Steve but also the clubs legendary official photographer have blagged a lift home. Unlike the run there, the trip back to civilisation seemed to take half the time. And that's even with several reduced speed sections. Who's ever heard of 30mph zones on a motorway with nothing around? There are drop offs in Croydon & Sutton before I eventually crawl through the door, just before midnight.
Our eyes now turn towards Saturday when we take on Wrexham in a battle to stay out of the relegation zone. And who knows, we here at Gandermonium might actually get our arses in gear and sort out who going to cover it. But then again, you've probably got more chance of being a successful Persian Gin Salesman. Enjoy!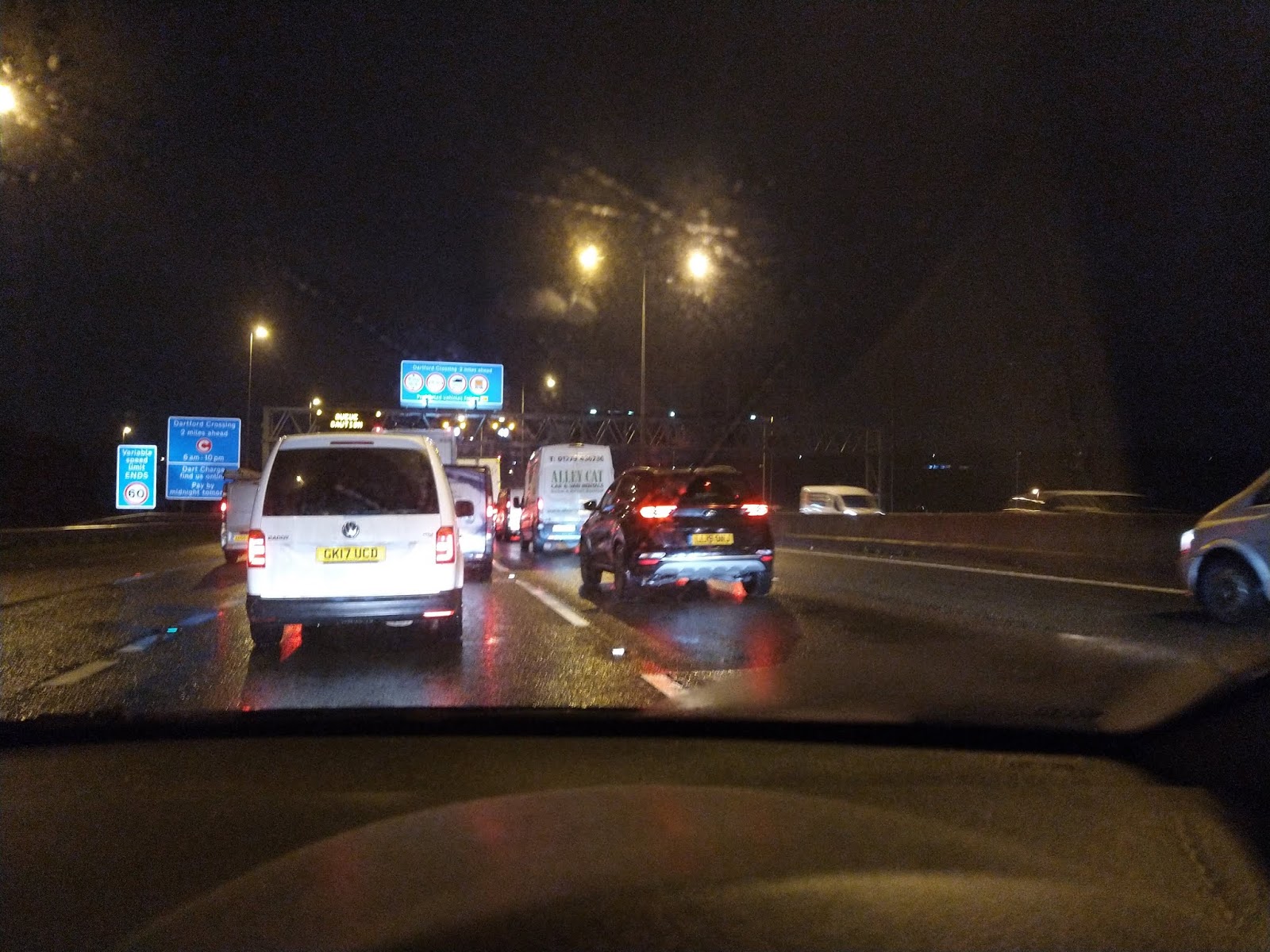 M25 traffic…
Duke
Att. 417