Hola Senors y Senoritas, bringing a bit of Spanish to you as I missed the last two games whilst being in Mallorca. But this blogger can safely state Mallorca is now well informed about Sutton United and even had some people say I shall will be looking out for our results. One gentleman, named Mike from Cornwall, said he predicts Sutton will play Wolves in the FA Cup Quarter Final in the year 2027, so I have this note saved into my phone. I doubt I'll be wagers on it however.
So to matters in hand for the present day – Chesterfield at home and these once semi-finalists of the FA Cup (1997 fact fans) are struggling in the league again after their poor early form last season. This against the stat we are yet to win at home this season and not since March with the comeback against Gateshead.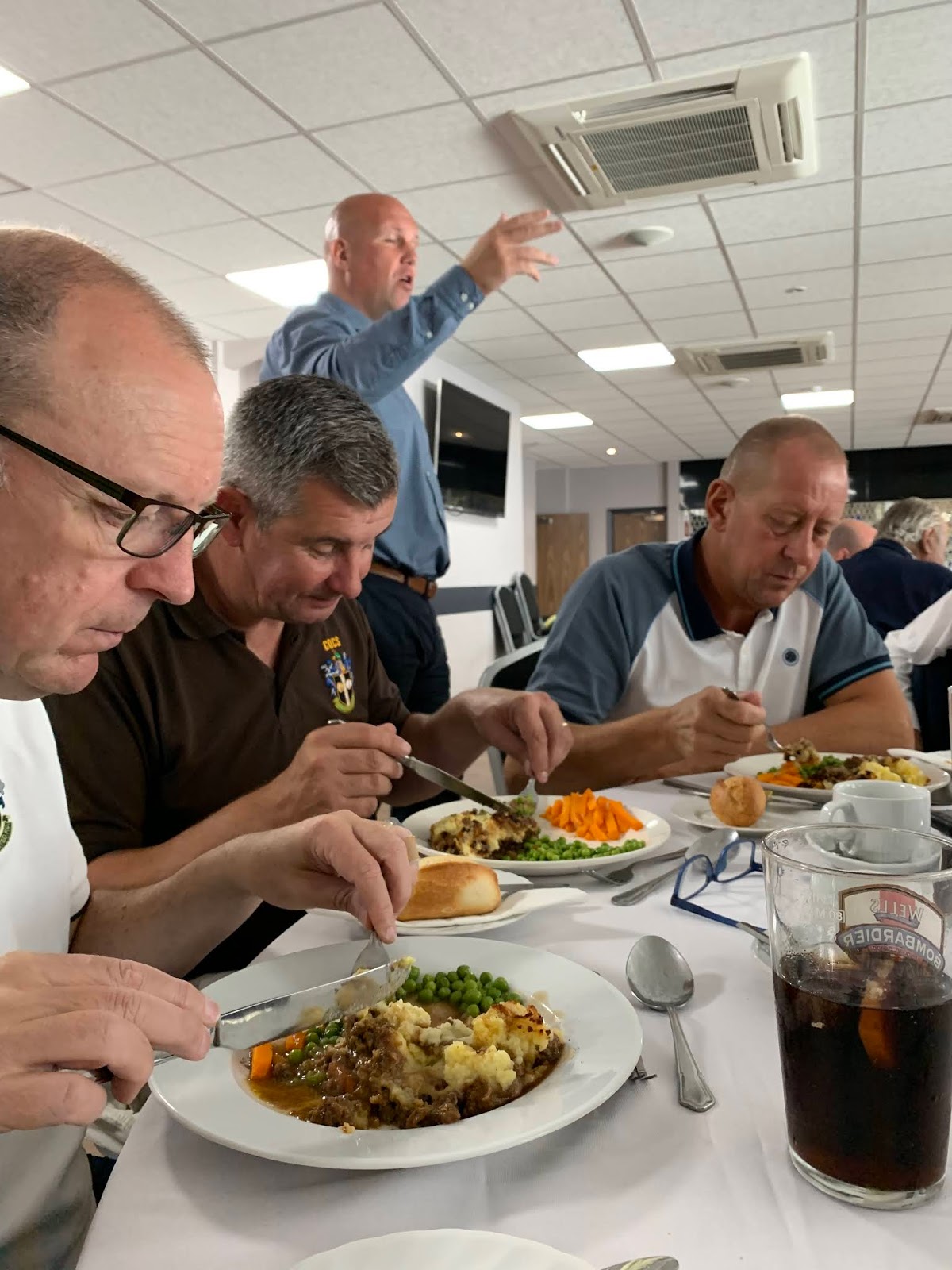 "And you can bring ya fuckin' dinner…."
With the cricket season (thankfully) over it sees the return of Magnum PI fully to the footballing fold and this means he's at the pre-match lunch. Today's serving was shepherd's pie and we were treated to a quick announcement from the gaffer – who advised us of the team for today and even went to the privilege of taking a few questions from the diners.
Speaking of 1990s and Magnum PI, our kindly chairman Bruce takes a swipe at home for wearing the 1998 centenary shirt and how after all these years it somehow still fits him, so we will not mention that second helping of lemon cheesecake you had! Hanging round the bar before kick-off, we witness Leicester City coming back from a goal behind to beat Spurs 2-1 with more wonderful interventions from the VAR thing and this somehow leads to the discussion of footwear where Greek ends up taking the Michael out of Mr X's Sketchers.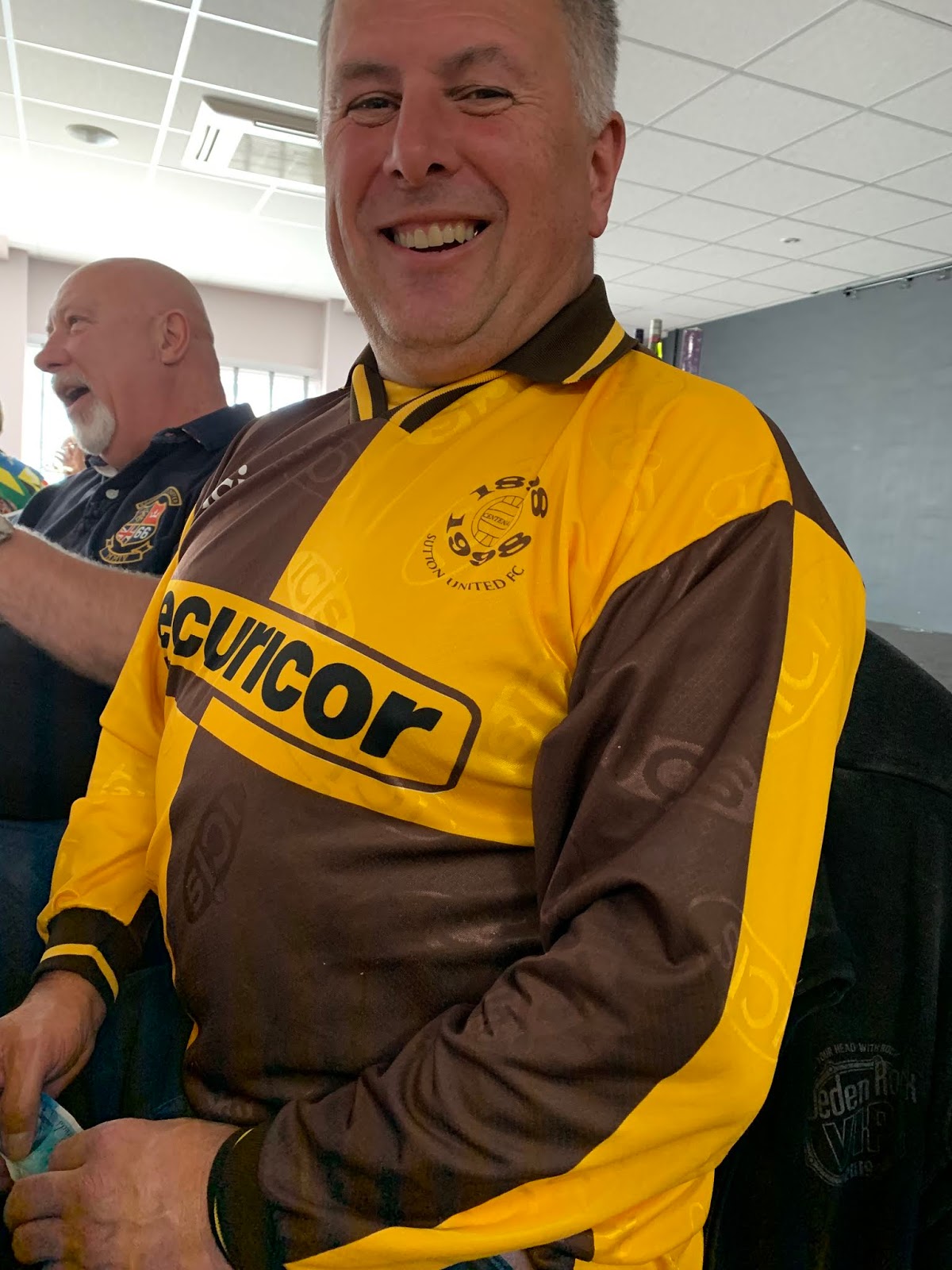 "I believe the youngsters are calling it 'retro'?"
Team: – Butler aka Jane's fave (GK), Bolarinwa, Milsom, JC [skipper], Goodliffe, Barden, Beautyman, Randall, Ajiboye, Jarvis and Tommy Wright Wright Wright
With the weather being so nice, I feel it is a good chance to top up on the holiday tan, but this is scuppered as we are to move to the Shoebox as Sutton will be shooting towards the Gander Green end for the first half. Now a "huge" absentee from the Chesterfield line up is one Mr Denton – which leads to Pete saying to Belly "what are you on Denton Watch" so thanks Pete this is where the title comes from. I was also advised at some point during the day to mention how awesome Pete is (that's a tenner you owe me now!).
After what was a quiet opening to the game, it was Sutton who made the break through on the 23rd minute. A great ball upward from Goodliffe was received by Ajiboye who stayed onside to cross low for Aaron Jarvis to poke the ball into the net. Sutton's dominance continued 11 minutes later in which a defensive lapse led to Tommy Wright running onto the mistake to prod the ball past the despairing Coddington to make it 2-0; worrying was seeing Tommy lay flat on the ground after the goal but relief soon around when he jumps up to celebrate. I think it was safe to go to the bar on the 38th minute and what was a nice chilling beer in the air conditioned MBA Lounge.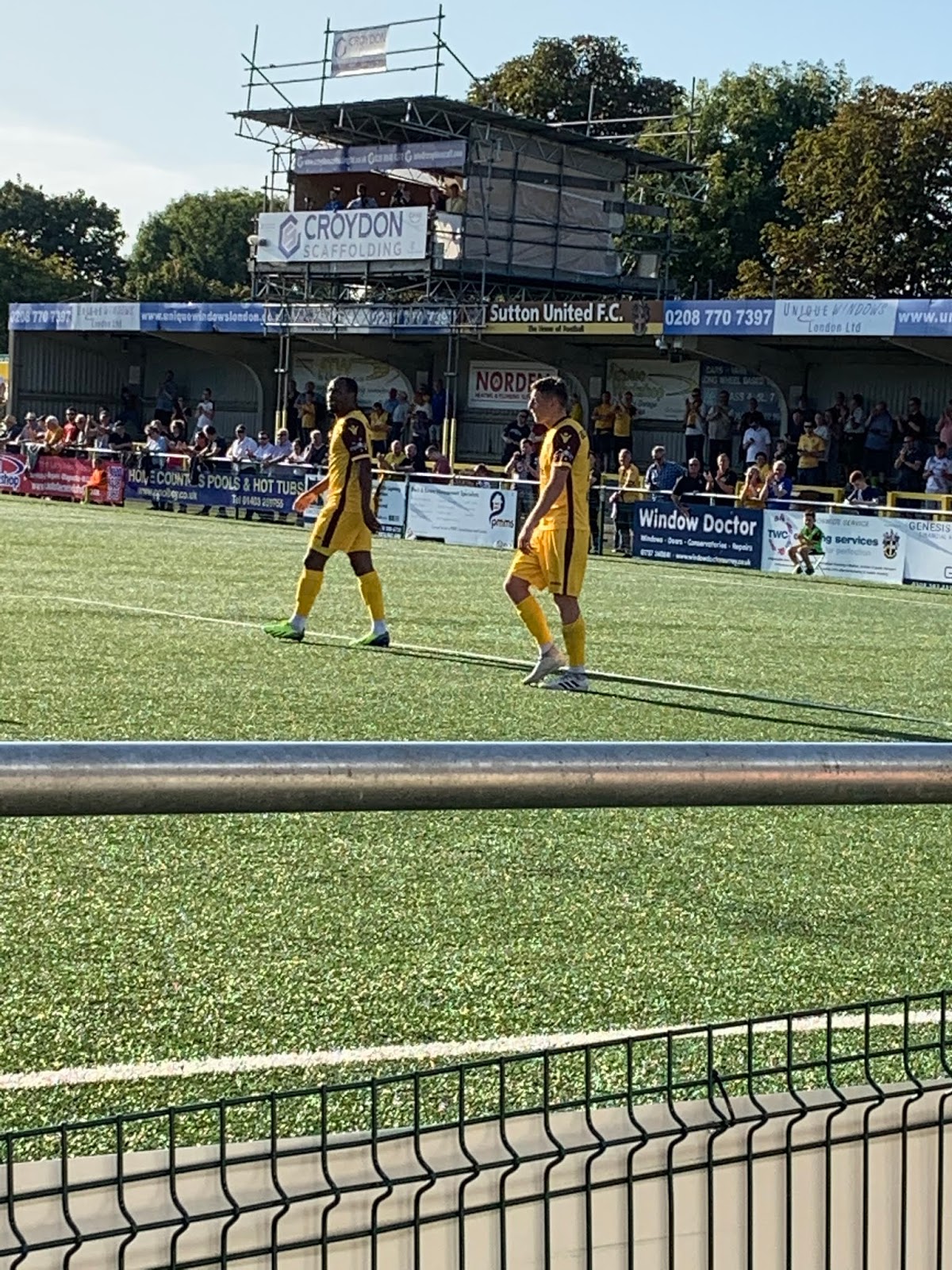 Action. Sort of.
The aforementioned Denton comes on for Chesterfield at the start of the second half but with this added height, there is no more luck than before for Chesterfield as it soon becomes 3-0 in the 77th minute with Lebanese international Omar Bugiel slipping the ball through to Aaron Jarvis for his second goal of the game. More misery follows for the ex-Football League lot as in the fifth minute of injury time, Bugiel again turns provider for the main man Harry Beautyman to get his sixth goal of the season. At last a home win for the 1649 present to see!!!
Upon exiting the ground a number of Chesterfield fans were walking behind and it's fair to say they are not too happy with the current state of their club; I quote one in particular "I have been watching this club for near enough 60 years and that is the worst I have ever seen them play". Fair enough, but how about some credit for Sutton mate???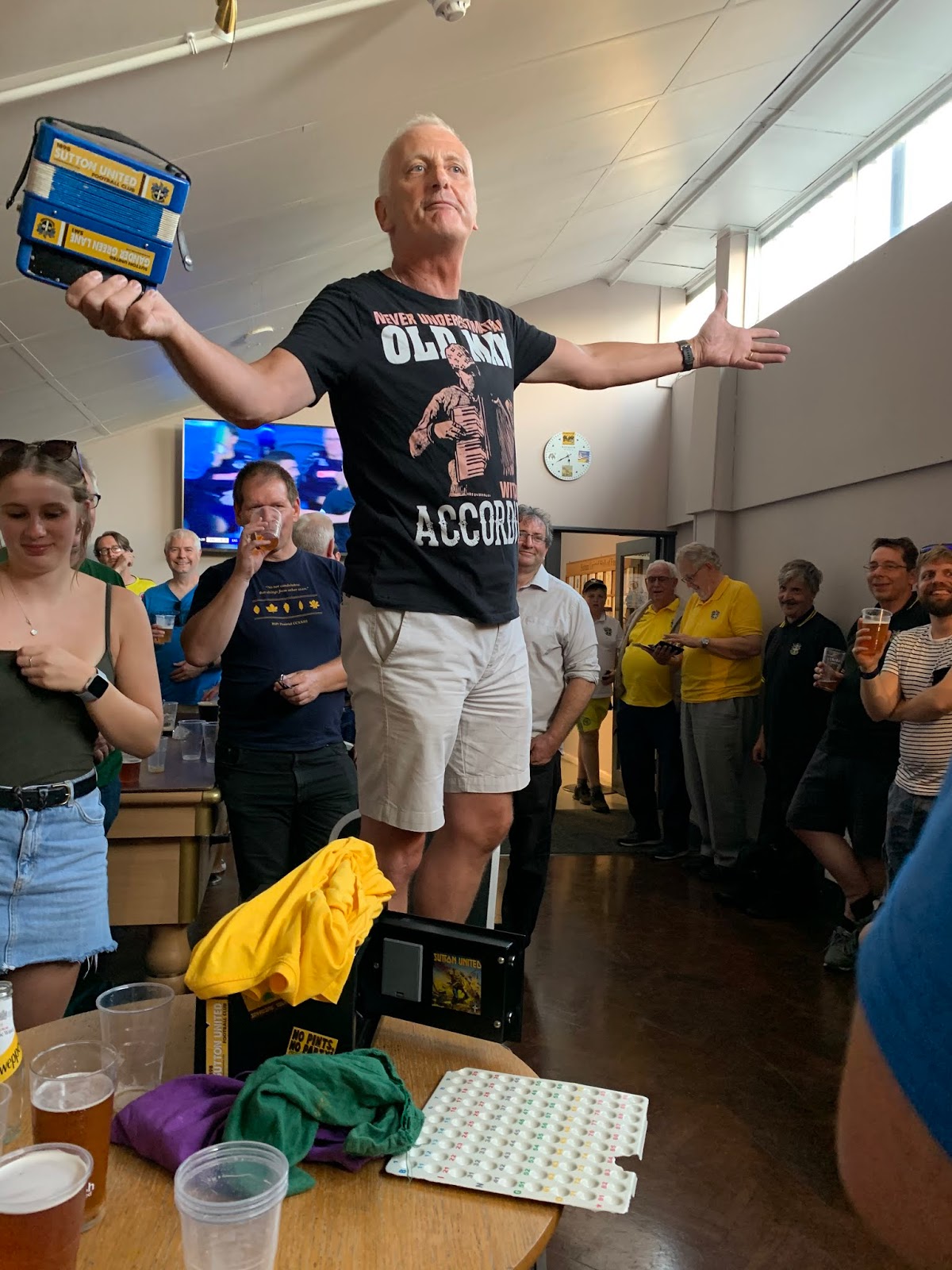 As the shirt says, old man with an accordian…
Upon entering the VPs Lounge, I discover that today's 50/50 was won by one of the COCs who was sat on the same table as me for lunch. If only I had allowed Sean to buy his ticket first then maybe I would have had the winning ticket……still, there is always the Amber 500! Further luck was in store for the COCs as their ball is also pulled out of the Strikers Are Key bag by Tommy Wright; but Skywalker was unable to find the right key and had to settle for £50 with over a £1000 now potentially to be won in the next double header of SAK.
Once SAK has taken place, the bar starts to empty which of course leads to jukebox action – Mr X manages to beat me to it this week and I am sure it was he who put Mike Flowers' Wonderwall on! Now I will not mention the song but on this weekend it happened to be Sir Chesney's birthday, so many happy returns of the day to the one and only Mr Hawkes.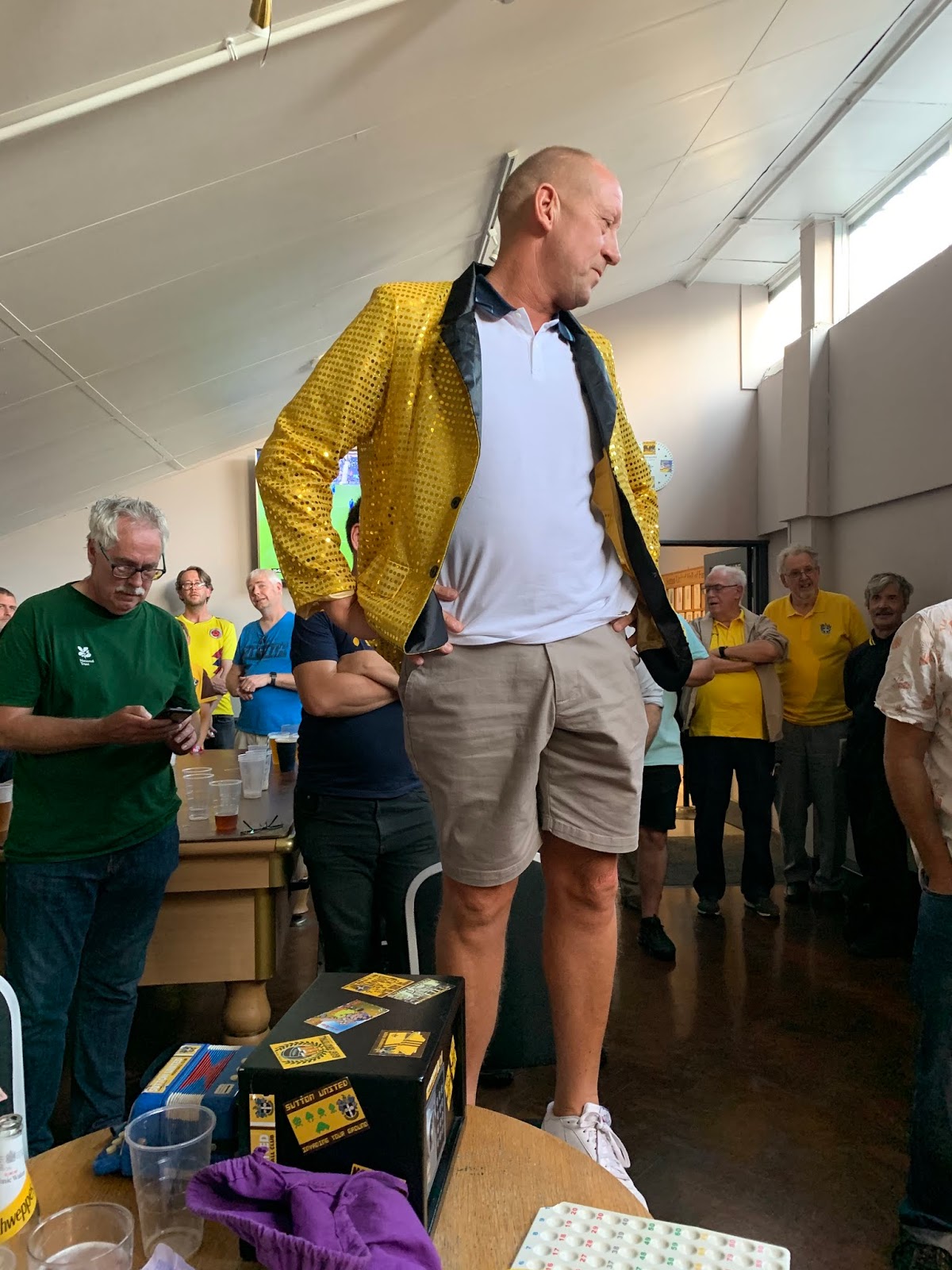 COCs blocked!
The words double header are to be mentioned again, and it seems you lucky readers will have the pleasure of my writing skills again for the Dagenham and Redbridge fixture on Tuesday. Let us hope for another home win and further climbing up the table.
Wise men say….
Robbo