Five minutes from half-time, that's all that was left. Five lousy minutes. With the match poised precariously at nil-nil, it was only five minutes to go before the boys could head down the tunnel on the back of another half decent performance. And yet once again, a couple of questionable decisions later and it's like if Ronnie Corbett & Johnny Rotten had gotten together. "Well it's goodnight from me, and it's fuck off from him".
Saturday's performance was a surprise to me some what. A bit like a fart during sex. After all, it was only our second win at home in the league in the past fifteen matches. And it did help that the Chesterfield side were so bad that if they don't sort themselves out, they must be early candidates to end up playing in the Conference North next season. And I'm sure they'll see more scenes like they had against Bromley recently. But for our own boys, it was a nice lift to show how we can get results that match a performance once in a flamin' while.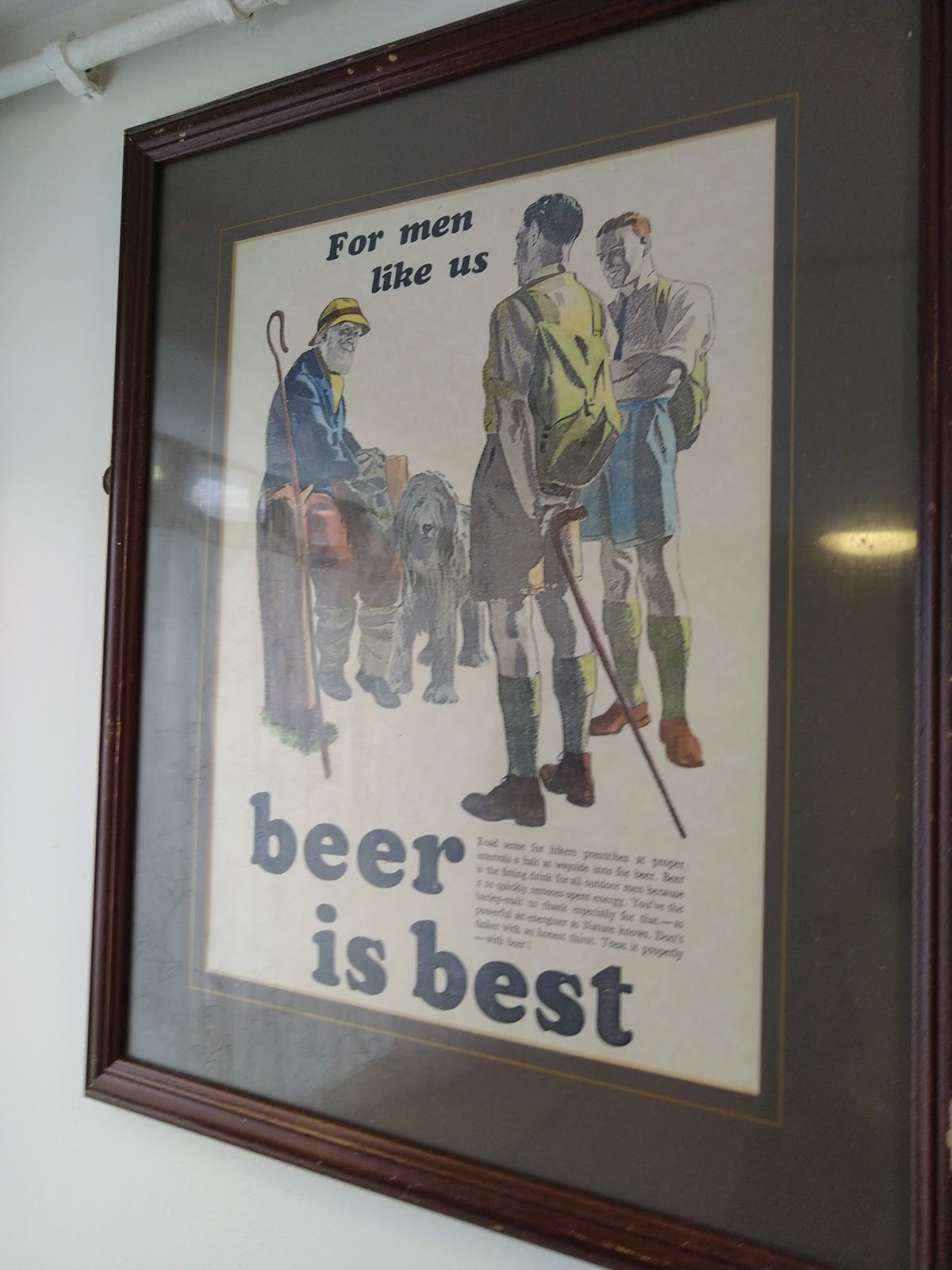 Very true that…
But if we'd just seen one of the poorest teams in the division on Saturday, Then come Tuesday night, it was the turn of one of those teams in a rich vein of form recently. The 1998 Essex Senior Cup winners are currently in a unbeaten eight match run that had seen them rise up the table and end up in the play-off spots. For Sutton after Saturday, the win saw them rise to mid-table. But with eleven teams separated by a mere three points, things could go South quicker then a Franco exhumation.
Arriving at the ground and I head to the bar for a quick pint of Ribena. Things were slightly different tonight with the usual Player's Bbar being shut to the purchase of alcohol. Instead, the Boom Boom Room bar was going to be opened in order to try and keep the queues down and get people served quicker with more staff and more tills. A long lost boat that hadn't been seen for a long time on show was Ipswich Lee. Turns out that these days he's rediscovered his love for his first team and decided to get a season ticket for the Tractor Boys. The plus is that there getting results now that they're in a division below after a awful season last time round. But no sign of the Father Outlaw? Now all we need is for Juan (remember him?) to make an appearance. Although you're probably more likely to spot the Loch Ness Monster down the Gander than that miracle.
The team news is released and the only change that I could see was that Randall had been relegated to the bench now that Eastmond had served his suspension. With Randall on the bench, this meant that Bungle gave up his seat. Either that or he was injured. Still no Kearney then it seems. I reckon he must feel like a Phillips Head at a Flat Head convention at times. Ribena done, it's time now to enter the ground and welcome both teams onto the pitch. And luckily the rain has also stopped so no need for the brolly that I forgot to grab on the way out tonight.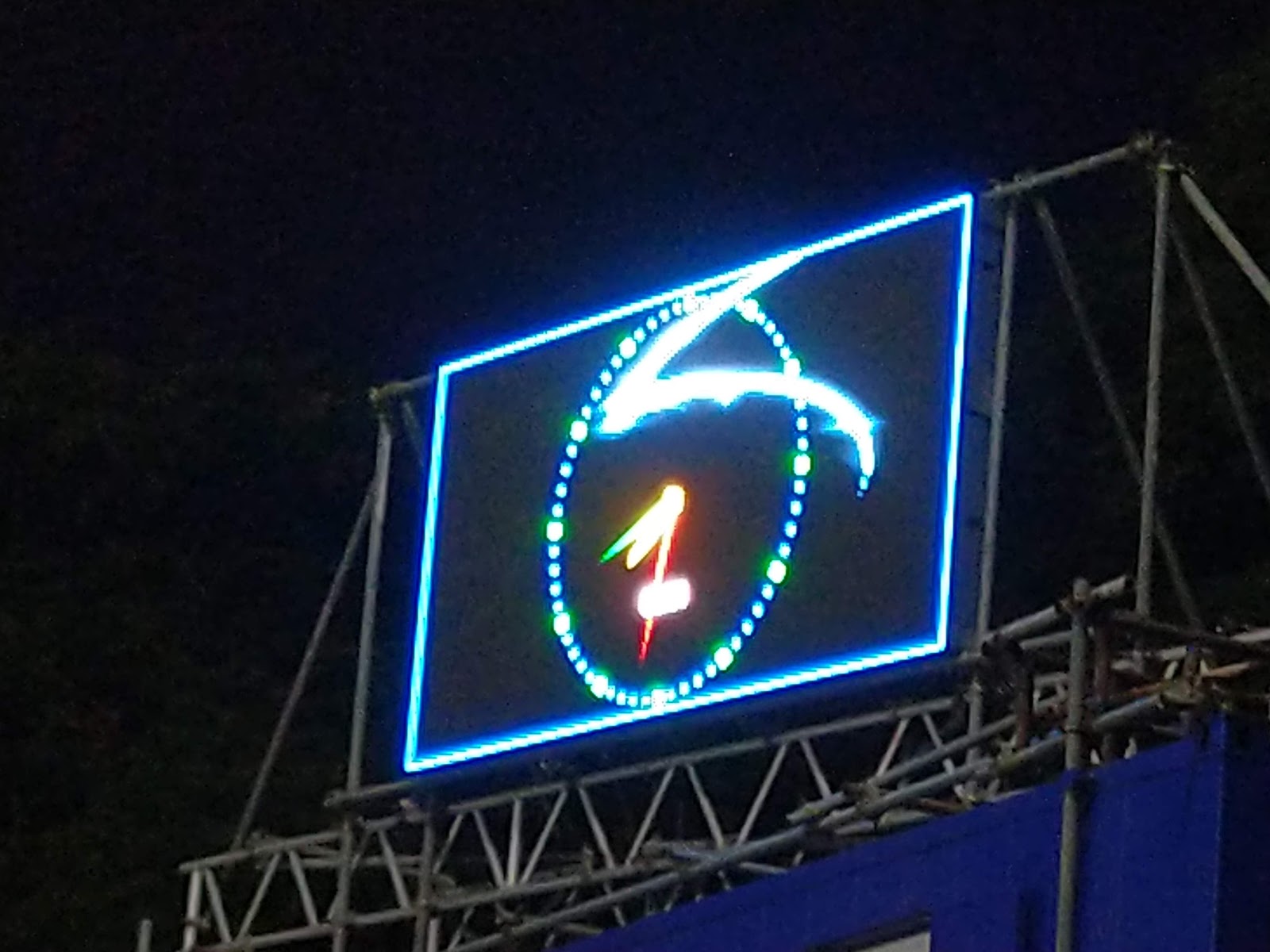 Graphics!
Butler, Barden, Collins, Goodliffe, Milsom, Beautyman, Bolarinwa, Eastmond, Wright, Ajiboye, Jarvis. Bench Warmers: Matsuzaka, Randall, Davis, Reid, Dundas.


Losing the toss, and Sutton are forced to shoot towards the Gander Green Lane end. And the team carried on from where they left off on Saturday. The first couple of minutes had Dave running down the wing to cross the ball only to see it either just miss a player or a weak off target shot. Eastmond would have the best of the last chances for Sutton in the half. His first attempt was to be a a strong header that appeared to been going wide to us on the Shoebox that was poorly cleared and fell to him once again, but his shot on the turn went inches wide of the far post.
The proverbial Sutton implosion would soon begin when Redbridge Forrest Dagenham took the lead not long before the break. The first goal came after Bolarinwa conceded a cheap free-kick in the corner. The resulting set-piece is whipped in with force into the box. Butler came to collect but totally missed it. At the back post is once again another unmarked Ilford Dagenham player who manages to bundle it over the line, off his back it seems.
To add insult to the injury, Sutton would soon find themselves two down. This time it was Collins who was at fault as instead of a simple nut back to Butler, he tries to head it clear to only find a Leytonstone Dagenham player. He lays it off to ex-U Dobson who took two players out of the match with a simple turn and then lashes the ball past Butler. Ouch!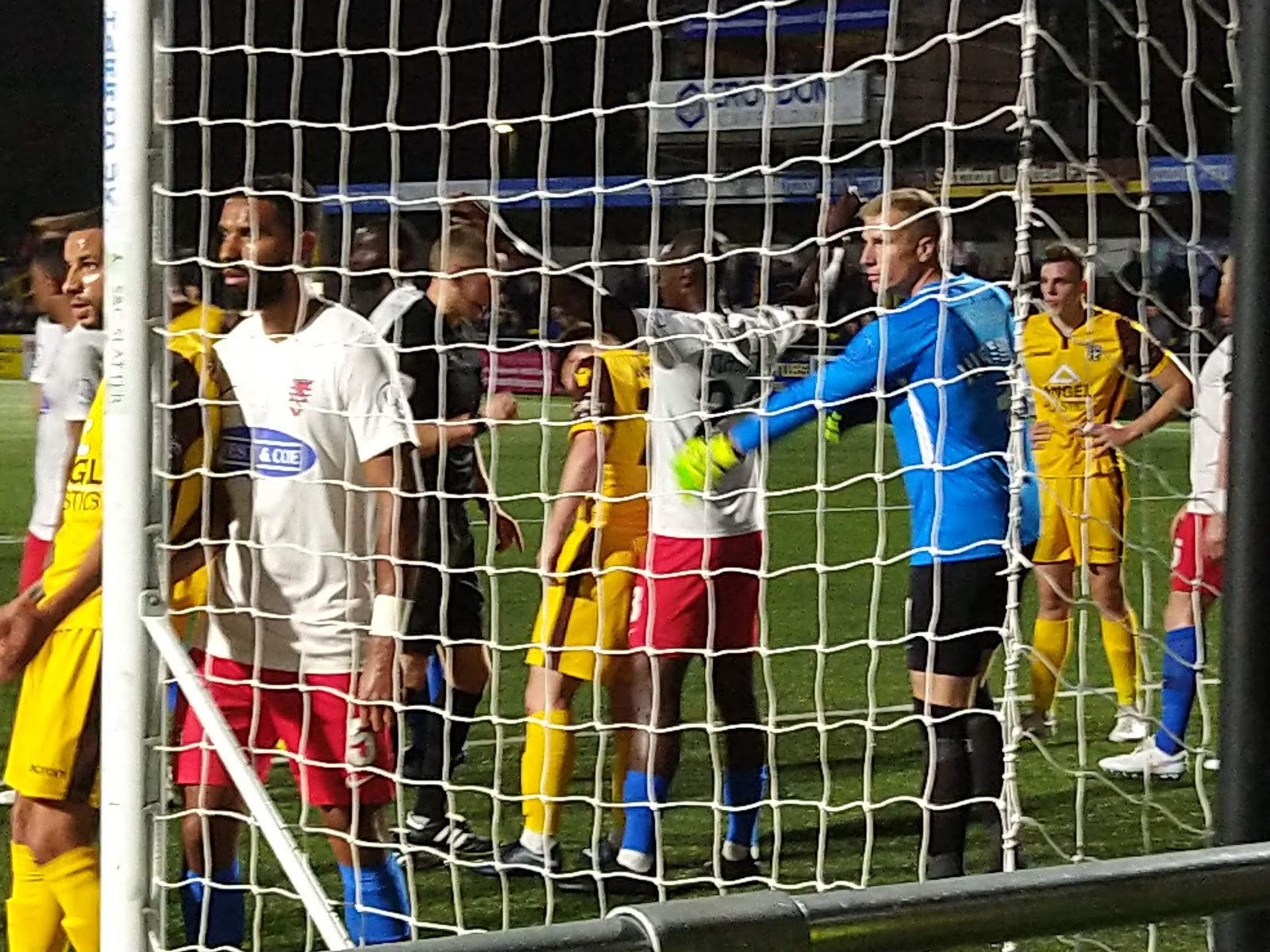 Action…
At half time we head round to bar for the half time drink. After much debate, Mr X had won the right to get the round in. And muggins here is doing Saturday's now! Whilst we're waiting for Mr X to get through the crowds to the bar, there is plenty of chat about what we'd just witnessed. Dr Bell thought that we'd played rather well, despite the last five minutes, but had failed to really cause any trouble for the travelling keeper. I still think it's the midfield that missing something personally. Eventually Mr X is served and it's a quick neck as time is flying. One idea the bar could use would be to possibly pre-pour some of the more popular drinks before halftime? A Bottle stop maybe?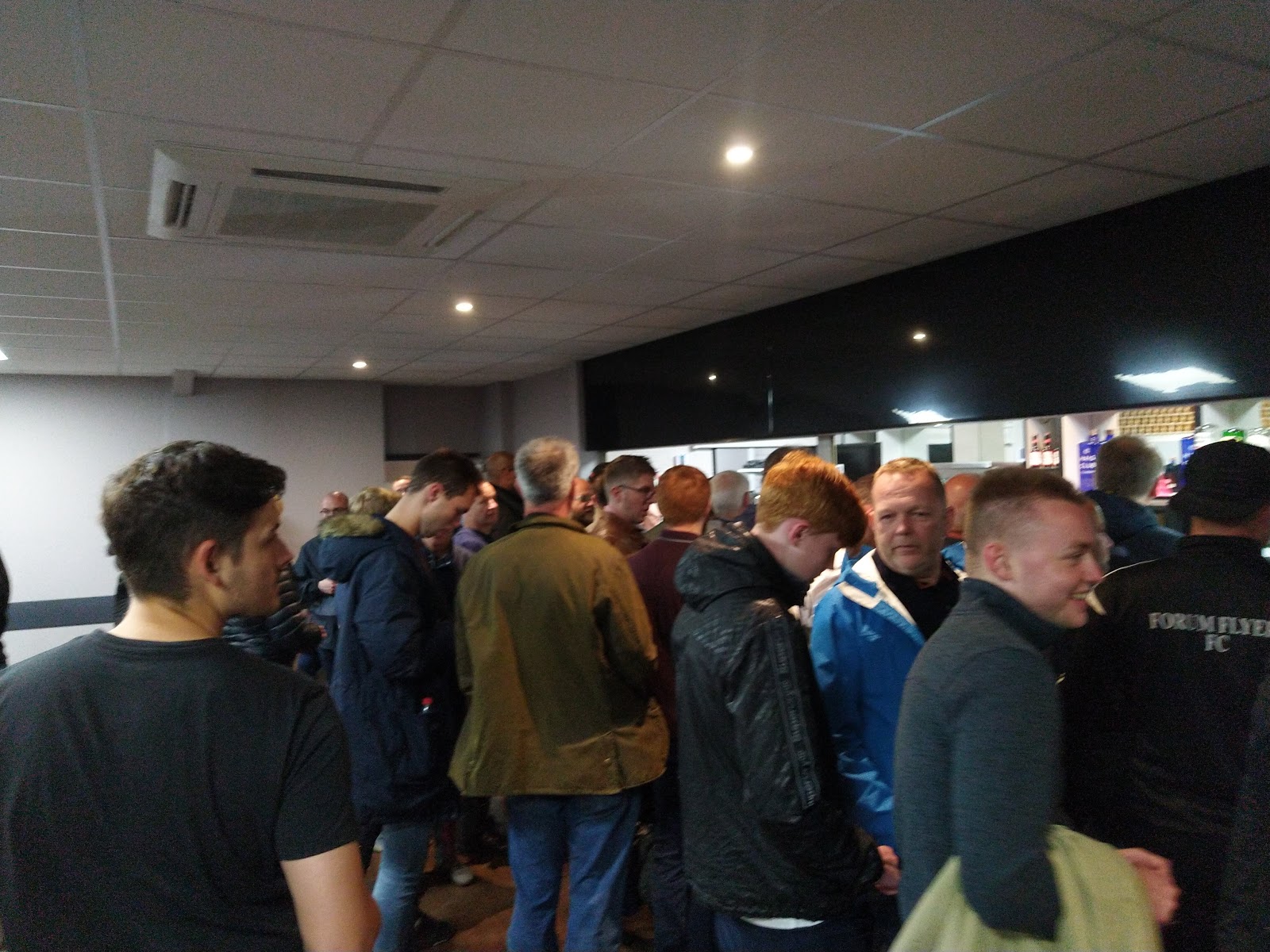 Queues…
The second half begins and the hope is Sutton would come out all guns blazin'. Unfortunately for them, Walthamstow Avenue Dagenham are a well-oiled and drilled Peter Taylor side that were happy to give us possession outside of the box. All of our attempts from there failed to trouble the travelling keeper and some of the home fans behind the goal became more interested in talking to the local plod than watch the match. Can't say I blame em.
Surprisingly, the first Sutton substitution is Wright coming off for Randall. This meant that Beautyman would take the forwards position. The issue that some of us had was that there was only a quarter of an hour left and yet, Leytonstone-Ilford Dagenham had made three. Perhaps we could've made a change a little earlier maybe?
By now, Sutton had gone to plan B and were just lumping the ball up top in attempt to try and break the defence. Leaving it rather late, Sutton make there final rolls the dice with a double substitution. Dundas & Reid are called upon to replace Jarvis & Ajiboye with 5 to go. Finally having someone who could match up to the travelling centre-backs would reveal one or two good flick-ons, but it was too little to late and Sutton fall to another home defeat.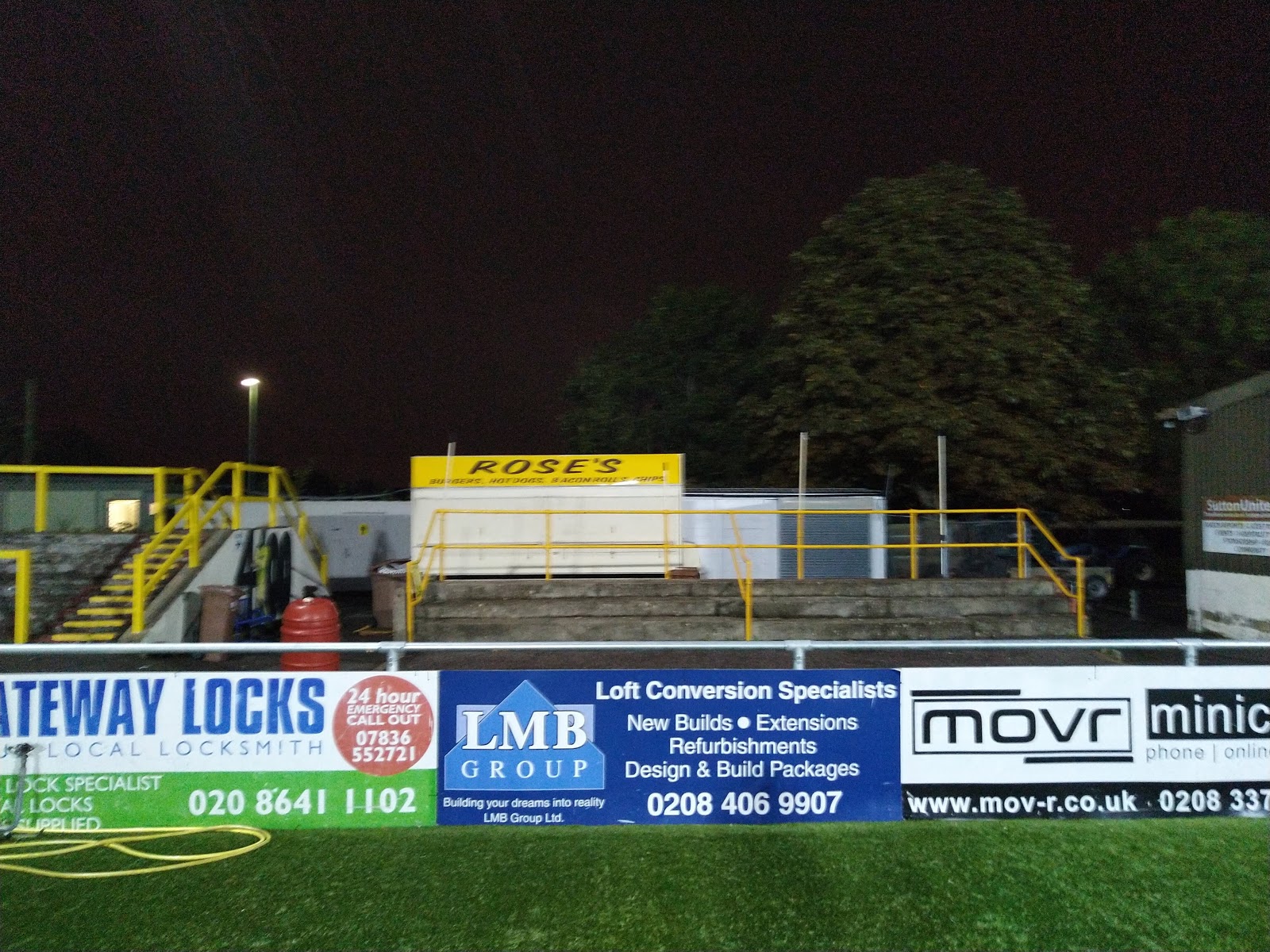 Everyone's gone…
The biggest cheer of the night from the home support came with the announcement from the dulcet tones of Tony Dolbear. It was only to say that, not for the first time, that Thameslink were up the spout and no trains were going through the Republic at all tonight after the game. To make matters worse for the travelling faithful was that the District Line was also down and not running near Dagenham East. I bet that it wasn't a quick journey home. Still, they had 3 points to cheer 'em up, so fuck 'em.
After the the National Union of Net-lifters had done their usual duties, we had a butchers at what has become of Lake Gray in the corner of the ground. And I nearly put my foot through the advertising as I slipped on the dip! I also passed Peter Taylor, who seemed a lot shorter than I remembered. I also saw that Dagenham had order a couple of pizzas from Domino's. But only two? Amateurs, sheer amateurs! That would only feed one Gandermonium pisshead on the train home from Crewe.
Most Sutton fans had understandandably already fucked off by this point but one person of note who remained was SmiffyDownUnder. So here's your mention fella! And the less said about the match the better. A couple of beers later and it was finally time to call it a day on this Tuesday night adventure. It's Harrogate away this Saturday and what will be a very long fuckin' day trip it seems thanks to Gandermonium Travels. And with Harrogate around the same sort of area as us in the table, you never know what sort of match it's going to turn out to be. Enjoy!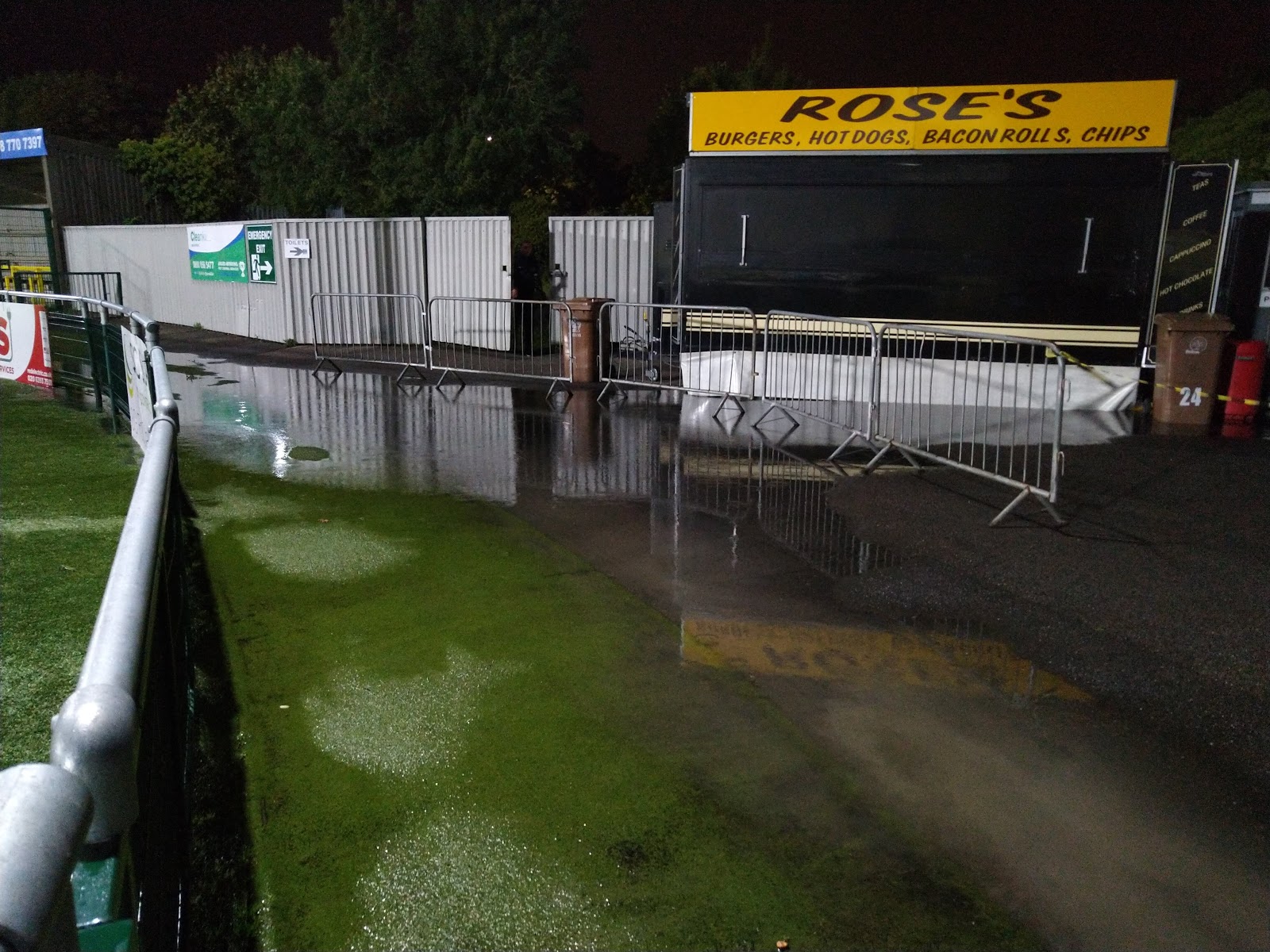 The new Sutton Utd water feature…
Duke
Att. 1513