We like Wrexham. Ok, it's not nearby, costs a fair bit to get to and we've yet to experience anything but mild disappointment at best when it comes to the football, but it has one thing going for it. The beer's really really cheap. Like stupidly cheap. As in "Fuck me I've not paid that little for a pint since my early 20's!" cheap. Which if you're familiar with our work has both its good and its bad points.
Still, at least our opportunities for an agreeably priced beery death are limited by the distance and the fact we don't get any more time here than on an average awayday. What's that? BT Sport have made it their live game? With a 5.20pm kick off? And the trains home afterwards are either stupidly expensive or get you back to civilisation somewhere around the latest Brexit deadline. Ah. This might cause some issues. Drunken ones.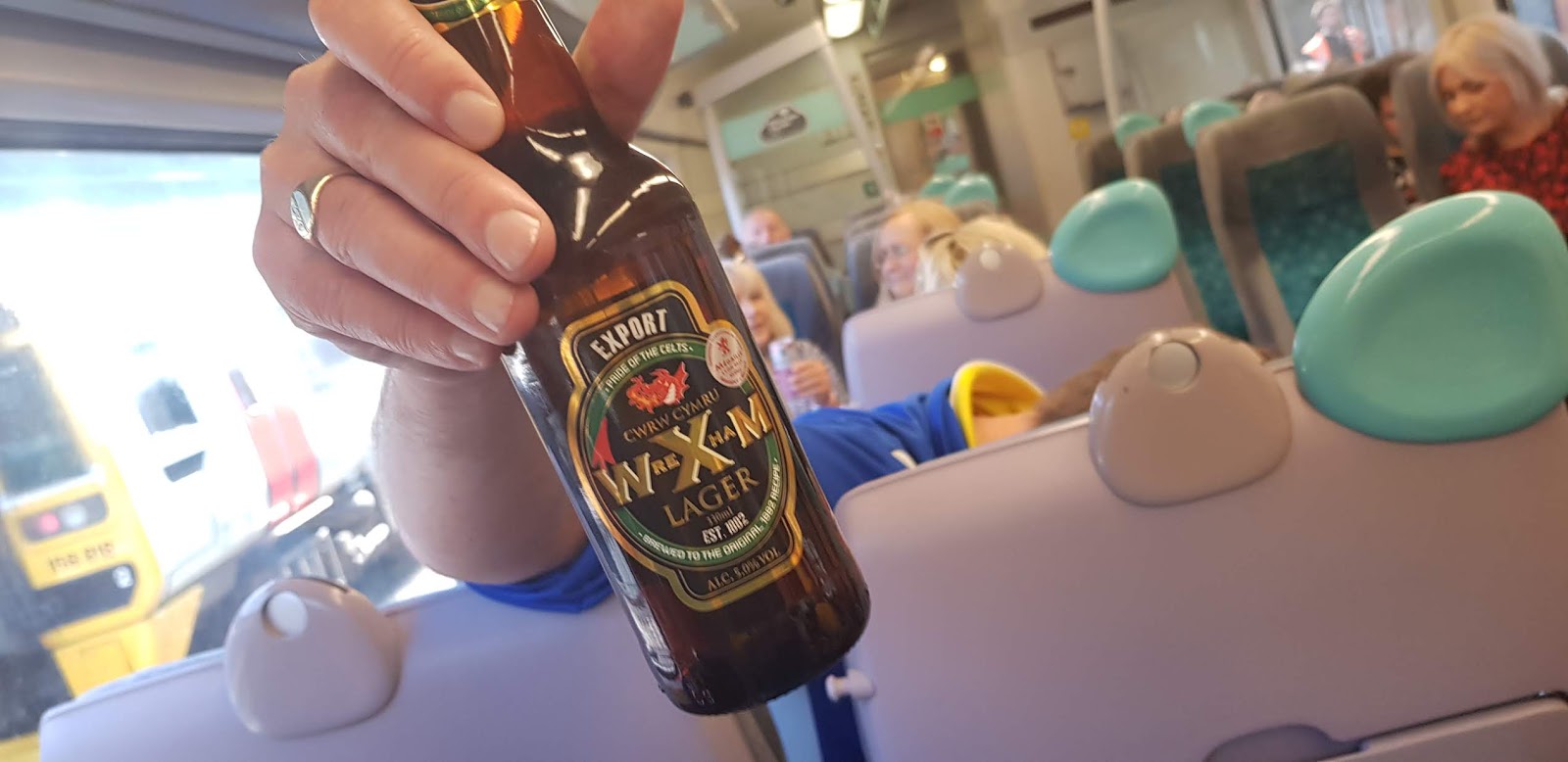 Refreshments
But us proud PROWsians are made of stern stuff, there's no such thing as lightweights and snowflakes around these parts. That and we really like a fucking cheap pint. We're in. Mr X sorts some choo choo's out, along with some luxury apartment type accommodation which gets an increasingly bad rap as the departure date arrives being downgraded to 'doss house' the week before the game. It can't be that bad, we're not the fucking B-Team after all. There's no way we'd have got in at the local shelter with that lot having block booked it again.
The other thing about the later kick off is that we're in no great rush to reach our destination for the usually mandated 11am opening time. So instead we take the scenic route via Brum and are due in the fair town of Wrexham for about noon. This means there's none of the usual "I must be fucking mental" grumblings when having to get a train off of Euston on a Saturday. Regardless, I'm still ambling out of HQ at 7.30am to get the bus into Croydon. Yes, that's 7.30am. For a 5.20pm kick off. In Wales. No, you fuck off.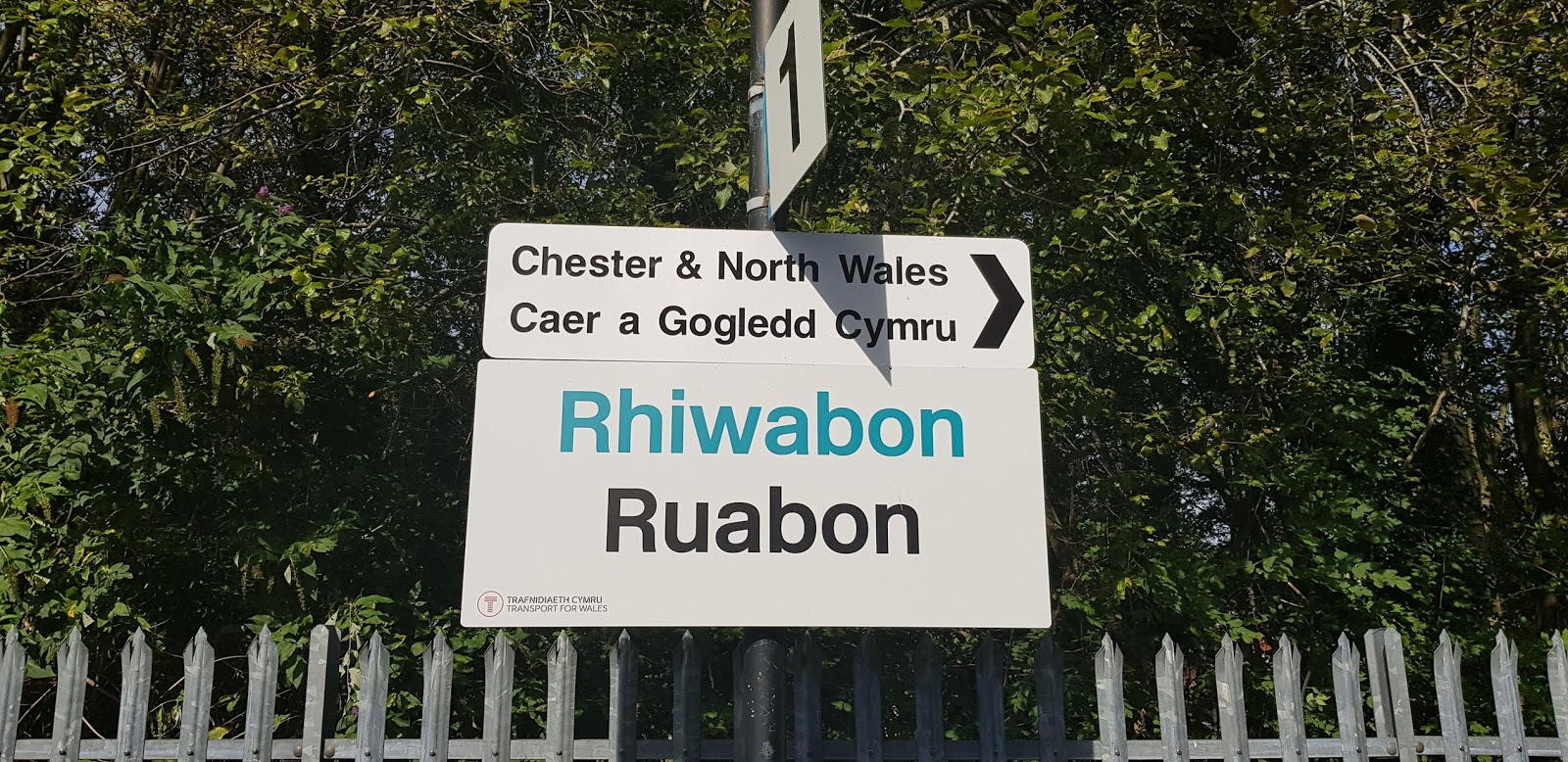 Two names? That's just being greedy…
I'm bussed in with no issues and I'm on the rattler into town on time. There's no sign of Magnum PI from these parts though, so I assume he's headed up even earlier than me, the idiot. Less than an hour later I emerge into Euston station concourse, or at least the white boarded up section of it you're allowed into when emerging from the Underground. Ah yes, HS2. What fun. Outside I locate Mr X and Magnum, drop bags, bid my greetings and then sod off to Saino's to grab some cash and some cheap bacon rolls. Sadly, there are none, so cursing my luck I grab cash instead and bump into a rather weary looking Johnnie, leader of our notorious Yoof firm and today solely representing said Yoof Firm. I don't envy him his task as that's a lot of notoriety for one person to project. Eventually Dukey, 4 Days and Dr Bell arrive to complete the party and Mr X returns from a tip out munching on a bacon roll. "Where'd you get that?" I enquire. "Sainsbury's" he replies through a gob full of bread and dead pig. Bastards!
Having legged it back to the supermarket and grabbed me a couple for myself, we head for the train. Leg one will take us to Birmingham New St on a nice fast service, with the subsequent leg involving a change in Shrewsbury to something less pacy, this no doubt means we'll be arriving in Wrexham on a wooden cart pulled by a knackered old pit pony. The train is busy and our carriage is particularly packed with us ending up in the less desirable paired seats rather than the tables we prefer. Before Mr X can say it, the rest of us have crowed his train catchphrase at him in unison "I definitely booked tables!". We leave on time and begin the trundle north to England's second city. Before long, Mr X is showing signs of tea deprivation and he toddles off to the buffet car, returning 5 minutes later and heading in the opposite direction muttering "It's not fucking down there is it". This time, he's gone a little longer and just as we're starting to get concerned he may have expired before he could get his PG fix, he re-appears with supplies.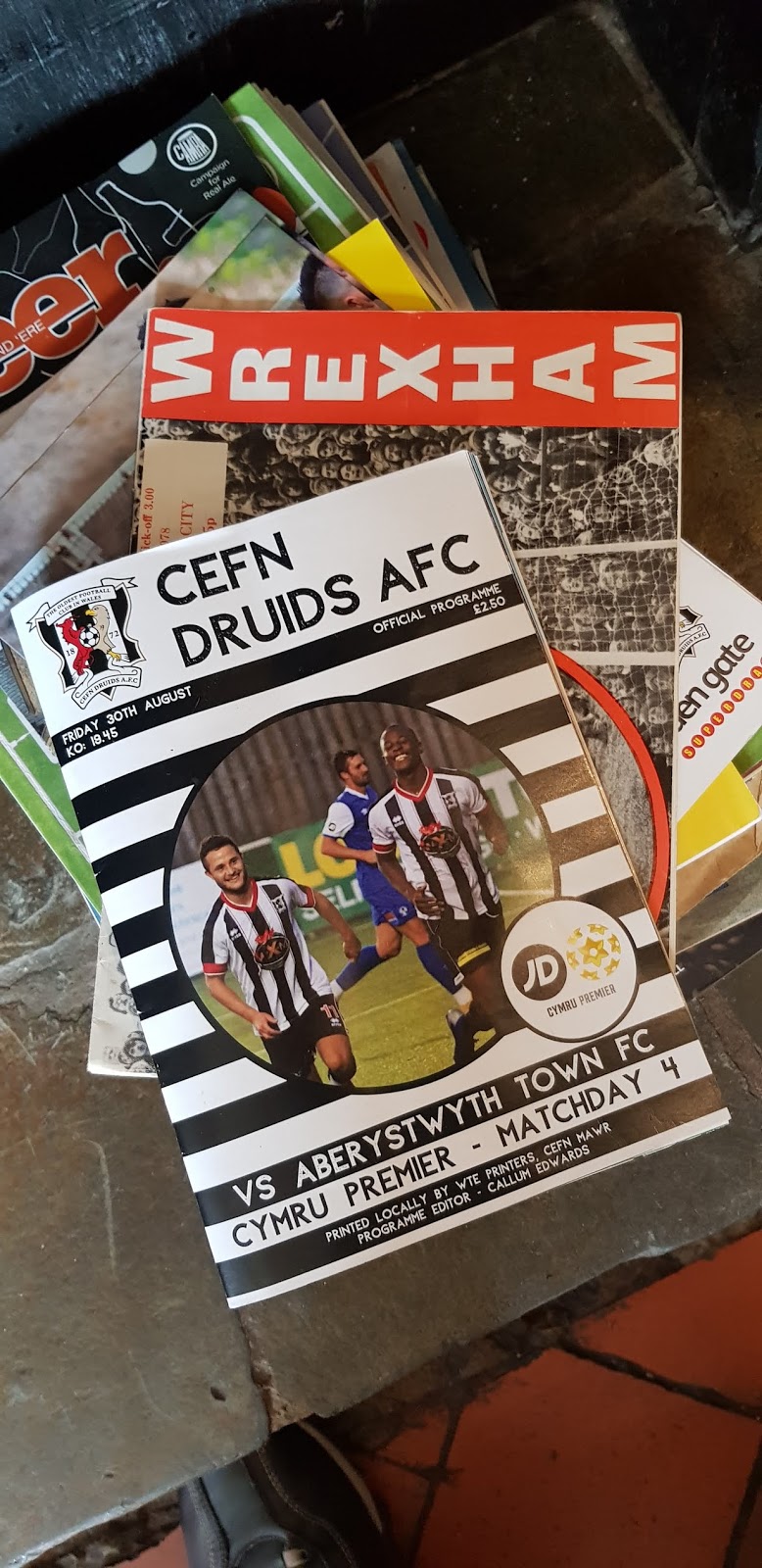 Reading material…
It seems the delay was the lass running the buffet wouldn't officially open up until she'd stocked the fridge with beer and was pretty adamant about the fact. Being the gent that he is however, the man of mystery solves the issue at hand in one fell swoop. "You get the kettle on love and I'll stock the fridge!" and proceeds to become a voluntary employee of Virgin Trains for the time it takes to lob half a dozen cans of Fosters and Strongbow into a fridge and for the buffet lady to produce 6 cups of splosh. Gandermonium, keeping the railways of Britain running smoothly since…oooh, just about now really. They really should let us have a bash at that HS2 wotsit you know, it might actually get finished. Birmingham comes and goes and we're soon on our way to Shrewsbury. Here again, tea causes issues as the lass with the refreshments trolley has already run out of hot water by the time she reaches us. And she won't be getting any more until….Shrewsbury. Our tea addict is not impressed and immediately goes into a sulk. Of course, we're all terribly sympathetic to his plight. After all, what are mates for?
Shrewsbury appears and we're dumped off on Platform 6. And our connection to Wales is going from Platform 3 in a few minutes, so we need to get a wriggle on! So we follow the signs for Platform 3 and a minute or so later, find ourselves out on the street in front of the station. What the fuck?? It seems the person who numbered the platforms here was a fucking imbecile and that the entrance to number 3 is accessed only from outside the station. Fuck knows what happened to 1 and 2. Do they even exist? Is this where the Hogwarts Express stops en route to the famed School of Magic? As it seems you need to be a fucking wizard to find the twat. Thankfully, this confusion doesn't cause disaster and we're soon on the train with Mr X producing a varied array of beers from his bag to celebrate, including the lager favoured by the locality we're heading to. Of course, not everyone's pleased with their choice, with Dukey pulling the sort of face he pulls when he has a pint of proper cider and not the fizzy pretend shit he drinks after the first swig from his bottle. "Just 'cos you've only had 2 cuppas today, there's no need to take it out on me!" he whines before going into a tea-less Mr X level sulk.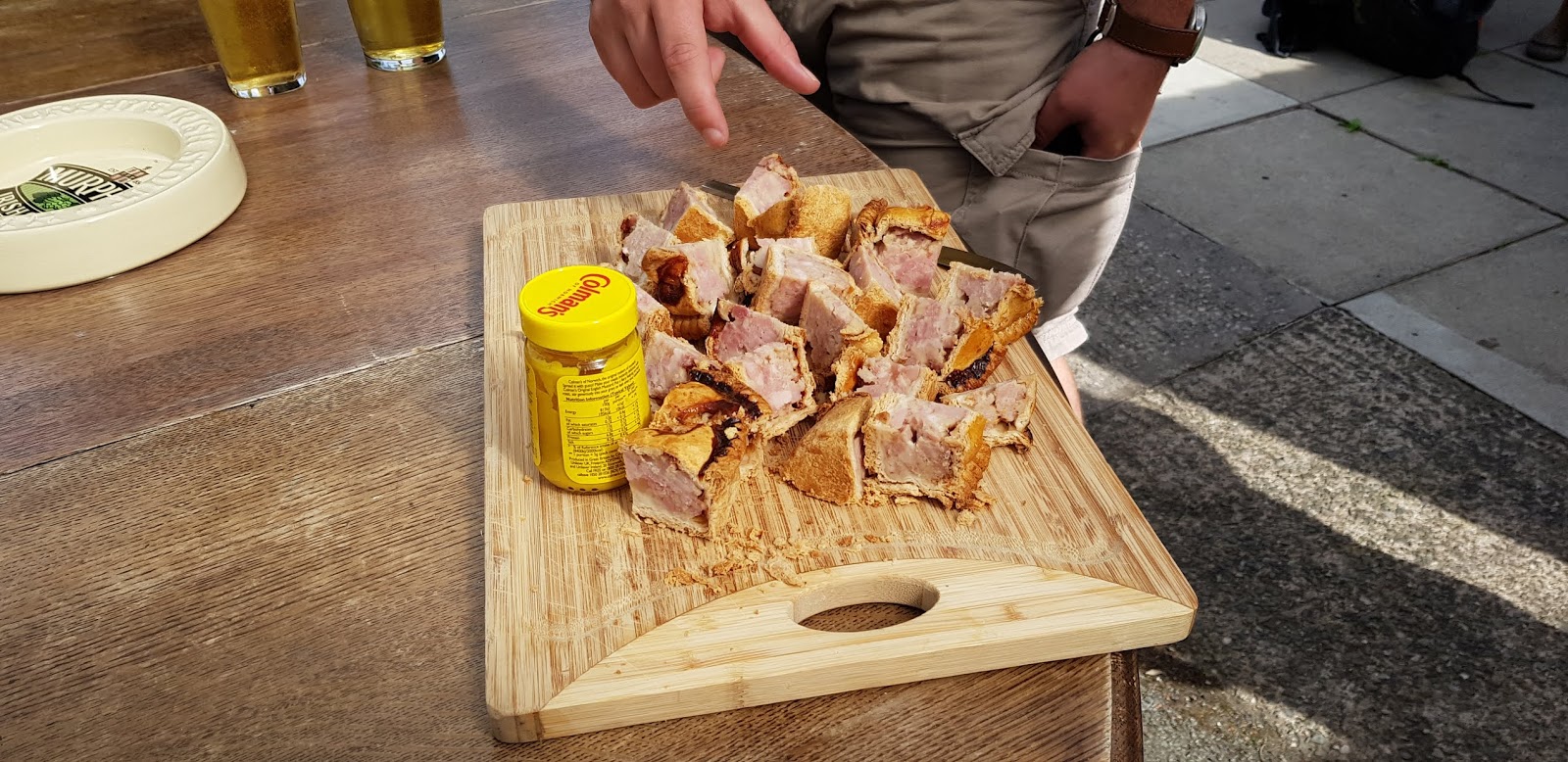 Mmmmmm. Pie.
With our apartment not available until 3pm, we hatch an alternative plan other than going to the spoons and drinking exceptionally cheap beer. 4 Days suggests we alight one stop before at Ruabon, where a bloke he knows from Wales away trips has his local right by the station and it's apparently quite a nice boozer. Why not! We're always up for an adventure. So with train beers necked and having trundled over the Chirk aqueduct and admired the lovely views from the train, we're bundling off at Ruabon and we're pub bound. The Bridge End Inn has just opened and we catch the guvnor a little off guard, but he's soon back in the game and pulling pints whilst we root around the book packed interior, a lot of which is football related. We could be here some time! We neck a couple of pints and discuss all sorts of bollocks, from Lloret as a holiday destination to war criminals from the former Yugoslavia through to Eddie the Eagle Edwards being a top shagger. He apparently even pulled a mate of Mr X's at Uni. Getting annoyed with some wasps, we head out into the garden with what should be our last pint only for the landlady to appear with a plate containing a pile of home made pork pies. Oh go on then, we'll stay for one more!
We eventually head off into Wrexham, hit the spoons and after a bit of lunch and a couple of laughably cheap round of beers, it's time to head into town to drop bags at the digs. This takes seconds and we're soon in the other spoons banging back more pints. This is followed by the Crafty Dragon before we eventually admit we need to head ground-wards. But with time for one more before KO, we hit the supporters bar behind the away end and neck one more whilst chatting to the always friendly locals.
Butler, Bolawinra, Milsom, Barden, Goodliffe, Collins, Ajiboye, Davis, Jarvis, Beautyman, Eastmond SUBS: Dudzinski, Bugiel, Wright, Wyatt, Matsuzaka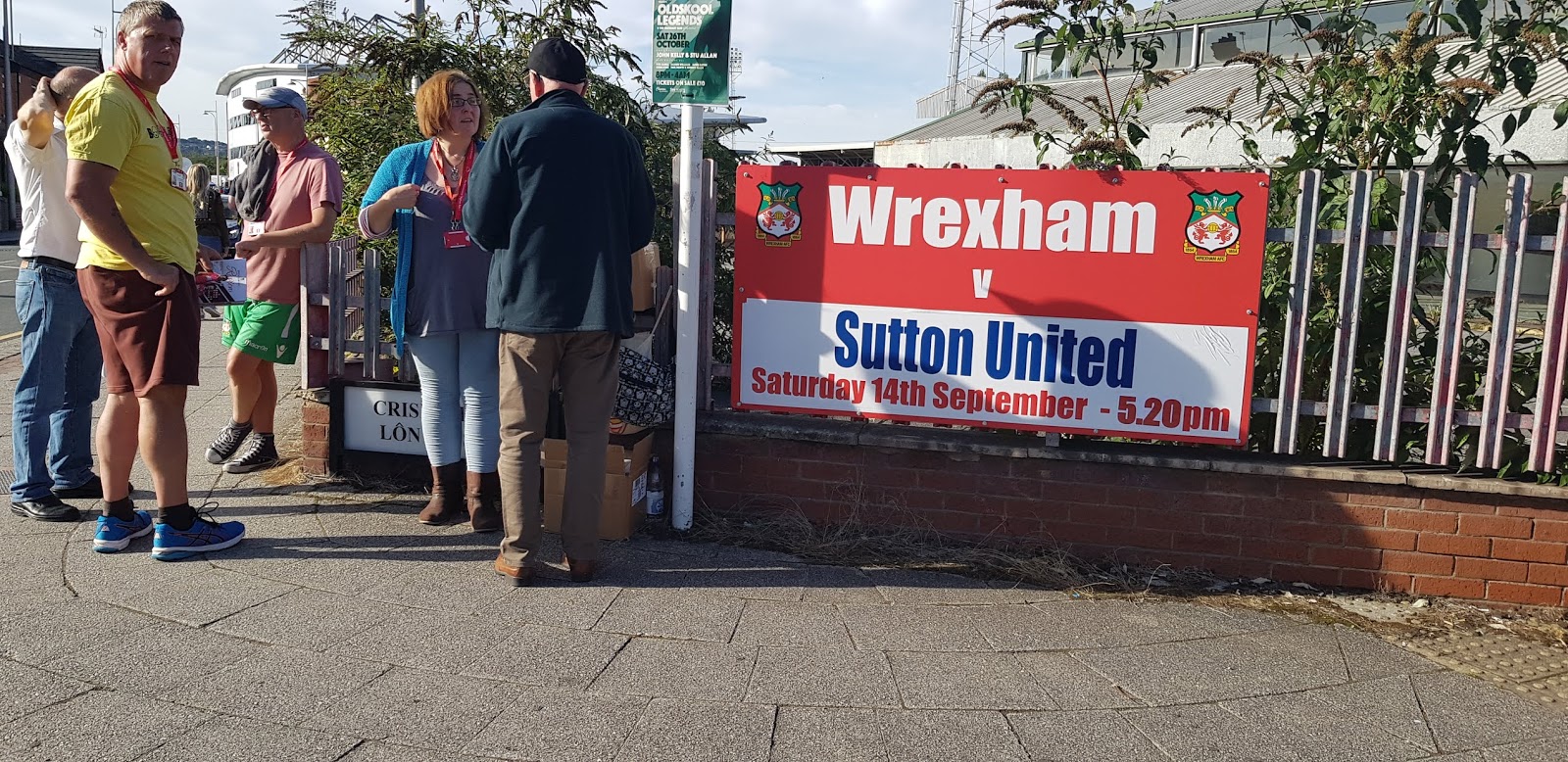 That's us that is!
With neither side in great form currently, we're not expecting a classic. And expectations are largely met in a pretty dour first 45. The early exchanges are pretty half paced as neither team gets really going early doors. We seem to settle best though and despite giving away a lot of ball with some wayward passing and leaving Jarvis isolated again, we still create a couple of openings. Ajiboye weaves his way in out wide, but his low shot is a little too close to the keeper and he makes the save low down. Sadly no one's there to make the most of the loose ball though. The big talking point comes soon after with about half an hour gone, Beauts puts a decent corner in, the keeper comes and misses his punch and Collins gets up and nods on goal. It's not clean though and as it's dropping in, their defender hooks it away. To us, it looks over. JC thinks so too. As do a couple of other lads. But the lino is poorly positioned 5 yards up the fucking touchline rather than on the corner flag and his flag stays down. No goal. No one can really say for sure if it's in and the reports from those watching back in the Republic are no more conclusive after half a dozen slow mo replays.
So at the break, we go in goalless and not for the first time here, the natives are restless as the whistle blows and they see their side off with a crescendo of boos.
We head down for a piss and a pie and I also take the opportunity to catch up with an old Sutton Supporters team mate in Pat who's now living up in these parts. It's great to see him again as it's been a good few years since we last spoke. Sickeningly though, he still looks as young as ever despite being around 60 now! Bastard. We agree to have a pint after over the road and head back up to watch some more uninspiring 5th tier action. We'll be amazed if anyone outside of the bar at GGL will still even be watching after that first half. In fact, most of them are probably playing pool by now. I know I wish I was.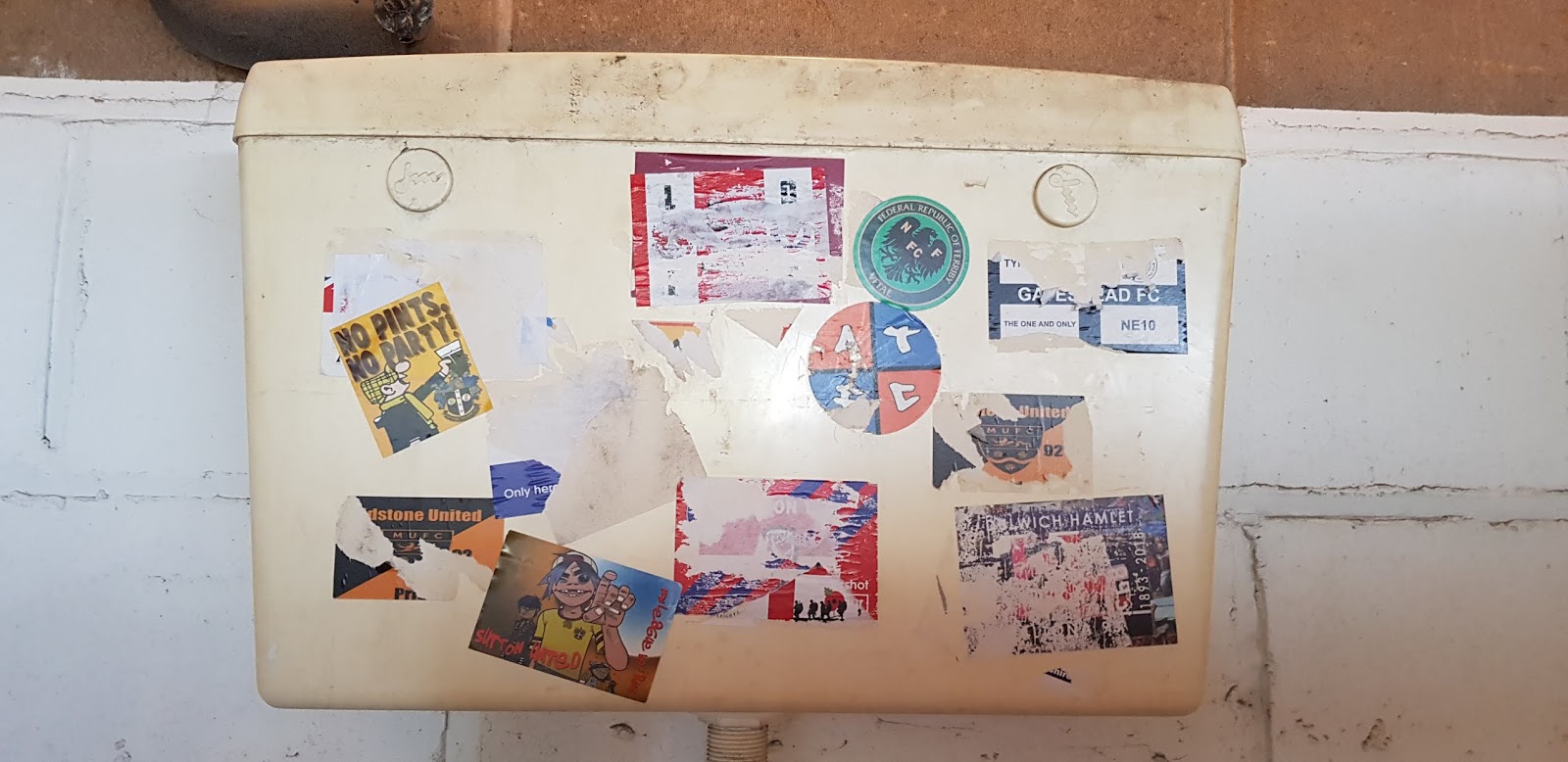 Calendar coming in 2020!
The second half is little better than the first really. Again, neither side can get on top nor really throw together much in the way of a coherent showing and we're kind of expecting this to drift to a 0-0. In fact, it's got a bit of an Aldershot feeling about it now that I think about it. Ah shit. Still, past the hour mark and something finally happens. Ajiboye lays off to Easty out on the far side and he swings a cross into the box. Kenny gets up , nods down at the back post and Beauts pops up to hook the ball over the keeper's shoulder and in. FUCKING HELL! A GOAL! FOR US! Right you bastards, let's see this bad boy off!
Having been booed off at the break, us scoring doesn't do a whole lot for the mood of the locals who turn on the team, the board and their manager. "Sacked in the morning" being a popular choice on the home support song jukebox as the half progresses. Time ticks down and the game definitely has a bit more about it now, but having said that, we still have the better openings with Ajiboye getting in a couple more times down the flank. But, with time almost up, it goes all a bit Aldershot. We look tired and as usual get deeper than Linda Lovelace and we all deep down in our souls know what's coming. A corner is swung in, they get a decent nut on it and with Butler stranded, Easty looks to have saved us with a stop on the line. And that's the problem, he's actually saved it. With his fucking arm. Pen, red card (which looks all the world like a yellow in the sunshine to us!). Well, we've seen this shit before haven't we?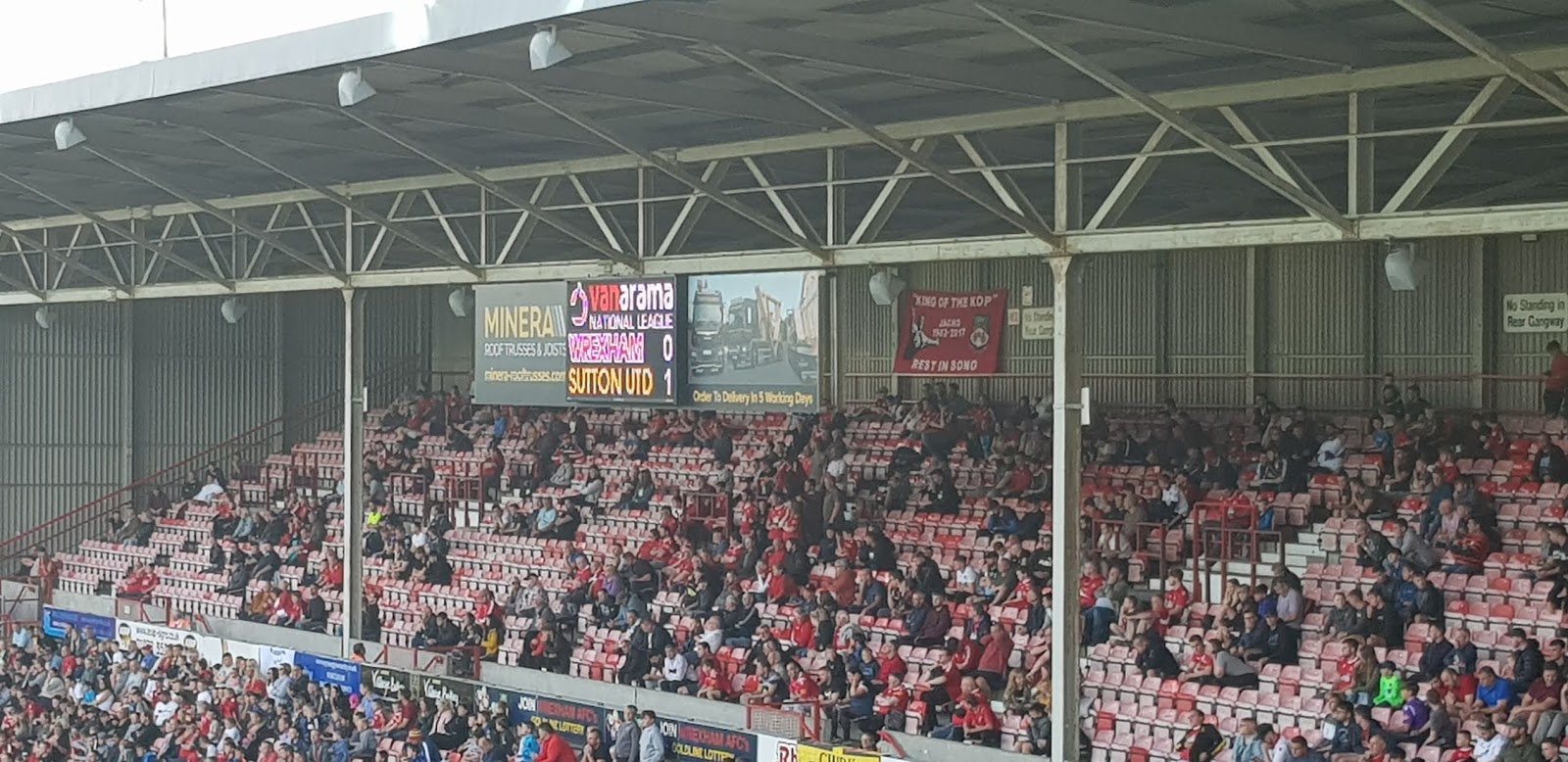 That won't last…
After a delay, the bloke tucks the peno away and the board goes up for 5 added. Ah fuck. Fortunately though, we see the time out with only a couple of nervy moments and collect another point on the road that really should be all three. We need to stop dropping points like this. And soon. Oh and win some home games. And….ah bollocks. Pint anyone? As usual, we head for the Maesgwyn over the road (which Dukey is still insisting on calling the 'Wagwaaaan') and spend a couple of hours on the pints and chatting with the ever so friendly locals. We're all agreed it was a shite game and still no one's sure if our effort in the 1st half crossed the line or not! Oh well, done now innit. Before long, we decide to head for home, dump our crap and hit the bright lights of Wrexham.
We start again in the spoons around the corner from the digs, a pub still selling some shit stale beer that I and 4Days had told them was off at Lunchtime. From here we head to the Saith Seren and catch up with some familiar faces from the Maesgwyn. There's also an interesting 3 piece playing involving a drummer, a guitarist and a singer with a big double bass. Their rendition of 'Viva Las Vegas' goes down well with the travelling support for obvious reasons. The B Team briefly make an appearance as we're heading off and we trundle into the Bank. There's a decent eclectic mix of stuff being played, but the big shock here is Dr Bell admitting to being a Rebel MC fan. We're not having it though when he tries to claim he's 'street tough'. A couple in here and Mr X calls it a night while the rest of us head down to the Soul Suite to shake our tail feathers a little over a couple more G&T's. Here we're shocked to finally get a round that's cost us over £20. God this place is fucking cheap!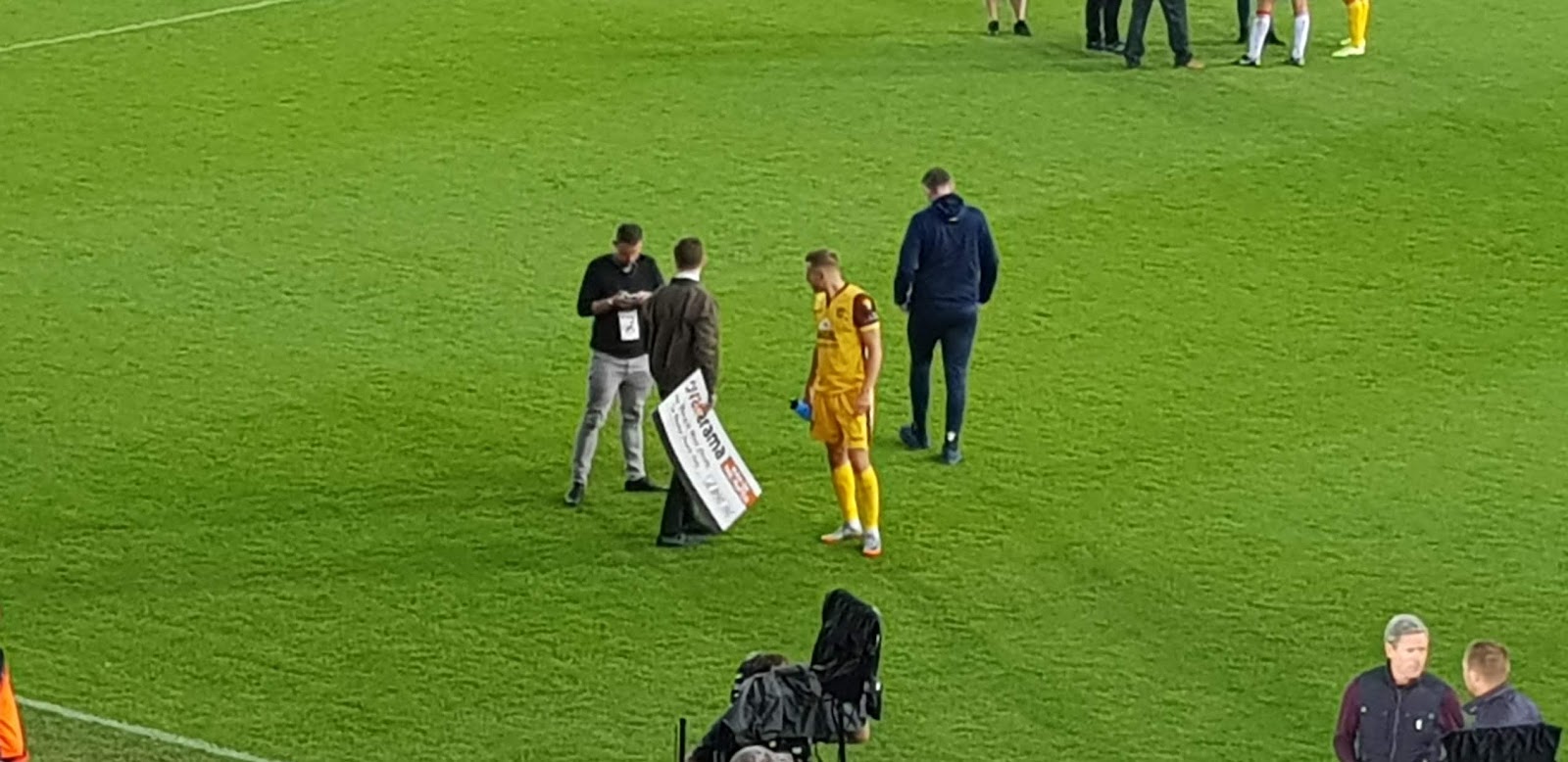 Everyone loves a big comedy cheque
However, the intake for the day starts to take its toll and at 2am we finally strike our colours and head for the kebab place, which displays an odd custom of loading the contents of said kebab into a little box and providing you with the pitta bread on the side. So we've essentially purchased a 'make your own kebab' kit. Really lads? It's gone 2, I've been on the lash all day and you want me to start fucking spooning food into a little bread pocket? How is that ending any other way than in a huge mess? Having waited hours for Magnum's fucking pizza to be done, we finally head indoors and find Mr X spark out, half out on his sofa bed, still fully clothed and his his hands inside his pants. Of course, we eat our food and take pictures of said lightweight for posterity before we turn in. It's been a long day after all!
The next morning, I'm awoken by Dukey, thankfully he's clothed and heading to the corner shop. "Ribena!" I croak and send him on his merry way. With some sugary blackcurranty goodness in me, I start to feel human again and at this point a revived Mr X announces check out is at 10am. And having called him a fucking twat set about getting showered and ready. Around this time, a fun little game we'll call 'pass the pitta bread' begins as Dr Bell's unused foodstuff from the previous evening is slipped between my luggage and Mr X's several times prior to departure before I finally chuck it in the bin just as we head out of the door. Breakfast is taken in Spoons, then we laze about for an hour mostly using the shitters and rinsing the bottomless tea offer before we finally head for the station and home. Here we find 4 Days who'd never caught up with us after the Saith Seren and crashed at a mate's nearby.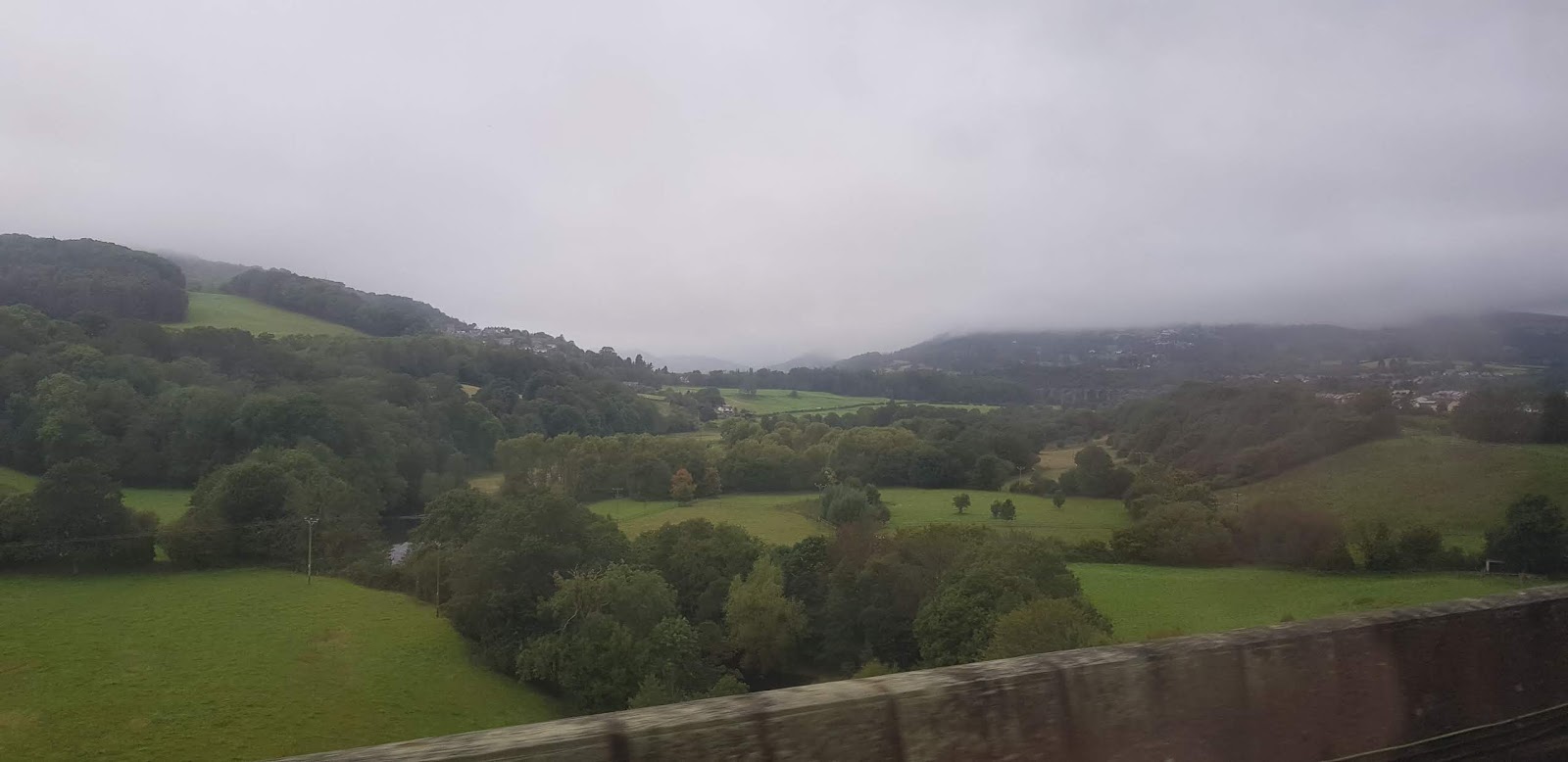 Wales has scenery? Who knew!?
The train back is as bitty as the way up, which is great when you've had about 4 hours kip following 12+ hours on the piss and eventually we pull back into Euston just before 4. Waving the others off to the Thameslink, Magnum, 4Days and I head for Victoria and here I and West Sutton's finest private investigator end up on a fucking Havant train back to East Croydon.
God I hope this Brexit nonsense doesn't put beer prices up in Wales. Next year might break us financially as well as physically.
Taz