The magical mystery Sutton bus continues it's unbeaten journey one match at a time. What was once thought as a very tricky week in the world of the U's, has now been proven to be just run of the mill type stuff. And for the second time this week, it's Gandermonium's very own foreign correspondent to give you some of the details of what happened on a warm Saturday afternoon. That's me by the way.
So after a rare point at Eastleigh, a feat we never achieved under the tenure of Havant's Lord Dos no les, that took our amazin' tally at Ten Aches to a jaw-droppin' grand total of four points, it's onto another ground where we have a rather iffy record. Although after a couple of wins in the past couple of fixtures, in no small thanks to Mr Eastmond, it's nowhere near as bad as it once was.
As it was Boring Wood, this meant that the trip through our capital would be a simple affair of just a solitary train from the Badlands of Carshalton. And like last year, we all agreed over a couple of pints that the best way to do Boring Wood was to not go to Boring Wood until absolutely necessary. So it was on to Stale Buns once again for our customary couple of pre-match glasses of sherry.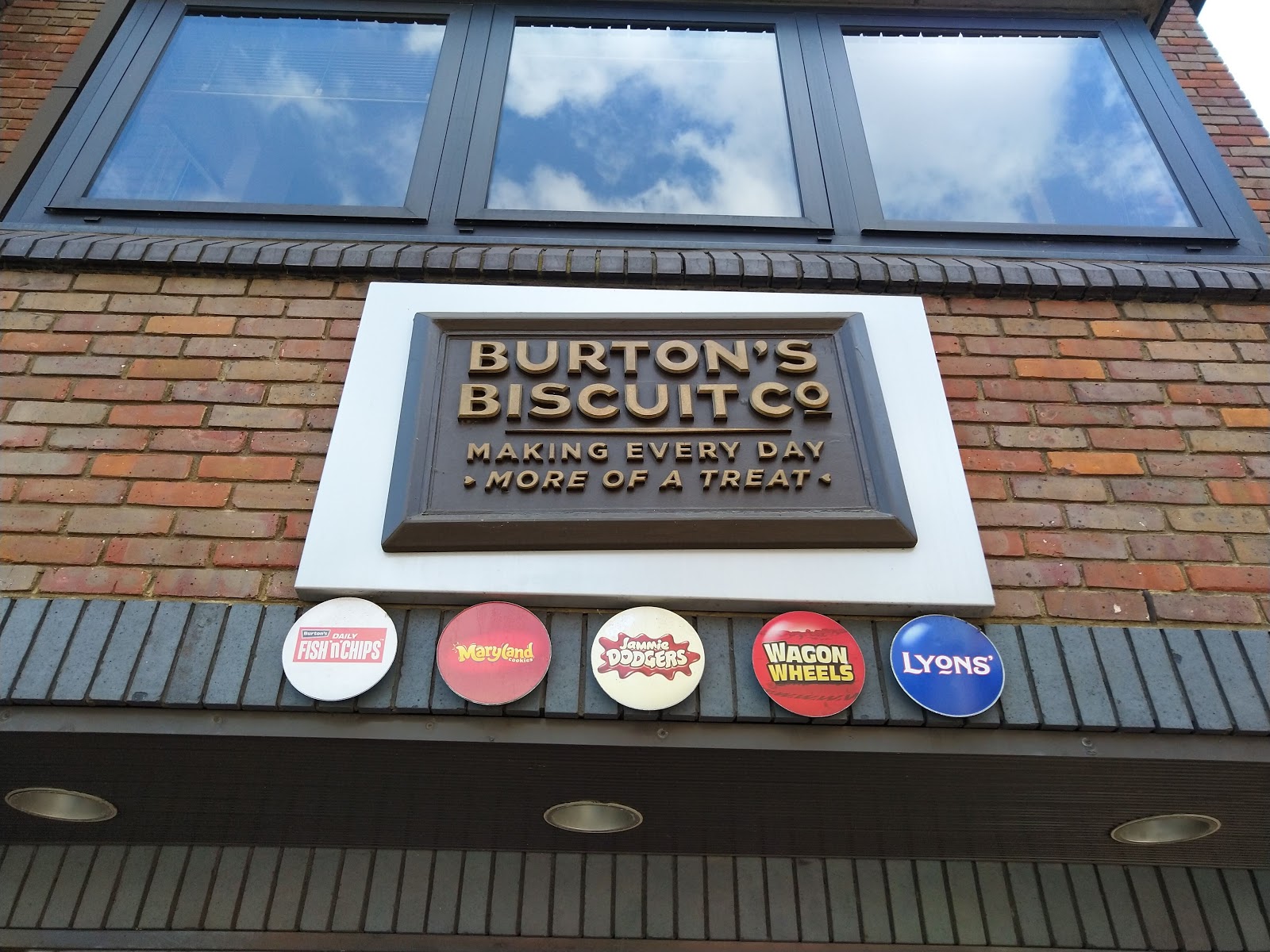 You Jammie Dodger you…
After agreeing that the 0949hrs Thameslink was the preferred option, Me & The Firm Leader agreed to meet at the usual spot at half nine. He was obviously a little late but we made up the time with a brisk walk. This was fortunate for not only us, but 4 Days & Lil' Chris as they were running even later and needed me to to buy them their train tickets for them. On the train already were Mr X & Dr Bell and this made up the gang that were going. Most of the trip was made up of further talk about how we were going to sort out the other long trips we had coming up before Christmas. One trip now in the bag at least was Harrogate and we've managed a near £33 return day trip since British Rail have finally released the much needed tickets. By coincidence this happened the morning after Taz had given em what for on the Twitter. He's claiming an assist, but we ain't so convinced.
With Mr X making an executive decision, we get off the train at Farringdon and jump on the next one through as this would get us in earlier than expected. The first pub of the day is a 'Spoons called the "Waterend Barn" or as one of our group was convinced the "Watered Barn". Here we bump into a few Chesterfield fans that were making the trip to Barnet, but thought that Stale Buns was a better place to drink. We totally agreed with them of course, especially as we were going to Boring Wood. They knew what we were on about as they were there the previous week! There were also a sprinkling of West Brom about supporters making a stopover on their way to Luton.
There was a spot of rain in the air and a fair few of the seats outside had water on them which caused 4 Days to rest himself on the table. An eagle-eyed 'Spoons employee would spot him and as he was collecting our glasses, he would ask 4 Days to vacate the table top. "But the seats are wet" he would quickly quip only for the employee to brandish a cloth and wipe the seat for him. Top bantz as the kids say.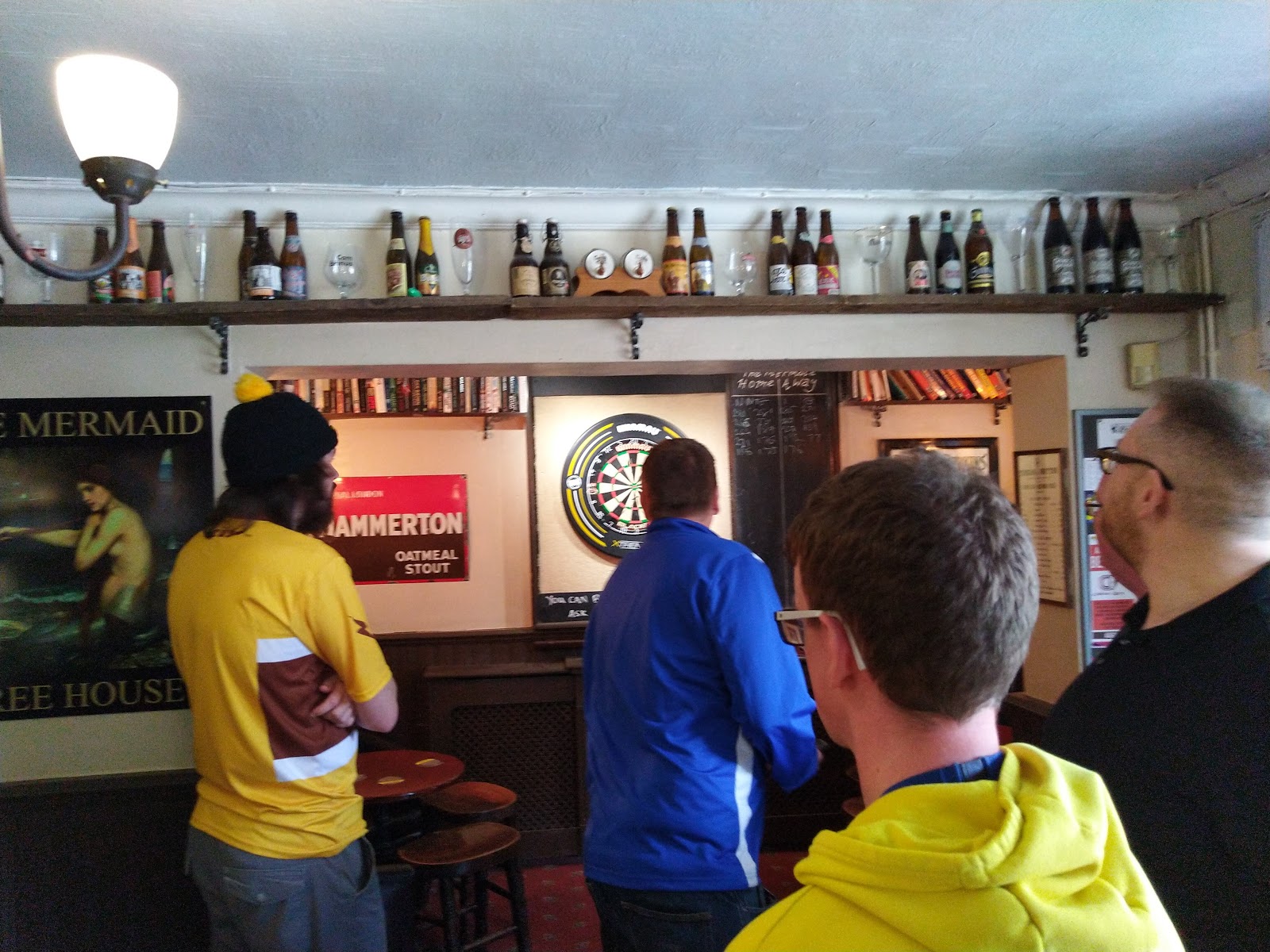 You get nothing for two in a bed…
Two pints down and we decided to move on to pastures new. "The Blacksmiths Arms" is next and here we bump into a few Wealdstone fans that are on their way to Hemel, which is as we well know another poxy place for a beer. Apparently Stale Buns appears to be the place to drink for all the away fans heading to games in the surrounding area. "The Peacock" would've been next on the list had it actually been open. Well it was nearing one o'clock by this point, so it's understandable. Not. "The Mermaid" just behind Stale Buns ground is obviously the next target.
Here, some of the boys decided to have a go at the dartboard. With the darts appearing to be lighter than a fart bubble in a swimming pool. They boys struggled to aim their arrows with any real precision.That or they're just fuckin' useless at darts. Dr Bell, our apparent resident dart player, would like to forget his performance as first The Firm Leader then 4 Days would win their matches against him. Although this was probably helped by some very shady mathematics skills from Mr X that were apparently a result of A-Level standing. Bollocks!
.
After The Firm Leader had wolfed down a spot of pie & mash, we had enough time to squeeze in one last drink so headed to "The Victoria". This was of course the final pub we entertained during That Day which went so wrong a few seasons ago. A sherbet is arranged for the journey to the ground and we arrive with minutes to go till kick off. £20 for the privilege and we take a spot on the open stand.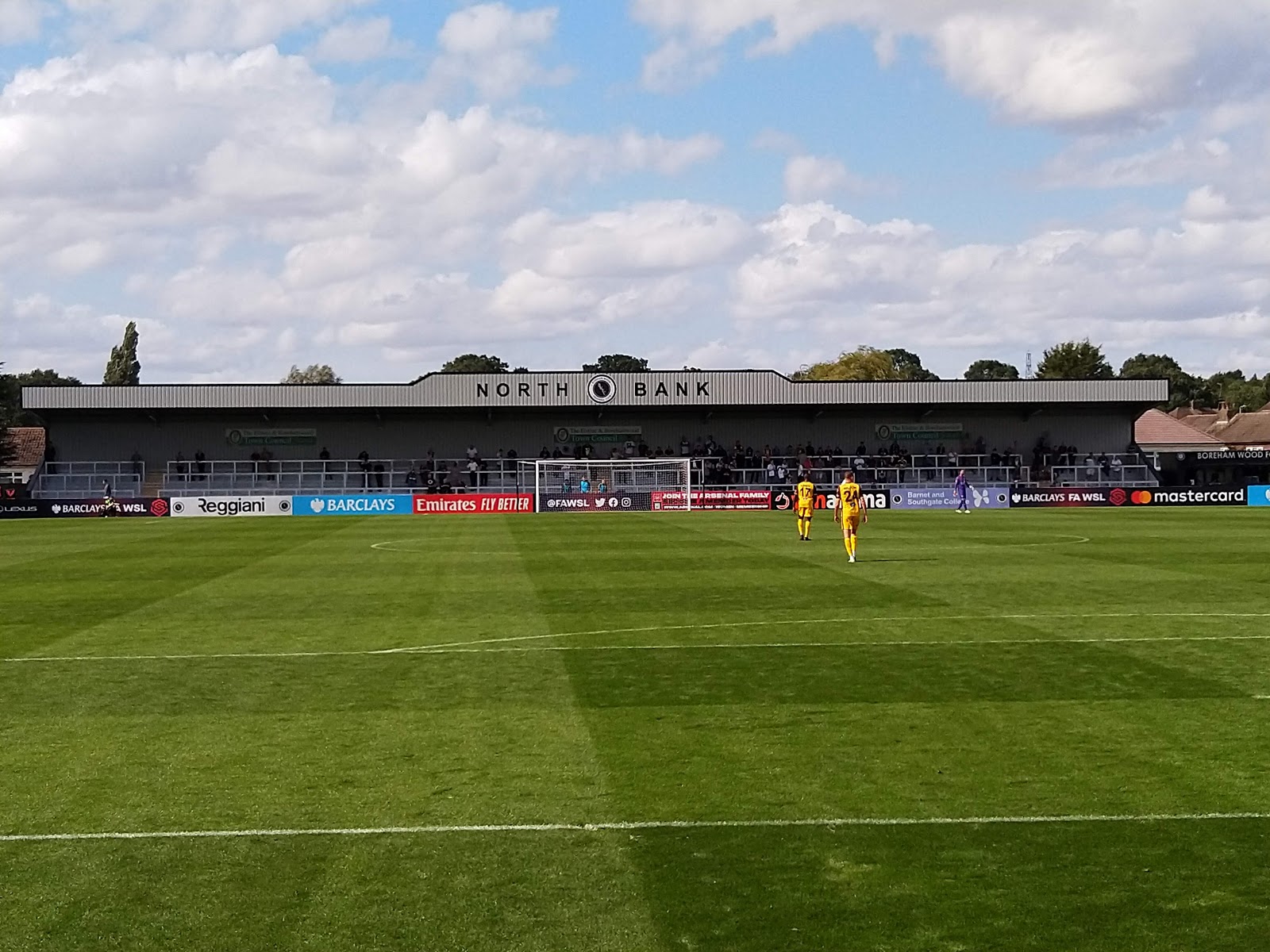 The new North Bank….sounds familiar?
Butler, Bennett, Barden, Goodliffe, Collins, Bolarinwa, Davis, Bugiel, Eastmond, Ajiboye, Milsom. Bench Warmers: Kearney, Dundas, Wright, Tuson-Firth, Matsuzaka.
The match starts with Sutton attacking the far new end. Apparently it's been dubbed the 'North Bank' or The 'Elstree & Borehamwood Town Council Stand' depending on who you spoke to. Eastmond would have his first try at goal but it was easily saved by ex-U Gregory. Boring Wood also had a chance to take an early lead but Butler was on his game too as he saved well.
It would take Eastmond about forty minutes of his season to get his first booking. He would also have another chance with a header from a Milsom corner that was saved. Milsom would also have another prime free kick attempt that went just over the bar. There was hardly any time added on at the end of the half as the teams went in all square.

Standard panoramaramarama…
Second half and it was much of the same with Boring Wood failing to use their tried and tested method of fast wingers terrorising the full backs. 4 Days would once again appear to be in a spot of trouble with his use of colourful language. One and then two stewards would eventually get involved, but the discussion was drowned out by a chorus of "Fuck Boreham Wood" from the travelling faithful. You're welcome 4 Days.
Just after the hour mark and Eastmond's match is over as he is subbed for The Legend that is Dundo. With the scores still level late on, there is a cheer as Wright is brought on for the huffin' and puffin' Bungle. It was a big ask to have him up top alone runnin' around. But by setting up this way, it usually means that you run your arse into the ground before coming off.
With less then ten minutes to go, the points went the Sutton United way. It was Dundo who managed to out jump his marker and nod on a Davis punt up-field. The ball finds Wright who takes it past the Boring Wood defender. facing a tight angle on the right-hand side he lets off a shot that appears to be well covered by ex-U Gregory. But unfortunately for him, and fortunate for us, he makes a complete mare of it and lets it slip underneath him and into the back of the net. 1-0! The away supports goes mental. It was also nice to see George (Tuson-Firth) get his first few minutes of football as he replaces Ajiboye near the end.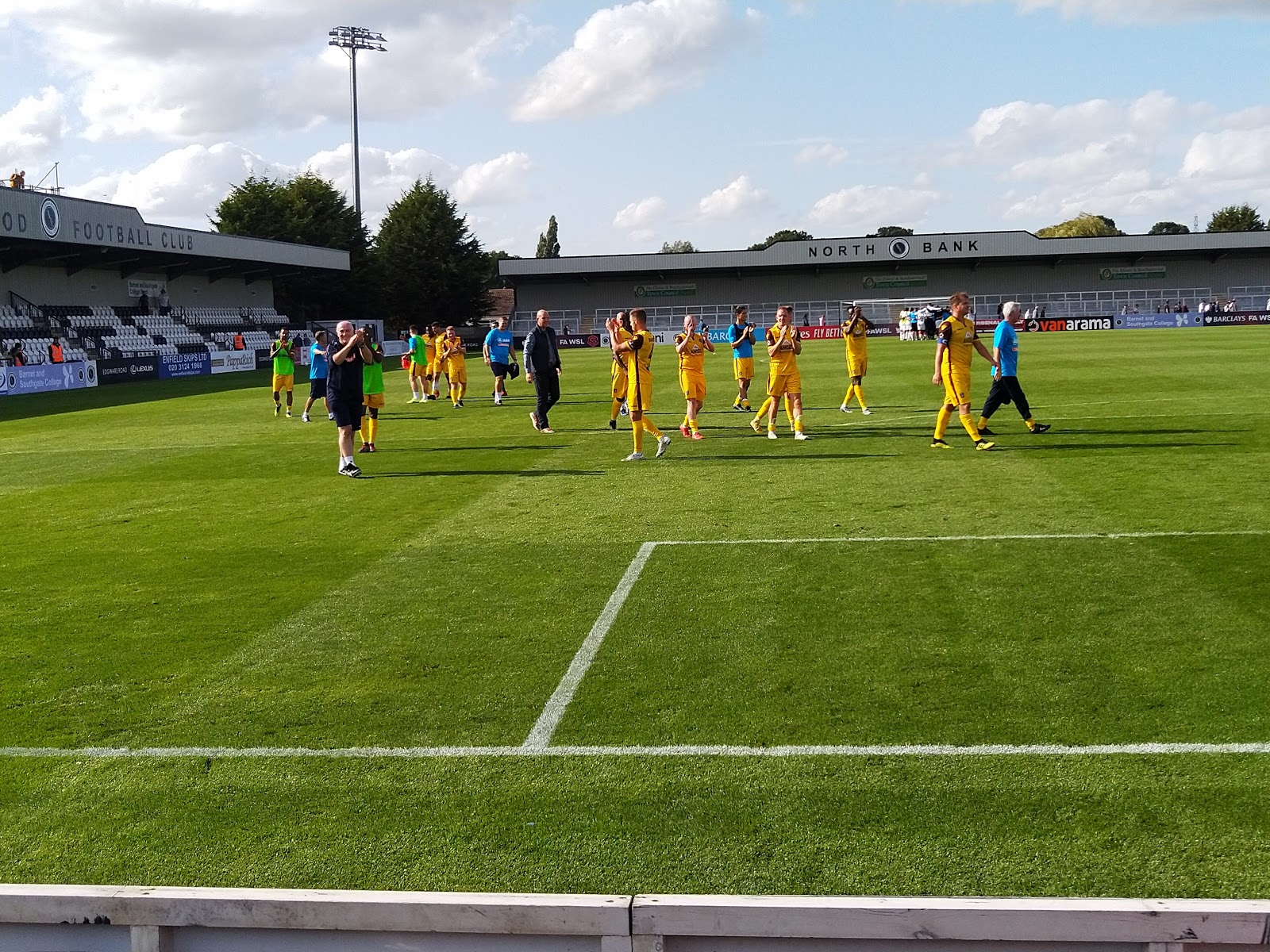 The lads pleased at getting more than their BFH….
After the match, and it's the little trot back through the high street before we come to the local Irish bar. "The Wishing Well" is may not be the most glamorous of Irish places we've passed through on our travels, "Shenanigans" in Blackpool will probably retain that title, but it serves a purpose. One thing I always find about these sort of places is that there is always someone who wants to know how the local team got on without bothering to find out for themselves. Like the three fellas who asked me first 'Did I go to the game', followed by the usual 'What was the score', and then the clincher 'What team did they play'.
There even was an attempt by one of them to make a joke about 4 Days and his appearance. "Think you've got dressed for the wrong weather pal" a fella remarked as 4 Days wore his usual trademark jacket and bobble hat. "Well, it's to protect my hair" he replied with a quick wit that had the balding man rather befuddled. After a quick short it was time for me & Dr Bell to say goodbye to the rest as we had to make tracks home. The rest would stay here and watch the Spurs match until getting the 2001hrs back to civilisation. Me & The Doctor would leave on the 1731hrs with many of the rest of the travelling faithful and head home. Except that didn't quite work out that way as we ended up in the den of thieves that is The Pigeon Club, along with a few scummers.
Next up for the boys of Gander Green Lane is another tricky Bank Holiday Weekend of football as first we entertain Dover at the Borough Sports Ground before heading to the Rec and it's mountain hike and poratloos on Monday as Aldershot will be looking to beat us once again. The question is now, will the run end or will it continue a bit? Who knows. Enjoy!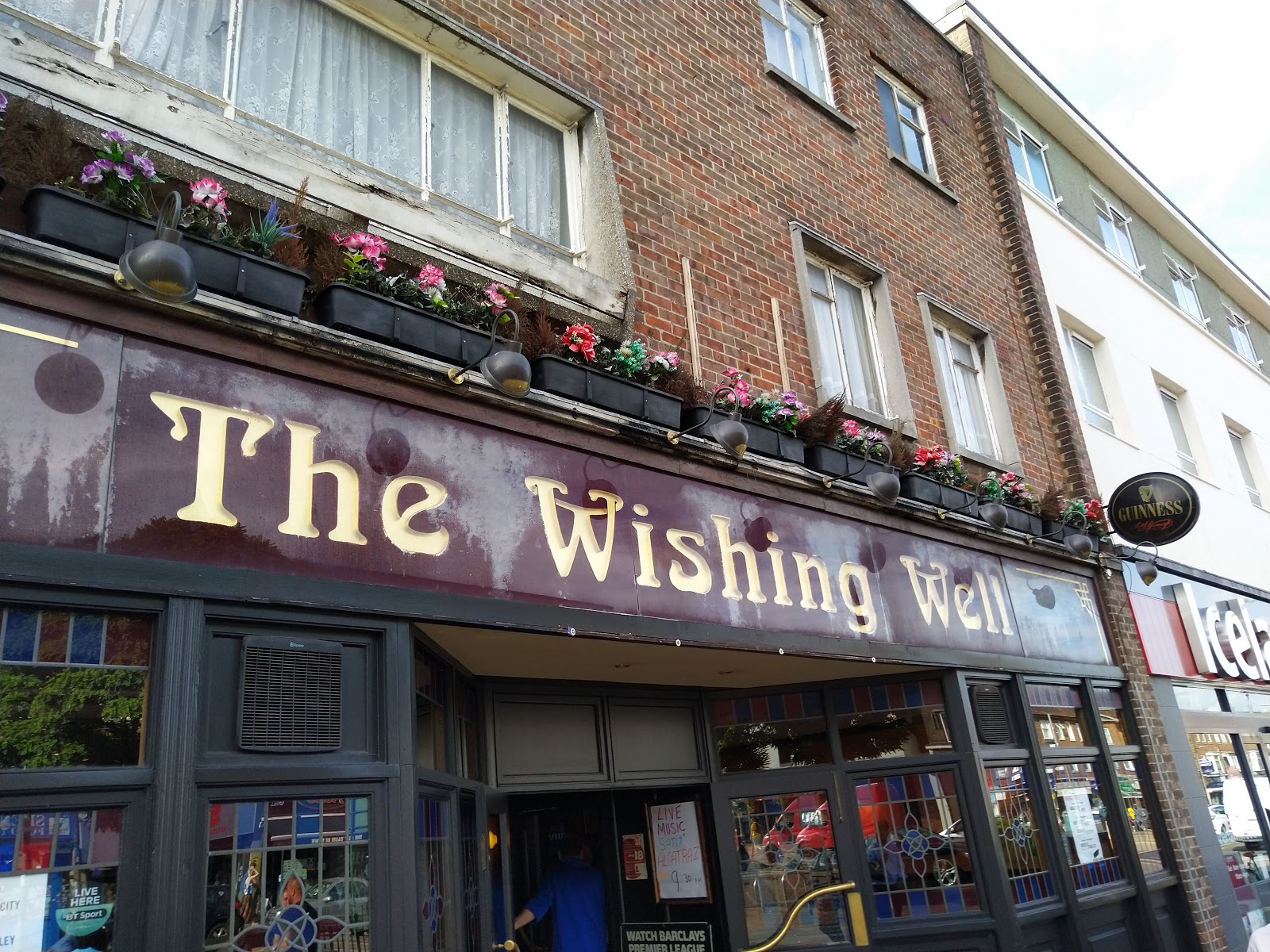 The luck of the Irish…
Duke
Att. 407