Before we get onto Dover let's take a step back and consider what a great start we've had to this season under the guidance of Matt Gray, his top team and the revitalised and younger squad of players that he has assembled.
I wasn't one of those weeping and wailing at events that shaped the dismal end of last season. Anyone who went away to today's visitors for the last game could see damn well that change had to come and quickly, that the ghosts of the past had to be laid truly to rest and everyone needed to move on sharpish. Fortunately the Board did just that, ignored the unnamed celebrity applicants and picked a solid geezer and proper football man to basically get on with the fucking job. Good work.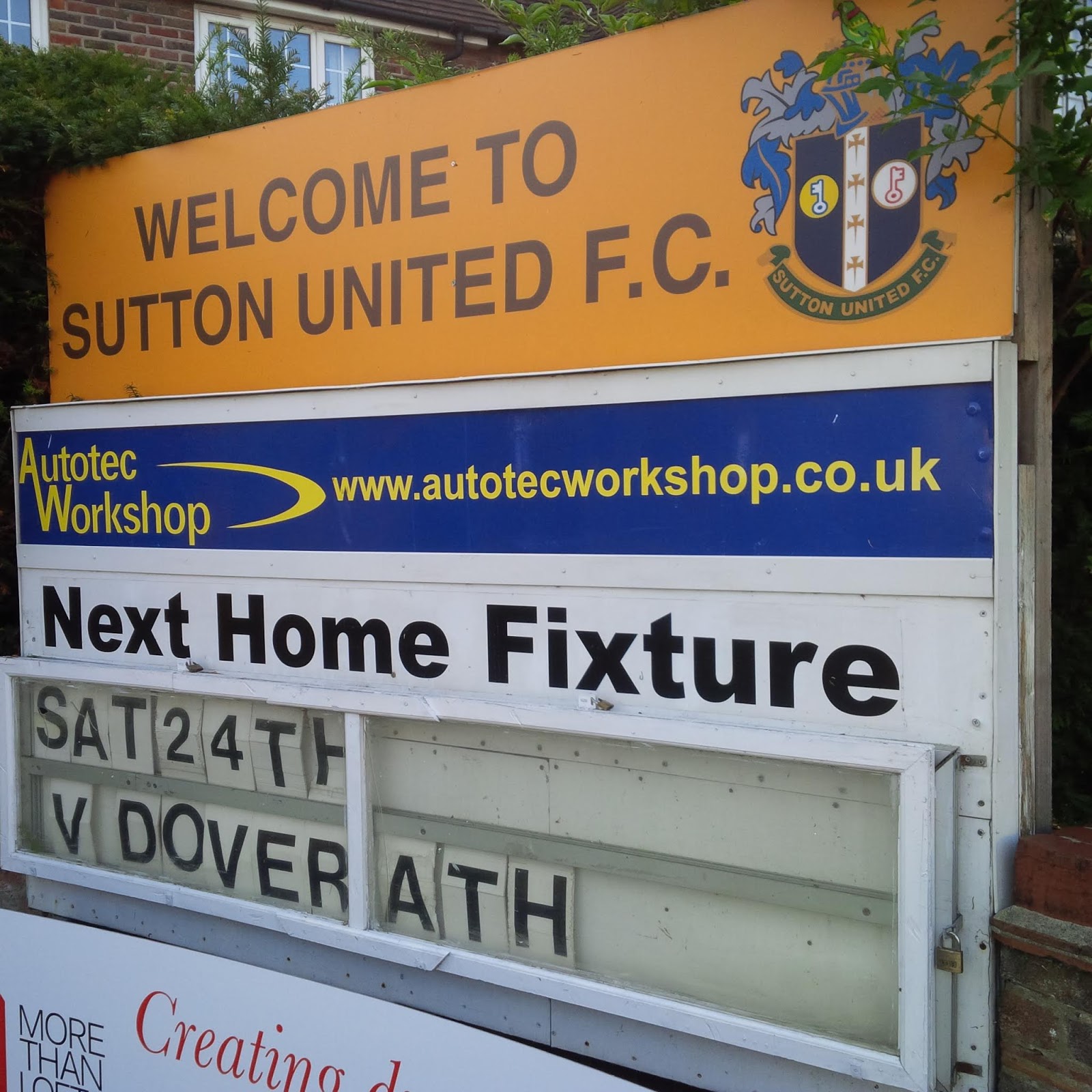 Advertising…
Now then, where was I, oh yes, the opening August salvo of fixtures. I'm going to shock you to the soles of your boots here – I enjoyed every fucking minute of the trip to Boreham Wood last Saturday and I'm not arsing about, I mean it maaan. From the Thameslink door to door, the pints in the very welcoming Alfred Arms, the sparring with the over-zealous stewards, the mocking of the arsehole of a club, the performance, Tommy's goal, the First Class journey home with cans and a seventies singalong – it was a belter from top to bottom. Which proves the old West Sutton proverb that happiness and enlightenment can often be found in the most unlikely of circumstances.
But this was no one afternoon stand my mates, no way Jose. This cracker of a result had some serious legs on it as we say in the trade. By Monday the Boredom Wood chairman had waded in, describing his own supporters and potential fans as "laughable" for failing to get behind a club that has rapidly progressed from National League to National Laughing Stock. Cue turmoil on social media, a torrent of home truths and unconstrained merriment on the streets of West Sutton that we managed to provoke such a meltdown.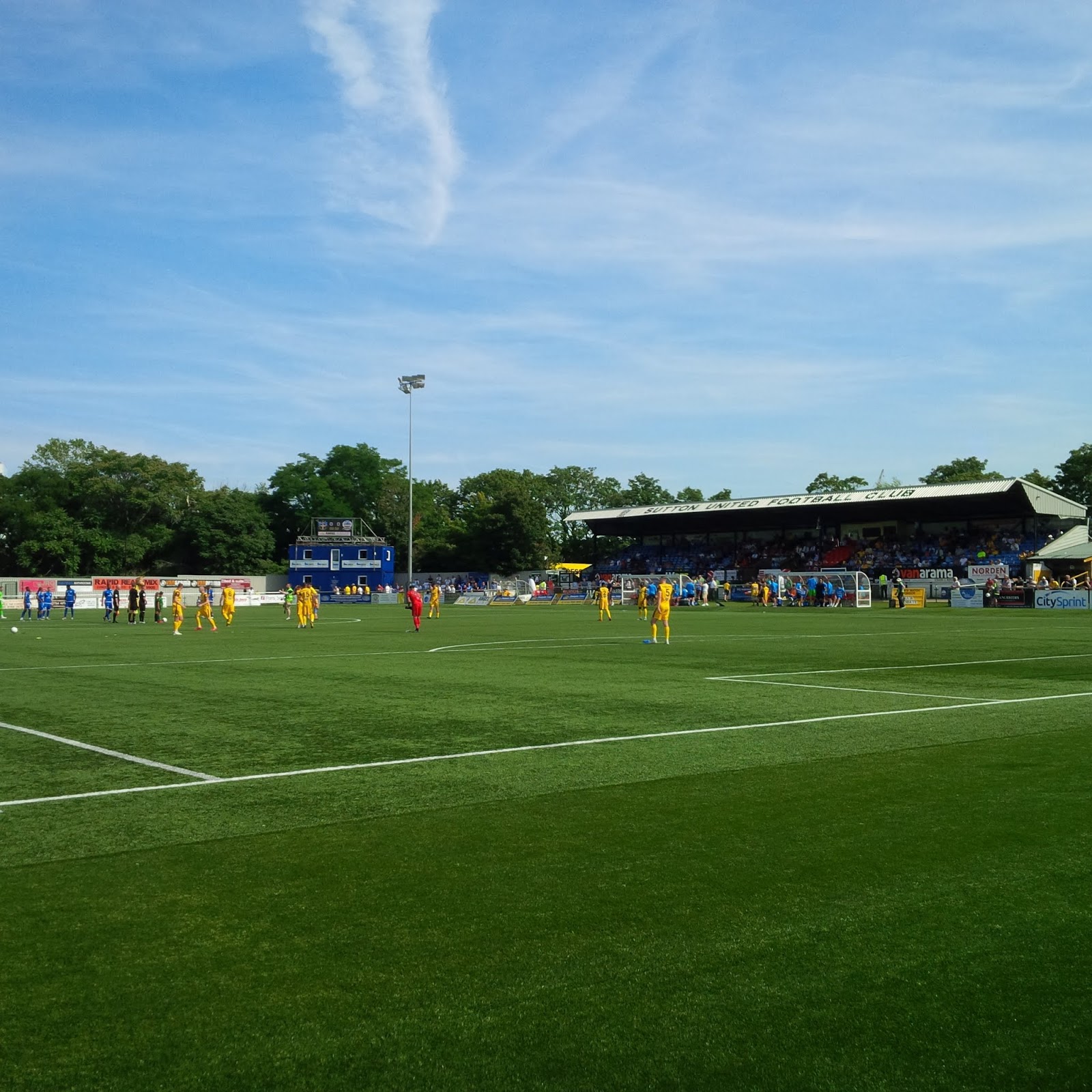 Ready for action
The day out up North to Pyongyang inspired us to pull our fingers out and firm up arrangements for the trip to Torquay in November where a joint COCs/DBDC firm are booked into a hotel that is not only a snip at thirty notes B&B with no dodgy sharing or bunk beds involved but also boasts the luxury of an OUTDOOR HEATED POOL for year round frolics and bollocks. Now you're talking. Dirty Barry is having a pool party – bring your vodka and your Radox. Sean The Ram has connections on the manor and has been delegated to find a bar that sells Estrella and hosts a seventies juke Box. We are so hot for this one that they will be able to unplug Torquay from the national grid for the night and run the town on pure PROWS testosterone. You won't to be able to miss us, we will be the passionate ones standing in the corner who can kill you with a wink of our eye. Oh yeah!
Alright, I'm getting a bit carried away here. Let me bring you back down to earth with some personal health news. Earlier this week I was alarmed to find that my right elbow had swollen up like a fucking balloon. It was giving me serious grief so I showed it to a nurse I happen to cohabit with. "That looks proper fucked, do you want anything from Tesco's?" So that was that. It's not getting any better and despite the on-line jibes from the Hackbridge WrongUn and Crooked Ces, with lurid comments relating to excessive self pleasuring, I am concerned if I'm honest.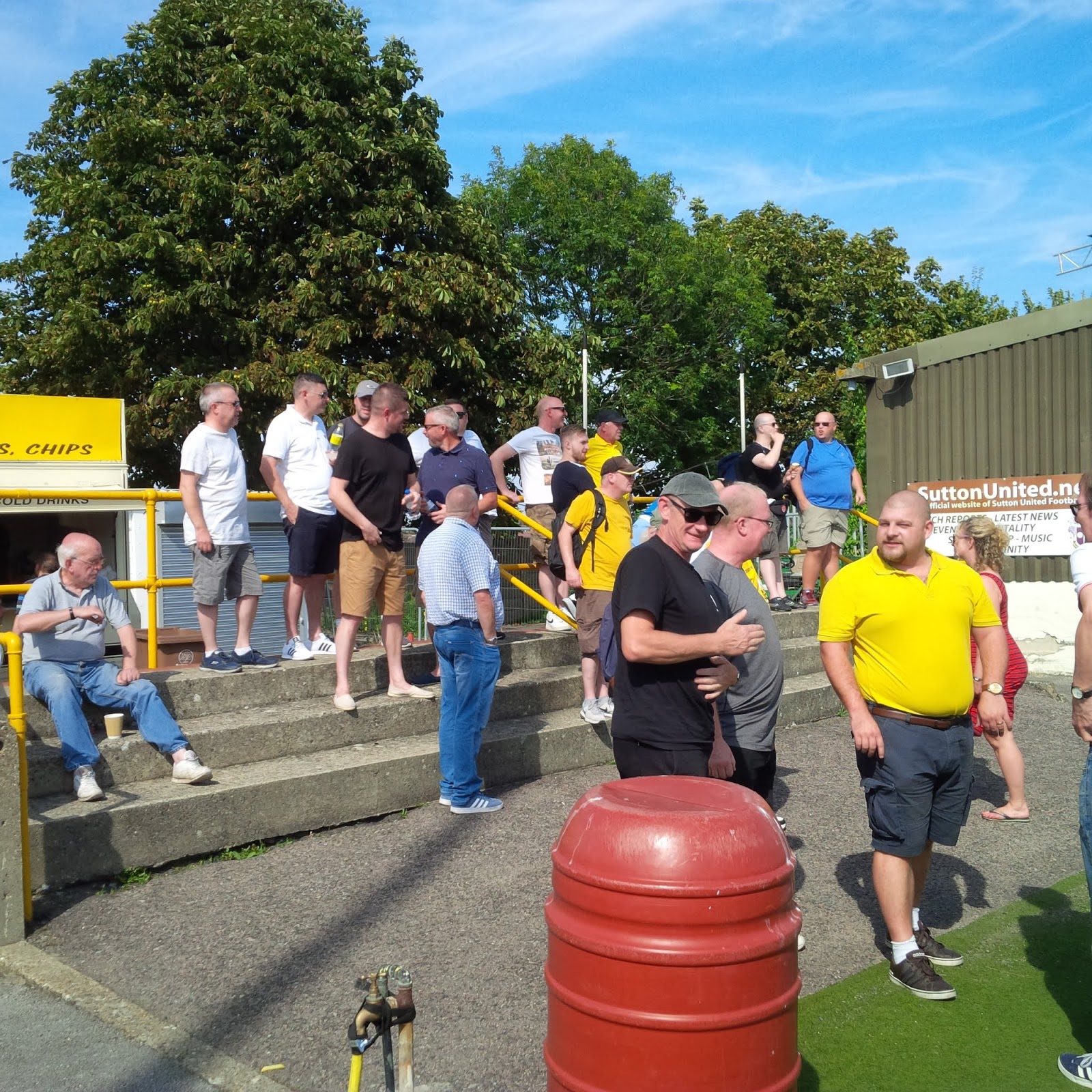 Basking in the sun.
Apparently it's Tennis Elbow. As I've never played fucking tennis in my life it's like getting an STD without having the sex or Housemaids Knee without having the housemaid. Possible surgery has been mentioned which has brought back grim memories of the last time I went under the knife at St Helier for the giant bollock removal (medical term – a hyrdocele) but like Arthur's operation on On The Buses I don't like to talk about it. Anyway, pray for my recovery or light a candle or something. I'm glad I've got Father Kev and his gang in my corner.
Despite my discomfort and pain I wasn't about to let that put me off my Friday night stride and the bonus eve-of-Dover FA Cup clash between Sutton Common Rovers and Eastbourne Town under the lights at the Lane of Lust. A few pints on a glorious evening in West Sutton mixed with some proper cup football has gotta be the perfect way to kick off a Bank Holiday Weekend and so it proved as Dazza's boys turned on the style and ran out comfortable three nil winners.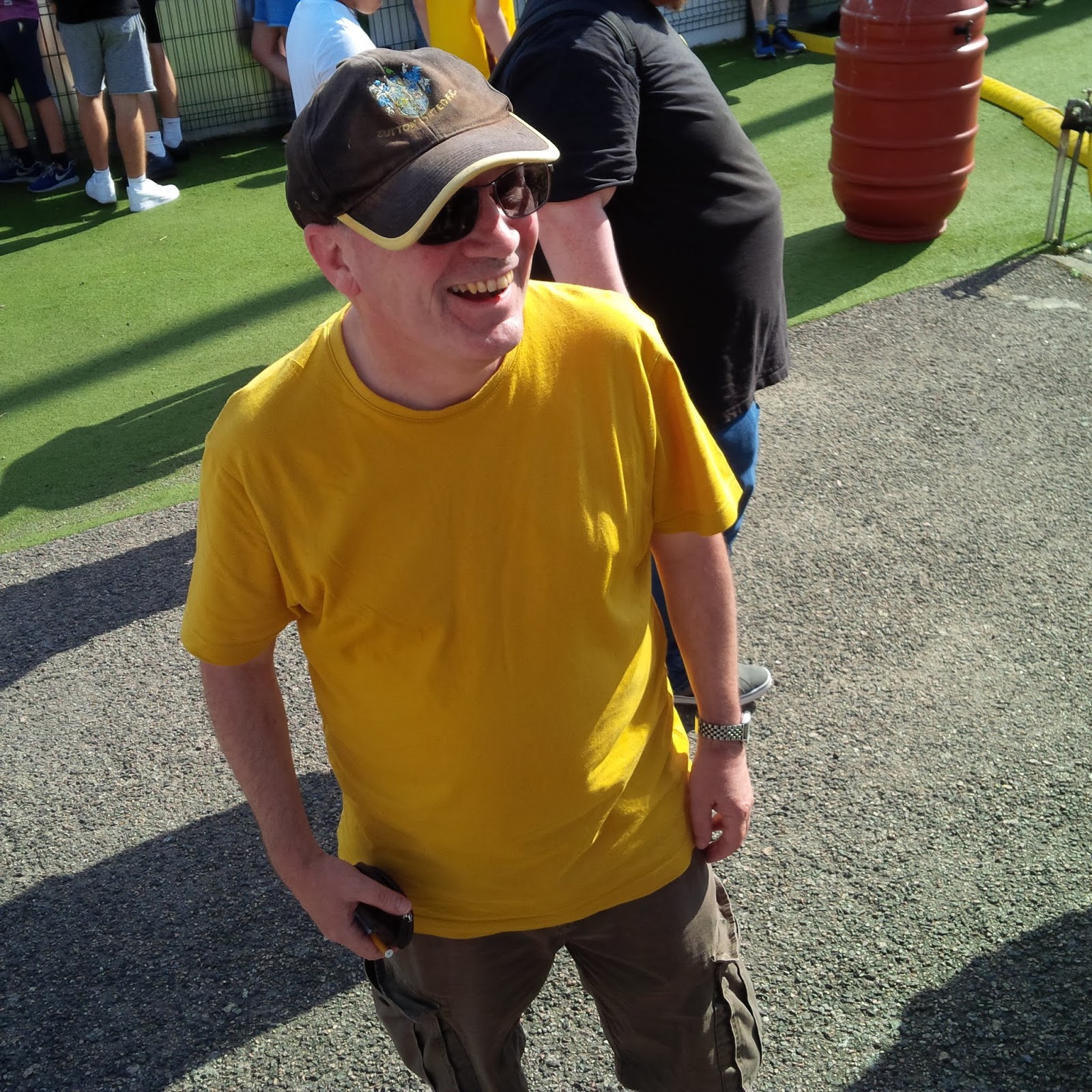 Frakey finds DILF bingo's customer services unhelpful once again…
It was a pleasure to meet the Beachy Head Ultras with their mad stickers and avant-garde politics and I was even pleased to see Magic Postie, Ant and Double H from Morden who were allowed to join us on the Shoebox for this one off occasion along with SCR stalwart Railway Bob and a welcome return to the spiritual home for Notorious MC. Back in the bar Big Malcolm, PROWS Head of Security, was keeping an eye out for smuggled booze, pyro and drums – sporting not just one pair of Larry Grayson style glasses round his neck on a chain but TWO! Nothing gets past this lad and his lenses. Fuck me, even Millzy had turned up to take the piss out of my slashed-to-the-naval shirt. If you've got it, flaunt it son. A cracking night all round. Now all we need is for SCR to pull K's at home out of the old ball bag on Monday and we can move into full on riot mode. Bring it on baby.
Saturday rolls around and I'm pumped for more fun in the sun. After a morning doing a bit of totting and working on some stock I pour a glass of Fino Sherry and a bowl of olives and salted cashews while I get myself sorted and in the groove. Arriving at GGL in good time I catch up with Taz and the rest of the Gandermonium groovy gang in the sweaty players bar before decamping illegally to the Vice Presidents Lounge to cop the remainder of the Norwich Chelsea game with the COCS. Before Silver Fox can feel my collar and issue me with an on the spot fine I melt away and head outside to the sun soaked beer garden/car park. DB arrives late with some bollocksy old tale about his truck getting locked in at the the gated senile sex cult community he inhabits and somehow I find myself holding two pints of Maltsmiths with only ten minutes to kick off. And down they go.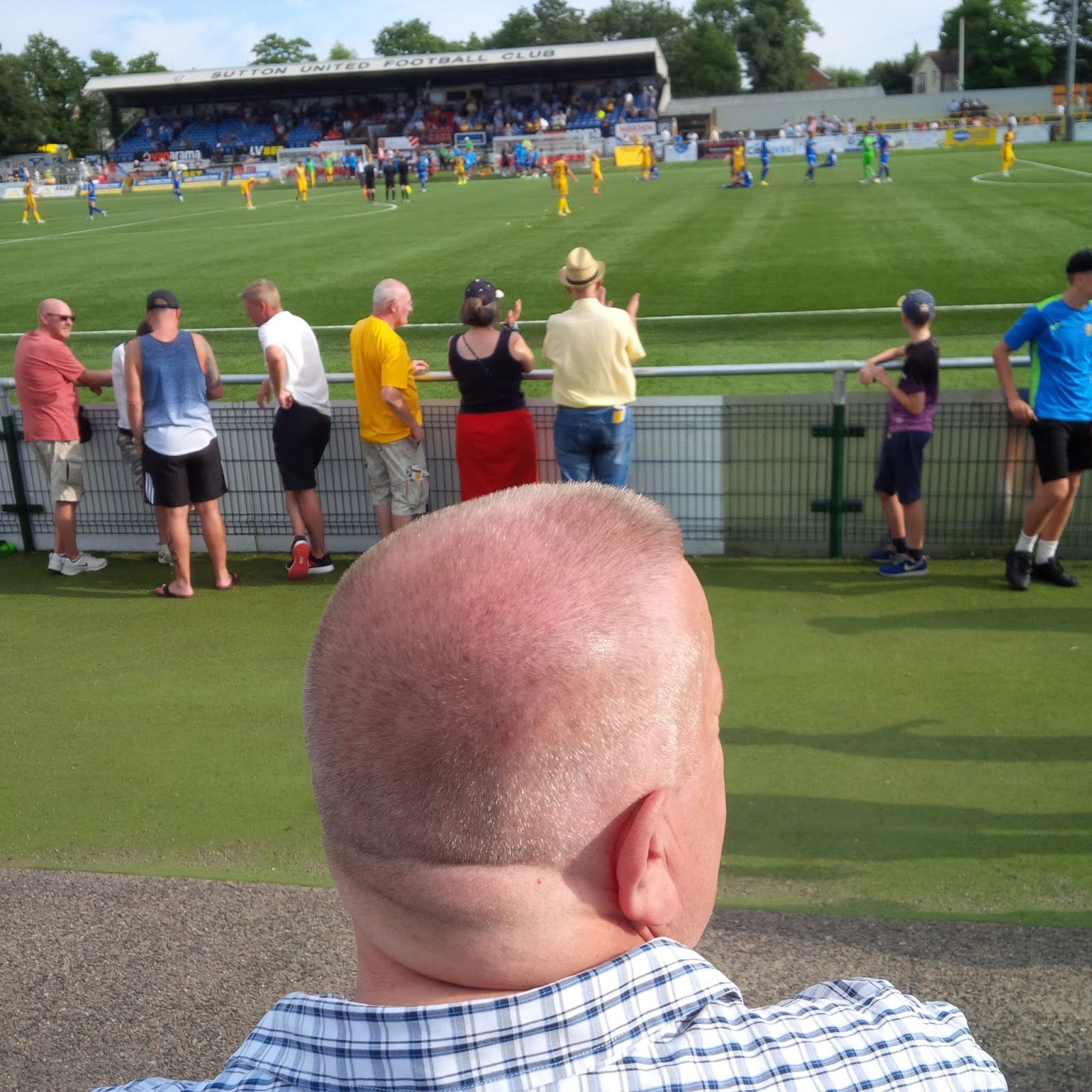 Watching
As a result of this panic drinking I miss out on the DILF Bingo but there's a reasonable turnout from the fellas and Hawksey hands me a comedy cigar he was given at a recent wedding that's roughly the size of an elephants dildo. It's not the only gift I'm going to get offered/lumbered with. Having been badly let down by the Chorley lot a couple of weeks ago Bacon pulls from his sweaty pocket a squashed packet of the towns "famous" cakes which are apparently "best served well buttered." Very much my fucking life story that one.
Butler, Bennett, Milsom, Eastmond, Goodliffe, Collins, Bolawinra, Davis, Bugiel, Beautyman, Ajiboye. SUBS: Dundas, Wright, Tuson-Firth, Matsuzaka, Jarvis
Out on the pitch it's good to see Beauts back after his injury scare and other than him coming in for Johnny Barden that is the only change from the starting line up at Boreham Wood. It's baking hot and this is going to be a real test for us as I really fancy Dover this season. They seem to have put together the sort of solid, physical, no thrills side that is always going to do well in the Bastard League. Think of Macclesfield a couple of years back. It ain't necessarily pretty but there are no extra points for style in this game.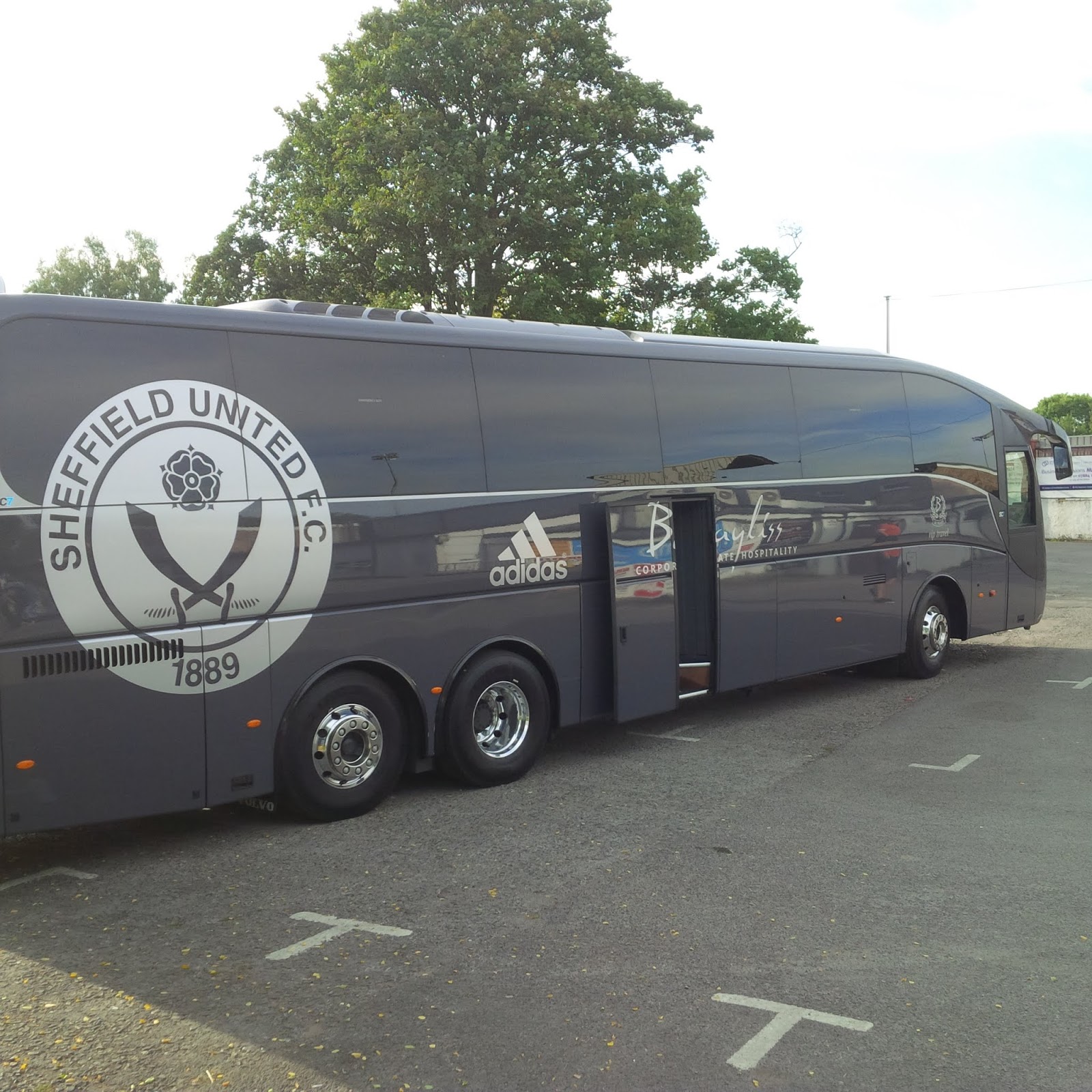 Erm….
So we're off and the early exchanges are tentative and the conditions are steamy and tropical. On ten minutes we go one down when what looks like a defensive mix up allows Ricky Modeste to get a clean connection as the ball is swung in and it sails past Jamie Butler. It's a blow but these are two well matched sides and Sutton strive to get themselves back on terms with Tombo a constant threat down the right. Harry and Omar both force saves from Worgan in the Dover goal but on the half hour it's our keeper who pretty much keeps us in the game with a quality piece of work. As we enter first half stoppage time we win a free kick on the edge of the box and with both skip and Milson lurking over the ball with intent it's JC who steps up and rams a shot straight into the top corner of the net. Belter and it sends us into the half time break with a sunny old smile of our boats.
Of course as the teams head back out what we don't need is Dover restoring their lead in the first few minutes leaving us chasing the game in the heat – and of course that's exactly what does happen as a good Sutton attack breaks down and we get mugged off on the break with a lobbed finish that caught Jamie B in no mans land. Bollocks. I've got no complaints about Dover sucking the pace out of the game as the heat combines to sap the energy out of our legs. It's an uphill task but we stick at it and the introduction of Tommy Wright and Jarvis up front livens it up a bit but losing Dale Bennet is a blow and means Tombo has to drop in at right back. We battle til the end but Dover run the clock down and are good value for the points. As I said they will do well and we shouldn't let this defeat take the gloss off a good solid start to the season.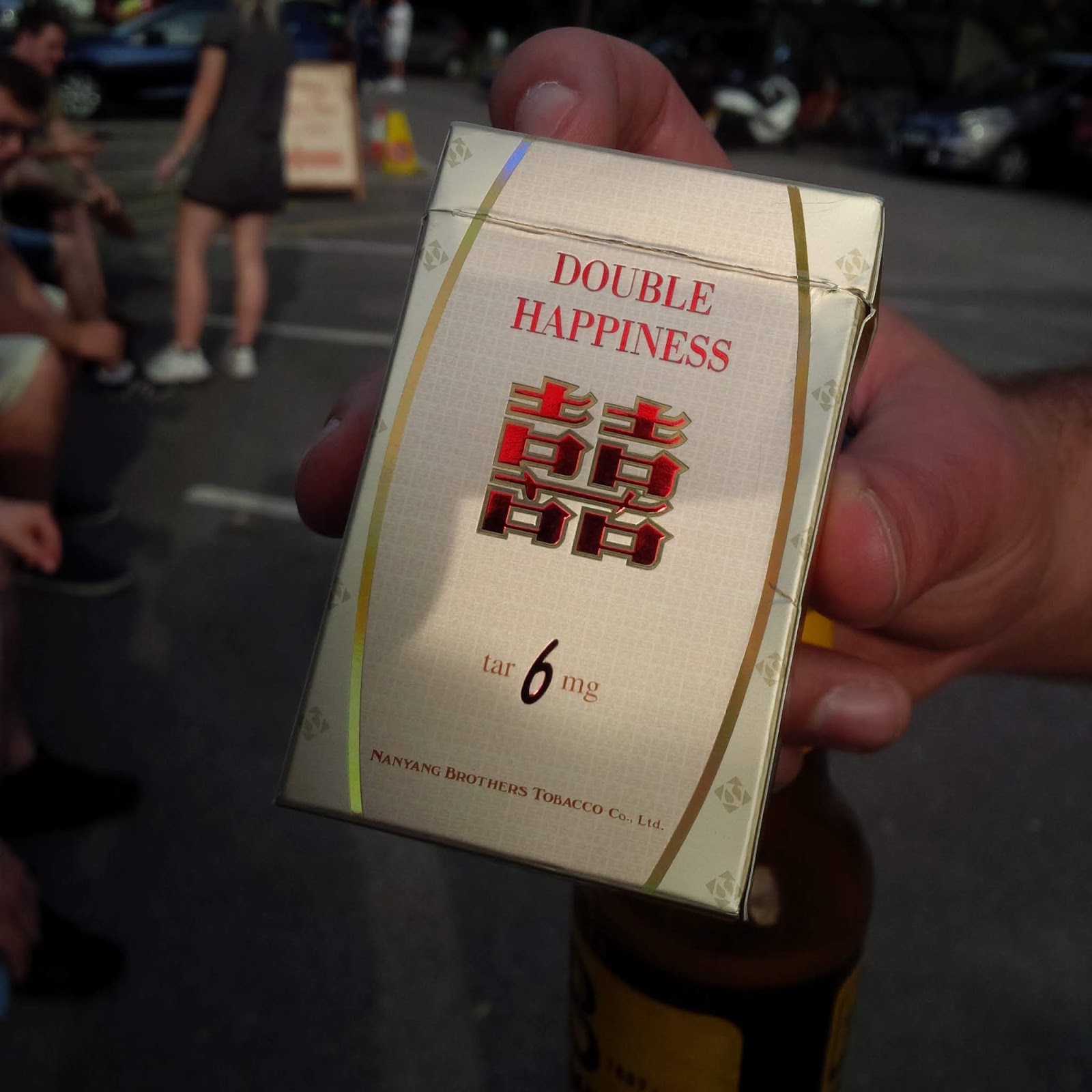 Moody fags….
One final point before we head off to the bar. There is a fine dividing line between Sexy Beast and Sexist Twat and the Dover lads who sang "get your tits out for the lads" to the Sutton physio while exposing their own wobbly man thruppenies are an irony free zone that some of their other supporters might want to explore in a bit more depth. I will just leave that thought with you.
Back in the bar it's rammers and me, Keepo and DB grab some drinks and head back outside where I'm perturbed to see the Sheffield United team coach filling up the car park – has it been stolen or is it on loan? Who knows, but it looks super luxurious. I had no intention of staying for more than a couple of liveners but things deteriorate very quickly. At one point Bobby Bollocks pulls up on his bike and is persuaded to stay for another drink and locks up his wheels and disappears into the bar only to emerge a few minutes later empty handed, announcing that he really does need to get home. Christ, I wish I'd displayed that kind of discipline as one for the road becomes half a dozen more, the seventies hits are located on Spotify, we have a nice old natter with Jamie Butler, examine Dukey's snide Chinese fags and who knows what else. My memory is hazy but I know I picked up some Chinese food on the by-pass before finally heading indoors.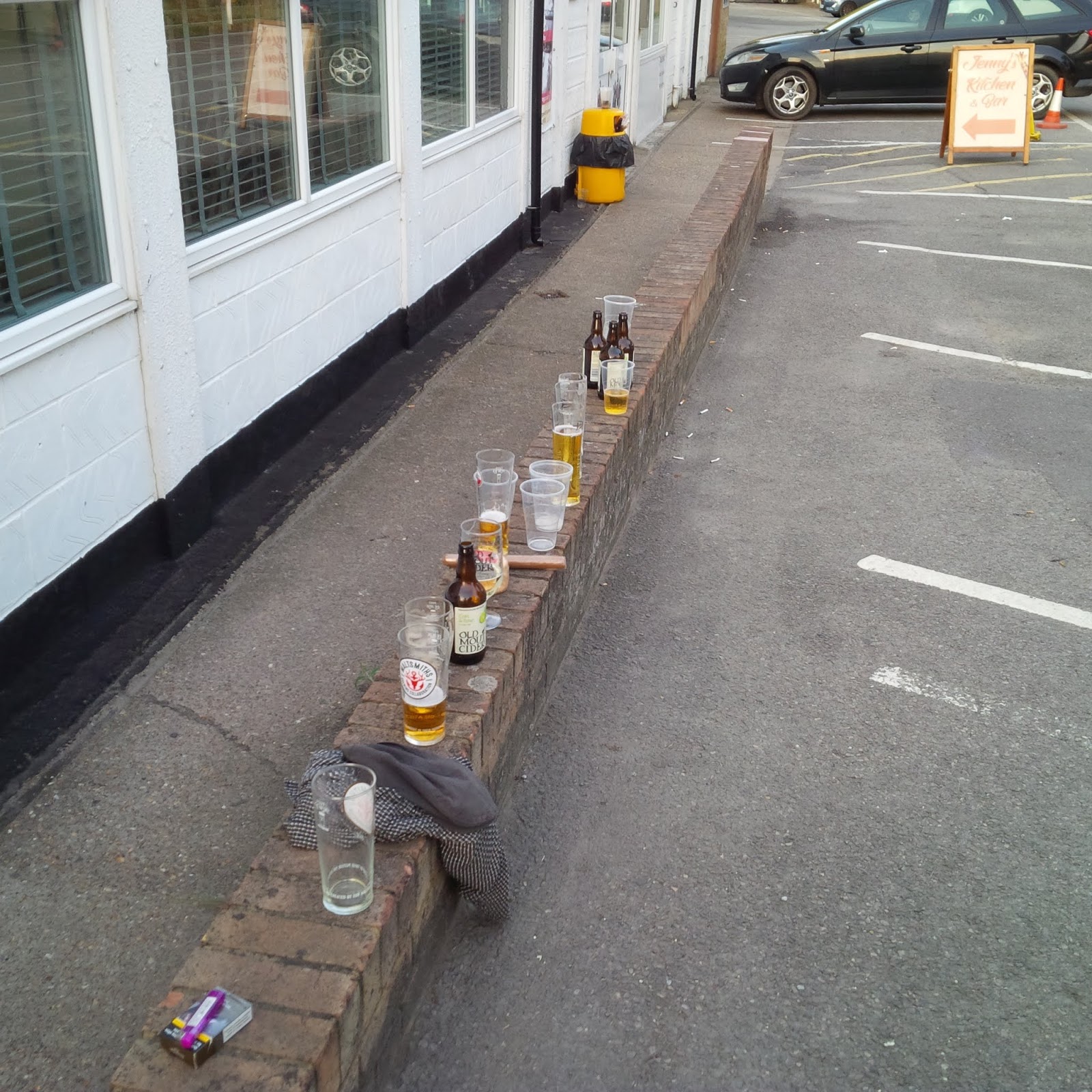 Beer terrace looking untidy
Aldershot next. 12.30 off of Cheam if you want a piece of the bank holiday action. Or we will see you in the Crimea.
Totts