It was hot. So damn hot. And were it not for a solitary tree to cover the 200 travelling supporters for most of the match, the day would've been a lot more uncomfortable than it turned out to be. And that's how the team played on this balmy Monday afternoon. But there is one question I would like to ask. Why do we not leave anyone up top when defending a set-piece? Still, could have been worse, we could have been knocked spark out by our own 'keeper.
So it's another Bank Holiday Weekend orgy of football for Sutton United fans. And after a 2-1 Defeat against a well-drilled Dover side that saw our unbeaten start of the season come to an end, there is no rest for the wicked as we're on the road once again. It's down to Hampshire to take on another bogey team in the current guise of Aldershot Town.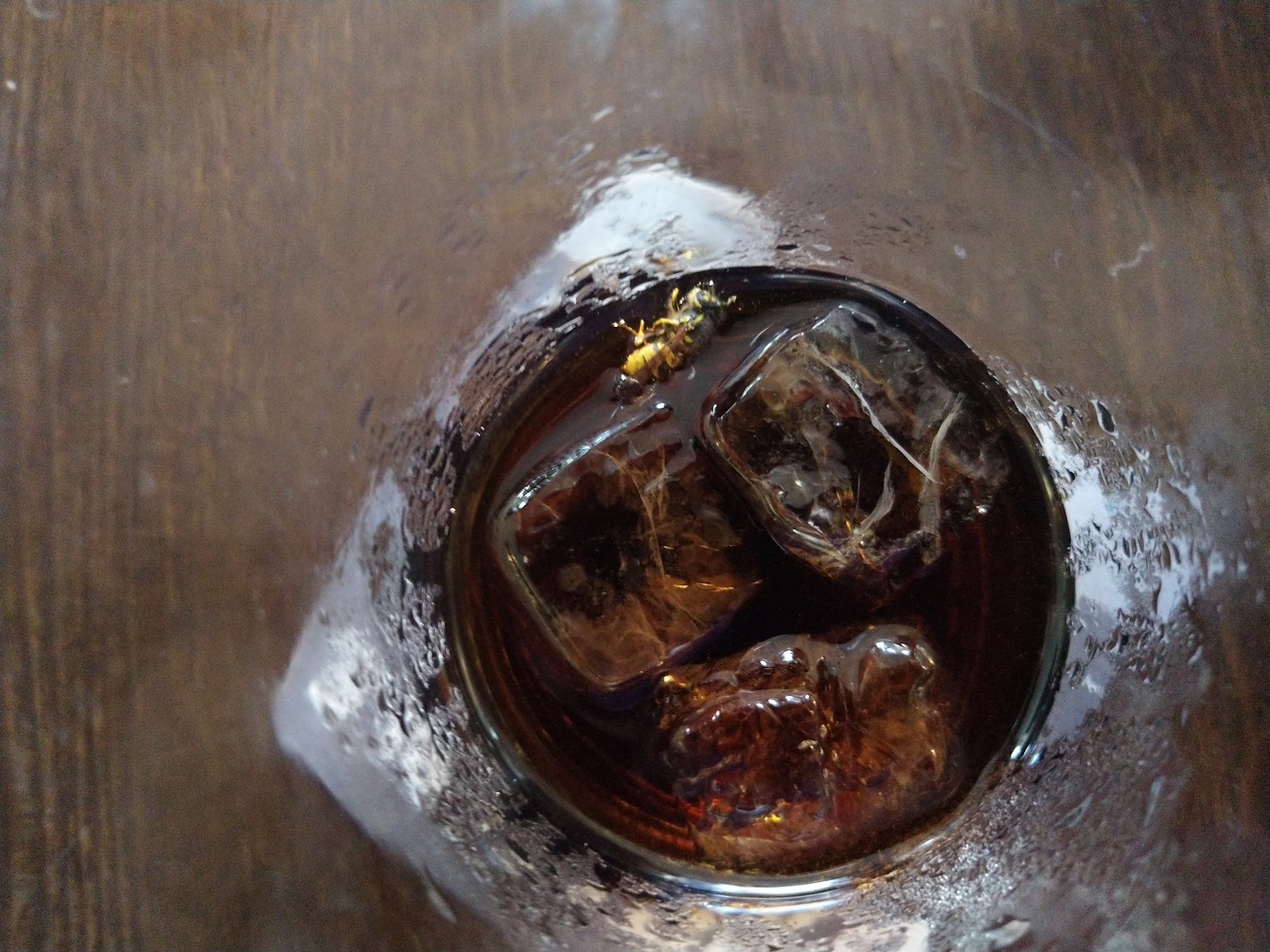 Breaststroke or doggy paddle? We can't tell….
The last time time we were down this part of the world was to witness a 2-1 Loss which was incidentally our first defeat of last season, also on the Bank Holiday Weekend. So you could imagine that our plan of action was going to be pretty the same this time round, the boozing I mean, not the fuckin' result! The only worry would be what time the pubs opened. Because you know that's the sort of thing that's important to all of us here at Gandermonium.
Bagging a lift with The Firm Leader to the station, we pass Magnum PI walking up to the road. We could've offered him a lift, but he was already close enough to the platform. So instead, one of us wound down the window to shout 'Wanker!' at him instead. Yes I know, very grown up of us. Taz would also eventually join us as we waited for the train that was delayed just enough to limit our time at Clapham. One of the reasons why we like a bit of a gap is so we can indulge in a spot of breakfast. Namely the £2.50 Bacon Roll and some rosie from one of the stands on top of the walkway.
Joined by Southampton Steve & Mr X at Surbiton, were soon on our way to Farnham for a couple of pints. But this was not before Taz managed to drop his tea on the floor. Naturally, half of it ended up on yours truly again! Trying to work out when it was the last time we'd won at The Rec, some think it might be a Ryman Charity Shield match, but Taz was sure it was on opening day even further back than that. We also couldn't help but reminiscence about a certain 5-0 Win that capped off a memorable season at the end of the last century.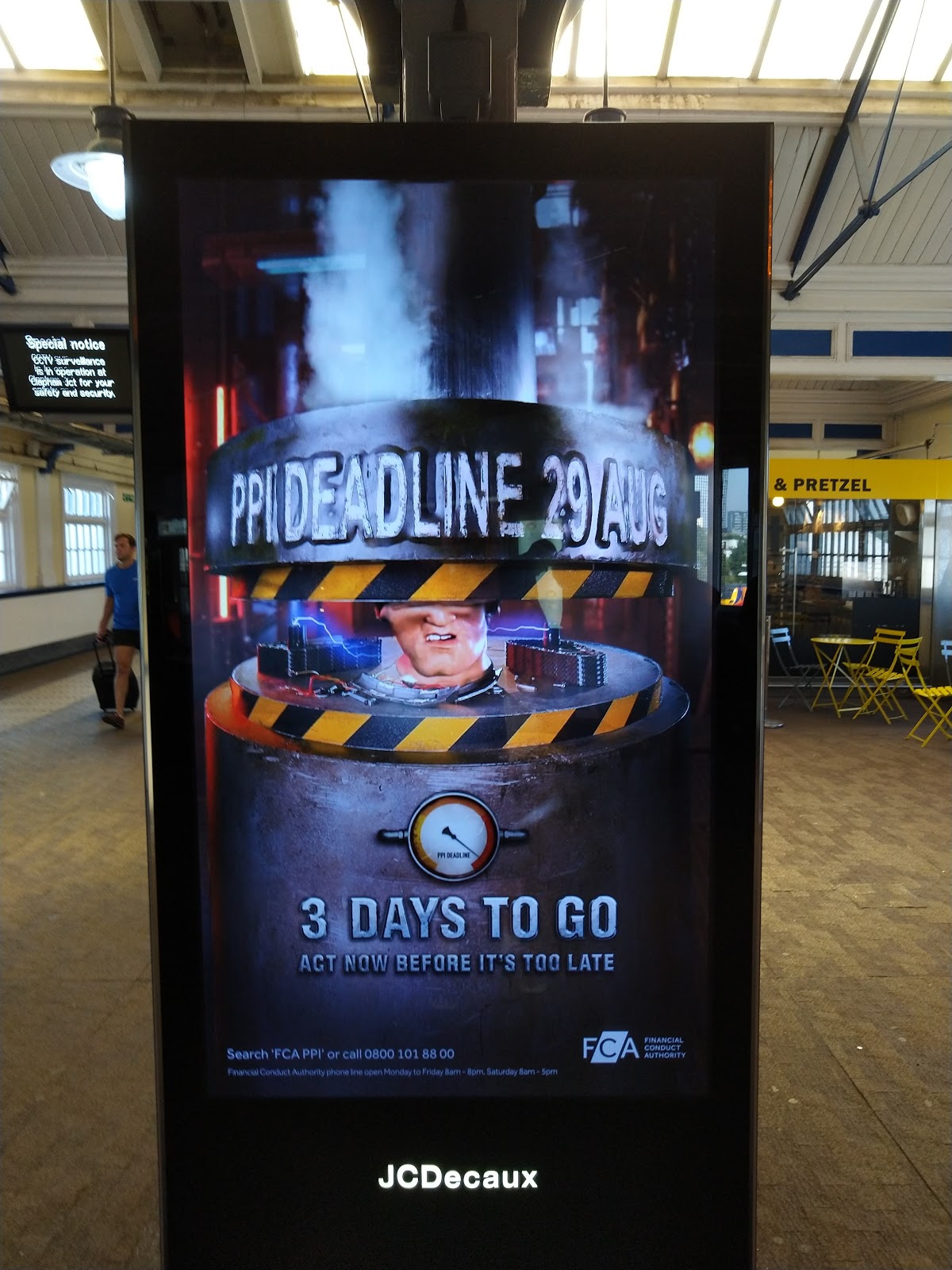 Thank fuck that's nearly over…
We arrive in a very sunny Farnham and head off to find an open pub. Stopping to withdraw funds we find "The Queens Head" is thankfully open as expected, so we head on inside. A bit pricey for my liking but somehow it turns out a few quid cheaper the second time around for the same drinks. Outside in the little courtyard and Southampton Steve is the first to show the signs of a little heat on the old bonce. Although this is apparently nothing compared to what 4 Days experienced the day before whilst he was playing a spot of Cricket. And he claims he wasn't drinking either! Here we discuss charming subjects such as death and how we'd misuse each other's ashes were any of us to outlive the dearly departed member.
Next on the list is to head to the Ronnie Corbett "William Cobbett", where we settle down for a few more beers. Thanks to Aldershot's own preview of the match, we find out rather early that the ref for today was going to be Alan Dale, which was nice to see him get some work after being Jim Robinson in Neighbours all those years ago. Next on the agenda for discussion is the costs involved in old age and dementia care. Spotted a pattern yet?
"The Lamb" was next where there seemed to be a lot of talk about trying work out whether it was possible to do a trademark Gandermonium Travels visit to Las Vegas to watch some football. Any excuse for us to get in a game. Seems that this could be doable, although the costs involved all sound a bit fuckin rich for my taste. We then finish up, well all of us except Steve who has a wasp take a bit of a swim in his vodka and walk back up to the station to get on the train back to Aldershot.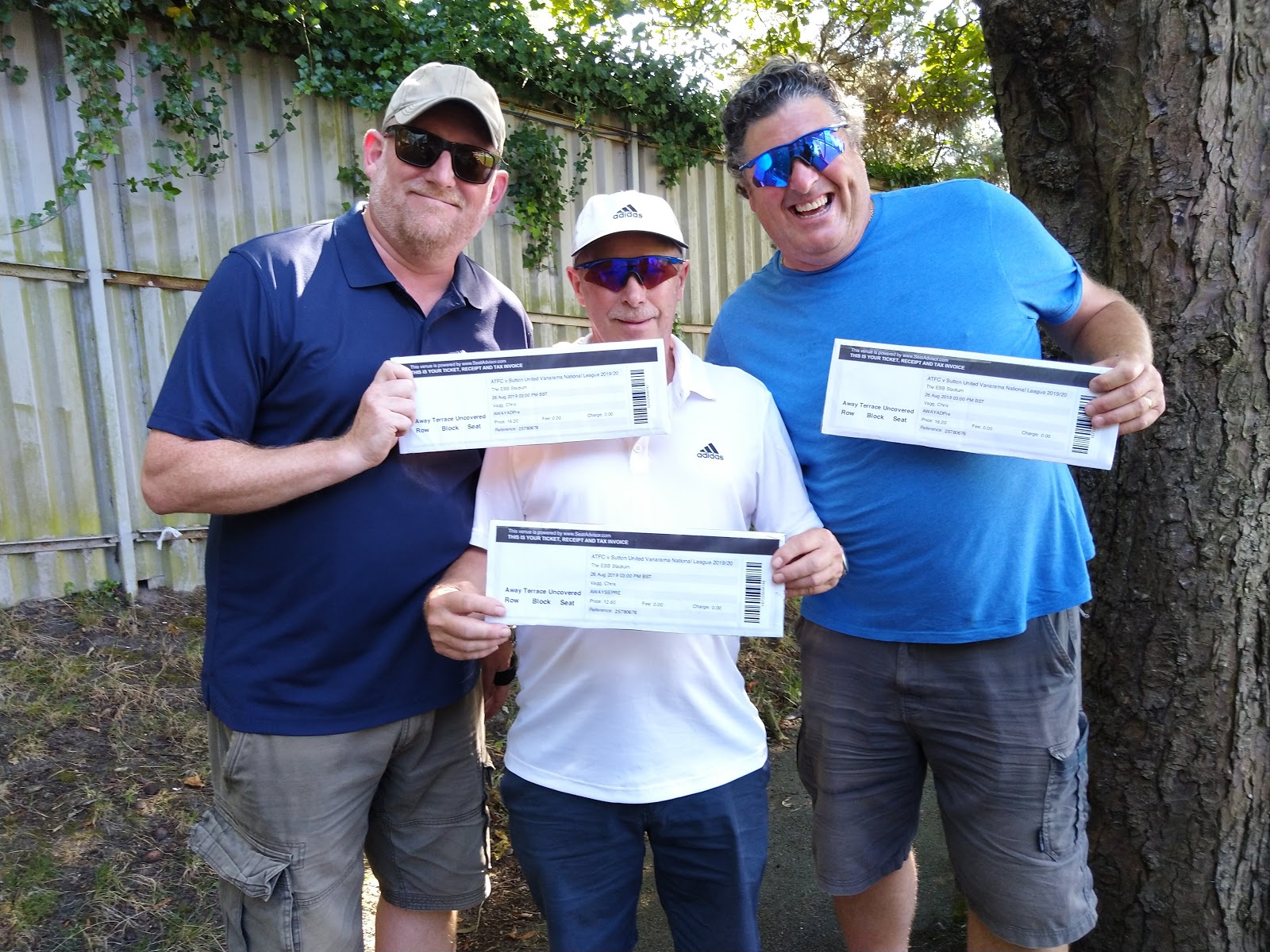 Modern tickets…
In Aldershot, it's a little walk down the hill towards the Rec ground. For the away support, like last year, you then have to hike around to the other end of the ground and up the hill, past a former pub that has now been converted into flats, you then have to walk through the wood through what must be prime dogging territory for old Dirty Barry, to get to the turnstiles. This would be an unfortunate spot for one member of the B-Team, as John decided to take a tumble and failed to make it to the match after copping a whack on the bonce. Get well soon fella.
Once we'd got in, we saw that last seasons port-a-loos had been removed and you could now use the toilets under the stand. Very civilised. But once again there was no access to bar. For the snack wagon on offer. the £2 for a bottle of water was a bit steep, the burger wasn't all that but apparent according to Taz, the 'burger' dog was more acceptable. I thought it looked more like a horses cock personally, but each to their own.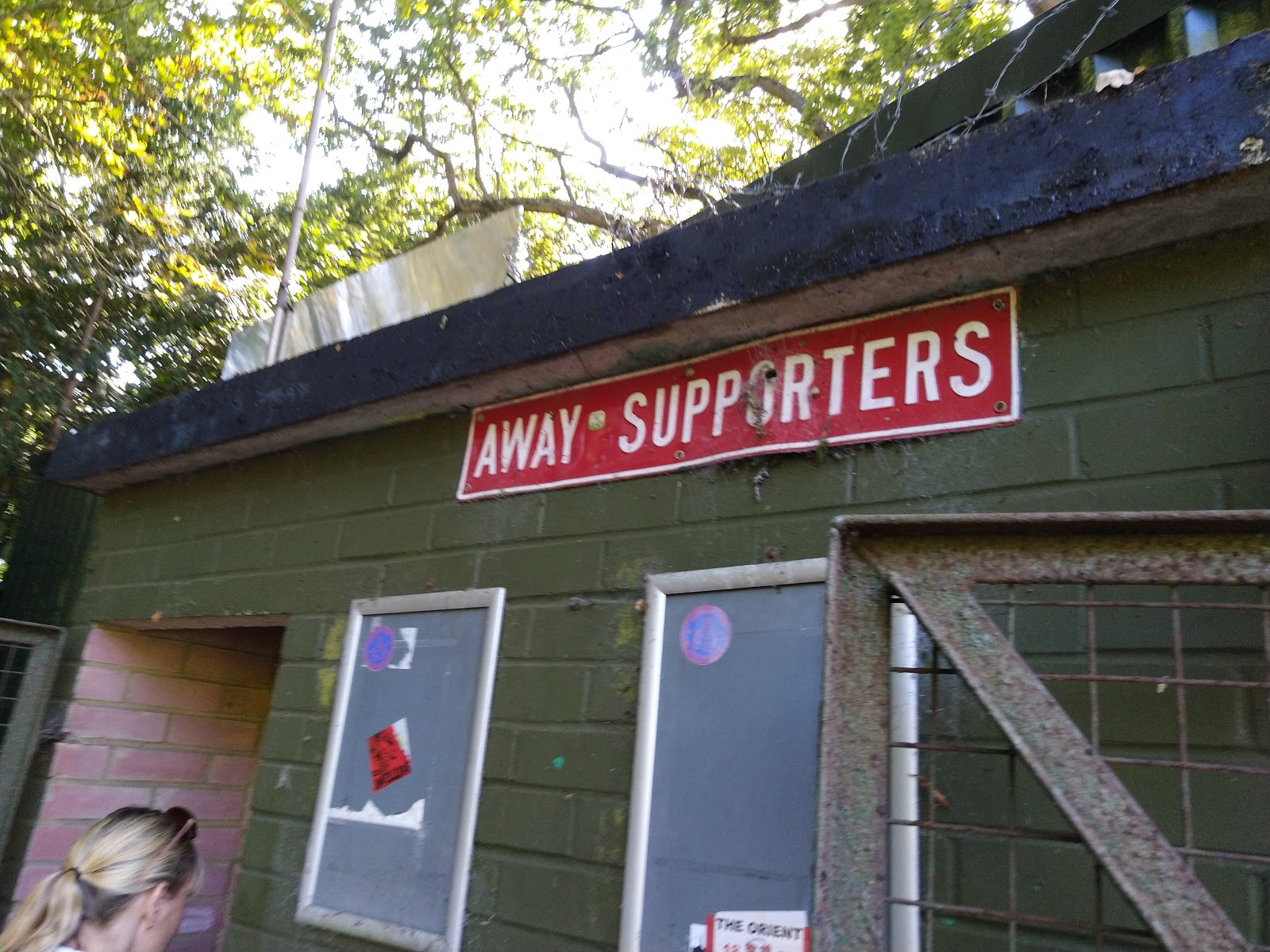 The right entrance…
Butler, Goodliffe, Bolarinwa, Davis, Beautyman, Eastmond, Ajiboye, Tuson-Firth, Milsom, Matsuzaka, Jarvis. Bench Warmers: Dudzinaki, Wright, Collins, Bugiel, Dundas.


With it being a very hot day, the second game in 3 days and having two teams that are not really playing loads of winning football at the moment, it was rather an annoyance to see Sutton play with one up top again and once more leave Jarvis rather unsupported. Aldershot had an early penalty shout when the ball clearly came off the arm of Milsom and out for a corner. How the linesman never saw it, I don't know. Then again, he did seem to miss quite a lot throughout the match. The first break in the match was when the ref called for a drinks break half way through. Davis would take a yellow card after Milsom failed to bring down the fella in the middle of the park and the ginger geezer has to do his dirty work for him.
Near the end of the half, there was a through ball that Top Knot was was chasing down with Shields that seemed to be heading towards an oncoming Butler. Buts must've thought so, as he called for it. , Top Knot however seemed unsure if it was going to reach, so attempted to shield the ball from, er, Shields. Unfortunately for him, Butler came through strong to clear it and catches catches Top Knot square in the jaw with his shoulder. And when you ain't expecting it, it hurts double. It also tends to knock you spark out. Top Knot would fall to the floor like a sack of spuds and his oppo Shields was the first one who noticed that he'd been knocked out like a Mike Tyson opponent. Fair play to him as he got him on his side and made sure he'd not swallowed his tongue. Soon enough, the physios are on and even the Home club doctor runs on to the pitch the see if he needed any help. No oxygen is administered as he's stretchered off but I can't see why he was taken off at the far corner of the ground only to be walked behind the stand to the other end for the ambulance
Shields is applauded for his actions by the Sutton support, although his booking minutes later lost a bit of support. Captain Collins is the man who comes onto replace Top Knot. Near the end of the ten minutes of injury time Eastmond would have a chance to take Sutton ahead but his attempt at lofting the ball over the Aldershot keeper from some way out looked a tired attempt.

Halftime…
Without the opportunity of a half time drink, the second half would soon kick off with Sutton shooting towards the end where we were being caged. There were no changes made at half time but one welcomed tactical change was to swap Dave & George on the wings. The second half was even more lacking in quality more than the first half though.
Very little seemed to happen with this Sutton team as the lone Jarvis still failed to get much support. With nearly twenty minutes to go, George was substituted for Wright, but for some reason, Wright was kept on the left wing. But everything changed in the last ten minutes as Jarvis attempted to get to a Bolarinwa cross. He was no where near connecting with it with his head, but this didn't stop the defender from being pulling him back. Penalty! Captain Collins stepped up and slotted it home. 1-0!
Now it was time for Sutton to defend their lead and Eastmond was lucky to not receive a yellow for a blatant shirt pull. Shields would also get away with a similar offence which would have seen him off early, but he's subbed soon after. Dundas would come on for Ajiboye. In the dying moments of the match, Aldershot finally get their equaliser. It's no surprise as it's another set piece that Sutton fail to deal with. And with nothing to aim at up the park Jarvis tries to think about what to do with the ball and is caught in possession rather than cearing. Not too sure who slipped it in but there is a bit of a scramble, ball is in the net and then the home support celebrate. Bollocks! The game doesn't last much longer than that and its all over.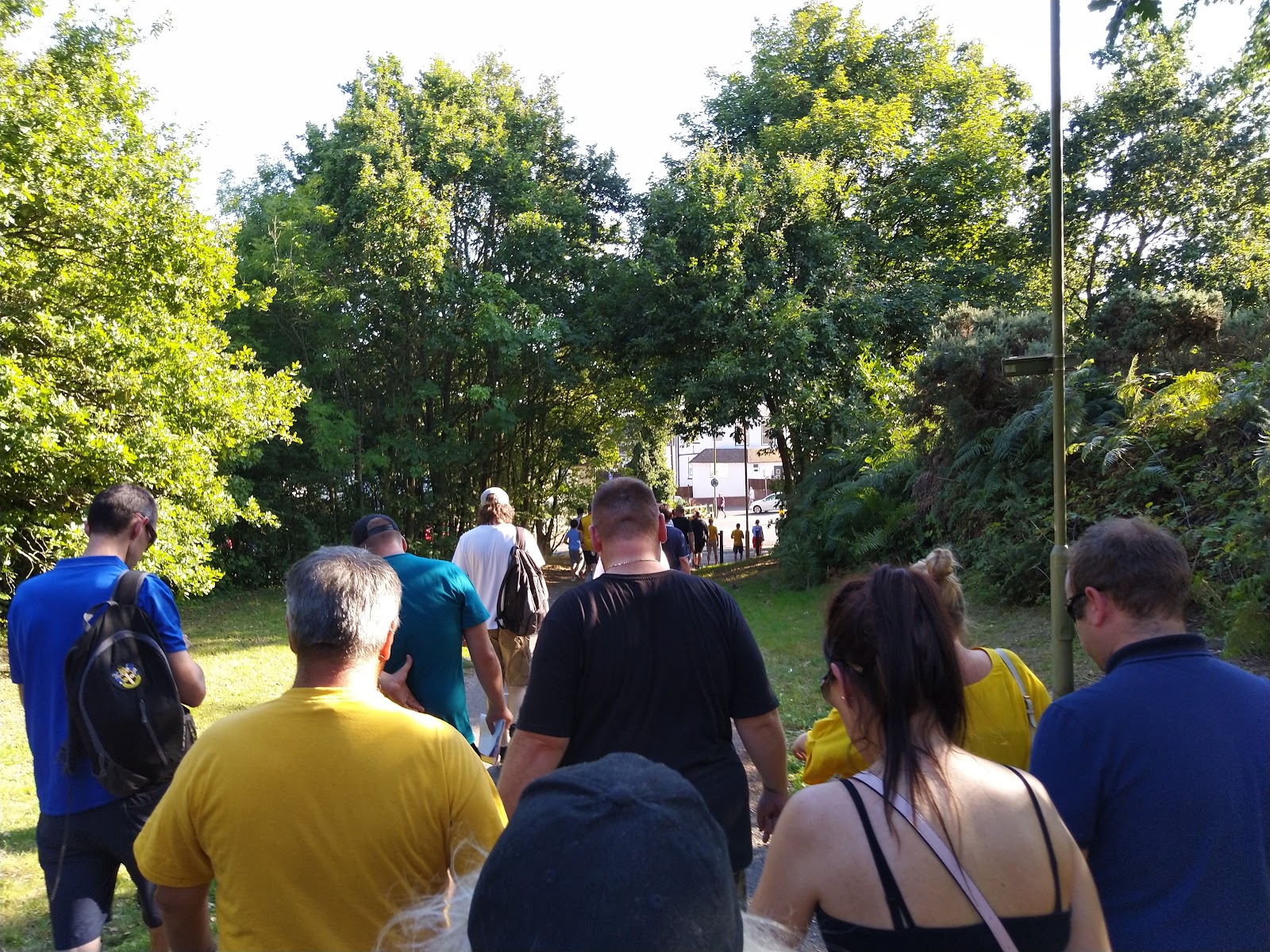 The walk back…
After the match and it's time to make tracks. Once again, we're up and down the mountain as we head back towards the station. There was plenty of talk about what we'd just witnessed. For me, it was of slight disappointment. I think I'd rather have had a 0-0 than how it all panned out. But once we'd snatched the lead so late, it was very annoying to concede even fuckin' later on. Especially when you think you know what the faults are with the side currently.
There was a bit of debate as to what train we were going to get but the Guildford train won over and it was on this that we departed Hampshire. In Guildford, and it would've been rude if we didn't partake in a quick pint in the local 'Spoons. There were also a couple of Aldershot fans that joined us and were surprised that their own season tickets, being nearly £350 were considerably more than ours. But I think they were more surprised to hear Mr X's version of what Shields did to help out old Top Knot. "He stuck his tongue down his throat". Hmm…
On the train from Guildford to Dorking Deepdene the conversations turn back to a chat that Dr Bell had with Magnum PI earlier on. Turns out that back in the day, the lil' town of Westerham in Kent was the place to be for what the cool kids at the time called a 'Dinner and Dance' type affair. And they assured me that it wasn't Darby & Joan Club either. Anyway, it seems Westerham isn't the place to go no more. Well at least not since Hitler invaded Poland at least and all the GI's moved in with their nylons and chocolate….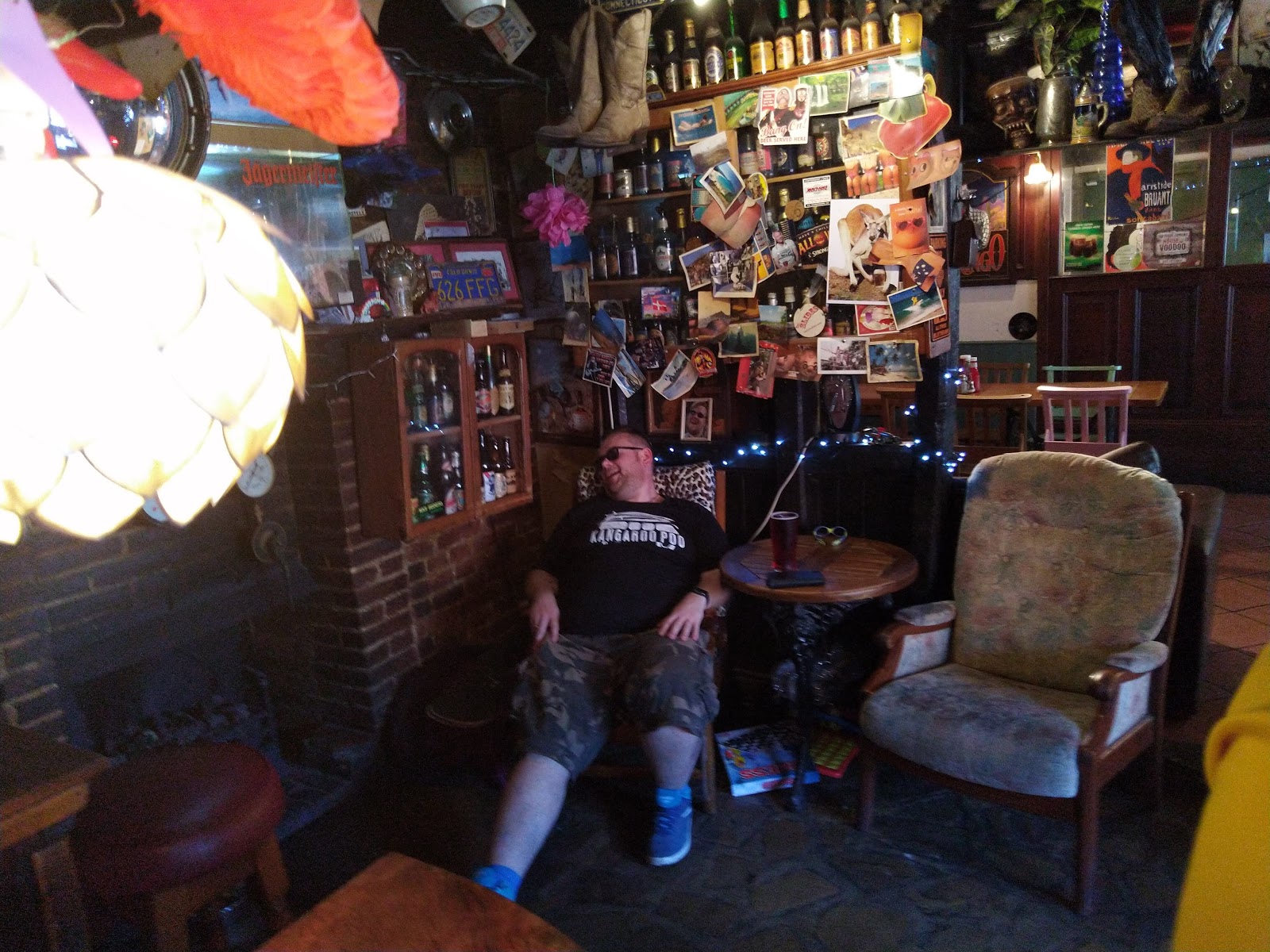 Someone's comfortable…
We also found out that within our Firm is probably the only person to ever commute to the village of Chilworth for work. Who the fuck would work there? Is he a closet farmer? At Dorking Deepdene we say goodbye to the Croydon bound boys at they were going via Gatwick Airport back to the smoke. At Dorking it's another train ride that eventually had us discussing the wonder that is the awards for people in the packaging industry. Surprisingly called the 'Sammi's' after the sandwich side of the packaging industry, my suggestion of something more wider yet similar was quickly and nervously laughed off by the others.
So the Bank Holiday is over, and we return to normality. We may have only managed a point over the two games but that's now ten points out of seven matches, so it's a start. It's Maidenhead at home this Saturday, so lets hope that the other bogey team in our locker doesn't come back to bite us in the arse again as September isn't exactly an easy month for us either. Enjoy!
Duke
Att. 1662