As I'm now at that age where I'm past caring about haircuts, grooming etc and starting to have to lift up my glasses and hold mobile devices closer to the old boat so I can see what the fuck I'm looking at, I'm also finding myself getting sucked into what can only be described as a Totts-esque world of nostalgia and local history.
So it was whilst I was passing my lunch hour at work on Friday that a little snippet piqued my interest in an excellent piece on the FA Cup Fact File site about the clubs that took part in the 1939-40 FA Cup Extra Preliminary round the day after Hitler's forces invaded Poland and the say before the UK and France declared war in response.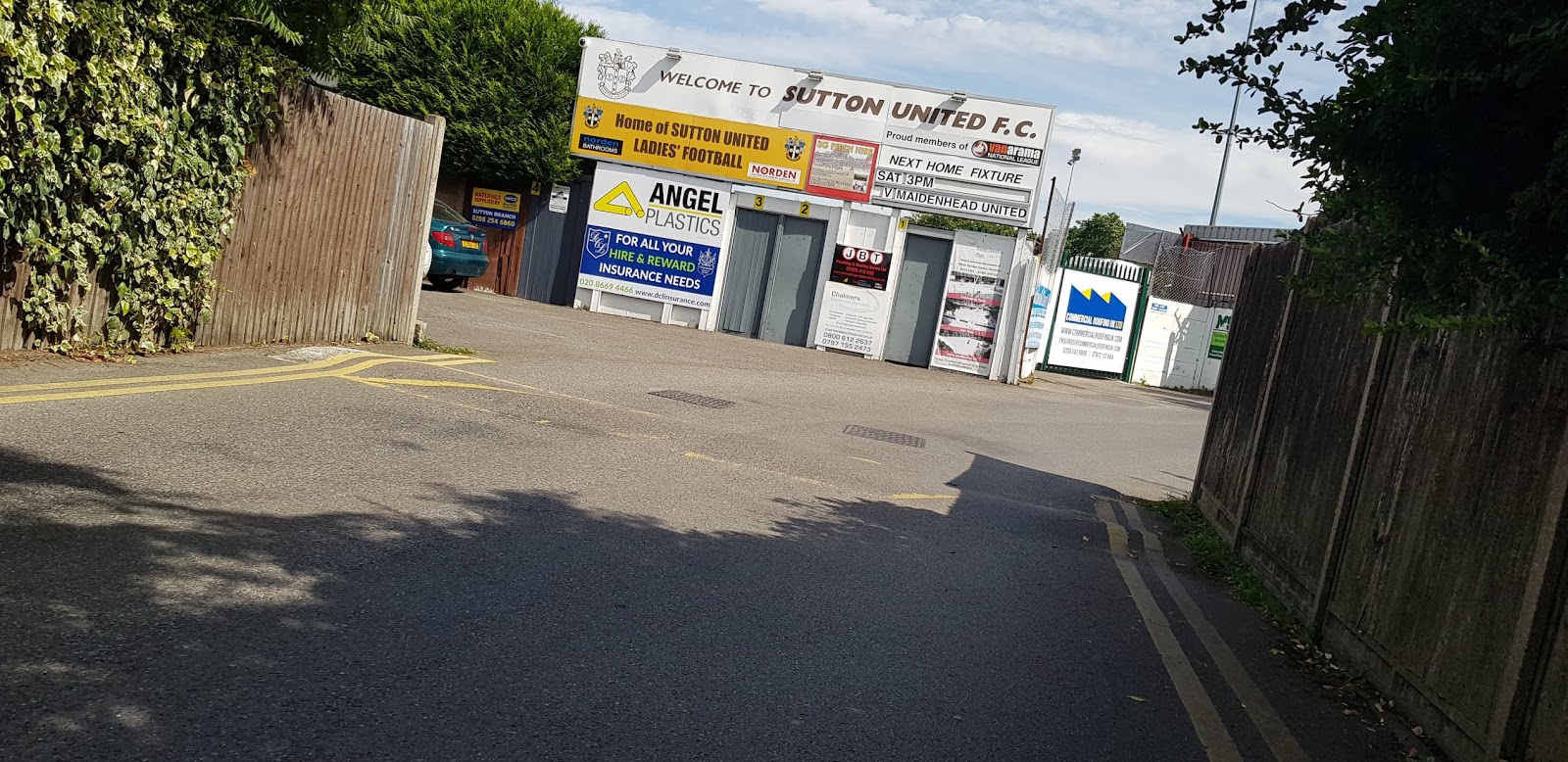 Jaunty angle…
The article focused on all these small, Amateur outfits that began their cup adventures on that Saturday between those two huge, world changing events, none of them of course knowing of the 6 years of conflict that lay ahead and would almost certainly cost the lives of at least a few of the lads taking part in those matches for a lot of clubs would never feature in the competition again after that day nor seemingly in any sort of action again once hostilities were over. Of course, a few names mentioned were familiar to me, with the likes of Wealdstone, Bishop's Stortford and even today's National League oppo Maidenhead United featuring (now how's THAT for a bit of link work eh?), but it was the not so familiar names that of course catch the eye more. I mean, who on earth wouldn't want to go back 70 years to witness the wonders of Osberton Radiator v Pressed Steel in an 8 goal cracker? 5-3 away win in case you were wondering.
One name that did jump out however was that of Post Office Engineers. Now, that in itself isn't exactly what you'd call a mind blowing moniker, I'll admit. "Big deal Taz, so the Post Office Engineers had a team, get over it pal!". However, the fact that this side were based out of Wallington, here in our very own London Borough of Sutton, is what really drew me in as I've lived round here for pretty much my whole life so far and have played a fair bit of football in the area, but this is the first time I've ever heard of this outfit. I mean, where did they play for starters? What were their colours? Where they any good?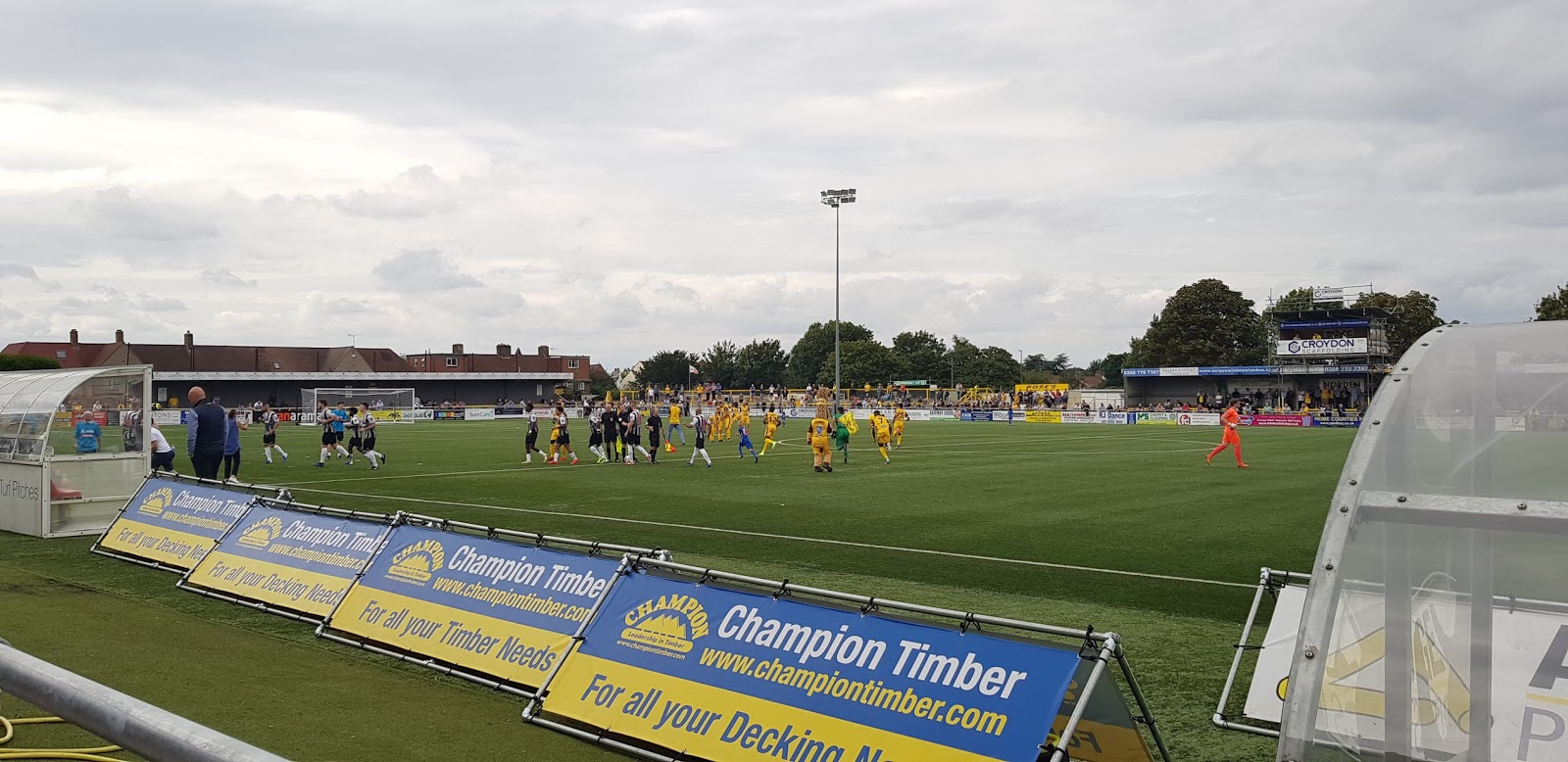 Ready to go…
The latter question is at least reasonably answered by the aformentioned article as they got pumped 5-0 at Camberly & Yorktown (the club that we now know today as our SSC nemesis, Camberly Town). Fortunately for them, the outbreak of war saw the competition cancelled so the result never stood. Their luck wasn't in however, as they got turned over by the same score in the 46/47 comp away at Vickers Armstrong. With my lunch up however, I parked this for later Googling and instead put out a little bit of tweetage from Gandermonium on the subject. This of course triggered a response from some of our older heads and before long Mangum PI reckoned they'd played on one of the many sports grounds down from Mollison Drive heading in towards Beddington. And a quick Google later revealed he was right. This image popping up of them playing on the old BT Ground (now the 'Cricket 4 Change' centre) next to the rail line as you hed into Plough Lane. It's a ground I know well, having played there many times on Sunday morning as a lad. The best bit about all this? Mangum's tracked it all down and I've not had to lob up his customary £199+vat finders fee! Which is a touch. Regardless, I'm now hooked on this subject so if anyone out there knows anything on them, drop us a line. I'd love to hear more! Who knows, if we can get enough gubbins together, maybe we can do a little bit on 'em like Totts did with Banstead Mental Hospital?
So, I think that's enough filler with an extremely tenuous link to todays oppo. We should probably move on to the usual old cobblers you'd expect from this online publication.
As is the case with a Saturday home game, it's the usual routine at HQ. Enjoying a lie in as I'm not off to god knows where up North today and then heading out for the bus into town. But first, I have a small diversion to make to deliver some tat that was purchased online from the site. With the merchandise delivered, the routine resumes and it's off to GGL via the High Street, an ATM and Greggs. As I walk up the driveway I find Yoof Firm member Ryan on traffic duty. He's clearly had a promotion as well, as he's holding what looks to be a clipboard! "Yeah, but it's been made out of an old fucking ad hoarding though!" is his response to my comment on this. It's called recycling mate. It's all the rage these days. Into the bar and it's strangely quiet with only Mr X currently propping up the bar and the Burgers clan sat nearby. I'm surprised by this lack of attendance particulary considering I'm still holding 40 sovs from Monday's awayday whip. And I'd freely advertised the fact on the top secret, VIP, members only, invitational Whatsapp thing earlier today. Oh well, would you like a pint Mr X?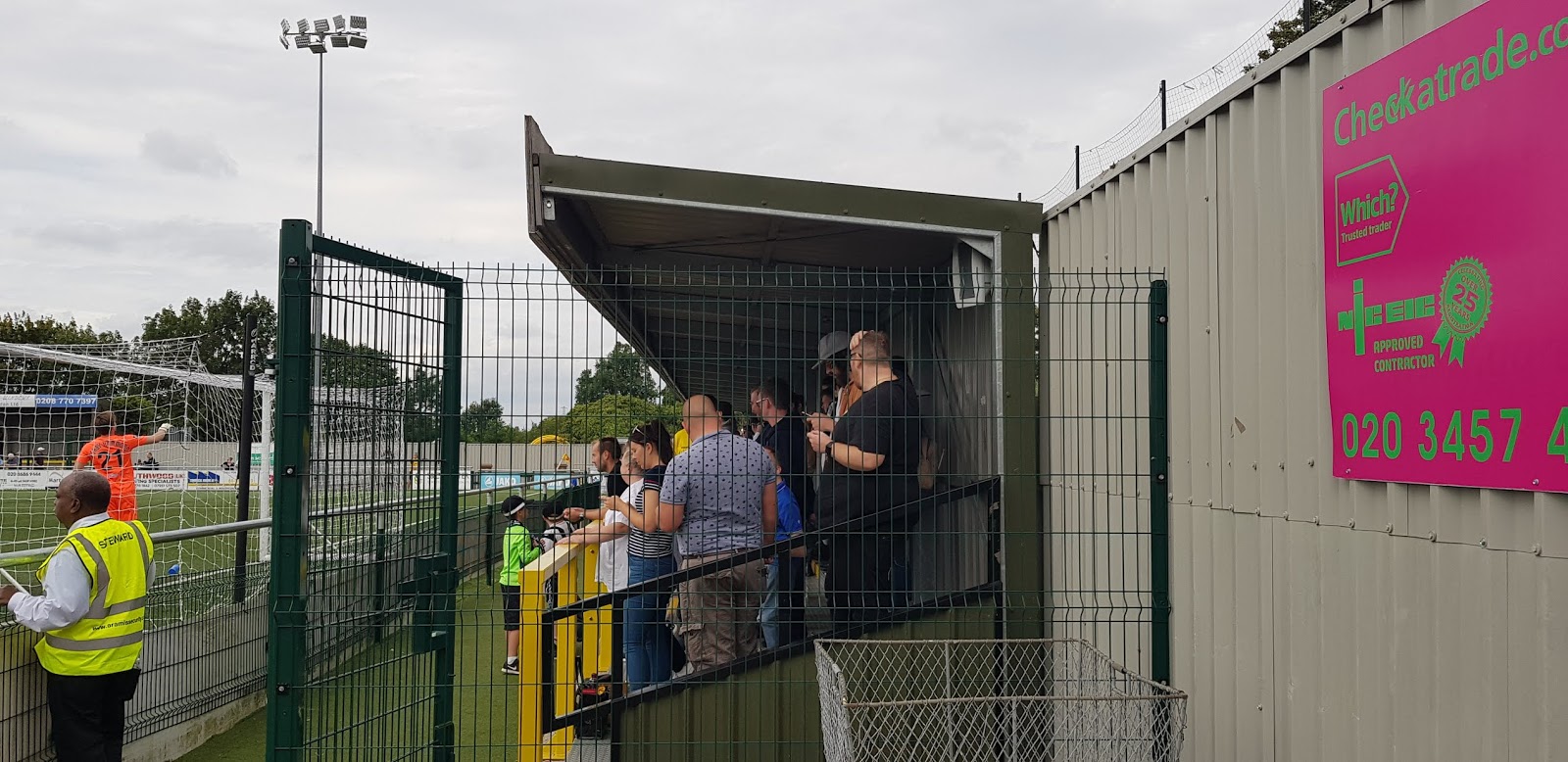 Caged in.
Supping, we have only Saints v Manyoo on the telly and AB's 'Amber 500' signage struggles to entertain us. The latter being the pick of the bunch of course. I even chip in with some fine advice for the club director to help ease his advertisement based issues, but this is swatted aside as 'far too techincal'. I dunno, there's no helping some people. Well into the 2nd pint, I check the time and find it's just ticked beyond 2pm. Where is everyone? We're going to have to drink all this money at this rate! But just as I'm contemplating trying to persuade Mr X to step up to shots to help punish the others tardiness, Greek and Dukey finally appear and start demanding refreshments. Of course, with the number of idiots propping up the bar now doubled, this means the quality of chatter is soon rapidly heading downhill. Crockett cops the worst of it when he appears, with friendly enquiries about his impending fatherhood soon turning dark. This then segues into a genius idea for R rated football and Sutton United related baby wear.
Top ideas such as "My mum's the reason they call it Slutton" and "I could have ended up in one of Dad's football socks" are banded about and would surely make this a huge seller online. This time next year lads, we'll be millionaires! With time pressing on and kick off approaching, it's time to head on out. In the big bar I find Lenny and Murdo from the GMOSC crew, it seems traffic issues have delayed their arrival somewhat and they've got here in time for a single pre-match jar. After some brief pleasantries and Lenny advising me he has his 'lucky pants on' an agreement is made to talk bollocks at half time, I make for the side turnstiles and into the ground.
Butler, Bennett, Goodliffe, Collins, Bolawinra, Davis, Beautyman, Eastmond, Ajiboye, Milsom, Jarvis SUBS: Barden, Bugiel, Kearny, Dundas, Tuson-Firth.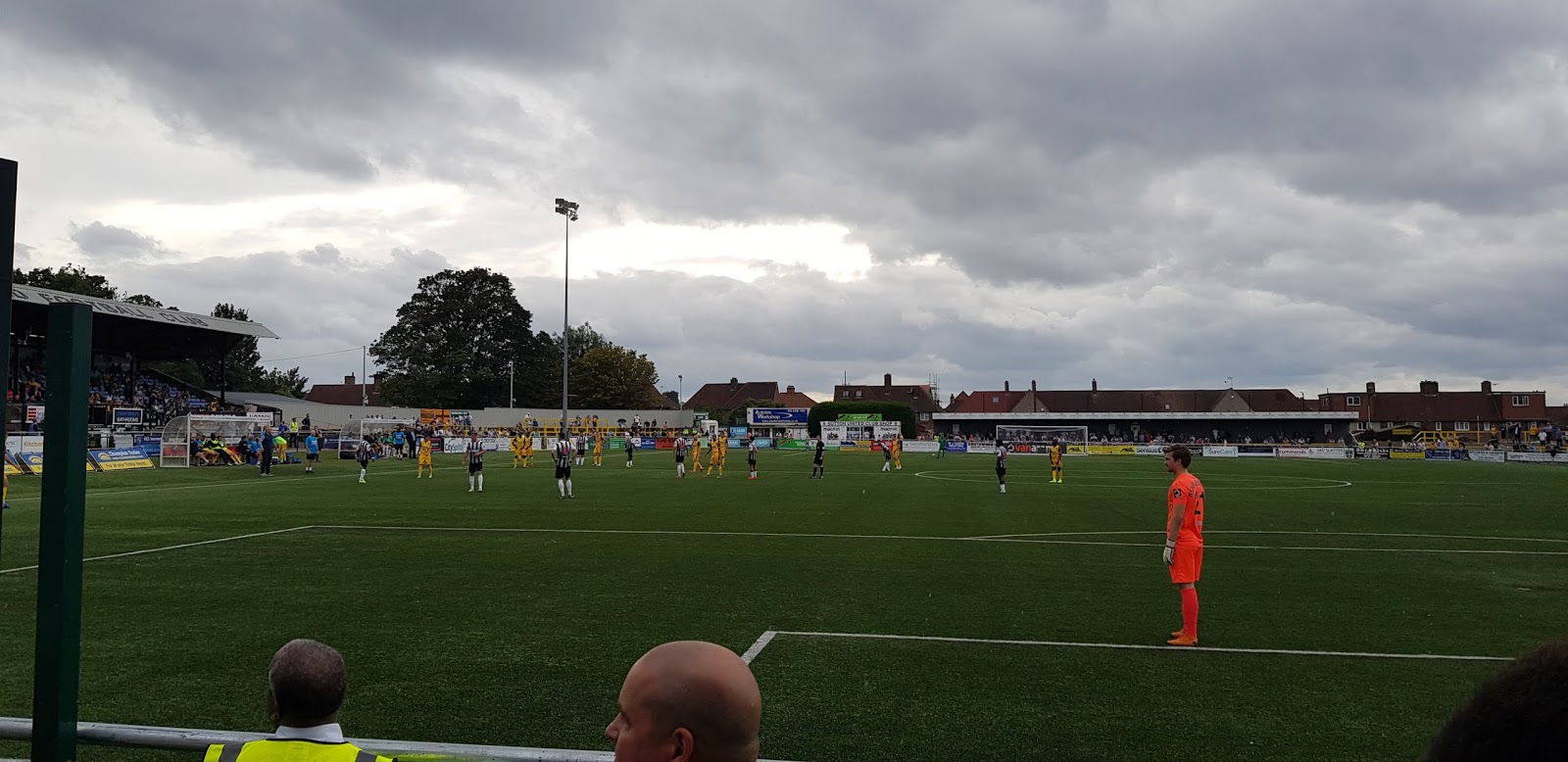 Usual lazy action shot you've seen 1000 times before….
The first half is largely what we'd have expected from a game against Maidenhead. They set up solid and make life hard, but without doing too much themselves. We probably just about shade the first 45, but actual chances are pretty thin on the ground. The best being Ajiboye's run and resulting shot being blocked when it looked on it's way to the far corner, their keeps dropping one under minimal pressure from Jarvia and a decent burst from Eastmond ending with him being robbed of the ball moments after he probably should have toed in Tombo on the overlap. Apart from this, the most entertaining moment of the half is one of the Yoof commenting to the visitors keeper, Ashby Hammond, "Why've you got two names you greedy cunt?". Our biggest moment is right on the break though, a Milsom free-kick is swung back stick and Goodliffe is clearly hauled back by the defender trying to make the header. Now, the ref I can understand not seeing it clearly as his view was obviously obscured by a lot of bodies in the box. But the lino on ths stand side has no such excuse. How the fuck he's not seen their lad pulling the shirt off Ben's back only he'd be able to tell you. National League officials eh? Can't live without them, can't lynch them.
As we amble round at the break, Frakey's of course not happy about the call. "Bet they get a shit pen second half" he huffs. And knowing the sort of officials we can get quite often, I can't argue with him on that. Nor would I want to. I get to the Shoebox to find the GMOSC lads waiting and they're not that impressed with the fare on offer so far "Both sides have been shit" offers Murdo. Although they do say they've been pretty ordinary away from home 1st half this season and then come strong 2nd. They're also surprised to hear we've not won at home since March. As the 2nd period gets underway, they take their leave and we agree to meet up for beers on the last day of the season at their gaff. Luckily, there's been no further mention of Lenny's pants too…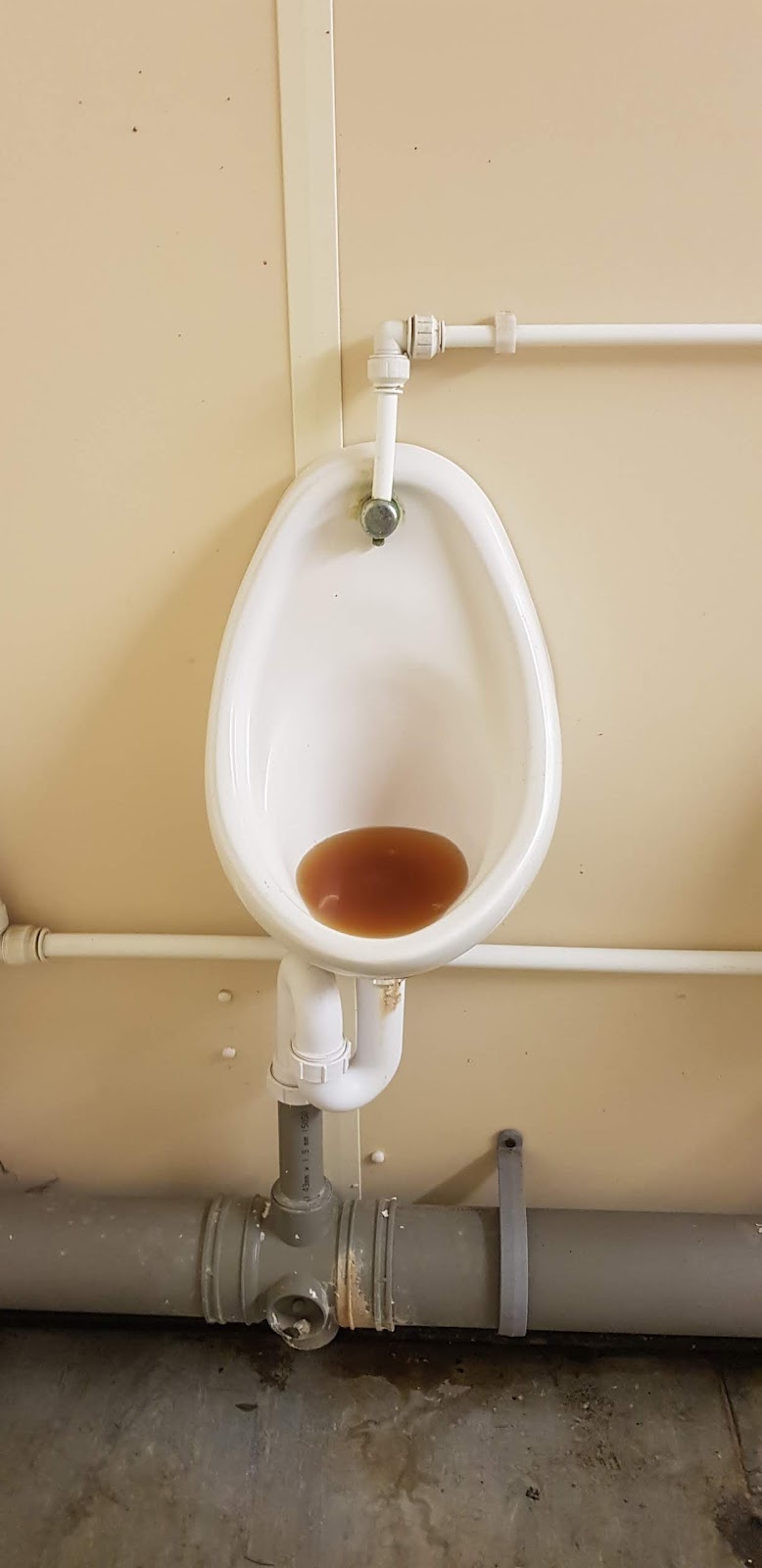 Nice!
Their comments about their 2nd half showings are soon pretty obvious. Their lads have had a bollocking and they're seemingly well up for it since the restart, ably demonstrated by Milsom wiping out their defender after he clears an invitingly dropping ball off his toe in their box. It's an accidental clash as Rob was only ever looking at the ball, but from the Magpies reaction, you'd think the U's full back had just done an ISIS style execution of the fella in front of his wife and kids. Calm down lads, fuck me.
Despite this surge in adrenaline, the game still looks more likely to be a clean sheets all round. But then around the hour mark, we're treated to some vintage Sutton United on this the 100th Anniversary of us moving into Gander Green Lane. Fenelon picks up in midfield, travels, no one closes down and he seems to take Butler by surprise with a snapshot from about 20 yards that flies past him at his near post. Marvellous, so that'll be one up with their first shot, let alone first one on target. Fine work all! Our level of huff and puff goes up from here as we look well short of ideas. There's also dissent in the ranks as our centre backs turn their backs on Butler assuming a ball over their heads is an easy gather for their keeper. Sadly, they've not noticed the forward darting off their shoulder and JB just about manages to smother the ball and snuff out the danger. Goodliffe then takes great exception to the ensuing bollocking and it takes a chat from the ref to try and calm things down.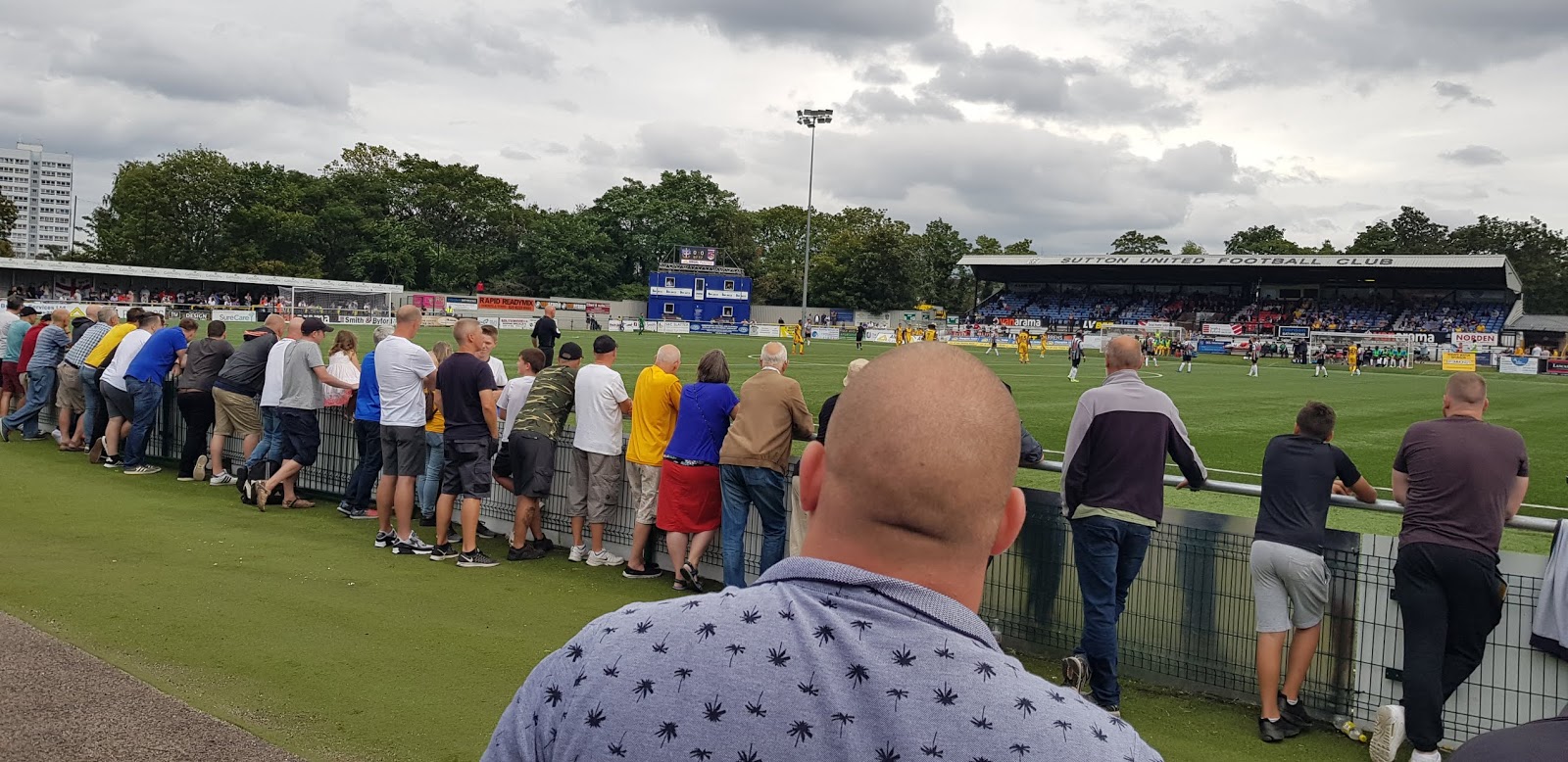 Looks like rain….
Bugiel comes on for Kenny with about 20 to go and injects a little bit of life up top, immediately getting in a tangle with the visitors shit house in chief, Comely. Sadly, with 10 to go, it's game over. Butler throws out, Milsom's not there and their lads gallops in behind to square it for a simple finish in the 6 yard box. It's one of those painfully simple goals that we almost never seem to score these days.
From here, it only gets worse. Comely gets Bugiel sent off for an 'elbow' after raking him from behind and then ducking into his arm for the contact and then it starts to piss it down with rain in a savage 5 minute downpour soaking everyone. Then with time almost up, Frakey's earlier prophecy comes to pass as they win the now almost traditional soft as, last kick of the game, 'fuck you' penalty. I've no idea what happened as I was already on my way to the bar and I certainly don't break stride as their bloke tucks it away far end to make it 3-0. No home wins since March. One since January. I need a fucking pint.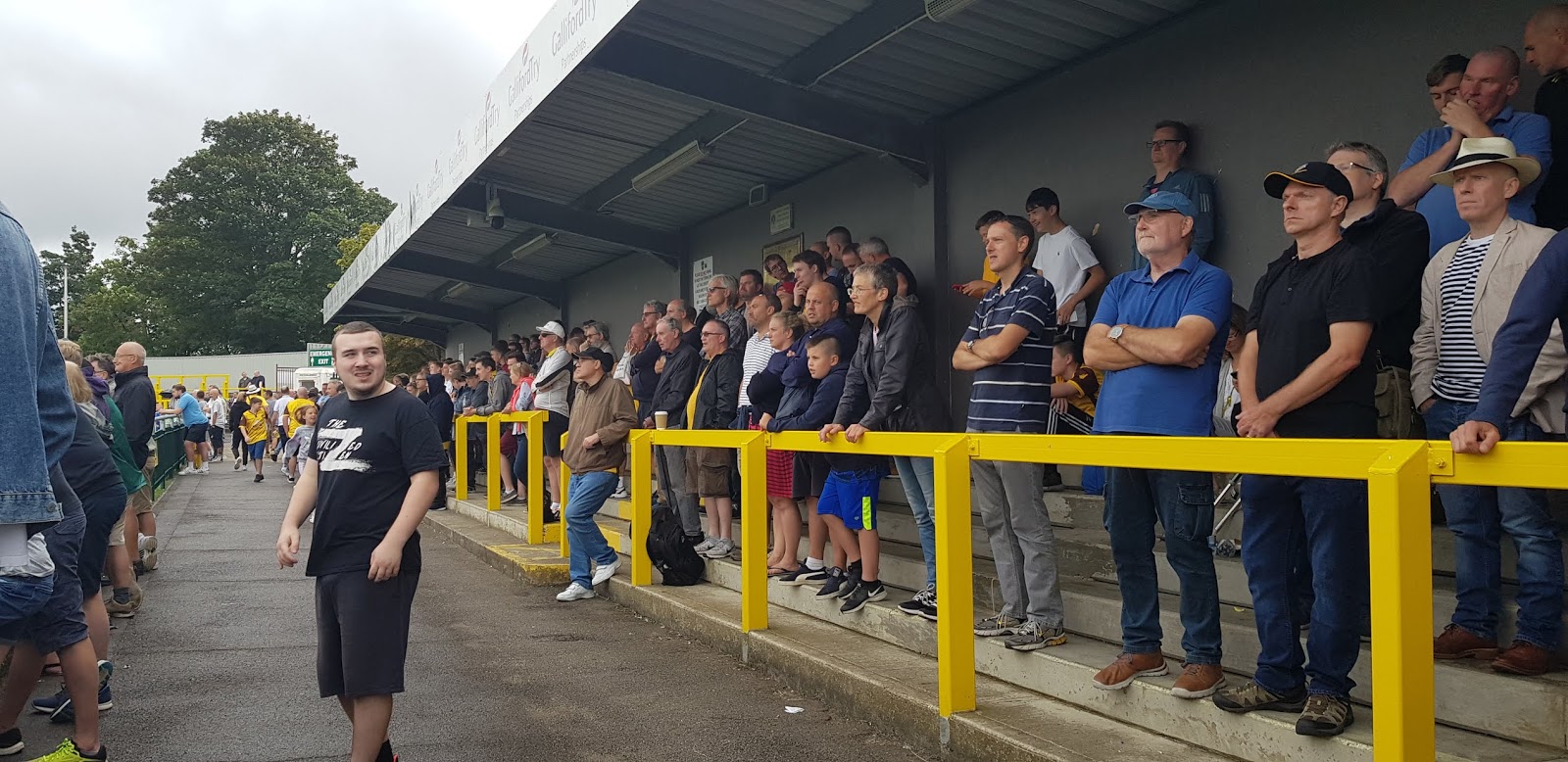 Disappointed
In the bar, the late BT game is Chorley v Boreham Wood, which of course is just what you want to see after getting pumped 3-0 at home. Especially when the hosts, who've got turned over a few good times since we managed that desmond here a couple of weeks back, go on to defend proper Billy Smarts style and lose comfortably to a unspectacular Wood outfit. With SAK looming, I can't face the mocking tones of AB's instrument and instead head outside for a smoke with Dukey and Greek. I don't smoke of course, but I'd rather stand and watch them puff away right now. What I gather from this is that Greek's quite fond of Tom's moody Chinese 'Double Happiness' snouts, seemingly so named as they're so smooth you have to smoke two in a row. Back inside, beers flow and then Robbos sticks that shit he likes on the jukebox and I'm back outside in the fresh air for another breather. Whilst sat enjoying a moment's peace, the officials take their leave of the premises and head for their cars. What strikes me is that they're all using those little wheeled cabin bags. What's up lads, too fucking lazy to carry a holdall are we? It's a pair of boots, a shirt, some shorts, a towel and a little flag andor a whistle for fucks sake. Hardly hiking up the Himalayas levels of kit is it? As they trundle their way across the car park in their suits, it makes them look like some bunch of two bob sub-RyanAir cabin crew.
I'm also amazed to note that the short, bald lino from the first half isn't accompanied by a labrador. Which I'd have assumed was a given after that first half peno shout he completely ignoredmissed. Cos if you're not visually impaired fella….fucking hell.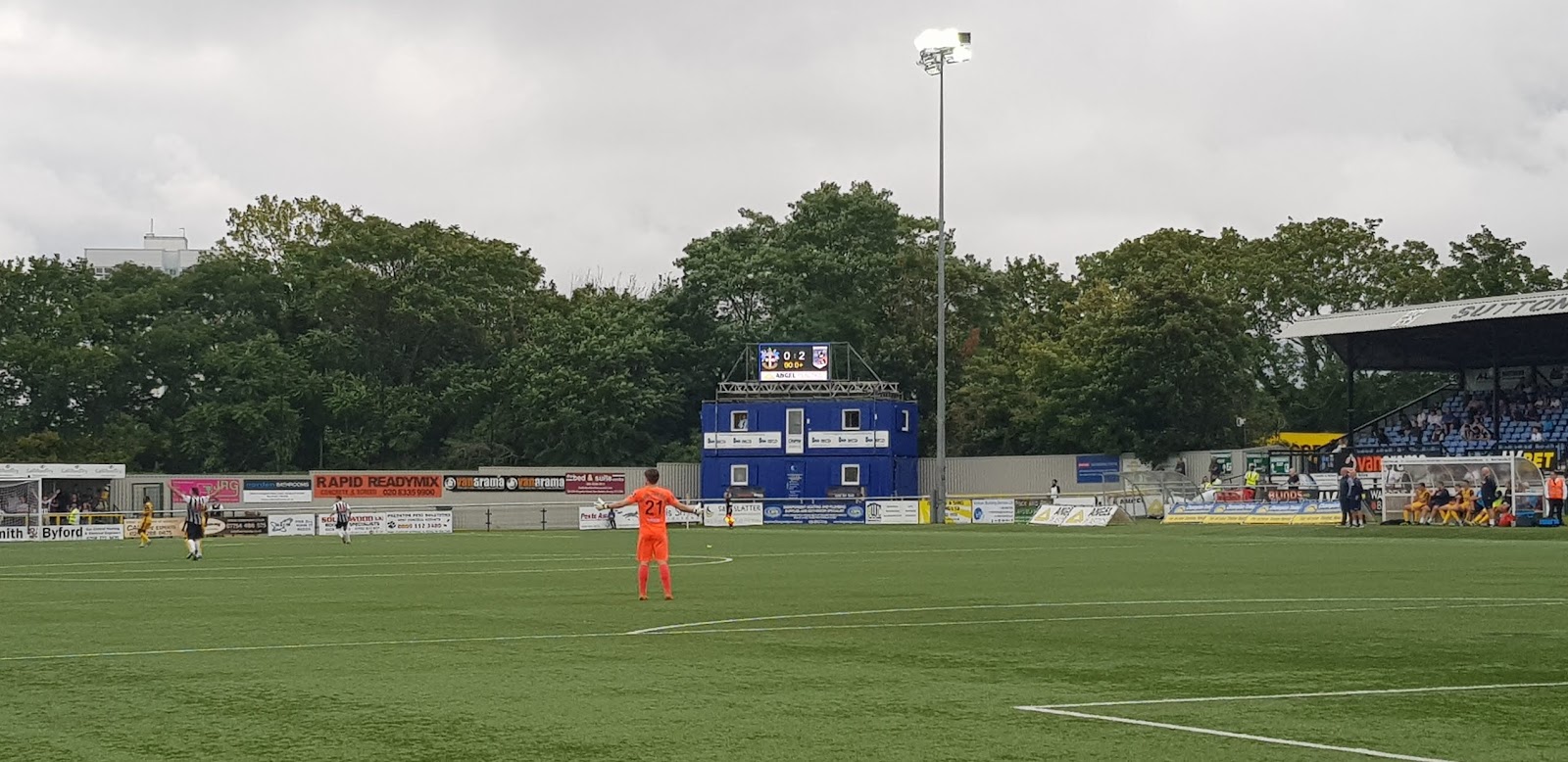 Can't get any worse, can it? Oh….
Back in the bar for the final time, I get Dr Bell to get me a G&T for the road as I plan to head for the train just after 7 so I can get home and get some grub on for the missus. It's well timed too, as there's already shots and jagerbombs starting to appear amongst some of those gathered. That's a whole bag of wrong I'm not getting involved with thank you very much. I'm off home to sulk like we used to in the old days after a shit miserable home defeat.
Right, salmon for dinner I think.
Taz