I have a little question. What is the point of the linesman these days? If they're supposed to do only throw-ins and offside, then why can't they even do those simple tasks? I doubt it's just this year, but they've seemed to come to prominence recently with some very suspect decisions. Some of the offside calls have been down right bemusing with the invention of imaginary players who appear to play people on. Some of the geezers we get are starting to make VAR look good.
The humble throw in is also something that really annoys me these days. I thought it was simple, all you have to do is indicate when the ball goes off the pitch and who should throw it back onto to it. For an extra spot of kudos, you could also make the referee aware of when a player tries to take it halfway down the pitch instead of in the right spot. Or maybe when he lifts his leg or gives it a bit of ye olde 'Chalmers technique'. Clearly no one gives a flyin' fuck about the rules these days. But I need to stop before I give it the full Victor Meldrew treatment.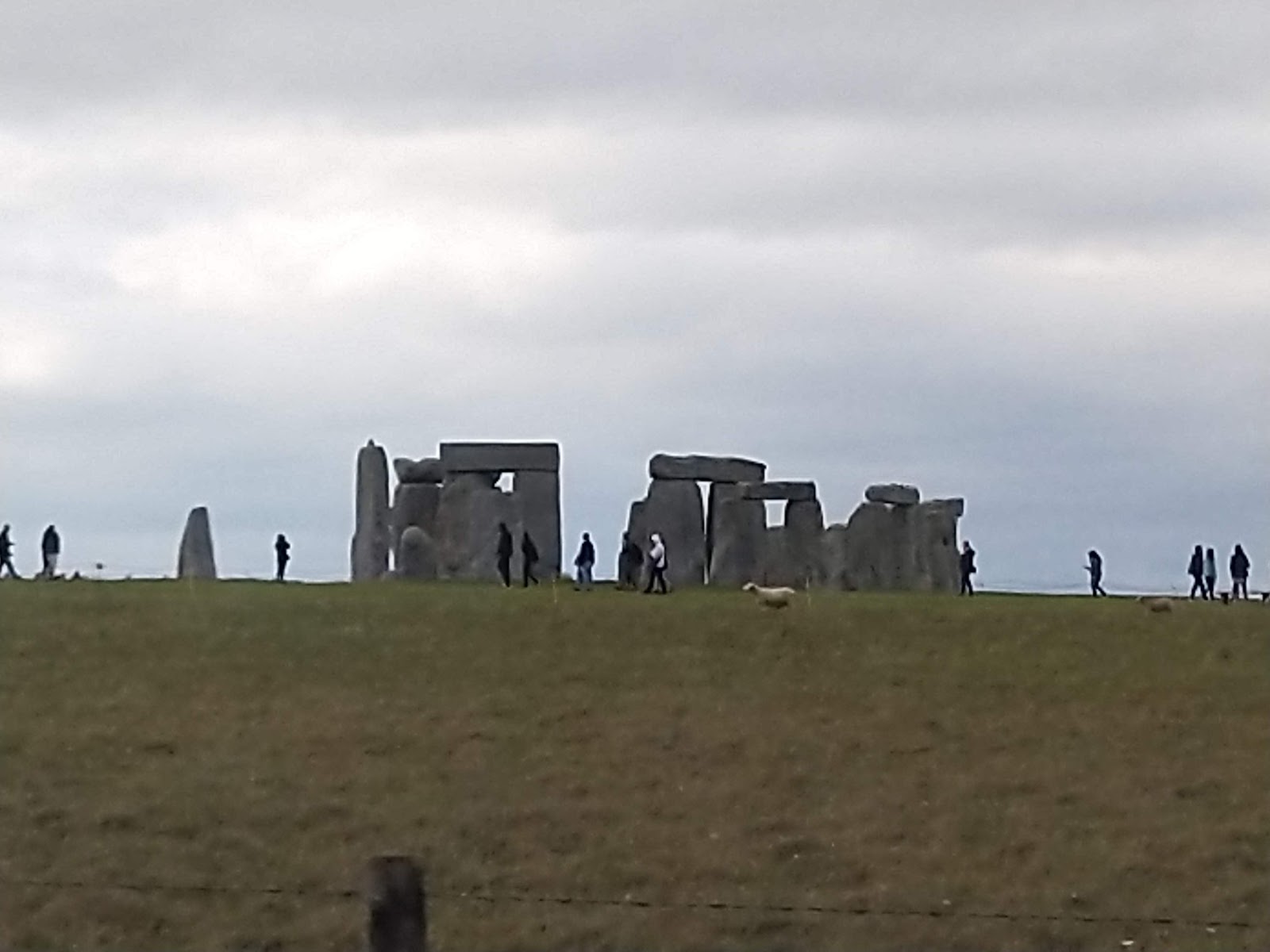 Bloody Vandals…
So the results for Sutton this August didn't quite end up how we hoped it was going to. After a somewhat promising start with a win at those Cheese Eating Surrender Monkeys. It all sort of ended up rather a bit flat, as our slightly decreasing attendances or a Remainer's argument, with only a solitary point since the Bank Holiday. The reason? Fuck knows. Maybe we need to be a bit more attacking? Could it be that playing one up top is not working? Or what about conceding the first goal? Leaving a player on the halfway line whilst defending a corner? Plenty of questions, but no answers here. We ain't that sort of a blog.
This is of course not the first time that Sutton have travelled down to Hush Huish Park, Oh no no no Sunbeam it isn't. In fact, it was nearly twenty years ago that the boys from Gander Green Lane came away with the three points thanks to goals from Mark Watson & Barry 'One inch header' Laker. That's Mr Laker to you, by the way, especially if you took French at Carshalton Boys or now have him as your headteacher in Croydon. I was never old enough to be able to visit Hush Huish Park the first time round let alone the even older Huish, which according to Dr Bell, had an almighty slope from side to side. So I guess it was like Spennymoor but with funnier lingo and more cider? Wether him or Magnum PI were around for a spot of unlicensed Dog racing is another matter entirely.
There was also a nice surprise announcement that came through after the Maidenhead match. And fuck knows we needed something nice after that one. Turns out that we appealed the red card that Bungle got and that's not the surprise, as obviously we'd try and appeal it as it wasn't a bleedin' red card in the first place. Cheatin' bastard. The real surprise is that the Old Farts at the FA have agreed with us and bleedin' rescinded it. Justice! Shame he's off on international duty for the Levant in the far reaches of the land of the Dog Eaters (twinned with Boreham Wood) and is going to miss this match and County on Saturday anyway.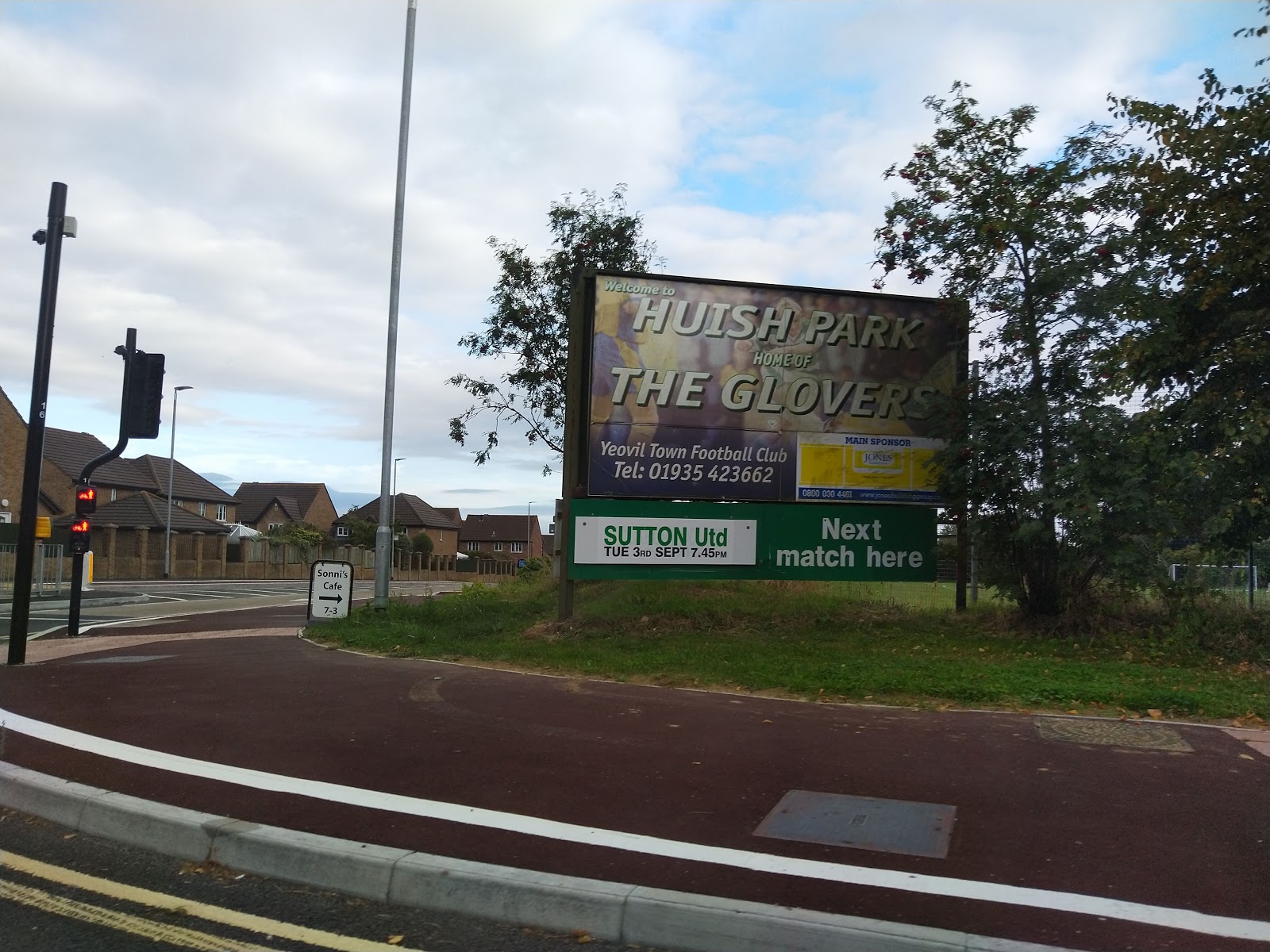 The Glovers?
What isn't 'justice' in my humble lil' opinion is the all the moaning and whining about the demise of Bury. There appears to be talk about trying to get them reinstated into L2 next season and the league is now going to have a meeting over it, just as the plod are getting involved due to a spot of possible fraud. As always, it'll no doubt fuck up a non-league team as no one gives a flying fuck about them. I say, bring them in further down pyramid if you like. You should never punish those teams that are trying to run their clubs within their means. I suppose you could also in the future try and run some checks on these people that want to run a football club. Make sure they got access to things like actual money and are, I dunno, 'fit & proper'. Just a thought…
Onto the football in hand, and it's another long midweek trip with Mr X playing the ever attentive Gandermonium chauffeur for a few of the boys. I was first on the pick up list and met him at the agreed location. Not too sure what Mr X was doing in the Post Office, but I didn't find any packets of stockings in the car. Or any female paraphernalia for that matter. If you discount the wet wipes stuffed into the side of the back door that is. So at least he wasn't knocking the place off.
Next on the list is The Firm Leader who is jumping out of work an hour early. Well he is the guv'nor! The worry here was our knowledge of where he works these days. All we knew was he was based somewhere on the industrial estate in between Sleepeezee and old Sun Hill nick. Luckily for us, he was ready and waiting to rock and roll. Navigating a lorry that was trying to do a u-turn on a no right turn set of lights, it's off to the wilds of Somerset we go.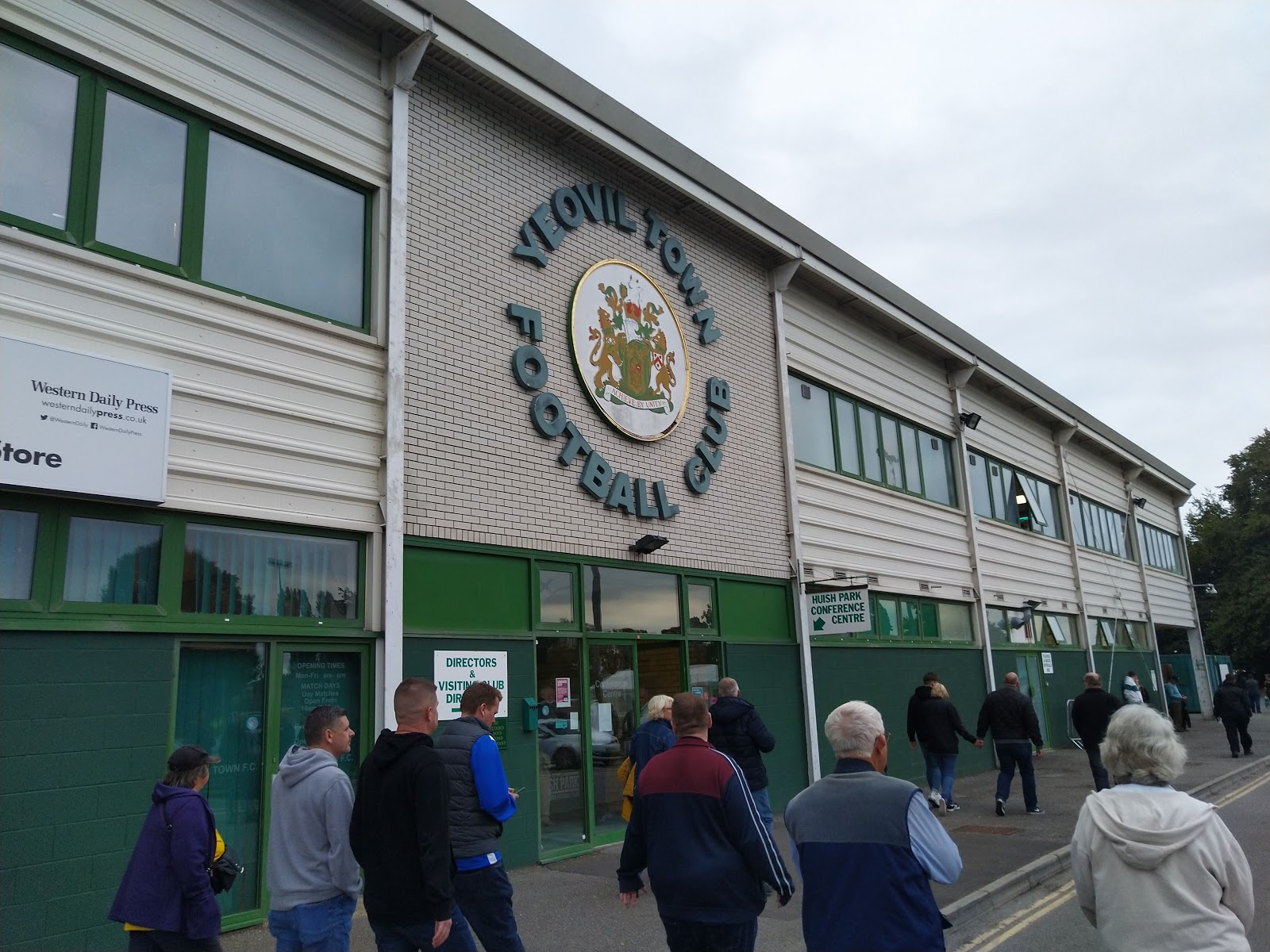 Hush Huish Park…
It's a quiet journey as we take the well trodden path of hitting the A3 before taking the A31. Eventually it's onto the M3 where Mr X's tea addiction causes him to stop at Fleet Services to unload his bladder. Whilst here, we spot the Supporters Coach and another tale of very suspect skills of the coach driver as it apparently took him twenty minutes to get out of Sutton on departure. Also spotted at the services was a slightly beat up minibus that had the website address of Boring Wood down the side. Checking the fixtures and we see that they were due to be down at Beastleigh. "Must be Hunter's subsidised travel services.." someone mentioned. But we were wrong, because inside was the actual team themselves, all track-suited up drinking there Starbucks Coffees.
Back on the road again, and its onto the A303 and pass that Big Stoney thing that American tourists love and causes all the cars to slow down at. Eventually we make it to Yeovil but not before Mr X's Satnav decided to take us on a detour through the county lanes that, although lovely & picturesque, meant we get to Hush Huish Park only about a quarter of an hour in front of the bleedin' supporters coach.
The team news is soon released and it's now known that we've a slight issue as the injury list has risen rather sharply. The likes of which that's not been seen since last season at least. A new player Ben Wyatt was apparently signed up at the Fleet Services! Apparently he was at Stalebuns last, we didn't just grab some geezer out of Costa coffee. A bit of a surprise to see that we didn't even put one of the kids on the bench to fill it up. And does anyone know what's happened to the boys we sent on loan before the start of the season? Thought they'd only been sent off for a month….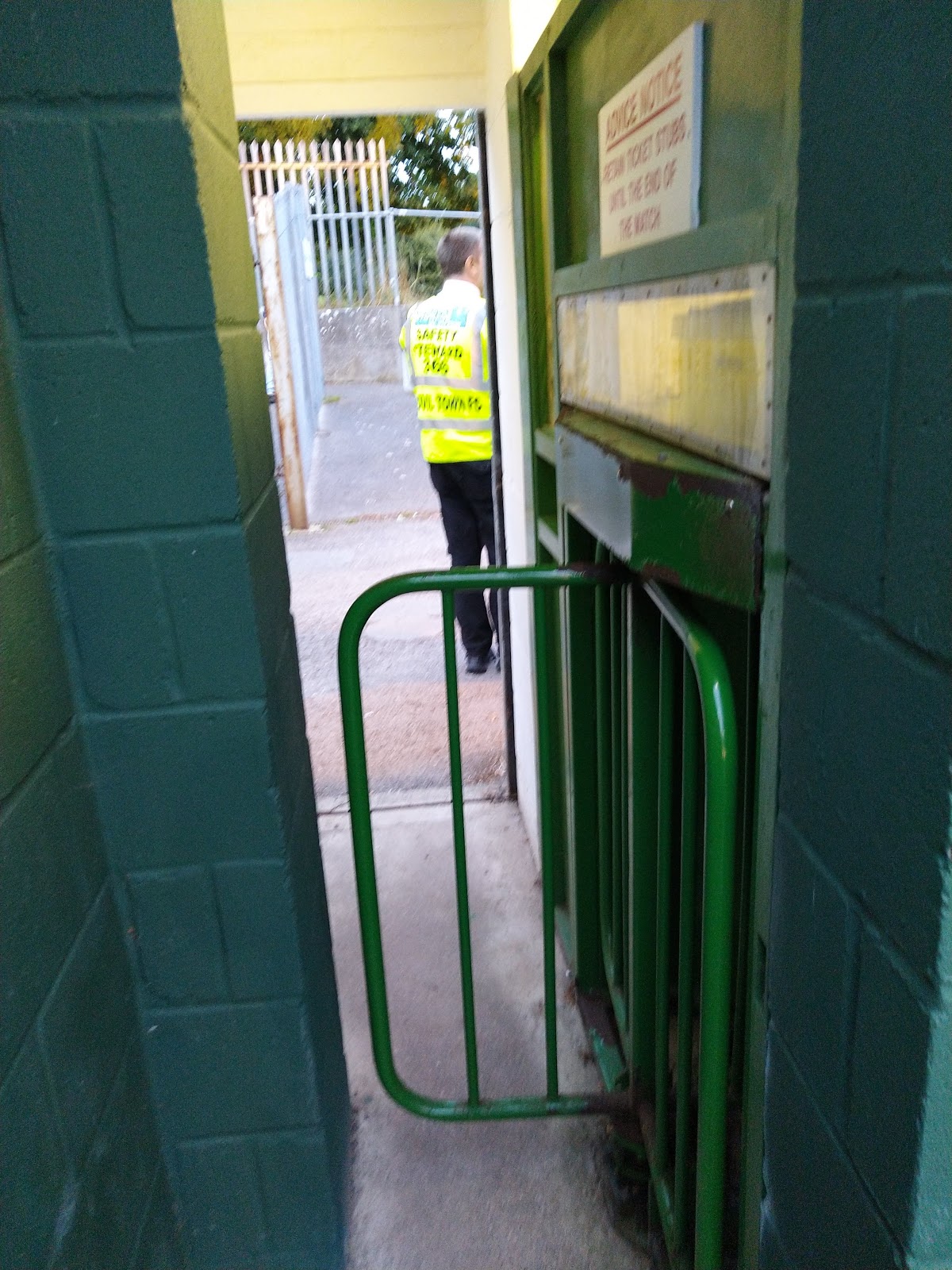 Totter Porn…
Butler, Barden, Goodliffe, Collins, Davis, Beautyman, Eastmond, Ajiboye, Tuson-Firth, Wyatt, Jarvis. Bench Warmers: Dudzinski, Kearney, Dundas, Wright.

Shooting towards our side of the ground, the match started with both teams trying to work each other out.Yeovil would eventually get the upper-hand in the possession stakes and start to camp out in the Sutton half. I don't seem to remember any real save that Butler had to make though and that was even when it seemed that Yeovil were having corner after corner after corner.
Sutton's best chance of the match would come around the twenty-five minute mark when Ajiboye would finally take on the full back and beat him for pace. His smart cut back was met by Beautyman who let off a stinger of a shot. The only criticism would be that it was aimed right above the keeper and he managed to get his hands to it and flap it away for a Sutton corner.
After that, it was more of Yeovil retaining the possession as they looked for a goal. One noticeable thing was the amount of offside's that we seemed to have. The other week, Magnum PI commented how we seemed to not to have had any, but in this match there were plenty to bump up the average. One of them was Jarvis, who was about two feet inside the Sutton half when the lino's flag went up. Jarvis would also receive a yellow for jumping into one too many Yeovil defenders. Bad Jarvis!

The Green Field(s) of Somerset…
Second half and as Sutton are shooting the other end, so at least all the action is at our end then lads. Eventually, Yeovil would get what they deserved. Conceding another free-kick, Sutton failed to clear their lines. The ball is crossed back into the box and the resulting shot beats Butler but is stopped by Eastmond on the line. The ball then rolls out to the edge of the six yard box where another unmarked Yeovil player is present to rifle the ball home. 1-0.
Now one down as usual, we're chasing the the game, something we've failed to do with great success recently and the frustrations are there as Eastmond soon receives a yellow for bit of a spat with a Yeovil player on the far side of the pitch. In the final ten minutes of the match, Sutton made a few changes that some of us felt were a little too late. First George was replaced with Wright but we still seem to not play two up top as Wright takes a position behind Jarvis.
Dundo would soon come on for the tired Jarvis but the match seemed to be more about if Yeovil were going to get a second (or thinrd) rather than Sutton pushing for an equaliser as Butler had to be called on for a couple of near post saves. With the introduction of Kearney for Ajiboye, we now had three forwards on the field. It would've been nice to see that ten minutes earlier but the game petered out with Davis picking up a late yellow. The ref calls it and we're soon heading back to the motors with no points and no goals.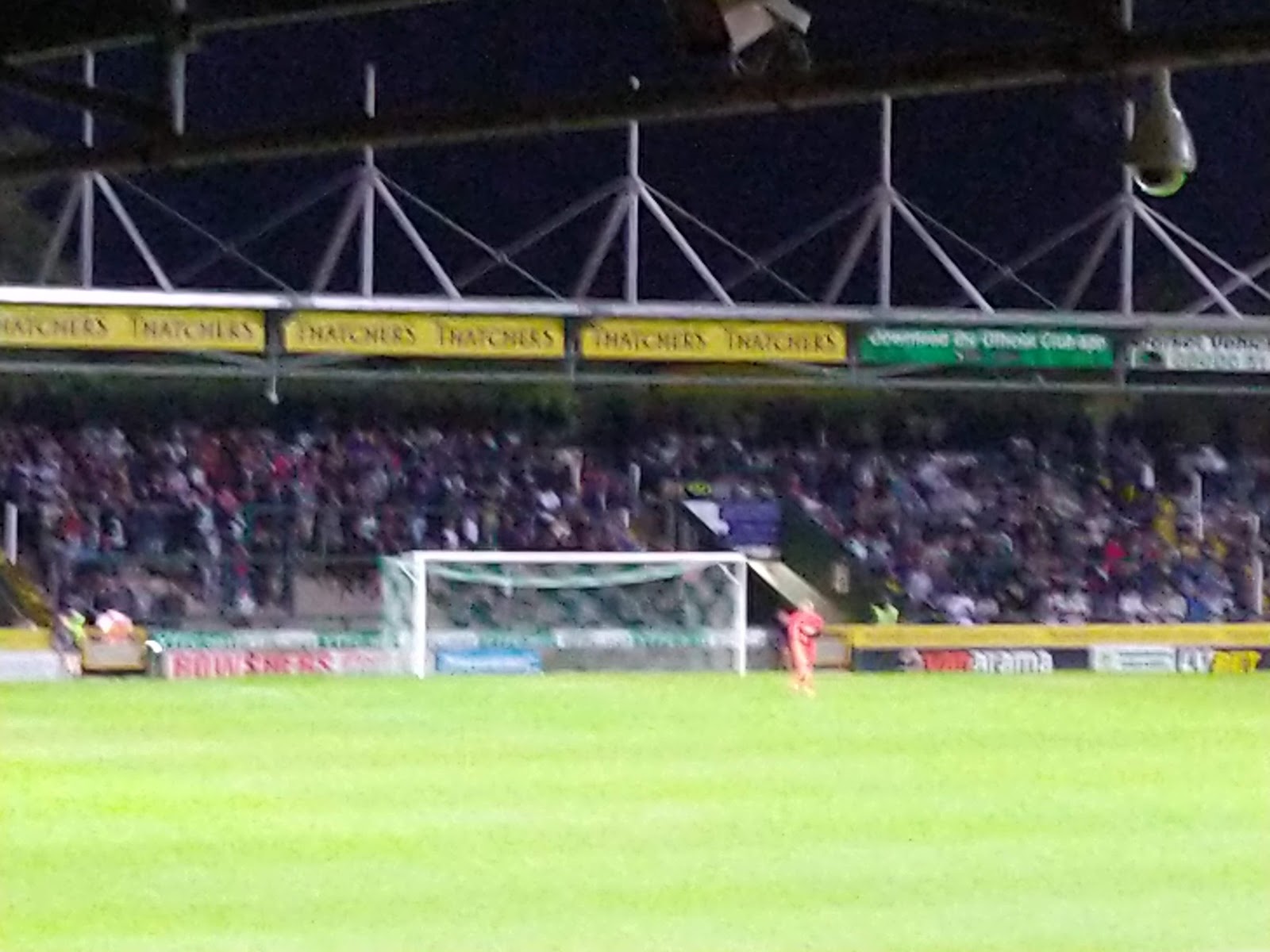 The home end…
On the way home, we take a butchers at some of the other results. Surprisingly, Barnet vs Aldershot was called off for 'international call-ups', which makes us wish we'd tried that on thanks to Omar being off on his travels. There were a few interesting results, Chorley lost again, making our point against them look even better than it already did, but the main one is that we're now only three points off the dreaded bottom four all of a sudden. I know it's early days, but you don't want to get drawn into a scrap this early on if you can help it.
We also remarked how at one point in the second half, Collins and the Yeovil number fourteen had a strange exchange. After feeling that the mans reaction to trying to convince the referee that he should've got a free-kick, Collins was obviously unhappy with this action and made his feelings felt. This caused the Yeovil player to remonstrate with Collins by pulling up his shirt and pointing to his stomach. Don't think JC gave a fuck considering he was on the same 5th division pitch as the Yeovil athlete. Anyway, we make good time on the trip back East and it's just after midnight before I was finally dropped off at home.
Next on the radar is the other team that came down with Yeovil last season. It's been a while since we last played Notts County, nearly eight years now. But I still remember Griffith's penalty miss like it was yesterday. Probably because I just watched it on YouTube again now. Gawd it was awful. Stonewall penalty, mind you. Unlike that fuckin' joke of an example last Saturday. Enjoy!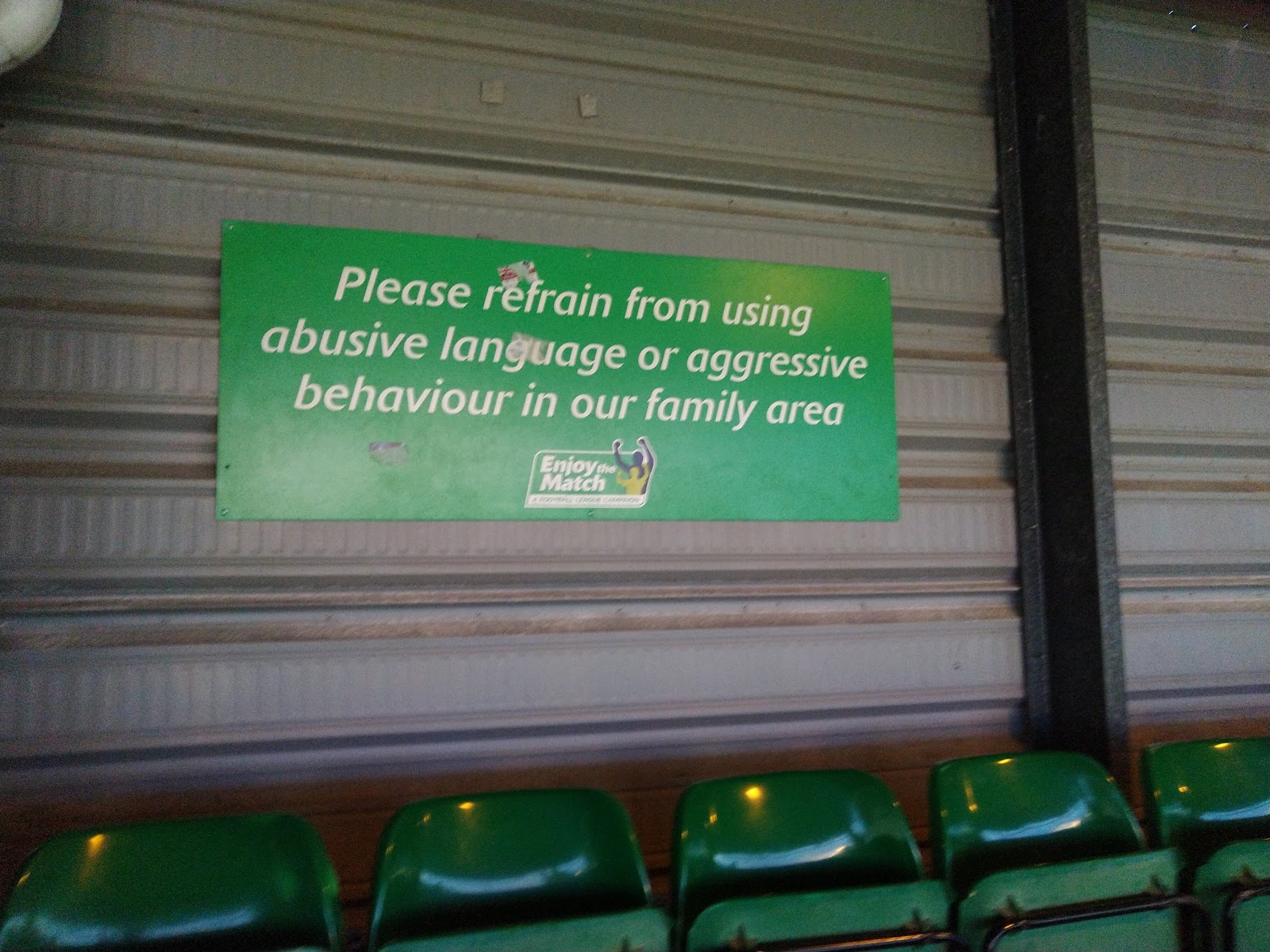 Not quite our style…
Duke
Att. 2279