Well, that was something you don't expect to see. Four games into the season as we're somehow still undefeated. Upon reflection, the trip to the almost South Coast would definitely be seen as a point gained instead of two points dropped, especially as it was our first one here since September fuckin' 2007. But we're getting ahead of ourselves a bit here, so lets slow down and start somewhere near the beginning.
Yes, we're back at one of Taz's (and other peoples) favourite grounds. And when we say "favourite grounds", we mean that there is more chance of Gandermonium winning the football bloggin' awards than them ever gracing us with their presence here again. For the remaining few of us though, it's another chance to rid us of a absolute dog shit of a record at Ten Acres.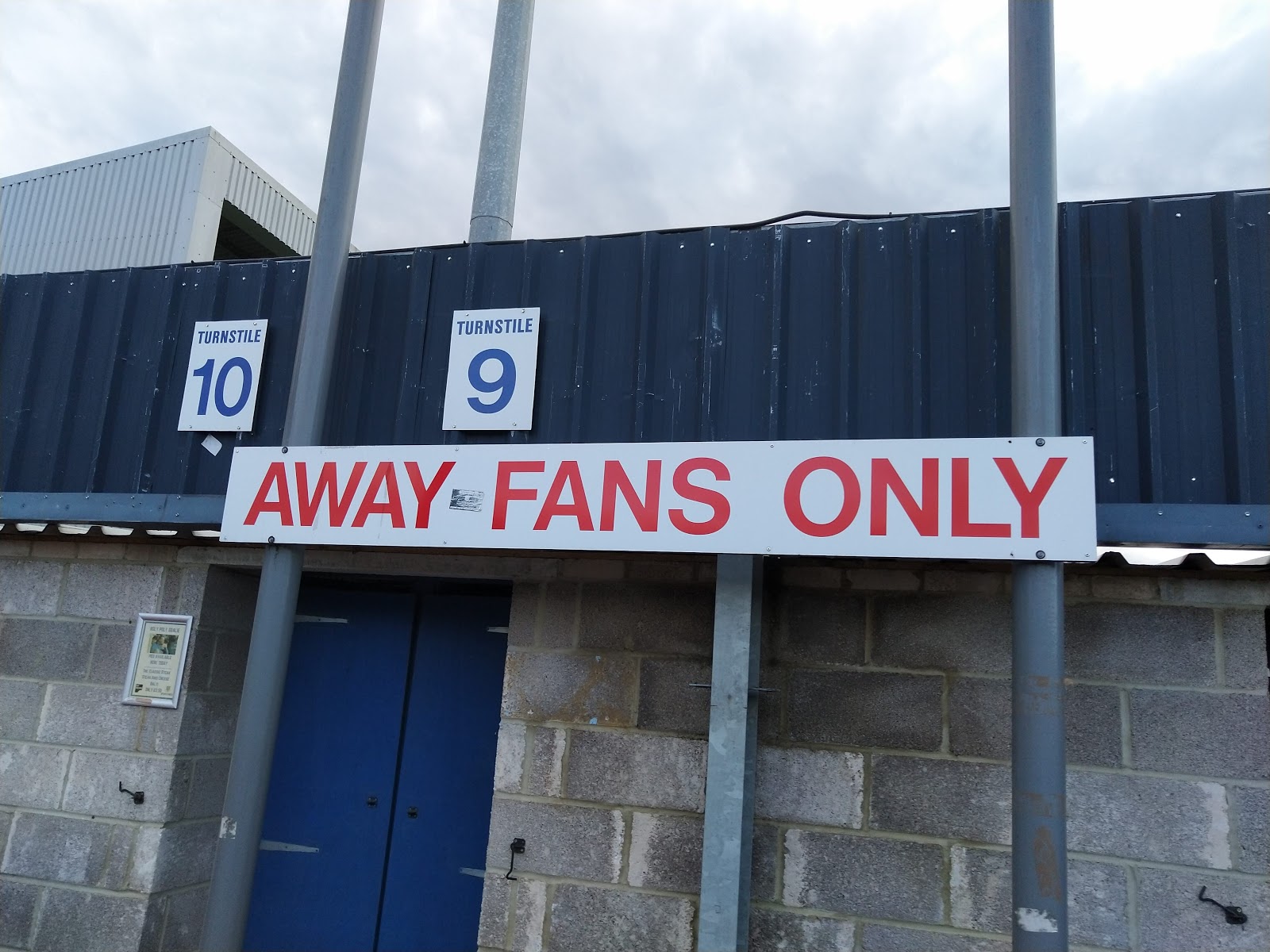 Back to segregation…
As always, it was the ever helpful Mr X who offered his services, and more importantly a lift in his car, to take us 'Daan Saaf!". All I needed to do was get to Wimbledon for a five o'clock pick up. Fingers crossed for the Thameslink service then. After several checks along the way, I was assured that the train was actually running. And lo and behold it arrived only a minute late. So, jumping on, I settle down for a brisk twenty-five minute journey round the infamous loop to the home of tennis and those big rubbish collecting rats on the common.
Only that was never to fuckin' happen because as we arrived at Sutton, an announcement was made by the driver saying that this service was going to turn round and head back the way it had just come to St Albans. 'Disruption' in the Wimbledon area apparently. So there was nothing for it as I once again pass through the Badlands of Carshalton only minutes after leaving it.
My new plan of action was to now head instead to Mitcham Junction and jump the tram Wimbledon way. There were plenty of people doing the same thing and I overhead a couple saying that even the trams were stopping short of Wimbledon because of the disruptions. But my luck would be in as it travels the whole way to the end of the line But judging by the amount of people on the platforms, the trains were still to restart running.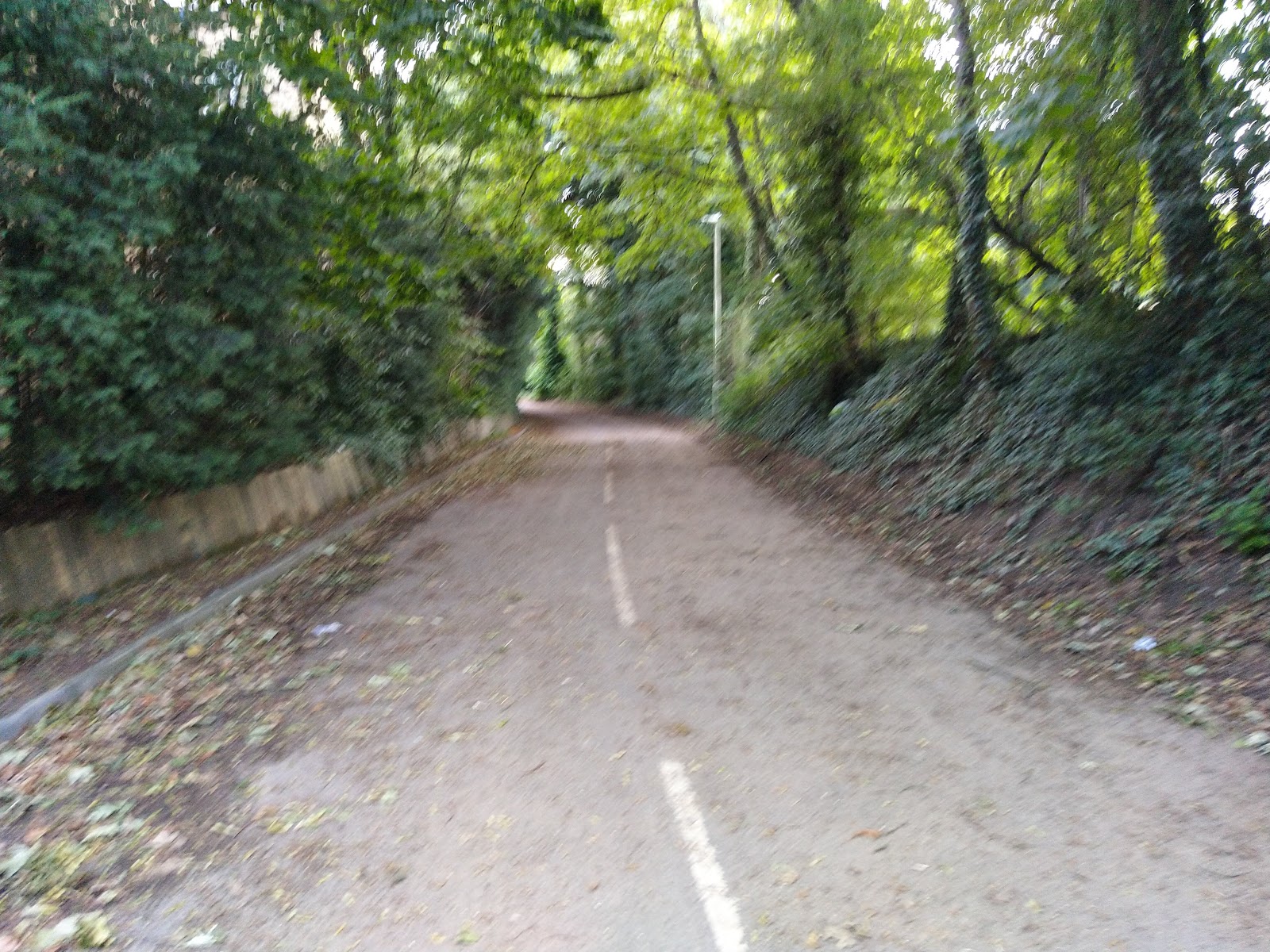 The Long and Winding Road…
Whilst waiting for my lift, I spot my driver as he tries to dispose of a fag butt in a hidden manner as apparently the clean freak Stazis are on the warpath in this land, as they try to impose themselves like a lil' Stalin by handing out on the spot fines. Of course I was clueless in on the matter as I puffed away. We're soon on our way though and it's rather an easy journey as it's the old A3-A31 combo.
Looking for the local hotel down south to find a parking space, we came across what seemed like a whole new private estate being built, which included a new roundabout that wasn't even on the sat-nav. Eventually we did find the hotel car park with a young fella in the usual day glow jacket taking a Lady Godiva off everyone for the privelege. I'm not even sure that he was working there, but he must've made a few quid if not. The team news is released and it's rather a surprise to see that the only change from Saturday was Wright replacing Dundas on the bench.
Walking to the ground and we bump into Southampton Steve who was already down in these parts. Talk about keen! With the developments being built near the ground, this meant that the old road leading up to the gaff had now been converted to a cycle path. Although there's still no fuckin' lights. We arrive at the ground and head round to the away end. £18 for a non-existent ticket and a surprise inside as we see Havant's Lord Dos has made an appearance as his lot weren't playing until tomorrow night.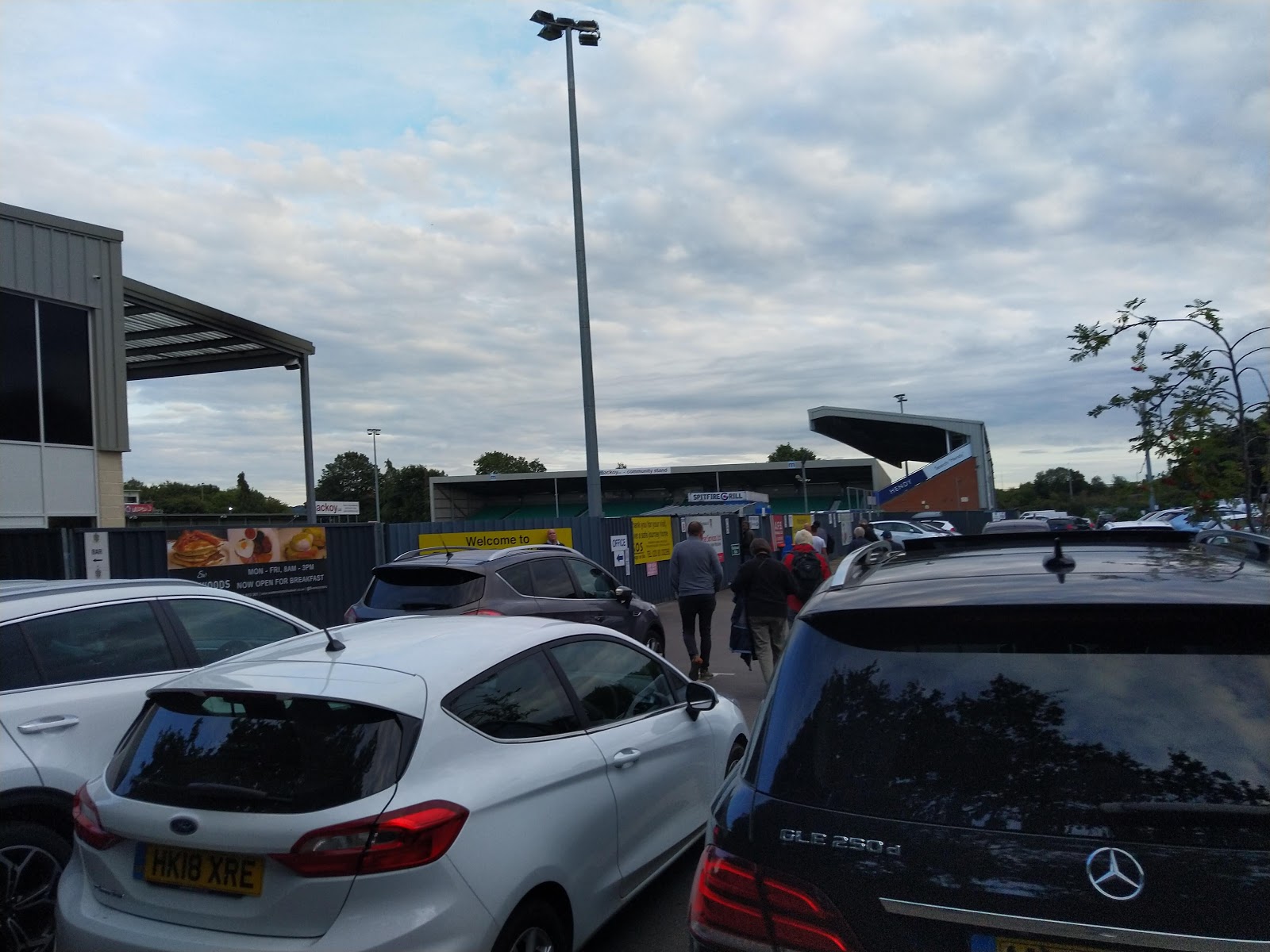 The Ten Aches…er Acres.
Butler, Bennett, Barden, Goodliffe, Collins, Bolarinwa, Bugiel, Beautyman, Randall, Milsom, Jarvis. Bench Warmers: Dudzinski, Kearney, Wright, Matsuzaka, Ajiboye.


After a quiet opening ten minutes, the game came to life after Milsom had needlessly fouled some fella and received a yellow for his troubles. The resulting free kick is then lofted in the box. Eastleigh are the first to get a head onto and it travels to the far post where another unmarked player is to tap the ball in. Bollocks!
Our usual disappointment here was to not last long though as Sutton dragged themselves back into the match with their very own set-piece. It's the man Milsom again who turned provider with a free-kick that's whipped into the box. From our point of view at the other end of the ground it looked like it was Collins who stabbed the ball home. Who fuckin' cares, we're level. 1-1!
Midway through the half, and Randall would go down under a strong challenge that would eventually call for the stretcher men to come out and help him leave the pitch. He was replaced out wide by Ajiboye. Bennett would be lucky to get away with what looked like arm to head contacted as he wrestled Rendell down to the ground.

Will Duke ever get bored of the Panorama shot?
With no chance of a beer at halftime so we kick our heels and wait for the second half. Maybe Dos could have sorted summat out? He used to be a big deal round here, he must know some people? Not a lot happened to begin with as both teams tried to move the ball around but without doing anything with it. Around the hour-mark, Milsom would have a free kick. His resulting shot would be straight down the throat of the keeper. Incidentally, this would be our last shot on target in the match.
With a quarter of hour to go, there is a large cheer from the announced 71 away supporters as Tommy Wright makes an appearance. A few of us are glad that he's on his way back to match fitness.Top knot Daniel-san was also come on in the final minutes and replaced Bungle as the need for strikers became less and less as we tried to hang onto the point.
The last ten minutes saw an onslaught on the Sutton goal as Eastleigh went for broke. Thinking that we'd be able to catch them on the break was bit of wishful thinking as Eastleigh were in charge the whole time. A failure to continually close down the play had Sutton playing with fire. But for all their efforts, only one effort really challenged Butler, but that was an amazin' save as he stopped a close range header to his right.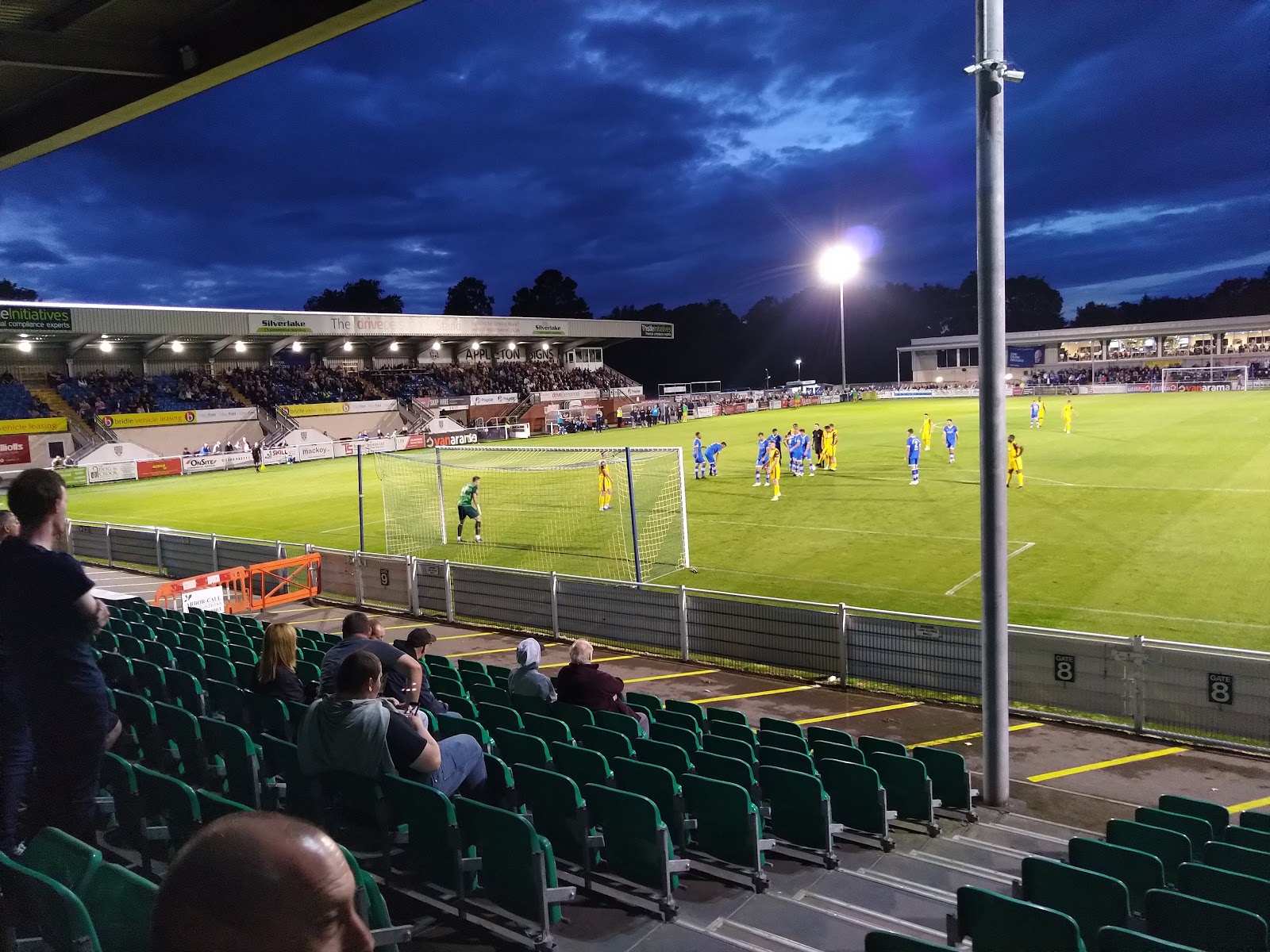 Action!
After the match and we begin to head back towards the car. By parking at the ground, Magnum PI would have to wait however as no cars were allowed to leave until the ground was empty. Needless to say, we'd only made it halfway down the unlit country track road before the stream of cars begun to make their way past us. Still, their headlights at least mean we can see where we're fuckin' going. Back in the car, and it's homeward bound as we made our way back to the big ol' smoke. There were plenty of results to look through on the way home to pass the time. One of particular note is the score that came from North of the border as Celtic are beaten at home by Clunge Cluj in the European Cup.
We also tried to work out some of the new rules for this season and the not very clear interpretation of them. Like for example, I thought that when a substitution is made now, the fella has to leave the pitch where he is closest to the touchline. But none of them did at Eastleigh and no one was on the hurry up either. The other issue was regarding the ball hitting the ref. Now it's supposed to be a drop ball to the team that hit the ref, and yet, the drop ball cannot be contested. Where's the fun in that?
So once again, we're finished for another blog. Come Saturday and we're back on the road once more as we make the trip to North London to another ground that is on plenty of people's 'fuck that' list. But at least the misery of a trip to Boring Wood can be offset for a few of us more hardy souls if we head to Stale Buns pre-match. Enjoy!
Someone was left out of the group hug…
Duke
Att. 1750