I think it's fair to say that all things 'retro' are 'in' currently. All I see every day is kids wandering around dressed like they're extras from 'Fame' or just come from a Bros gig. You also only need pop in here when Totts has done a shift to find loads of middle aged sorts lapping up his 70's punk nostalgia like it's free Watneys Red Barrel on tap. Well, it seems the National League are taking tentative steps towards getting on board with all things retro as well and have allowed Chorley back into the top echelon of the Non-League game.
For most of the gang, a meeting with Chorley is a new experience. However, those older heads amongst us (basically Dr Bell and myself) have experienced this lot before. I can even remember going all the way up there for an away game on the coach, then nipping to Blackpool for the illuminations and some fish & chips after. All the younger ones reference to this place appears to relate to something about 'coming in your ears'. Sounds most unpleasant. I'll have to speak to Dirty Barry at some point to get this matter clarified.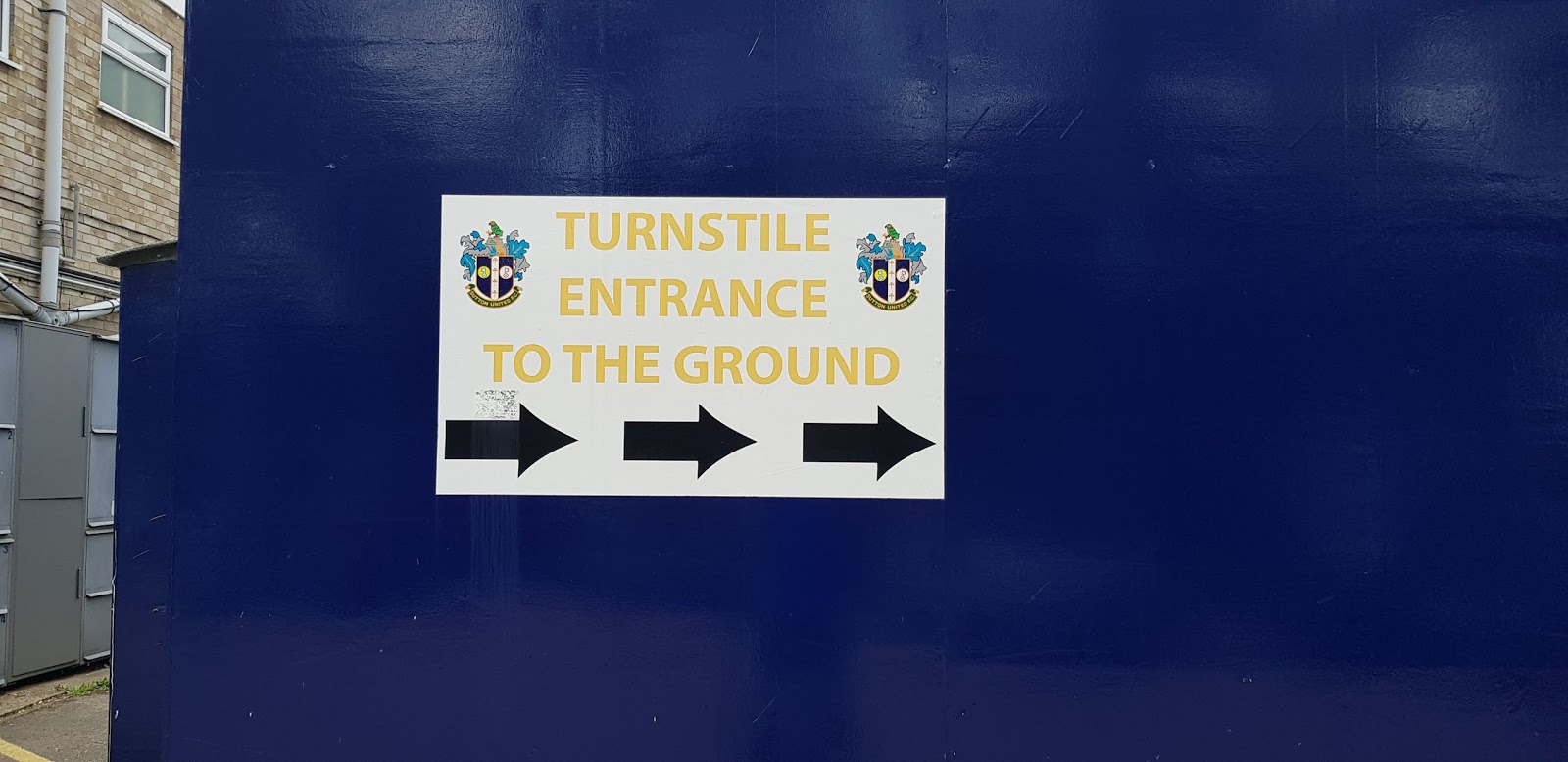 Ooooh, Thanks!
With the win at Hartlepool getting us going and then a so-so draw at home to another 80's Conference throwback in Barnet, we're in reasonable spirits in the lead up to our first Saturday home game and our trip back to 1987. Totts takes the opportunity to remark on the social medias that he's never had a Chorley cake before and makes a pained plea for anyone heading down from the North West to bring him one so he can break his duck. Having heard the 'coming in your ears' thing, I'm personally not so sure about this delicacy and it's origins. Gluten free? That'll be the least of our worries.
As it's a home game, the usual routines are observed. A big fat "I've not got to be at fucking EustonKings X for 7am" lie in, followed by some procrastination and eventually a bored amble out for the bus into town. Whilst waiting for the misery that is public transportation, my attention is drawn to the fact it's quite drafty out today. So much so, I almost feel I should be wearing red slippers and wondering which way is Kansas. This will no doubt make the game this afternoon a little more interesting. One can only hope that Mr Gray is planning on today being the big 'two up top, fast exciting football' reveal. I know I know, it's the hope that kills you.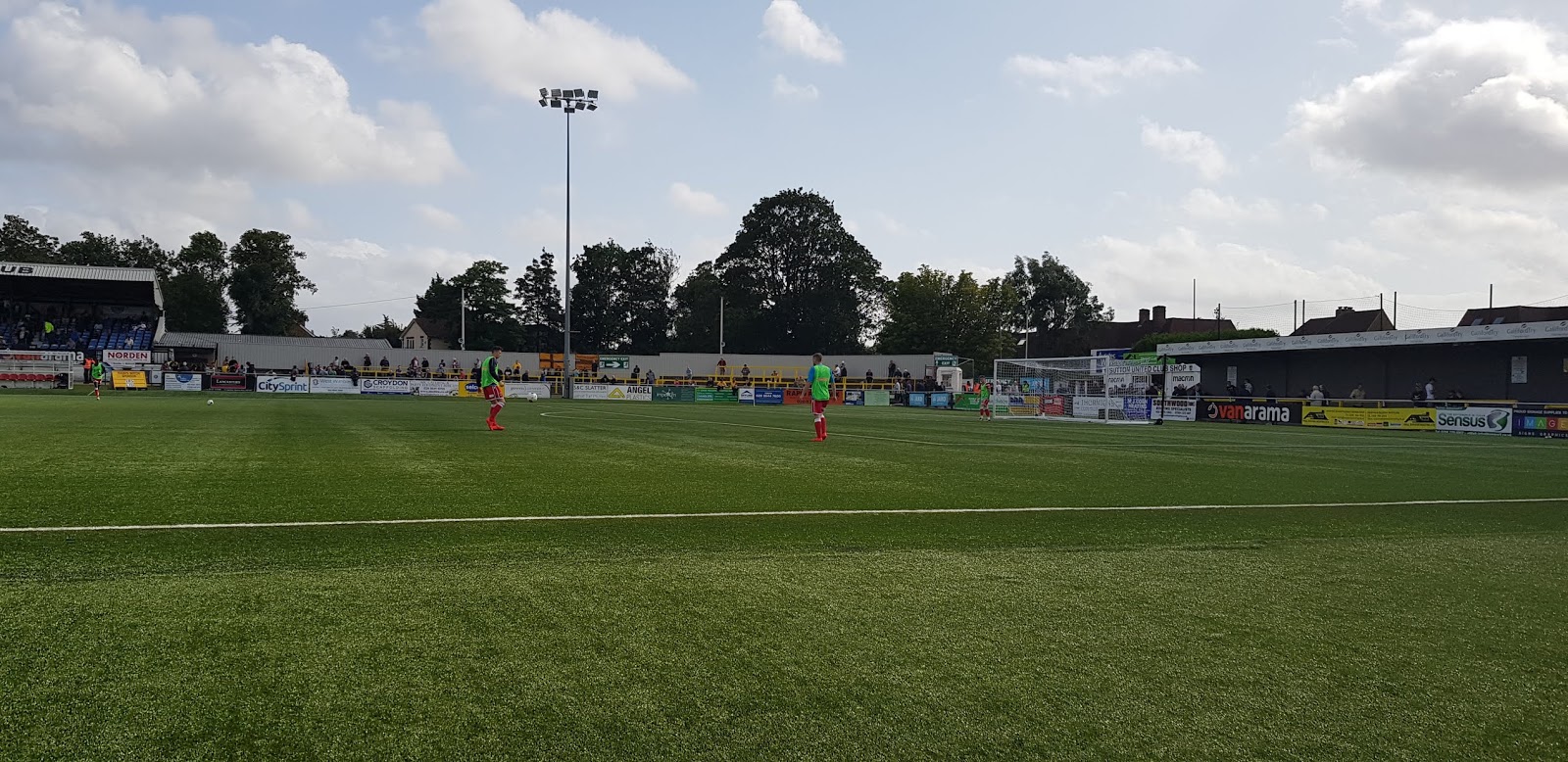 At the break…
The walk down to the Republic takes a little longer than usual given the force 9 headwind I have to contend with, but at least I'm not killed by any flying debris and make the bar in time for a couple of pre-match liveners. The usual mugs are on show, huddled at the end of the bar half watching West Ham v Man City on the telly. I grab a pint and join them and am soon reminded why I've stopped watching top level stuff on the box now. Fucking VAR. Apparently City have already had one ruled out for offside because Stirling hadn't combed his hair this morning before they then have a goal allowed to stand that looks no less marginal.
Then there's a penalty which Aguero misses but is given another go because some twat watching a telly somewhere feels sorry for him. It makes my piss boil, it really does. For penos, the ref is watching for encroachment and the lino is watching for the keeper on his line. Why is VAR even needed? And as for the offsides, if it's that marginal, WHO FUCKING CARES? Whatever happened to that 'clear and obvious' bullshit they touted when they introduced this bollocks anyway? Thank fuck that shite will never make it this far down, that's all I can say.
One face missing from today's joyful assembly however is Robbo. Having got twatted at Hartlepool last week and as you may have read in his Barnet blog, sworn off the demon drink forever (and then had two pints after the game). Well, he's not learned his lesson and wound up out on the 2 for 1 cocktails Friday night. We know this as he was advertising the fact on the super top secret, members only, VIP Whatsapp thingy the previous evening. "I feel fine!" and "I'll be drinking tomorrow" were some of his boasts as the rest of the messengers called 'bullshit' and were certain he'd be deader than West Ham's Premier League title challenge today. Seems we were right, as there's no sign of him at GGL and he's not responding to messages either. Tut tut.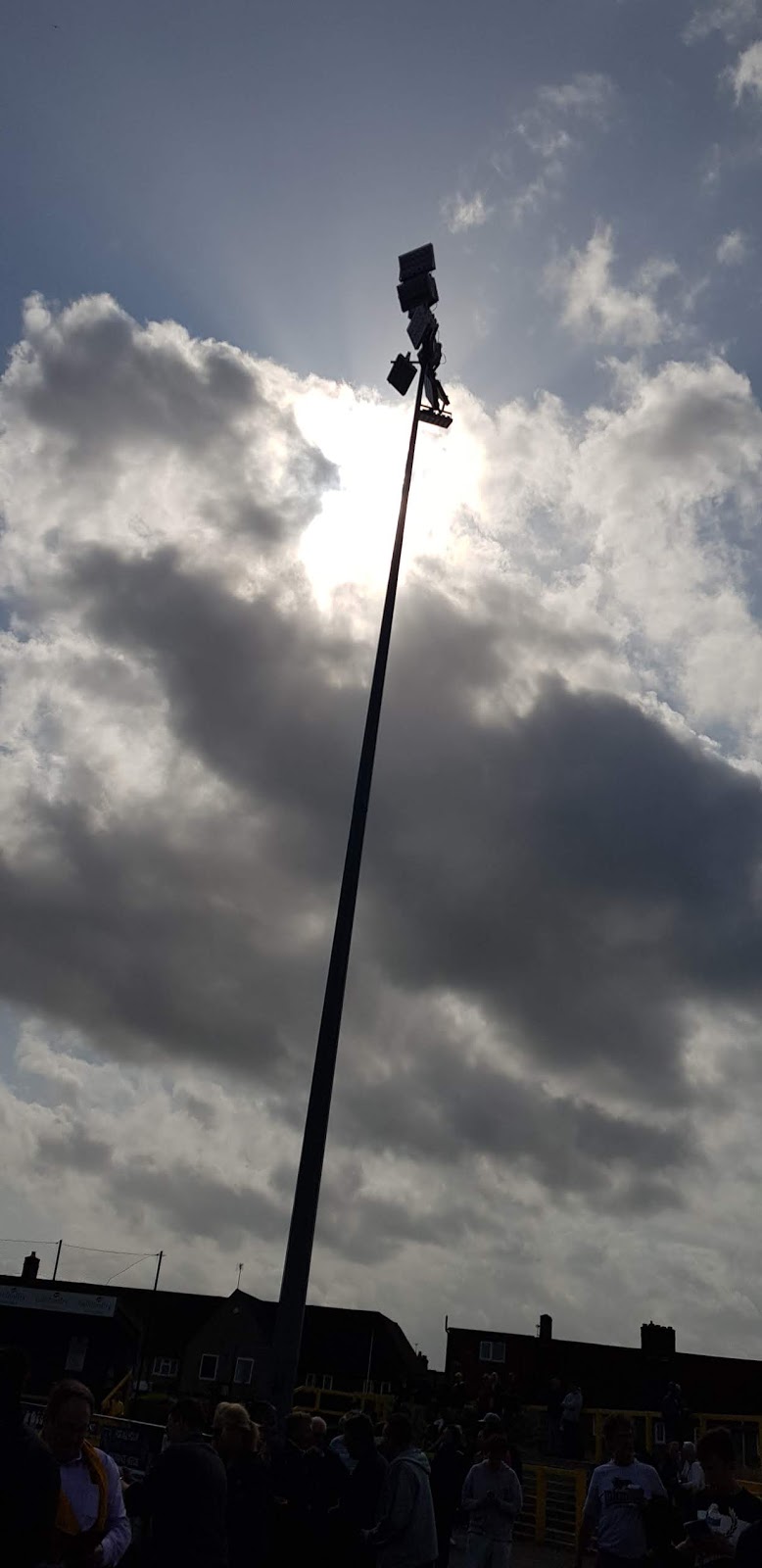 Creaky creaky….
When the team news arrives, it contains the pleasing revelation that we'll be going two up top today and that young Mr Kearney is on the bench. This cheers most of us up as there's hope that we'll be a bit more at it from the start today than we were on Tuesday night. Three points would be a welcome addition to the tally at this stage of the season and a home win is properly overdue. The visitors today have started with two 0-0's so far, so they can defend but perhaps goals are an issue? And yes, we're once again back to our old friend hope shortening our life expectancy.
Butler, Bennett, Barden, Goodliffe, Collins, Bolawinra, Bugiel, Beautyman, Randall, Milsom, Jarvis. SUBS: Dudzinski, Kearney, Dundas, Ajiboye, Matsuzaka
With the game unsegregated today, we head in and expect to be shooting towards the Rec End first half. Mainly as tradition dictates this and also, it might be helpful doing so given that's the direction today's fucking gale is blowing in. Naturally, we lose the toss and end up defending that end instead. Joy. Some Chorley lads who've clearly been on the gas have guessed right about the end they're shooting towards and send us on our way with a charming rendition of 'Cockney Rent Boys'. Thanks lads. Like you could fucking afford London prices anyway, we charge more than a bag of chips down here lads.
Naturally, with Hurricane Defensive Nightmare barrelling down the ground, our fears about not keeping a clean sheet are soon brought to the fore when with their first corner, Chorley whip it back stick and their big number 6 gets up highest to nut it into the back of the net. Eight minutes lads, eight fucking minutes. Still, at least we've seen the set piece now and we won't be falling for that old bollocks again a couple of minutes later. Oh no wait, we've gone and fallen for that exact same old bollocks a couple of minutes later. Fucks sake.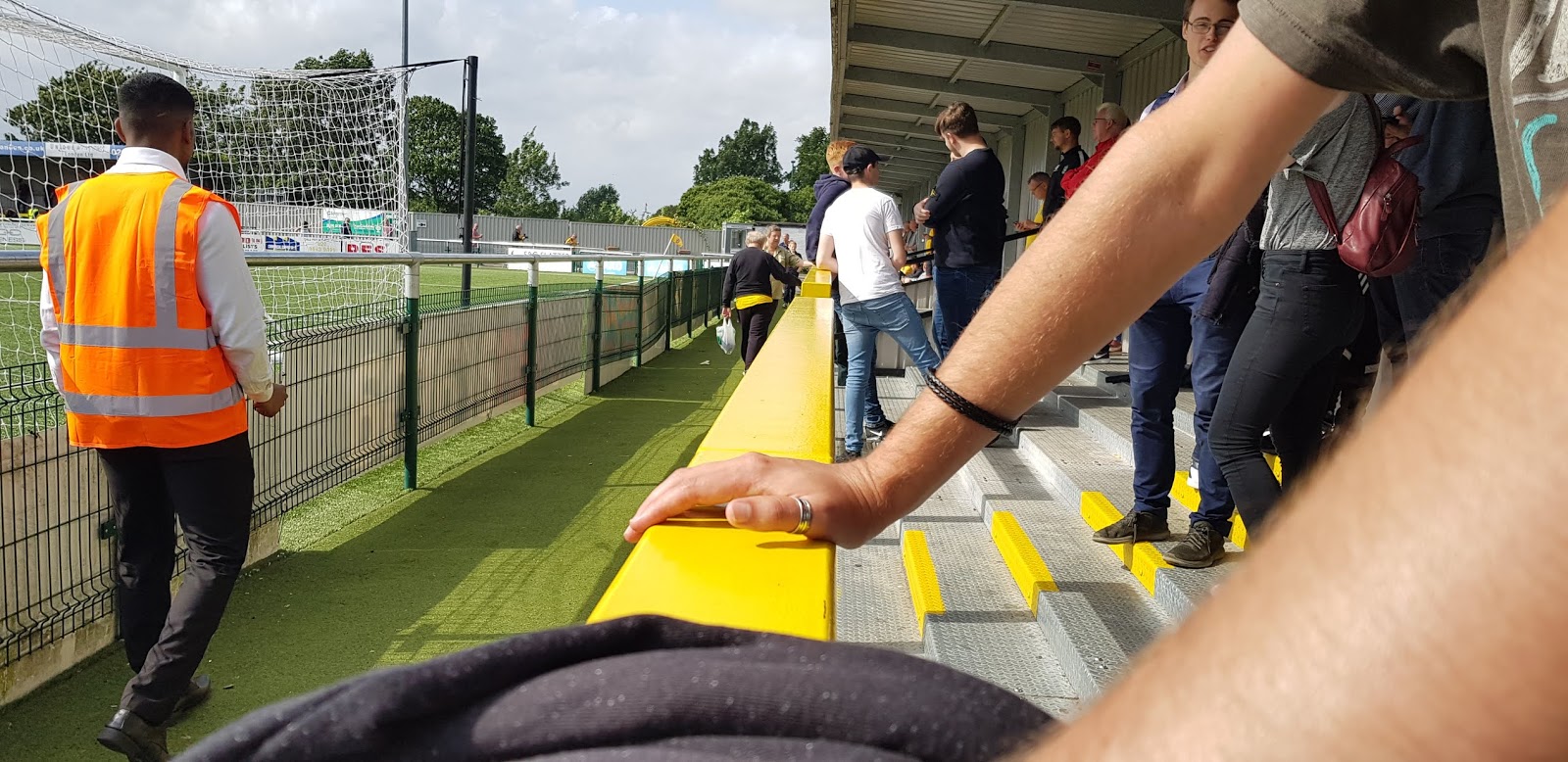 Artsy
Second corner of the game, same thing. Whipped back post, big 6 is up and this time his header comes back off the bar before being bundled in from close range to make it 2-0 whilst most of our lot stand around with a stupid "We probably shouldn't have got done by that routine again should we?" look on their boats. Oh well, at least last season's miserable home form is still fresh enough in the memory that we're all still pretty well versed in what to do at this point of a match. Pinch bridge of nose, lower head whilst shaking it sadly and mutter lots of bad bad words.
Having given the visitors a head start, a quick reply is vital. And thankfully, four minutes later we get one. It's a bit out of nowhere, but we're really not being that fussy right now. Hilariously, a long ball against the wind gets to the edge of the box and the gets outjumped by Jarvs. His little nod down finds Bugiel who toes it behind the defend and as they all stand watching, Jarvis recollects the ball and thrashes it through the legs of the keeper. Thank fuck for that! Back in the game, the lads start to show a bit more cohesion and we largely see out the half without too much problem at the far end. Stopping them having many more corners for starters is certainly a tactic we can all get on board with.
Apart from a Bugiel shot that the keeper saves down low, there's little else to write home about on the pitch and as ever it turns to off field moments to relieve the tension. This is mostly playing "Guess who'll be killed when the badly creaking floodlights finally give way" and a pretty hammered looking Chorley lad being half held up by his mate staggering past the Shoebox who reacts to the "Blimey, he's had a couple" chuckles from us all by dropping his kecks and showing us his arse. Like we said earlier lads, whilst you might be after some 'Cockney' cock, you definitely can't afford London prices.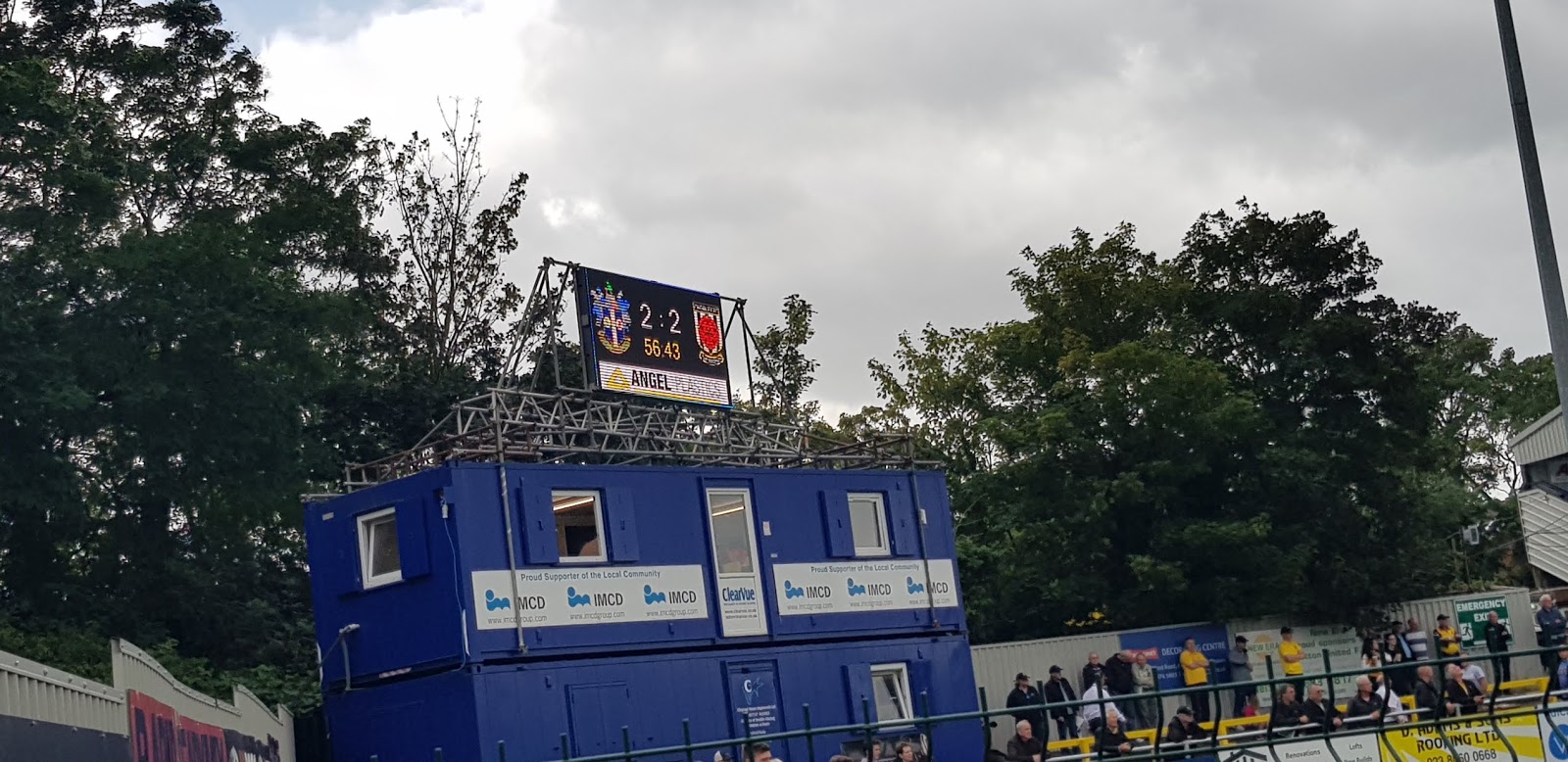 Level.
After a heated discussion about who's half time round it is, the drinkers retire to the bar and the rest of us mooch on round to the Rec End to await the restart. With the wind still powering down the ground, surely an early leveller will put us in a great spot to go on and win this? Thankfully, the lads come out on the front foot and after a couple of early sighters from 2 Milsom set pieces, Harry draws a foul about 25 yards from goal in a fairly central position. Milsom steps up again and guides the free kick up and over the wall and inside the near post. 2-2!
Right, let's get on and win this fucking things please! Sadly though, like Tuesday, having exerted some real pressure after going level, we can't maintain the tempo and having made the subs with 10-15 to go, we just mostly fade out. Only a couple of late darts from Ajiboye giving any hope of a winner. The only other real moment of interest in the half is Ben Goodliffe chopping a bloke in two just inside our half as he looks to break clear, quite how the ref thinks this is only a yellow surprises everyone. Someone like Carl Brook would have had the red out quicker than you could say "Card happy arsehole".
So, in the end, it's another draw. And a fucking Desmond at that. We had nine of these last season, so we were hoping we'd be largely giving them a swerve this time out. Still, at least this one's come from 2 down rather than 2 up as was mainly the case last year so it's not all bad news. A point is a point though and we head into the bar for the post match refreshments and other nonsense. Here we discuss all the long distance awayers we still have to get advance tickets for (a lot!), Harry pops in to ask a favour of Windy and Paul, Cat the Physio's other half, amuses himself by sending the entire Chorley team the wrong way for the post match grub. Fortunately, with Robbo dead, we also have an enjoyable post-match jukeboxing with not a single play of you know what.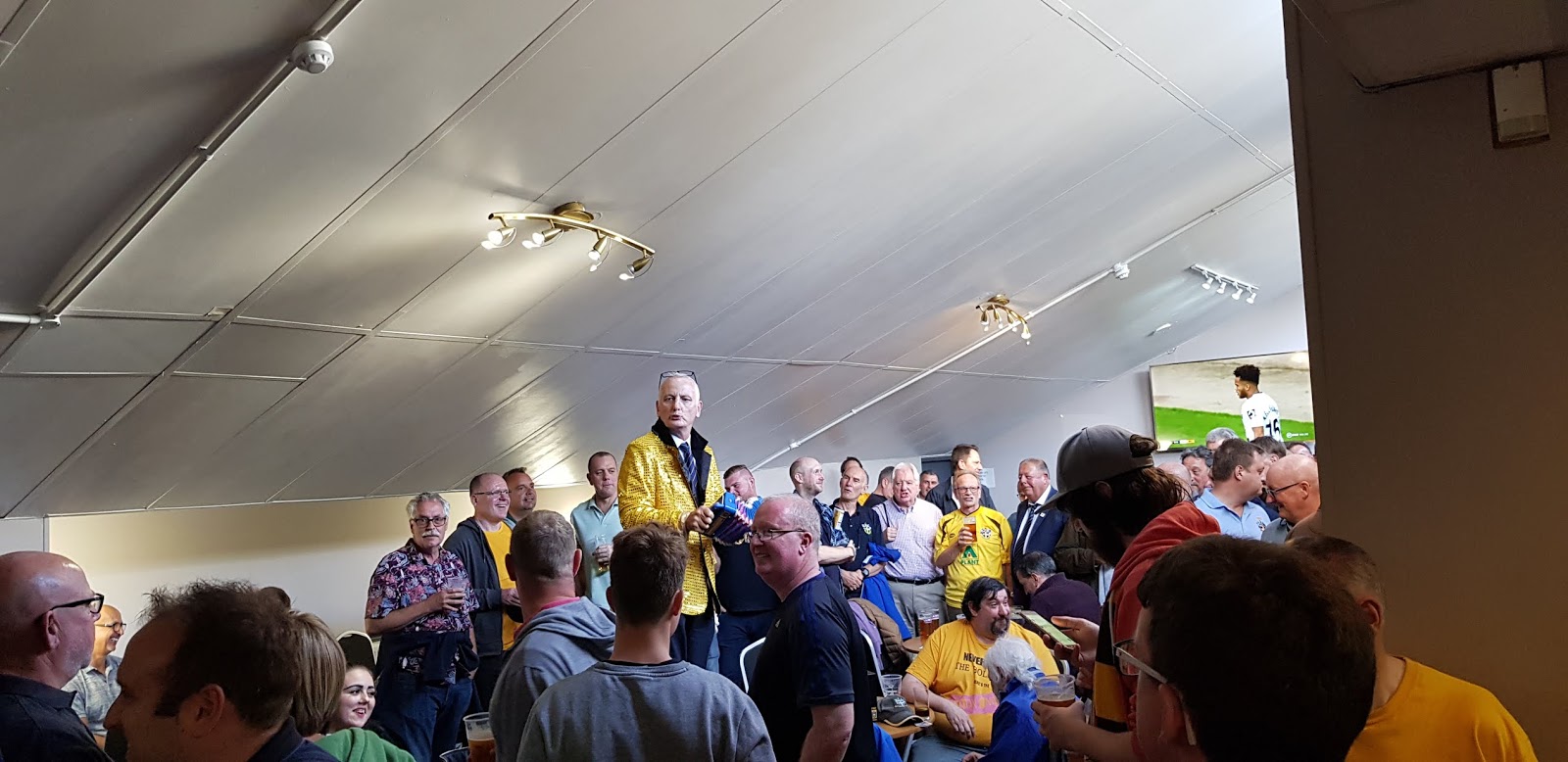 Gold lame. Accordian. Standard.
Strikers are Key reveals two winners, both drawn by Harry Beautyman (that lad really is on a hot streak at the moment!) but it simply doles out cash to Autotec Phil and former sponsor Malcolm, another hangover cry off today. Although the latter is unlikely to be seeing any of that cash as JC collected it on his behalf, so it'll have gone straight back over the bar on pints of Guinness no doubt. As time gets on, I make plans to dart off for the 10 past 7 trundler back to the occupied territories and there's just time to see Wreck It Beckett from the B Team perfectly photobomb a pic of Clive's nephew Graham and Omar Bugiel. This is the same Graham who'd tried to buy my jeans off me in Hartlepool last weekend when he only turned up in shorts and realised he fancied going clubbing that evening. It turns out some other local was more desperate for the tenner on offer and gave up his jeans later that evening, so it all worked out well. He's based out in Vienna normally and watches a fair bit of Rapid, so he spends some time trying to sell a Gandermonium abroad weekender. Don't worry squire, it's on the list!
I say my farewells for the next week as I'm firmly not going to either Eastleigh or fucking Boreham Wood, I'd rather get ebola quite frankly, and head for the train. On the platform I find Ryan from the Yoof firm heading home with a bag of chips that simply make me feel far hungrier than I already am. We have a brief chat before he hops off at Sutton and I head on to Carshalton where I find the gents khazi is locked. Sake. Thankfully though a stiff tailwind propels me home before I can wet myself. Which at my age is a bonus.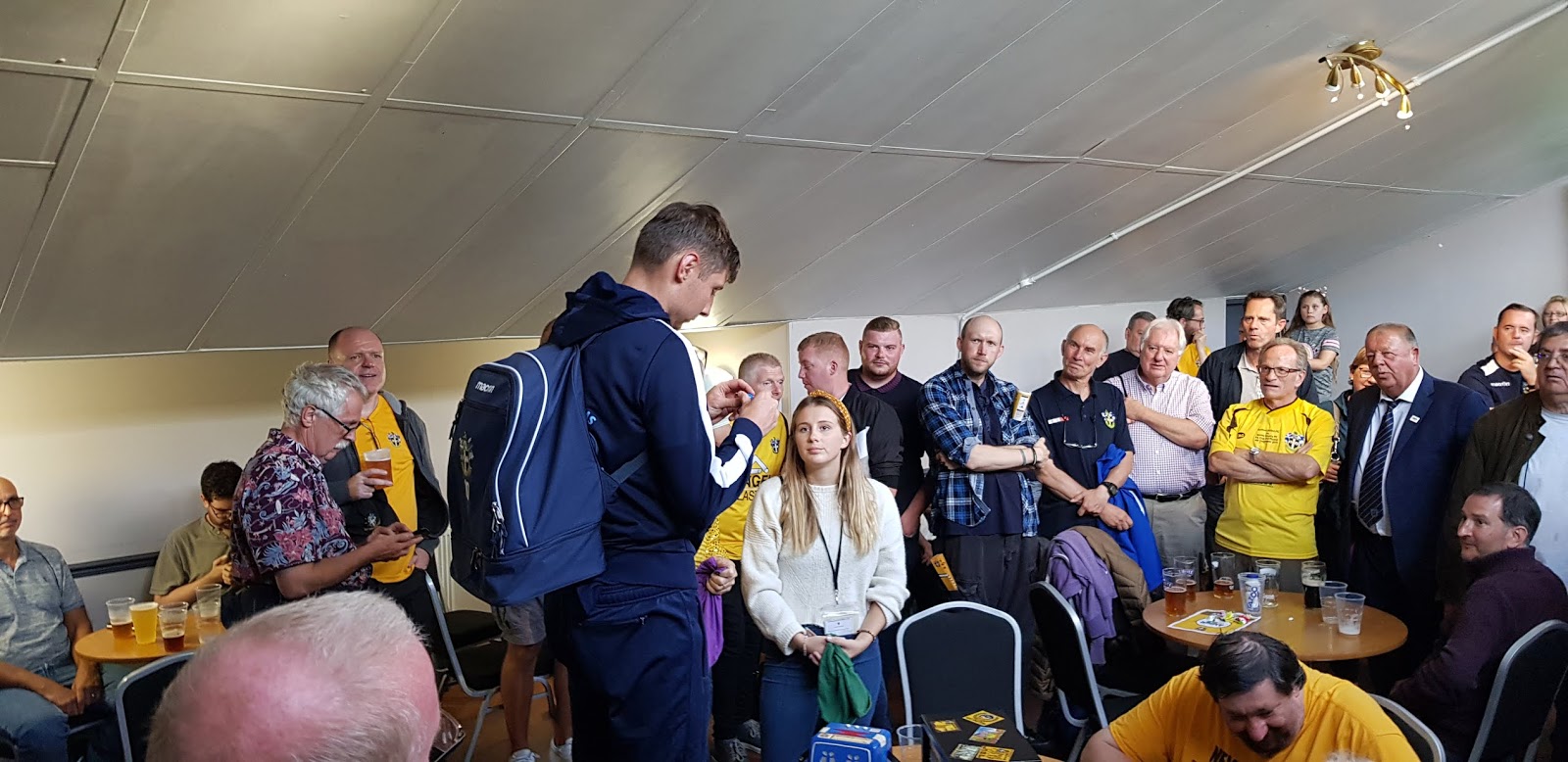 Harry's on fire, your prize draw is terrified!
Right, enjoy the next two awayers. Dukey's got you covered there and then it's onto Dover at home when Totts will be transporting you once more to the 1970's with tales of the Clash, Castella cigars and pints of Double Diamond.
Taz