Aah, the old Pre Season Friendlies. The footballing equivalent of non-consequential foreplay where you get a bit hot and sweaty, go through the motions but never reach any sort of satisfactory climax. Still, they are part of the calendar and it has fallen to me to slam them into the bin on behalf of the Gandermonium cartel before the real thing gets under way at the weekend.

It wasn't meant to be like this. On the original schedule I was due to write a coruscating diatribe about identity politics, beard oil and Guardianista virtue signalling loosely wrapped around the Dulwich game but, as is increasingly the way nowadays, I hadn't been listening to instructions indoors and had fucked up the dates for my eldest daughter's graduation in Bristol. Plans that, inevitably, were later altered meaning I could have done the gig anyway but fuck it, Taz was happy to step up on the understanding I cover the SCR/Chelsea double header.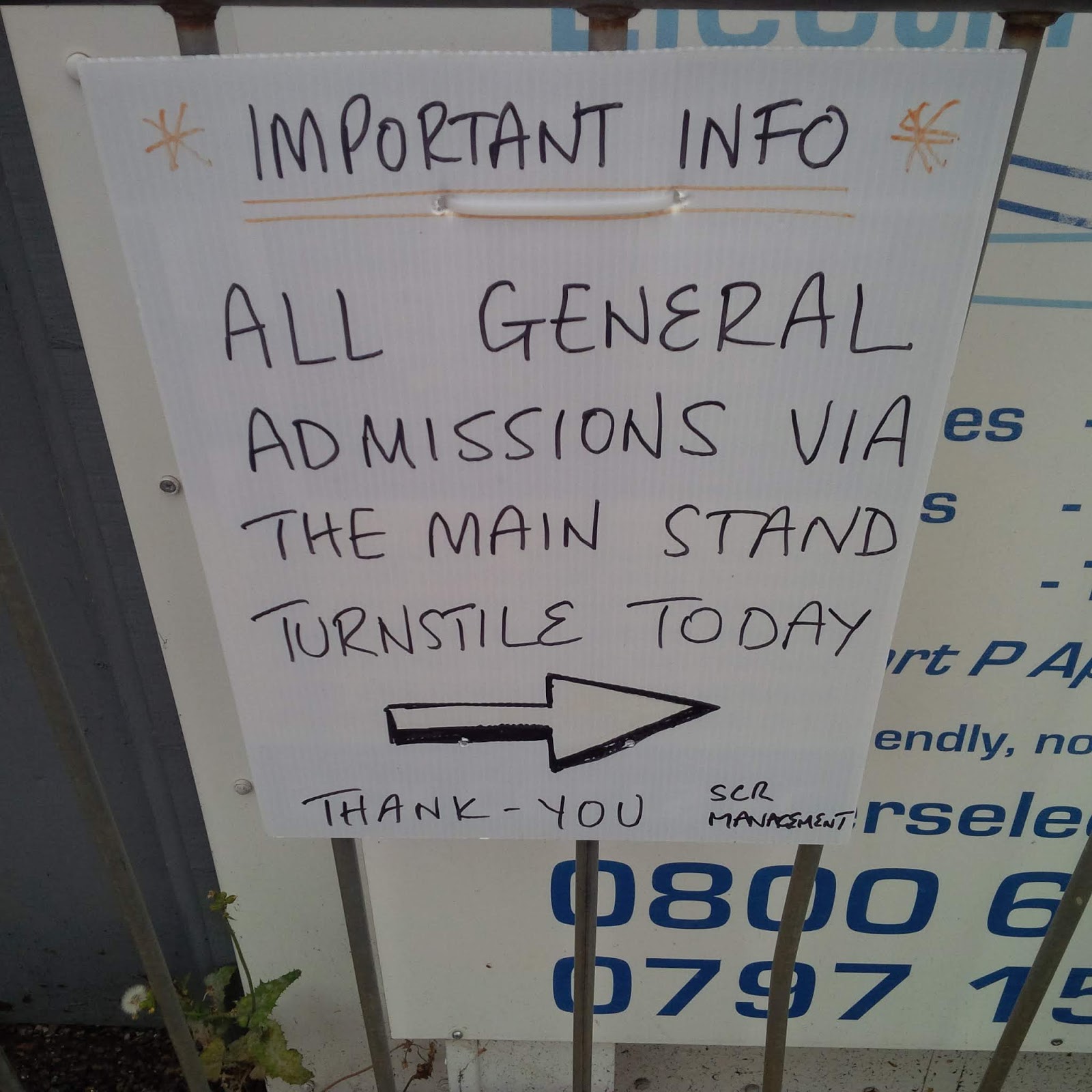 Keep 'em guessing!
And here I am, fully tooled up with the Jacob Rees-Mogg style guide, a battalion of seventies knob jokes and a couple of cans of Mackeson at your disposal for the roller coaster ride over the next ten months. So, let's get underway with SCR, our ground-share tenants, and what was technically an away fixture for the U's on a hot summers Friday night down GGL for what I like to think of as the PROWS SENIOR CUP FINAL. Don't worry, give it time. It'll catch on, you just wait and see.
I like Sutton Common Rovers, I like the people at the club, I like the way that they play the game and I like the fact that when Sutton are away at some inaccessible Northern hell hole in the middle of January I can have a lie in, a late brunch and then stroll up the Lane for a couple of scoops with a few of the older chaps and catch some very decent football for a couple of quid off the back of my SUFC season ticket. More of you should give it whirl.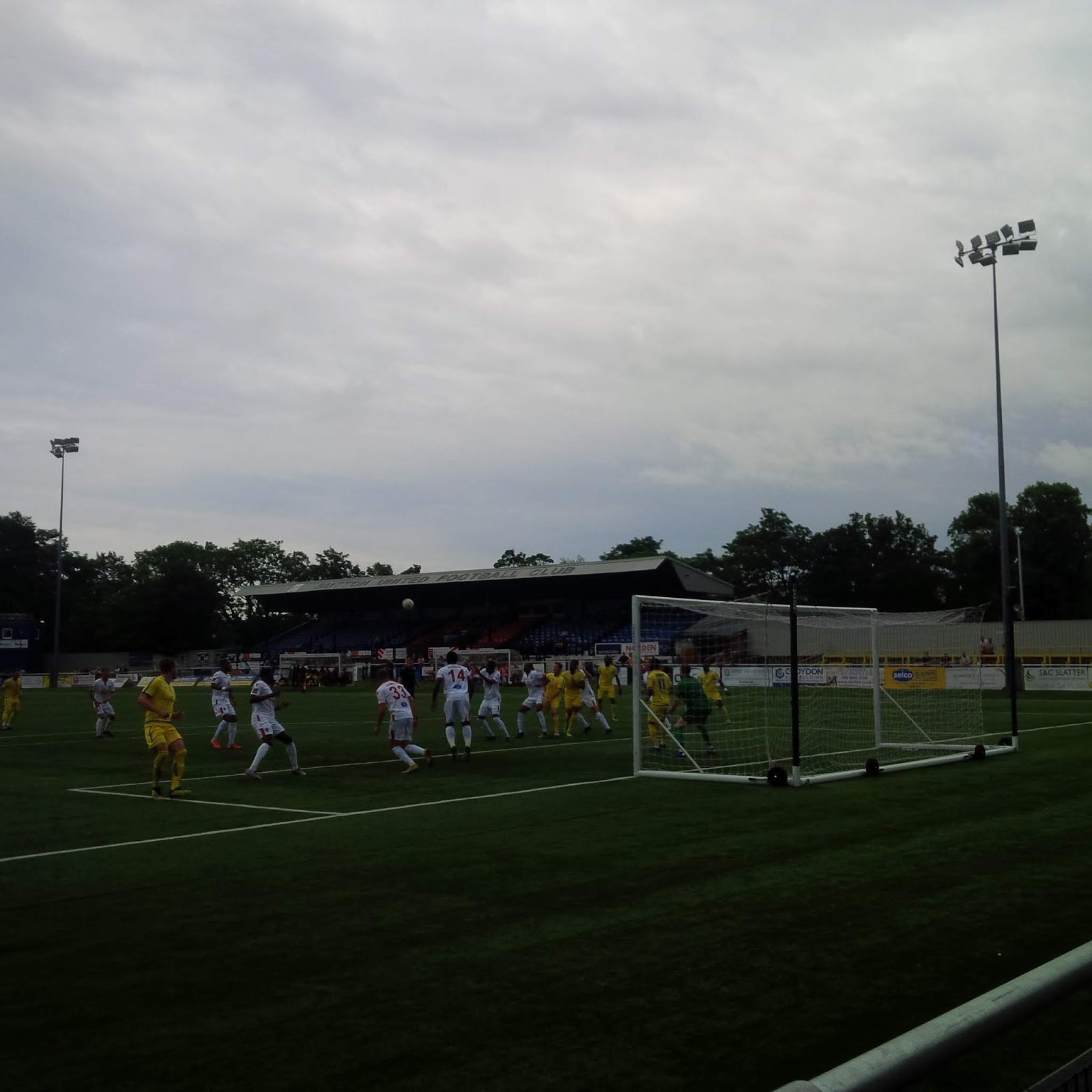 Action. Dark dark action…
I give myself a bit of time for a cold beer or two for this derby clash and wheel into the Players Bar where I'm pleased to see Keepo, Paul, Smarty, Russ the Chippy and a few of the other COC's making the most of the facilities. Good to see Paul looking trim and well and Keepo buys me a nice pint and slings a few seventies classics on the juke box and it's just like we've never been away. Vice Chairman AB collars me and offers me some sort of "ambassadorial role" for the club that on closer inspection turns out to be footballing equivalent of selling timeshare and I tell him I'll think about it before legging it up the tunnel for kick off.
Sutton have got a very strong squad up for this one with the likes of Dundo, Tombo and Dylan all in the starting line-up but its SCR who miss the first early chance as I wander round towards the Shoebox for the first half. I spend some time on route catching up with Shaz, SCR gaffer Darren's better half. I genuinely think that with Chertsey now rightly elevated the club have got a decent chance of breaking out of the Combined Counties and into the Fat Vic's Speiler League this season. I hope so, be great to see them playing at a higher level.
SCR LINE UP
Dudzinski, Lema, Lakhamy, Dundas, Matsuzaka, Byron, Bolarinwa, Whitmore, Bugiel, Tuson-Firth, Kearney SUBS: Brown, Hoosang-Robinson, Coen, Simon-Jordan, Wright, Cireasa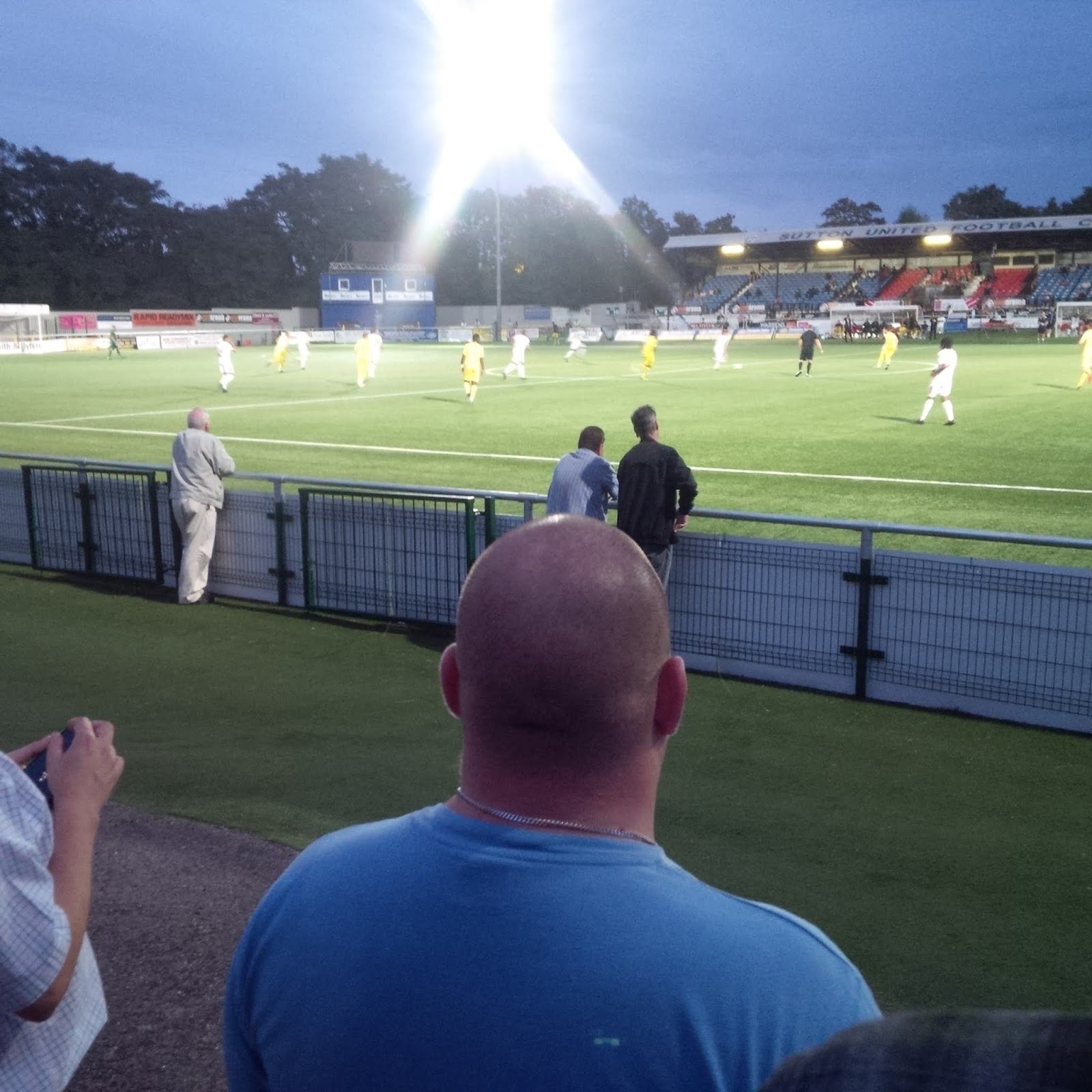 That's better!
On the field Sutton soon assert control with Tombo scoring on four minutes and Dylan getting his first about ten minutes later. Looks like this might turn out to be a rout as on the half hour Dylan bags his second with a fine finish making it three nil but SCR are a resilient outfit and just a minute later they pull one back from the spot after a disputed hand ball in the box. But the ref is Adam Ant and the kick is buried with aplomb. That's how it stays it half time and I nip back into the bar for a livener with the lads. Some joker asks what I'm doing back in the UK and suggests I only nip back occasionally for tax purposes. Yes, you know who you are. Fucking scurrilous that's what I call that sort of thing mate.
Now, here's a tip for you, be wary about wearing flip-flops on a summer evening at Gander Green Lane. My foot is literally fucking bleeding from the bites of the Tiger Mosquitos that blow in down the by-pass on warm nights like these from the swamps of the Occupied Territories. Bastard things. There's a few more on the Shoebox for the second 45 with Southampton Steve, Mr X, Dukey and a bunch of others all gravitating back to the centre of the footballing universe. There's a rake of substitutions and it's grand to see Tommy Wright back in a Sutton shirt after the assassination attempt at Orient last season.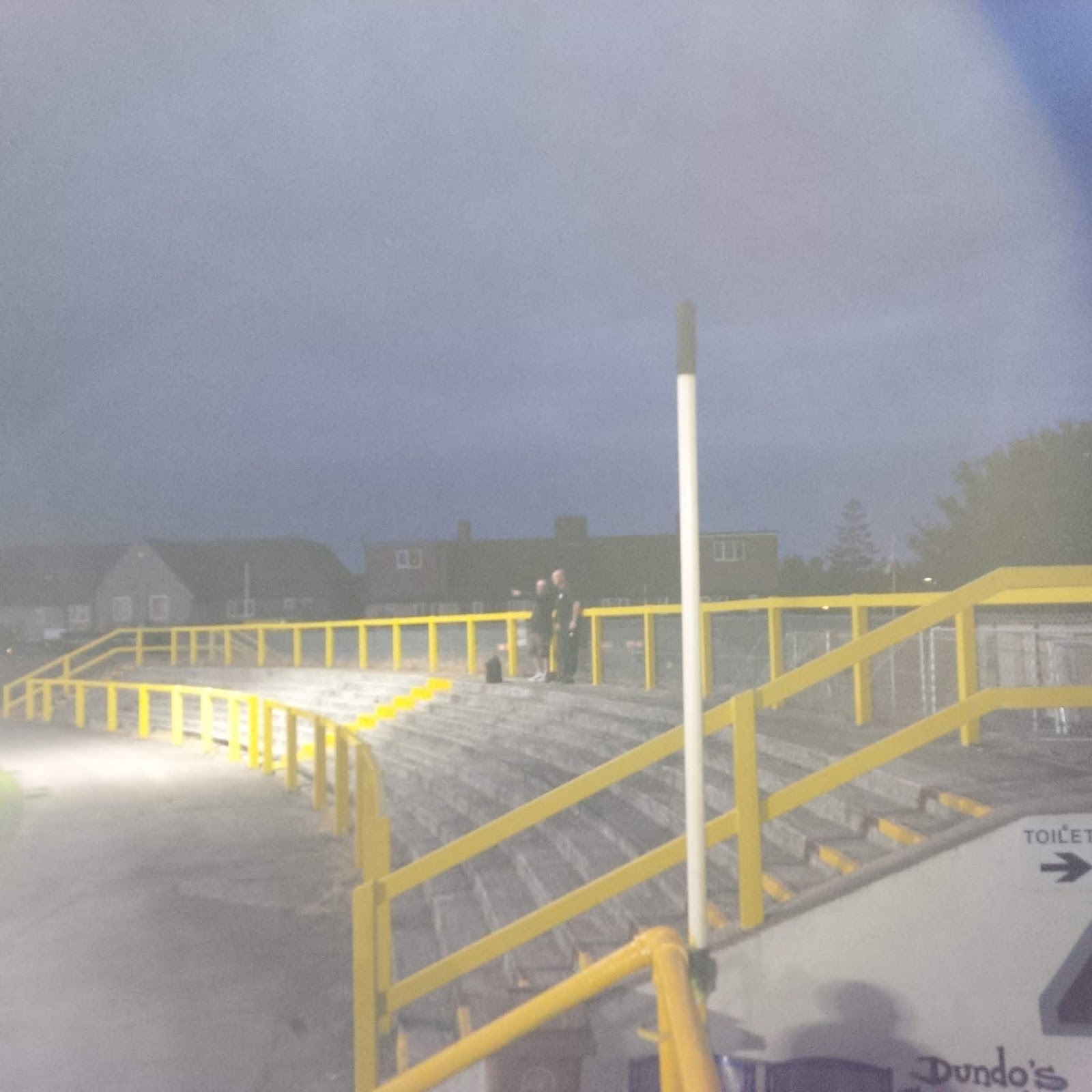 Spliiters!
Just on the hour Dylan wraps up his hat-trick from the spot and there's some more of the usual PSF comings and goings, including Tommy off after a twenty minute cameo but there's plenty of action on the pitch in a competitive game and SCR keep battling and are rewarded at the death with a second penno and the game finishes at a very respectable four two. Right, quick pint, pick up a Chinese and get some kip ready for part two of this extravaganza….
About sixteen hours later I'm back at the club for the Chelsea Under 23's and having a nice pint in the fan zone/car park and discussing the year ahead with the legend that is Dirty Barry. We talk of Torquay away and a sleep over and Bal is excited to be booked up for his annual Saga Warden Assisted Sex Tour of the Canaries next month. Fair play mate. Sixty is the new Sexy son, you know that. Just don't get up to anything sleazy, hey?
CHELSEA LINE UP
Butler, Bennett, Milsom, Barden, Goodliffe, Collins, Ajiboye, Davis, Jarvis, Beautyman, Randall, SUBS: Bolarinwa, Bugiel, Kearney, Dundas, Matsuzaka, Dudzinski, Tuson-Firth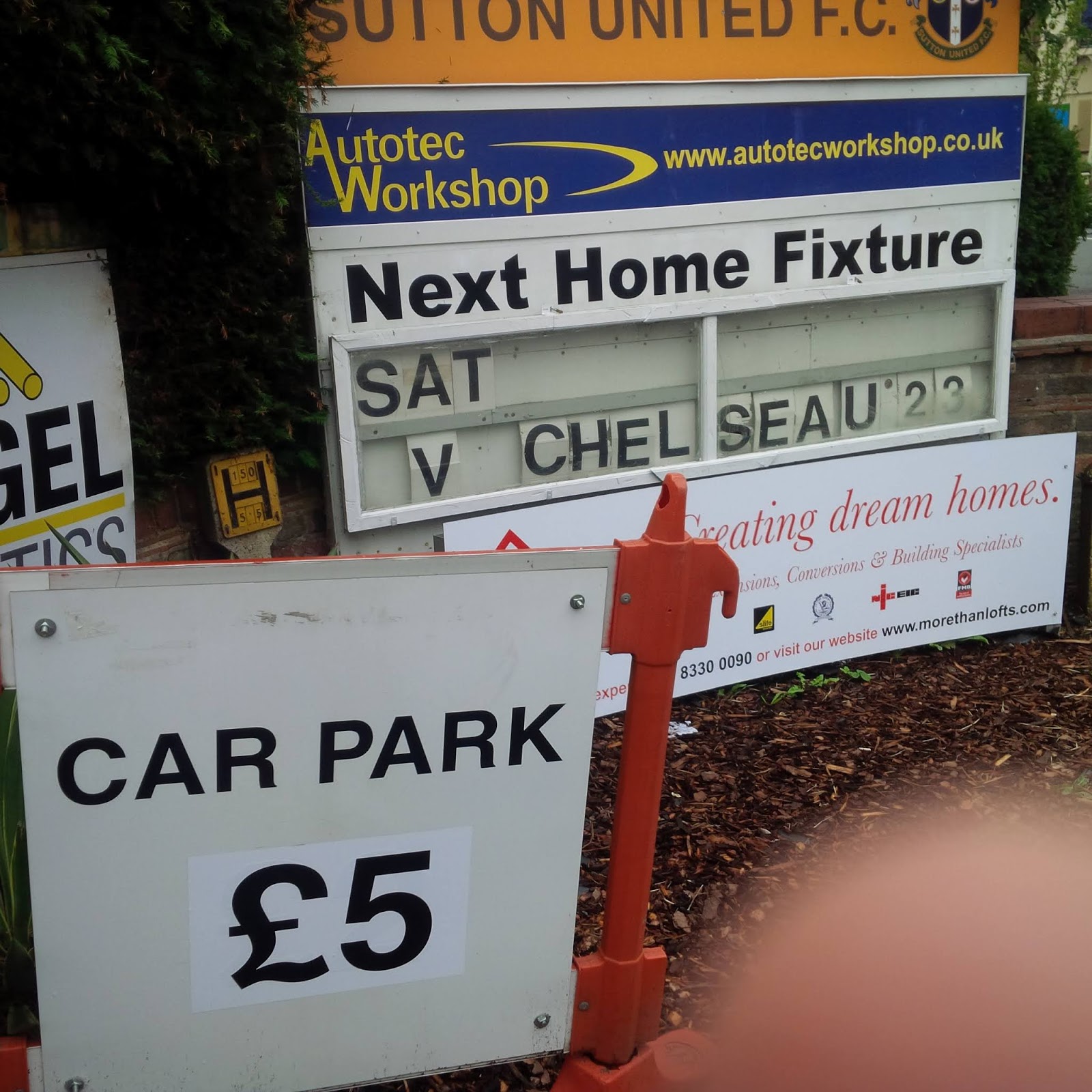 Oppo name? Check. Car park price? Check. Finger in shot? Check.
There's a stronger contingent on the Shoebox for this one with the Bacon's, Gaz and a bunch of others all lined up in position. But there's no DILF Bingo, mainly because there are no DILF's, so none of the usual controversy with Frakey and his lurid allegations. Probably for the best as it's been getting a little heated of late. Tom the Beard rocks up in his full Security uniform and the penny soon drops that due to his new found celebrity he has been hired as close protection for DB. Just don't let his tabloid gossip-column ways rub off on you mate. You know what I mean?
I'm sure that you can find plenty of reports of the game elsewhere if you into that kind of thing but suffice to say it's a decent, competitive run out for both sides with Chelsea taking the lead just after half time before Sutton hit back with two goals from superb Milson corners before the Blues levelled it up right at the end. Very enjoyable afternoon all round. I don't hang about as Kilkenny are playing Limerick in the All Ireland semi on the box and I don't want to miss my granddads side in this year's bid for hurling glory.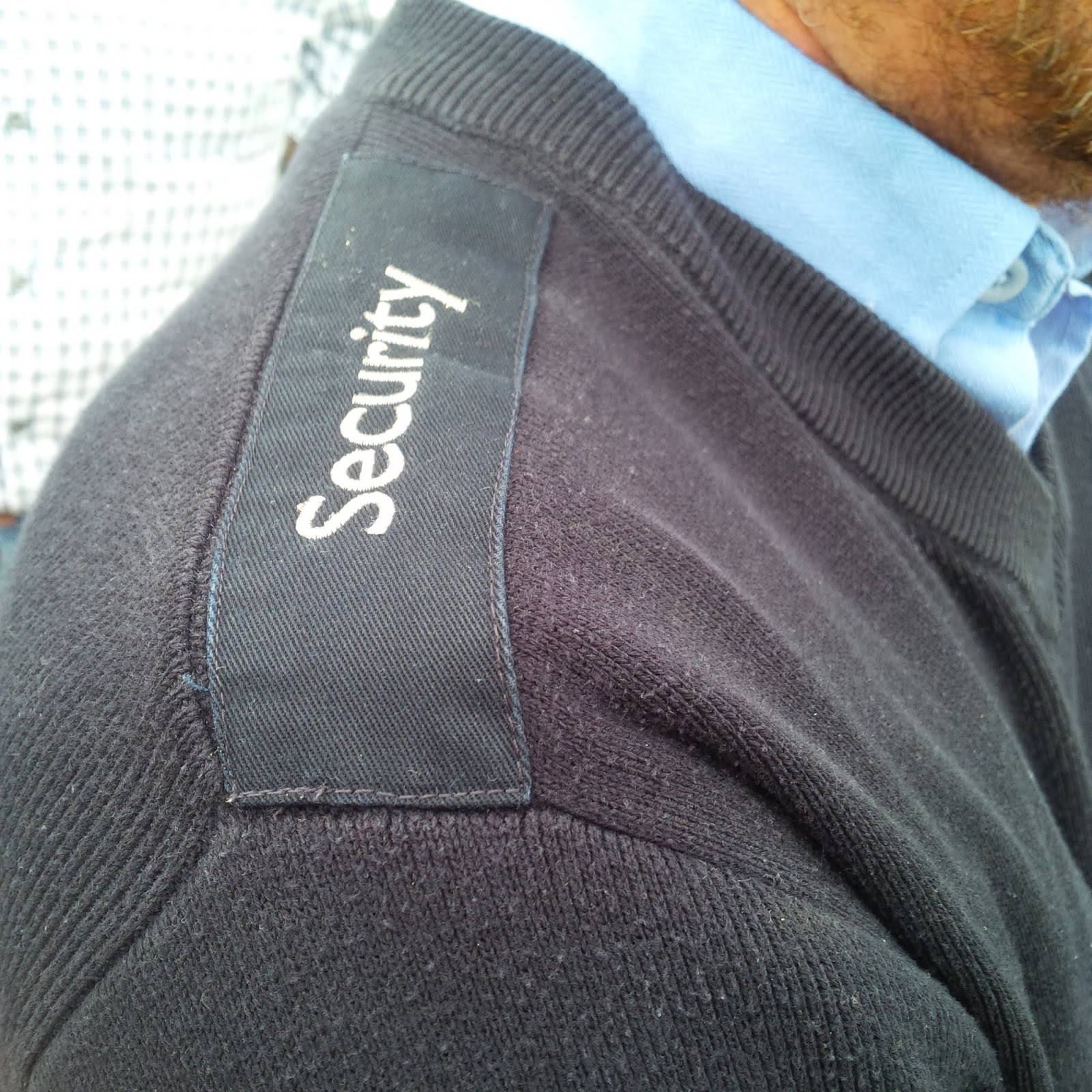 Keeping the riff raff out.
Anyway, you'll be glad to hear that's that for pre-season and it all gets deadly serious next Saturday. We are all behind Matt Gray and his team. I've personally rated him ever since he wandered into Marksies at St Pancras last season on the way to Chesterfield and didn't miss a beat as he clocked me taking pictures of Dirty Barry posing in the women's lingerie department. He clearly has the right focus to do the job for us.
Onwards!
Totts
Pre-season Lah-de-dah.