So, moving swiftly on from Saturday's nonsense and our third straight away PSF, we're finally back into the (very!) warm embrace of Gander Green Lane for the first time this summer and we're welcoming old friends Dulwich along for the occasion. In stark contrast to last weeks oppo Havant, who as Dukey revealed we've faced some 13 times alone since we resurrected this shite in 2013, the pink and blue hued mob from SE22 have yet to be graced with anything other than a cursory mention on here, as well as the occasional cheap jibe at their trendy, right on crowd via social media.
In fact, if my research is correct (and it probably isn't because I spent about 5 minutes googling this and that's it), this will be our first meeting since we gave them a proper Weinsteining, 5-1 in an FA Cup 2nd Qualifying Round win here in 2011. In fact that was so long ago that we can't even remember if they were still plain old Dullich 'Amlet back then or had transcended into Dulwich Hamlet, football club beloved by all Guardian readers by that point. But I digress, Of course with this in mind, we thought it best to play it safe, keep all our bases covered and stick our historical 'trendy South London Non-League football club' expert Totts on the job and kick back with our feet up as his proven formula of cheap jibes at the oppo's expense, a few mentions of Dirty Barry, some stuff on the 1970s' and a couple of knob gags gets the hits rolling on in.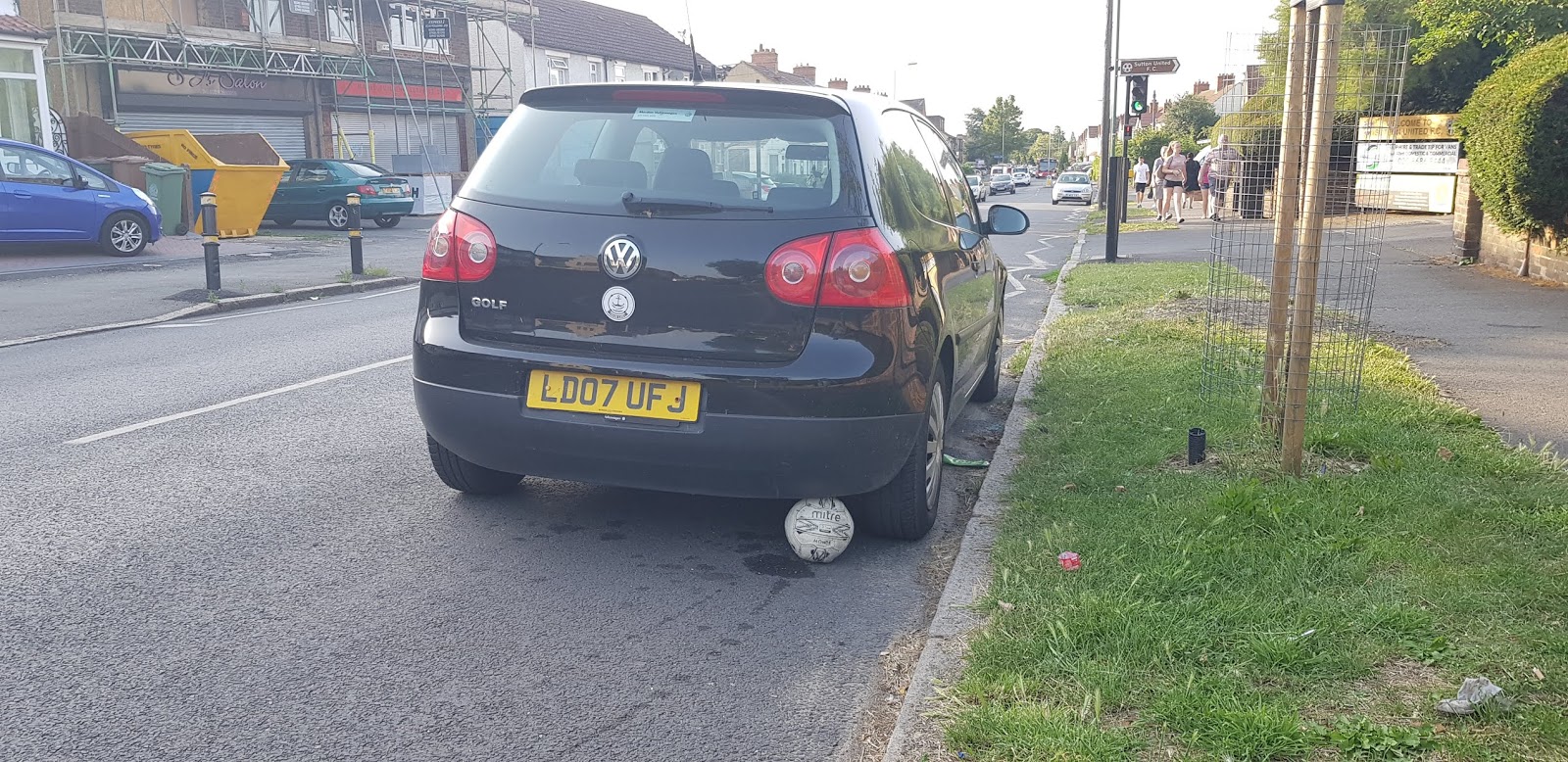 One for lost footballs…
Well, that was the plan anyway. And to be fair, the man himself was, as you'd expect, initially more than up for it. That was until he realised he'd double booked himself. I know I know, it's a lame excuse and we can only promise you that we were just as wholeheartedly unimpressed as you would have been with the "It's my daughter's graduation" spiel he fed us as the reason he could no longer undertake his solemn shit blog duty. Even worse, having dropped his bombshell, rather than just leave it at that he only goes and doubles down with some lame bollocks about "Mrs Totts will castrate me with a broken Bacardi bottle if I miss it". Pathetic.
So, with the tutting and mumblings of "Call that an excuse?" having now finally receeded here at HQ, the decision was made that you'd now be stuck with me instead for this fine production. No no, applause is not necessary. Your unspoken love, adoration and undying respect is reward enough for my humble self. Right, where the fuck was I? Oh yeah, shit PSF at home to Dulwich. Got it.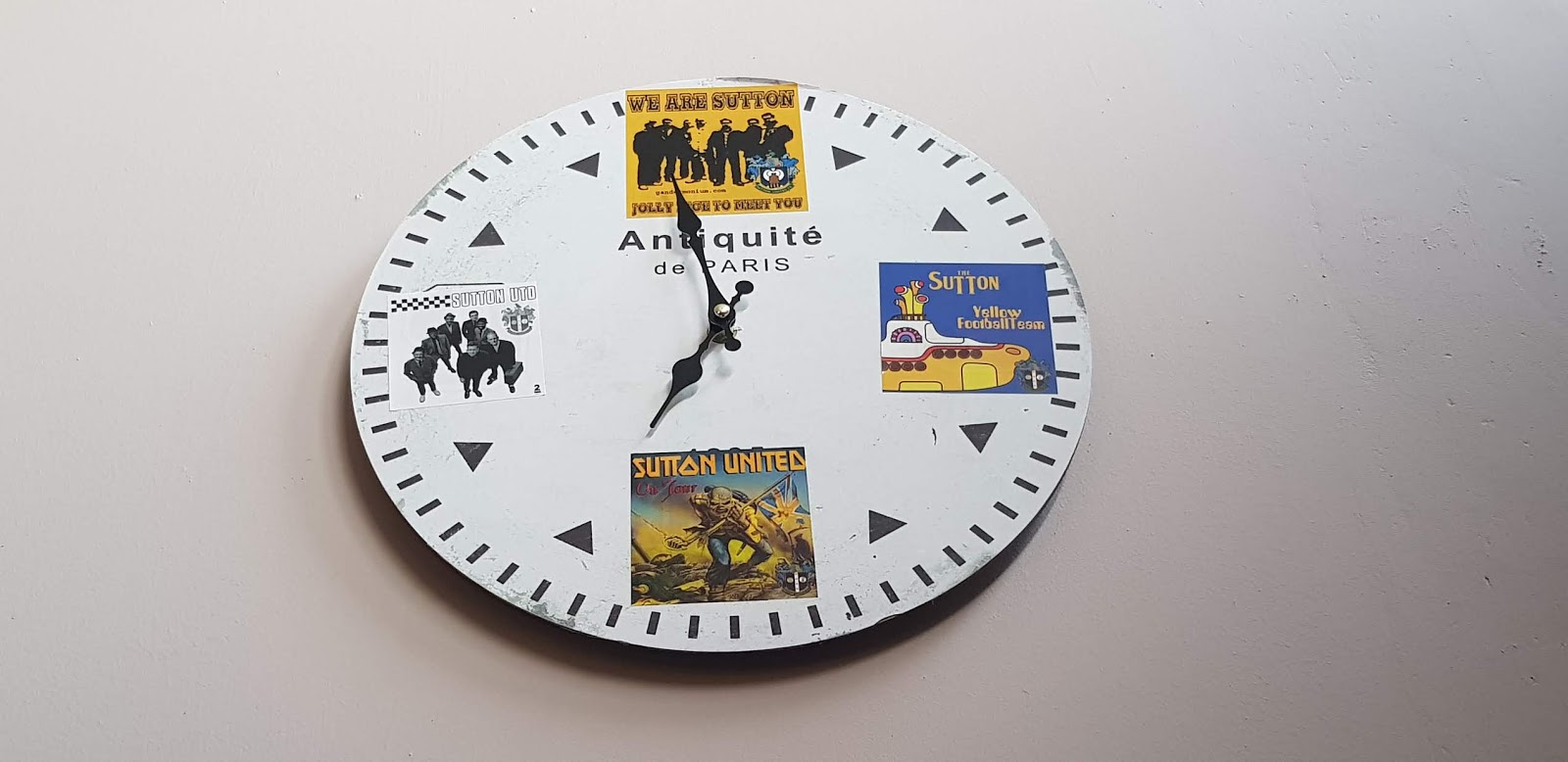 Knock off of the knock offs….
Such is the scale of this momentous meeting between two old foes, even the fucking sun decided it wanted in on the action and it's brought with it a bout of weather one could only describe as 'sweaty'. And as such, when I depart my place of employ by the Bank of England around half 5, it's feeling marginally warmer outside than in the early hours of 2nd September 1666. And given that Vileda mop cosplayer Boris Johnson has just been named the new PM, literally torching the fucking country actually seems like a pretty reasonable idea right now. I wander to London Bridge and with some time to spare pop in Marks' for a sarnie and a bottle of water, the latter being a fine decision as the Southern service I'm getting back to the Republic is about as well air conditioned as your average coffin, after the burial. So, positioning myself in the carriage where I hope I'll feel at least some sort of airflow from the window openings, I sit and quietly munch my sarnie whilst I sweat my bollocks off as the train trundles south.
My peaceful perspiration is interrupted after the first stop when a chap I shall call 'Mr Mobile Phone Drama' gets on. You know the sort. Loudly chatting away to god knows who at the other end about all the tiresomely Z-List, sub-Love Island type fucking nonsense that currently passes for his love life. Once again, I find myself wishing that someone had indeed torched London again. To make matters worse, I've forgotten my headphones and as such can't block out this geezer's personal little soap opera. When he finally departs, the silence is shortlived and his background noise is replaced by a bunch of lads further down the carriage. However, they're at least touching on subjects I give a shit about, namely football. And pleasingly the convo isn't based around heat maps or who's the greatest out of Messi or Ronaldo based solely on their xG stats since they were 11. I think they might be followers of this evening's oppo in fact as there's mentions of ex-U Jeff Monokana, who I believe is a Hamleter these days and a few other names that ring bells.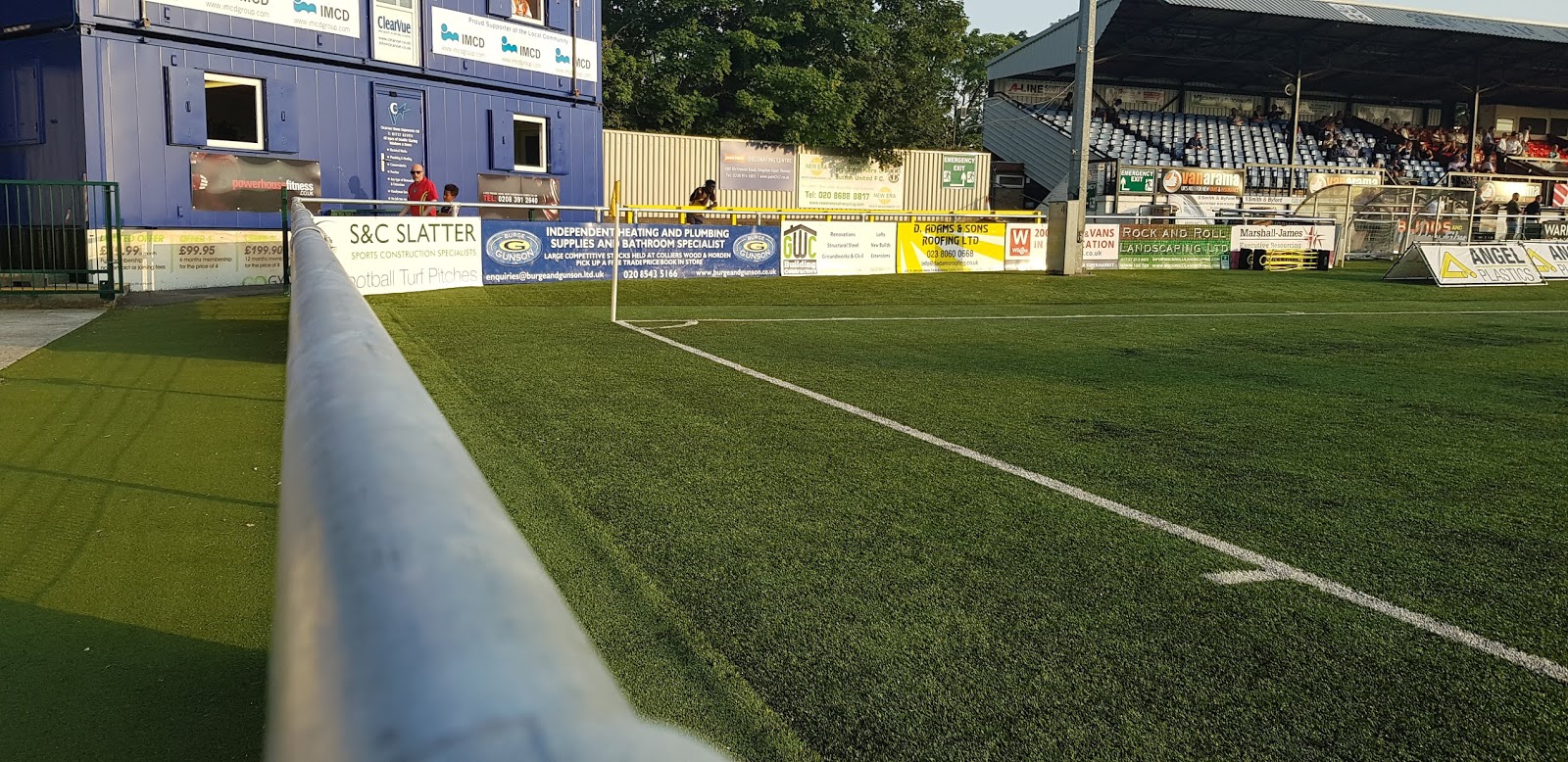 Dos took the plastic railings to Havant too??
They eventually switch to playing a little game between themselves where someone names a player and the next person has to then name one of their own whose name starts with the last letter of the previous players effort. So to take my mind of the fact I'm sitting in a growing pool of my own sweat, I play along with them in my head. This passes the time nicely until they depart at Carshalton (bound for the Hope I think), although I do at one point have to bite my tongue when one bloke just gives up and quits the game following about 10 seconds thought after he's left trying to come up with a player starting with a Y in response to 'Thierry Henry'. For fucks sake man! Yossi Benayoun?? Youri Djorkaeff?? WHERE'S YOUR IMAGINATION?!!
The train hits Sutton and I hop off to move down a few carriages first to get some air to parts of my person that haven't had any for about half an hour and also to try and locate Steve who's apparently on the same service somewhere. Instead I see Johnnie getting on and instead decide to have a chat with him on the way round to the PRoWS. Hopping off in West Sutton, Steve appears a couple of carriages down and we head for the ground, although Johnnie leaves us at this point to go and get a Mr Chows and a can of cider for his dinner. Oh how the other half live! Steve fills me in on the delights of his office's 'intelligent' heatingcooling system, which is isn't very. Sadly, all this does is remind me that it's uncomfortably warm and that we can't get in the air conditioned MBA Lounge tonight until afterwards. Still, I could do with losing a few pounds I guess, so it's all good. Outside the bar we find Greek, Mr X and Dukey all puffing away. Naturally I'd love to stop and talk chaps but I've got fluids to replenish, sorry!
We find Magnum in the bar and get a round in before the rest of the mob join us. The usual natter ensues, along with planning the early stages of the fast approaching season. Hartlepool is booked, so is Wrexham. Fylde & Harrogate are next. On the way to the gents for a leak, I notice above the door a clock has been hung. On it are 4 of our stickers to mark 12 3 6 and 9. Christ, unofficial Gandermonium tat. Whatever next? Dukey Cosplayers? With a couple of pints down, it's time to head out for the game. Whilst it's still pretty warm out, it's cooled noticeably since earlier, so hopefully we might see a bit more than a 90 minute stroll.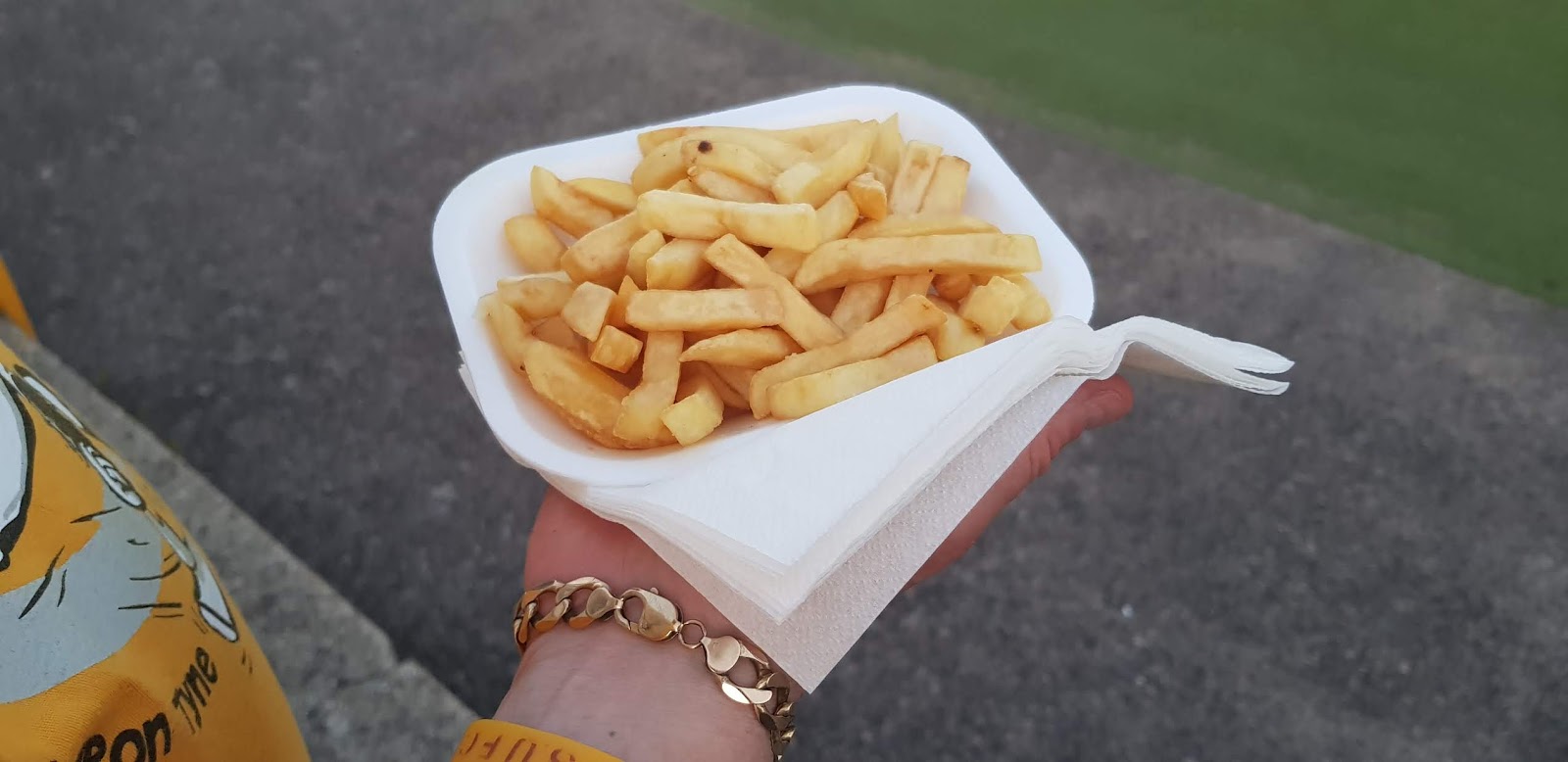 Chips innnit
Butler, Bennett, Milsom, Barden, Goodliffe, Collins, Ajiboye, Randall, Jarvis, Beautyman, Kearney SUBS: Davis, Lema, Dundas, Wright, Matsuzaka, Dudzinski, Tuson-Firth.
The lads start well and impose themselves from the kick off. Dulwich look lively, but once they hit the final third they seem to lose their way. Sutton should open the scoring, but as we're familiar with chances come and go. First Jarvis is in behind after a cock up by a defender, but despite being in a decent position one on one with the keeper, he snatches at his shot and drags it across the face of goal. Dylan Kearney is the next culprit, first latching onto a ball over the top and lifting it over the keeper and just over the bar and then getting in behind from a deep ball, but his 1st touch lets him down and takes him wide and his resulting shot is comfortably over the target. At the other end, Monokana forces Butler to push away a free kick.
So, we go in level at the break and I head for the Shoebox to get myself some scoff and also to palm off some of our tat onto some unsuspecting visitors. I find two of the guys waiting for me and I get some coin for some of our stickers. I try & give them the hard sell and lay it on thick about it all being 'artisan' made and 'fair trade', but they just look at me blankly. Hmmmm. Change of tack required I reckon, so I then tell 'em it's all nicked and they lap it up. It would seem my customers are a bit more old school Sahf Lahndan than first thought! Also present is Totts, who as you may remember had cried off with a note from his mum. However it seems Mrs Totts had changed their plans and they're departing tomorrow morning early doors rather than this afternoon as originally thought. Yeah yeah and I'm King Leopold II of Belgium.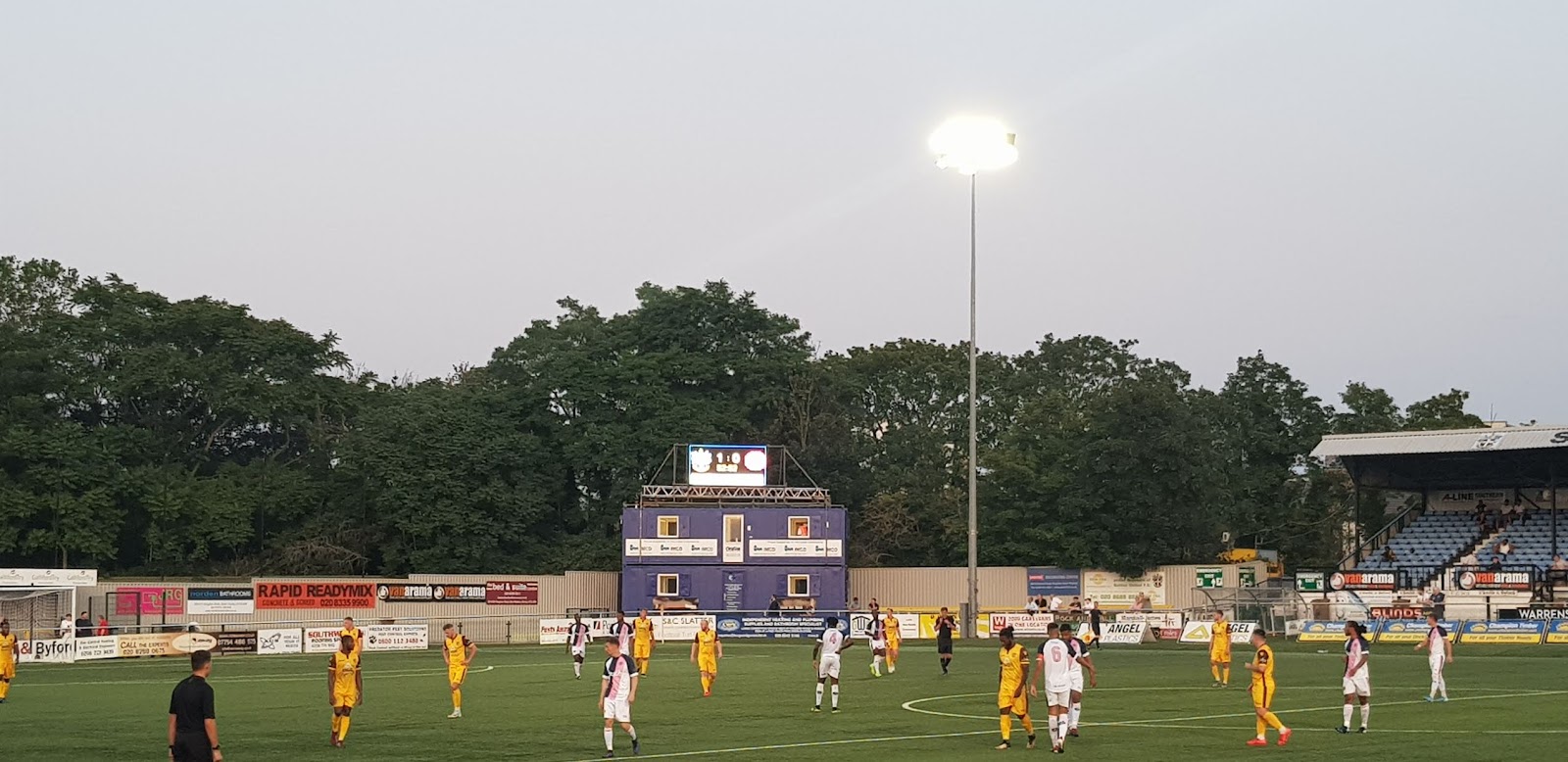 Standard action shot
At the break, the gaffer makes some changes and brings on Dundo and Davis in for Jarvis and Beauts. And within a couple of minutes of the restart, the change pays dividends. Again, it's the old geezer involved and after getting possession down in front of us, Duns switches it quick and picks out Will Randall far side. He looks in on goal, but a poor 1st touch slows his progress and his eventual shot is deflected into the path of Kearney who swivels and hooks it in from about 8 yards out. 1-0. Following this, it's the usual pre-season fare with a raft of subs and largely bored chatter on the terraces. We're still looking the most likely to score, but the visitors are doing just enough to keep us at bay. Then with about 20 left, Kearney puts it to bed, getting the ball around 25 out, he turns and cracks a low shot under the keeper to make it 2-0. His reward is to be instantly yanked off and replaced with Tommy Wright, making his first appearance since some two bob Orient clogger put him out for the season back in September. Welcome back little man!
He puts himself about but the ring rust is pretty apparent with a couple of heavy touches and iffy passes. It'll come though, it's just good to see him back in a shirt. A couple more sighters are had, mainly from the input of Tuson-Firth out wide, but we can't quite force a third and at the other end, Monokana still causes a few issues, but the defence holds firm and our sheet retains it's freshly laundered appearance.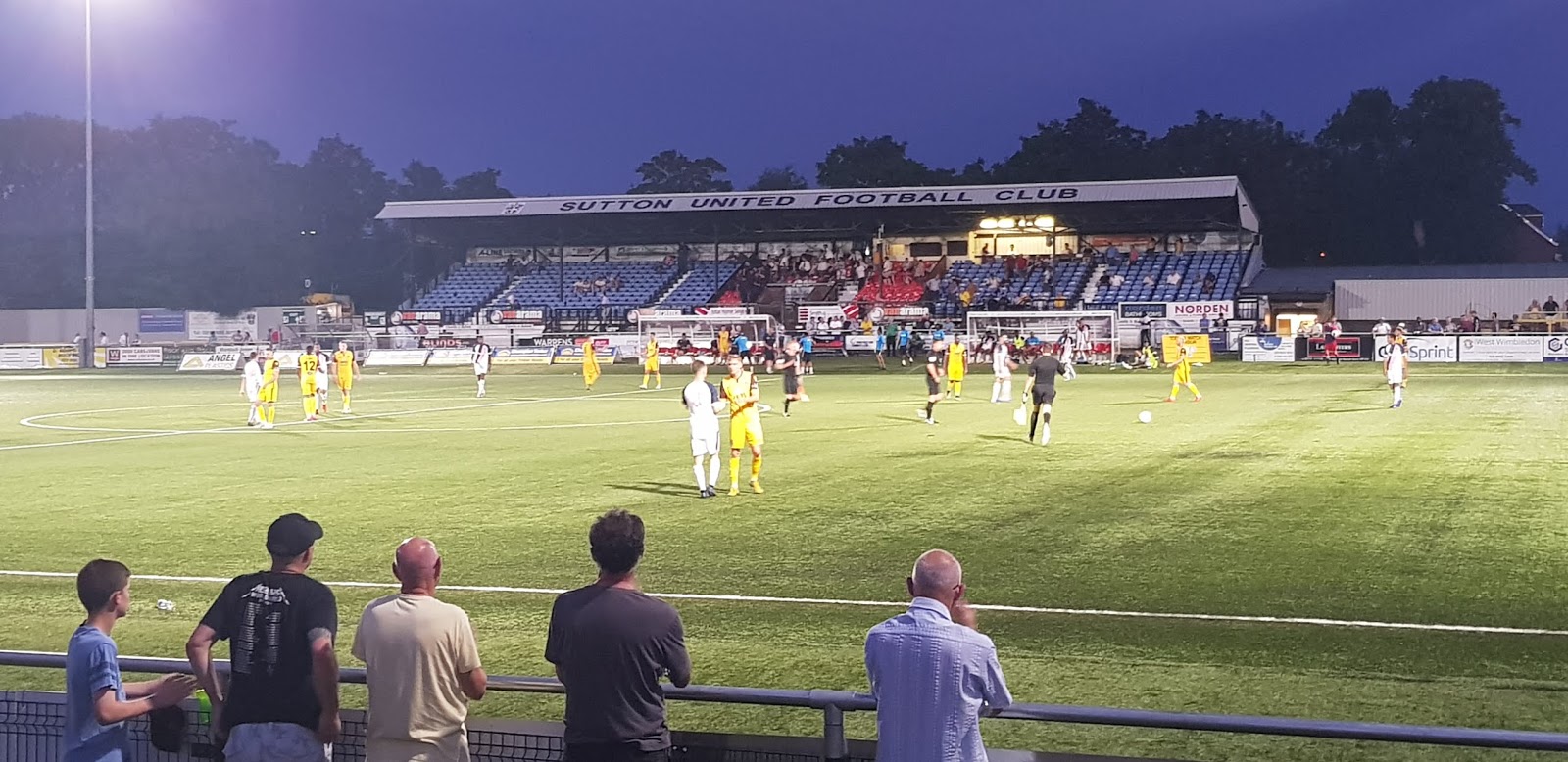 All over.
With the lads seen off, we head for the bar to get a pint and most importantly to take it into the now vacated MBA lounge to enjoy it in wonderfully cool airconditioned surroundings. Here we again discuss upcoming games, mainly Harrogate where staying there or in York is unlikely given the amount of bicyclists that will be converging on the gaff with their padded lycra pants and unpowered transportation. Leeds is suggested as an alternative, although Magnum PI has a few other ideas, which mostly consist of him reeling off the names of numerous Yorkshire towns. No mate, I don't fancy a night on the tiles in fucking Selby thank you very much.
Beers supped and with no one in the mood to spend an evening sweating out beer after a skinful, we call it a night and I, Steve and 4 Days leave the air conditioned surrounds of the club and head out into the mangrove heat outside to hop into his unmarked, undercover 308 GTB Ford Focus and head for our respective abodes. Two to go, then Hartlepool and it all starts again for 9 months.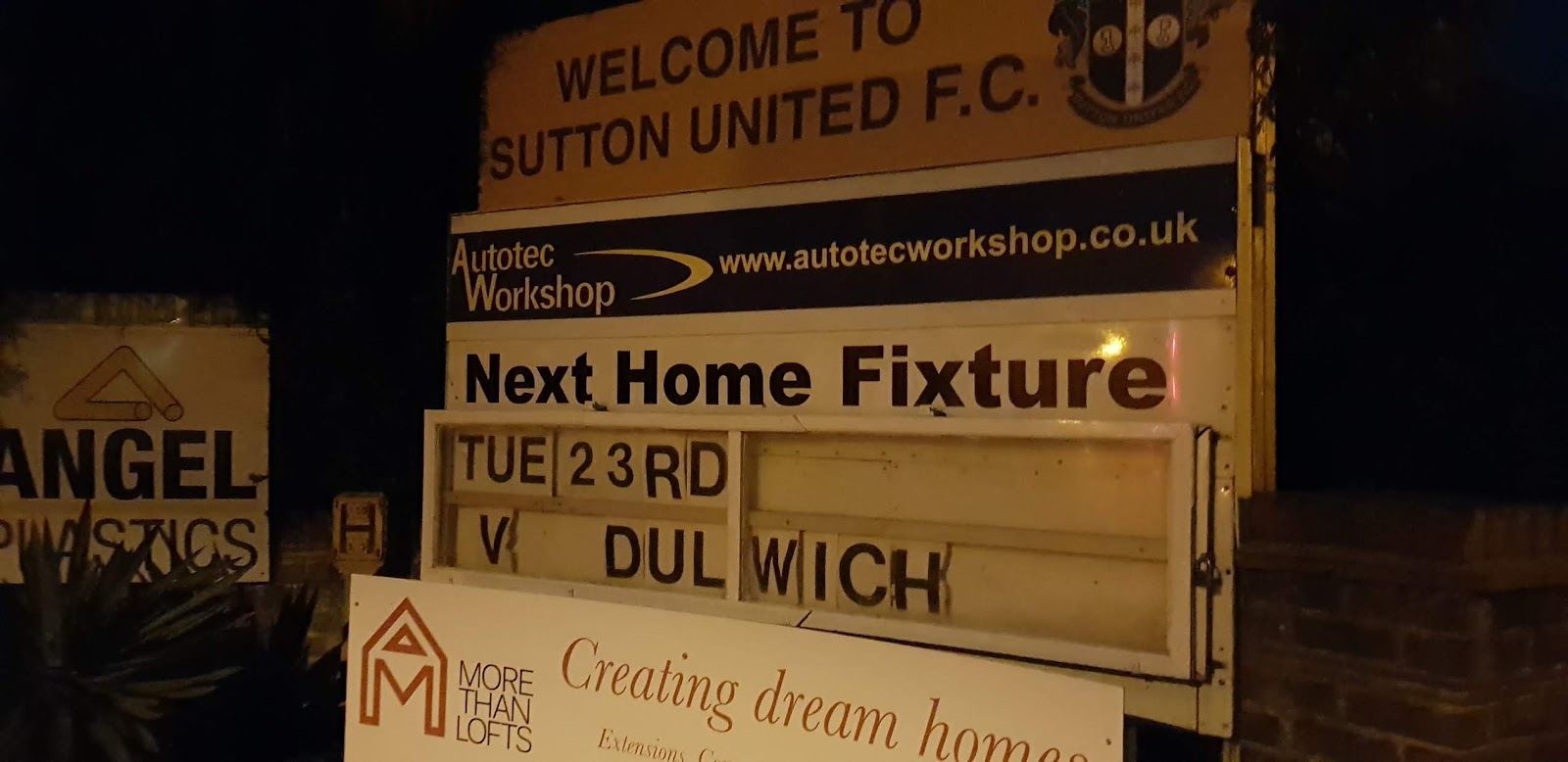 Bye!
Yes, I know, we're idiots. Big whoop, wanna fight about it?
Taz.