So, the first match of the 2019/20 league season has finally arrived. And in the same manner as last time out, we're jogging back up North once again. Hartlepool is the destination this time, and Victoria Park is the place to be. It might not be the longest trip we're going to make this season, but it's the furthest North that we're going to have to travel for this league campaign.
This was to be the third time that we were travelling to windy wilds of County Durham. The first time round saw us come away with a point after a last gasp equaliser from Tommy Wright that caused Jeff Stelling to have a breakdown live on air. Although the real highlight was the deep-fried Black Puddings & Haggis' on the journey back. Last year, and it was a topsy-turvy 3-2 thriller that saw Eastmond pick out a winner with ten minutes to go.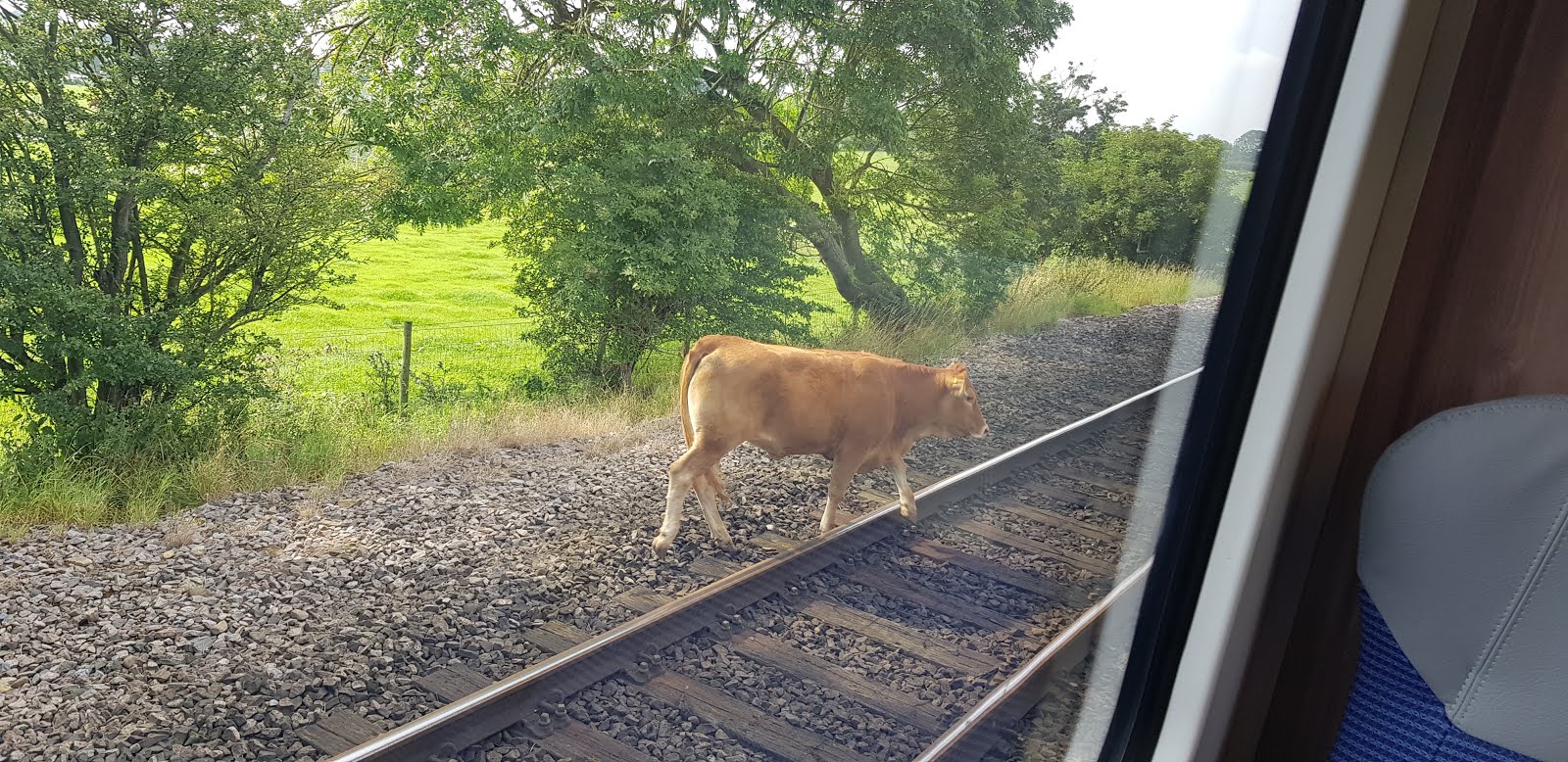 Bovine based VDT wastage…
Those two previous visits had both started with a train out of Kings Cross at 0806hrs. Unfortunately this time round, the allotted train was instead due to depart northwards at 0706hrs. So this meant a very very early start for the Gandermonium Firm. Oh joy of fuckin' joys. To make matters worse, I'm dragged out on the Friday night by the woman to watch that new computer animated Lion King film. Speaking of which, not one single shot of the old hairy ball-sack in the whole fuckin' thing. If you're going for 'realism' with your CGI, then you need to be really real and show a bit of bollock. Don't you think? Anyway…
The alarm goes off way too early and I'm awoken out of my slumber as the clock reads half four of the AM and I get up already moaning to myself about the season. The traditional three S' is commenced before it was soon time to leave. Meeting The Firm Leader on the corner, we make our way towards the station via a quick trip to the cash-point. Our ten to six train is on time as well as Dr Bell, who is slouched in one of the many vacant seats not taken up by those people sensible enough not be on a train at 10 to fuckin' six on a Saturday morning. By half past we arrive at St Pancras and have a leisurely half hour to spare before departure. Thinking of getting some breakfast, Me & The Firm Leader head over to one of the Golden Arches nearby for some cheap grease.
It's a weird place at times the centre of London. Wondering why a place like McDonalds needed a security detail at this time became clear soon enough after we entered. At the counter there appeared to be a sober fella who was arguing why his order wasn't ready yet as he'd ordered it using an app on his phone. The problem was, he was struggling to understand why his food isn't here at Kings Cross after he'd ordered from a branch in Enfield! Also in front of us was a young Doris and some fella, who when asked what they wanted to order, the young lady said "give us a minute" as they were talking to each other about something other than dirty fast food. WTF? This was soon followed by a remark to the fella of "do you think we'll always remember this time between us?". What? In a fuckin' MacDonald's? How about you make it proper memorable and fuckin' order a McMuffin love? Kids these days. Lucky for us, they let us go in front and eventually we were out of there.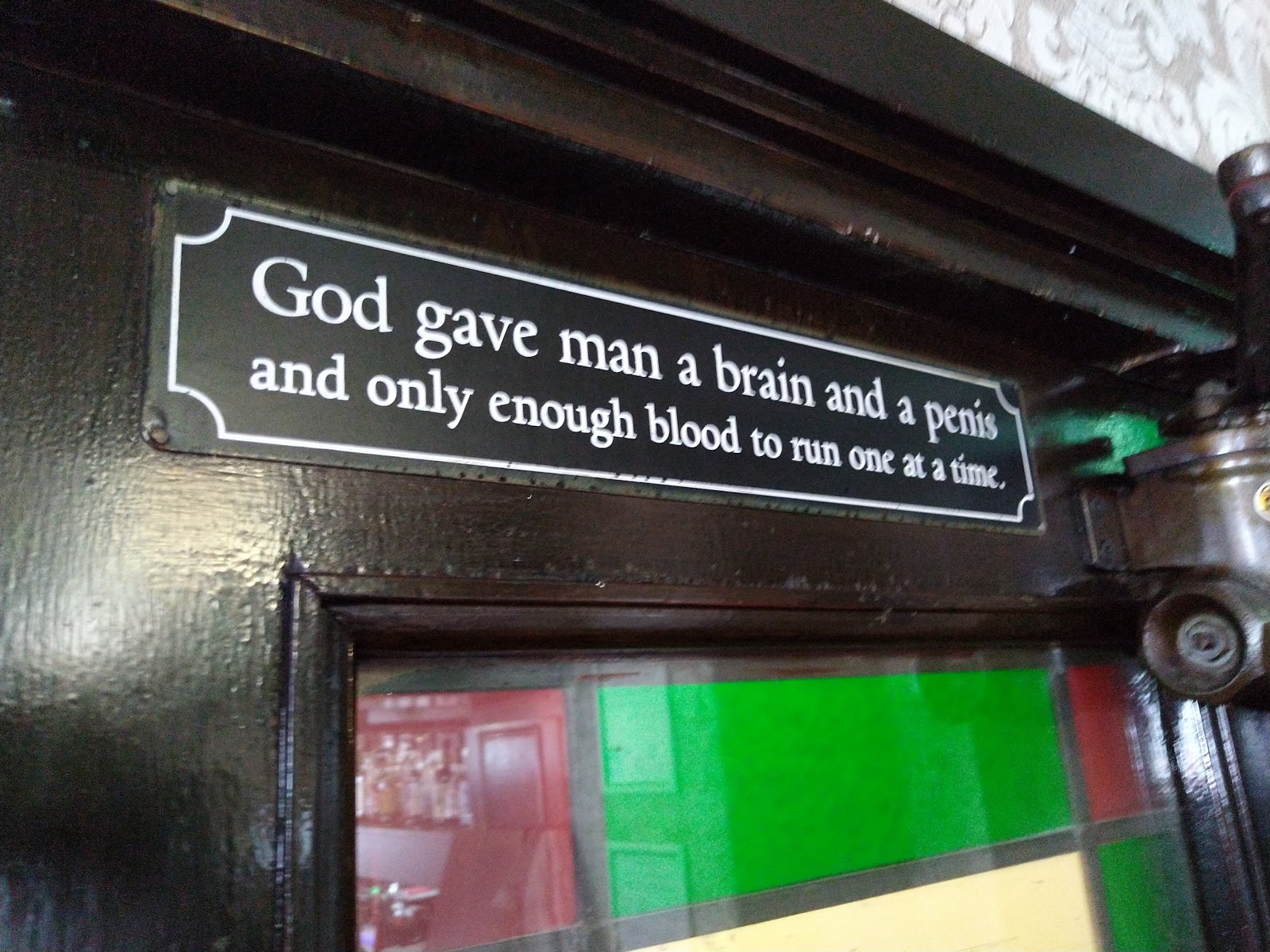 Fair comment…
Outside the station is a smoking Mr X, Southampton Steve is soon to appear as well. Meeting up with Taz, Robbo & 4 Days, we're about to head towards the platform when someone points out that the 0806hrs we'd usually get had been cancelled. Wow! Lucky for us. That was going to upset a few of the rest of the travelling support mind you. Especially when their tickets were not going to be valid if they were going to use another company as it seems 'Grand Central' were the Millwall of train firms. No one likes 'em! Thank the Lord for rail privatisation, said no one ever.
Taking the 0706hrs also meant that it wasn't going to be a relaxed direct service. This meant changes at York & Thornaby. No, me either. Obviously we were going to use this sober time to get over all the sober trash talk that we come out with. Things like "the differences between an enclave & an exclave" and why Mr X would have 'Poo Balls'. By the time we'd made our first change, the need for alcohol was to become too much for some, so it was good that a kindly Taz and Dr Bell had brought a bottle or two for the us to tide us over for the remainder of the trip.
Before we finally arrived at Thornaby for the last leg though, the train came to a complete stop in the middle of 'fuckin nowhere. 'A Red Signal' was given as the excuse but when the conductor breezed past, he actually said that there was a passenger that was refusing to buy a ticket and that they were waiting for BTP back up at the next station. Jonnie at this point would also dribble his half bottle of Wife Beater down my back as he hunted for a bottle opener for his next one as none of the Yoof had thought to bring one. Schoolboy error lads, schoolboy. To show him the error of his ways, The Firm Leader would confiscate that next bottle and neck it in seconds to teach him a lesson.
A beer in Thornaby…
Whilst still waiting for the train to begin in motion once again, a random cow was suddenly spotted next to the carriage on the other line beside us. The things you see 'Oop North'. If that wasn't bemusing enough fore us, the sight in the field next to the train was of several cows being herded through some barbed wire whilst being chased by a dog with three legs!
The train finally gets on it's way, but it's still coasting and we now know that we're going to miss our connection to Hartlepool. Arriving at Thornaby and there's nothing for it as we head to the nearest pub "The Dubliners" for a little libation or two. Here we are also joined by a few Sunderland fans on their way to the Stadium of Light and those tarted up for a day on the lash at the races in Thirsk.
A swift couple of pints down and we're back at the station lickety split and waiting for our train. There were plenty of other people waiting as well and when the little two carriage bustrain pea-roller arrives, it's a tight squeeze to get everyone on. This situation would only get worse as at every stop it seems to be more and more Sunderland fans trying to join us. This would indeed delay the train even further and we didn't arrive into Hartlepool until after half twelve. All that fuckin' VDT wasted! Over an hour later than originally planned. Delay Repay coming up I hope.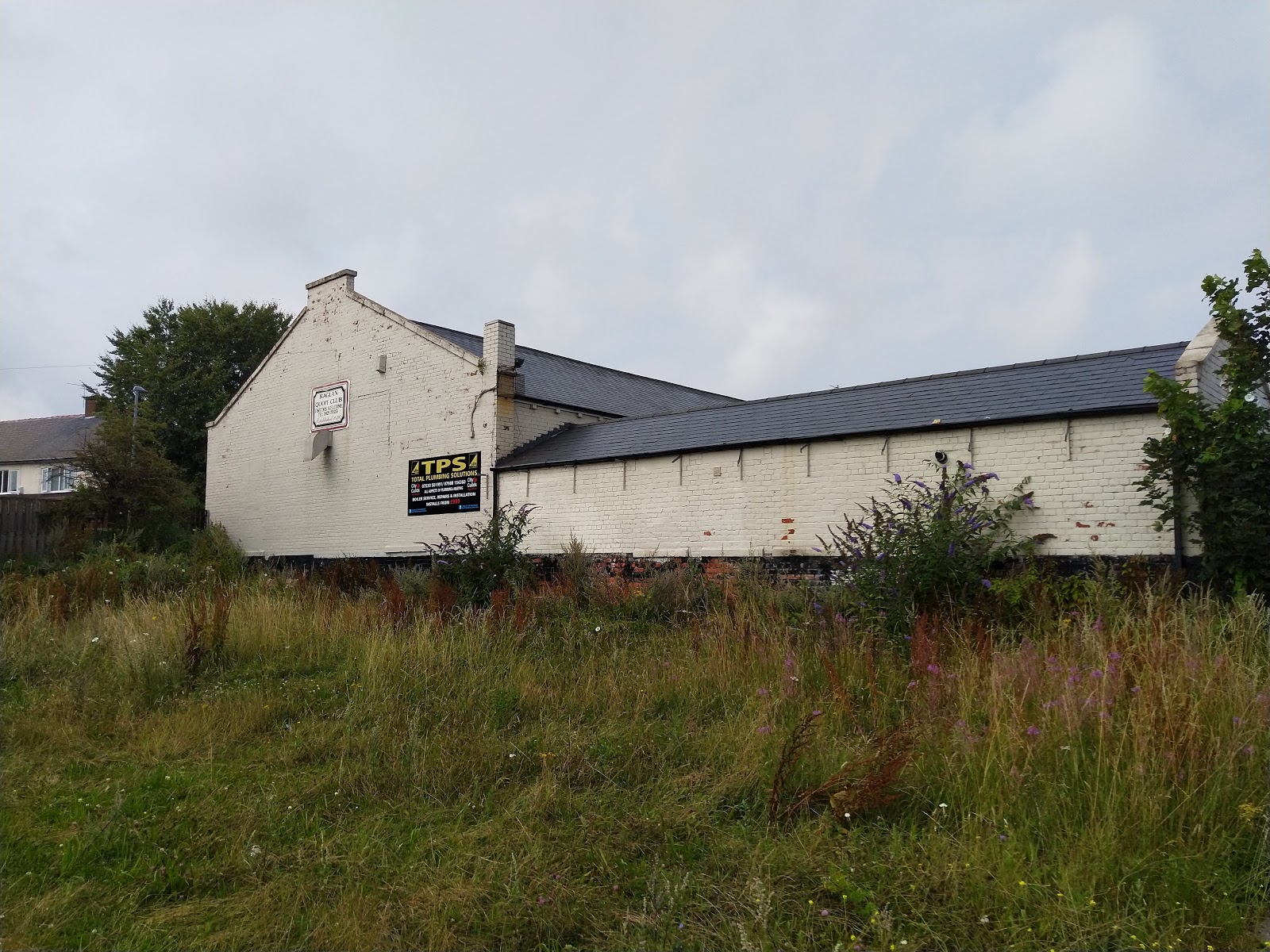 Raglans…
The first pub in town is obviously the 'Spoons. "The Ward Jackson"is like all other 'Spoons in being cheep and full of 'characters'. Time was not being kind to us today though so without further ado we head off round the corner after a single pint to "The Jackson Arms" for another round. This place has seemed to change a bit as there were a fare few people drinking out on the street rather than inside. Then again, it's been a bit parky the last couple of times we've visited.
After that, it's towards and then just past the ground and "Raglan's Quoit Club" to bump into a few Hartlepool supporters we've seen every time we've been here. Although, I don't think they remembered us quite as well! 4 Days would also mange to spill half a pint of the black stuff on the floor that seemed to get me covered as well. Although there was no sympathy from The Firm as they laughed at yours truly for some reason rather than the hairy geezer's spillage.
It's time to hit the ground. And after paying £18 for entry we pass the open snack shack to take our spot in the away end that had some very good acoustics. The teams come out to a loud cheer as the home support have seemed to come out in force today for a change. For Sutton it seemed that most of the starting line-up we'd thought would start were there. Although where Kearney & George were was another matter. Not even on the bench?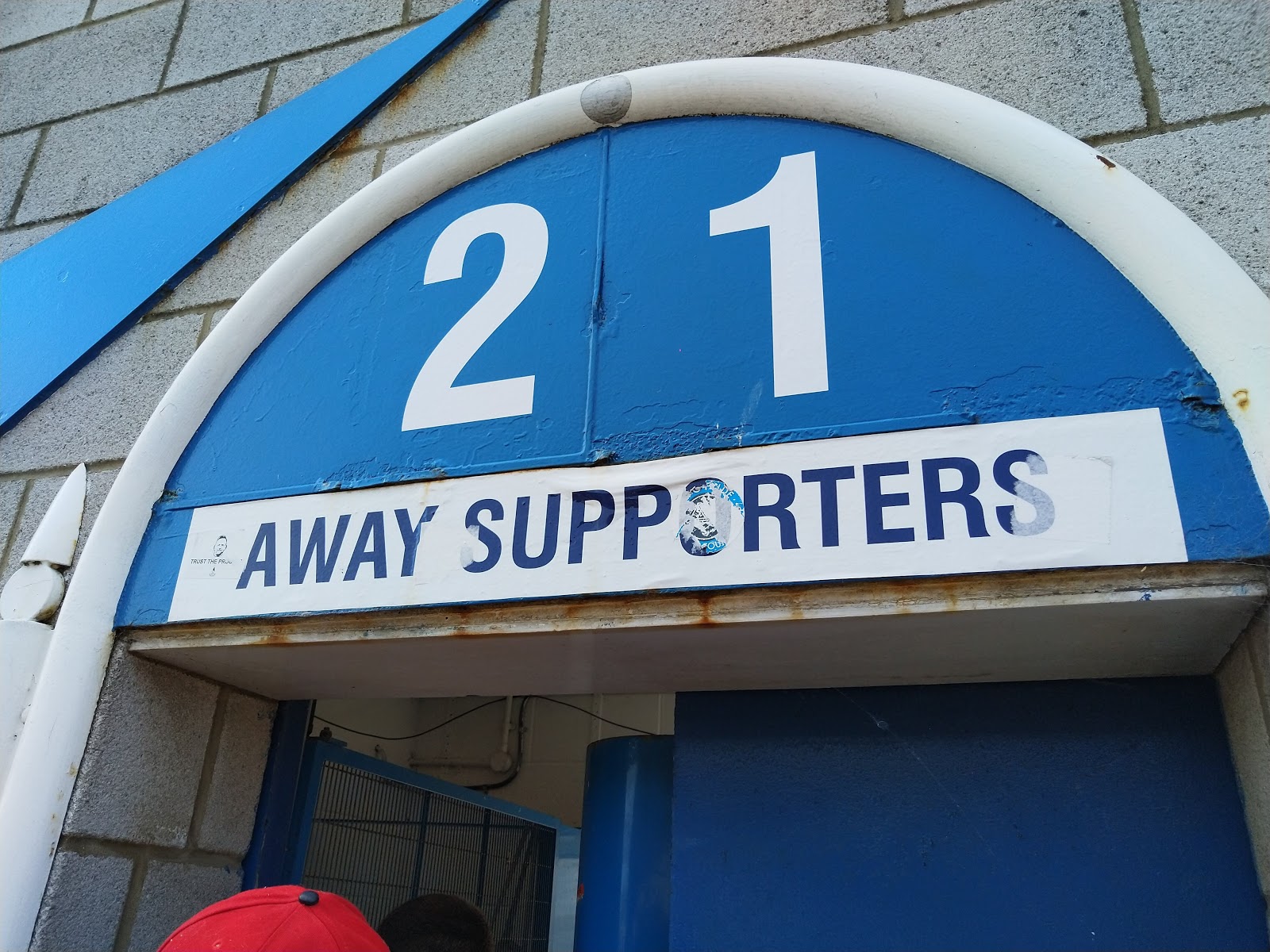 2-1 to the away supporters…
Butler, Bennett, Milsom, Barden, Goodliffe, Collins, Bolarinwa, Davis, Jarvis, Beautyman, Randall. Bench Warmers: Dudzinski, Bugiel, Dundas, Ajiboye, Matsuzaka.
A new season, a new manager and a new Sutton as they came out like a house on fire. Peppering the goal at the far end eventually got the lads their just desserts. Bennett was the man who crossed the ball into the box with such great precision and pace that Beautyman could simply just guide the ball off his nut and over the keeper into the far corner with the deftest of touches. 1-0!


But our celebrations were soon nearly curtailed as Hartlepool attacked at the other end right in front of us only to see their chance come off the post. Phew! This was not to sway Sutton as they continued to hold the high line and rest on their laurels. Midway through the half and the boys had doubled their lead. This time, Bolarinwa found Jarvis in he middle and he laid it off to Beautyman who powered through to poke the ball home. 2-0!


No one in the away end expected this and we partied hard. Things were looking peachy until less that a minute to go to the break, Hartlepool were back in the game. Obviously it would be ex-U Toure to grab the goal when he was given way too much space just outside the box to pick his spot and give the previously silenced home support a boost.

Half-time panorama…
Southampton Steve was finally cajoled into buying the half time round is sent off on his way moments before the whistle. But midway through the first half, the snack shack had shut! Apparently this was due to short staff in the home end!! Making our way to where a few of the away supporters were gathering wondering where they could get a beer and a pie, we were stopped by a steward who informed us that we could access the home tea bar but not until the crowd had thinned out. So basically once the home support have gone through and cleaned it out then?
It wasn't the stewards fault as he was doing what he was told, but he was now in our firing line. At one point a gentleman in a suit appeared and took offence to a comment Mr X made. Apparently he was high up in the Hartlepool circles and gave the excuse of shutting the away facilities to compensate for the possible surge of home supporters. I'm sure you're supposed to provide facilities for away supporters if you decide to segregate though fella? So much for the poxy "Well done on travelling 298 miles" sign on the way in. Clearly forgot the "….but you can get fucked for a drink or some grub" bit this week….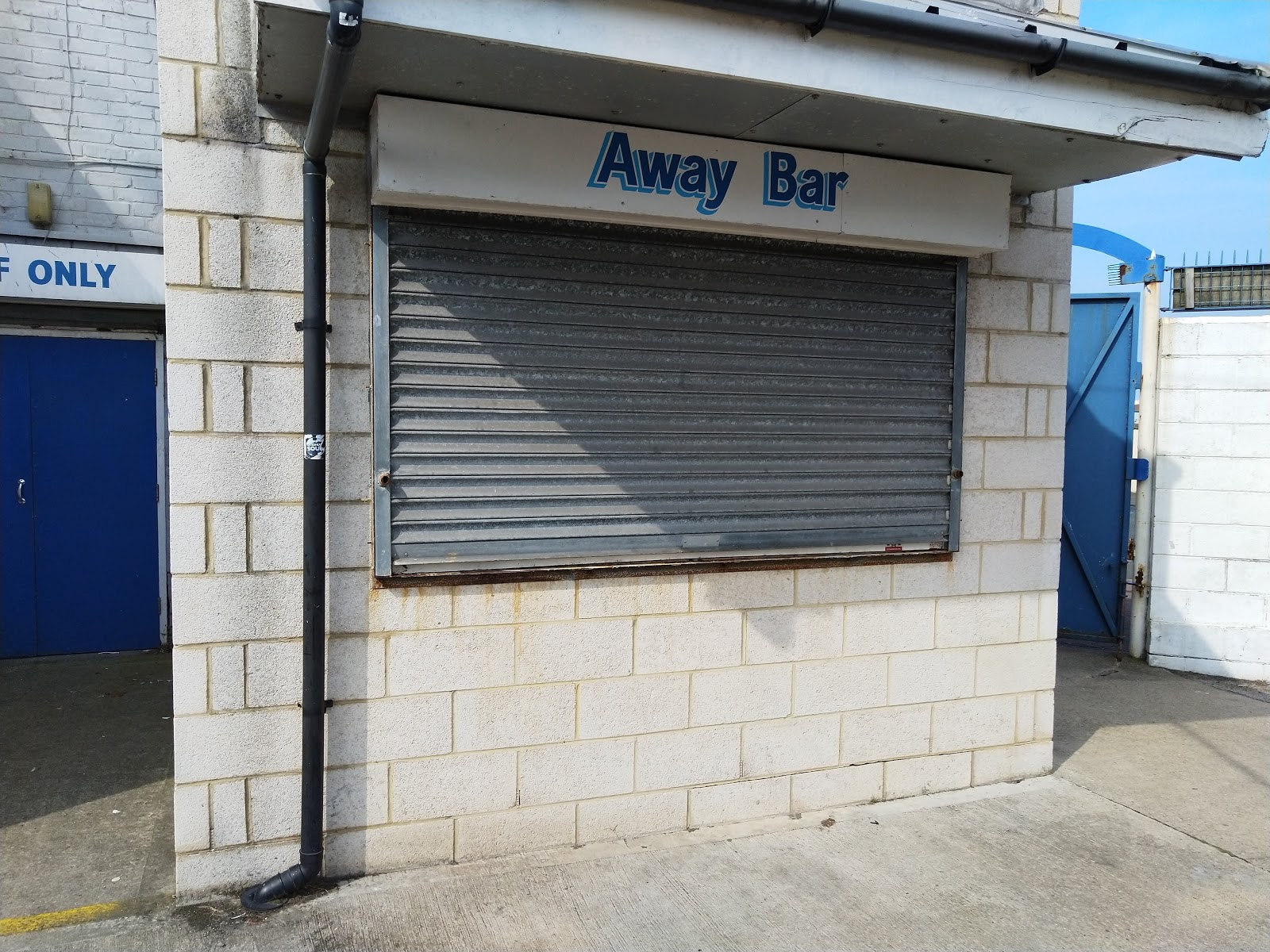 Another Shut place…
Start of the second half and you could see that the late Hartlepool goal had reinvigorated them. For Sutton, it was the opposite and they started very slowly. Barden would record Sutton's first yellow of the season with a very Barden-esque challenge. Despite having a load of ball, Hartlepool would huff and puff but to no avail as they failed to really threaten the Sutton goal. A highlight for me would be when one of the Hartlepool players fell dramatically to the ground claiming a foul. "Nobody cares about you Gime!" screamed Mr X. Sadly Gime was wearing number 23 and it was the number 15 instead copping the earful.
Near the hour mark and Sutton make their first substitution. Surprisingly, we thought it would've been a rather quiet Randall, but instead Bolarinwa is replaced with Ajiboye. The game started to open up a bit here as both teams created chances but without really bothering either keeper. But with the teams only separated by the solitary goal, you always thought that Hartlepool might grab an equaliser. With five minutes remaining, a tired Jarvis came off for "Bungle" Bugiel.
In the final moments of the match Goodliffe was replaced with "Daniel-san" at the back and with seconds to go, the ball fell to Kenny "Three songs from the away end about the size of his penis" Davis received the ball in Sutton's box. And instead of just clearing the lines, he instead plays it up field to create an opportunity as it was suddenly three Sutton players against one. Beautyman had the ball at his feet as he runs it towards the goal. Taking the only Hartlepool player out by passing it to Bungle who instead of going for goal elects to pass it across to Randall who slots it home off the keeper and the post. 3-1! And that's game over. At this point, the rest of the crowd tosses it off and heads off for their dinner.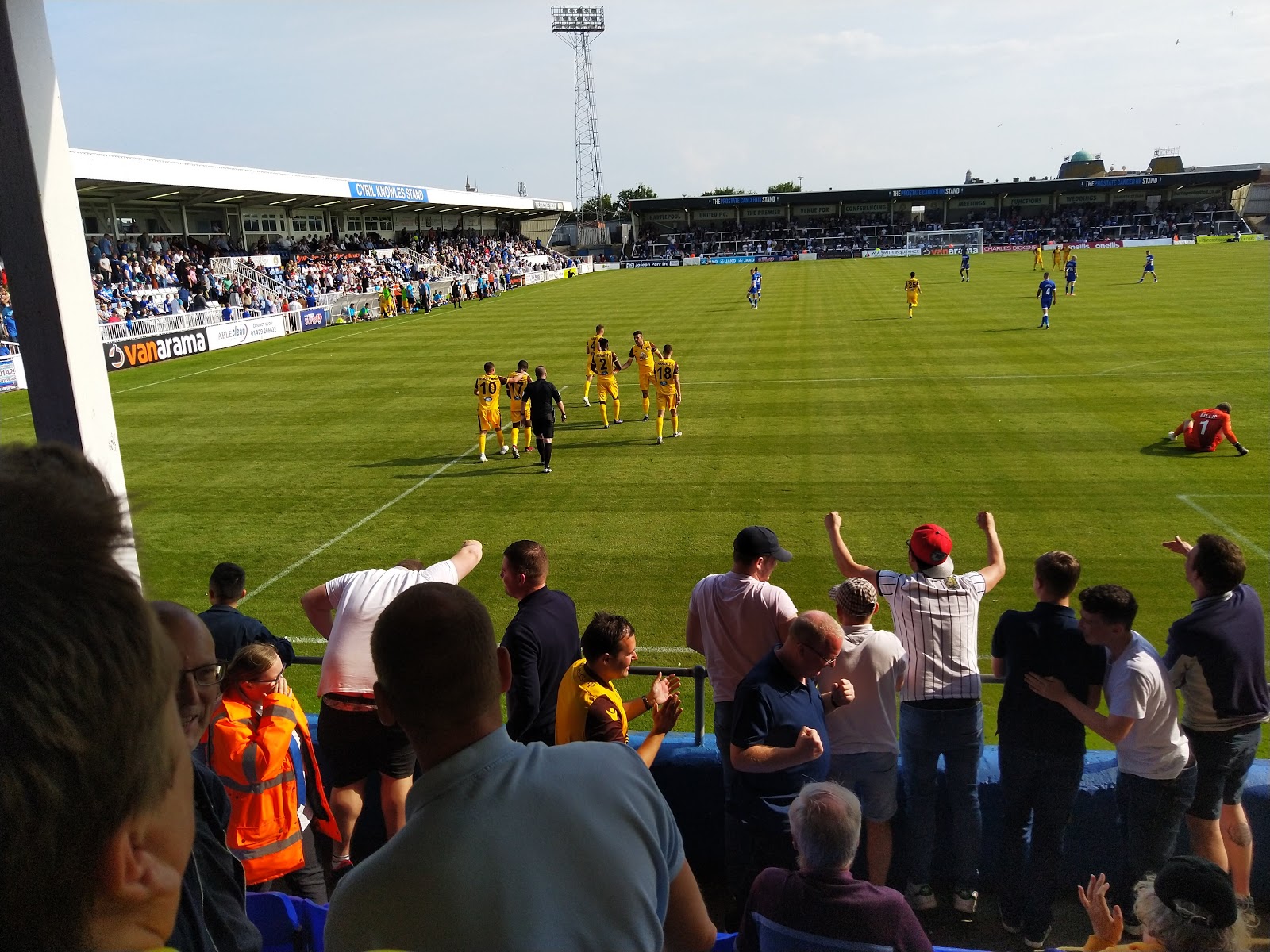 Winners…
The team walk over to take their applause from the 70 hardy travelling supporters. Get the fuck in there! But there is no time to hang around revelling in our success as our plans now involved getting a train home at five to six. So we're back to 'Spoons and necking a cheeky Southern & Lemonade. I elect to do the food run. Still having the nightmare of the fact that there was no place local for a fix of deep-fried Black Puddings & Haggis', I need to do something to get the standard back up.
For once in my life though, I'd done a little research and had found a spot of the Colonel's Fried Goodness that was just over the other side of the train tracks from the station. So it was there that I headed towards after everyone else had elected to join me and have some fried chicken as well. Luckily for me it wasn't that busy and the order of nearly thirty pieces of chicken and chips was rustled up in no time whilst elsewhere, Mr X and the Firm Leader were spunking 60 fuckin' quid on pink liquer and kinder eggs.
Our train arrives and it's time to settle in for plenty of beer & Chicken as this time we are heading direct to London, not passing go and not collecting £200. Going through other results and we see that plenty of former Sutton players have been on the score sheet today. Some of the other results go our way and others don't. Surprisingly, Sutton are kept off top slot by an apparent fluke of a 70 yard screamer at Gravesend Ebbsfleet from Halifax. With it having been a long day, a few of the boys took the opportunity to have forty winks including Ryan of the 'Yoof' who fell asleep with a can of Irn-Bru in his hand. Needless to say he let it slip all over the place and if it wasn't for a spare nappy, yes you heard me right, to clean up his mess, it could've been a proper state.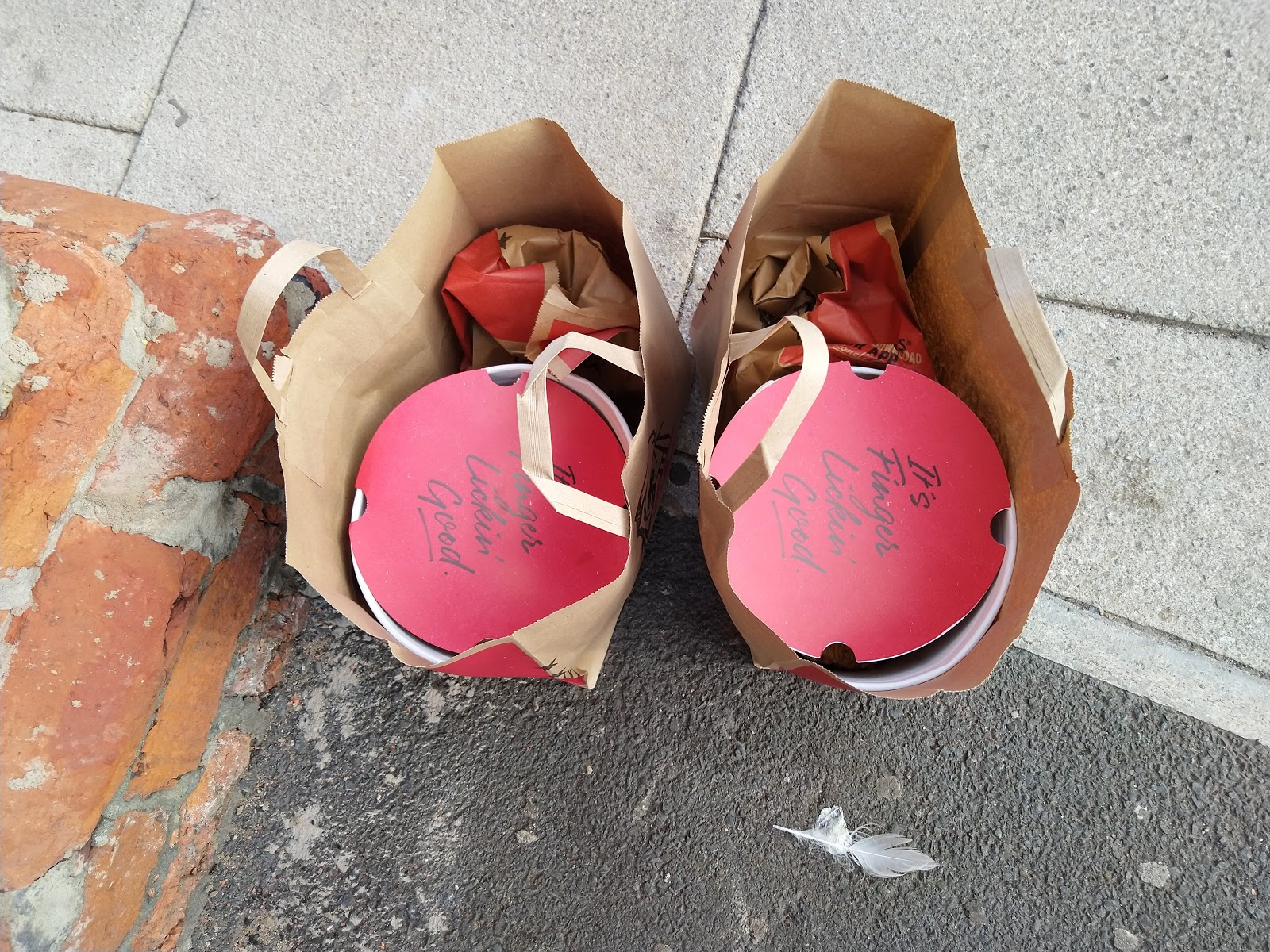 Mmmm, Chicken…
Arriving back at Kings Cross after 9, Robbo is the first to depart as he makes a run for the Underground so quick that he fails to say goodbye to anyone. Bye Robbo! The rest head to St Pancras for the Thameslink but on the way Mr X dropped his vape and manage to snap the the tip off it. Oo-er! Whilst we stop for a quick smoke, Taz & Southampton Steve made their way to the platform to get the train to East Croydon.
The rest of us finally make it onto the platform where we're soon joined by several players and various esteemed members of the board. It appeared that everyone was happy with the result. Another beer is consumed, and nearly dropped by Mr X on my trainers once again, as we finally make it back to the Badlands of Carshalton. It's not long after that I'm finally through the door and ending this adventure. One thing that didn't make it home though was my hat, as I forgot to pick it up on the last train home. Bollocks!
So the first match of the new campaign is over, and my 200th blog as well. But there is no time to rest on the win as our boys are back in action for the first time this season down Gander Green Lane as we entertain Barnet. There is also no rest for the Gandermonium gang as we are knee deep in organising various upcoming long away trips. Wrexham might now be sorted, Harrogate is on the verge (if LNER ever release the bleedin' train tickets!) And Flid Fylde is now up for grabs. Lets not talk about Barrow tickets coming up next week eh? On to Barnet!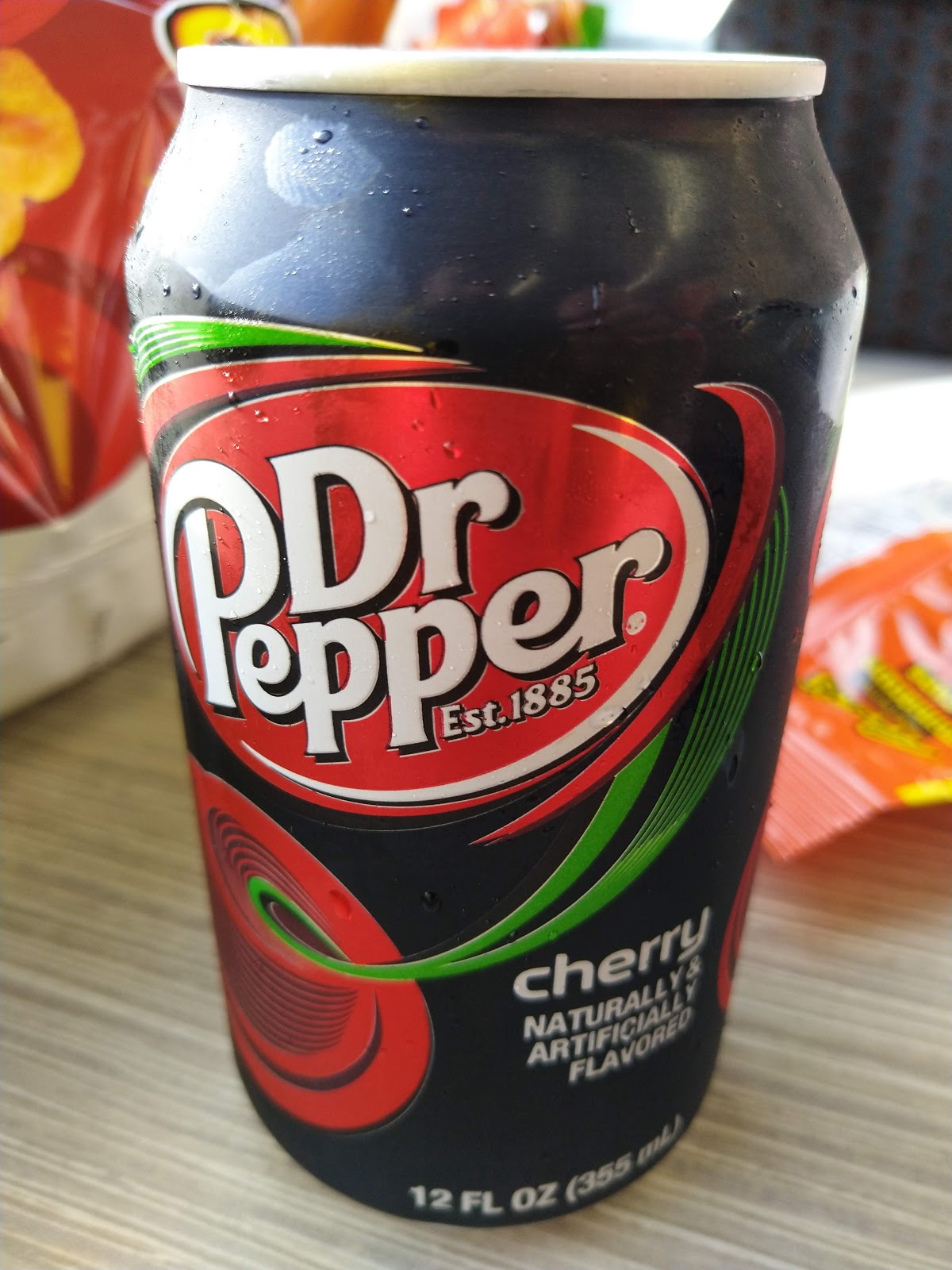 Just one of the reasons to live…
Duke
Att. 3,812