So that's it once again for another season of football for our dear old Sutton United. This has been another one of those campaigns where we've had some great highs and yet again, some shit lows that come with our adventures. And of course, it ends on a limp whimper. But now it's time to say goodbye and fuck off to 2018/19 with one more blog.
Obviously the big news to come out of Gander Green Lane this week was the departure of Our Lord Dos after a mere eleven years in charge of the helm. And judging by some of the reactions over that inter-web thingy, it appears to have been a bit of a shock to one or two of those people. But for some of us in The Firm, it was felt that with him announcing that he was going to take a spot of "Gardening Leave" last month, that he might just not return to the dugouts at all next season. Unfortunately that is now true and he's had it on his toes. We'll probably knock up some sort of retrospective in the near future.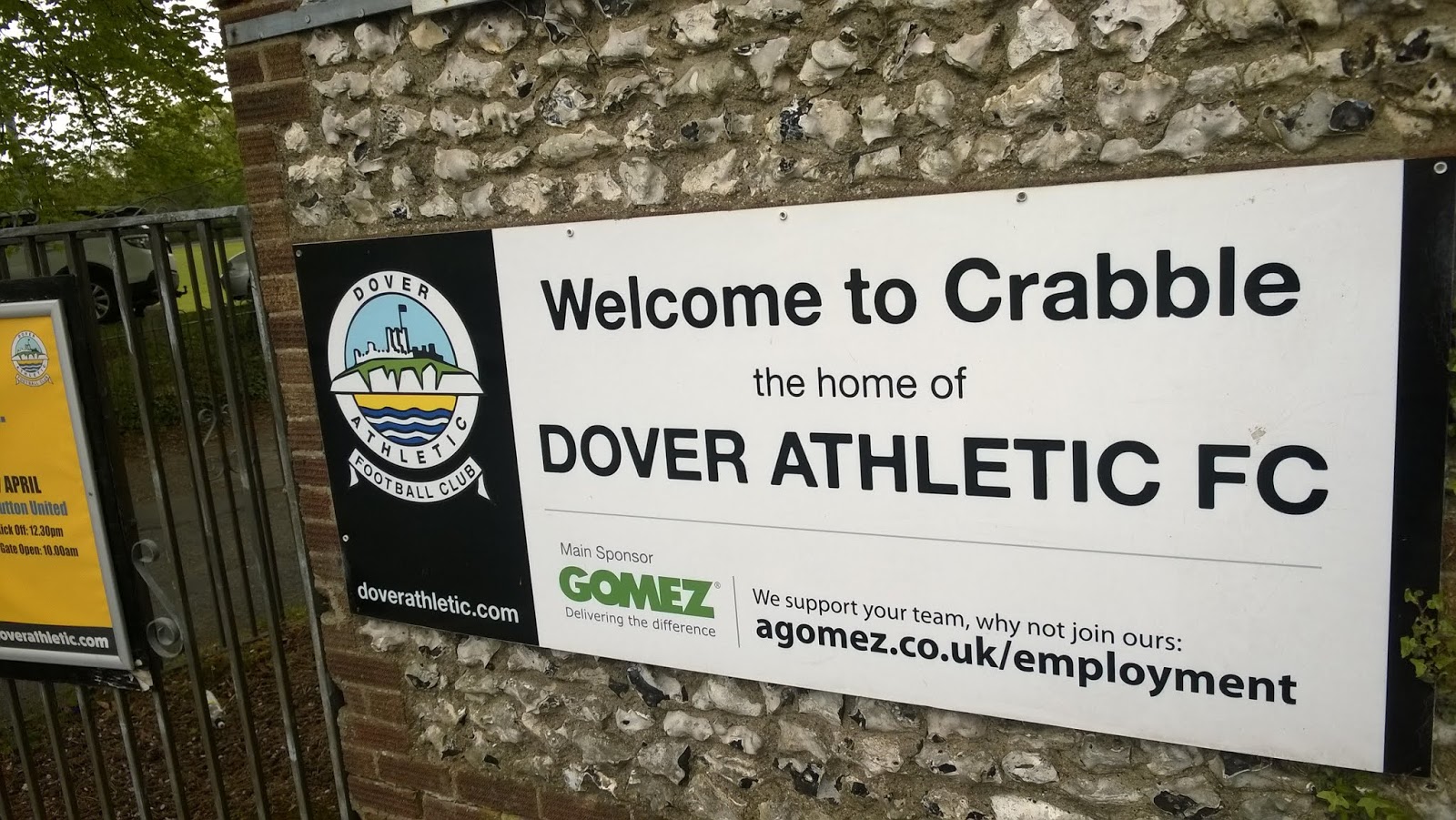 The Crabble…
Of course we must thank Our Lord Dos for all the work that he's done for this lil' club from the 'Burbs of South London. And despite the fact that he never quite made it to the heady heights of a Surrey Senior Cup win and the sort of true immortality that goes with it, he's still had one or two other achievements to sing about. Apparently he's now said that he's now going to take some time out from the game and have some rest before deciding what to do next. so don't expect him to rock up at the Pompey supporting area of Havant any time soon. Wink! Wink! (Like say, this week? – Ed).
So, our last match of the season. This was to be a little sojourn over to Kent and to the ferry capital of the South East, Dover. And with the way we've been playing for the last few months (only 2 wins in 14 matches so far), the excellent current form that Dover are in & the amount of injuries we've incurred, you'd be a fool to put on any sort of hard earned cash on a the boys in Amber & Chocolate for this one. Particularly both teams to score. Only a right dickhead would do that.
The first train of the day for us is the 0819hrs straight outta The Badlands. Meeting the Firm Leader at the regular spot, we make the slow walk to the station. Robbo is already there as he discusses our recent footballing fortunes with Tranny Leah Liam our friendly meet and greeter Crockett-type fella on the ticket gate. Our train arrives on time and there are plenty of different Sutton fans visible in various carriages. Dr Bell & 4 Days are soon located and it's the slow trek up to St Pancras.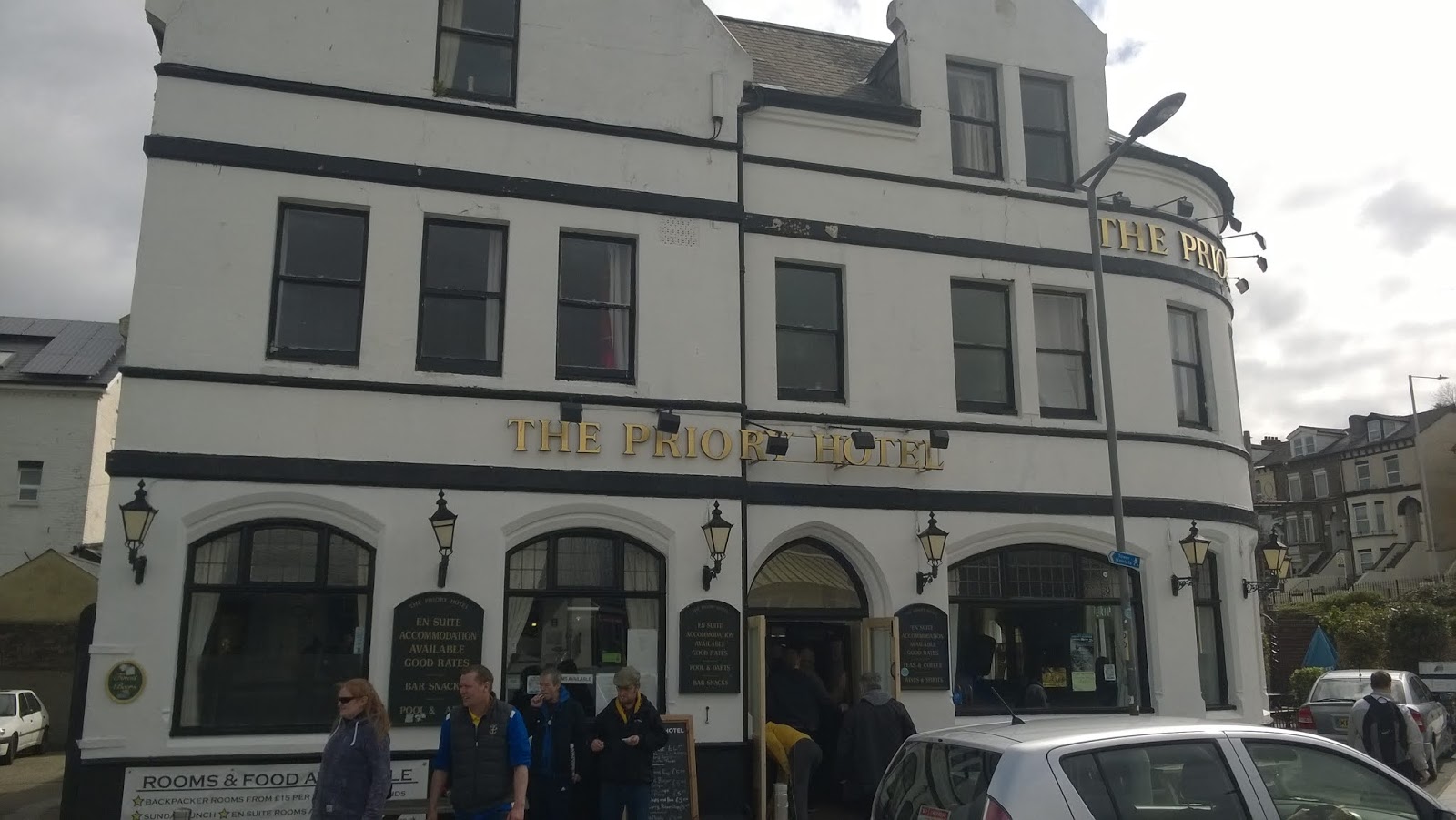 Robbo's favourite pub in the whole of Dover…
Making our way into the station, we see many known boats around us. The B-Team, with a hungover looking Wreck-it Beckett, are all huddled together as they look for what train they need to be on. Not far from them is the COCs & members of the DBDC, happy as Larry's as always, looking forward to another away day of action and amusement. Dorch is soon located as she was making the trip all the way from Andover. Then Mr X is found with the tickets.
And this is despite that fact that he'd walked over to King's Cross first. "Force of habit" was his only excuse for being in the wrong station entirely. Magnum PI is next to be tracked down and then finally Taz is found. Seems he'd snuck off to get himself a toasted sandwich only for the Doris that was serving him to totally forget about it and burn it to a crust, resulting in another delayed effort. Still, at least it never set off the fire alarm and evacuated the whole fuckin' station…
It's £22.40 for just over an hours return trip on the High Speed train. Finding some vacant seats, we settle down for the trip. Dorch would also provide my good self with a cold bottle of Strawberry & Lime flavoured Cornish Rattler. Thank you very much for that! The time is approaching a quarter to eleven as we arrive at our final destination.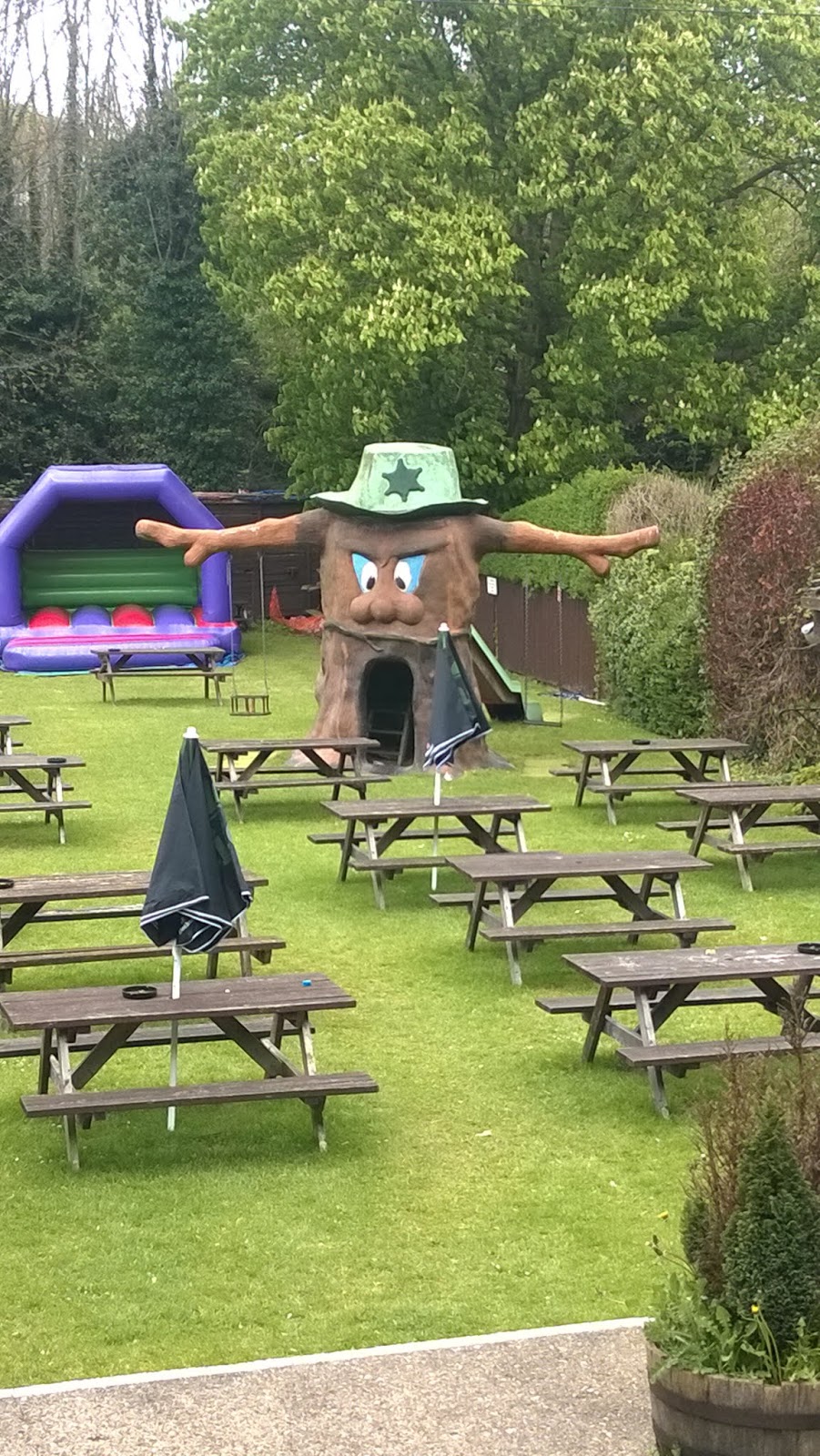 The new manager?
The first pub of the day is, as always, "The Priory Hotel" opposite the station. And despite the protests of Robbo, it'll serve our propose for a quick drink. The issue with today is that no thanks to the fuckwits at Conference HQ, they've decided that once again, all matches in our division are to kick off at half twelve. So this means that we don't have a lot of time to get drunk before the disappointing part of the day begins.
The Firm Leader comes up with the idea of heading straight to the ground in a couple of sherbets that we've clocked by the station. Finding one large enough for most of us, we get dropped off by "The Cricketers" at the bottom of the hill. Unfortunately for us, and despite that it's only an hour till kick off, the fuckin' pub is shut. Why would they do that? Talk about wasting an opportunity to make a few quid. Apparently though our sherbet wasn't no where as near as eventful as the one taken by Chairman Totts & co a bit later on.
With no other option but to head into the ground, we sauntered up the mountain hill. £17 (and no match ticket) to get through the turnstile, and it's into their bar for another libation. A few more Sutton fans arrive and all the talk is about the future and the sort of manager that is going to be appointed by our illustrious board. Definitely a little bit of trepidation around the place.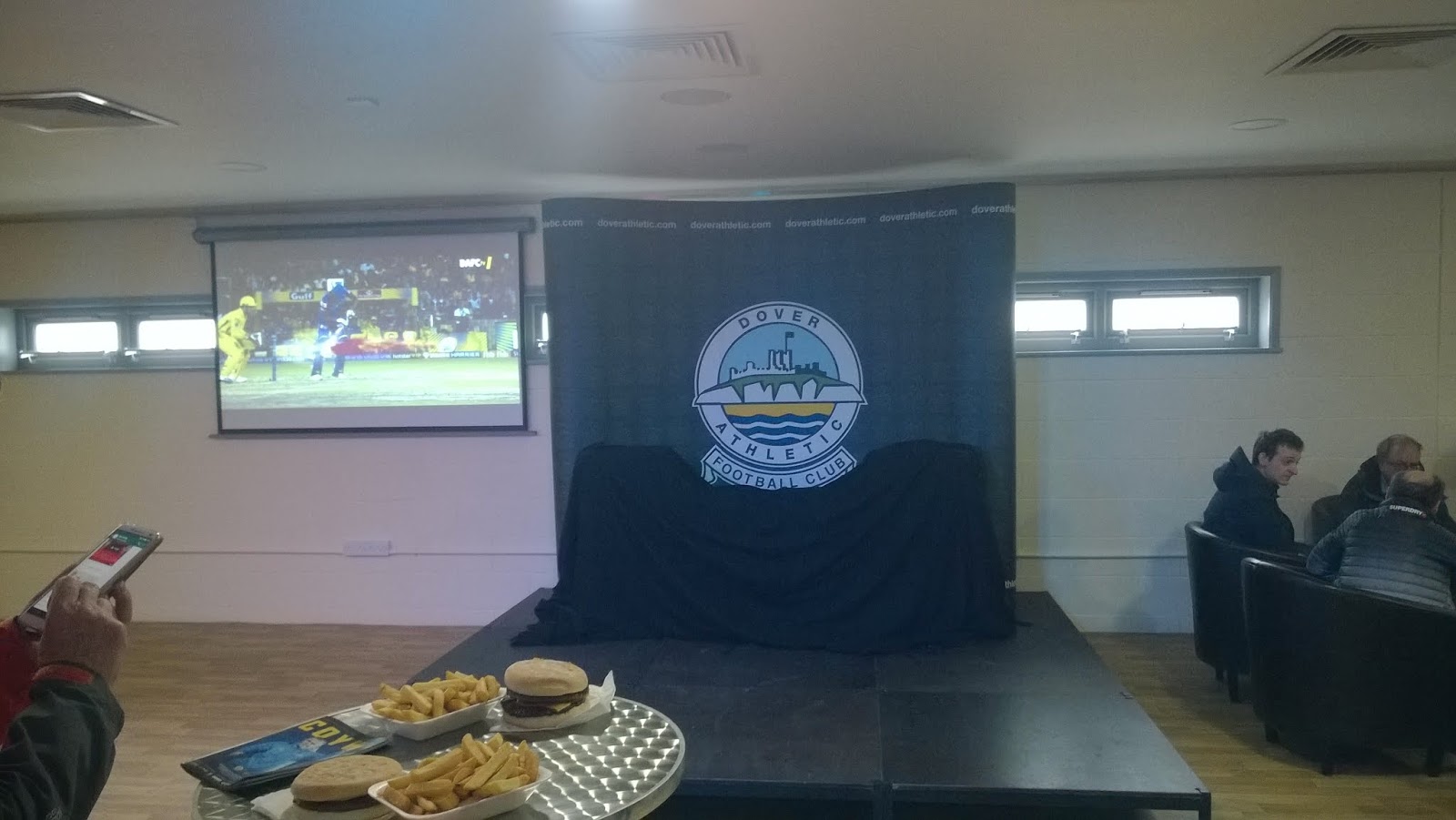 The stage is set…
The team line-up is soon out and it's a little surprising to see that the kids Lema & Mason are both making a rare start. Especially considering that at the Q&A a while back, we were told by Our Lord Dos that they were both out injured for the season. Oh well. Barden would also be helping out Thomas at the back today with Eastmond taking the day off thanks to his red last week. The lacklustre forwards were no different. Ssurprising is the absence of Bairdy. A little bit disrespectful if you ask me.
But more importantly, it's time to have a spot of tucker. That's because here in Dover we have 'The Crabble' burger. £4.60 worth of double burger, double cheese, double bacon & onion in a bun not fit for purpose as it collapsed in your hands as a wonderful mess of loveliness and grease. Take it from me, you should always remember to ask behind the jump for more tissues, it's a messy fucker!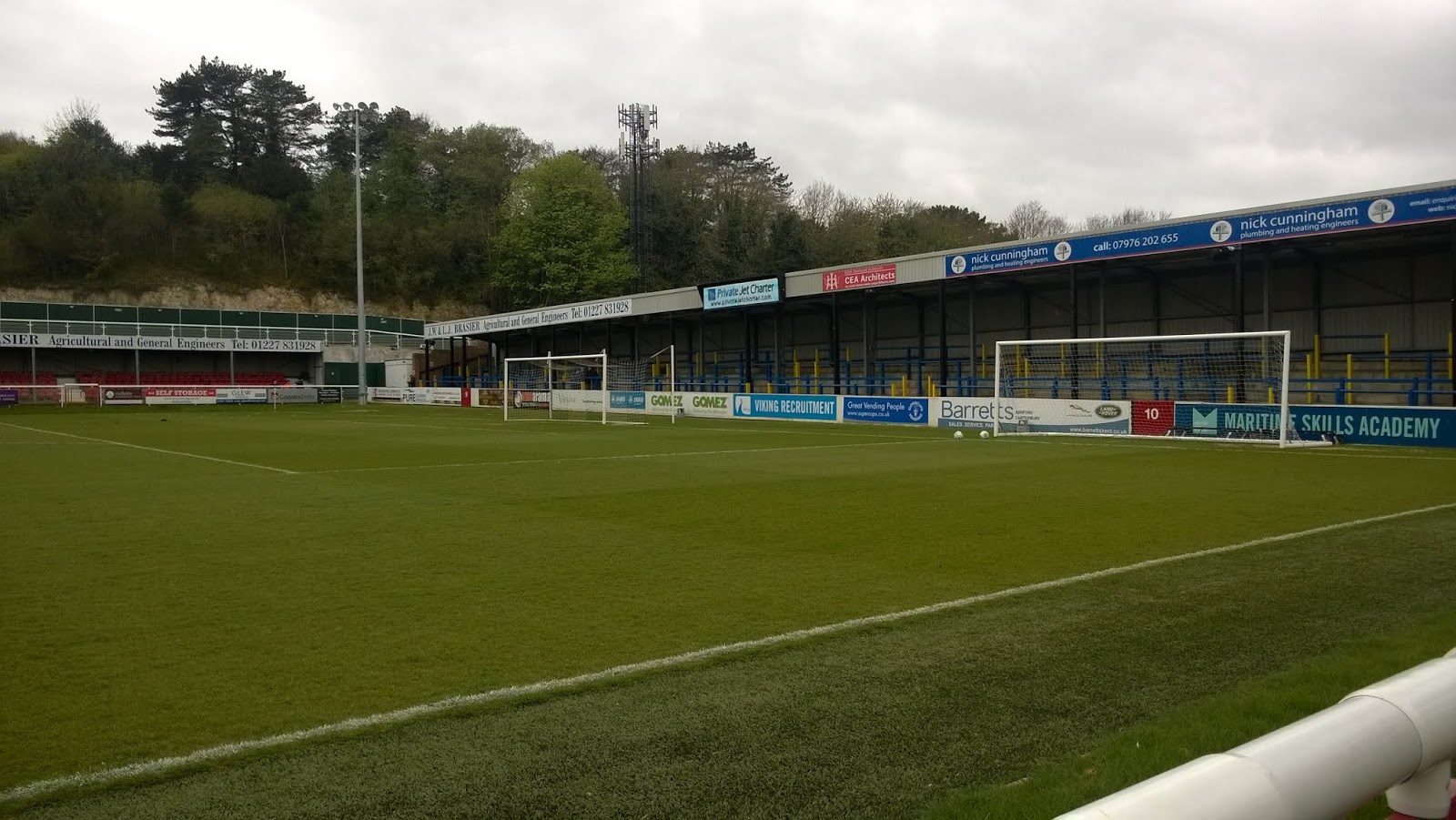 Where the wrong-enders are…
Worner, Thomas, Bolarinwa, Toure, Ayunga, Lema, Beautyman, Barden, Williams, Mason, Bellikli. Bench Warmers: Bailey, Green, Deacon, Mbeta, Dobson.
Dover were to kick us off and the first fifteen minutes were going to be about as dour as any this season as both clubs played it out like a true end of season match with nothing to play for. Half arsed passes and lacklustre runs were the order of the day. That was all to change when Dover took the lead soon after.
Standard goal to concede from us really. nice bit of work done by Dover down the wing, ended up with a poor Sutton clearance that failed to clear our ranks. The ball is knocked back in and after a bit of a fumble around it is lashed into the back of the net. Dover would soon have the ball once again in the back of the net, but luckily for Sutton it was deemed as being offside.
Sutton's best two chances of the half fell to Williams. The first, he knew nothing about as the ball ended up with him inside the six yard box. Thinking he might be offside, I thought he clearly was, he half stabbed at the ball as it went past him and the keeper saved. The second opportunity saw him lash at a shot high and wide when it was much easier to lay the ball off. A common problem we've seen this season with our forwards preferring to shoot or try and beat another geezer instead of pass when the opportunity arises.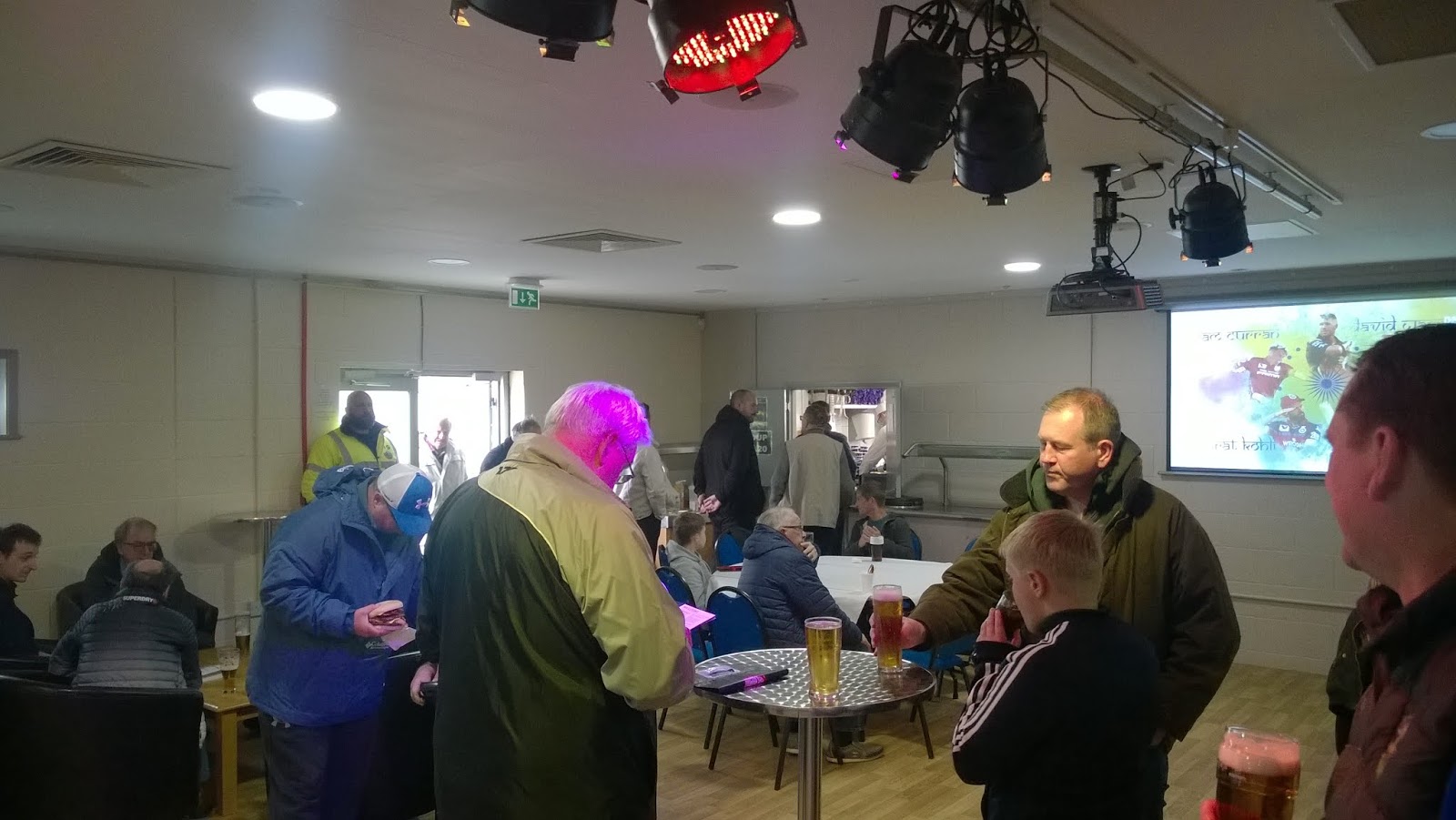 The Bar…
Second half and Sutton would start the brighter. But like with most of this season, it was not to last. Bolarinwa would take the ball down the right-hand side after receiving a long ball from Lema who was trying to do it all match, and on this rare occasion cuts in and beats his man. He gets off a shot that loops over the keeper only to ricochet off the bar and away from danger.
Twenty minutes to go and the now-injured Mason is replaced by with Deacon. With ten minutes to go and Sutton make their final sub of the season as Dobson is brought on for Bolarinwa. But just before this, Dover have doubled their lead. This time it's Barden who jumps too soon to reach a ball. The Dover fella then takes into the box and hammers it home as Sutton players give him too much space and fail to get back and make a tackle.
Dover would hammer Sutton into the ground with another goal in the final moments of the match. It was another soft penalty, but a penalty none the less. Worner dives the wrong way and it's goodnight Vienna. There hasn't been a lot to cheer about being a Sutton fan these past months but the final whistle was one.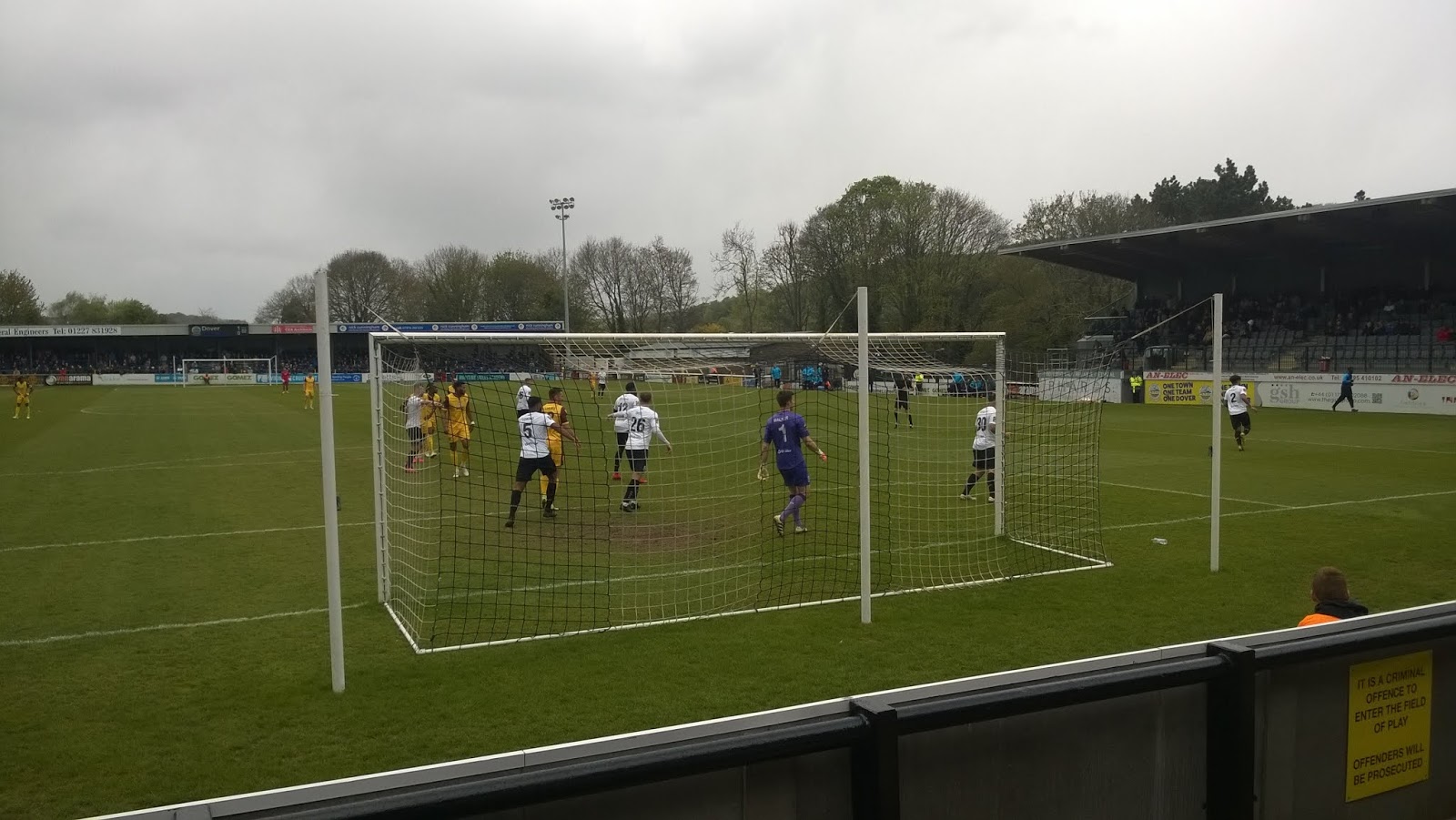 Action!
The match is over, and the season has finally come to an end. Only a few of the players come over to clap the travelling faithful. A nice moment follows when Beautyman & Worner then give their shirts to members of crowd. Unfortunately Able was unmoved by the request for his shirt from Chairman Totter.
So it's off down the hill towards a now finally opened Cricketers. With about 40 fellas trying to get a drink in at the same time, having only one member of staff caused delays and a few to depart and head off to pastures new. Surprisingly we were soon joined by young Mr Kearney, who was still limping from his efforts last Monday, but it wasn't bad enough to prevent him having a cider with the boys and chucking a few arrows at the dartboard.
Of course with it being the end of the season for plenty of teams, there was to be one or two surprises in store. Having a butchers, way way way down the leagues, and it's a shame to see that the former FA Amateur Cup winners of '73 (Walton & Hersham) have continued to sink further and further into the abyss as they'll now be plying their trade against the likes of British Airways, Deportivo Galicia & Fleet Spurs next season in CCL1. At the other end of that table and the tenants of Gander Green Lane were well beaten into second place by Binnsy's Chertsey Town to the title. Good luck to them in the FA Vase final in a couple of weeks.
Someone's happy…
Into the Rothmans Ryman League, and for the first time since the turn of the century, there are four divisions once again. The only difference with this is that with the ongoing restructuring going on meant that things can be a little confusing. Well, really fuckin' confusing! Especially when you think that, in the good old English FA fashion, a team might end up winning the play-offs but yet, won't get promoted as only five out of the seven teams at this step will actually be promoted.
Further up and Dorking Wanderers have romped away with the title weeks ago. We'll still have to wait mind you to see what the Scum are going to do as they somehow managed to end up finishing second. Also Macca's Tonbridge have also made the pay-offs which isn't bad at all for the budget that he's been working on this season.
Directly below us, and we already knew that another mid-weeker would no doubt be awaiting us as Torquay make their return to the top level. Weston-Super-Mare's unbroken run in playing in every season of the Conference South since it was created finally came to an end. Surprisingly, Billericay dropped out of the playoffs late on and were replaced by Wealdstone.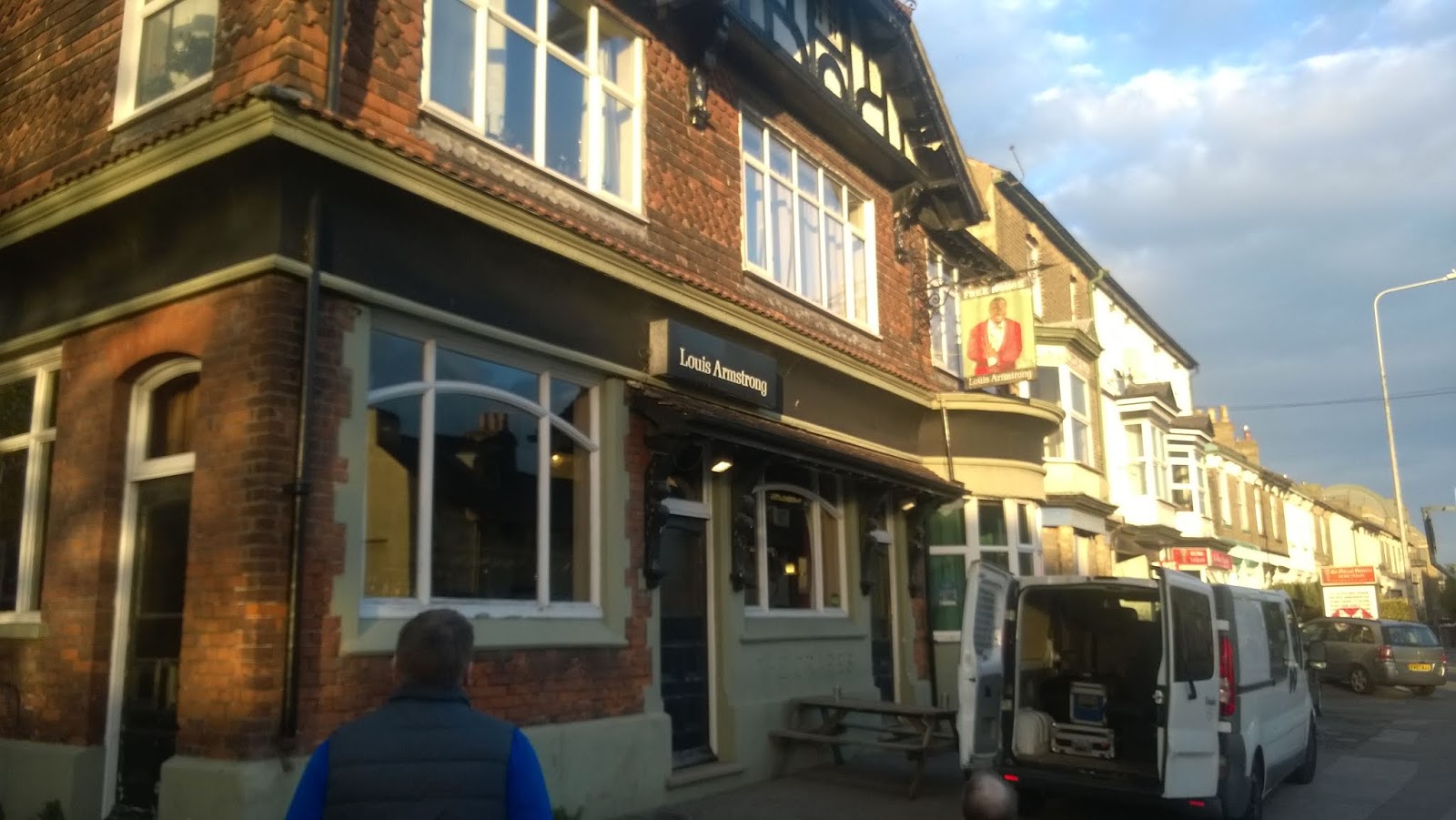 "What a wonderful world this could be…"
After one more pint in the Cricketers, we head off to somewhere else. "The Bull Inn" is next and here we meet up with a few of the home supporters that we know. Much is also made about the fact that Dover will be charging their supporters £315 for a season ticket. A funky thing about "The Bull Inn" is the skittle lanes out the back and not the fact that four of us ended up in the ladies toilets together looking for an exit.
"The Old Endeavour" is next as it's only a few minutes down the road. Here we are even given a free shot by the home supported. Cheers lads. But I fuckin' hate Sambuca! The COCs/DBDC catch up with us here and before you know it, the hole pub is singing "Fuck Boreham Wood!" in unison. you see, hate bringing supporters together since 1992. Magnum PI would call it a night here and head back home to a "pub quiz" somewhere back local.
With no time to spare, we continue on with our drinking odyssey. "The Breakwater" is next where you couldn't get a pint of tasteless fizzy water mascaraing as larger for love nor money. Only beardy-weridy type drinks here. So of course we stay for more than one. Well at least it wasn't as expensive as some of the other micro-brewery places we've visited in the past.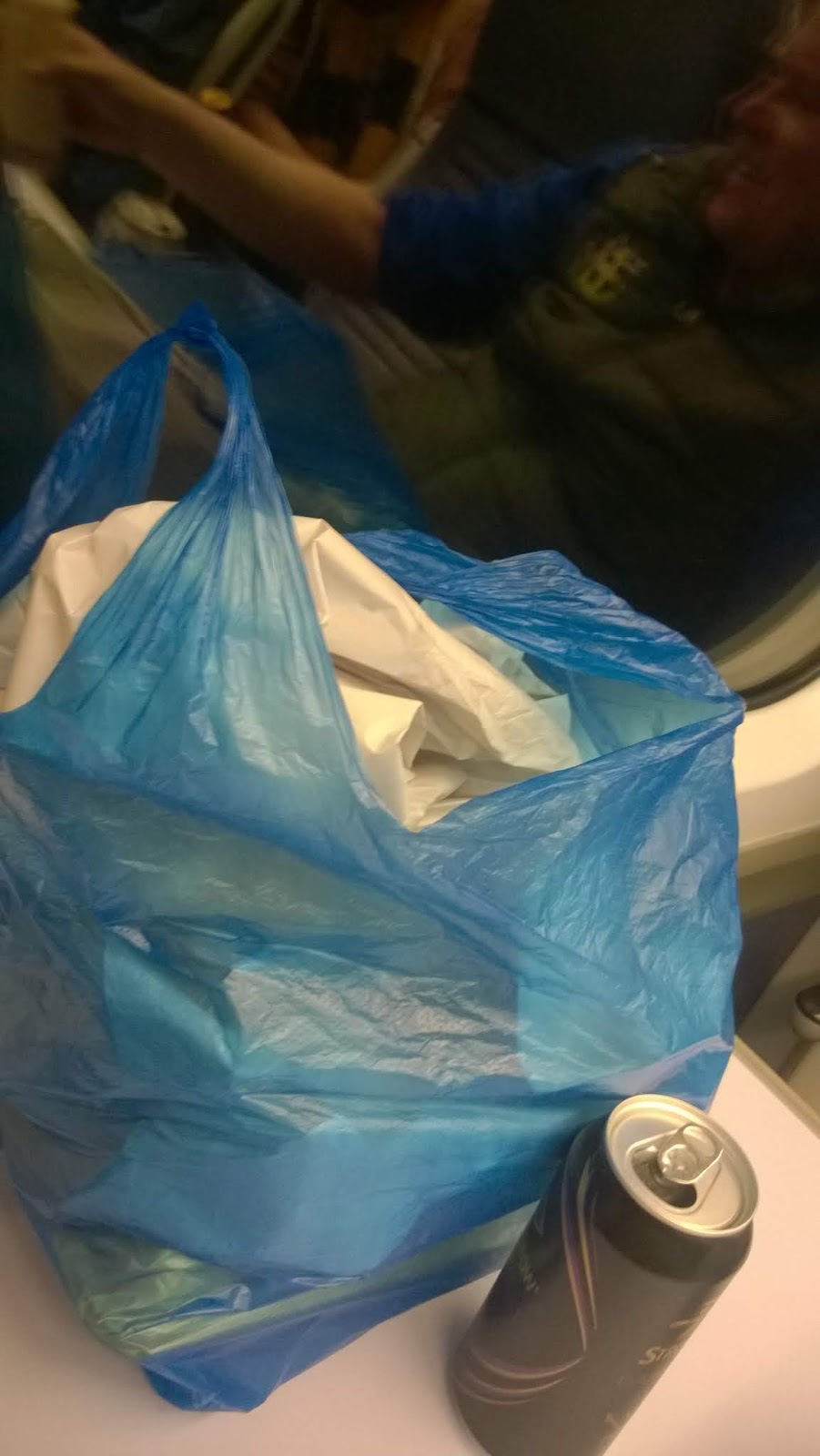 The remnants…
Next on our little adventure is "The Red Lion", which is found after a slow walk down the River Dour. We say goodbye to the home supporters that are still with us at this point and we sink a few more jars. The final pub of the day was to be the "Louis Armstrong" which I think was possibly called The Grapes at some point? Robbo, having had enough beer for one journey, even gets the landlady to boil her kettle to make him a cup of coffee!
There was plenty of conversation about the Sutton team past, present & future. From the career of Simon Quail through the Alan Gane era to possibilities of playing Conference South football inside three years were just some of the topics covered. We must've been there long enough because Dover Phil had returned from a spot of dining to join us once again.
It's finally time to get out of dodge. A plan of action is worked out as some of The Firm will go for food, whist the others will get a couple of cans. I put my order into Mr X for your basic pie & cheesy chips with gravy. Getting the beer sorted out, me & Dr Bell make the trip to the station. Finding Robbo, Ozzie & The Firm Leader still in "The Priory Hotel", the rest eventually join us.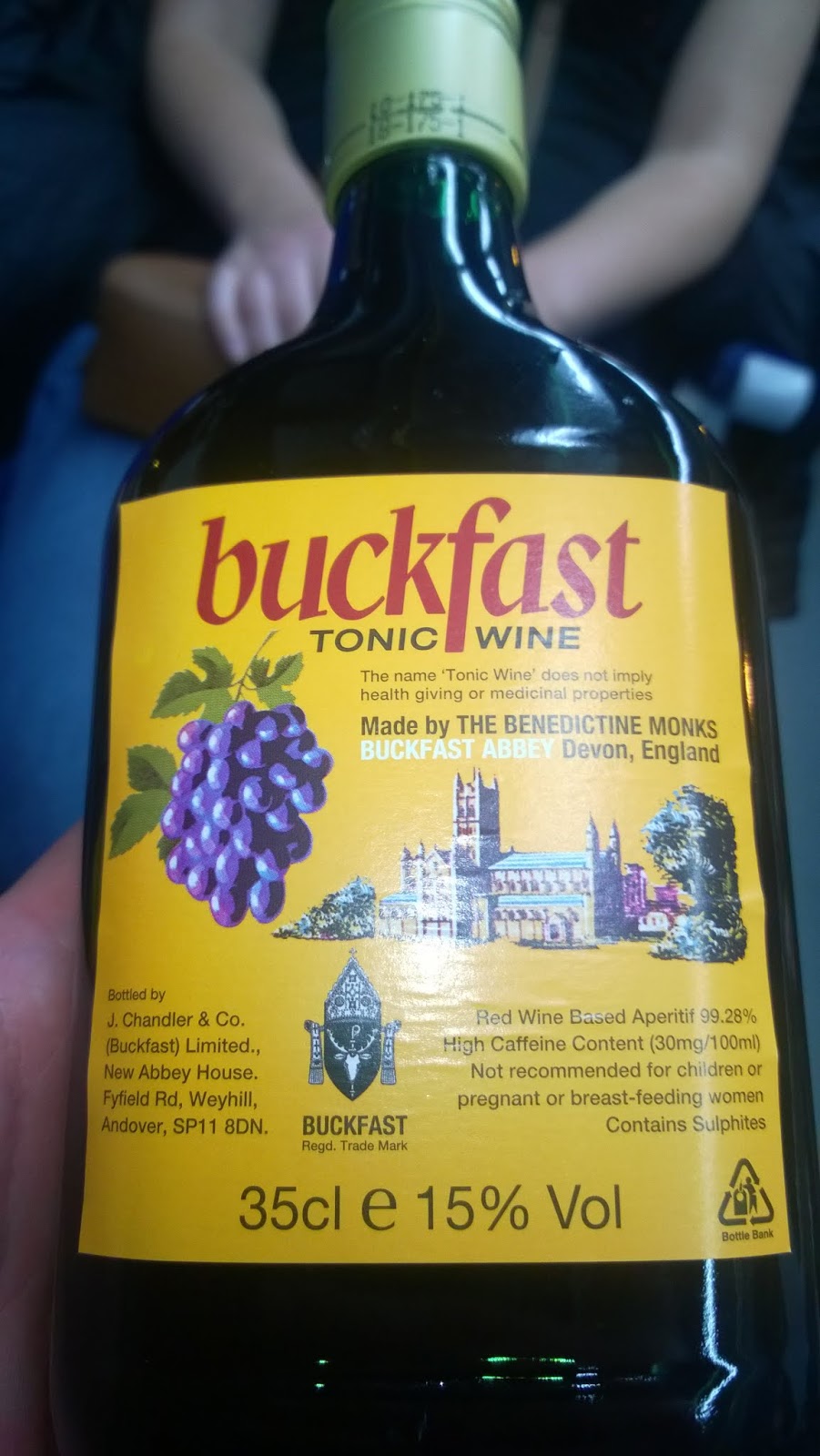 Ah, Memories…
The train arrives, but not before Mr X makes a gallant effort to hand over a packet of chips to Ozzie on another platform. We find some seats and settle down for our usual bullshit of drinking, arguments & toilet humour. It also would've been some food as well but after dishing out the fish & chips, I find that my pie has gone walkabout! What a bastard!
The rest of the train journey is an enforced blur as we make it back to London. Hopping onto the tube towards Victoria, there is a train on the platform already soon to depart for the Badlands. Before we know it we're soon there and I'm walking home with my own thoughts. Which is never a good thing for me to do! But I make it home and not a bush somewhere.
So that is us done for another season. For me, I think that the season turned for the worst when we were defeated at Slough back in November. But if you look at the whole picture, a respectful 10th in the league, reaching the 1st round of the FA Cup, 2nd Round (after a pointless reprieve) of the FA Trophy and the same round for the Surrey Senior Cup ain't bad.
Sweet memories…
But you can also say that we ended the season with a negative goal difference and that our top league scorer is either a midfielder who doesn't score many or a defender who has the responsibilities of taking the penalties. And yes, the great striker curse once again strikes as all our strikers failed to put many into the back of the net. Maybe things will change with the new management or maybe they won't. And then again maybe we'll win the Surrey Senior Cup again! See you all in a few months.
Duke
Att. 1,103